Did you know that you can play solitaire for money? Check out my Solitaire Cube review to see if you win real money with this game app.
Sometimes I get in stuck in a phase where I play games on my phone for probably more than I should. They are usually pretty mindless but really fun and help the time go by. Most of these games are free but tend to show in-game advertisements.
One of these ads caught my attention because I kept seeing it everywhere.
It was Solitaire Cube.
Want free money?
Aspiration: Want to get spotted a $100 for free? Simply sign up for Aspiration, and the free banking app will give you cash for free, you just relax while it gives you $100 just for opening a new debit card. There's no catch, just use your card to make at least $1,000 in cumulative transactions within 60 days of opening an account. This bank account is legit and only takes two minutes to sign up for an account.
I think what caught my attention was the ad was saying you can actually win money just by playing solitaire.
I decided to download the app and give it go.
What is Solitaire Cube?
Solitaire Cube is an addicting game where you can play Solitaire on your phone. It's available on the Apple Store only, sorry Android users.
It brings you back to the old days of when Windows computers only had 4 games, and Solitaire was one of them.
But in Solitaire Cube, the gameplay is faster and you get to play against another person online. So that element alone makes it more entertaining.
The owners of Solitaire Cube are a company called Tether Studios, who also developed Mixmaster Showdown, Backgammon Blitz, Cribbage Blitz, Cube Cube and Texas Solitaire.
How Does Solitaire Cube Work?
It's pretty easy to get started and the game will match you up with other players who have the same level of skills in real-time.
How to play? Stack cards into piles to sort them by their suit. Sound easy? It is! Sorta.

The gameplay is similar to regular solitaire, where you match up rows of cards in a descending pattern, but you can also compete in cash tournaments and fair competitions in head-to-head online matchups.
Each round only takes a minute or two, but it gets highly addictive. The aminations are smooth, and the touch controls are flawless (I am really picky about this with mobile games).
You can play for free or try and win some money through cash matchups.
Solitaire Cube includes tournaments and head-to-head competitions with real cash prizes (where available). That's what I was interested in most.
If you deposit money you can enter cash tournaments against other players. Cash outs are through PayPal and I had no issues withdrawing or depositing money.
If you wanted to start winning money for playing solitaire you can download Solitaire Cube for iOS here.
Play Solitaire for Money: Can You Really Win Money?
Short answer: Yes.
---
Games that pay you to play. Yes, we're serious.
These 3 apps will pay you to play games on your mobile device:
Mistplay (Android) - If you have an android device, you can download this app and start getting cash rewards for playing new games.
Solitaire Cube (iOS) - Earning money by playing games on your phone sounds like a dream. But this app really pays you for playing solitaire with cash rewards.
Lucktastic (Android) - This free app offers the same daily scratch-off cards that you find at your local convenience store — but here you can play for free and win real money.
---
I would recommend by playing in the practice league to see how you fare against other players. If you tend to have a greater win percentage, you can deposit a small amount and see if you can win the pro league.
I wouldn't deposit a large sum of money, this game is for entertainment purposes. It's thrilling but you don't want to spend your entire paycheck here.
However, in the reviews in the Apple Store, a lot of people have claimed they made over $100 just for playing a few days.
It's rated highly in the iTunes App Store with 4.6/5.0 stars out of 34,600 reviews. So Solitaire Cube is a legitimate app.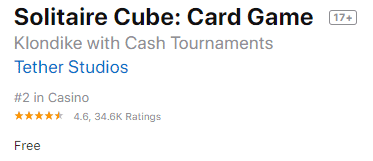 Is Solitaire Cube Available for Everyone?
Cash tournaments are available in about 75% of the world. Cash tournaments are not enabled in the following states: AZ, AR, CT, DE, FL, IL, LA, MD, MT, SC, SD, and TN. If you don't live in a cash-enabled region, you can still play for fun with our virtual currency.
If you wanted to start winning money for playing solitaire you can download Solitaire Cube for iOS here.
Is Solitaire Cube Worth Your Time?
Solitaire Cube is powered by the esports company, Skillz.
Skillz is an online mobile multiplayer competition platform that is integrated into a number of iOS and Android games. The app allows for leaderboards, trophies, cash or virtual currency prizes, and an amazing loyalty program that rewards you for playing.
So the app is legitimate and you do have a shot of earning some side cash, but you definitely won't get rich from using it.
So you do want to give it shot?
If you wanted to start winning money for playing solitaire you can download Solitaire Cube for iOS here.
Download & Win Real Money with Solitaire Cube
If it's not for you, you can check out these 39 trivia apps that let you win real money (think HQ live).
Want free money?
Robinhood is a free investing app for your phone. I really mean free all around – free to join and they don't charge any fees to buy or sell the stock. You can get a share of stock like Apple, Ford, or Sprint for free when you join through this link. The value of the free share may be anywhere between $2.50 and $200 and fluctuates based on market movements. You've got nothing to lose.