The purpose of this article is to give you a bit of background on the Foreign Exchange (Forex) market and to give you the first couple of steps to get started in trading.
If you're reading this article, I'll assume you've been intrigued by the picture above. For a long time, I've been interested in trading and for the past 3 years, I've been involved as a Forex trader.
Before going further, let me say that trading isn't for anyone, but that you DO NOT need to be an "A student" to trade profitably. What you'll need is to come into trading with a plan and some emotional awareness to control yourself and grow over time.
Introduction to Forex Trading: What is Forex?
I'm actually quite surprised to see people's look when I mention Forex in a conversation.
"What?", they say.
Want free money?
Aspiration: Want to get spotted a $100 for free? Simply sign up for Aspiration, and the free banking app will give you cash for free, you just relax while it gives you $100 just for opening a new debit card. There's no catch, just use your card to make at least $1,000 in cumulative transactions within 60 days of opening an account. This bank account is legit and only takes two minutes to sign up for an account.
And the interesting part is that the Forex (abbreviation for Foreign Exchange) market is part of our daily lives.
In short, it is the market in which currencies all around the world are bought and sold.
For instance, whenever you're looking to buy Euros for your upcoming trip in Europe, you'll be contributing to the rise of the EUR/USD rate (given you're paying with U.S. Dollars).
That being said, there are several other factors contributing to the rise and fall of a certain currency, including the Gross Domestic Product (GDP), Unemployment rate, Exports, Interest rates, and more.
The idea for the currency market is that two currencies (or countries) are compared one to another. The USD/CAD for instance, shows the relation between the United States and Canada. If things are going better in the United States than in Canada, the rate is likely to rise. If the inverse is true, the rate is likely to fall.
…But I've never been a huge fan of economics.
How Traders Make Money In Forex Without Economic Data
The #1 problem with relying on economic data to place a trade is that you are very likely to be late in your entry and exit point.
We'll go with an example…
Let say that the unemployment claims are scheduled for release today in the United States.
The result: 253K unemployment claims vs. a forecast or 274K.
That's positive! But there's absolutely no way to know precisely how other people in the market will react to that news.
In fact, as I'm writing this, the results above came out and EUR/USD went up strongly, meaning that the release was perceived negatively (see the chart below).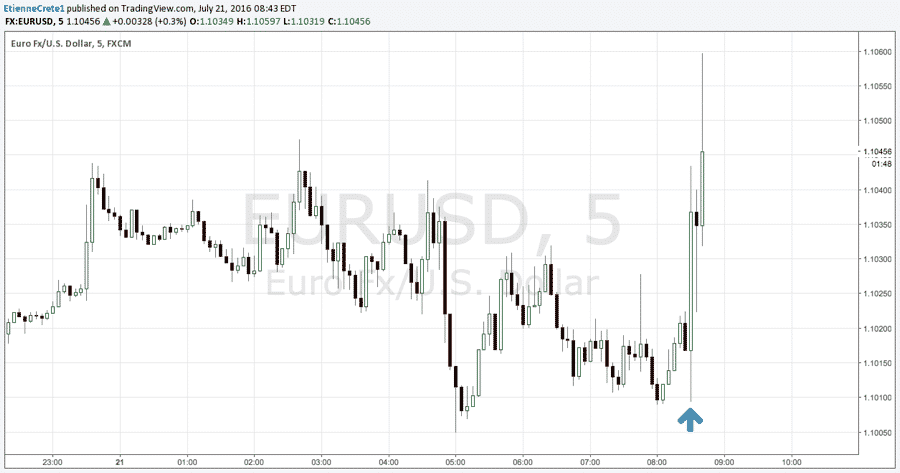 See, the problem here is that we have no way to know how strong or how little this news release will affect the market as opposed to all other data of the economy.
Now we'll get to the interesting part…
---
Games that pay you to play. Yes, we're serious.
These 3 apps will pay you to play games on your mobile device:
Mistplay (Android) - If you have an android device, you can download this app and start getting cash rewards for playing new games.
Solitaire Cube (iOS) - Earning money by playing games on your phone sounds like a dream. But this app really pays you for playing solitaire with cash rewards.
Lucktastic (Android) - This free app offers the same daily scratch-off cards that you find at your local convenience store — but here you can play for free and win real money.
---
The way I, and many other traders, trade do not take into account economic data…at all.
I base myself on the fact that the chart of any currency pair represents the relationship between buyers and sellers of that currency pair.
If the buyers are more aggressive, the price will go up. If the sellers are more aggressive than the buyers, the price will go down.
The question to ask could be summarized as: "Who's in control of the market?"
Here are a few examples: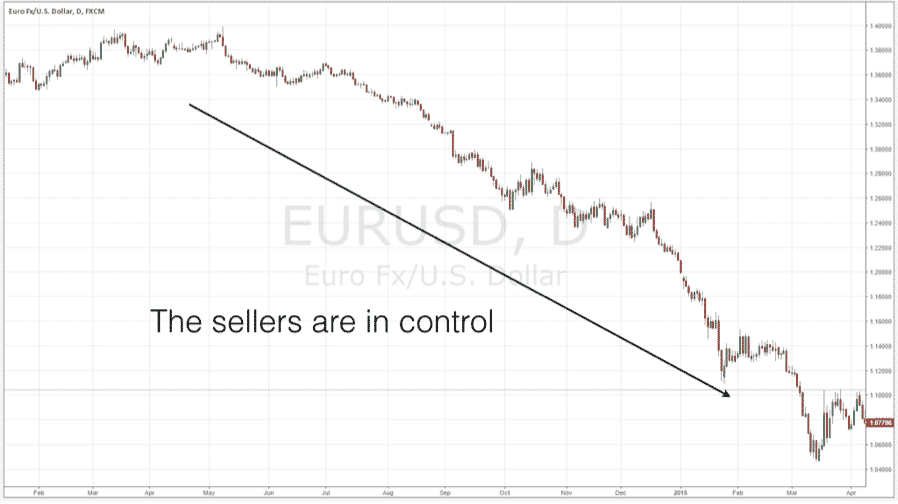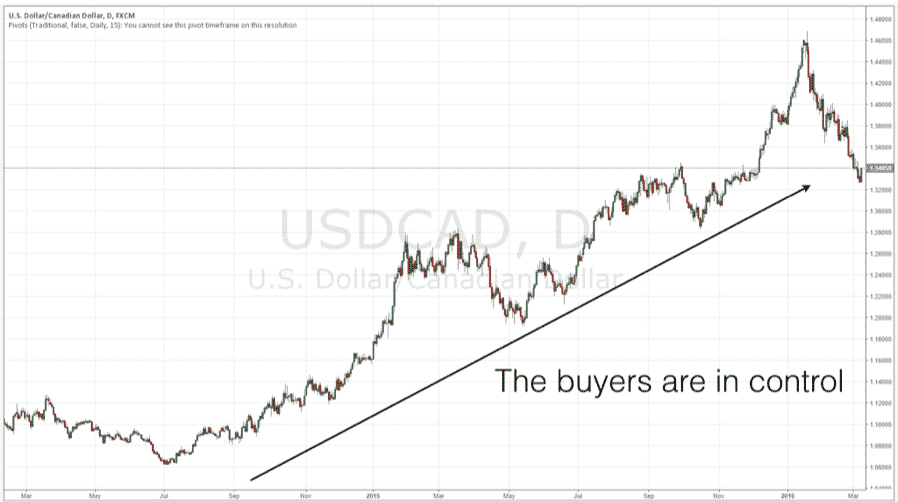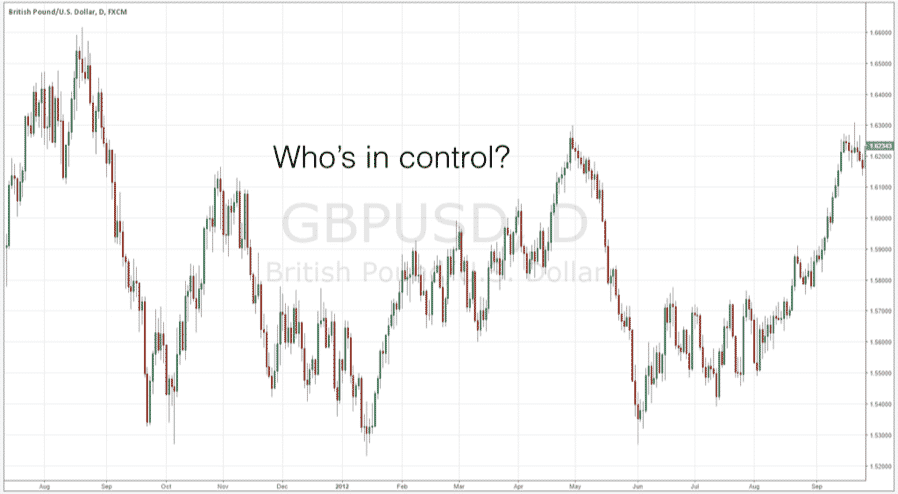 As soon as I know who is in control of the market, I can decide on a location to enter a trade.
The Tools To Use
I'll try to make this section as simple as possible. Unfortunately, many new traders in Forex or other markets over-complicate things.
Let me put emphasis on this:
As soon as I know who is in control of the market, I can decide on a location to enter a trade.
Alright…
There are two primary tools I use to interpret any currency pair: technical indicators & Japanese Candlesticks.
Japanese Candlesticks
Japanese candlesticks are an easy way to determine who has been more aggressive over a certain period of time.
A red candle on the following image would mean that the sellers are in control of the market since the price opened high and closed lower. On my charts, those are black. At the inverse, a green (or white) candle would display an increase in price.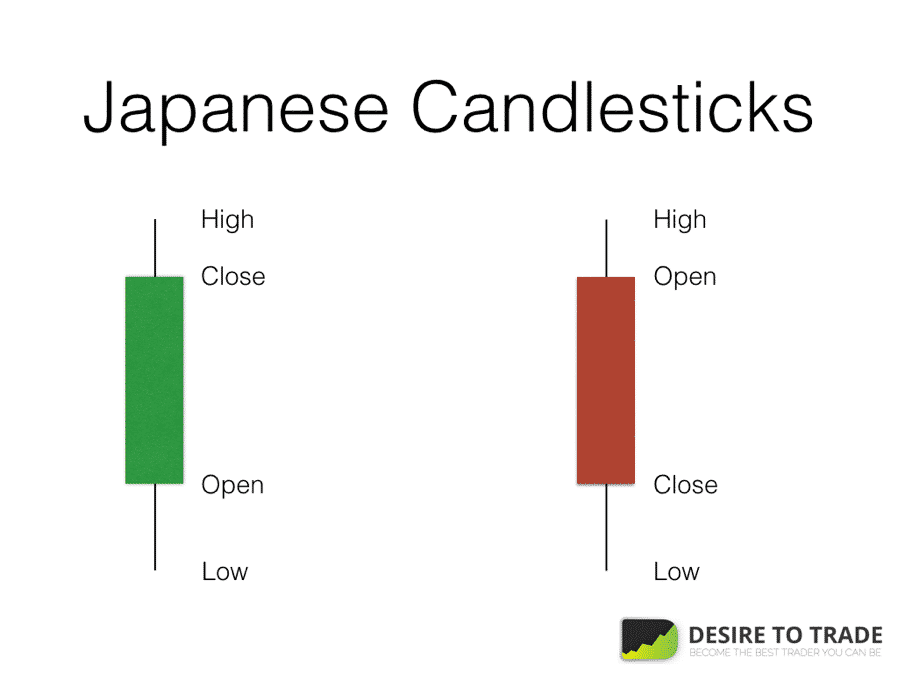 For instance, if I were to look on a daily chart (one candle per day) and see the following, I'd know the buyers were aggressive for the day.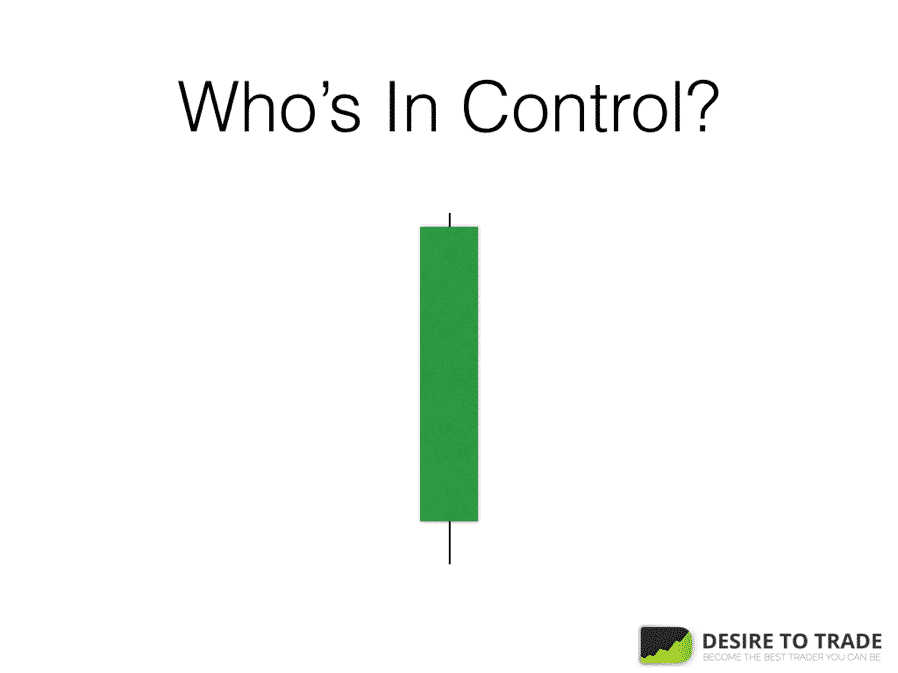 If I were to see the following, especially at the top of an uptrend I'd start to think that the buyers are losing some control.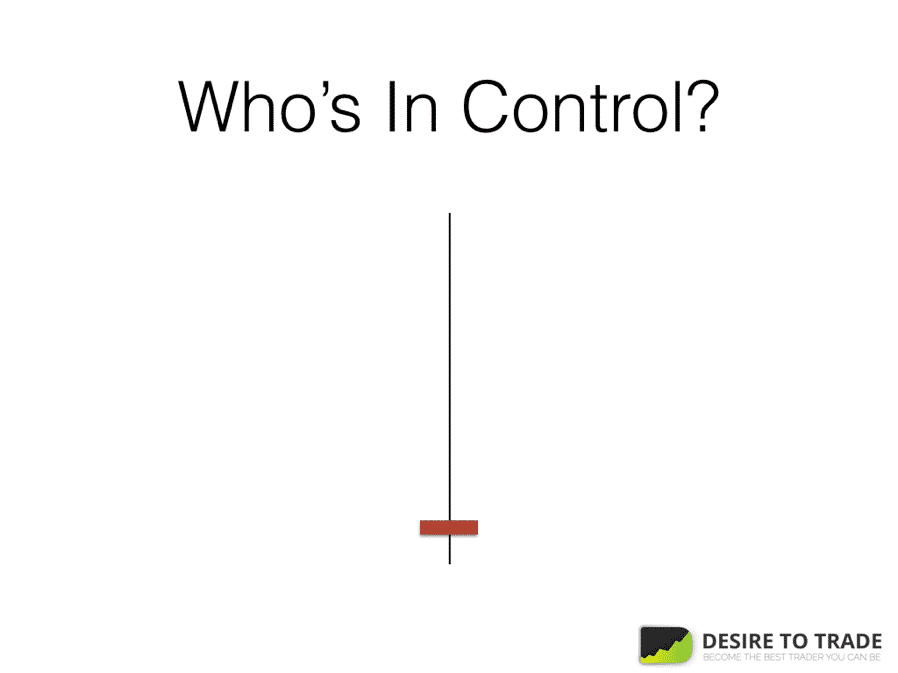 The key here is to not only look at one candle, but a series of candlesticks to get a clearer picture of how the price is behaving.
When it comes to the bigger picture, technical indicators can also be of great help.
Technical Indicators
Technical indicators are mathematical models built-in about every trading platform.
Traders will usually have their favorite few indicators. The important point is to not rely blindly on indicators. Some indicators are made to give indications in trending markets while others will be of use in sideways markets.
Some common indicators:
Relative Strength Index: measures a level of "overbought" and oversold for any currency pair.
Moving Average: the average of the x number of periods that forms a line.
Bollinger Bands: calculating certain average along with a lower and a upper bands that represent standard deviations.
What Kinds Of Trades Can You Take?
We'll get slightly more advanced here by going into the types of trades.
When I see newer or experienced traders trying to complicate things, I refer them back to the 3 primary types of trades. I've included this here so you can get an idea of what it looks like to trade.
I've mentioned before that a currency pair can either be in a trend or moving sideways (in a range).
Reversal
When the price moves within a define range, traders assume that the range will hold if there is evidence through Japanese candlesticks and/or technical indicators.
As a result, Reversal trades can be entered at the bottom or top of a range in the direction of the other end of the range. That means, a trader would buy at the low of a range and sell at the top.
In practice, it looks like this: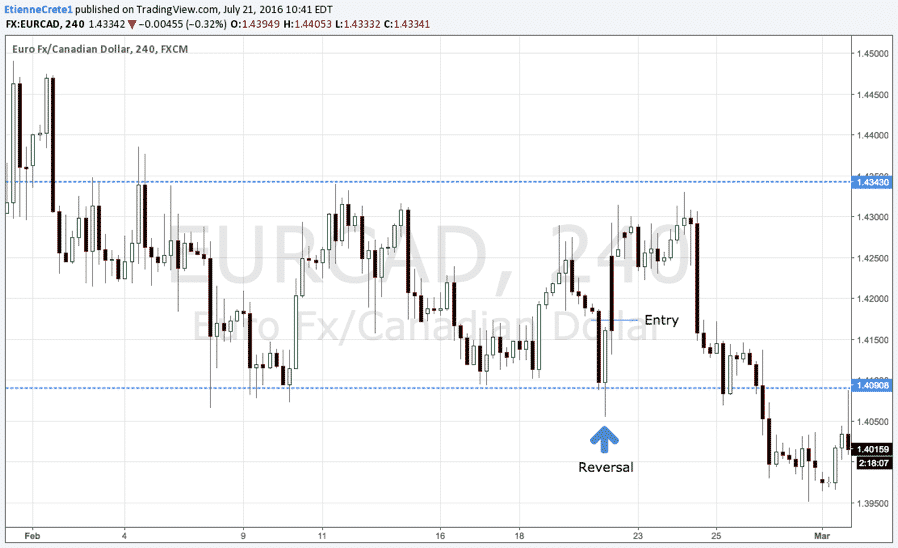 Breakout
The thing with ranging markets is that they will, soon or later, end. Price will eventually break out from the pre-defined range and is likely to start a trend.
At this point, traders are interested to enter a Breakout trade, which is entered beyond the range in the direction of the break.
It would look like this: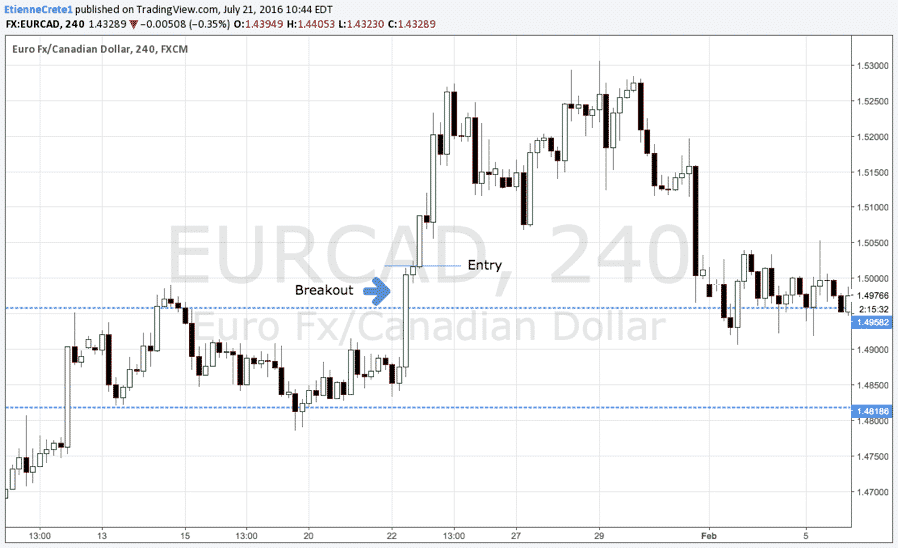 Pullback
Whenever, we, as traders identify a trend, we almost automatically think of entering on what we call a pullback.
Pullbacks are formed when the trend stops for a while before resuming. In an uptrend, for instance, it is totally expected for price to come down slightly before buyers re-gain the control.
Traders would be interested to enter once there is evidence that the price will get back and resume the initial trend, which would look like this: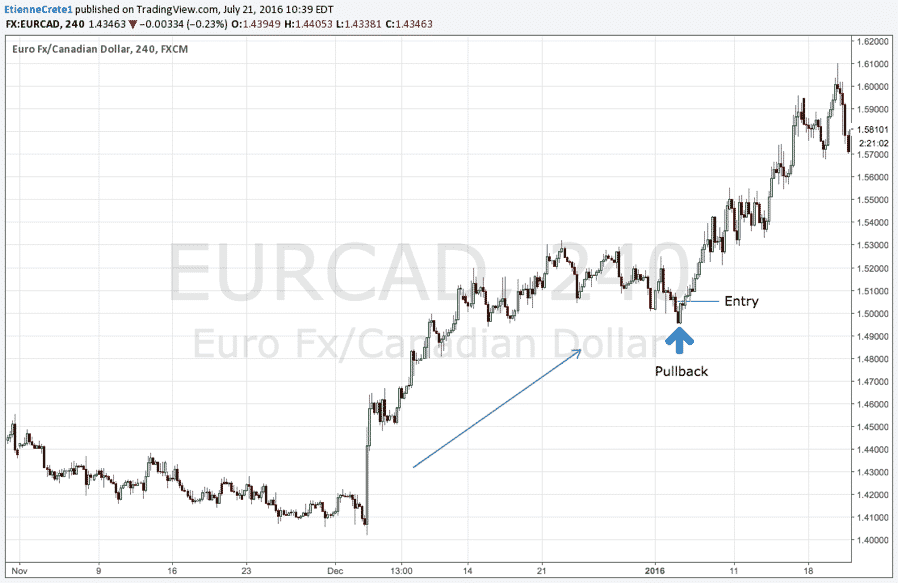 How to Go From Here
This was a broad overview of trading and a few things have been left out. However, trading is much simple than people try to make it.
The idea for any trade consists of combining Japanese candlesticks and technical indicators along with the types of trades described to increase the probability of any trade. A way to help you get started is using a free program like TradingView to view free stock charts and market data, all for free. Improving your trading performance with TradingView.
That being said, trading isn't easy and the main thing to work on, once you have a plan, is your response to what happens in the market.
Trading, especially Forex, can be done on any time frame. You can hold trades for a few seconds or a few months and the Forex market is open 24 hours 5 days a week.
Other things traders have to be extremely careful about are money management and the expectancy of their trading strategy. Those topics are often overlooked by new traders…at their expenses.


Our Pick for the Best Forex Course
"Forex Trading A-Z" is our pick for the best in-depth course to teach you the complete ins and outs of the entire Forex Market, including how to trade and make money/profit off currency movements. Whether you are starting at the beginning, or looking to brush up your skills and get the most relevant information, "Forex Trading A-Z" is a lifetime subscription where Kirill Eremenko, your instructor, gives you unlimited lifetime access to his constantly-updated content for only $11.99.
It's for beginning to advanced traders, Eremenko wants to show investors proof that trading on the Forex Markets can truly make you a profit.
Whether you're new to everything Forex or looking to add to your ever-growing understanding of how the Forex Market operates, Eremenko is bringing over seven years of experience to your home through his Udemy course.

Get The Course

Click here to learn more about the Forex course.
---
Guest post by Etienne who is a trader who started in the Foreign Exchange market at 18 years old. He has an unstoppable passion for trading and founded DesireToTRADE, a blog aiming to help aspiring Forex traders develop a trading method that works for them, and ultimately shorten their learning curve. He is also the host the Desire To Trade Podcast, where he interviews successful traders around the world and provide actionable trading advice for those eager to succeed. Want to receive his free Complete Price Action Strategy Checklist?
The Best Investment Apps For Everyday Investors
Want free money?
Robinhood is a free investing app for your phone. I really mean free all around – free to join and they don't charge any fees to buy or sell the stock. You can get a share of stock like Apple, Ford, or Sprint for free when you join through this link. The value of the free share may be anywhere between $2.50 and $200 and fluctuates based on market movements. You've got nothing to lose.