Can you really make money playing bingo for money? Blackout Bingo (formerly Blackout Blitz), claims you can win real money by playing it. Is Blackout Bingo legit?
Blackout Bingo claims to offer real-world rewards and is developed by Big Run Studios Inc. and one of the many games that pay real money that runs on the Skillz platform family.
Skillz is the company behind other game apps to win real money like Solitaire Cube, 21 Blitz and Bingo Cash, which I've reviewed in the past.
Real cash games can sometimes be a legit way to make extra money, but I needed to try it out for myself.
So is Blackout Bingo a fun way to win money — with a game of chance — or just a huge waste of time?
Let's learn more in my honest Blackout Bingo review.
Earn up to $100 today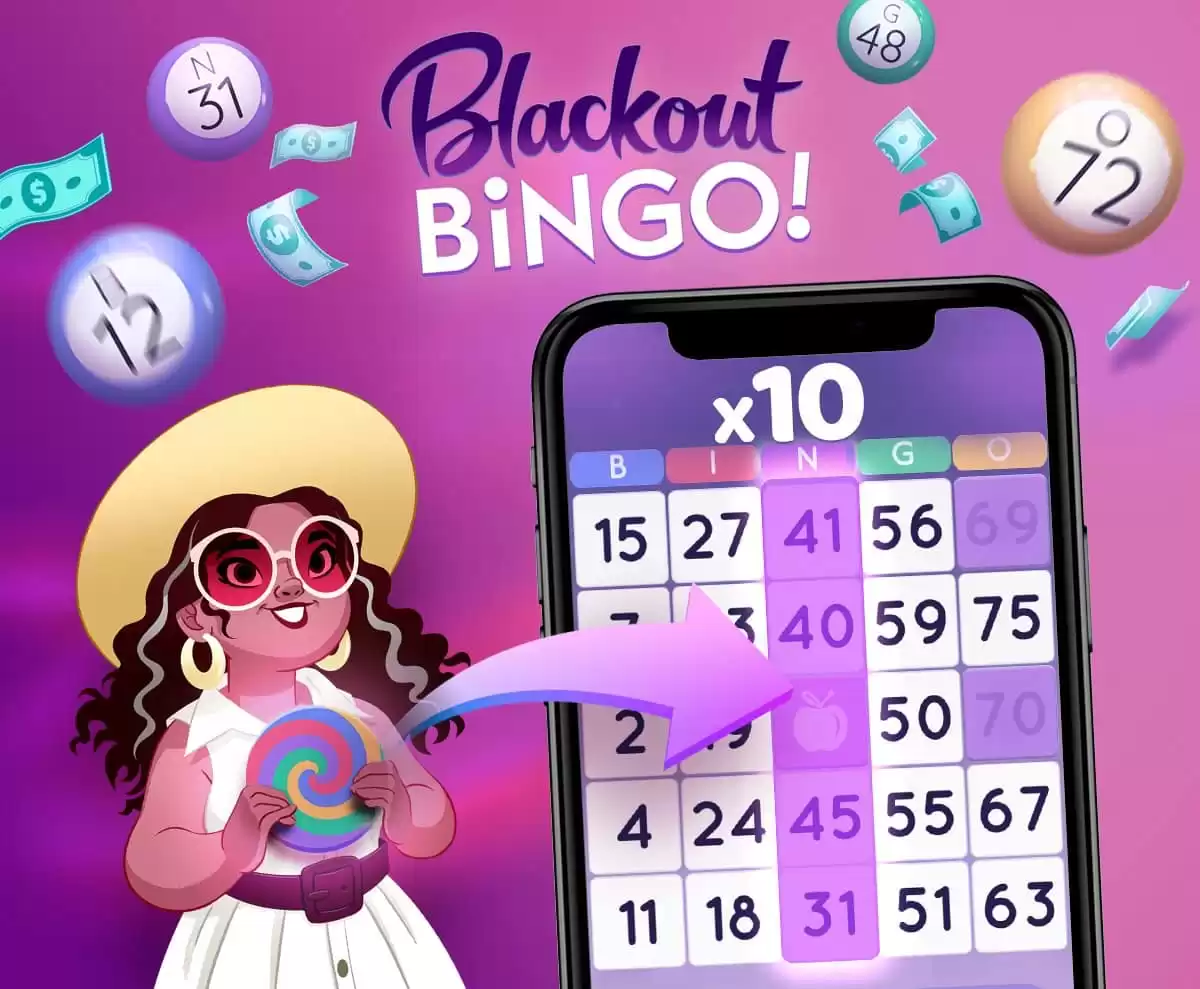 What is Blackout Bingo?
Blackout Bingo is a fun new gaming app that brings a social aspect to online gaming and allows you to compete for a variety of real rewards as well as real money in some cases (areas where this is available).
Cash tournaments aren't available in AZ, AR, CT, DE, IN, LA, ME, MT, SC, SD, and TN but residents can still play the free games for swag.
Moving on, Blackout Bingo is a free bingo game (it used to be called Blackout Blitz), offered by the Skillz gaming platform, with several different options for playing.
The app is available through the Apple Store and can be played on an iPhone or iPad and Google Play Store for Android devices.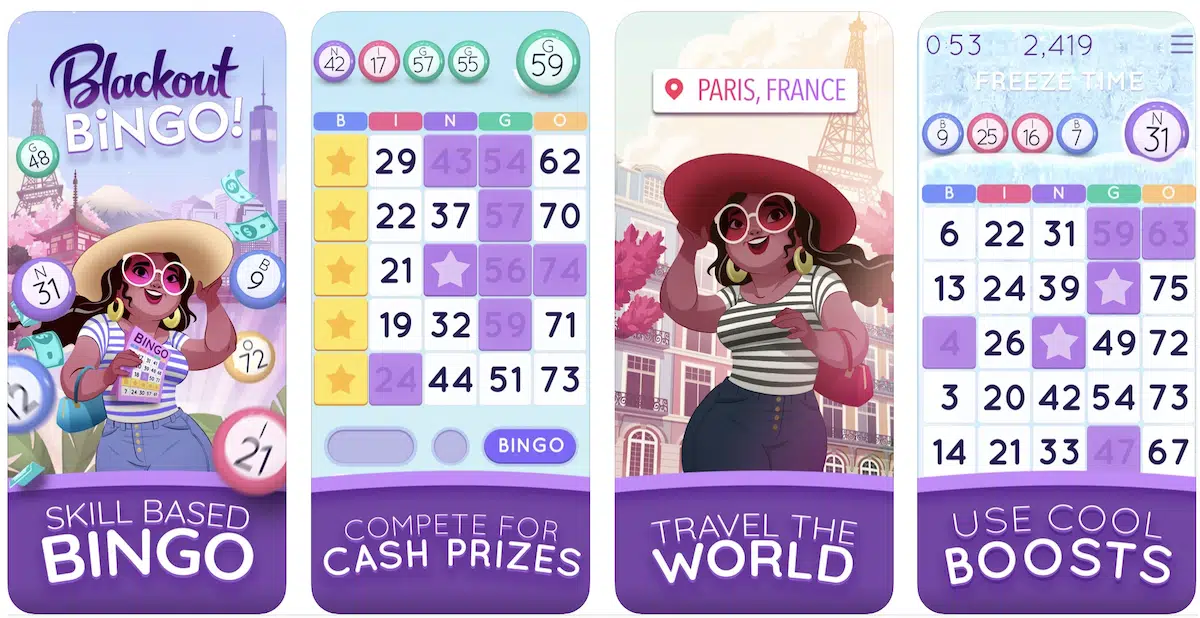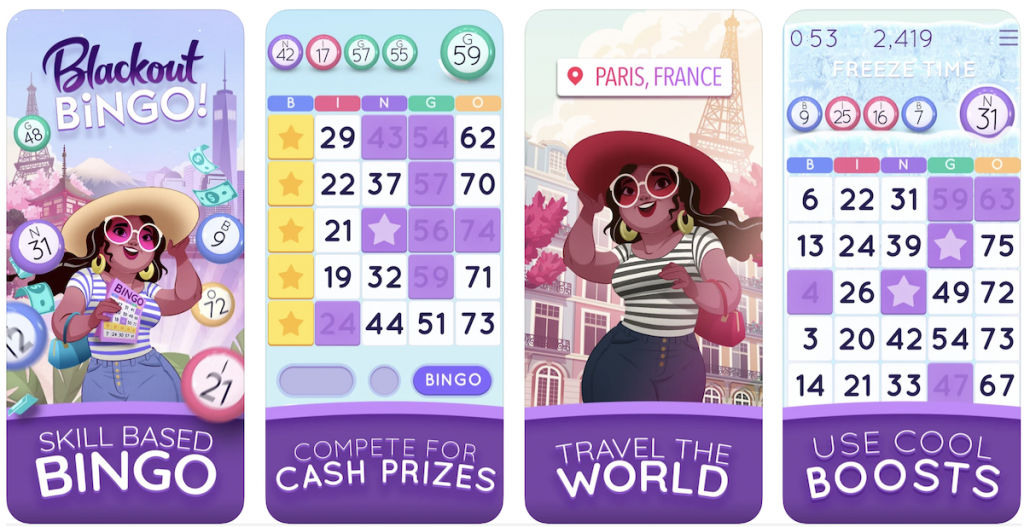 Traditional Bingo has been a live game for ages, often played in a live setting, with a "caller" announcing the target numbers, and players using a dauber to physically mark their Bingo cards.
Once "Bingo" is achieved, defined as five target numbers in a row, horizontally, vertically, or diagonally, or some other pattern, the player announced, "Bingo!" and wins that round.
Blackout Bingo is a version of the regular Bingo game that requires players to cover all of the spots on their Bingo card to win. The Blackout Bingo app turns live Bingo into a video game, making it attractive to a wide audience.
You no longer have to wait for 'Bingo Night' at the local town hall, you can play anywhere, anytime, with people all over the world, simultaneously!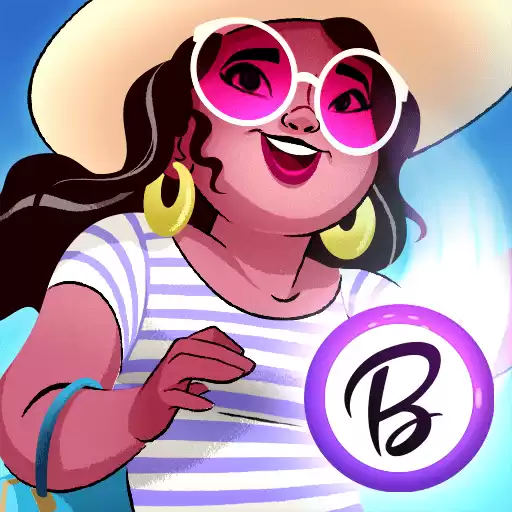 Blackout Bingo
You can make money playing bingo for free with this brand-new bingo-style game. With over 86K positive reviews in the App Store, it's a legit way to make money.
Download Now →
How does Blackout Bingo work?
A game of Blackout Bingo takes about two minutes (they are timed games), a perfect way to fill the time while waiting in line, arriving early for an appointment, or just relaxing at home!
When you sign up with the Blackout Bingo app, you will select a screen name and choose an avatar to represent your 'character'.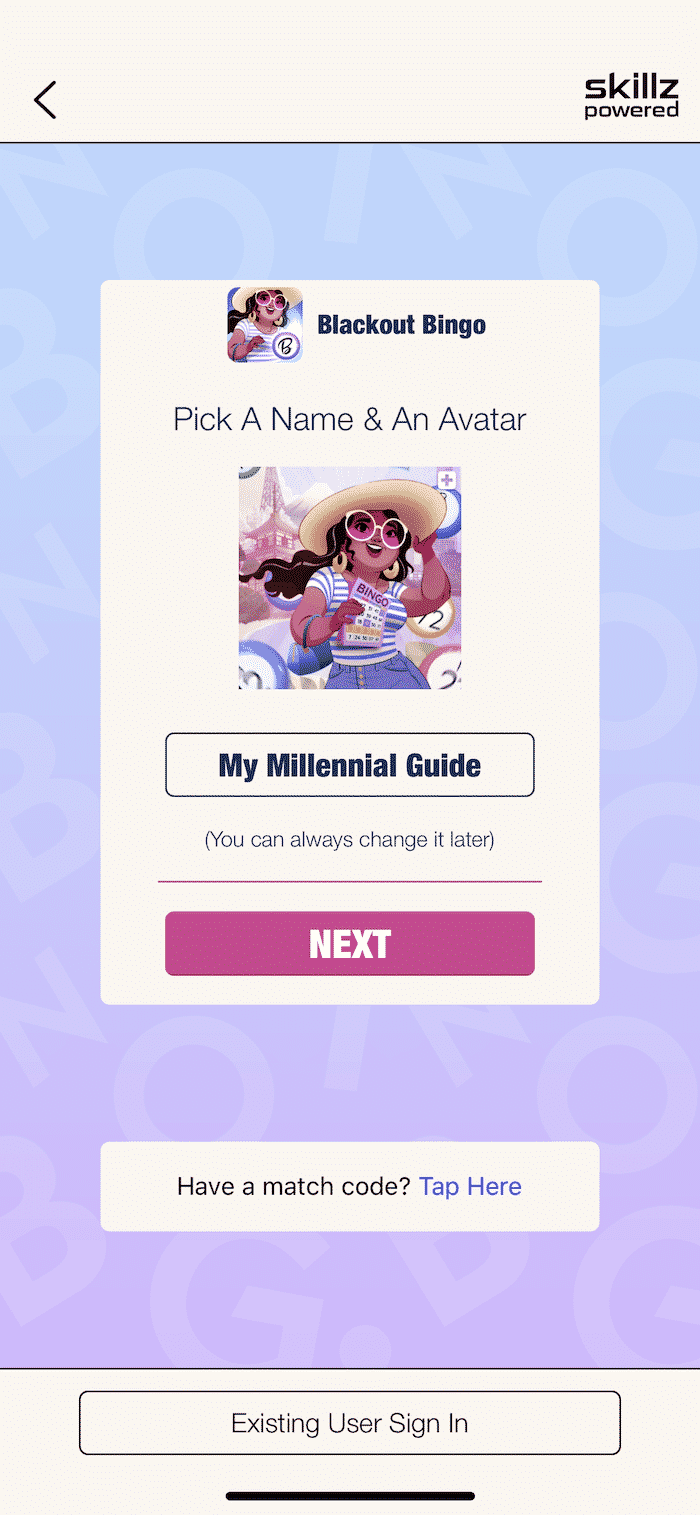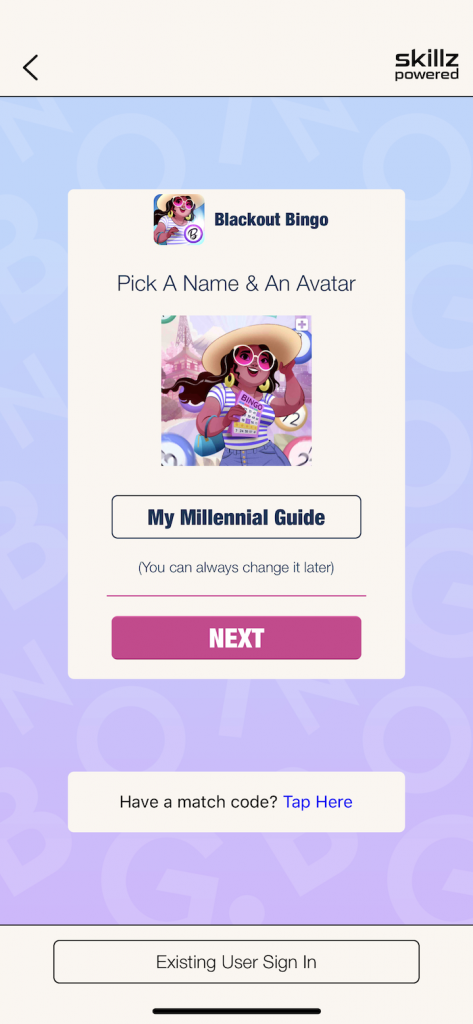 You start by playing a practice game so that you can get the hang of how the game works. Next, you are assigned opponents based on your skills and level of success with the practice game.
During each game you play, as soon as you get three matches on your Bingo card, you will earn a Daub (an option to mark the one of spots anywhere on the board).
Earning the Daubs will help you get to Bingo more quickly. Each game is timed to last two minutes, and you can earn multiple Bingos during one game once you get really good at it.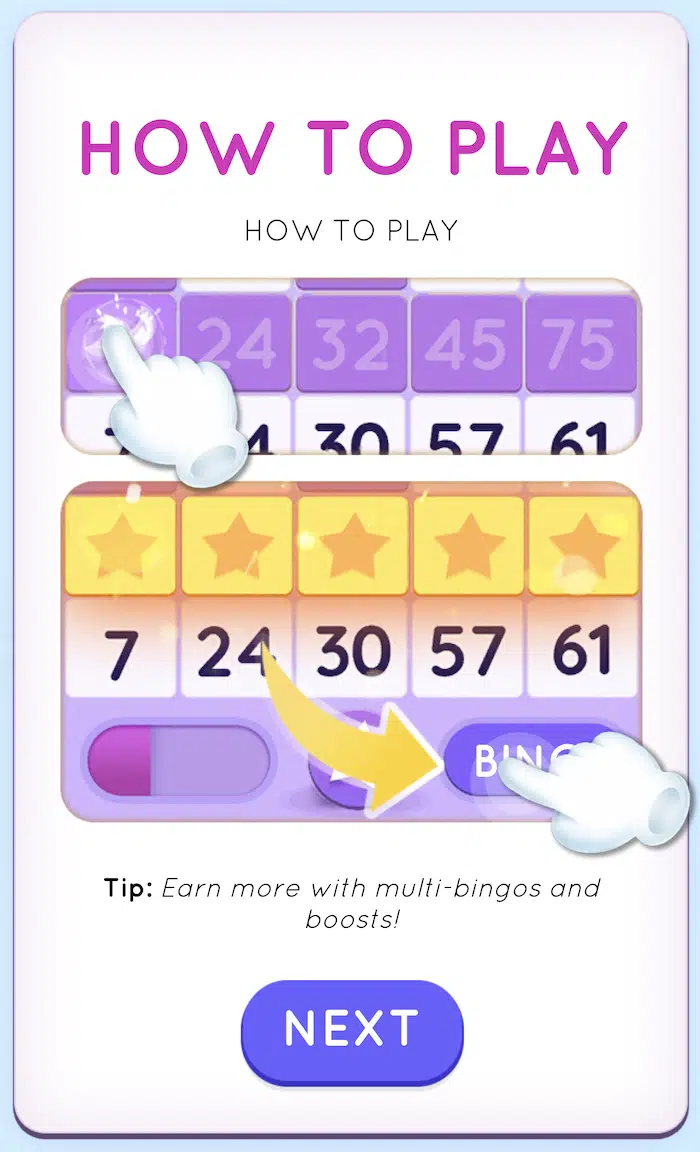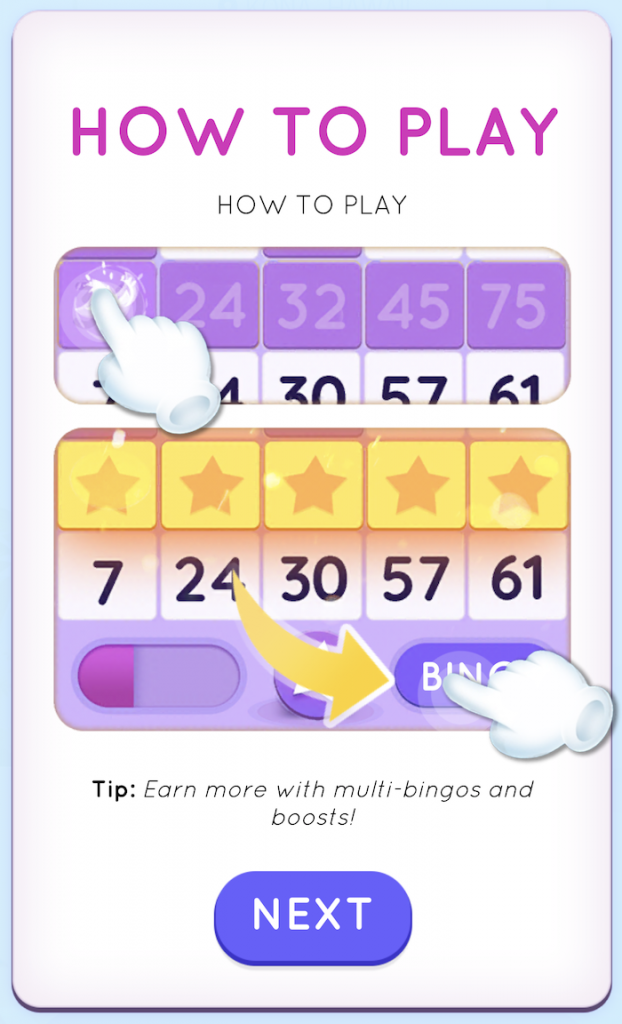 Blackout Bingo Features
A ton of YouTubers claim to make $300 fast or other large amounts of money. Is it real? Here are different ways you can actually win money on this bingo for cash app.
Bonus cash
When playing Blackout Bingo, each match you play earns you points. You need to earn z tokens to compete for prizes. To get past the practice match, you need to earn 1 z token.
But, when you use that 1 z token, you have the opportunity to play in a 2z game, meaning you can double your tokens if you win. Additionally, you have opportunities to earn extra points for correct daubs, speedy play, earning Bingo, earning multiple Bingos, and hitting a spot that gets you X2 bonus points.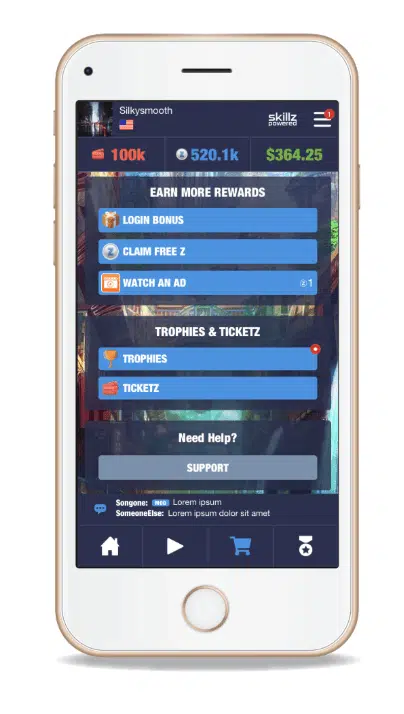 You'll be amazed at how quickly you will rack up the bonus points that lead to bonus cash within the game. Bonus cash that allows you to level up or make in-app purchases of different features.
This is similar to many other online gaming apps. It's fun to begin earning the bonus cash within the app and watch it grow. Once you get really good at playing Blackout Bingo for bonus cash, you can move up to play for real cash (where available).
Every day that you play Blackout Bingo, you have the opportunity to earn rewards in the form of extra z tokens or Ticketz. Ticketz are earned whether you win or lose a game. Z tokens are awarded when you win.
You will earn Ticketz each time you play Blackout Bingo. For example, just for playing the practice round, you will earn 2 Ticketz.
There are several tiers of Ticketz, depending on how many you earn per month, ranging from Bronze (earn 1 Ticketz with 0 Ticketz monthly requirement) all the way through 6 levels, up to the Black level (earns 6 Ticketz with 800,000 monthly requirement).
Real Cash
Real cash is something people often ask about when using gaming apps. Many apps promise real cash, but don't deliver. Getting real cash is possible when using gaming apps like Blackout Bingo!
You can earn real cash by winning games, referring friends, or even trying new versions or other games offered by the same company (Skillz). What a great way to earn free money!
With so many people addicted to their phones, having the opportunity to earn real cash while playing games on your phone is a huge plus!
Earning Ticketz is the best way to earn real cash! Just as an example, when you reach 20K in Ticketz, you will earn $1.
Get all the way to 1,250,000 (yes, that's a lot of Ticketz and takes a lot of games—but remember, you won't want to stop playing once you start!) and you will win $100.
Then, once you realize how fun Blackout Bingo is and tell all of your friends, you can earn $20 for any friend you refer who makes a deposit.
Real Prizes
If you don't want to play for the real cash prizes, you can also choose to play for real prizes. Earn 140K Ticketz and you will get yourself a Skillz t-shirt!
Prizes go up in value, and include items such as phone cases, mugs, camera lenses, portable speakers, and solar phone chargers.
You'll need a lot of Ticketz to earn the higher prizes (for example, 860K Ticketz for a solar phone charger), but you will earn Ticketz steadily if you play regularly!
How to Win?
Blackout Bingo will allow you to travel the world virtually, visiting many exciting and exotic places, including Hawaii, Paris, Dubai, New York City, and more.
The graphics and effects are amazing and you will be traveling with the Blackout Bingo heroine, Chelsea, and see the world while competing with others for the prizes.
So how can you win? There are a few different strategies, mainly when you choose to use your golden power-ups and your x2.
First, don't be too hasty in selecting your daub squares, however, because you will be penalized when you select an incorrect daub square. This will slow down your ability to accrue bonus cash!
In terms of golden balls, always use them to cover corners or the X, or if those are done, use them for bingo lines.
Don't worry about your luck when playing Blackout Bingo! While playing, you will earn the option to get 'boosts,' which allow you to move forward in the game more quickly.
As you progress through the game, you can add more Bingo cards, up to a total of 4 to help you increase your skills quickly and definitely have more fun.
You will win a Blackout Bingo game when you cover all of the spots on your Bingo card before your opponent.
How to Cash Out on Blackout Bingo?
Yes, you can cash out on Blackout Bingo. In fact, we ranked Blackout Bingo as one of the best PayPal games that pay real money.
You can withdraw your balance whenever you make a deposit and start playing with real money by selecting Withdraw from the main menu.
The same payment method you used to make your deposit, either PayPal or a credit card, will be used to make any withdrawals up to the sum of your deposits.
Pros
---
A neat way to pass the time and earn some side income while you're at it
If you choose to spend money and play in events and play in the brackets, it's very possible to win money playing bingo in this game of chance
Fun to play this classic game with a social competitive twist
Skillz support team is easy to reach
Easy to make a withdrawal
Cons
---
Some players reported having issues seeing a bogus wifi error message at the end of the game
No chance of free money, you have to pay to win any money
Some players claim there are programmed bots on the app playing
Other Game Apps Like Blackout Bingo
There are of different bingo games to win money, but my favorite gaming apps that pay are Blackout Bingo, Solitaire Cash and Bingo Cash.
Pros:

Unlock $100 rewards by exploring new apps!
MOST POPULAR ✔
Pros:
Unlock $100 rewards by exploring new apps!
Who Should Play Blackout Bingo?
Blackout Bingo is a great Android, Samsung, and iOS game for money, one that is fun for gamers, and people who are looking to earn some pocket money or great prizes.
Or those who enjoy other Skillz games, like Solitaire Cube, Pool Payday, 21 Blitz, or Dominoes Gold.
When you play a bunch of different games, you certainly won't get bored, and you will find that you can really maximize the prizes and real cash that you can earn!
How much does Blackout Bingo cost?
Blackout Bingo is a free app! However, if you want the chance to earn great prizes or real money, you may need to deposit money into your account to compete for these. Those who become Cash Players are usually players with top skills who play the game quite a bit. The better you are as a player and the more you play, the more money you can earn. Although Blackout Bingo is free, if your account becomes inactive, meaning you don't enter at least one tournament during a six-month period, you will be charged $2 per month to keep your account open and in good standing.
How old do you have to be to play?
There is no age limit for Blackout Bingo. In order to redeem any cash prizes, you need to be old enough to get a PayPal account—which is only available to those 18 and older in the United States (other countries may have different age requirements for PayPal).
What is the difference between this game and gambling?
Playing Blackout Bingo is no different from playing other online games. When you become a Cash Player, you will be gambling, meaning you will have to deposit some money into your account to compete.
How can I be matched in a competition that is fair?
Blackout Bingo will automatically match you with opponents who have similar skill levels, in an attempt to keep the games fair and fun. It's no fun to play with an opponent who is far better or worse than you, so the game is programmed with algorithms that make the best matches based on your performance and how often you play.
Is Blackout Bingo a scam?
Blackout Bingo is a legit gaming app, and definitely not a scam. It is true that you can earn real money, even without paying any of your own money. Just remember that if you want to earn the big prizes or the big money, you will probably have to deposit some money into your account to compete at the levels with the big payouts.
Do I pay taxes on money I earn?
earn money playing Blackout Bingo (or any other online games) are subject to federal and/or state income tax guidelines. If you earn above a certain limit, usually around $600, you will receive a 1099 form that you will have to report on your tax return. For many people, the threshold for taxable income will probably not be met, but just keep in mind that if you are a big winner, you will be responsible to pay taxes on that income.
Can anyone play?
Yes! Anyone with an iPhone or iPad or Android device can enjoy the fun of playing Blackout Bingo! Sign up now to get started!
The Bottom Line
Blackout Bingo is a great app, that is very fun and highly addictive! I found myself wanting more to win more trophies in this brand-new bingo-style game. Once you get going, you'll love to daub fat and use fun boosts to take the bingo world by storm.
While I haven't become a bingo master, this game provided me with beautiful graphics, key features that make the game appealing, and tons of ways to kill time while earning a little side cash.
If you love playing games on your Android, iPhone or iPad, you will find that the social competition, along with the ability to earn great prizes and real cash is a great way to spend your time.
Whether you are a serious gamer or just like to pass the time with entertaining games, then Blackout Bingo is the right game for you!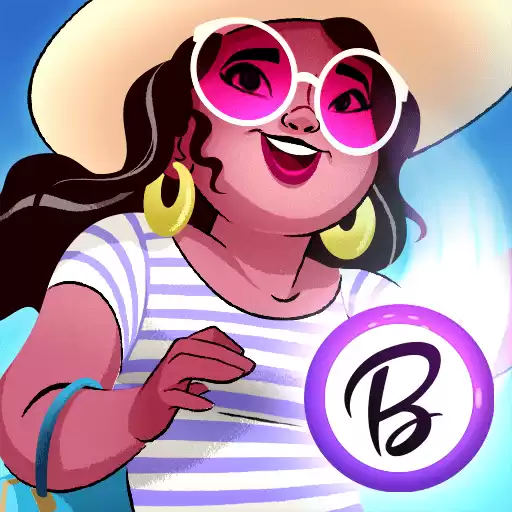 Blackout Bingo
You can make money playing bingo for free with this brand-new bingo-style game. With over 86K positive reviews in the App Store, it's a legit way to make money.
Download Now →