Lots of us already play solitaire games for fun or just to pass the time. Want to see if you can win real money at it?
You can check out a cash card game app called 21 Blitz that lets you play solitaire for money and you can get paid up to $82 per win.
There's no catch, you can choose to play in high-stakes tournaments or just for fun. In each game, you'll play with 5 other players of equal skills.
With raving reviews and over 33.9K positive ratings in the app store, this is a legit gaming app that pays.
Cash tournaments not available in AZ, AR, CT, DE, IN, LA, ME, MT, SC, SD, and TN but you can still win some amazing prizes!
What is 21 Blitz?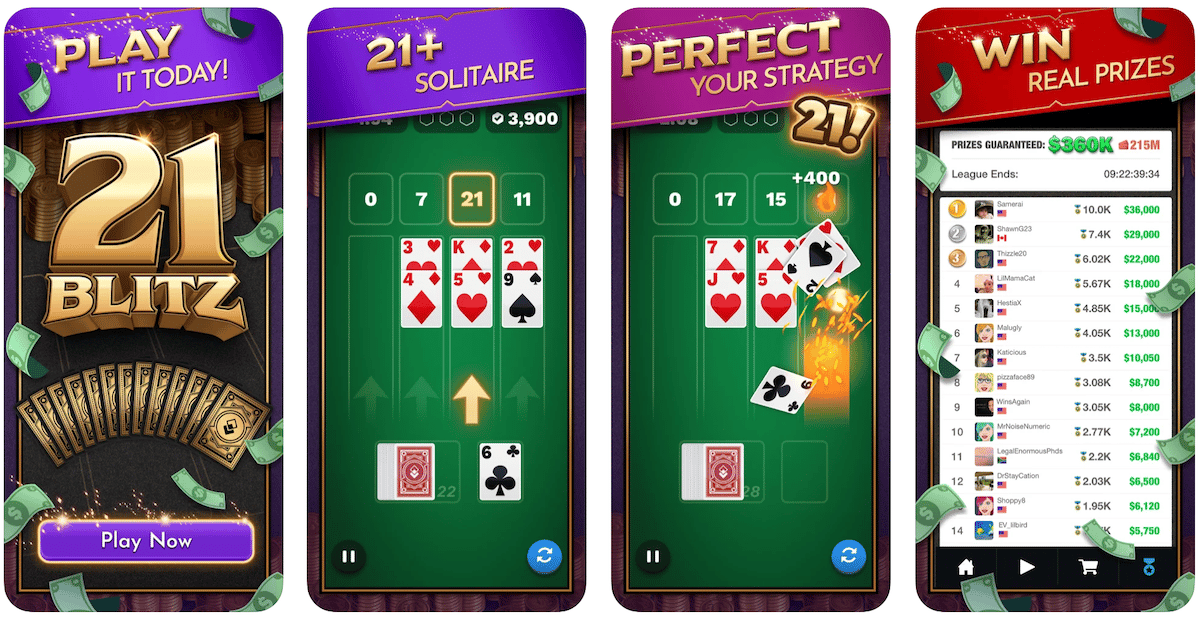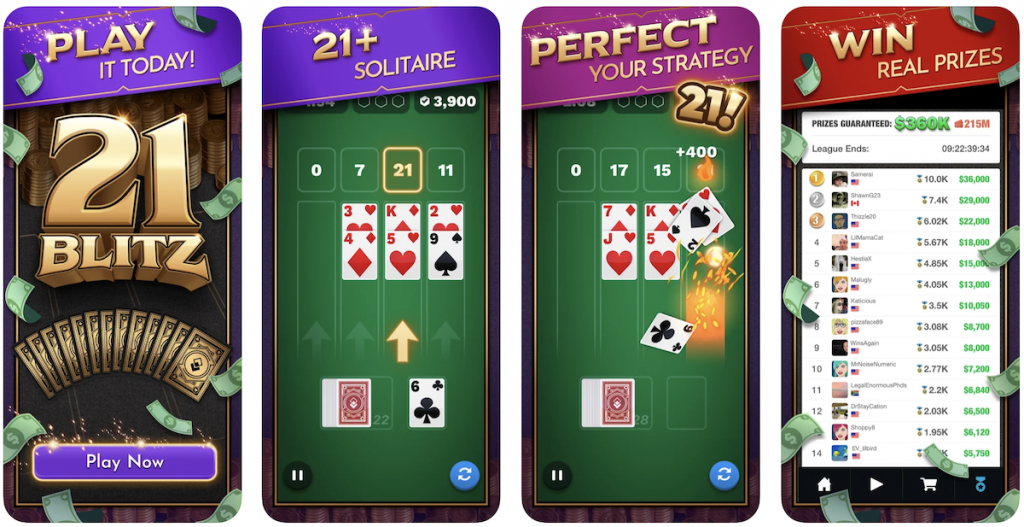 The objective of 21 Blitz is to collect as many points as possible by matching card combinations from a hand. It's a mix of Solitaire and Blackjack, with bonus games that you play against other individuals for money. It's fast-paced and enjoyable.
You can practice and hone your talents for free prior to putting some money down and competing in tiny or big matches. The game is quite easy; just make 21s or columns of 5 cards in succession to earn points.
You compete in three-minute rounds for each game, which consists of one deck of cards. You may earn bonuses if you finish the deck within the time limit.
The game's developer is Tether Studios, but it runs on Skillz, an eSports platform that manages the prize and cash component that makes the game so appealing.
How Does 21 Blitz Work?
There are a few distinct strategies to play 21 Blitz, which keeps players entertained.
Practice Matches
Both players solve the same deck in free practice games, and the player who completes it first wins. You'll earn Z Coins, virtual money that can be used to play more matches, and Ticketz, which may be traded for tangible prizes like a new car! Even though, playing that many games to win a new car is not likely, they still offer it.
Head to Head Matches
Like most games that pay real money developed by Skillz or AviaGames, two players are competing for cash in head-to-head matches.
Cash prizes are given to winners, as well as a Ticketz medal. This will be your next step after completing Practice Matches to begin playing for money.
Tournaments
In these Tournaments, up to 32 gamers can compete against each other for money, Ticketz, Z Coins, and medals in a 24-hour period.
These are more complicated than regular tournaments because they have multiple rounds, leaderboards, and awards. The cash prizes are greater in these competitions than in previous ones.
Can You Win Real Cash?
You can win real cash by playing 21 Blitz.
The small deposit required in the Head to Head and Tournament games allows players to cash out if they win. In Tournament mode, players may earn up to $7,000 or more!
The Practice Matches are free to play and offer virtual cash prizes, which may be spent on tournament entries or converted into a variety of real-world rewards.
The minimum required deposit with Blitz is $10. 21 Blitz takes PayPal, Apple Pay, and credit cards. The platform uses PayPal to transfer funds out of your account at any time.
Is 21 Blitz Available for Everyone?
Cash tournaments not available in AZ, AR, CT, DE, IN, LA, ME, MT, SC, SD, and TN but you can still win some amazing prizes!
Is 21 Blitz Legit?
Yes! You can enter Tournaments with a minimal deposit and the money goes into a pot that is split among the winners. You may withdraw funds at any time using PayPal, making it an easy and secure method.
Every week, $12,672,327 in prizes are awarded to over 2,000 players; last week, 605 players each won more than $500 in cash rewards.
You can, however, just have fun with it. The Practice Matches are less competitive but still entertaining and allow you to earn virtual cash for entering tournaments and actual items.
While you must deposit a little amount to play in the Head to Head or Tournaments for bigger rewards, it's a fun opportunity to compete for money and certainly worth downloading!
Apps like 21 Blitz to Win Real Money
What are other apps like 21 Blitz? There are a lot of games that pay instantly to Cash App and ways to get paid to play games.
But the three below are our favorite iOS games for money:
Blackout Bingo
Welcome to Blackout Bingo a brand new bingo-style game where you can win real-world rewards and cash prizes. This game boasts over 13K+ positive reviews in the App Store.
Dive fast and use fun boosts to take the Bingo world by storm. Travel the world and play in amazing and exotic places. A recent player left a Blackout Bingo review saying:
"Are you going to make $700 from this game? No, probably not possible! But the two days I've been playing this I've earned about $34.59! "
It takes concentration, speed, and strategy to become a bingo master. Do you have what it takes?
Cash tournaments aren't available in AZ, AR, CT, DE, IN, LA, ME, MT, SC, SD, and TN but residents can still play the free games for swag!
Solitaire Cube
Solitaire Cube is an addicting game where you can play Solitaire on your phone. It's available on the Apple Store and Google Play Store.
It's pretty easy to get started and the game will match you up with other players who have the same level of skills in real-time.
Solitaire Cube includes tournaments and head-to-head competitions with real cash prizes (where available). That's what I was interested in most in our Solitaire Cube review.
If you deposit money you can enter cash tournaments against other players. Cash outs are through PayPal and I had no issues withdrawing or depositing money.
How to play? Stack cards into piles to sort them by their suit. Sound easy? It is!
Pool Payday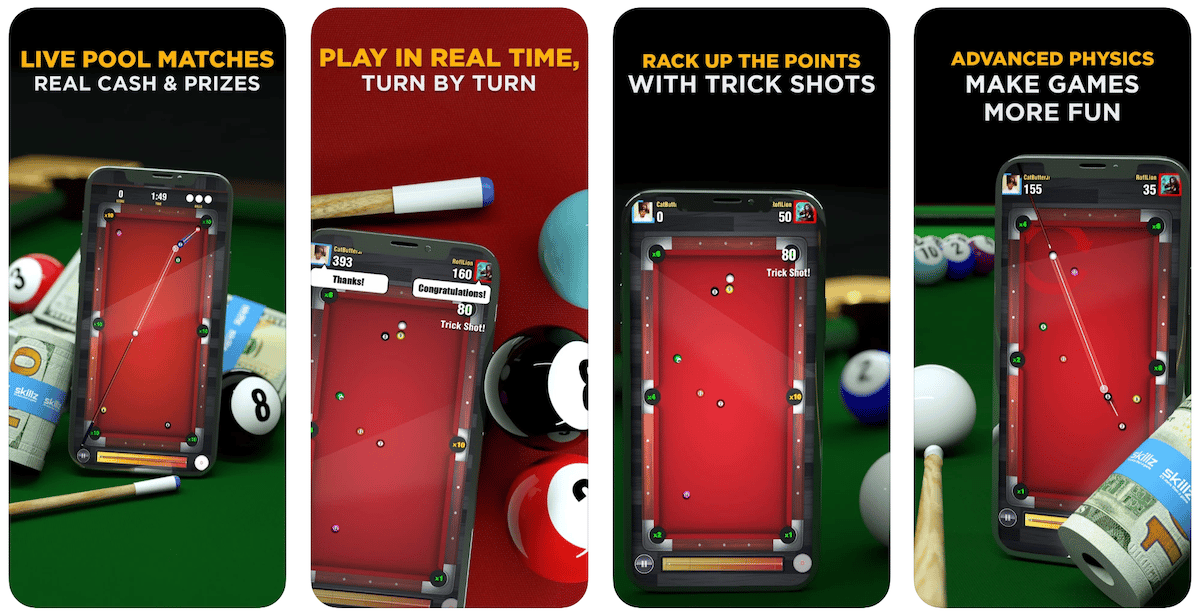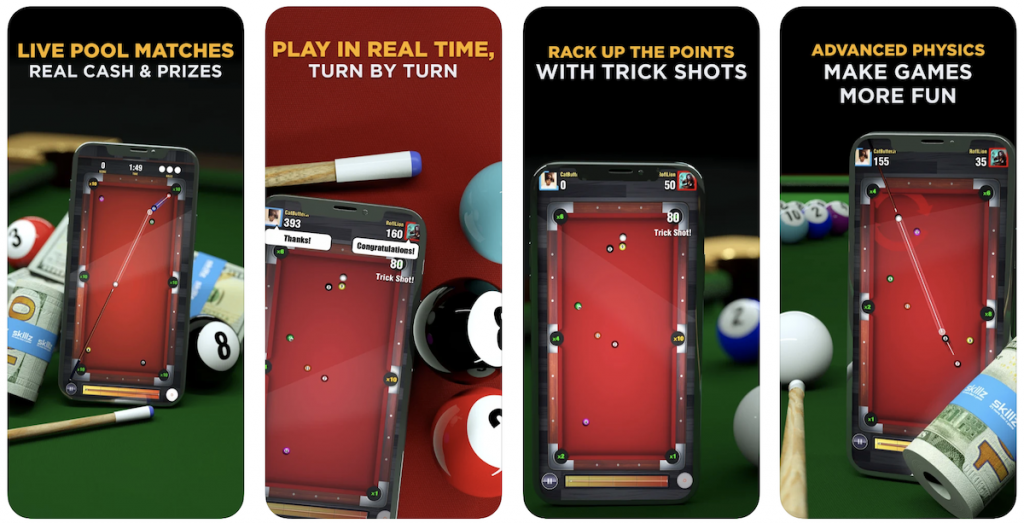 Pool Payday is one of my favorite gaming apps to win real cash. I've been playing online pool since back in the AOL days and now I enjoy playing it for real money.
"This billiards game is probably the most realistic pool game on iOS (I've tried them all)."
So if you enjoy playing pool as it should be played — with stunning 3D graphics and the most accurate and realistic pool physics available on mobile — you should give it a try.
To chalk it up, this app is complete with leaderboards, trophies and an amazing loyalty program that rewards you just for playing.
Just note that cash tournaments aren't available in AZ, AR, CT, DE, IN, LA, ME, MT, SC, SD, and TN but everywhere else is fair game to win actual money! Learn more in my Pool Payday review.
Dominoes Gold
Dominoes Gold is a gaming app that lets you win real money for playing dominoes.
You won't waste your time with this win real money app as it has a 4.7/5 rating out of 6.2K+ reviews in the App Store.
As shown in my Dominoes Gold review — I've been playing for the past few weeks and win around I win about 70% of my matches — it's legitimate.
The only thing you'll want to do when playing is turn off notifications or disable phone calls so you won't get interrupted doing a real-time cash game.
Cash tournaments not available in: AZ, AR, CT, DE, IN, LA, ME, MT, SC, SD, and TN but you can still play for free if you're in these areas.
Mistplay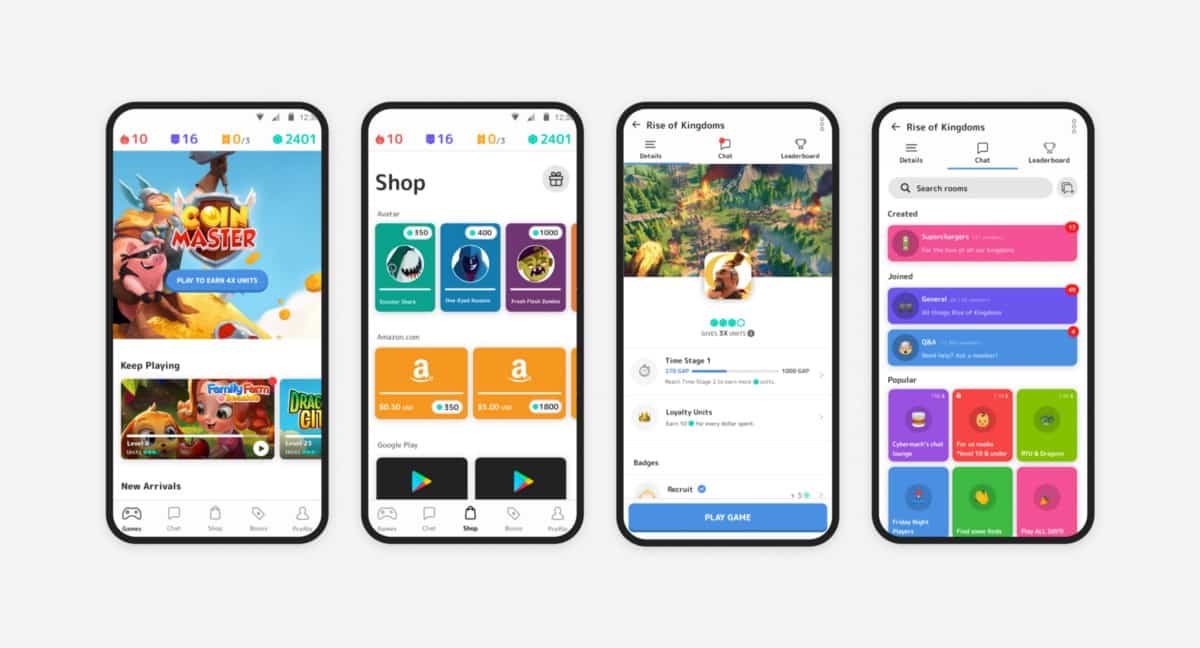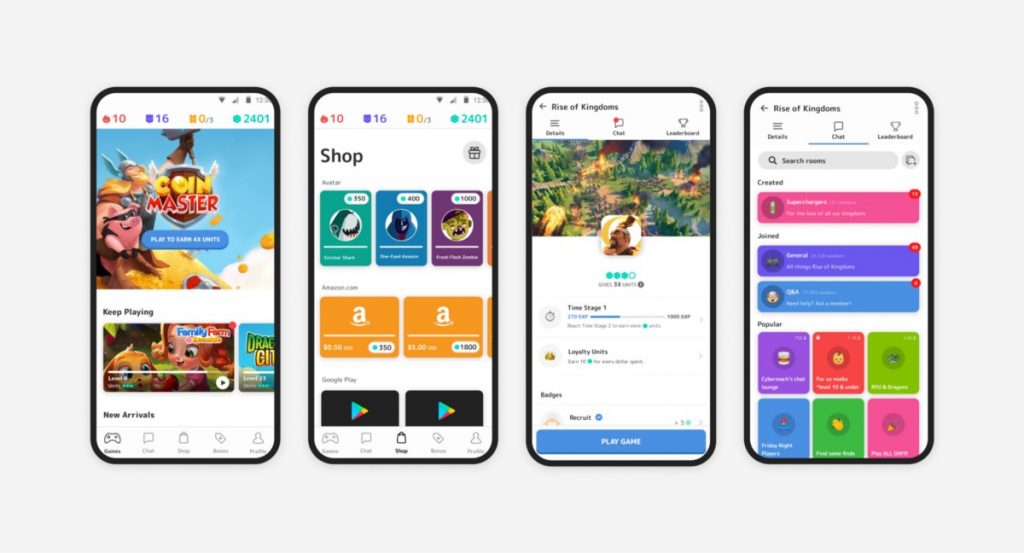 Mistplay pays you to play games, no really it does. While earning money playing games sounds like a dream, this app lets you do just that.
How it works:
1. Install a game in your mixlist.
2. Play that game to start earning units.
3. Redeem your units for free gift cards.
That's it.
To get started you can download the Android app and start playing and earning or you can learn more in this Mistplay review.
Drop
Drop offers you free gift cards for playing arcade games within its list of apps to play. You can play casino games or game shows and the games list changes constantly.
Drop helps you find games on the iTunes App Store or Google Play, and each game has a task. When your required game task is complete, you'll get points that you can cash out for free gift cards.
The great thing about Drop is that it has so many ways to earn — you can earn by playing games, cash back offers, taking surveys, and other rewards.
Is 21 Blitz Worth Your Time?
If you play games on your phone while commuting or during downtime, this could be a wonderful way to earn some pocket money. It can be entertaining to participate in a contest for the potential chance of cash with 21 Blitz.