In a recent study, GoHenry found that 68% of kids are worried about the cost of living crisis many adults are facing today. In fact, the same study shows that 44% of kids have a part-time job or are looking for one to help their family make ends meet.
That's a staggering amount of young minds worried about money. However, GoHenry knows that financial education is something that parents can start young to build better financial habits for their children's future.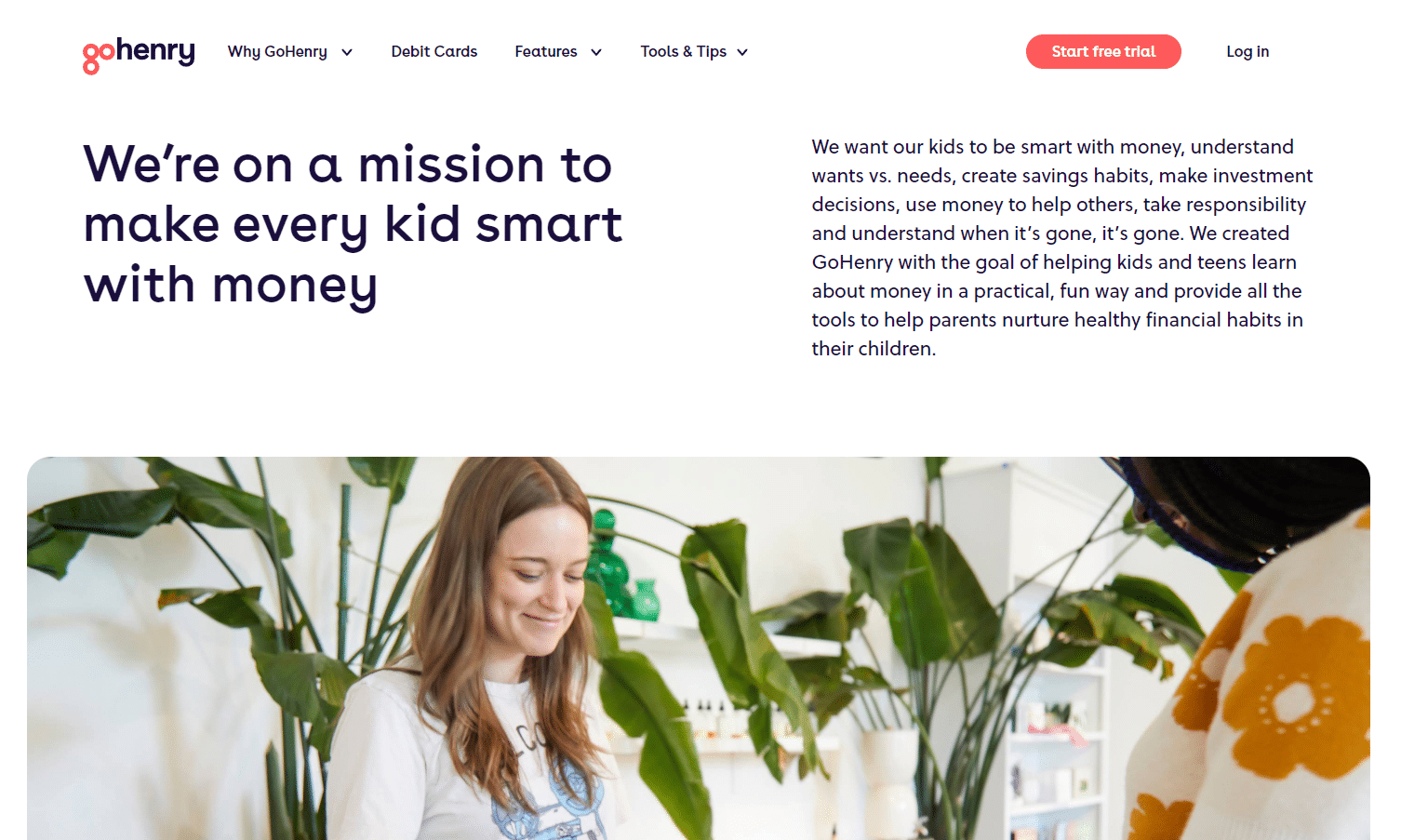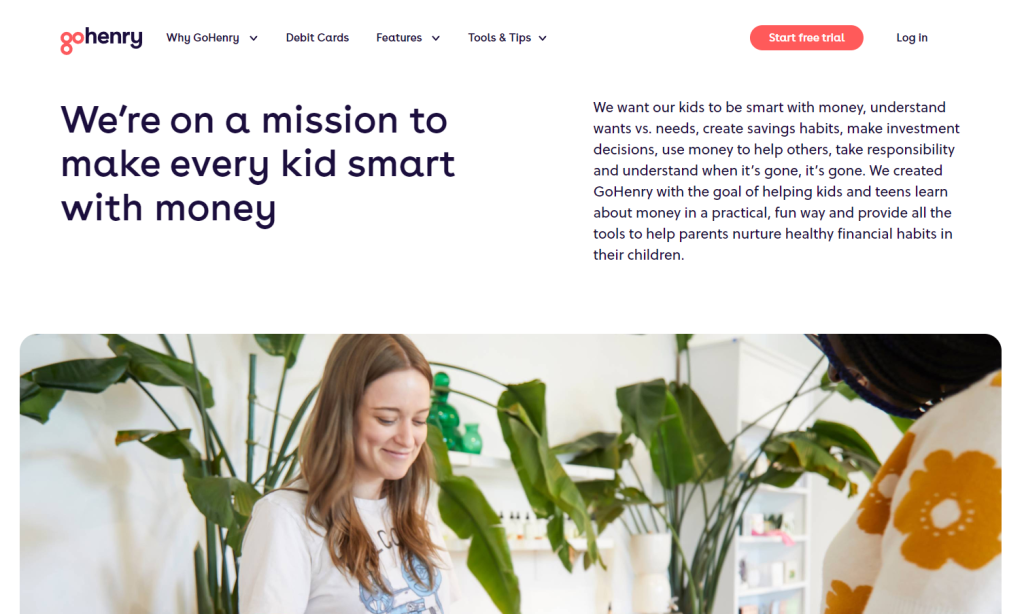 If you've heard of GoHenry or just aren't sure what features this app offers, you've come to the right place. We'll discuss how you and your child can use GoHenry to take control of finances and set the foundation for future success.
You'll also find out how you can use one of the best debit cards for kids to help your children learn more about money management. GoHenry does come with a monthly fee but that's a small price to pay for knowledge that continues to serve your family as they enter the working world.
Are you ready to learn more in our GoHenry review? Let's get started!
What is GoHenry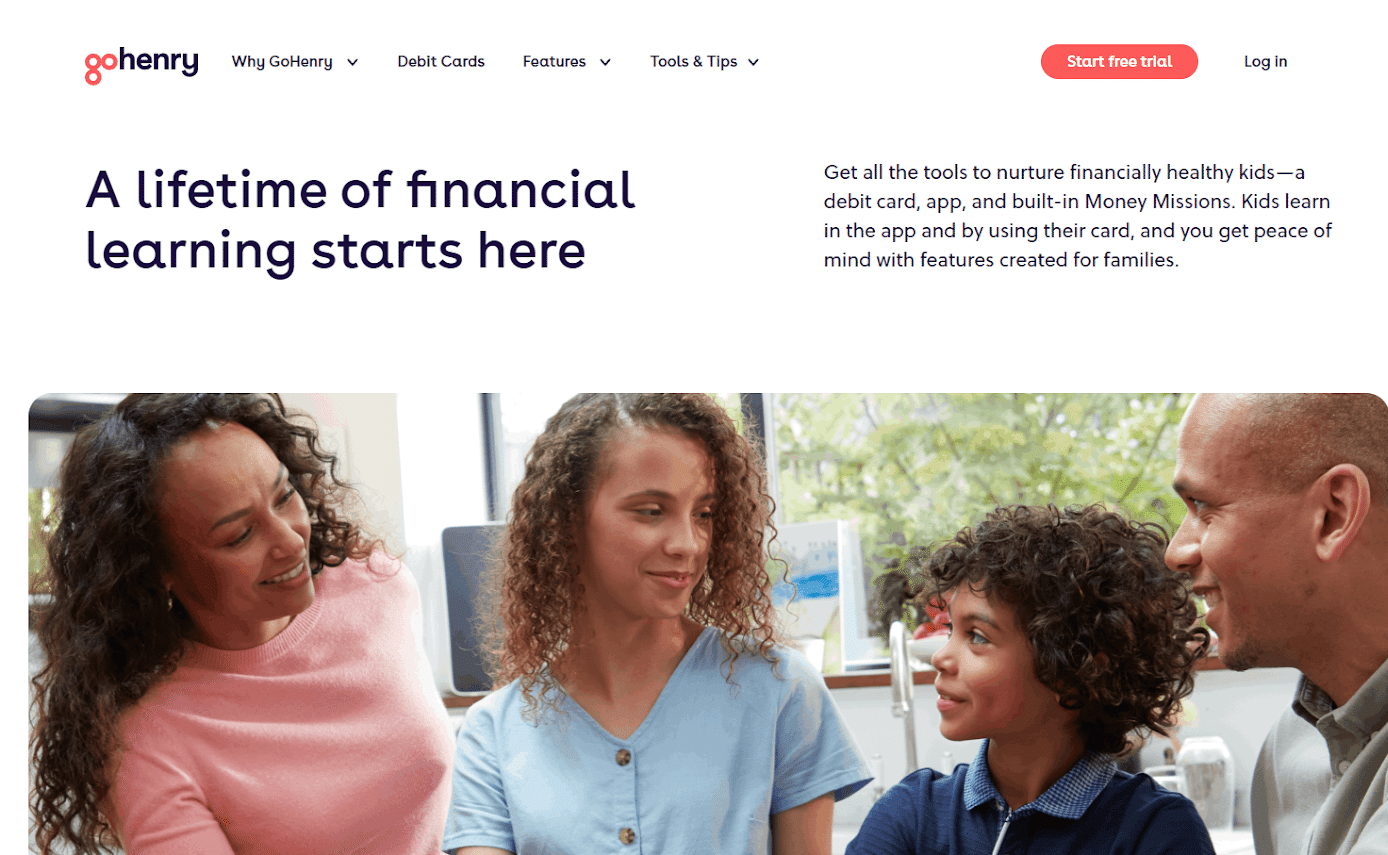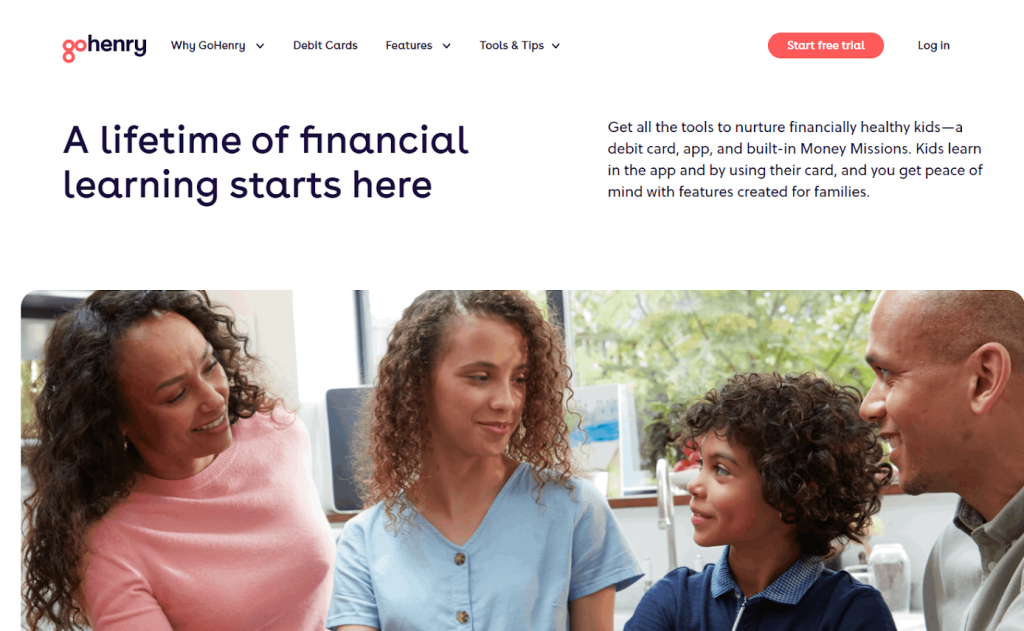 GoHenry answers the question, "Why is personal finance important for kids?" The financial management and education app was founded in 2012 by parents who wanted to give their kids and many other children the chance to learn about money in a supportive environment.
Many parents use GoHenry to teach their children about building rewarding financial habits from an early age. Over two million members use GoHenry daily to give their kids an edge when it comes to the big, scary financial world out there.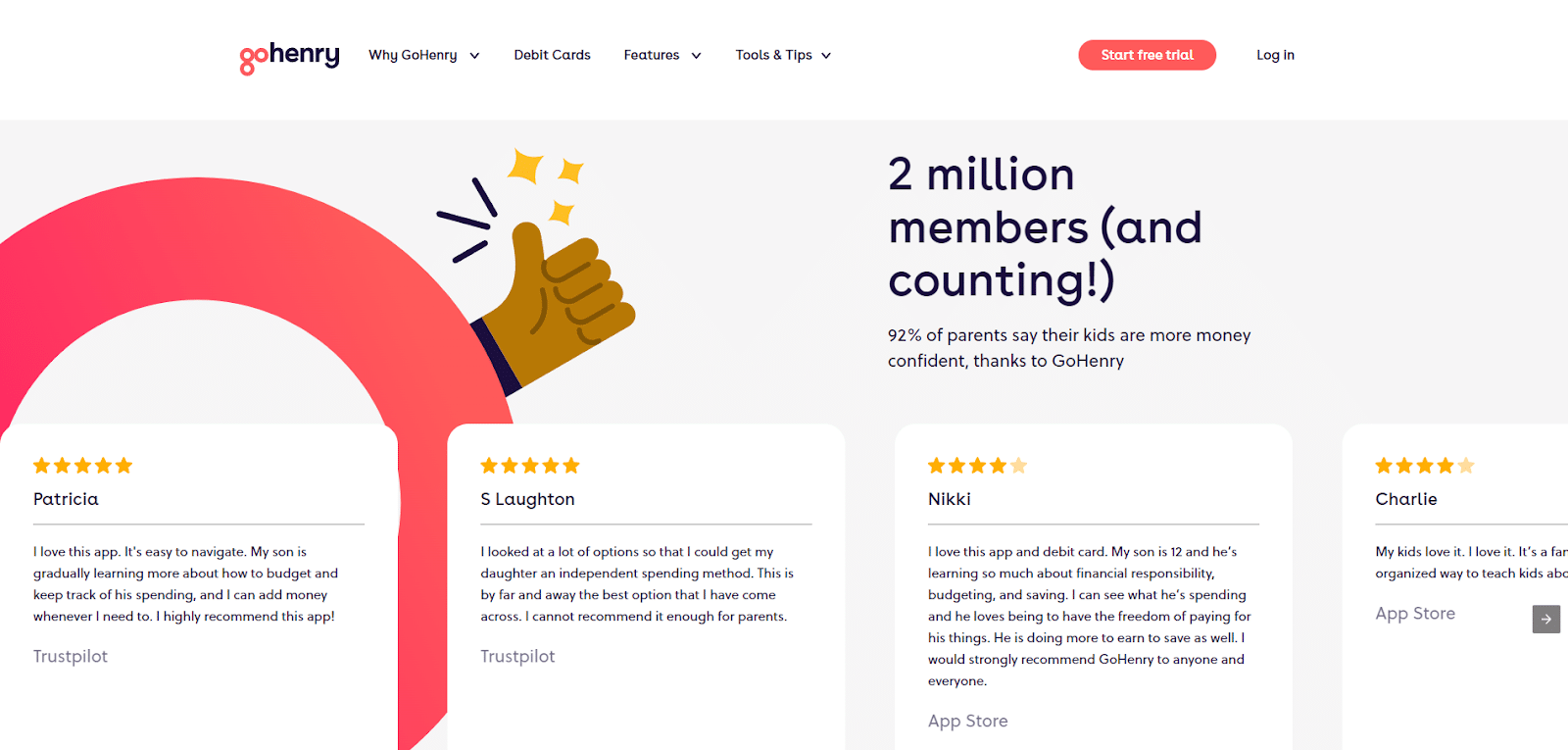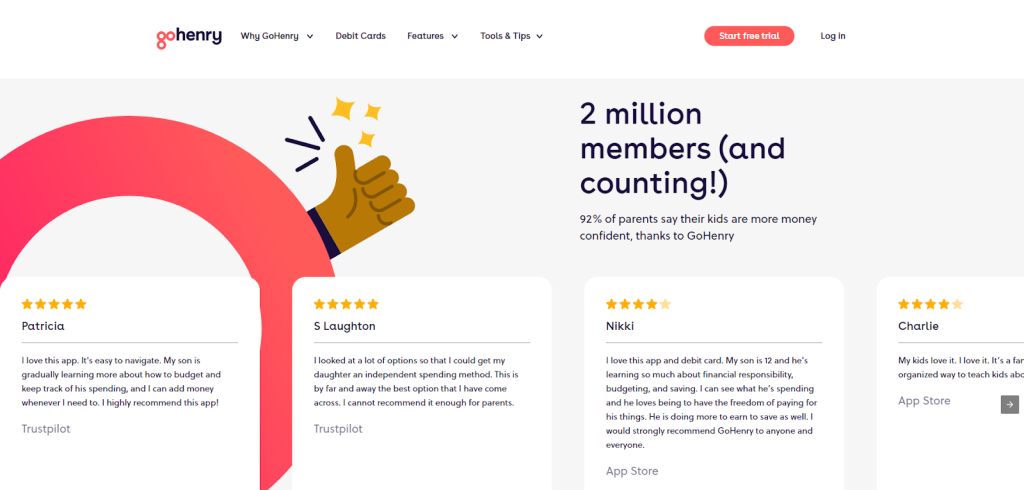 Unlike other platforms, GoHenry doesn't lock customers into a long-term contract. All you have to do is simply pay a simple monthly fee to use the service and cancel any time by contacting Member Services via email or phone.
Creating an Account
The first step in using GoHenry to teach your kids about personal finance is creating an account. Parents might wonder, "How old do you have to be to open a bank account?" but those age rules aren't necessarily the same when it comes to GoHenry.
GoHenry invites parents to sign up first and then create an account for their kids. Kids ages six to 18 are invited to join.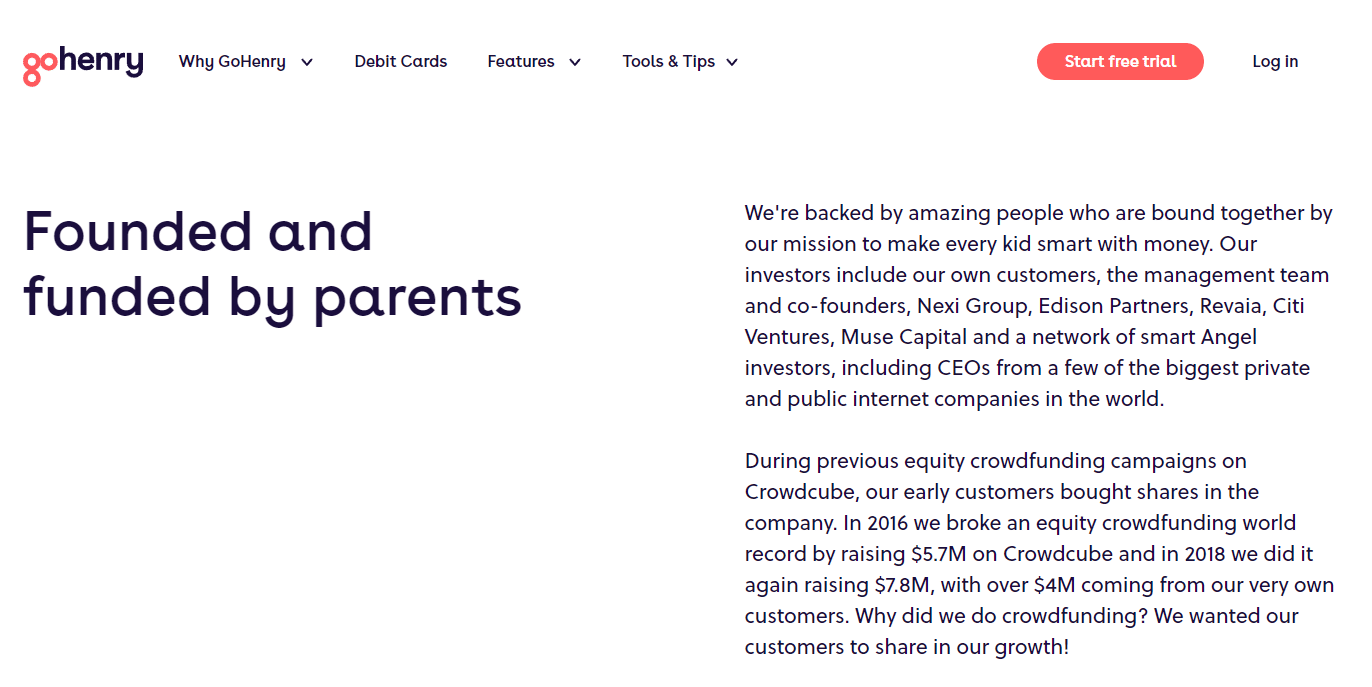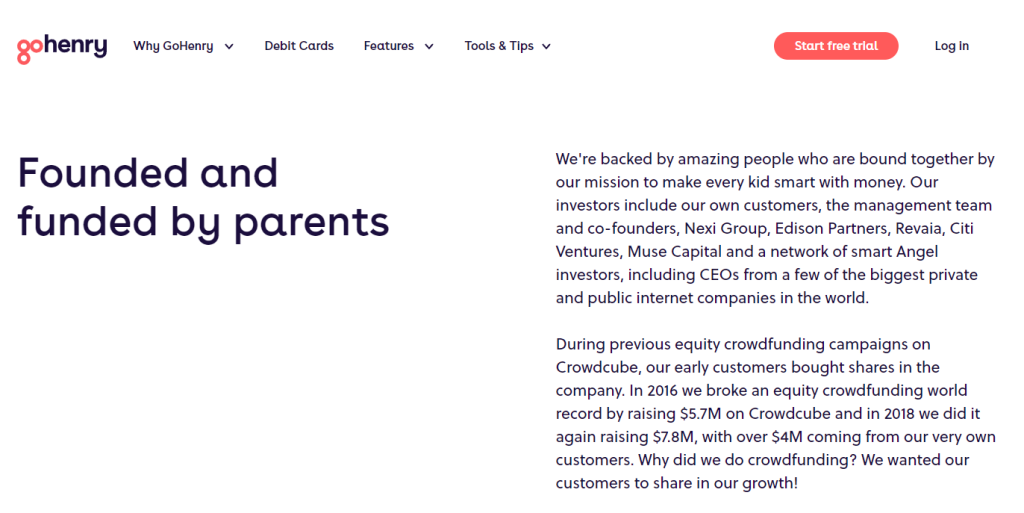 All you have to do to sign up is download the app and create your account using a phone number, email, and password. Add your child's information as prompted and confirm your account.
GoHenry accounts come with a debit card your child can use to pay for purchases, from movie tickets and food items to Amazon products. After you create your account, your child's debit card typically shows up in about seven to eight days.
The best thing about GoHenry is that it grows with your child. Teenagers unlock more features as they grow older for even more financial responsibility.
Parents can easily add or withdraw funds from their child's GoHenry account. If you choose to close your account with GoHenry, any funds left over will be transferred back to your bank account within seven to 10 days.
You can also withdraw those funds via an ATM if you need them sooner. You have three days from canceling your account to reverse that decision; otherwise, you have to create an entirely new account if you want to sign back up with GoHenry.
How Does GoHenry Work
You've heard of surveys for teens and online jobs for teens. What about ways for teens to learn more about money and how to manage it now and in the future?
GoHenry gives kids access to a personalized debit card they can use to pay for purchases. It's a bit like being an adult and handling expenses without all the stress.
Parents love GoHenry because it allows supervised use of money while still giving kids the chance to spend their hard-earned funds how they like.
In fact, GoHenry allows you to send allowance funds, establish chore lists, and set parental controls to keep your kids safe as they learn about money.
GoHenry has over 45 designs your kids can choose from if they want to personalize their new debit card. Their name will appear on the card even if they go with a standard design.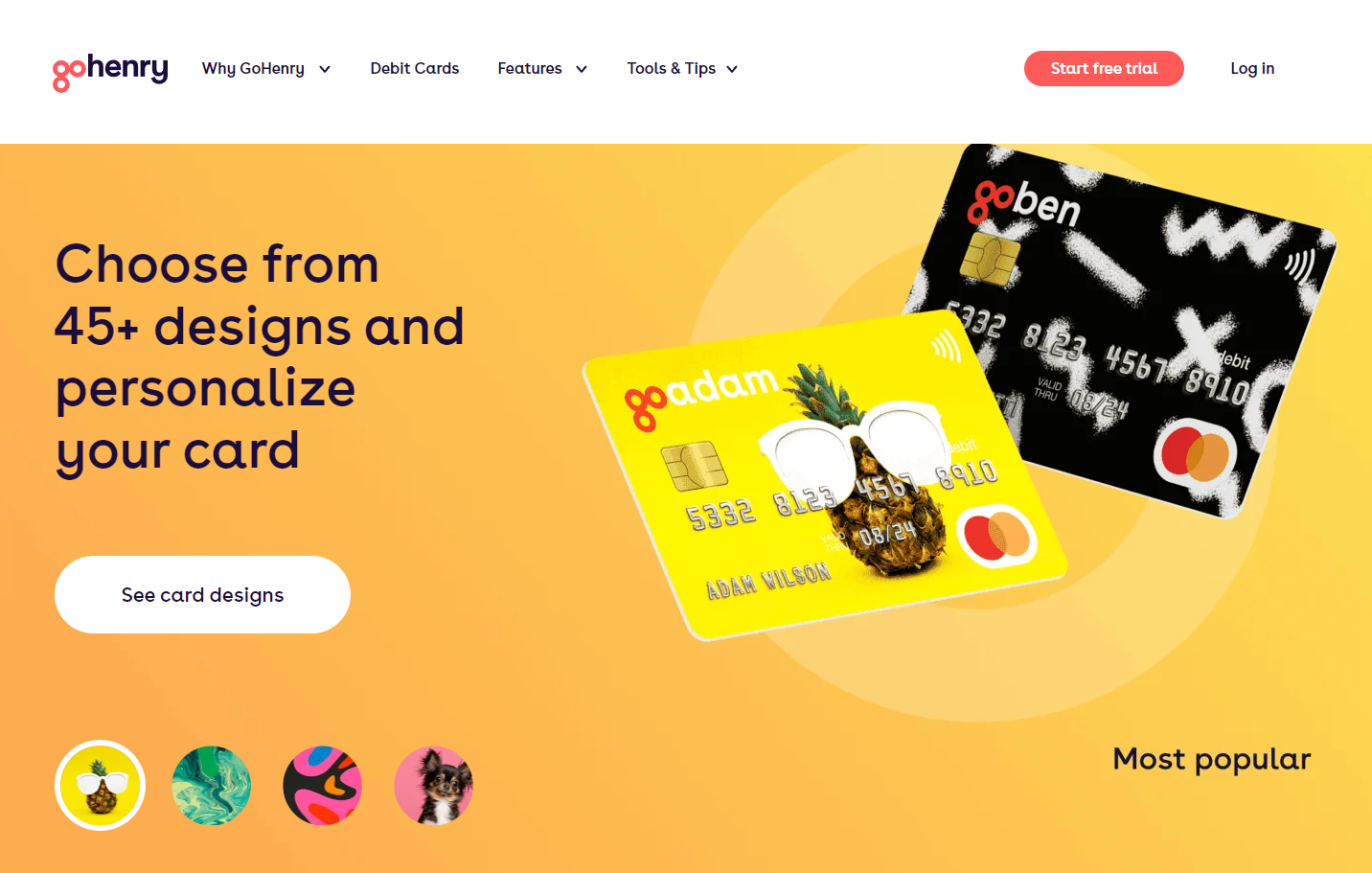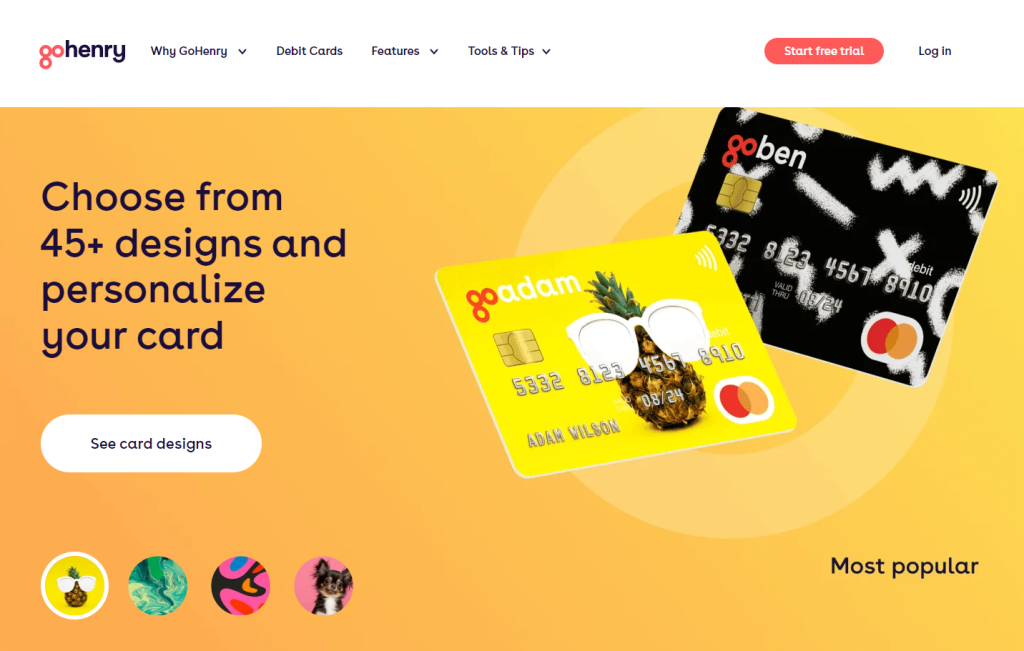 Parents worried about overdrafts need not stress. GoHenry lets parents set spending limits but doesn't allow kids to go over their available balance without consent from a parent or guardian.
The funds in your child's GoHenry account are protected with the same FDIC insurance that covers your personal bank account. You are limited to withdrawing $120 per day from an ATM.
GoHenry requires that you live in the United States or the United Kingdom to open an account. Your child can use their GoHenry debit card abroad wherever Mastercard is accepted.
If your child is looking for ways to make money as a 13-year-old, GoHenry can help. It's a better, safer alternative to surveys for kids and sets your child up for future financial success.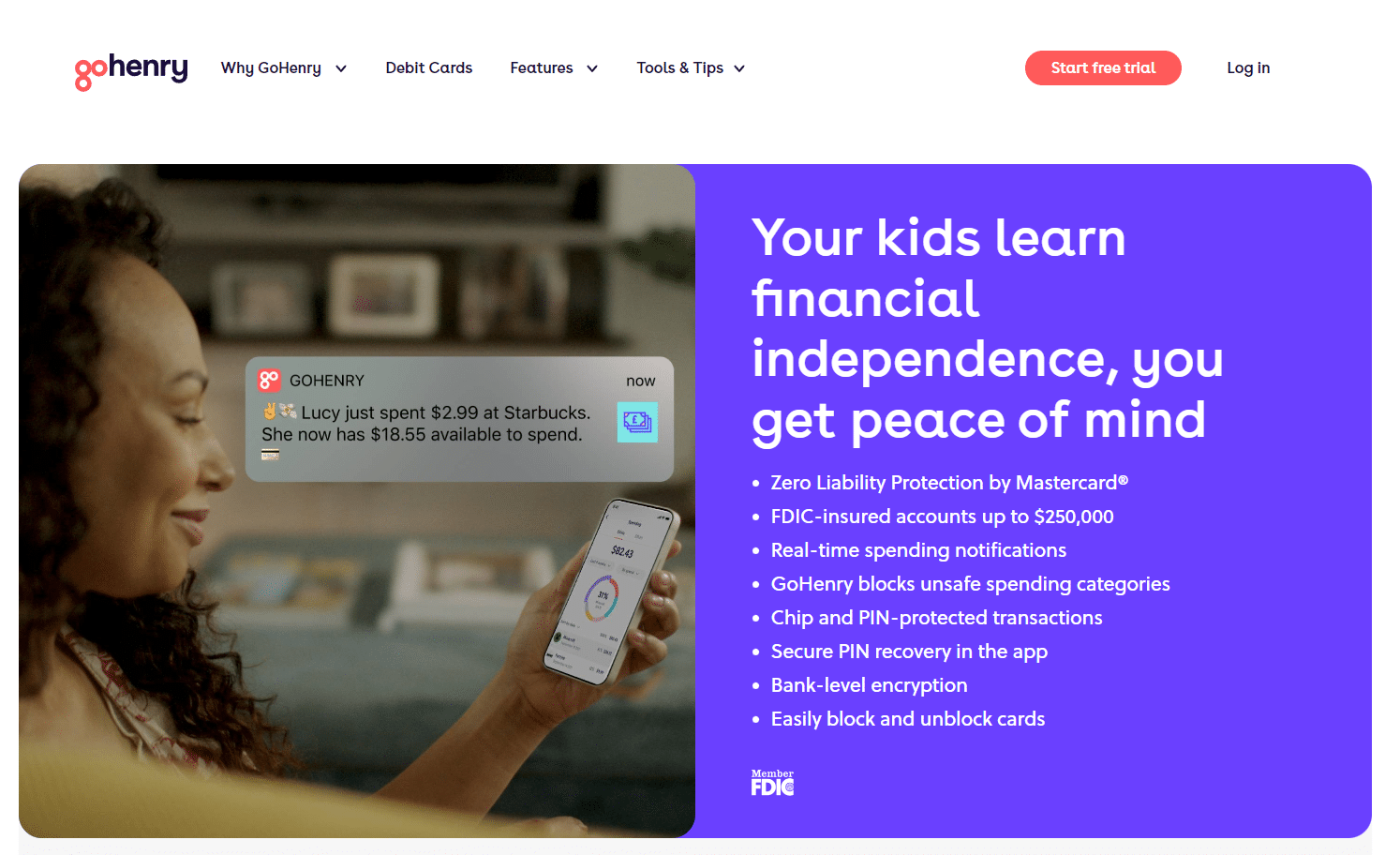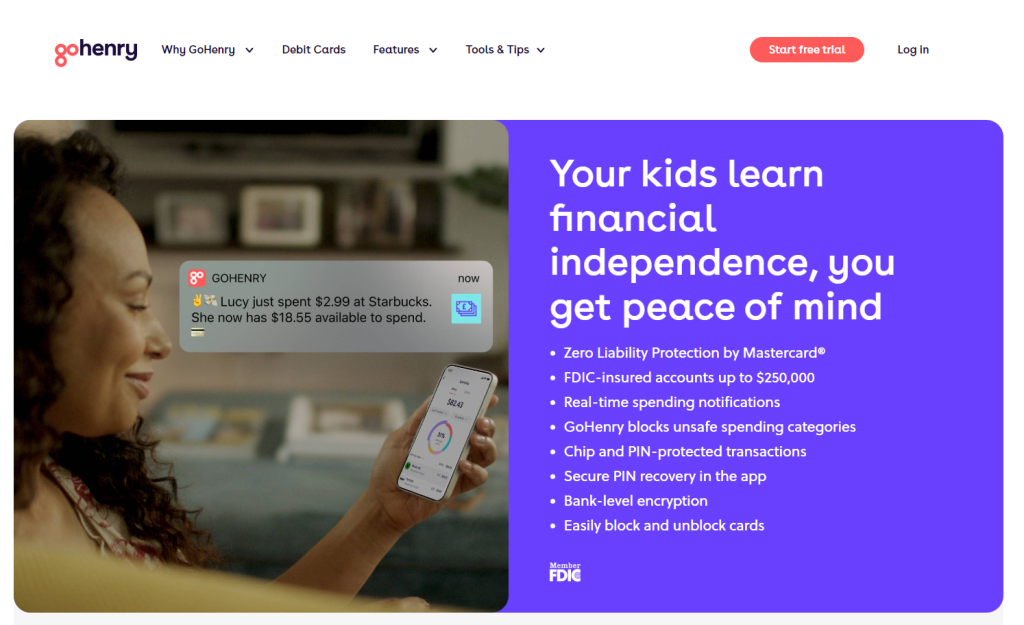 Adding Funds
If your child needs cash now and wants to get paid today, you can easily add funds to their GoHenry account. All you have to do is initiate a transfer between your parental account and your child's account from the GoHenry app.
GoHenry allows you to load money in three ways: Weekly Allowance, Quick Transfer, and Tasks. Weekly Allowance sets up a recurring payment to transfer funds automatically while Quick Transfer immediately sends funds to your child's account for instant availability.
Tasks make your kids work for their funds. You can set up chores and corresponding payment amounts that reward your kids when you mark these tasks complete.
Giftlinks
Setting up a savings account for your child can help pay for college, especially if you use 529 college savings plans. Friends and family can help by sending money to your child's GoHenry account directly.
After downloading the app, family and friends can send money for free through GoHenry's Giftlinks. They can even include a message for your child if they like.
GoHenry limits how much your child can receive depending on what month it is. If it's your child's birthday month, they can receive up to 10 gifts per day at a limit of $350 each, or up to $750 per month.
In the other 11 months of the year, your child can only receive three deposits each day. The same $350 limit applies but your child can only receive up to $350 per month.
GoHenry Features
Additional GoHenry features include the prepaid debit card, parental controls, money missions, and the chance to give to charity. You can also earn a referral bonus of $30 when you refer acquaintances to GoHenry.
A prepaid debit card comes with your child's GoHenry account and allows them to make contactless payments. Your child's name will appear on the card, and if they're at least 13 years old, they can add this prepaid debit card to their Google Pay or Apple Pay account.
Parents can easily set up one-time transfers for odd jobs or recurring allowance payments for completed chores. Parental controls include setting spending limits and receiving real-time notifications about how much their children are spending and where.
GoHenry is also a great app if you want to teach your child about setting up a savings goal. While GoHenry doesn't quite offer a 5% interest savings account, it can be helpful to show your kid how to save up for a large purchase.
Money missions also help kids learn about finances in a fun way. These online courses allow kids to learn and level up as they complete missions.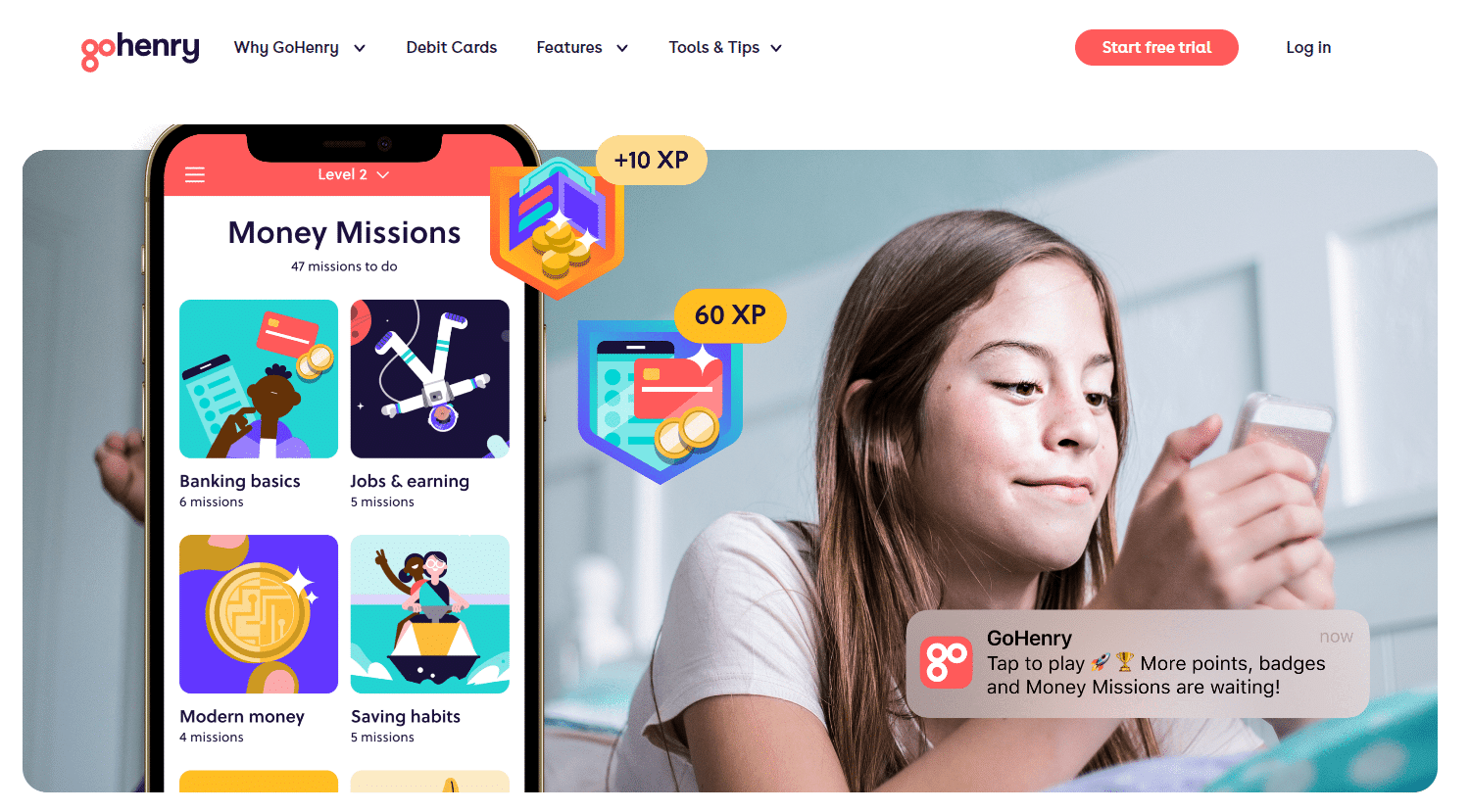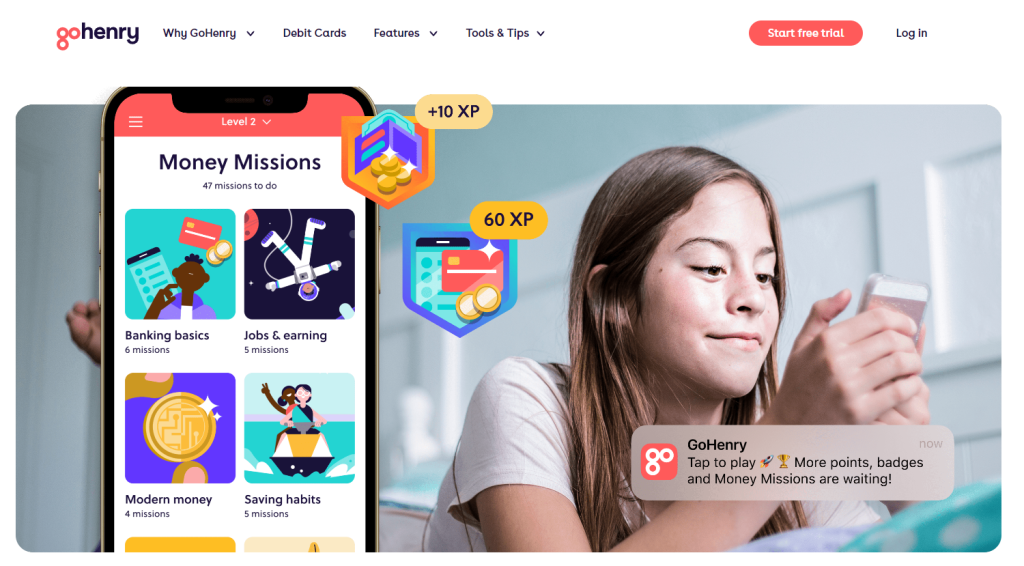 Lessons within money missions include topics such as compound interest, savings, and investing. Your child can also donate to the Boys and Girls Club of America to give back.
Fees
If you're concerned with how to avoid bank fees and overdraft charges your child may incur with their GoHenry debit card, you can rest easy. Instead of having to answer the question, "What is an overdraft fee?" when it takes part of your child's hard-earned money, you can instead explain overdrafts without the loss of funds.
GoHenry does charge a monthly fee based on how many kids you'd like to add to your parent account. You can either pay $4.99 monthly per child or $9.98 monthly for up to four kids.
Additional fees include a $4.99 custom card upgrade charge, but it's not mandatory for the account. ATM withdrawals cost $1.50 per transaction, no matter which ATM you choose.
However, GoHenry doesn't charge a fee for overdrafts, replacement cards (of the same design), inactivity, loading money, online or in-store transactions, and international transactions.
Advantages and Disadvantages
GoHenry offers a unique service for parents and children who want to learn more about financial topics together. Let's take a closer look at the pros and cons of this app before we talk about how it compares to other financial education apps out there.
Pros:
Parental controls
Overall lack of fees
Upgrading to a custom card is affordable
Free 30-day trial
Custom allowance and chore amounts
Can be used internationally
Evolves with your child for more financial responsibility
Cons:
Savings accounts don't earn interest
Cannot cancel an account through the app
Discount pricing only available for families with up to four kids
No investment options
Gift money limits can be low for some families
GoHenry Alternatives
The good news is that there are many other apps like GoHenry available for download. Here are a few of them for comparison: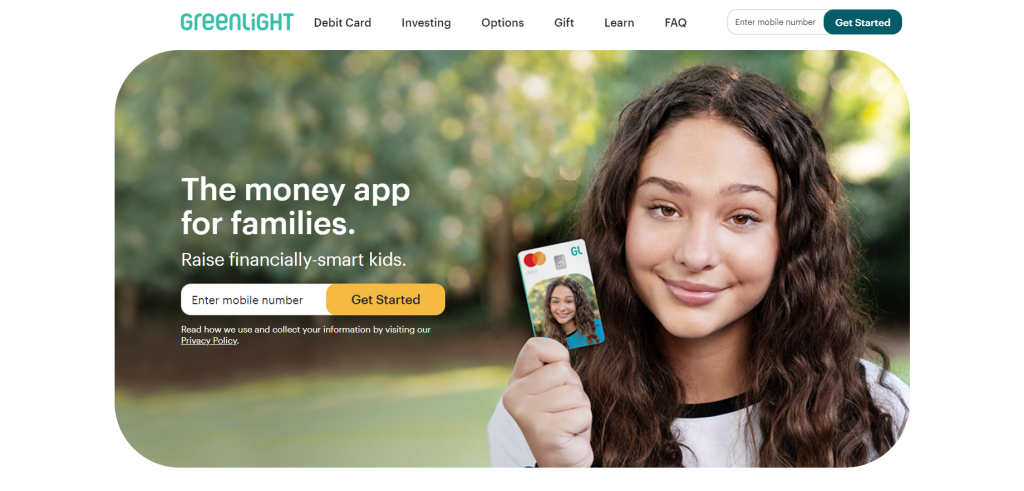 Greenlight is one of the most popular debit cards for kids and teens and has over four million parents and kids on the platform.
With a Greenlight debit card, kids and parents share one account. On the parental side, parents set flexible spending controls and receive real-time spending notifications. For kids, Greenlight lets users set savings goals, check their balance, and track spending.
There isn't an age requirement or minimum account balance. Kids also earn 1% cash back if they move money to general savings or part of a savings goal.
Greenlight has three plans (Greenlight, Greenlight + Invest, Greenlight Max) and your first month is also free. The basic Greenlight debit card account costs $4.99 per month for up to five kids. You can also pay $7.98 per month for a Greenlight + Invest account or $9.98 per month for Greenlight Max.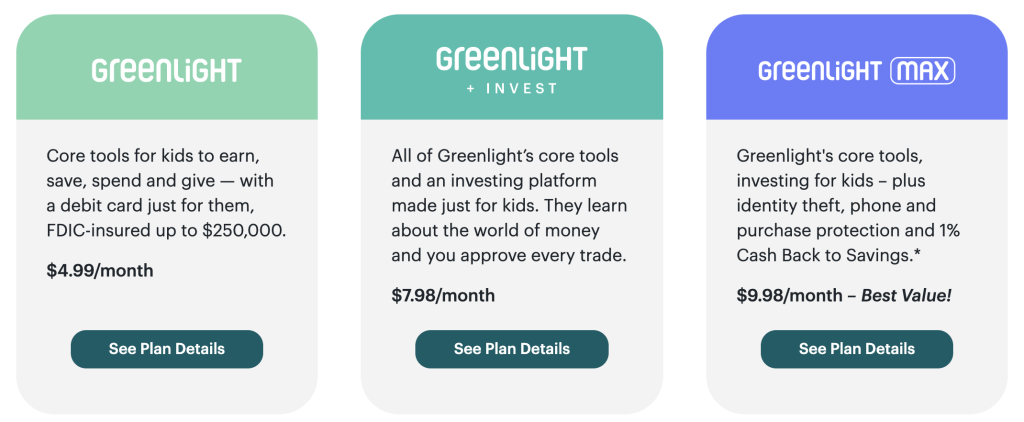 These plans unlock perks like higher interest rates and investing, but you can stick with a basic plan for your kid to learn the basics of money management. You can see the pricing page here.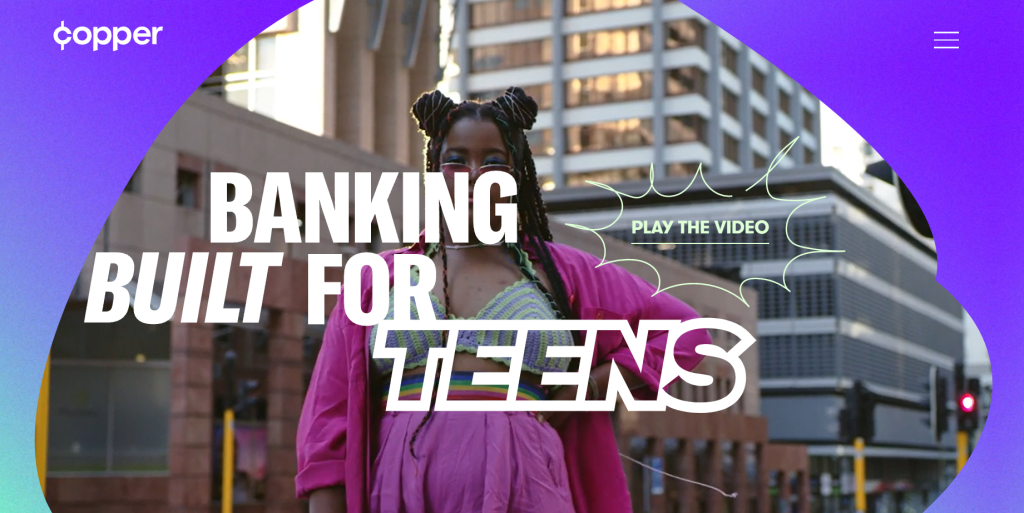 Copper Banking is an online bank that's specifically for teens 13 or older. If you want your teen to learn basic financial literacy and to manage their money through an intuitive mobile app, Copper Banking is the right choice.
With the Copper Banking app, parents monitor how much their teen is spending, automate allowance payments, and easily send one-time payments. For teens, the app is a sleek way to track spending, and Copper Banking also provides financial literacy tips to help teens learn about money.
Teens also get a Copper debit card alongside the app. There isn't a minimum balance requirement or hidden fees. You don't pay monthly fees either, and Copper has no ATM fees, this account lets you withdraw cash for free at over 50,000 ATMs.
Overall, Copper Banking is one of the most affordable debit cards for teens, and the user-friendly mobile app and financial literacy tips are also perks.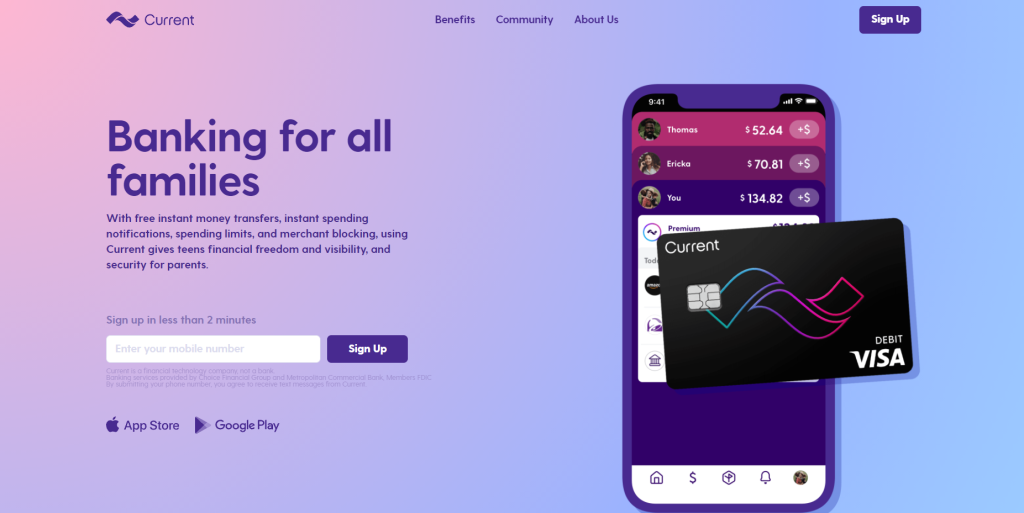 If you want a comprehensive debit card for kids and teens that offers a range of parental control and saving goals for kids, the Current debit card for teens is worth considering.
Like other leading cards, Current lets parents send one-time transfers, set up allowance payments, and create a chore list so kids work for their money. Parents also get instant spending notifications and can create spending limits or block certain merchants.
For teens, Current helps teach financial management by letting cardholders create a budget. Teens also create savings goals and can save automatically by rounding up spare change after making a purchase.
Current doesn't have a minimum balance requirement. There aren't transfer or overdraft fees either. The account costs $36 per teen per year, which is $3 per month.
While Current markets the card for teens, you can open an account as long as the primary account holder is 18 or older, so younger kids can try out the Current debit card to learn how to save and spend wisely.
BusyKid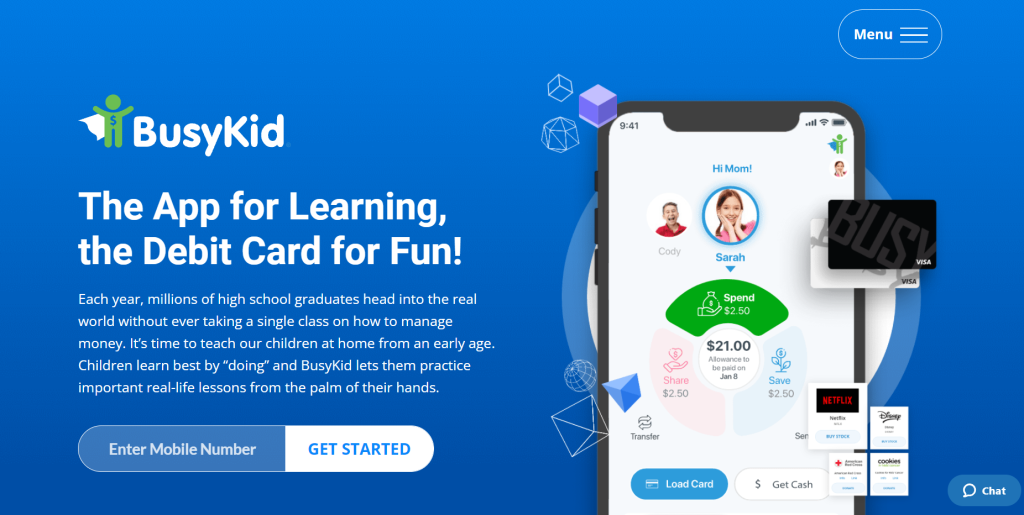 On the surface, BusyKid looks like a simple app that lets parents pay their kids for completing chores or a weekly allowance. And, while these are two main reasons to try this debit card for kids, BusyKid offers much more.
With BusyKid, a portion of the money you pay your kid gets automatically put into savings every week. Parents can also lock spending or set certain saving requirements to ensure kids are saving enough money. From there, kids spend their money with their BusyKid Visa Prepaid Spend card. This card can be used at ATMs and with Google Pay and Apple Pay.
Additionally, BusyKid lets kids donate to various charities or invest in stocks with as little as $10. Kids don't pay fees on trades either, so it's the perfect way for kids to learn the basics of investing. As a parent, you can also set up controls so you have to approve investing, donation, and saving changes.
BusyKid costs $3.99 per month or $38.99 per year, which includes up to 5 BusyKid Prepaid Visa Spend Cards and no fees on stock transactions. This makes BusyKid one of the cheaper debit cards for kids, and the fact your kid can invest without paying commissions is a unique feature worth noting.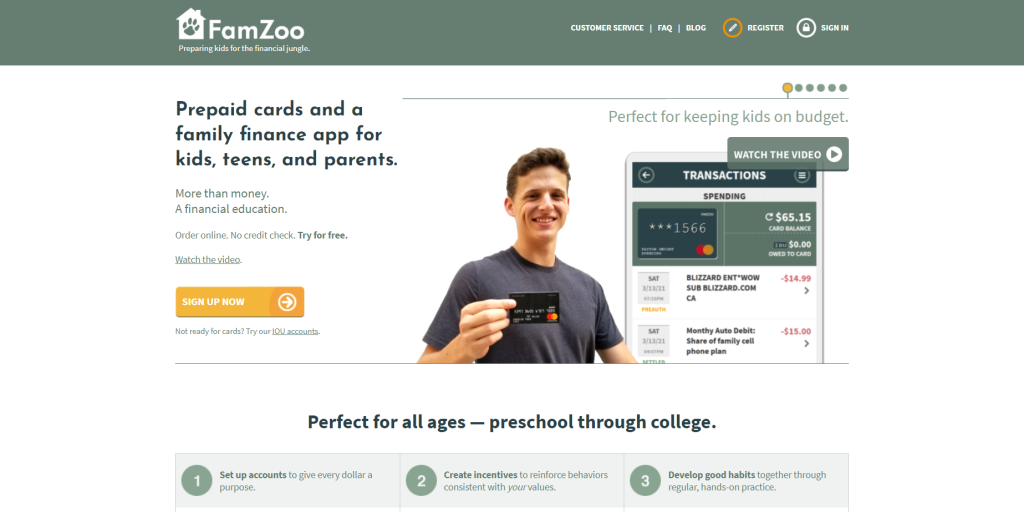 FamZoo aims to "prepare kids for the financial jungle," and its prepaid card certainly helps accomplish this goal and it's easy to sign up through here and get a free trial.
From there, parents can open a prepaid FamZoo card for kids of any age as there is no minimum age limit. It's simple for parents to set up allowance transfers or quickly approve money requests from their kid. Parents can also send split payments to multiple accounts which is useful if you want to pay several of your kids at once.
FamZoo also has numerous parental controls, including payment notifications, card locking, and spending limits. Furthermore, you can create save, spend, or give accounts and create savings goals for each account type. This helps teach your kid how to budget and allocate money for different purposes.
FamZoo doesn't pay interest, but parents can create automatic interest payments to teach the power of compounding. Additionally, you can create family billing to charge kids a portion of family bills, like a Netflix subscription or their phone plan.
Overall, FamZoo has more in-depth controls than most debit cards for kids. There aren't minimum account requirements or hidden fees. However, FamZoo costs $5.99 per month after a free first month. This monthly fee covers any number of family members. You also save up to 58% for prepaying for 24 months, so FamZoo can become more affordable — check out the pricing here.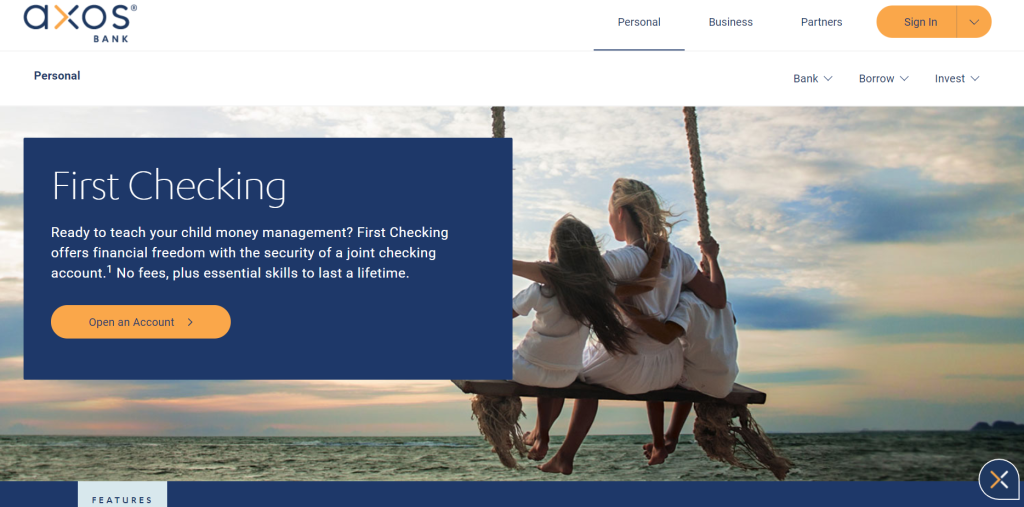 Axos is an online-only bank that provides services like checking accounts, high-interest savings accounts, and even personal loans.
And, Axos also has one of the best debit cards for teens with its Axos First Checking account. This checking account is for kids and teens ages 13 to 17. It's also a joint checking account, so parents can monitor spending and get real-time spending alerts. There's also daily transaction limits to prevent overspending.
Axos is built for safety and security, as the account has great security features such as fingerprint readers, voiceprints and facial recognition through smartphones. If you want in-depth parental controls and education modules for your kid, Axos isn't for you. But if you want a no-fee card that's similar to managing an adult checking account, Axos First Checking is the perfect choice.
Plus, teens earn 0.10% APY and get up to $12 in monthly ATM withdrawal reimbursements. Ultimately, Axos First Checking is the best debit card for kids and teens if you need less parental oversight and don't want monthly fees.
Which Kids Debit Card to Go With?
The best financial education app for you and your children is one you can conveniently use to teach your kids about money. Check out each of these alternatives, as well as GoHenry, to see which app best fits your needs.
FAQs
How much does GoHenry charge in monthly fees?
GoHenry charges $4.99 per month for a single child and $9.98 per month for accounts with up to four children. Additional fees such as ATM withdrawal fees may apply.
Can you use GoHenry for Amazon purchases?
Yes, your children can use their GoHenry prepaid debit cards to make Amazon purchases. As long as they have enough funds in their account and they're spending within the limits you set, there should be no issue spending their money on Amazon.
Does a GoHenry account affect your credit score?
No, your GoHenry account does not affect your credit score. GoHenry does not perform a credit check when you open an account and doesn't report to any of the three credit bureaus.
Is GoHenry Right For You?
With 1.5 million members, GoHenry is another popular debit card for kids ages six to 18 years old. With the GoHenry debit card, parents transfer money into their kids' accounts, so everything functions like a prepaid debit card.
Parents can set up recurring allowance transfers, send one-time payments, and create chore lists and automatically send money once chores are done. Parents can also set single and weekly spending limits, receive real-time spending alerts, and choose where the GoHenry card can and can't be used.
If you want more insight and control over your kid's spending, GoHenry has you covered and can help instill good financial habits. As such, it is a good debit card for kids since kids can create savings goals and track their progress towards them.
Your first month is free, and GoHenry costs $4.99 per month per child afterward. You can also get the family plan which is $9.98 per month, for up to 4 children.
The parental control side of the platform supports up to four kids. Kids can't go into overdraft and there aren't any fees or minimum balance requirements. The only fee is a $1.50 ATM withdrawal fee.
Overall, GoHenry is a slightly cheaper alternative to Greenlight which also has in-depth parental controls.
Focus on Your Child's Future with GoHenry
Teaching kids about how finances work from a young age can help them enter the world with a better understanding of how to be financially responsible. With apps like GoHenry, parents can set their children up for success by practicing healthy money habits in a controlled and supportive environment.
We hope you've found this GoHenry review useful and inspiring. It doesn't take a lot of time to help your kids feel financially ready for their futures, as long as you have an app like GoHenry at your side.
We all make mistakes with money, but it's much easier to make those mistakes when you're young and learn from them than learn a hard lesson as an adult when there's more at stake. Help your kids build a better financial future for themselves by downloading and implementing apps like GoHenry in your daily lives.
Earn $200 bonus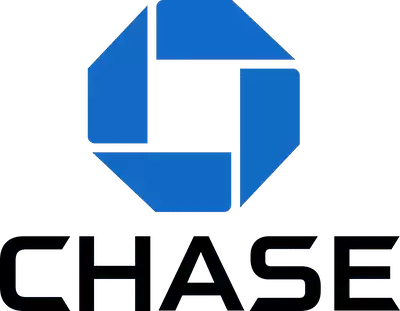 Chase Total Checking®
Secure a $200 bonus in a mere 15 business days when you establish your direct deposit within 90 days. Dive into unparalleled convenience with access to over 15,000 ATMs, 4,700+ branches nationwide, intuitive online banking, and a top-rated app. Offer expires 10/18/2023, so act fast!
Redeem your $200 here