So you've finally mustered up the courage to pack all your belongings and start anew in a completely different state. Congratulations on your bravery and sense of adventure! Now that you've made the decision, all you have to deal with is the logistics of moving which, let's face it, are easier said than done.
While planning the move can be quite challenging, actually moving your entire life from one state to another can also be very challenging, and very expensive.
According to estimates provided by Moving.com, the average cost of an interstate move is about $4,900, based on an average weight of 7,400 pounds and distance of 1,225 miles, as well as various moving services needed.
But by applying a handful of helpful tips to your moving strategy, you can easily cut costs and relocate to your new home without breaking the bank. Whether you plan to relocate across town, out of state, or across the country, the following tips can aid you in your move:
Here are 10 tips for the cheapest way to move out of state:
#1. Research thoroughly and plan it out
Before you start packing, you should definitely create an ultimate plan. For this, you'll need to do a lot of research in order to estimate costs, timing and other nitty-gritty details that may come up along the way.
Some things to consider to lessen the costs of moving include:
Taking The Bus: If you're moving by yourself without many possessions, taking the bus is the cheapest way to move.
Moving By Train: Not a fan of the bus? Consider taking the train, the same effect.
Rent A Small Tow Trailer: This can save you thousands, just go to your local U-Haul and rent one out for your out of state move.
Rent A Pick-Up Truck: Another option that can come in handy and save you money.
Use A Moving Container (POD): This is more expensive than renting out a truck but could make sense if you have more stuff.
Set a budget and look for moving companies and other service providers that won't actually force you into debt. Plan everything out in advance and try to stick to this plan as you advance into the moving process.
#2. Checklists are your friends
To make things easier and more transparent, checklists are definitely the way to go as they are useful in making sure you don't forget anything. Create checklists that your spouse and children can also access – so you can see each other's progress and don't forget to help each other out once you realize someone is struggling with their own tasks. Checklists will not only give you a sense of accomplishment once you complete something, but they can also come in handy if you need to split tasks between members of your family.
Making a financial plan with milestones for the amount of money you need to save up to actually make the move can come in handy. Another fantastic list could contain all the expenses of the moving process, creating a clear vision of where you're at financially at all times and can plan your future moves accordingly. And last but not least, a detailed timeline is also necessary. Creating checkpoints can definitely give you the boost you might need when you're feeling lost among the myriad of tasks and can also help you be more inventive with how to deal with your to-do list and how you can make it as budget-friendly as possible.
#3. Organize new housing and employment before departure
While throwing all your stuff in your car and hitting the road seems like the adventures in movies, in real life, such a daring move can cost you dearly. It's very likely that you won't manage to get everything completely done before you leave your previous home behind, but we still recommend dealing with two key things before you leave your current home.
Your new home should be ready to move into, even if it's temporary. We believe this is of paramount importance, because if this isn't resolved in advance, who knows how long you'll need to be staying with friends or in hotels, which will likely set you back financially. You should also find a job in advance, if you can. This will give you some security as you hit the refresh button on your life. If you were relocated for your job, don't forget to ask for relocation compensation!
#4. DIY vs. hiring professional help
Before you start packing, you should definitely consider whether it would be worth it to hire professionals to help or if you want to do everything yourself. If you choose the latter, just be prepared to spend a lot of time researching and planning.
If you choose to hire a professional, you also need to research the moving companies available in your area and decide which one fits your situation and your budget. You may not book the first movers you talk to, so shop around until you find one that fits. You can see a list of the best long-distance moving companies or to find local moving companies near you, you can click here.
#5. Declutter and organize
When you start packing, you might notice an abundance of things that you don't necessarily use or need anymore. Whether it's old appliances, clothes you don't wear or toys your kids don't play with anymore, you should definitely think about donating these things instead of moving them halfway across the country.
That's why we recommend that you do a thorough decluttering of your entire place and get rid of anything that doesn't actually serve you anymore. Donate the things that are useful and recycle the rest. This will save you a lot of time and energy during your move. You can also look into local consignment stores to list them for a quick buck.
#6. Packing materials on a budget
Speaking of packing, here's a category where you can save quite a few bucks by being a bit savvy. Moving companies generally charge a lot for large boxes, which you can practically provide yourself.
If you have the ability, you can bring home boxes from work and you can also ask local stores to give you boxes they don't need anymore.
#7. Update your accounts before the big move
For a smooth transition, we recommend you update all your accounts before you actually begin the move. This way, you will arrive at your new home with easy access to your Wi-Fi and all the important utilities like running water, heating and electricity.
This will be a much warmer welcome than if you'd arrive home to a dark and cold place and would have to wake up super-early the next morning, after the long and exhausting drive, to resolve the issue. You should also think of setting up bank accounts and change all the other accounts such as credit cards, health insurance, Netflix with your new contact information.
Additionally, you'll want to make sure you get your packages forwarded and use the Official USPS Change of Address Form.
#8. Make it easy for your children and pets
The most important thing to think about when moving out of state is the safety of your children and pets before, during and after the move. Their routines get disrupted, and, their world will change entirely. They depend entirely on you to make this journey into the unknown as gentle as possible.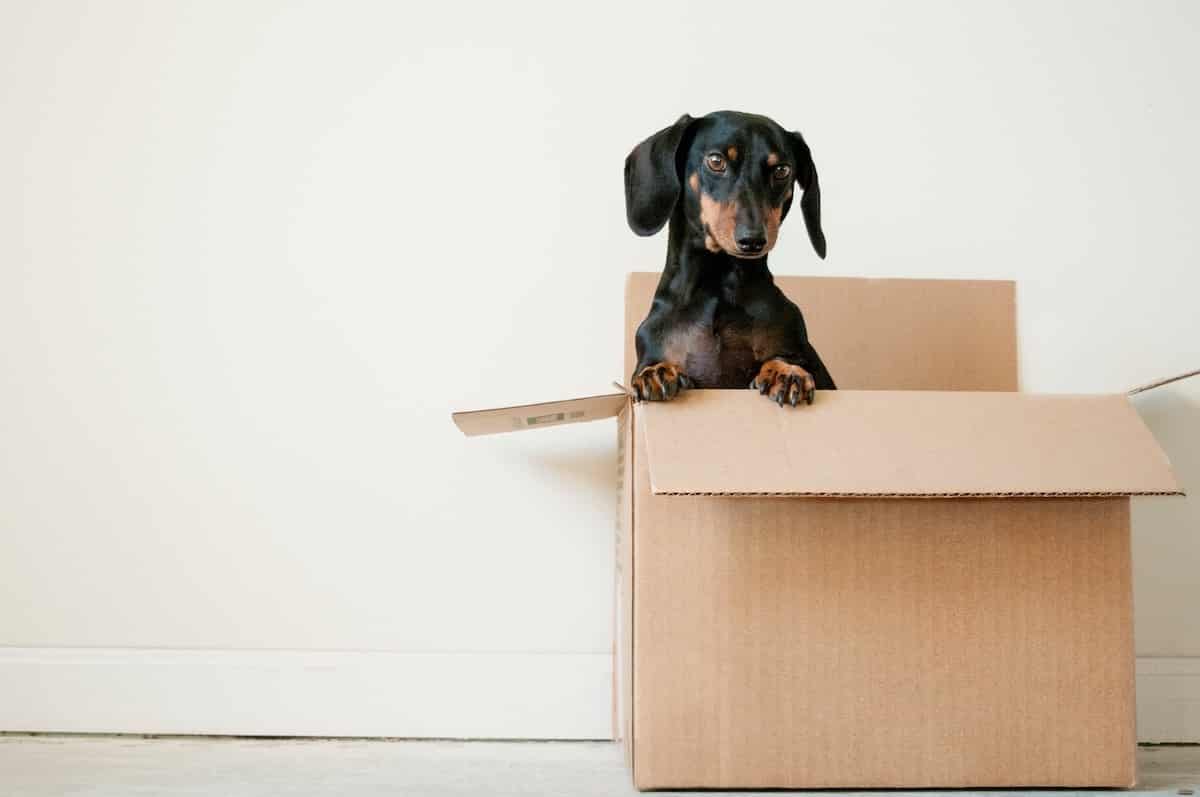 If your children already attend daycare or school, then you need to make arrangements upfront to ensure they have a place in this brand-new setting. If you're moving with pets, it's recommended that they travel together with you. This helps them stay calm and transition into a new way of living with the ones they trust the most – you.
#9. Best options for traveling out of state
Research is key to a budget-friendly move out of state and we can't emphasize this enough! So, once you've crafted your master plan, packed most of your belongings and are waiting for the movers to arrive, take time to research your best options to travel out of state.
If you're moving across the country, you may need to make a few stops for the night, then gasoline and hotels can end up costing you a fortune. It might be cheaper to ship the car and fly out than driving such a long distance, so make sure you've checked both options to decide the best version for yourself and your family.
#10. Beware of busy days
Another golden rule of moving out of state is that you should try to avoid days and routes that have high traffic and can slow the entire process down. You should definitely avoid weekends and holidays when a lot of families tend to go on vacation. You should also keep driving during rush hour to a minimum if you can or avoid routes with congestion.
What are some of the cheapest ways to move out of state that you've found? Let us know in the comments below.
Our Pick

Rocket Money
Navigating your finances can be challenging. Why tackle it solo? A staggering 80% of individuals have discovered savings by utilizing Rocket Money to identify and eliminate unnecessary subscriptions. More than just subscription management, Rocket Money equips you with the tools to maximize savings, minimize spending, gain a comprehensive view of your finances, and reclaim mastery over your financial well-being.
Start Saving Now
Read Review