What is Cleo:
Keep your money on track and up to date with targeted info
Learn what you can afford to buy
Put your money aside every week
Free and paid services
Cleo is an intelligent money assistant that looks after your money allowing you to better budget, save and track your spending. Depending on your budgeting skills, this money-saving app can help you make smarter money moves. Learn more in our Cleo review.
What is Cleo?
Your AI pal that looks after your money. Budget, save and track your spending. It's available in the Apple App Store and Google Play Store.
After downloading the app and signing up for a free account — ask Cleo anything from 'what's my balance' to 'can I afford a coffee', and she'll do the calculations instantly. Drill down with personalized updates, graphs, and data-driven insights.
Let Cleo do the work, as she puts your spare change aside automatically, sets you a budget, and helps you stick to it.
---
Want Free Money?
Aspiration: Want to get spotted a $150 for free? Simply sign up for Aspiration, and the free banking app will give you cash for free, you just relax while it gives you $150 just for opening a new debit card. There's no catch. This bank account is legit and only takes two minutes to sign up for an account.
---
Why Use Cleo?
The current banking services or products can easily be seen as flawed. Our finances should be easy to understand, our spending should be more manageable, and we should be able to make better-informed decisions about our financial futures in order to spend less money.
If you were given the ability to really see what's going on with your finances, you would be better at managing them. That's where Cleo can help, and it's 100% free and offers paid services if you choose to subscribe.
Cleo Features
Cleo offers free services that should be enough for most people and offers paid services under a subscription model called Cleo+.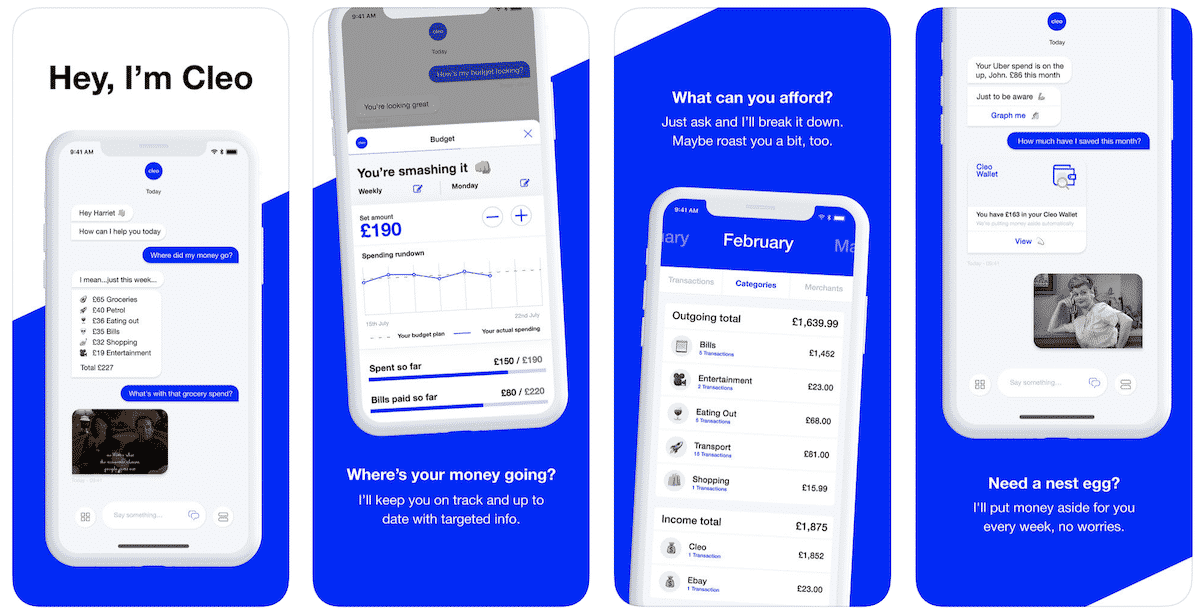 Cleo Free Services
The free service offers the following:
Budgeting
By using AI to create personalized smart budgets for every customer, Cleo is helping people improve their budgeting skills worldwide.
'Can I afford it?', just ask Cleo. With a spending breakdown, help on bills, practical advice and an actual personality, budgeting like a boss has never been easier. Don't be someone who lives in denial – get a budget.
Custom categories
As many as you want! Set aside money for a specific thing, or if you just need a better visualization on coffee spending. Want to spend a little more on groceries this week?
Cleo shows your spending per category over the last few weeks, so you can set a limit that makes sense (and she'll update you on how much you've got left-to-spend throughout the week).
Saving
Saving money is a drag, but not when you've got an intelligent AI bot like Cleo dragging you for your spending. With Save goals, hacks and autosave features all experienced through interaction with Cleo herself, you save money fast and have fun in the process. That boring stigma's broken.
Credit score
Your credit score is about to get a whole lot healthier. Our credit builder will make looking at your credit report way less scary, and you might even have fun in the process.
Leave the confusing credit building to Cleo and Equifax, you focus on feeling good about your money.
Cleo+
Cleo also offers a $5.99 subscription service for Cleo+ features:
⚡️ Up to 7% Cashback
Savings for spenders — get click-through offers, streak rewards and cold hard cash every time you shop at your regulars. There are a bunch of similar free rebate apps that you can consider as well.
⏰ Salary Advance
If you qualify, Cleo can spot you $100 to stop you going into your overdraft. This money is given to you interest-free, so they are literally spotting you $100. A lot of free apps offer this feature for free like MoneyLion (which offers $250 at any time without any interest) — so you may not want to subscribe if that's the only reason you want it.
👀 Credit Coach
40% of you don't know your credit score. Cleo is helping to change that and can help you improve your credit score as well.
How Safe is Cleo?
Cleo is extremely safe and secure. They use bank-level encryption and security practices, and Cleo is a read-only service so no-one can ever move money in or out of your account.
To access your transaction history, they either connect directly to your bank's private API or use Yodlee/SaltEdge, world leaders in financial security and data aggregation. Cleo never stores your credentials on its servers and your transaction history is encrypted with all personally identifiable information removed upon receipt. Only you and Cleo can view your transactions.
Is Cleo Worth it?
Cleo is free — which makes it another useful app to install that'll help you manage your money in a new way.
It really depends on what best works for you. If you prefer more conventional budgeting tools — like Mint or Personal Capital — use those. But if you want a savvy AI-bot helping you — Cleo is a no-brainer.
Go
Description

Want Free Money?
Aspiration

Simply sign up for Aspiration, and the free banking app will give you cash for free, you just relax while it gives you $100 just for opening a new debit card. There's no catch. This bank account is legit and only takes two minutes to sign up for an account.

Learn more


The Best Apps to Save You Real Money
We are on our phone a lot, right? Wouldn't it make sense to save money with the best money saving apps?
App
At a glance
download
Aspiration
★★★★★


Get a $100 bonus at Aspiration when you open and fund an account with $10 or more. Then use your Aspiration debit card to make at least $1,000 worth of cumulative transactions within 60 days of account opening.

CLAIM $100 BONUS

Robinhood
★★★★★


Open a new account in the next 24 hours and you could get up to $200 in reward stocks.

CLAIM REWARDS

Truebill
★★★★★


This free app delivers on its promise to save you money effortlessly. You can use it to lower your bills, cancel unwanted subscriptions and bill negotiations.

SLASH YOUR BILLS