Looking for alternatives to Quicken for 2021? Well, we've got 16 personal finance software tools that can help you replace Quicken with confidence.
If you're a millennial you probably never used Quicken. But what you need to know is that for a while it was heavily used by a ton of people. Now, we get the benefit of the best Quicken alternatives out there so that we can all better manage our money.
What is Quicken?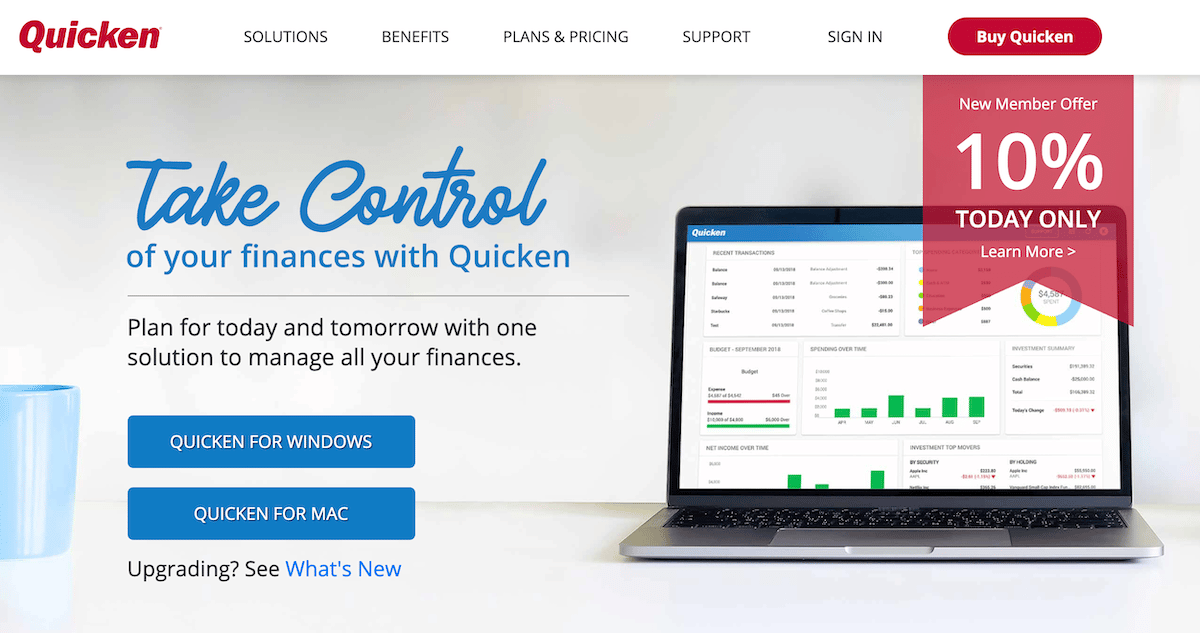 Quicken is personal finance software developed by Intuit, also the people behind Turbo Tax, in 1982. Quicken allows you to manage your money across any device to reach your financial goals. They used to be great at making it simple to create a plan to maximize your finances with custom budgets you would stick to. But something went wrong.
Why Switch to a Quicken Alternative?
Quicken is a perfect example of a company that hasn't kept up with the times. Very regularly, I post examples of money-saving apps and the best budgeting apps that I review on a daily basis. Quicken is usually always an afterthought when writing these articles. They're old news.
Did you know that if you wanted to use Quicken today as a new user, you would have to download budgeting software onto your computer? The nerve! My 2021 MacBook doesn't even have a CD-Drive!
If you wanted to use the Quicken app, you'll still have to download software in order to sync data. No fun.
If you are not the biggest fan of Quicken either, then you may be wondering what are the best Quicken alternatives for keeping up with your finances?
Best Money Management Quicken Alternatives
The digital age keeps surprising everyone, and there is no doubt millennials are the luckiest lot. Forget about years gone by where simple money management required tons of papers stashed in folders (and downloading tedious software). It is a new age where computer and mobile applications take precedence in simplifying tasks such as budgeting.
This post explores the best free Quicken alternatives that will help you be in total control of your personal finances. In particular, it lists the best applications and personal finance software for easy budgeting while emphasizing the exceptional features of each. Take a look.
Mint is an incredibly popular online personal finance app that's great for all kinds of users. Aside from it being a great finance app, it has a plethora of money management tools that you can also use. What's astounding is that the app is free to use and allows users to create financial reports in a matter of minutes.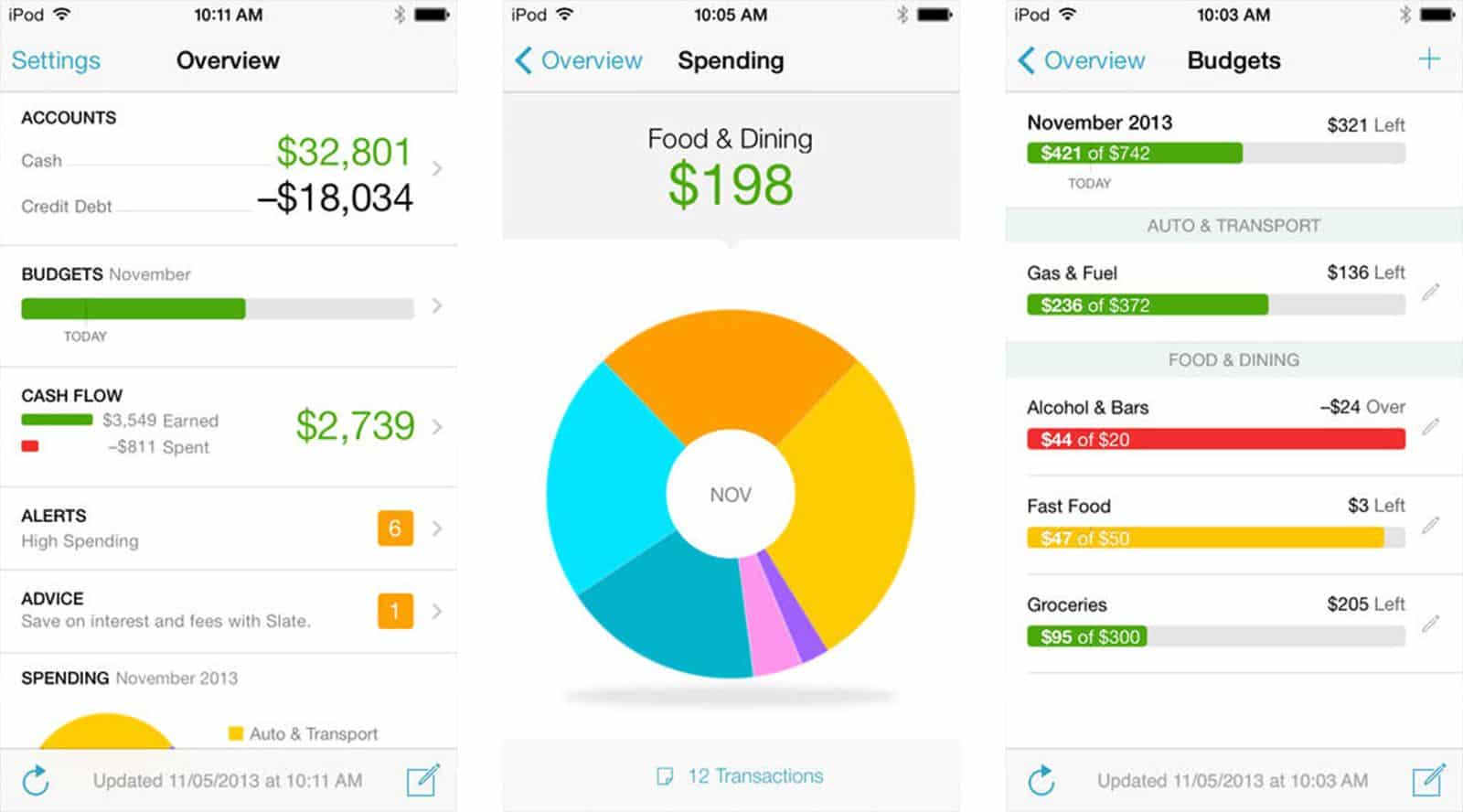 Some notable features of Mint include:
Versatile and flexible budgeting tool
The app can send you alerts and financial summaries via text message or email
Extra security measure – the app sends out an SMS or email if it notes unusual account activity
Account aggregation follows almost all bank-level policies for added security
Users can customize their financial reports into easy-to-read bar graphs and pie charts
However, the only downside is that Mint does not have an account reconciliation feature. This may be a letdown for some users but otherwise, the app is great on its own. If you already have Mint but want more features, I would recommend signing up for Empower. In fact, Empower and Mint's features are quite complementary. Users can also keep a track of their credit score with minimal hassle.


Empower is not just an application for budgeting, is arguably one of the most popular and powerful financial tools on the market, and also one that features versatile functionalities. It tracks your money, analyzes investment fees and tracks expenses. It is the most ideal for the modern millennial who wants to experience the power of digital assistance since it combines human and robotic financial advice in one platform. Empower offers several free tools to help users manage their budget and investments. What's best is that the tool has an easy to navigate dashboard, perfect for beginners trying to save up.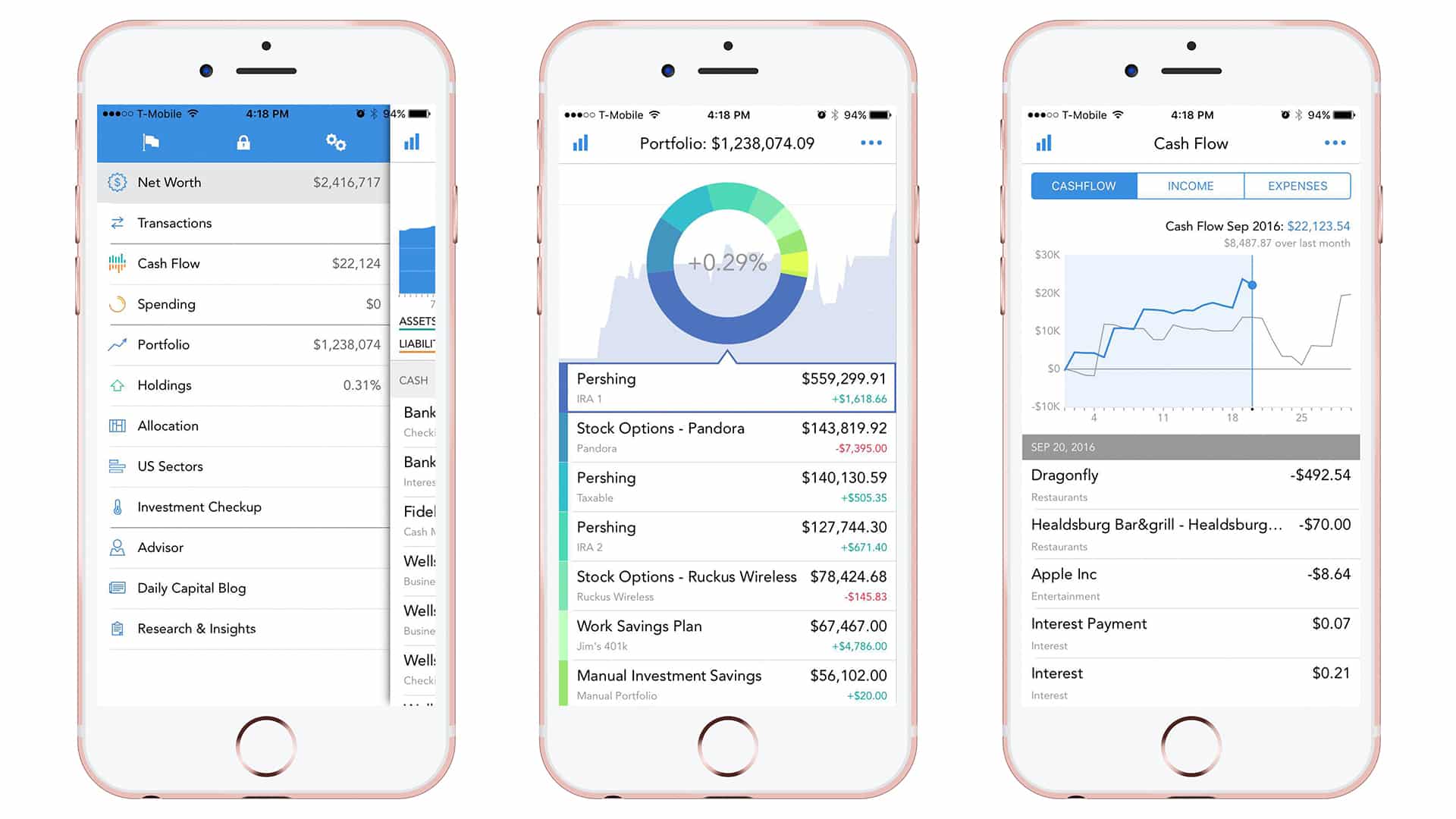 For greater ease, you avail maximum benefits by linking up both your investment and banking accounts. You can link your account manually or connect the account automatically. Since there are many categories, you can use the tool according to your convenience. What's best is that the tool will select the best category for you so you don't have to go through the trouble yourself.
You can use this brilliant online tool to keep a track of investments or even retirement funds. It'll do all the calculations so you can keep an eye on your investment costs and asset allocation without a worry. You can learn more in our Empower review.
Some key features of this app include:
Track expenses down to every credit card swipe
Analyze all your expenses in real time on your account dashboard
Use the tool to manage your future goals whether you're planning to buy a house or get yourself a new car
Use the Retirement Planner tool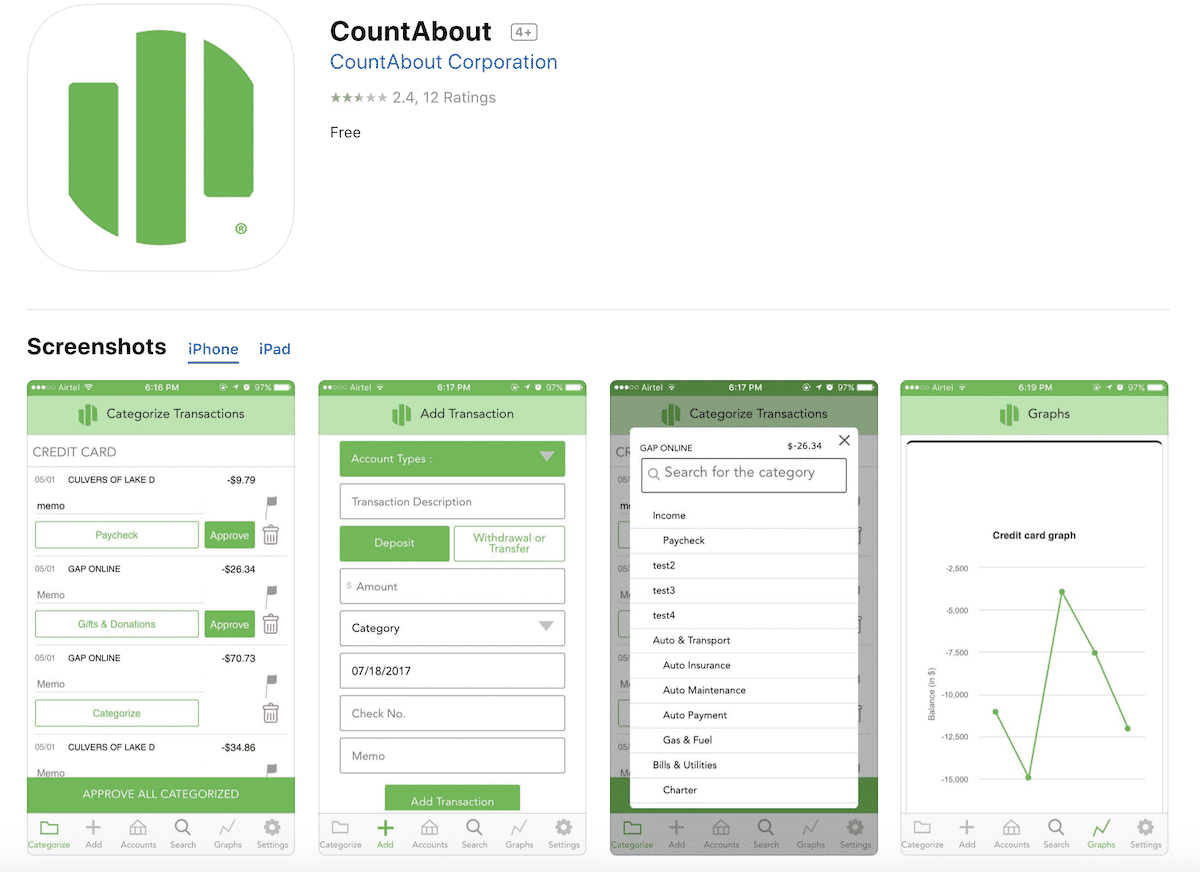 If you need a quick Quicken alternative, then CountAbout is worth looking into. CountAbout is an easy-to-use online personal finance application that imports data from Quicken and Mint and automatically downloads data from banking, credit card, and retirement accounts. With no software to install (already better than Quicken), they're with you anywhere you have an internet connection. The platform is stable, secure, and totally private. The company's dedicated customer service team is friendly, knowledgeable, and quick to respond. You'll likely never lose track of your finances, or the big picture, with CountAbout. You can even sign up for a free 15-day trial today, risk-free.

With Mvelopes, there is never going to be an easier way to be a part of the digital revolution in budgeting. Now, instead of stashing hard cash into physical wallets with a temptation of spending spree hanging over your head, Mvelopes creates a digital expenditure wallet. It means, expenses are not only defined into befitting categories but also tracked. Once an envelope gets depleted, you will have to wait until the following month.

If you would like to start investing on the go, Acorns is the best app for that at this point. It is that time you embraced digital saving of extra coins from shopping and used them to make more money. Acorns tracks your transactions and makes the most of pocket change by helping you invest smartly.

06:

Best App Tied to a Bank Account: Simple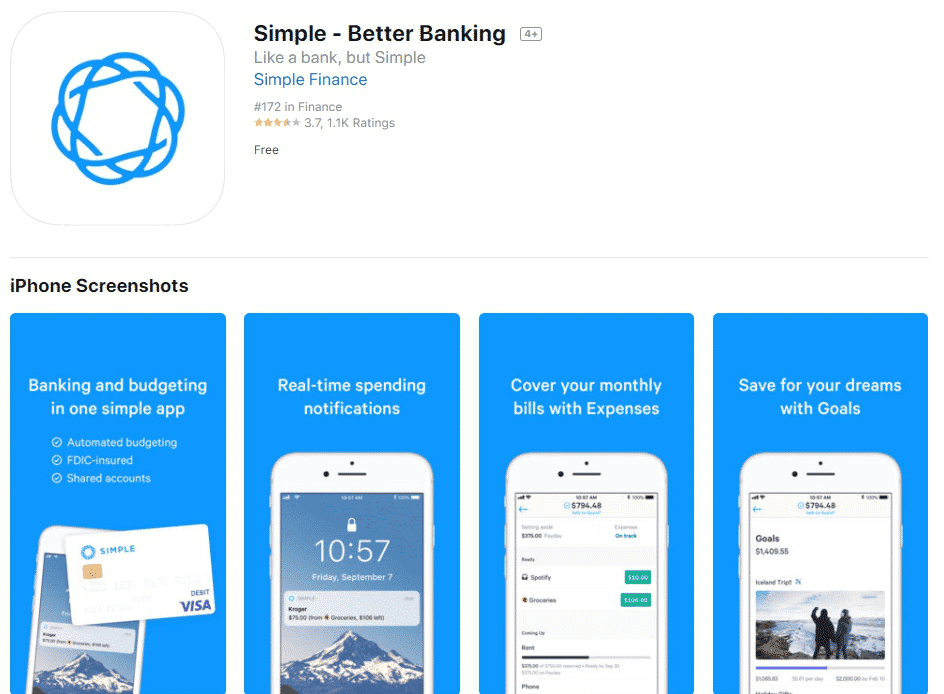 Update: Simple has shut down.
Money management is often a big challenge for Millennials, but with an app like Simple that syncs your bank account and budgeting tools, it is means you will be doing everything in one platform. It is an entire bank account in one simple app and has quite a few features tied in. Simple helps you track expenses, and with a feature that encourages saving, you can rest assured of staying in control of personal finances. It is free-to-use, and a safe-to-spend feature makes it an outstanding installation for mobile use so that your financial plans remain on track.

YNAB, also referred to as you need a budget, is ideal for those who want to manage finances around their income. With it, you are in control of daily expenses, investments, repayment of debts and savings.  Whether you want to sync it with your bank account, YNAB is compatible with both desktop and smartphones. It is, therefore, a suitable application for money savvy individuals who want to remain in charge of their money goals.

While it may not be the simplest of money management tools out there, Wally is ideal for students who want to keep track of expenses, and if you have a side job, it helps with planning based on income level. It supports almost all virtual currencies apart from US dollars, making it a popular budget app among millennials.


Another money management tool that you will find useful is Pocket Guard. It is not synced with your bank account but also helps you to keep track of income, expenses, and savings. Because it helps with tracking bills such as TV, phone and internet, Pocket Guard is all you need to cut back on unnecessary expenses by finding cheaper options.

Other Personal Finance Tools to Consider
While the above personal finance tools are suitable replacements for Quicken, you may be interested in these notable mentions.
Want to know the cheapest car insurance provider or the best credit card in town? Look no further than Trim. This exciting solution makes it easy to keep track of your financial life.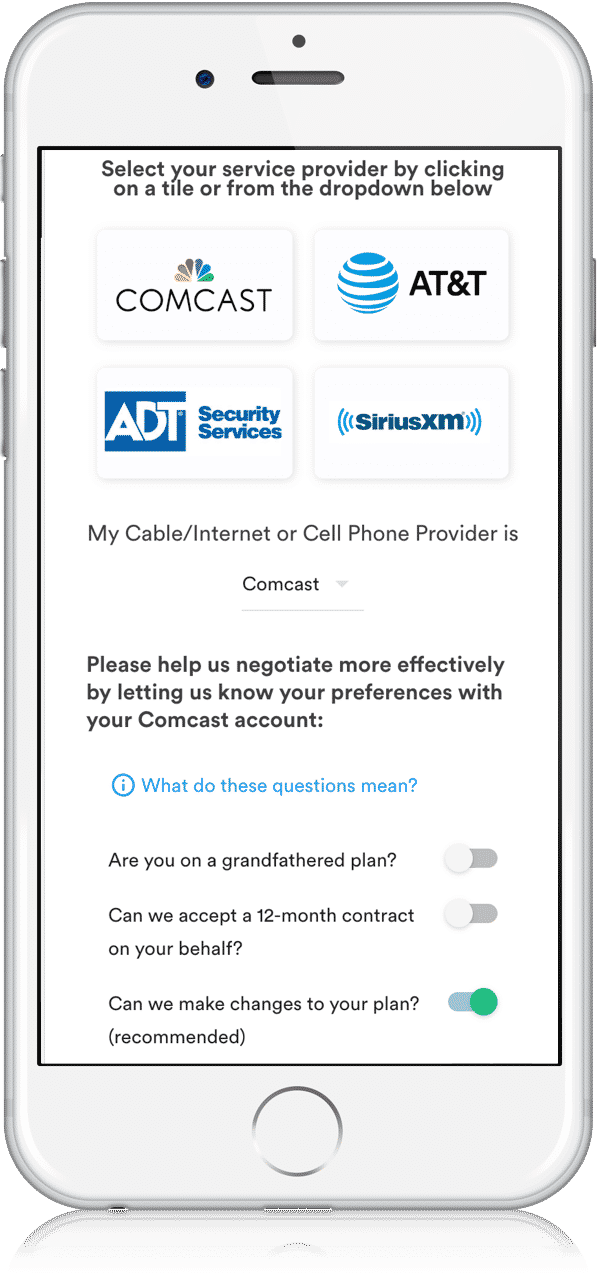 The good news is that this app makes the right financial decisions and you don't have to worry about your financial health. Automate savings and find interesting ways to save more money with this genius app backed by AI. Click here to sign up for Trim for free

Capital One Shopping is an online tool that automatically tracks your purchases to find price drops. The good news is that it is free and you can download the app for both Android and iPhone.
Link your Amazon account to Capital One Shopping and search for price drops at participating merchants. Since Capital One Shopping uses quality encryption to protect data, you don't have to worry about your purchases made. You can read a Capital One Shopping review here or download the app for free here.

Capital One Shopping compensates us when you sign up for Capital One Shopping using the links we provided.
If you don't like linking your bank accounts to a third party app or tool, MoneyStrands is the way to go. What's best is that it works much better than a traditional spreadsheet but with a bunch of cool add-ons.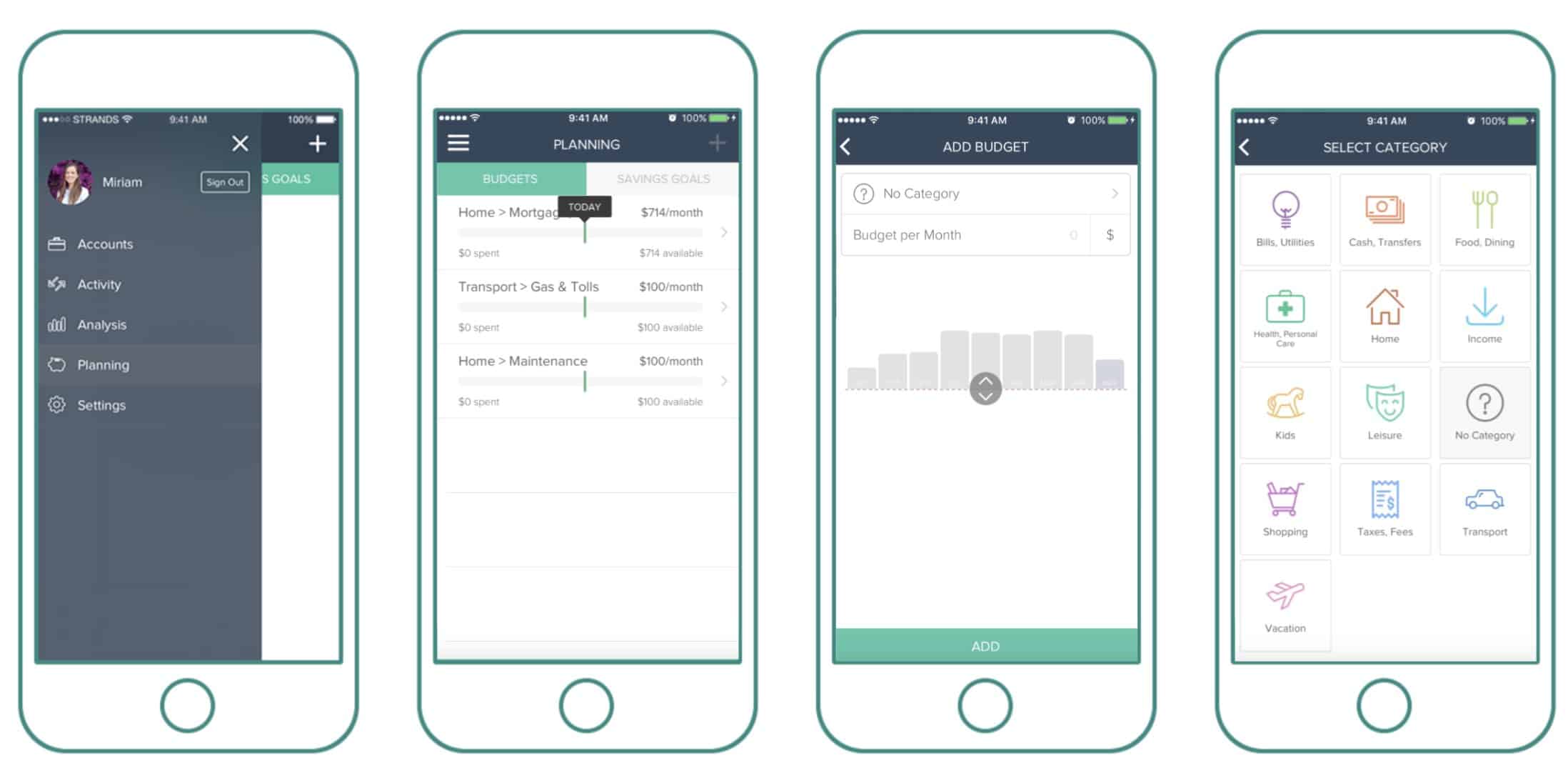 However, users can link their accounts for greater ease though it is not a requirement. The basic interface looks like a calendar and is easy to manage. Some users have expressed that the app resembles Mint and features a similar interface.

Are you in need of fuss-free budgeting app that will manage your finances on the go? Well, Spendee is a great choice. For minimal hassle, you can link your Spendee account to your bank accounts and keep track of everything. What's cool is that the app displays multiple currencies plus you can use a shared account with your family.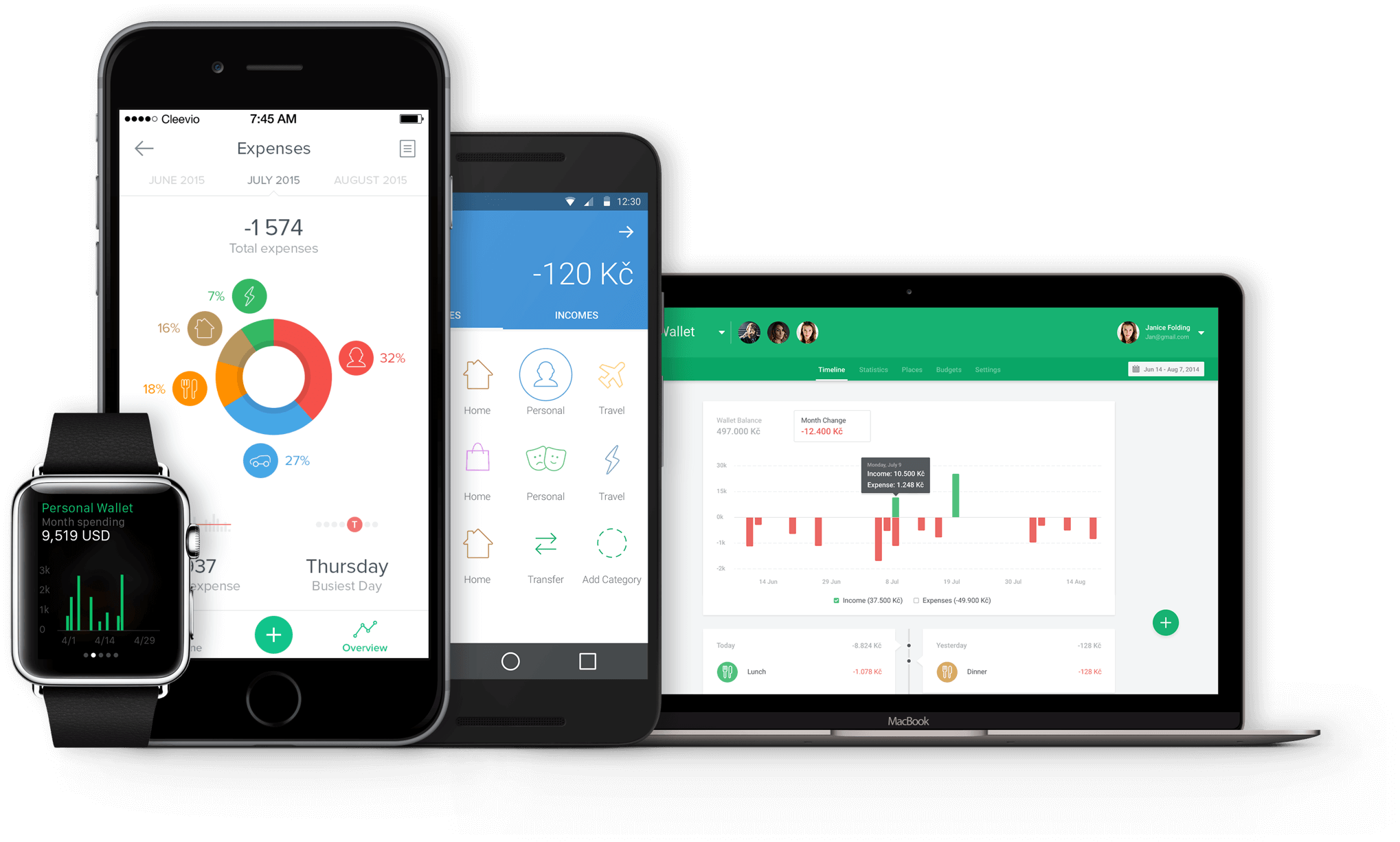 While the app is free, you can upgrade your account to premium and avail more benefits. Spendee premium is perfect for budget planning if you want to move your start-up or office to a new location. Real-time sync will ensure that your information is available across all devices.

This software may not be available for free but it certainly is worth every penny. With numerous features, Money Dance is not only incredibly easy to use, but it also provides a great visual representation of your spending.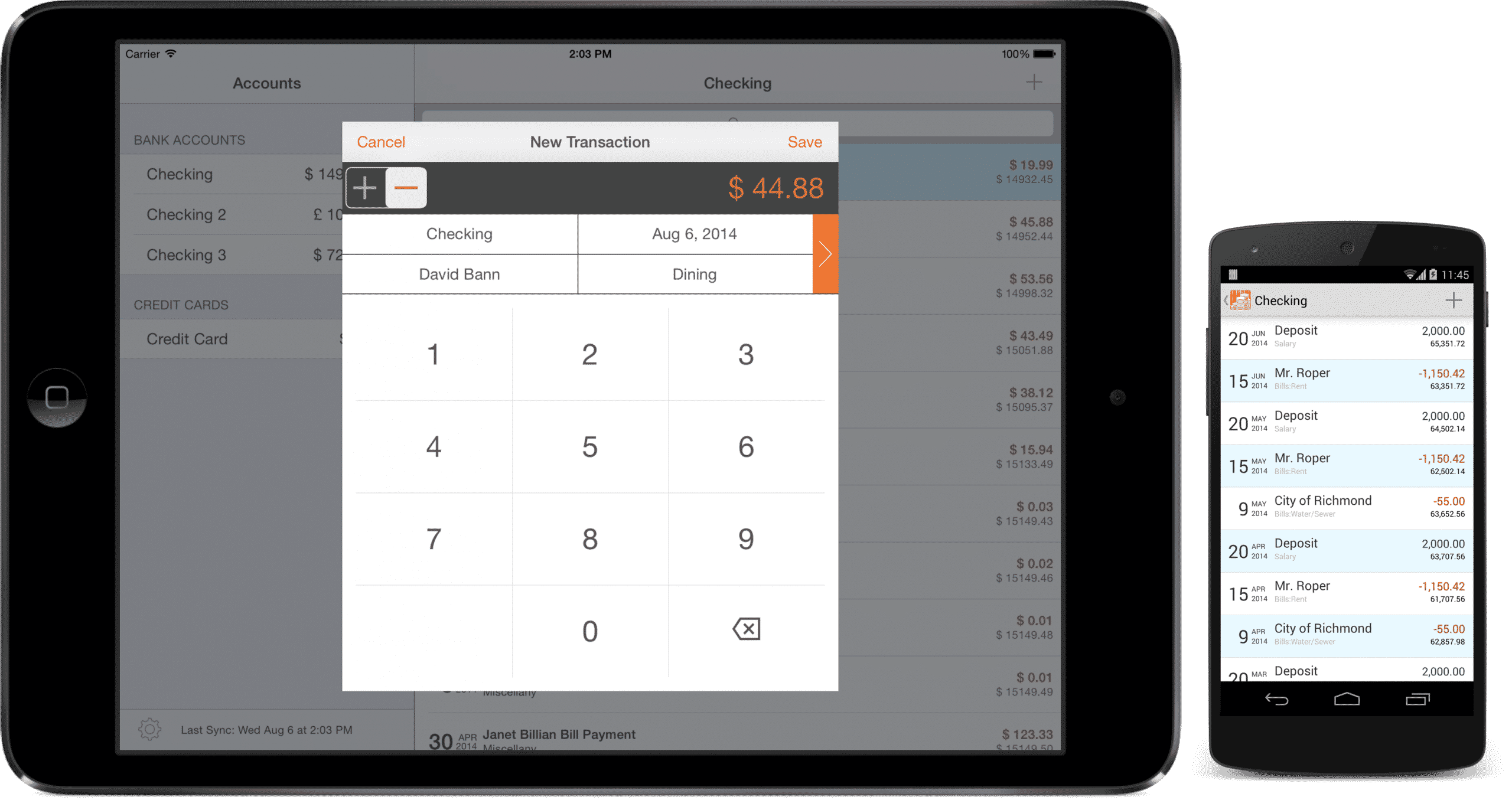 For instance, the software looks like a ledger and does an excellent job of summarizing your financial situation including your net worth, liabilities, and assets.

We will be honest, this is a fairly basic app for budgeting so don't expect high-end features. Also, it's also worth noting that Calendar Budget is not a budgeting app and merely works as desktop software. Though it performs better than the traditional spreadsheet.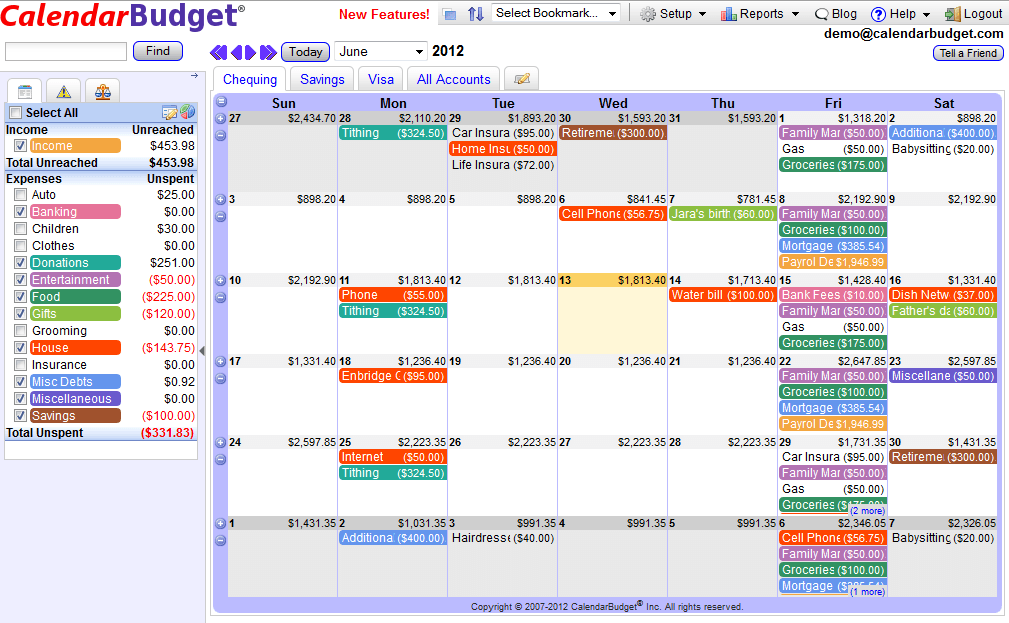 The only downside? You will have to sit down and enter each expense as you. The calendar will then do the calculations so that you can create a decent budget for yourself.
16: Old School
Whether it's Google Sheets or Excel, nothing can beat the classic spreadsheet. True, it may not come with all the bells and whistles that you would expect in a finance tool, but it works well.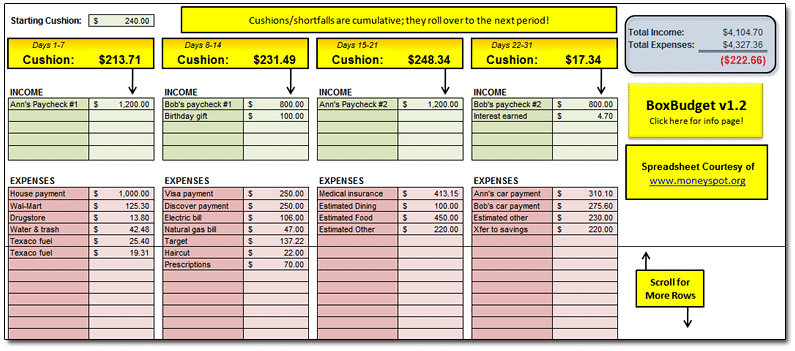 One of the obvious plus-points of using a spreadsheet is users have complete control over how they can track data. Plus, it is a safer option since you don't have to integrate your financial accounts online. You can get started with a free personalized budget spreadsheet here.
Need More Budgeting Tools?
Other budgeting tools you may want to learn about can be found here. Like most of the programs like Quicken explored above, the features of good personal finance software give you the ability to sync all your financial accounts thereby taking control of your entire personal finance life. Full disclosure, I personally use both Mint and Empower on a daily basis but slightly prefer Mint.
Summary of Quicken Alternatives
These financial independence apps take some of the guesswork (and discipline) out of tracking your expenses and finding money saving ideas.
It may take a little trial and error (and more than one free trial) to find the best money tool for you but you can't go wrong with any of the ones listed here.
Bottom Line:

Whether it is money spent on groceries, phone bills, food delivery, rent or entertainment, the Quicken alternative listed here will help you plan for what you need to budget for. Soon you'll be a pro at budgeting for everyday expenses, rent, entertainment, paying off student loans, credit card debt, car loans, and more! These money tools are the real deal.

Which of these best Quicken alternatives will you try first? Let us know.
Our Pick

Rocket Money
Navigating your finances can be challenging. Why tackle it solo? A staggering 80% of individuals have discovered savings by utilizing Rocket Money to identify and eliminate unnecessary subscriptions. More than just subscription management, Rocket Money equips you with the tools to maximize savings, minimize spending, gain a comprehensive view of your finances, and reclaim mastery over your financial well-being.
Start Saving Now
Read Review