Status Money allows you to compare your finances and find new opportunities to grow your net worth. You can see how your finances compare with millions of people like you.
Status analyzes your accounts to find opportunities for you to improve – then gives you cash rewards for taking action.
Join the community of more than 263,000 members taking control of their finances! Learn more in our Status Money review.
What Is Status Money?
Status Money believes that in a world that's going to be more interconnected than ever before finance management simply cannot function in isolation looking only after balances and transactions.
CLICK HERE TO SIGN UP FOR FREE
How Status Money Works?
So how does it all work?It's simple and it's easy to sign up for free here. Complete your profile inclusive of your financial status and living situation and compare your finances and find new opportunities for money growth.
See how you compare with peers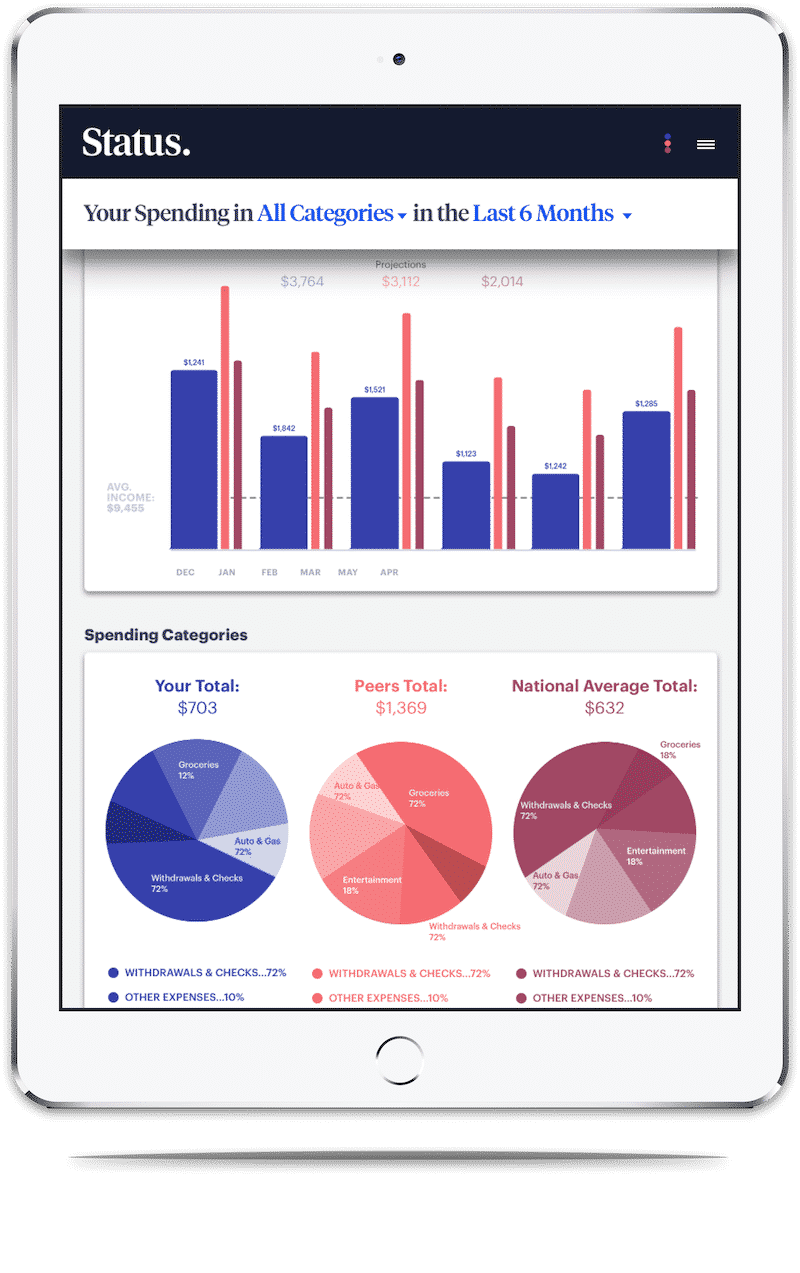 By using Status Money you can track and manage your entire financial life using your peers as a benchmark. This is a really neat feature as you can see your net worth and seeing how you compare against the average net worth in your area and age range.
Another feature that most budgeting tools do is that you can find out if you're overspending in certain categories, paying high interest rates, or not saving enough. Services like Trim and Rocket Money also do this, and I've found them to be better at it than Status Money.
And don't worry as comparisons are anonymous and based on a panel created in partnership with financial institutions.
Set your goals and get advice from peers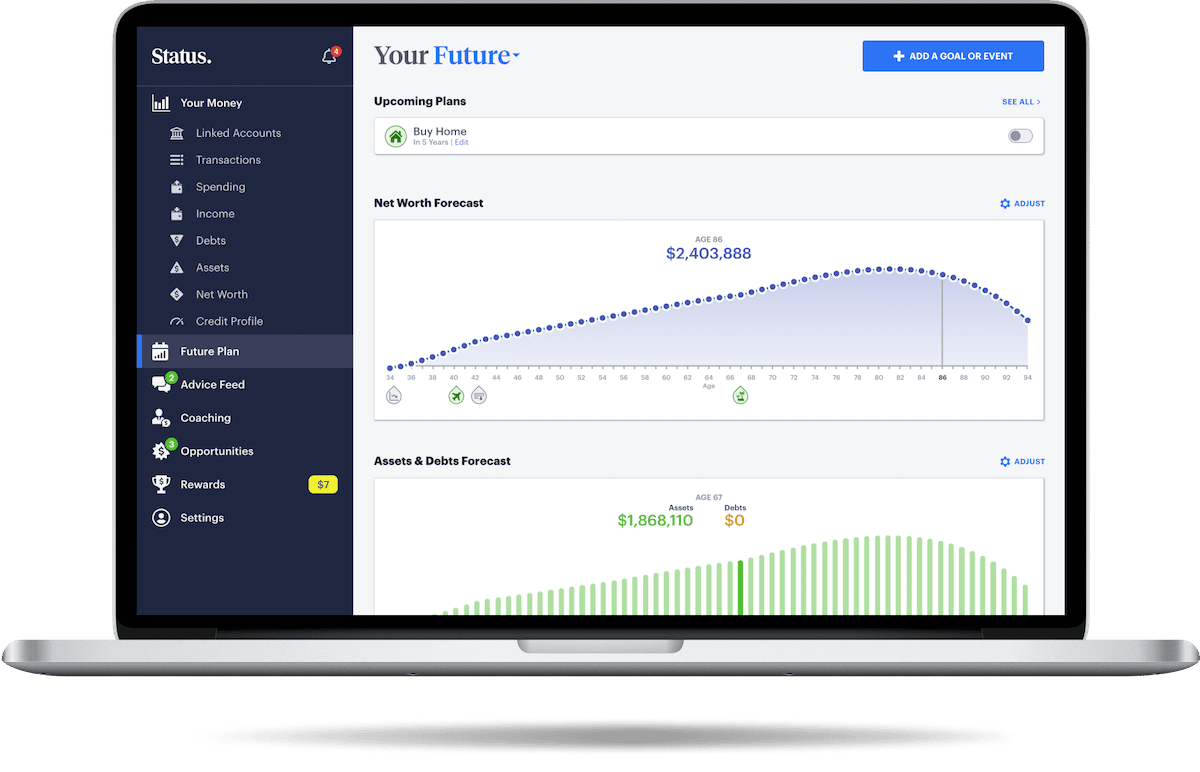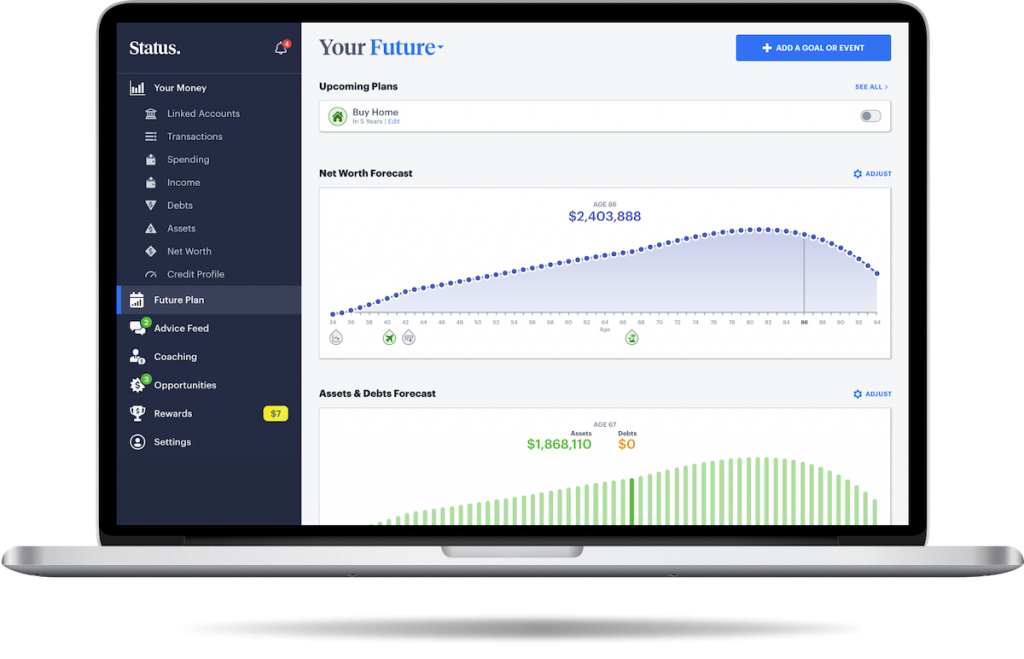 Want to get married, have kids, or buy a new home? Create a plan and make your dreams come true. When you need advice, anonymously chat with people like you and get answers from the community.
You can unlock badges by helping others and earning 'Likes' on your posts and comments. This is a unique feature that other money management apps like Empower or Mint don't offer.
Get recommendations and earn cash rewards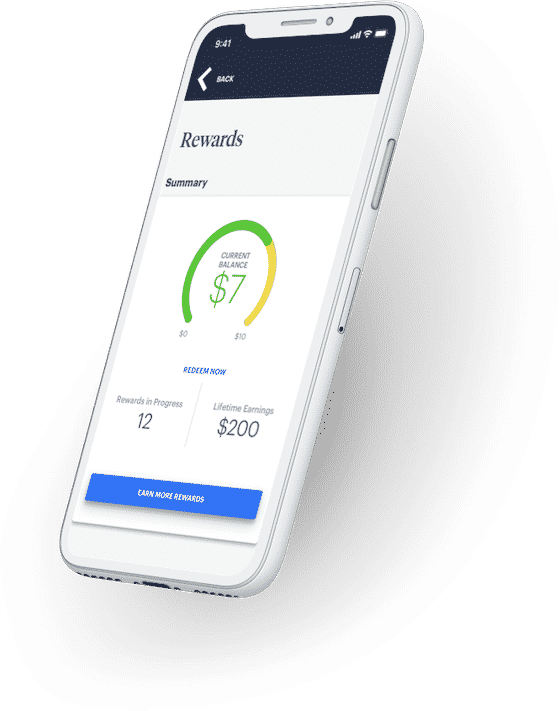 Status Money uses algorithms to analyze your balances, transactions, and interest rates to find ways for you to improve.
You'll earn cash rewards for acting on our recommendations and referring friends. The recommendations I've seen include signing up for investment apps like Acorns or Fundrise or getting a new life insurance policy from Bestow.
It's likely that the offers are not personalized and Status Money earns money for referring people to these other products and services. There's no limit to how much you can earn, and your rewards never expire.
Is Status Money Safe?
The question that immediately comes to mind is: Is it safe to divulge such personal and financial details? According to the company, they use bank-grade security to keep your account safe and they will never sell your personal information to anyone.
They do encrypt all personal data and information using 256-bit encryption and all its servers are monitored 24/7.
Status Money employs state-of-the-art technology rated by a leading security agency to be more secure than most US bank websites is used.
So don't worry about your financial accounts being vulnerable to malicious attacks by using Status.
Status Money Features
Once you have signed up and requested a comparison of your financial status with those of your peers, your dashboard will show the following:
1) Your Net Worth
Your current up to date net worth which is helpful in tracking how you stand and how to grow your net worth.
2) Your Peer Ranking
This will show what your status is within the group of individuals [could be many thousands] of equal financial background or status. If you want another free way to check this, you can view your average net worth by age here.
3) Your National Ranking
This will advise you of what your national standing is financially.
4) Opportunities for You
A very useful component. This tells you where your weak links are especially in terms of interest rates and revenue generation on your savings. It will also suggest exactly how you can save money and make better decisions.
Status Money Dashboard
The Status Money dashboard also provides other very useful information such as your debts and assets compared to your peers and your standing within the peer group. In fact, it provides you with a complete financial picture perfectly up to date.
Each one of the above noted four components generates details that make up the chart which provides you valuable information at a glance.
For example, the chart will advise what the up to date expenses have been and will accurately compare it with that particular individual's peers and advise how much more [or less] expenses he/she has incurred so far and project a month-end estimate of whether it will exceed that of his peers and if so – why, and how it can be corrected by pointing out the area/s where the over-spend is occurring. Thus prompting steps to efficiently correct it.
Creating a Status Money Account
Status Money is free and all it takes is 5 minutes to sign up here.
Once you're on the Status sign up page, they'll ask you for:
Full legal name
Email
Strong password
Date of birth
Annual gross income
Housing type (rent, own, other)
Own a car? (yes or no)
The last four digits of your Social Security number (for verification)
Address (preferably the one that is on your TransUnion account)
Once you have access, you can start linking your accounts.
Referral Rewards
You can now earn cash rewards for referring friends to Status Money!
How it works:
Share. Share your Status Money referral link with your friends. They'll earn $7 for joining and setting up their account. It looks like this: https://statusmoney.com/?ref=0YMEmG
Earn. You'll earn $1 for each new member that joins and links their credit file and an account.
Things to remember
There's no limit to how much you can earn, and your rewards never expire.
You can track and redeem your rewards by logging into Status and going to the Rewards screen.
If you're using the mobile app, remember to download the latest version using this link.
Pros & Cons of Status Money
Benefits
Status Money points out what you are doing wrong in not letting your savings generate the same returns as your peers and how much you are missing out – and what you can do to rectify it.
Status Money warns you if your expenses climb steeply compared to others in the same financial group. It also pinpoints why that's happening.
Priceless information. All for free.
Downsides
Not as many features as compared to other similar software such as Empower.
Status Money Alternatives
Status Money vs Mint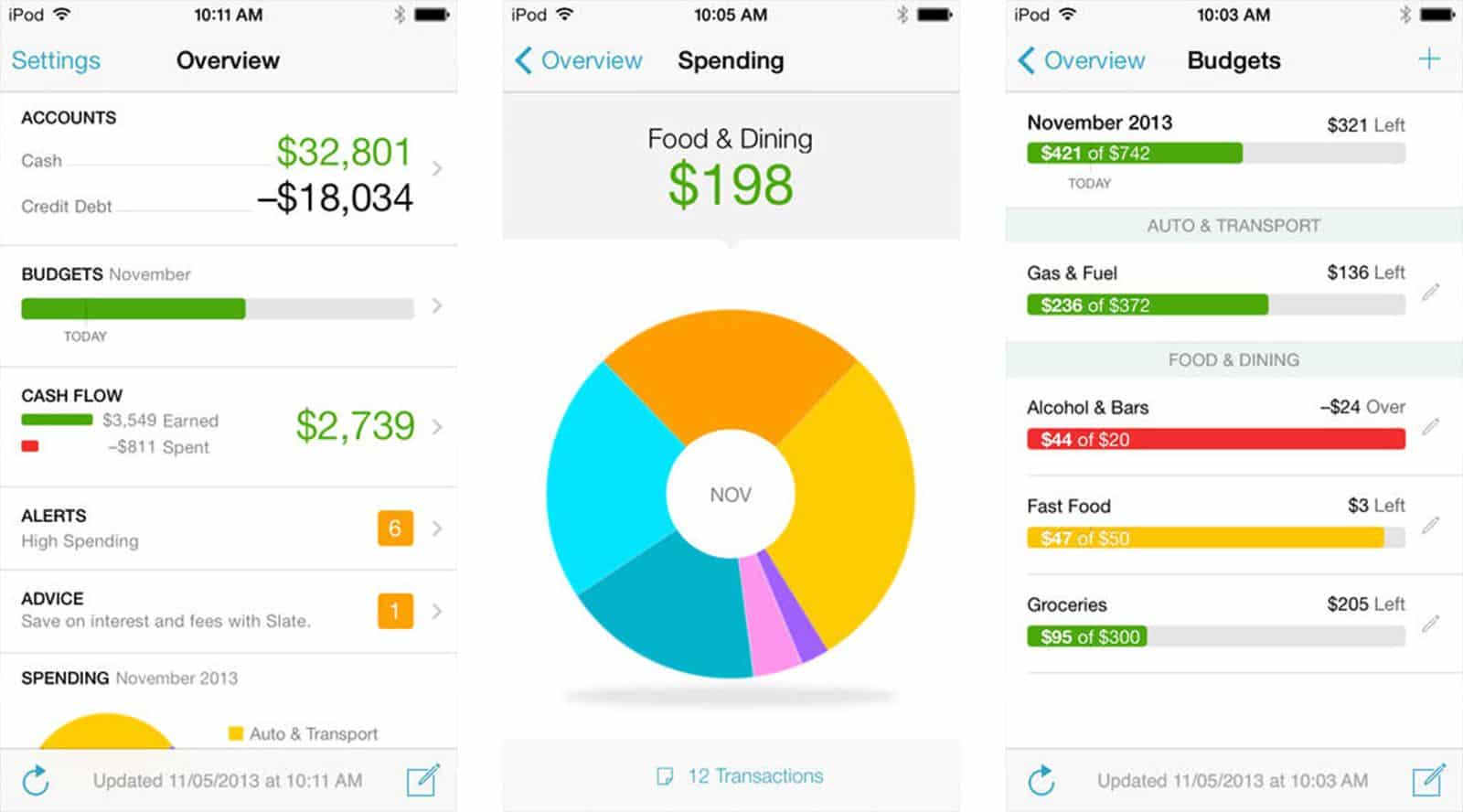 Mint is an incredibly popular online personal finance app that's great for all kinds of users. Aside from it being a great finance app, it has a plethora of money management tools that you can also use. What's astounding is that the app is free to use and allows users to create financial reports in a matter of minutes.
Some notable features of Mint include:
Versatile and flexible budgeting tool
The app can send you alerts and financial summaries via text message or email
Extra security measure – the app sends out an SMS or email if it notes unusual account activity
Account aggregation follows almost all bank-level policies for added security
Users can customize their financial reports into easy-to-read bar graphs and pie charts
However, the only downside is that Mint does not have an account reconciliation feature. This may be a letdown for some users but otherwise, the app is great on its own. If you already have Mint but want more features, I would recommend signing up for Empower.
In fact, Empower and Mint's features are quite complementary. Users can also keep a track of their credit score with minimal hassle.
Status Money vs Empower
The financial advisor company, Empower offers several free tools to help users manage their budget and investments. What's best is that the tool has an easy to navigate dashboard, perfect for beginners trying to save up.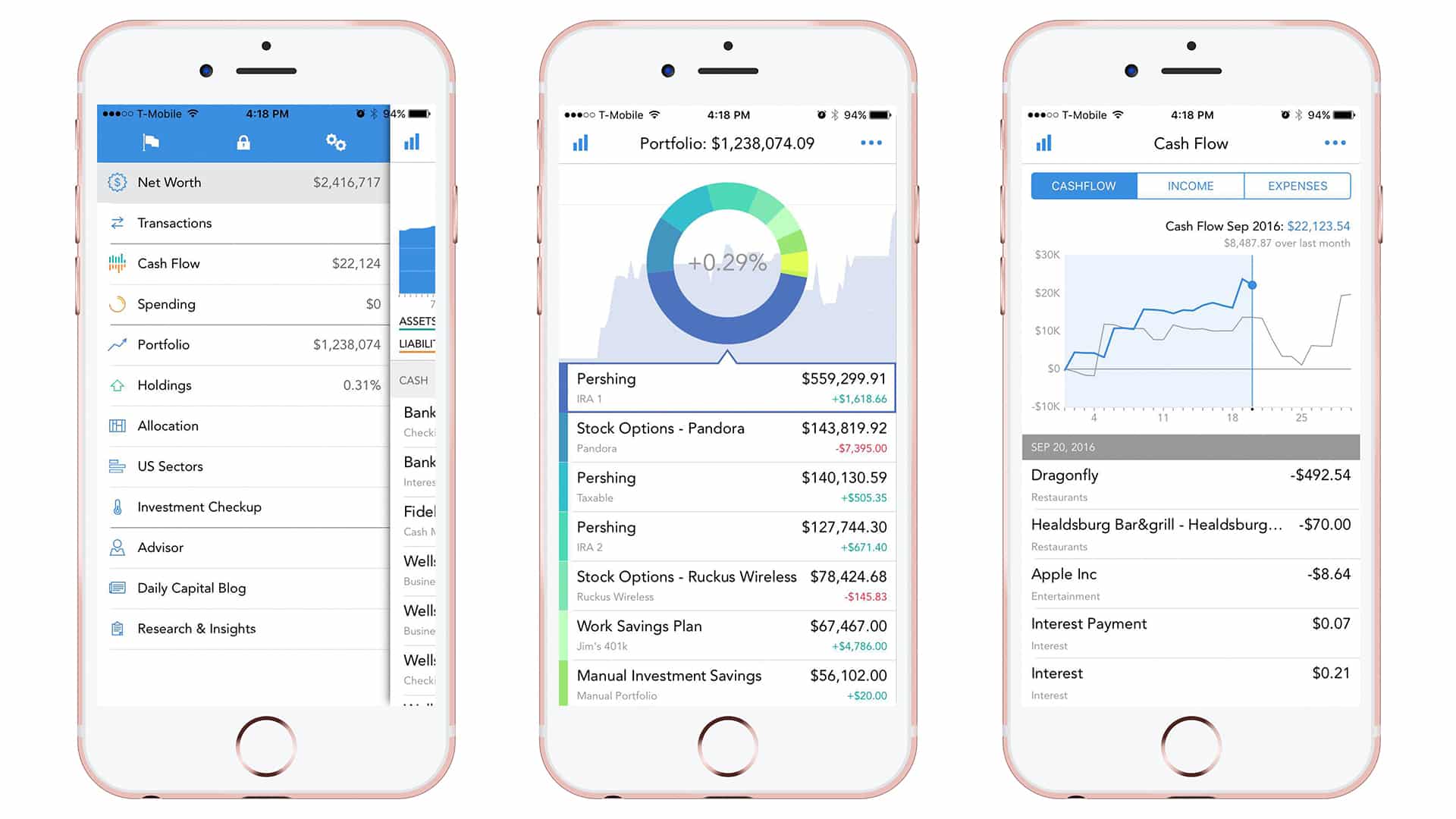 For greater ease, you avail maximum benefits by linking up both your investment and banking accounts. You can link your account manually or connect the account automatically. Since there are many categories, you can use the tool according to your convenience. What's best is that the tool will select the best category for you so you don't have to go through the trouble yourself.
You can use this brilliant online tool to keep a track of investments or even retirement funds. It'll do all the calculations so you can keep an eye on your investment costs and asset allocation without a worry. You can learn more in our Empower review.
Some key features of this app include:
Track expenses down to every credit card swipe
Analyze all your expenses in real time on your account dashboard
Use the tool to manage your future goals whether you're planning to buy a house or get yourself a new car
Use the Retirement Planner tool
Is Status Money Legit?
Budgeting tools whether that of individuals, small businesses or giant corporations is always useful in lending an extra hand to help you manage your finances.
The great thing about Status is that it is a very well developed tool to use with a beautiful interface (one of the best I've seen). It's free, and helpful, and can actually help you increase your net worth. What's not to love?
Status Money Review Summary

Status Money actually brings you and your financial situation into the light from the darkness. It provides you guidance for making better decisions for yourself and your savings whereas previously the majority of the people could not ascertain by themselves the mistakes they were making and even if they did, they did not know of better options – now, so within their reach. Thanks to Status Money.
To get the most out of Status, I encourage you to:
Link your accounts to find ways to improve
Review your highlights regularly
Earn more rewards by acting on your opportunities
Get Out of $30,000 or More of Credit Card Debt