Looking for a Self Credit Builder review? We're here to help.
You probably understand that obtaining loans with poor credit can be difficult, as well as expensive in the long run. If you're struggling to find reasonable loan terms because of a lack of or low credit score, you're not alone.
Many traditional banks make it difficult to qualify for loans without the right credit score. However, digital banks like Self can help by offering credit builder loans that help you build your credit score up as well as establish valuable financial habits you can take with you long after the loan is paid off.
Self is the subject of our review, where we dig deep into what this credit-building app can do for you and your credit score. Research has shown that individuals who don't have debt but take out credit-builder loans increase their score by an average of 60 points, which is enough to propel most individuals into the next-highest credit tier.
With Self at your side and your positive payment history reported to all three credit bureaus, you and your credit score are destined for better days. A few points here and there could be all that's standing between you and saving thousands of dollars on future purchases.
Are you ready to learn more in our Self review? Let's get started!
What is Self
Founded in 2014 and rebranded in 2019, Self is a Texas-based credit-builder lender that works nationwide with consumers to boost their credit scores with positive payment history. This particular factor weighs heavily on determining your credit score, so establishing a responsible pattern can go a long way in improving a lower score.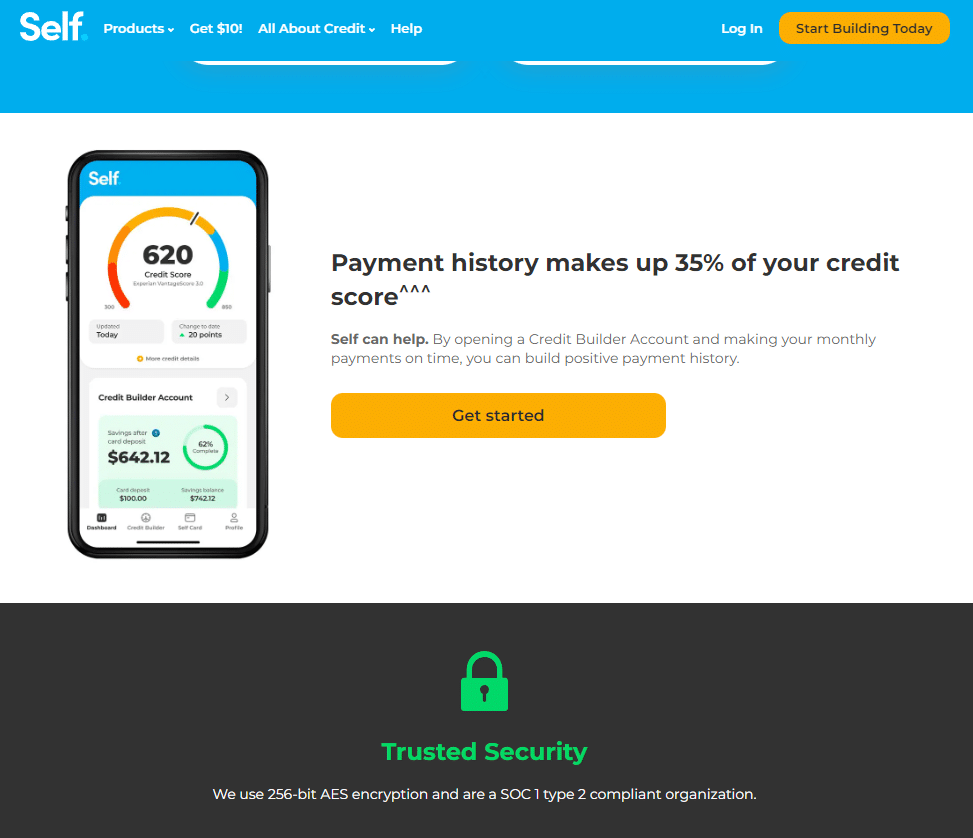 If you're not sure how to improve your credit score, Self could be one of the best credit score apps you download when you apply for a Credit Builder Account. It's also available securely online if you prefer.
Most people who use Self to build their credit scores typically have no credit or little credit that's not stellar. However, Self reports on its homepage that the average customer improves their score by up to 49 points.


Self offers many products and services consumers can take advantage of if they want to improve their scores to pay less for loans in the future. This includes a Credit Builder Account, a Visa secured card, and the option to report rent and utility payments.
The credit builder loan and other products take about one to two months to show up on your credit report. If you're looking specifically for a secured credit card or an interest-bearing savings account, you're better off looking elsewhere.
How Does Self Work
To establish your Self Credit Builder Account, you'll need to be at least 18 years old, have a Social Security number, link a bank account, and be a permanent U.S. resident. However, Self does not perform a hard credit check to further ding your credit score.
Self reports your payment history to all three credit bureaus, including Experian, Equifax, and TransUnion. You must pick between four installment loans that cost between $25 and $150 per month, with terms varying from 12 months to 24 months: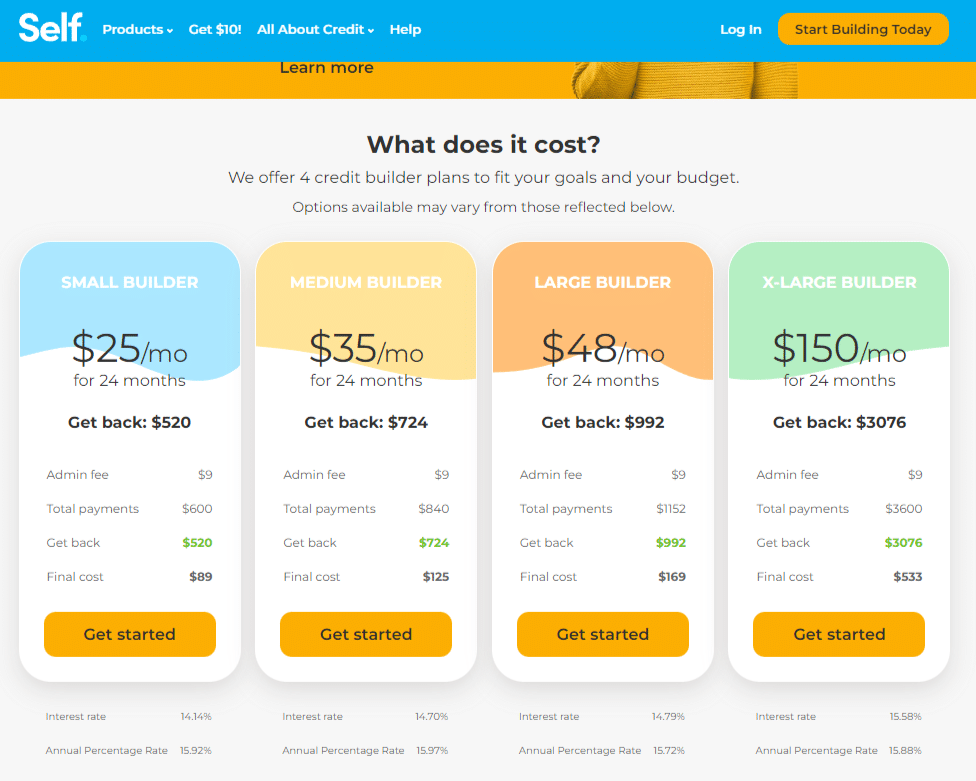 Once you fill out the application, Self will set aside the corresponding funds in a CD-like account that is FDIC insured. You'll need to pay a one-time activation fee of $9 to get started.
The good news is that your credit builder loan from Self does accrue interest. However, with rising interest rates, your APR for this loan can cancel out those interest earnings.
As of writing this Self review, the interest rate for Self accounts is 14.7% while the APR is 15.97%. Payments on your installment loan begin the month after you're approved.
Self Notable Features
The best credit building apps help people understand why personal finance is important. Here's how Self can help you improve your score and establish responsible financial habits.
Credit Builder Account
When you pay off your credit builder loan with Self, you're eligible to receive the funds you've paid towards, minus any fees or interest. Self typically pays you within two weeks via check or ACH transfer.
If you want to close your Credit Builder Account early, Self may only charge you up to $5. You can either pay off the remaining balance to close the Credit Builder Account or call customer service.
Paying off your installment loan with Self doesn't negatively impact your credit score. Self will simply notate in your report that the loan was paid off early.
You can reach Self customer service via phone, email, or live chat. Self does not have any brick-and-mortar locations you can visit in person.
Visa Secured Credit Card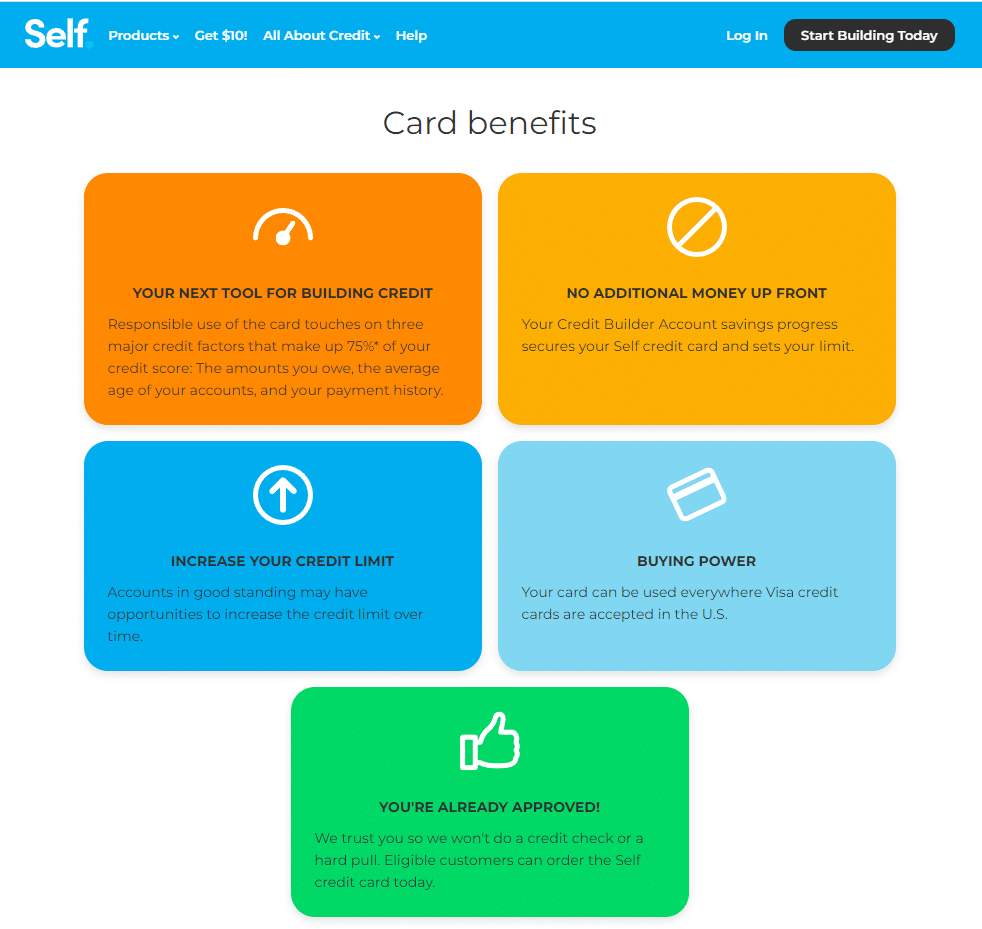 Self's Visa secured credit card helps you to learn how to pay off debt, including how to pay off credit card debt in a controlled environment. Plus, there's no hard credit pull to worry about.
You're eligible for the Self Visa secured credit card after making three on-time payments for your credit builder loan that total over $100. This means you'll need at least three months of history before you can use the Visa secured card to your advantage.
The Visa secured card comes with a $25 annual fee and an APR that hovers just under 30%. The maximum credit limit is determined by how much you've paid into your installment loan, capped off at $3,000 for eligible customers.
As you pay off your Self credit builder loan, you can increase your secured credit card limit. This revolving line of credit helps diversify your credit report but should be used wisely given the high APR.
Rent and Bills Reporting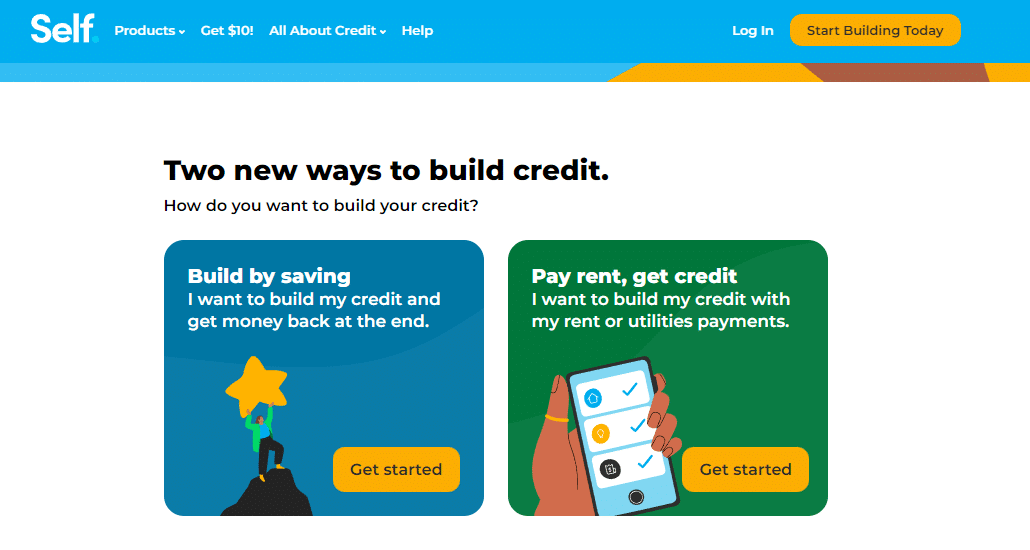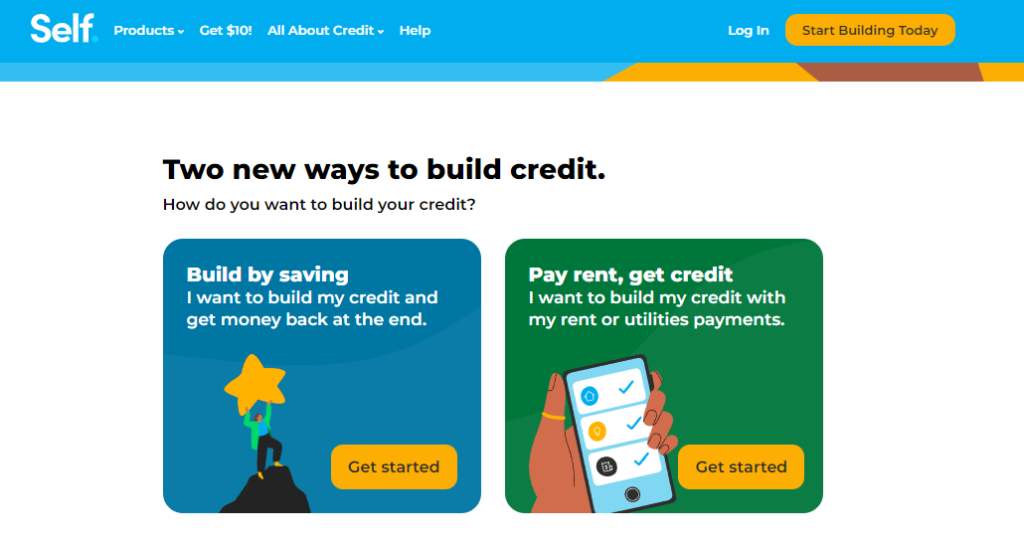 Self recently added a new way to report positive payment history on your credit report. With Rent and Bills Reporting, you can use your utility and subscription payments from the past two years to demonstrate that you pay on time.
Rent and Bills Reporting requires that you securely link your bank account so Self can track your payments. You'll also need to have an active subscription for any payments you report so there is a recurring charge.
Adding the past two years of your rent and utility payments costs you a one-time $49.95 fee. However, continuing your positive payment history each month comes with a $6.95 monthly fee.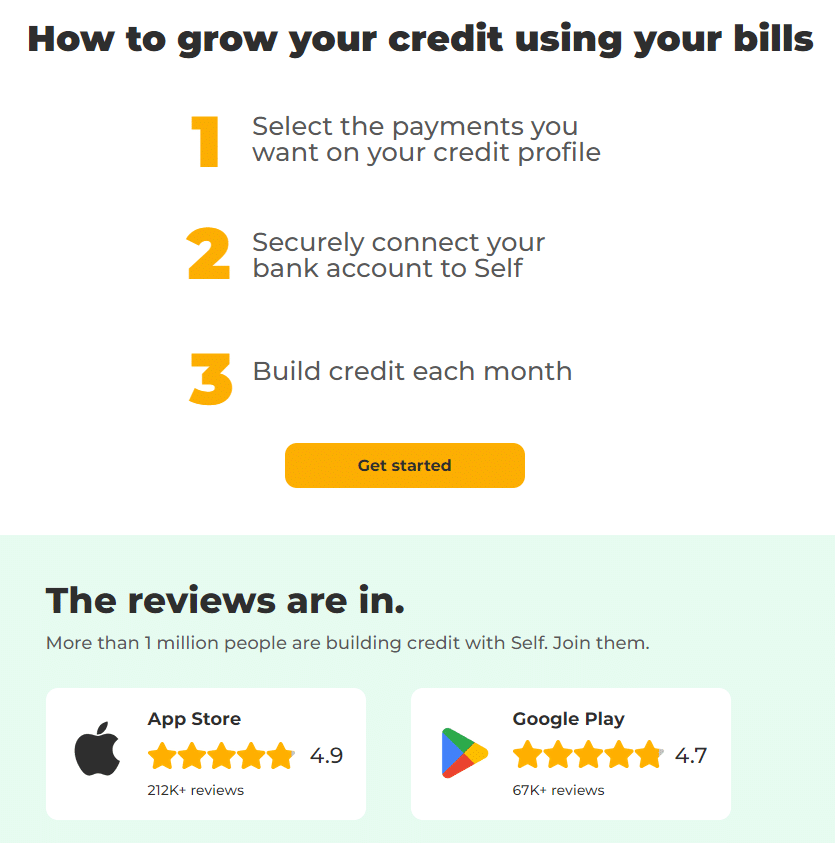 Self reports your rental history to all three credit bureaus but only reports to TransUnion if you have utility payments. At the same time, this credit-building service comes with $1 million in Identity Theft insurance as well.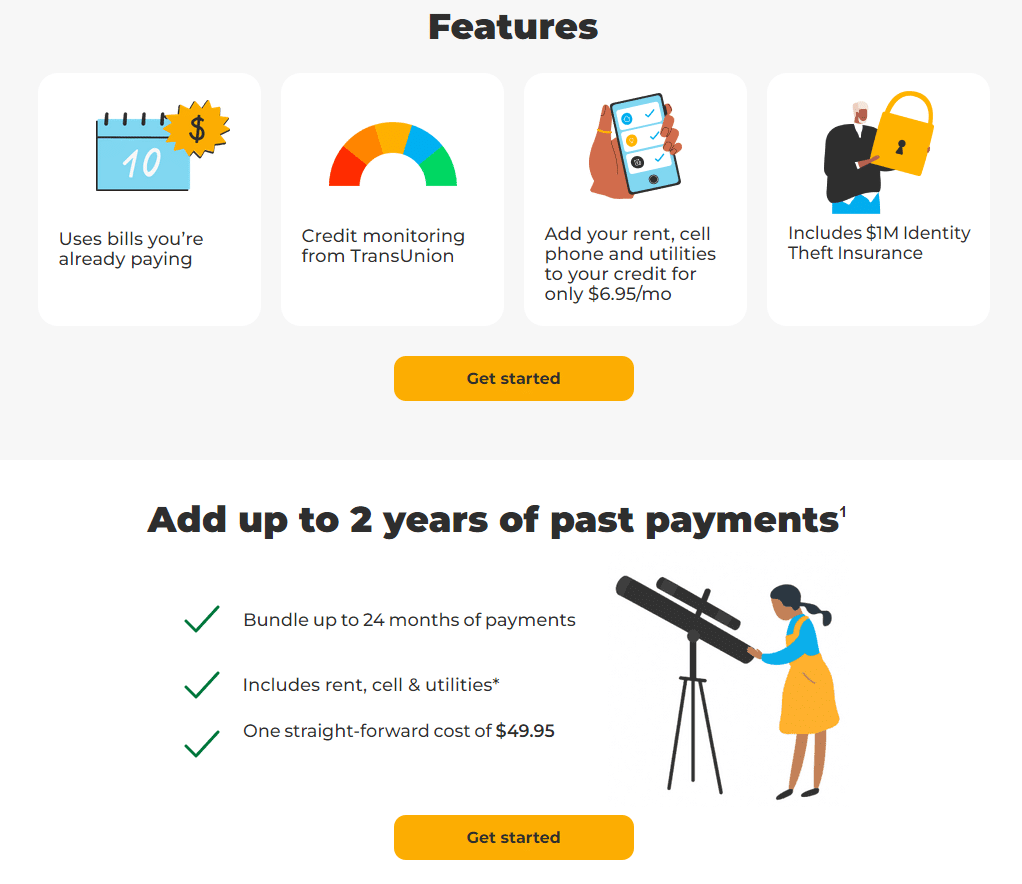 Credit Reports
Self generates your FICO score within six months of reporting your payment history with this service. You can also get your VantageScore sooner as well as free credit score monitoring.
Self Fees
Using Self to build your credit score (back) up does require a financial commitment on top of your agreed-upon monthly payments that are reported to Equifax, TransUnion, and Experian. All Self users must pay a non-refundable administration fee of $9 when they set up an installment loan.
In addition, the Visa secured credit card will cost you $25 per year. That's not including the interest you'll pay if you carry a balance.
Even paying the monthly fee for your installment loan could cost you. If you pay with a debit card, Self charges you 2.99% plus 30 cents, but you can avoid this fee by paying with a bank account or prepaid card.
Self offers a 15-day grace period for payments that gives you an extra two weeks, but failure to make an on-time payment can cost you 5% of what you should have paid. Your late payment will likely be reported to the credit bureaus as well.
As we mentioned, you can close your Credit Builder Account early without high penalty costs. If you pay the loan off in full, there's typically no charge but otherwise, you'll pay a fee of up to $5 for the privilege.
Advantages and Disadvantages
Like any other financial product on the market, Self's credit builder loans are only as good as the impact they have on your finances, or in this case, credit score specifically. Let's take a closer look at how Self can help you and how it might not be the right fit.
Pros:
Installment loan earns interest
No hard credit pulls
Available nationwide
Reports payment history to all three credit bureaus
No income requirements for approval
Set monthly payments
Choose which loan terms best fit your budget
No security deposit required for Visa secured credit card
Cons:
High APR
No sign-up bonus or rewards program
Several fees
Visa secured card cannot be used outside of the United States
Higher-cost loans don't help you build credit faster than lower-cost loans
Fresh credit builder loans can initially lower credit score
No guarantee of improving credit score
Self Competitors
Some of the best digital banks work with consumers to establish better credit. Here are a few other banks that can help you improve your credit score.
If you're looking for a new bank account and a credit builder loan, MoneyLion combines the two into a single service. For $19.99 per month, you can build your credit and bank like you normally would to build healthy financial habits.
MoneyLion also lets you deposit your paycheck a few days early to access funds ahead of time. However, it's one of the more expensive options when it comes to fees and pricing for credit builder loans.
One of the more well-known credit-building apps, CreditStrong offers several options when it comes to building credit. Loan terms extend out to 120 months and you can easily customize your monthly payment.
In addition, CreditStrong lets you cancel your loan at any time. You'll pay a one-time $15-$25 administrative fee to set up your loan, but there are seven plans to choose from with mid-range APRs. Learn more in our Credit Strong review.
Home to one of the best 5% interest savings accounts, Digital Federal Credit Union (DFCU) offers credit builder loans with up to 24-month terms and up to $3,000. Rates are set at 5% APR and you can even postpone your first payment for 60 days from opening your account.
Join SeedFi and you can opt into a free Credit Builder Prime Plan. Choose your payment schedule to suit your budget and build credit at the same time.
SeedFi does charge higher interest rates than some other lenders and the Credit Builder Prime Plan is limited to $500. However, SeedFi also offers the Borrow & Grow account, which is $1 per month.
FAQs
How does a Self Credit Builder Account improve my credit score?
A Self Credit Builder Account improves your credit score by reporting positive payment history. However, Self installment loans can initially set your score back because it increases your credit usage.
Is Self legitimate?
Yes, Self is a legitimate credit-builder lender. The funds you pay towards your installment loan are FDIC-insured and Self uses bank-level security for safe transfers.
How can I build a credit history with no or a low credit score?
To build a credit history with no credit score or a low credit score, you can use their credit builder loan to report payment history. Other credit-building products exist depending on what you're looking for.
Does Self perform a hard credit check?
No, Self does not perform a hard credit check. The credit-building app only requires your Social Security number to verify your identity.
Build a Strong Financial Foundation with Self
Establishing and growing our credit score is one of the first challenges we face as young adults. Handling our finances responsibly can be a tall task when we first start out, but with the right resources on our side, financial success is always an option.
We hope this Self review has helped you to see how you can establish and build your credit from the ground up with the company's Credit Builder Account. A Self credit builder loan may not offer the best perks in the world but they're a great way to find your financial footing to move toward your life goals while ultimately paying less.
Credit scores, like our lives, are a journey with ups and downs. It's all about knowing what resources you have available and using them to your advantage.
How can you use Self's Credit Builder Account to achieve your financial goals?
Best for luxury benefits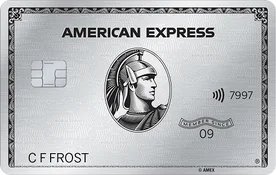 The Platinum Card® from American Express
INTRO OFFER: Earn 80,000 points (worth $1,600)
Earn 5X Membership Rewards® Points for flights booked directly with airlines or with American Express Travel up to $500,000 on these purchases per calendar year.
Earn 5X Membership Rewards® Points on prepaid hotels booked with American Express Travel.
Apply Now