Installment loans are a simple and easy form of loans, where the total sum of both the principal and interest is paid back to the lender within the set period of time in regular intervals or installments.
When you take out an installment loan, such as a mortgage, auto loan, or student loan, you decide how much money you need to borrow and the repayment terms over a fixed period of time. This is different from credit cards or lines of credit. Each payment is known as an installment, which is why it's called an installment loan.
Many websites are working for the sake of providing installment loans in the form of personal loans to people who need money. Moreover, there is another alternative to installment loans and that would be payday loan apps. Comparatively, installment loans are far better and safer to be taken.
This article will help you to comprehend all the pros and cons of installment loans and will certainly guide you to make the right and better decision for yourself.
Common examples of installment loans
Installment loans are actually very common and most consumers have taken a loan out that is considered an installment loan. Mortgages, auto loans, personal loans and even student loans are all installment loans.
Mortgages
A mortgage is an installment loan that is given to borrowers who want to purchase a home. There are many different types of mortgage products but most of them have terms for repayment over 15 to 30 years with monthly payments.
Auto loans
Auto loans are a type of installment loan that have repayment terms from 12 to 96 months on average. Auto loans are much more common form of installment loans since most people need to purchase a car for a means of transportation.
Personal loans
Personal loans become part of everyone's life at one point or another and nowadays, direct lenders are on every page of the internet offering you the best deals. A personal loan could be used to pay off credit cards, consolidate debt, refinance student loans or finance home improvement.
There are some types of personal loans that gained more popularity than others due to their several benefits, but this doesn't mean they're right for you. A personal loan from a reputable lender can be a low-cost solution when you need to borrow money. You can learn in our personal loans guide.
Benefits of installment loans
For most people that are searching for an easy and fast loan, that gives them a predictable payment schedule. Installment loans offer attractive features that sound so appealing to many people. Give a glance at the following mentioned upsides and benefits of online installment loans.
Fixed interest rates
Installment loans have a fixed interest rate for the whole time span of the repayment period. It's so soothing for a borrower because the borrower does not have to worry about fluctuations in repayment terms or increasing rates of interest on the principal amount.
Fast and swift approval
If you are taking out an online installment loan, you will get your required money directly in your bank account within a week.
No need for bulk paperwork, no need to stand in time-consuming lines at the bank, and no need to follow timing schedules as you can get installment loans like personal loans online very quickly.
For example, the following personal loan lenders in the box below all offer personal loans and will direct deposit the approved amount into you bank account within days:
| Company | Loan Amount | APR | |
| --- | --- | --- | --- |
| | $1,000 to $500,000 | 5.40-35.99% | |
| | $1,000 to $50,000 | 7.96%-35.97% | |
| | $100 to $15,000 | 5.99-35.99% | |
| | Up to $100,000 | 7.99-22.73% | |
Longer stipulations and eventually lower monthly payment
Longer amortization is another advantage of an installment loan. People usually prefer this loan just because of this key feature.
The borrower doesn't have to pay back the entire lump-sum borrowed amount within a short period of time.
People easily manage to set aside a part of their income as a monthly installment and pay back all the borrowed amount without rushing into financial woes.
Flexible payments
It is the feasible and bendable type of loan that is suitable for people with bad credit scores.
Affordable amounts
As lenders consider your repayment ability before lending, you can only take what you can afford.
Access to fast cash
You can apply online and get your desired amount easily.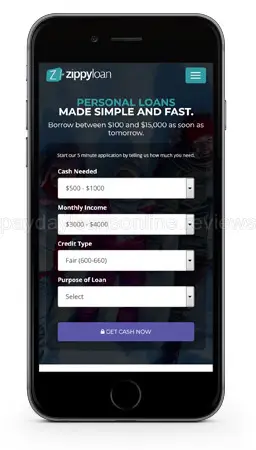 For example, when you need money in a hurry ZippyLoan is where to go. You apply for a loan through the Zippy Loan site, if approved they send your loan application to one of many loan providers.
You review the loan details and e-sign if you like what you see. No risk in checking what offers you'll get. You can borrow between $100 and $15,000 as soon as tomorrow. Loans service up to 60 months.
ZippyLoan connects borrowers to lenders through their network of lenders. They'll find you the lowest interest rate and is one of the best no credit check loan. You can visit ZippyLoan here.
Drawbacks of installment loans
Everything has its downsides, so it's good to know the cons of installment loans before you borrow when you need money now. Below are some disadvantages of online installment loans.
Long-term commitment
Longer amortization periods of an installment loan is an advantage as well as disadvantage. It's a lengthy commitment between the lender and the borrower. Sometimes its long period may become a burden and lethargic for the borrower to pay back and get rid out of it.
Expensive than actual payment 
As interest is added on the actual amount, the borrower has to pay greater amounts in return. Interest is a trap, and sometimes people become habitual of taking out loans and spendthrifts.
Summary
The need for money is innate to every individual living in this world and emergencies can occur at any time. Emergencies can happen to anyone and can be physical, emotional or financial.
In case of serious financial emergencies, you have to be smart enough to deal with the debt and handle the situation correctly.
There are tons of lenders offering you tempting deals and loan offers when you have a bad credit score, and trapping you in the dung of never-ending debt.
If you play smartly and choose wisely you can escape lenders that offer bad credit payday loans that'll ruin your financial prospect and choose an installment loan instead.
Installment loans are pretty much suitable for you and can help you to be on the safe side. But as it's a fact that everything has its both upsides and downsides, as do installment loans.
If you have read this article, you have now fully understood and deliberated yourself that an installment loan is really worth having. Installment loans have more pros as compared with cons. You can take out an installment loan as long as you can pay it back.
Get Out of $30,000 or More of Credit Card Debt