Did you know that nearly one in three consumers have subprime credit? If you're struggling with your credit score and can't seem to get your head above water, you're not alone. 
CreditStrong and many other apps like it help you establish and build your credit with specialized loans and revolving lines of credit. If you have subprime credit or no credit at all, CreditStrong could be your key to a higher credit score in the near future.
By sending reports of your positive payment history to all three credit bureaus, CreditStrong can help you demonstrate that you're a worthy borrower. It's also a one-stop shop if you're looking to diversify your credit report.
Our CreditStrong review includes everything you need to know about this credit-builder app, from pricing to results. We'll also compare those benefits to what you would get from other credit-building apps like CreditStrong.
Are you excited to break it down to the nitty-gritty with our CreditStrong review? Let's get started!
What is CreditStrong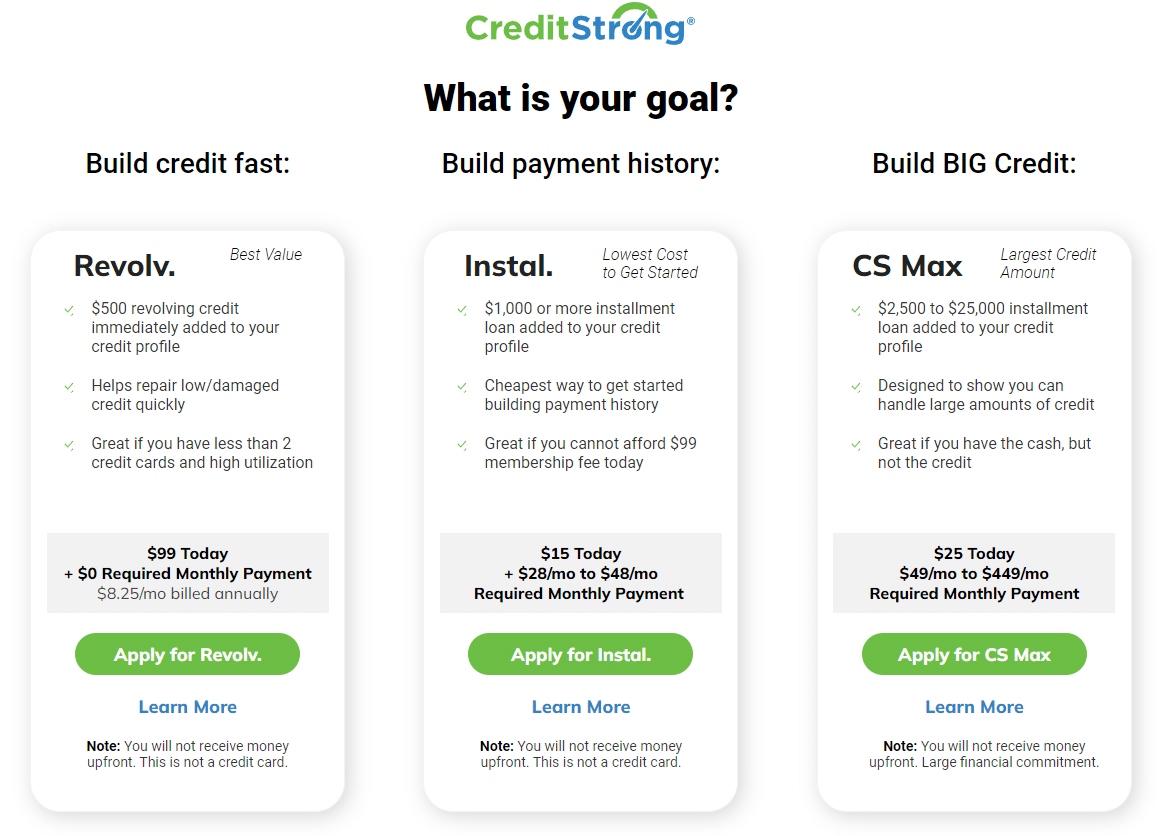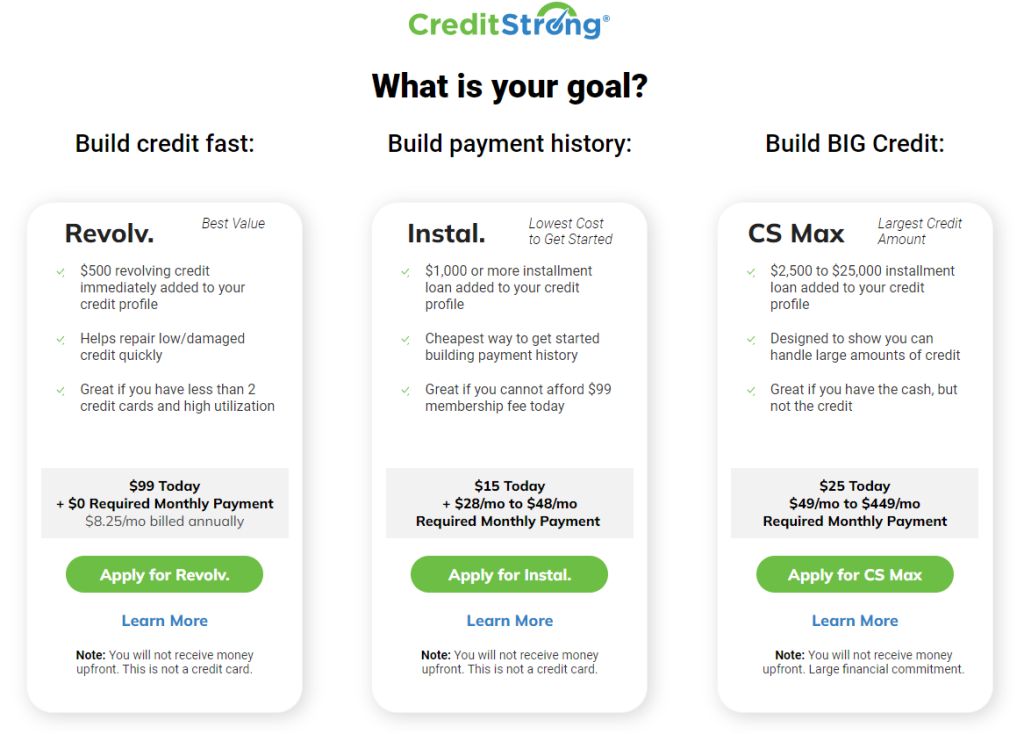 Available nationwide, CreditStrong helps consumers establish and build their credit with revolving lines of credit and installment loans. This credit-building lender reports to Equifax, Experian, and TransUnion on your behalf to improve your payment history for a more diverse credit report.
CreditStrong was established in 2006 and is based in Austin, Texas. Backed by Austin Capital Bank, which provides FDIC-insured accounts, CreditStrong doesn't require a credit check to get started.
In addition to the many benefits CreditStrong offers, customers will also get a monthly FICO score they can use to track their progress. If you want to know how to improve your credit score, consider starting with CreditStrong.
How CreditStrong Works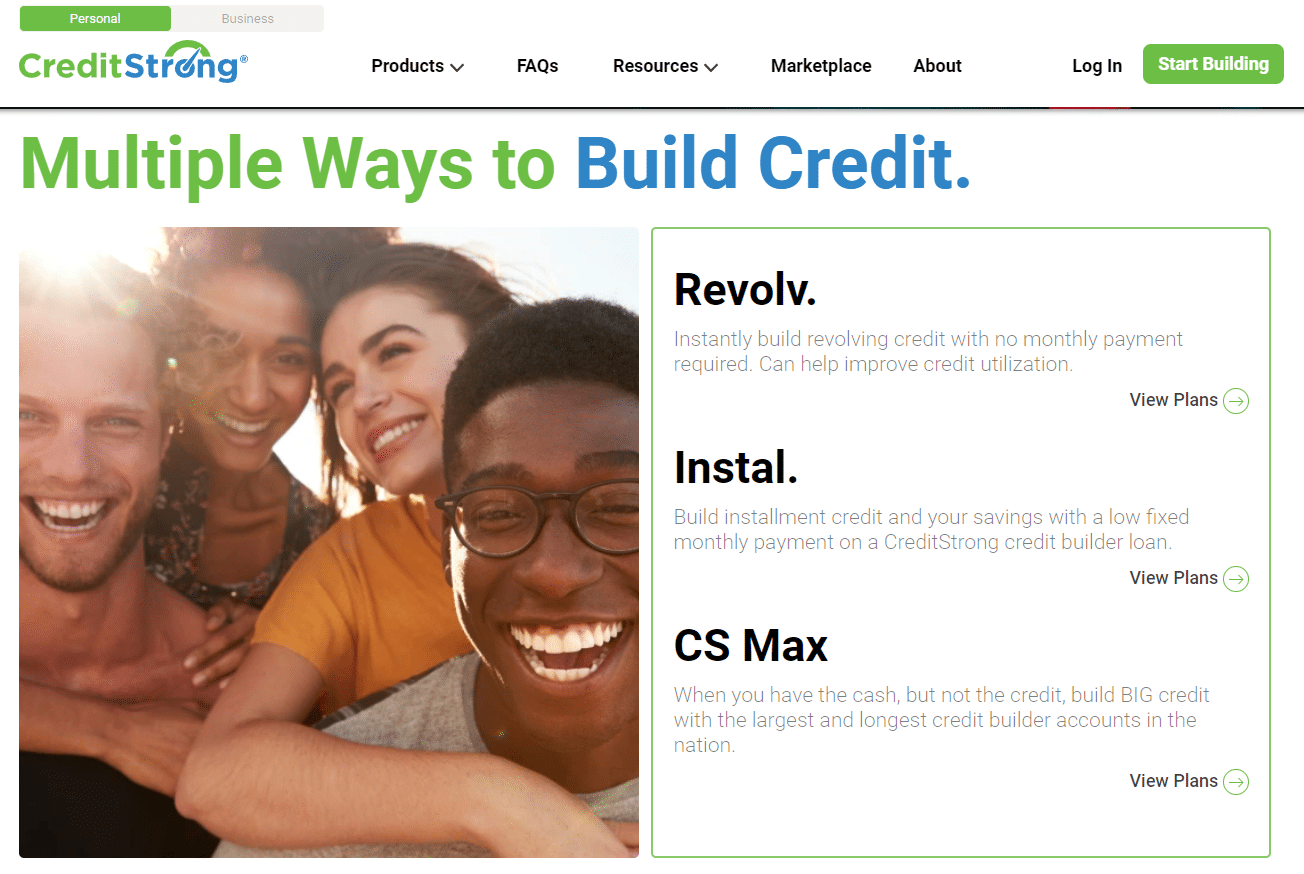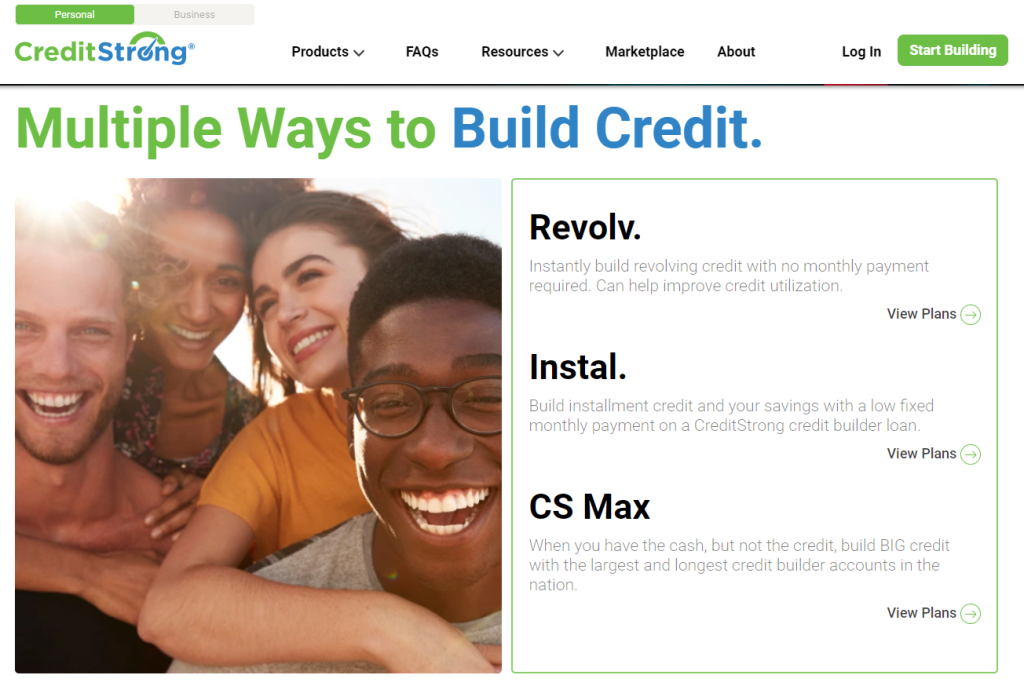 Struggling with credit can have you googling, "how to pay off debt" or even "how to pay off credit card debt." It's common to use personal loans to build credit because they offer a large sum you can work with, but sometimes a revolving line of credit or installment loan can have the same effect with less stress and interest fees.
The first credit report you'll get comes about 30-60 days after you sign up with CreditStrong. You'll also get a monthly FICO score you can use to keep track of your progress.
CreditStrong offers both revolving lines of credit and installment loans. We'll talk more about pricing and plans in a few sections.
Note that CreditStrong does have a 14-day grace period you can take advantage of if you're not able to make a payment right away. If you don't make your payment in those two weeks after it's originally due, you'll be subject to a late fee and a late payment reported to Experian, TransUnion, and Equifax.
However, if you can't make a payment, it's often best to close your account. Otherwise, you risk further damaging your credit report.
CreditStrong and the 5 Credit Score Factors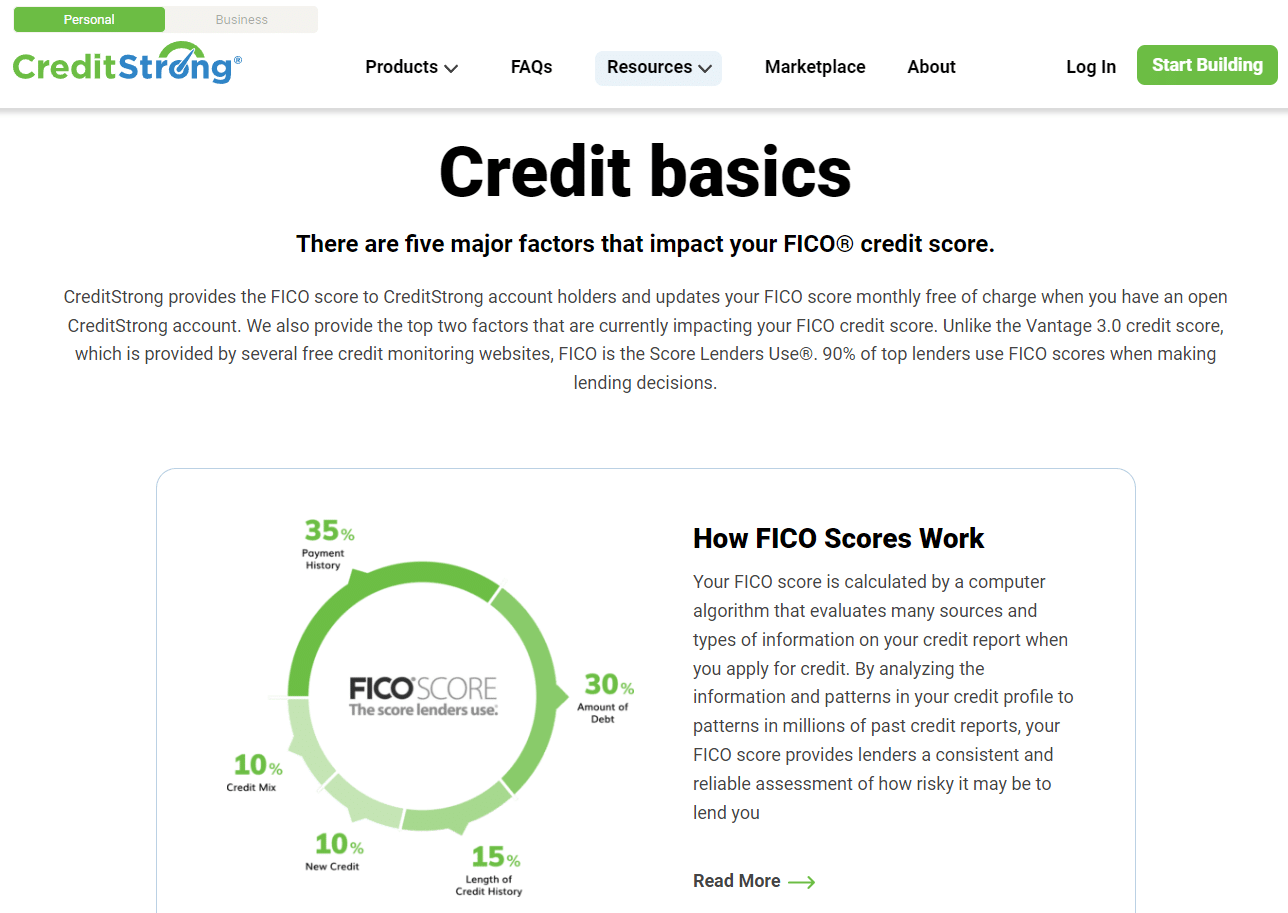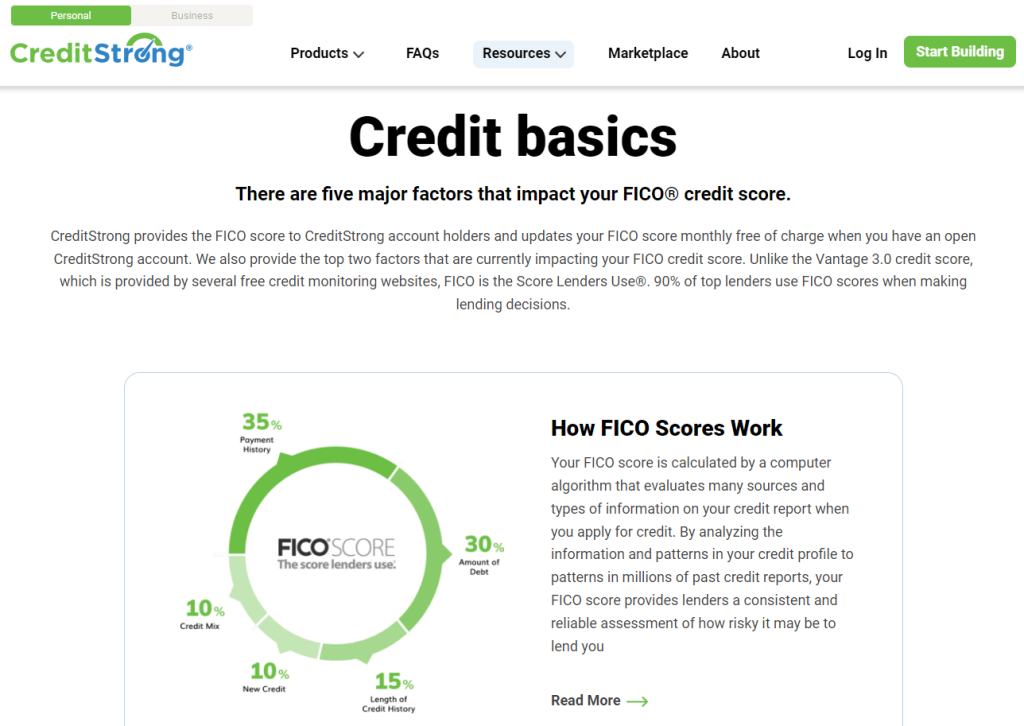 No matter what CreditStrong product you choose, you can easily positively affect several factors that go into determining your credit score. These include your payment history, amounts owed, credit history length, new credit, and credit mix.
Payment history is the largest factor of the five, making up 35% of your credit score. Amounts owed is next at 30%, with the length of credit history making up 15% of your score and new credit and credit mix making up 10% each.
You're in control of all aspects of your credit score, from the amount of credit you draw to the new credit you apply for. Diversifying your credit will help you demonstrate versatility while a strong payment history shows future creditors that you can handle credit over an extended period.
If you treat your loan or line of credit from CreditStrong with the respect that financial products deserve, you can easily establish and boost your score without too much effort. Typically all it takes is a bit of time and some good behavior.
Signing Up
To create a CreditStrong account, you'll need to be a permanent resident with a physical address. You should also be 18 years old and have a valid Social Security number.
CreditStrong will verify your identity with your Social Security number, but it also requires linking a viable checking account, debit card, or prepaid card. You'll also have to enter a phone number and email address.
CreditStrong also has a referral program that rewards you with $10 each time your referral makes their first payment. You can easily post your referral link to social media and watch the commission bonuses roll in.
Related: Check out our list of the best credit-building apps and best credit score apps you can download to improve your score today. You can also find out how to get free money and get paid today.
Pricing and Plans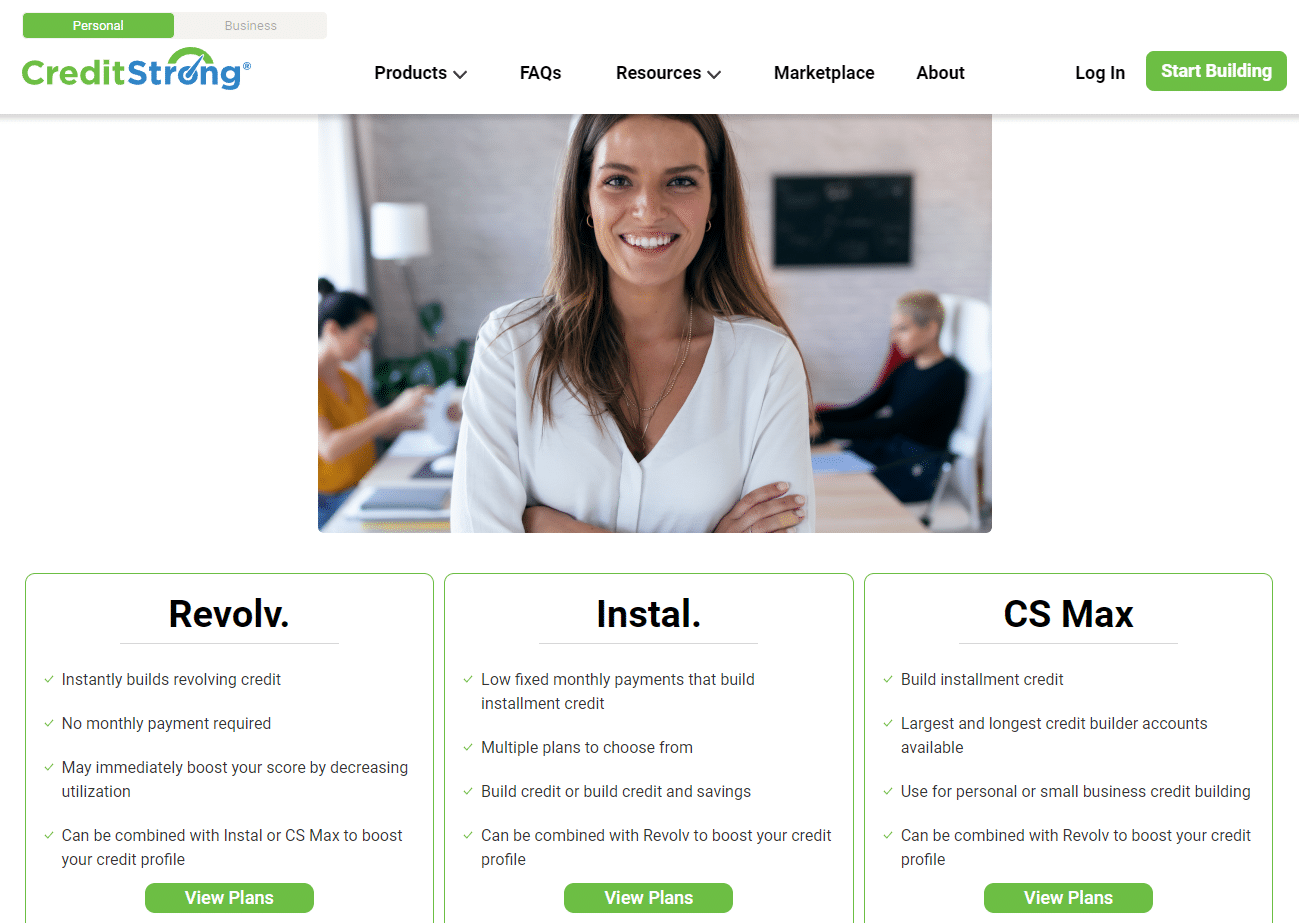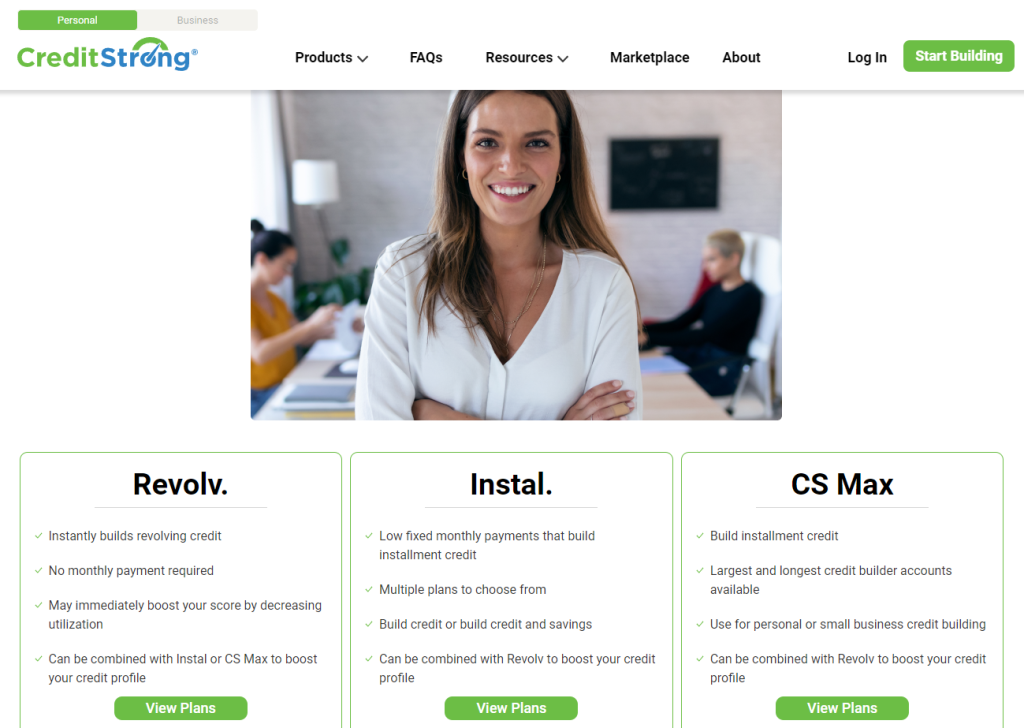 CreditStrong offers three main products when it comes to establishing and improving your credit score. While many consumers choose the one that works best for them, you can also use all three in tandem.
Revolv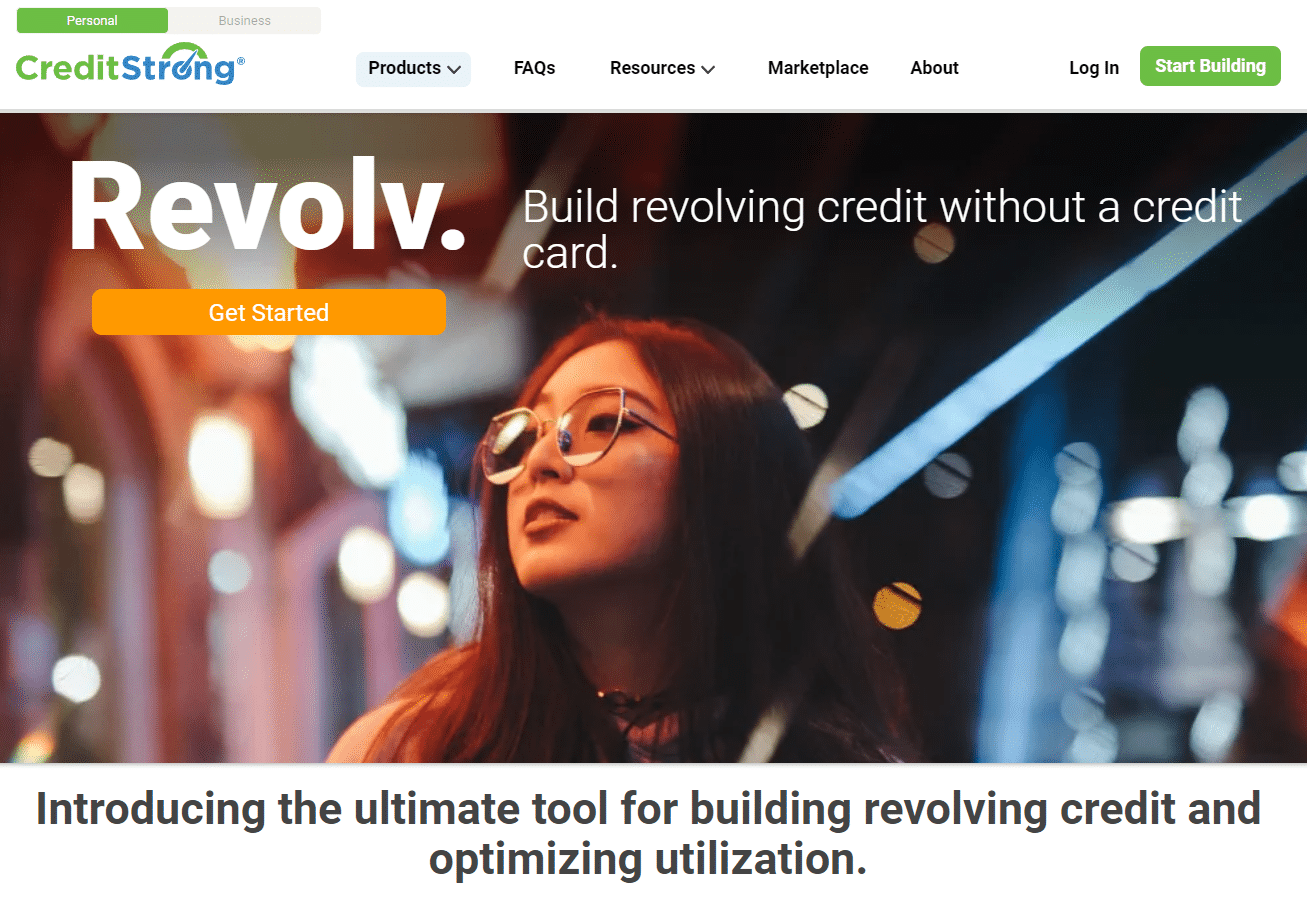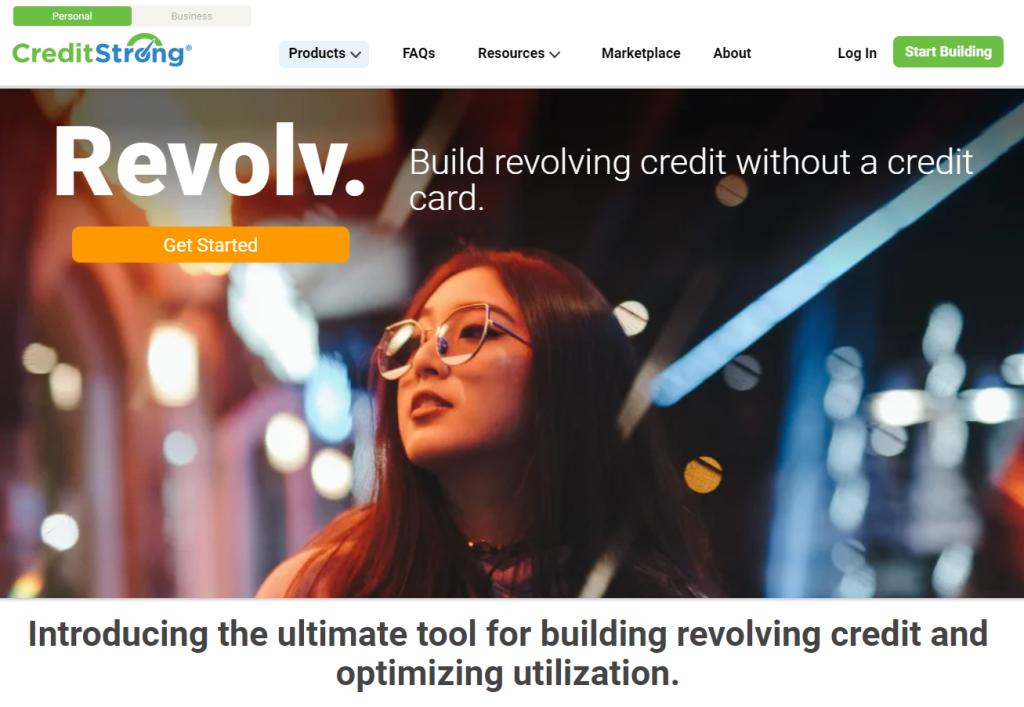 This CreditStrong account is a revolving line of credit that gets reported to all three credit bureaus like a credit card does. At the same time, the Revolv account is not a traditional secured credit card but a virtual card that you use to establish and contribute to a savings account.
CreditStrong does not require a security deposit with this account but awards you a $500 line of credit. You can set your monthly payment, even if it's $0, and then withdraw the total after a year.
Depending on your credit report, CreditStrong will recommend a specific amount to set aside to improve your payment history. This account comes with a $99 fee but you can easily set your payments to $0 if you need a break here and there.
CreditStrong doesn't charge any interest on the Revolv account. You can also increase your credit limit by increments of $100 (up to $1,000) by making three consecutive payments of $20 or more.
While many consumers find the Revolv line of credit beneficial because of the lack of a security deposit, it can also be a hindrance if you need to access a large amount of money in an emergency because the money isn't technically there yet. All the same, it doesn't require a credit check but still improves your score.
Instal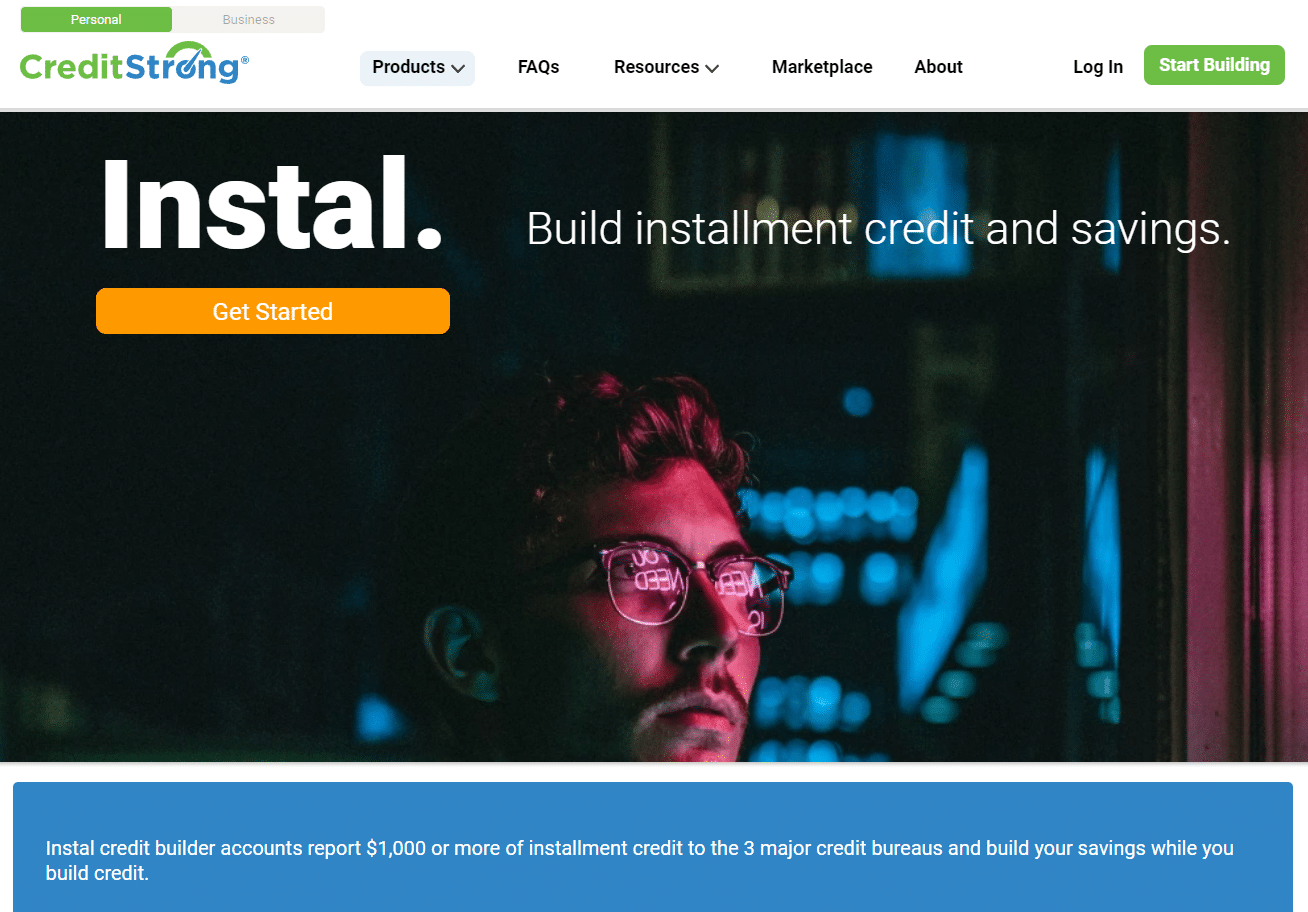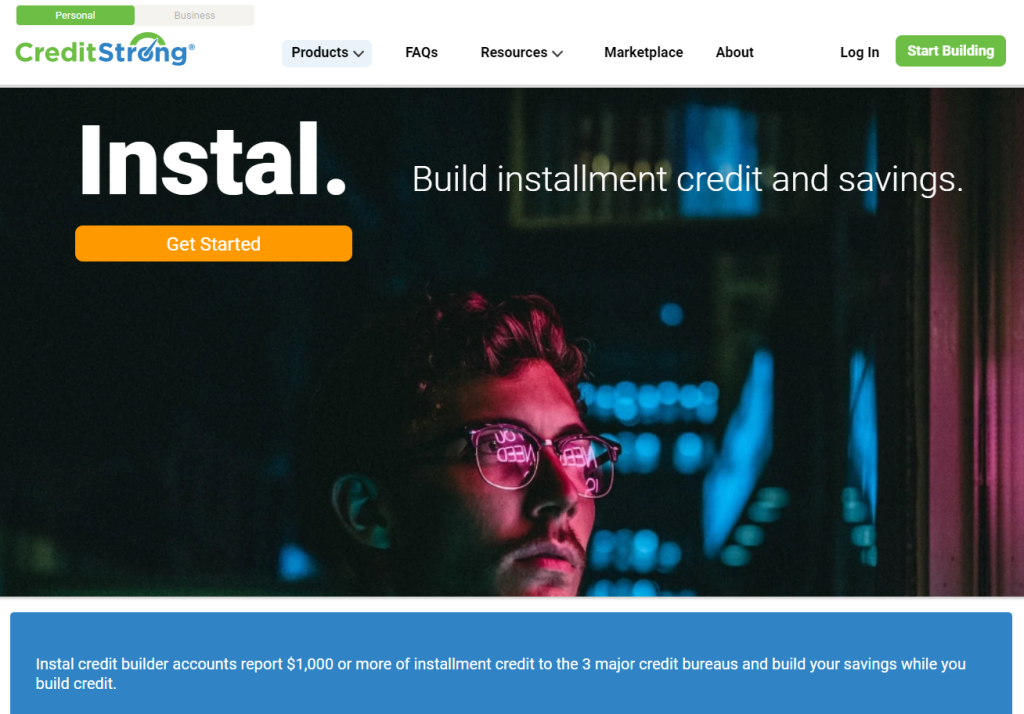 As the name suggests, the Instal account represents an installment loan CreditStrong lends to you as a way to build your credit. The loan amount you're approved for gets put into a locked savings account you can withdraw from once the loan is complete.
Your monthly payment is broken down into your principal, which you'll get at the end of the loan, and interest payments made to CreditStrong. The Instal account comes with a $15 origination fee and around 15% interest, depending on which terms you choose.
Instal accounts come with various monthly amounts for a $1,000 loan, from $48 for 24 months and $38 for 36 months to $28 for 48 months. You can always check the amortization tables to see your interest rate and cancel your account at any time if necessary.
CS Max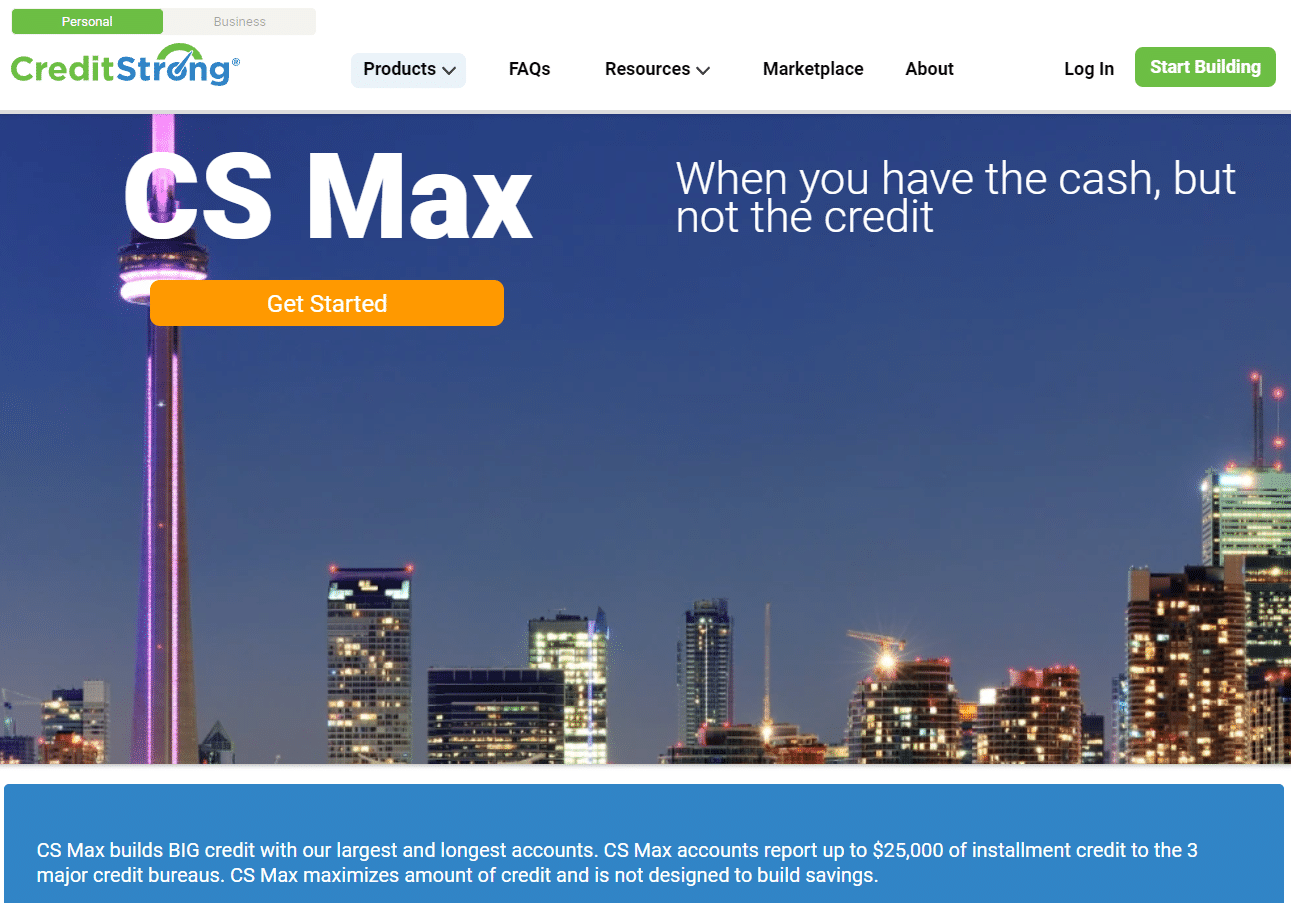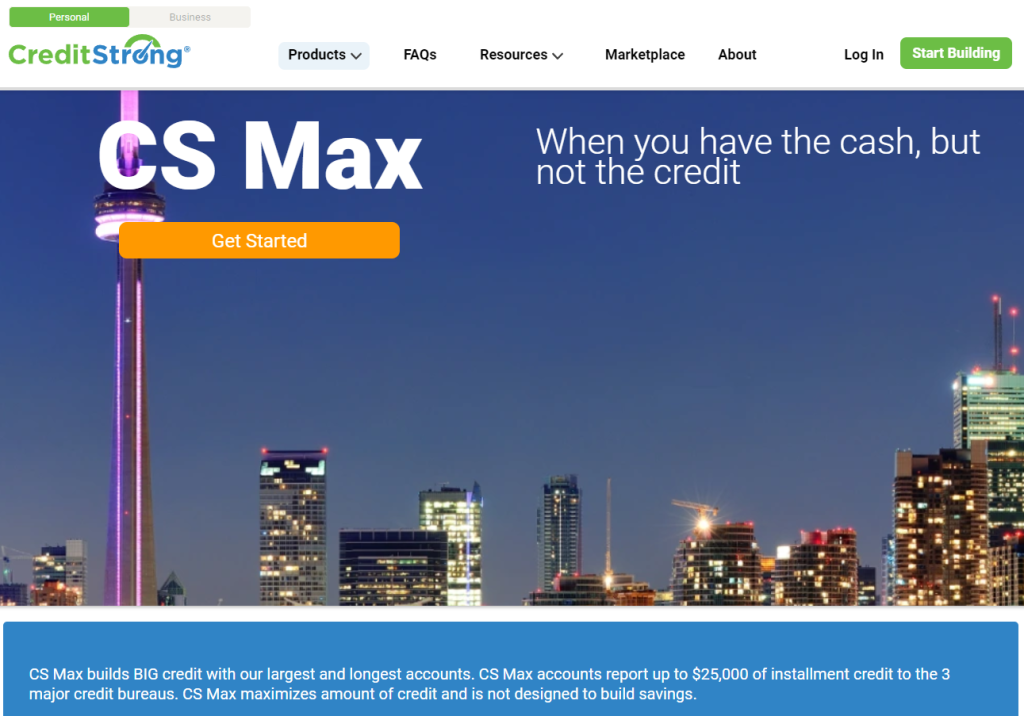 The CS Max account resembles the Instal account, just with a higher dollar amount available. It also comes with a higher $25 origination fee but a lower interest rate of around 7%.
Again, you'll have several monthly payments to choose from to borrow up to $25,000 for 60 months. A $2,500 loan comes with a $49 monthly payment, a $5,000 loan with a $99 monthly rate, a $10,000 loan for $199 per month, and up to $25,000 for $449 per month.
If those amounts stretch your budget way too thin, it's best to stick to the Instal account. Those looking to demonstrate they can responsibly handle larger amounts, however, will do well with the CS Max account.
CreditStrong Pros and Cons
CreditStrong offers a solid package when it comes to establishing and improving your credit score. If you're still on the fence about signing up, here's a list of pros and cons to consider.
Pros:
Reasonable fees for each service offered
Customizable options
No cancellation fees
Transparent pricing
No credit check
Can be used to demonstrate your ability to pay back larger loans
No app bonus
Cons:
No traditional secured credit card
No mobile app
CreditStrong does not guarantee it can improve your score
Installment loans do not accrue interest
Requirement to link a bank account or credit card for payments
Funds are not accessible until after the loan has been paid off
CreditStrong Alternatives
We often tell ourselves money lies to lessen the effect our credit score has on our finances. If you're tired of a low score and want to demonstrate your creditworthiness, CreditStrong and these alternatives can help: 
If you're looking for the best credit builder loans, these apps can help you put your best financial foot forward. Check them out further to see how you can make the most of your finances.
FAQs
Is CreditStrong legitimate?
Yes, CreditStrong is legitimate. It's a legal way you can establish and improve your credit score by posting your positive payment history to Equifax, Experian, and TransUnion.
How long does it take for CreditStrong to improve my credit report?
Everyone's credit history, score, and financial habits are different. However, it typically takes CreditStrong (and you) about 30 days to see a change in your credit score.
Does CreditStrong charge you for paying off your account early?
No, CreditStrong does not charge you for paying off your account early. However, you may reduce the history you'd establish with those payments.
What fees does CreditStrong charge?
CreditStrong charges various fees depending on which products you choose. The Revolv line of credit costs $99 per year, while the Instal and CS Max accounts have a $15 and $25 origination fee respectively.
Strengthen Your Credit Ability with CreditStrong
Credit scores haunt some of us for practically all our lives, but with the right partner at your side, you can conquer this number to put it to work for you. CreditStrong can help you establish and build your credit score to pay less for financial products in the future.
We hope this article has helped you to determine whether or not CreditStrong can help you, especially in comparison to other credit-builder lenders out there. Credit journeys are as unique as the people who take them, so it's important to realize that it's all about making better financial decisions as they come up.
As you make bigger financial moves in the future, you'll find that it pays to know what tools are available to you. Use CreditStrong to improve your score and you might even find other financial tools along the way.
What will you accomplish with your new and improved credit score? 
Best for luxury benefits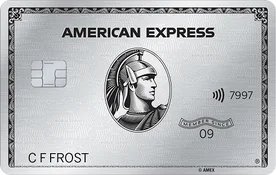 The Platinum Card® from American Express
INTRO OFFER: Earn 80,000 points (worth $1,600)
Earn 5X Membership Rewards® Points for flights booked directly with airlines or with American Express Travel up to $500,000 on these purchases per calendar year.
Earn 5X Membership Rewards® Points on prepaid hotels booked with American Express Travel.
Apply Now