Of the many numbers we value when we grow older, our credit scores can have the largest impact on our finances. But did you know that 1 in 10 people are "credit invisible," meaning they don't have established credit at all?
We rely on our credit scores to help us obtain everything from auto and home loans to personal loans and credit cards. While credit score ranges vary, generally, higher credit scores unlock lower interest rates that save money over the life of any loan.
Establishing credit can be hard, especially if it's something your parents didn't help you with when you were young. However, the best credit-building apps like Kikoff can help you establish your credit now for a better financial future.
Our Kikoff review includes everything you need to know about Kikoff, including how it can help you improve your score with affordable monthly payments. We'll also compare this credit-building app to others out there looking to help those who are credit invisible.
Are you ready to learn more about credit-builder loans in our Kikoff review? Let's get started!
What is Kikoff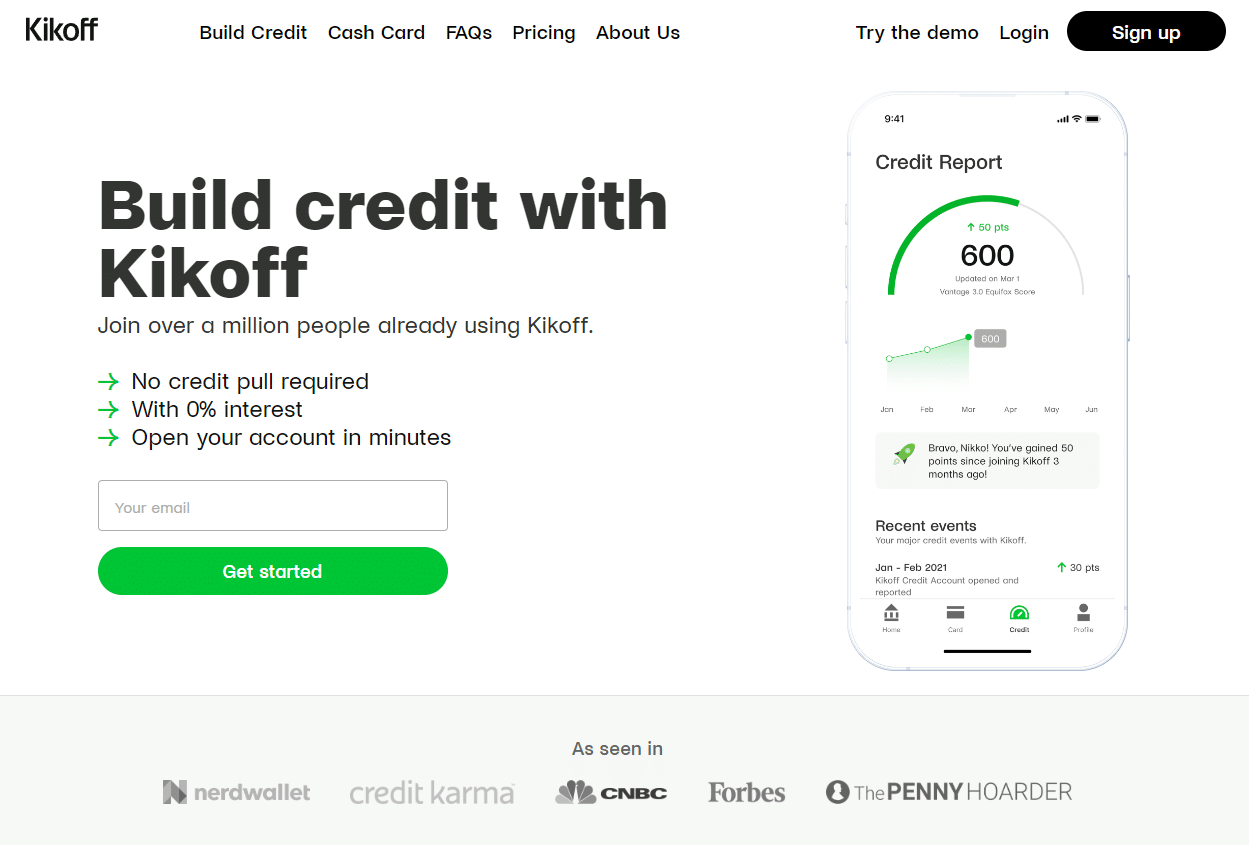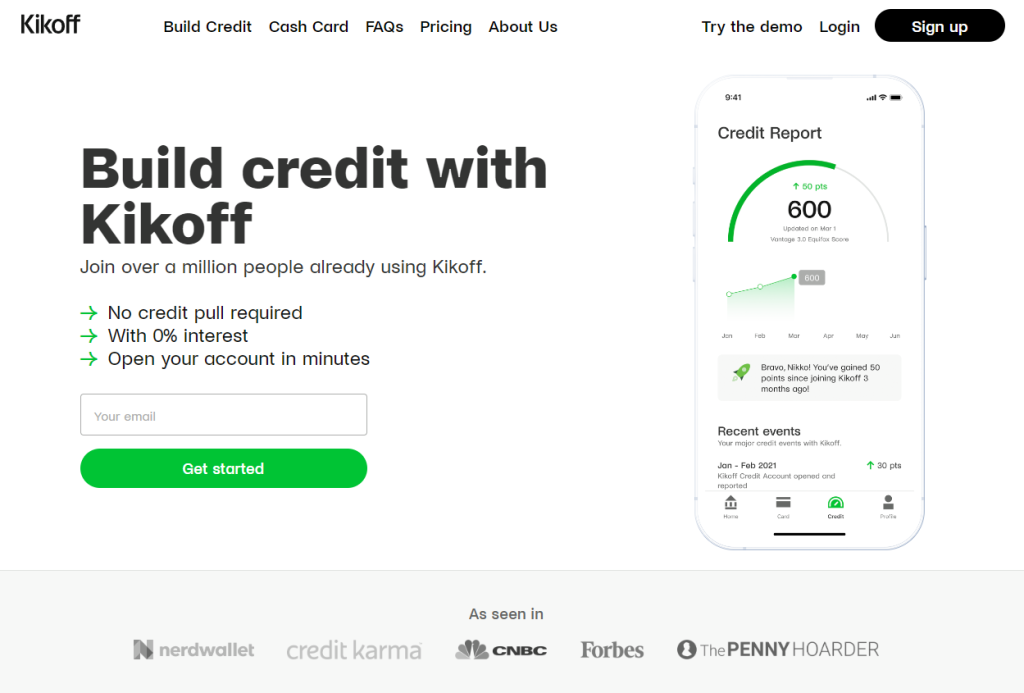 Established in 2019 and headquartered in San Francisco, California, Kikoff is currently run by Cynthia Chen. With a background in consumer finance, she was one of the co-founders of Kikoff who wanted to better serve those who are often overlooked by larger banking institutions.
Convincing ourselves we know how to pay off debt is just one of the many money lies we tell ourselves. Building credit isn't something you can just perform overnight, but it's achievable with the right partners by your side.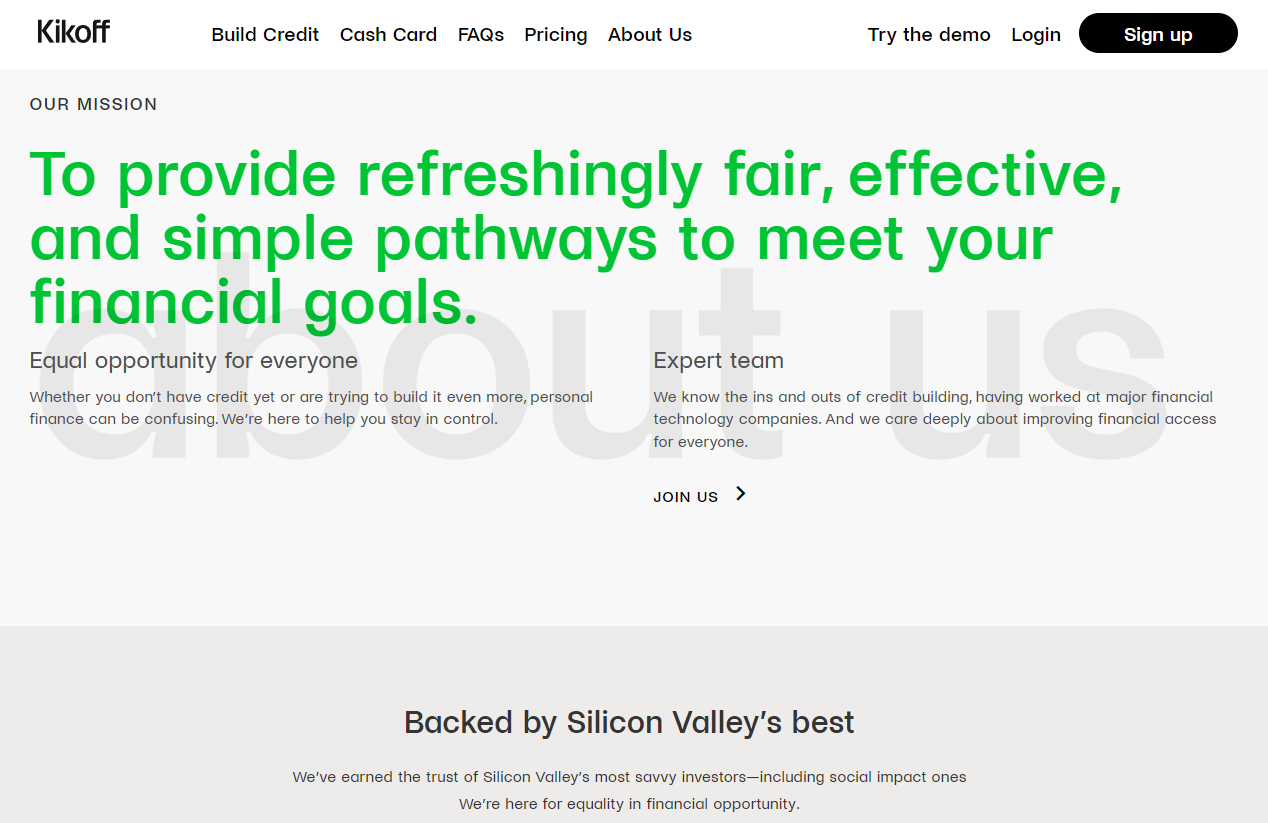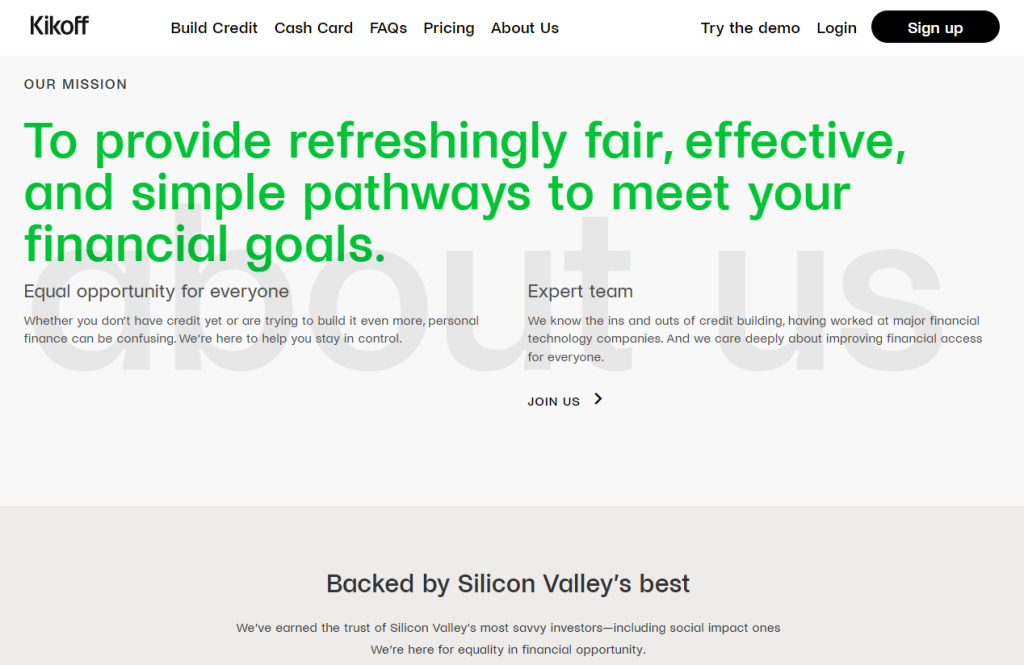 Opening a Kikoff account requires that you are a permanent U.S. citizen who is 18 years old or older. Kikoff is available in every state except for Delaware and can be downloaded from both the App Store and the Google Play Store.
How Does Kikoff Work
Kikoff is one of the best credit-building apps you can work with to learn how to improve your credit score. Depending on which Kikoff product you choose, you can improve your payment history, credit utilization ratio, credit history length, and credit mix.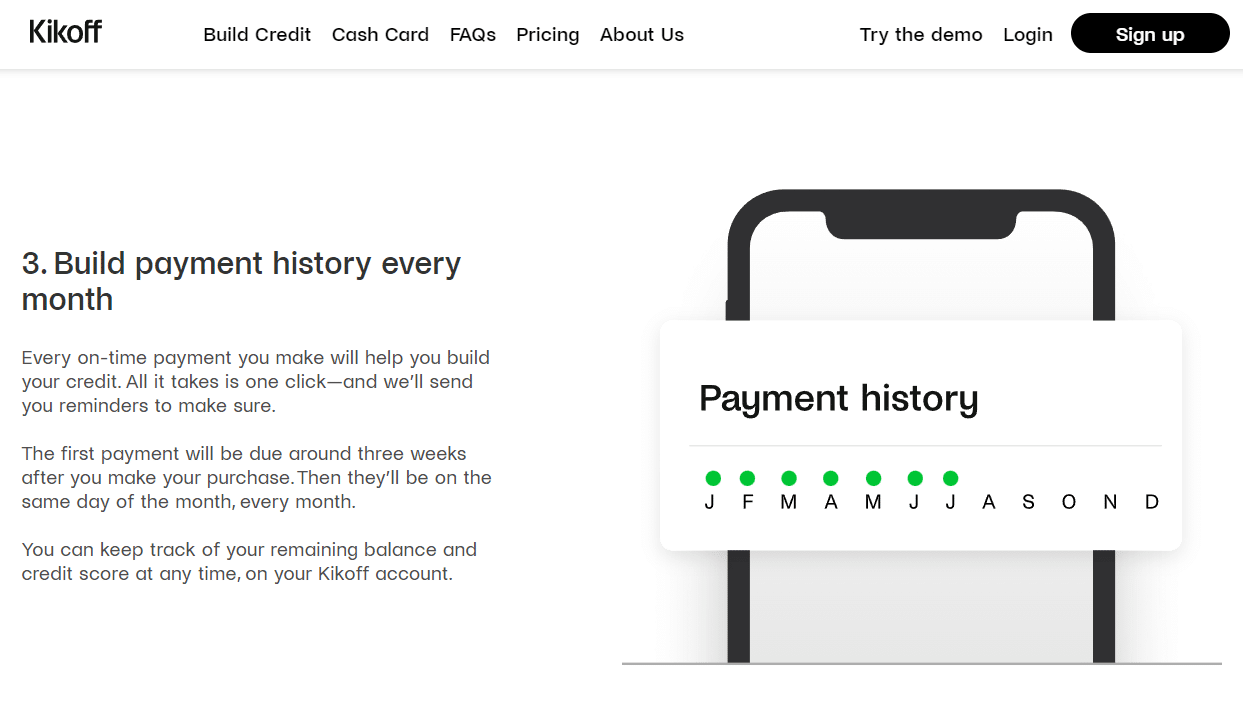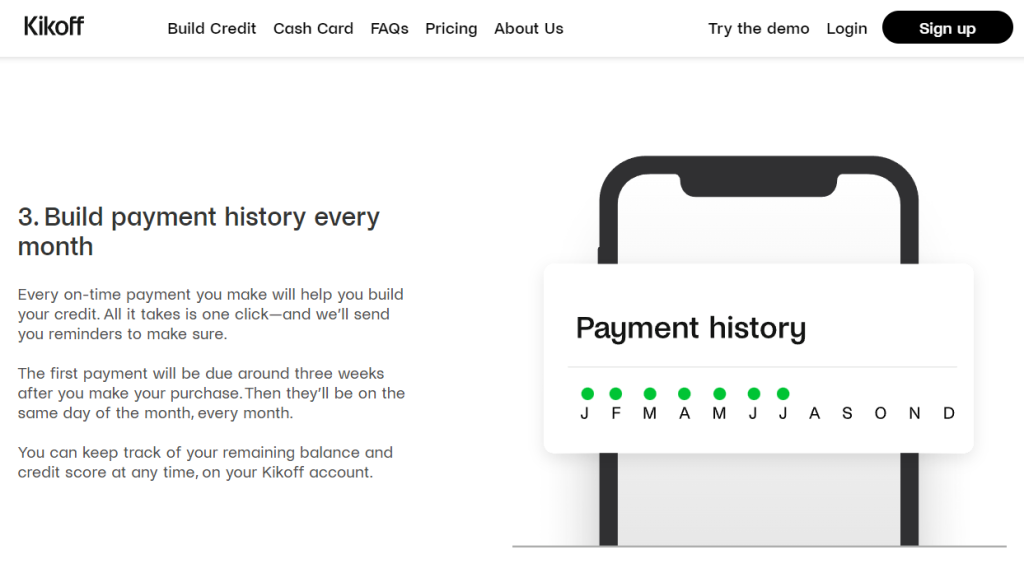 With claims of an average credit score increase of 58 points for those with a beginning score under 600, Kikoff could make it onto your list as one of the best credit score apps. You can easily monitor your VantageScore 3.0 with Kikoff to see how your credit is changing (hopefully for the better).
Kikoff Credit Account
Kikoff offers 2 products, the first one begins with a Kikoff Credit Account. The Kikoff Credit Account offers a revolving line of credit with a limit of $750. There's no credit check or even established credit score required to qualify for a Kikoff Credit Account—or any of Kikoff's products for that matter.
However, you can only use your Kikoff Credit Account to pay for ebooks and online courses through the Kikoff store. Most classes cost $20 on average but many start at $10.
The Kikoff Credit Account doesn't come with a physical card. Nevertheless, it reports your positive payment history to two of the major credit bureaus, Experian and Equifax, to build or improve your score.
Note that it can take about six weeks for your Kikoff credit entries to show up on your credit report. You can request your free credit report each year from AnnualCreditReport.com.
Kikoff Credit Builder Loan
To qualify for the Kikoff Credit Builder Loan, you'll need to first establish your Credit Account and a positive payment history. When you've made a few payments to keep your account in good standing, you'll be ready to use this credit-builder loan as a way to save money and boost your score.
The Kikoff Credit Builder Loan is a one-year savings plan that costs you $10 per month. However, Kikoff will put your funds into a savings account and report your installment loan payments to two of the major credit bureaus, TransUnion and Equifax, along the way.
Having both a revolving line of credit and an installment loan can help you improve your credit score on multiple fronts.
Kikoff Credit+ Cash Card
You can get a $200 sign-up bonus if you set up a direct deposit with your Kikoff Credit+ Cash Card and maintain it for three months. This secured credit card doesn't require a credit check and even allows you to overdraw your account by $20 without incurring an overdraft fee.
In fact, you can increase that amount to $200 the higher your credit limit goes and the longer you bank with Kikoff. You can also get paid up to two days early and use the Allpoint ATM network of over 55,000 machines without paying a fee.
The Kikoff Credit+ Cash Card comes with FDIC insurance and Mastercard Zero Liability Protection. You can also build credit history with this secured card by depositing at least $50.
Closing Your Kikoff Account
Kikoff gives you 30 days to make a payment before they report your delinquency to the credit bureaus. It's rumored that Kikoff doesn't turn you over to collections if you default, but we can neither confirm nor deny this.
If you go 180 days without paying your Kikoff balance, the team will shut down your account to the point where it cannot be reopened. Though you can close your account if you'd like, you are locked into a 12-month contract.
Even pulling your credit card information from Kikoff's website will not make your loan agreement go away. Speak to a Kikoff customer service agent to pay off your loan in full or see how else you might be able to end your contract early.
Fees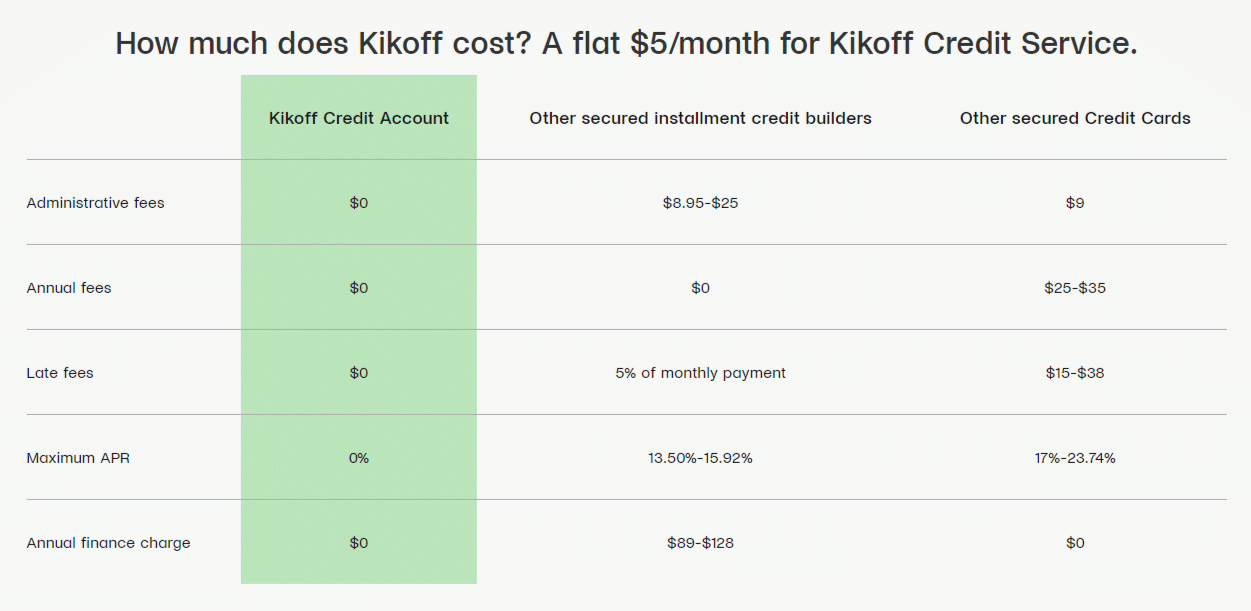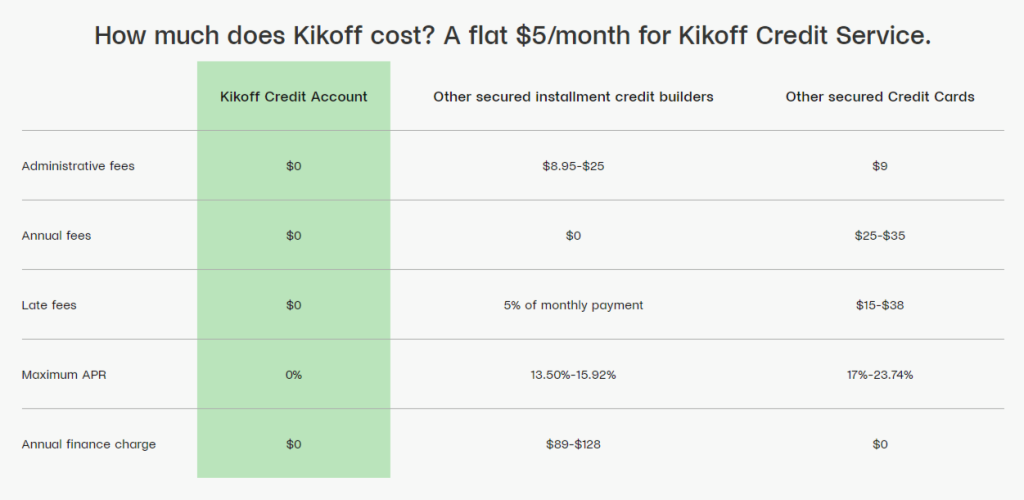 Building your credit score is one way to avoid bank fees. After all, you can pay less in interest overall if your credit score qualifies you for a lower interest rate.
Kikoff charges $5 per month to report your positive payment history to two out of three credit bureaus. However, there are no interest fees, late fees, administrative fees, or any other related fees.
The only cost associated with your Kikoff account besides the monthly payment is what you pay when you purchase something from the Kikoff store. However, you have control over how much you spend and how much of that $750 credit limit you use.
Advantages and Disadvantages
The Kikoff team puts together a pretty good deal for those who don't have credit or want to improve their score. Here's a quick overview of the pros and cons associated with Kikoff.
Pros:
No credit check required
The monthly fee is only $5
Reports to all three bureaus in some form
Mobile app and desktop accessibility
Easily reach customer service
No interest payments
Cons:
Can only use funds to purchase from the Kikoff store
Cannot reach customer service by phone
Ebooks and materials in the Kikoff store may not be useful to you
Subscription automatically renews
5 Kikoff Alternatives to Consider
Kikoff offers both a secured credit card and credit-builder loans, in addition to the savings account option that rewards you with $120 after saving for one year. If you're looking for one or the other, you have a few options to choose from.
Credit Builder Loans
You can indeed use personal loans to build credit, but a credit-builder loan like those from Experian Boost, Self, CreditStrong, Grow Credit, or Credit Builder Plus may offer better terms.
Take a closer look at some credit-builder loans you can take advantage of:
1. Self
Self offers credit builder loans, which allow you to make payments and store those funds in a CD account. In addition, this service reports your on-time payments to the credit bureaus to help boost your credit score.
The interest rate on a credit-builder loan from Self is about 15% or more, which can make them a steep price to pay for the chance at boosting your credit score. In addition, there is a $9 administration fee as well.
However, at the end of the loan, you'll gain access to the savings you built, minus the interest payments. There's no hard credit check and you can cancel any time you like without penalty.
If you desperately need a credit-building app, Self might be the way to go, but there are plenty more to choose from on our list.
2. Grow Credit
Grow Credit allows you to build credit based on your monthly subscriptions. In fact, you use a MasterCard to pay for subscription services, and Grow Credit reports it to the credit bureaus.
There are more than 100 subscriptions you can choose from, including streaming services such as Netflix or Hulu and Amazon Prime memberships.
This app cuts off your spending at $17 per month, but you can increase that for a monthly fee.
You'll pay between $1.99 and $7.99 to increase the limit to $50 and $150 respectively. However, a Grow Credit account is easy to set up.
3. Credit Strong
Credit Strong is a credit-building app that offers loans with a variety of monthly payments ranging from $15 to $110.
While there's no option to receive loan funds upfront, you unlock the entirety of your savings at the end of the loan term. You will pay interest on the loan in addition to an administrative fee, but there's no hard credit check or fee to terminate the loan early.
Credit Strong offers FDIC-insured accounts up to $250,000. This app also includes a business option for business owners who may have bad credit.
You can also use the service to obtain personal loans to build credit as well. With Credit Strong, you also get access to FICO score updates, too. However, this service is not available in Wisconsin or Vermont. Learn more in our Credit Strong review.
4. MoneyLion
MoneyLion is a well-rated app that lets you monitor your credit scores so you can keep on top of your finances.
Plus, with the Credit Builder Plus loan, you can get a portion of the funds upfront while the rest is set aside in a Credit Reserve Account.
Whether you need to establish a credit history or rebuild your credit, Credit Builder Plus helps you build credit while you save — with no hard credit check.
And unlike other credit building programs, Credit Builder Plus gives you access to a portion of your loan funds right away.
There's no hard credit check, but you will have to pay a $19.99 monthly fee for the privilege.
If you're not sure how to improve your credit score, this could be a good place to start.
5. Kovo
Kovo is a platform that offers credit builder loans to individuals in order to help them improve their credit scores. This is achieved by allowing users to make purchases through the platform, which are then reported to credit bureaus.
This credit-building app can help you by sending reports to both Experian and Equifax. You can open an account with Kovo without a credit check, interest payments, or fees.
Plus, most people are instantly approved to earn 1% cash back on loans. You can also see your FICO score every month and track your credit score progress.
Kovo does cost $10 per month for two years, but you can also learn about credit, self-confidence, stress management, entrepreneurship, Google Sheets, ecommerce, and more. The course bundle costs $240 but can open up a wide range of knowledge.
The alternatives to credit-builder loans include becoming an authorized user, which is simply an additional user to the main account holder who can similarly access the account. Many parents choose to add their young adult children as authorized users to help establish a positive payment history and jumpstart their credit.
Secured Cards
Some banks offer secured credit cards and even debit cards that make it worth your while to demonstrate your trustworthiness as a borrower. For example, Extra and Discover both offer secured cards you may find better than Kikoff's terms.
1. Extra Card – Secured Debit Card
The Extra Card is a secured card that allows you to build credit by spending the funds within your bank account. This is extremely convenient because you can just connect your bank account to Extra and be done.
There's no credit check and you can earn 1% cash back with your purchases. However, you can only redeem those rewards with Extra and the plan costs $20 to $25 per month. This credit-building app reports to both Experian and Equifax, easily helping you boost your credit without a fuss.
2. Discover It Secured Credit Card
The Discover It secured credit card targets those who don't have or are building their credit scores. There's no annual fee and the minimum security deposit required is only $200.
After seven months, Discover automatically reviews your account to see if you can graduate to an unsecured card. As long as you have on-time payments, you shouldn't have any issues making this transaction.
Should Discover find that you're ready for an unsecured card, they'll return your $200 security deposit. Plus, you'll get up to 2% cash back on purchases and Discover will match the cash back you earn in the first year.
Discover charges 27.49% APR for its secured credit card, which is just slightly under Capital One's 29.74% APR. Capital One also refrains from charging you an annual fee but you won't get any rewards for signing up.
FAQs
Is Kikoff a legitimate credit-building lender?
Yes, Kikoff is a legitimate credit-building lender. It offers applicants a $750 revolving line of credit and an installment loan to save $120 per year.
How much can Kikoff raise my credit score?
Kikoff reports it can raise your credit score by an average of 58 points if you have an initial credit score under 600. Everyone's credit is different, so there is no guarantee Kikoff can improve your score by 58 points, let alone one point.
What is there to purchase in the Kikoff store?
The Kikoff store includes ebooks and other educational materials you can use to learn more about personal finance. You can only purchase Kikoff store items with your Kikoff Credit Builder Loan.
How long does it take for Kikoff to show up on my credit report?
It typically takes a few weeks for Kikoff to show up on your credit report. It all depends on when Kikoff reports your account activity and when the account is generated.
Kickstart your Credit Score with Kikoff
Almost everyone struggles with their credit score at some point in their lives. If you need to establish credit or want to improve your score, Kikoff can help you make it happen.
Kikoff offers affordable credit-builder loans and a secured credit card that comes with a $200 sign-up bonus. Plus, you can close your Kikoff account without penalty once you've raised your score to your goal level.
We hope this article has helped you to see how Kikoff can help you, including what products it offers that you can integrate into your life. Building credit doesn't have to be hard if you can partner with apps like Kikoff to get the job done.
Now that you've upped your credit score, what financial products can you qualify for to improve your life? The sky's the limit!
Best for luxury benefits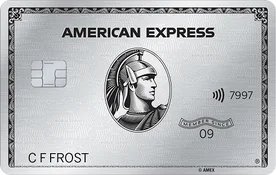 The Platinum Card® from American Express
INTRO OFFER: Earn 80,000 points (worth $1,600)
Earn 5X Membership Rewards® Points for flights booked directly with airlines or with American Express Travel up to $500,000 on these purchases per calendar year.
Earn 5X Membership Rewards® Points on prepaid hotels booked with American Express Travel.
Apply Now