The Consumer Financial Protection Bureau reports that individuals who take out a credit-builder loan often have an increased savings balance of $253. It just goes to show you that building credit can also help you establish responsible financial habits for the present and the future.
Grow Credit and many other credit-builder lenders like it give those just starting out on their credit journey the chance to establish and build credit with payments they're already making. It still takes some time and positive behavior to jumpstart your credit score and history, but it's well worth it when you go to take out a loan.
In this Grow Credit review, we'll introduce you to what Grow Credit is and how it works. We'll also cover what fees are associated with your new Grow Credit account and how the service compares to others like it.
The more you know about what financial products and services are available to you, the better your decision when it comes time to seek help. Knowing how you can establish and boost your credit score is no exception.
Are you excited to dive into our Grow Credit review? Let's get started!
What is Grow Credit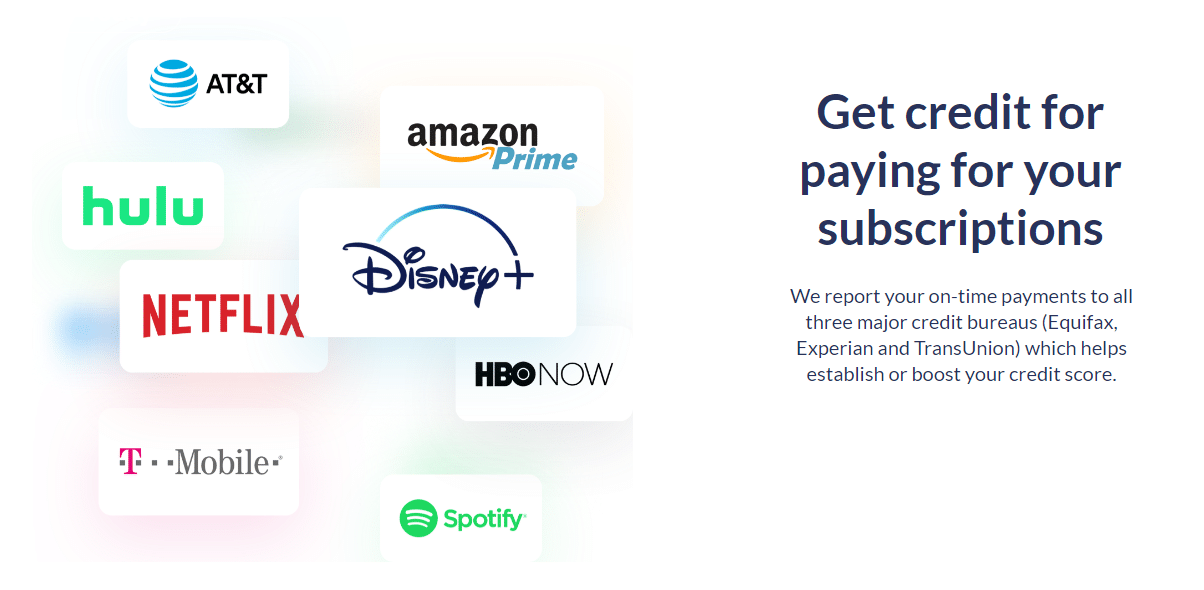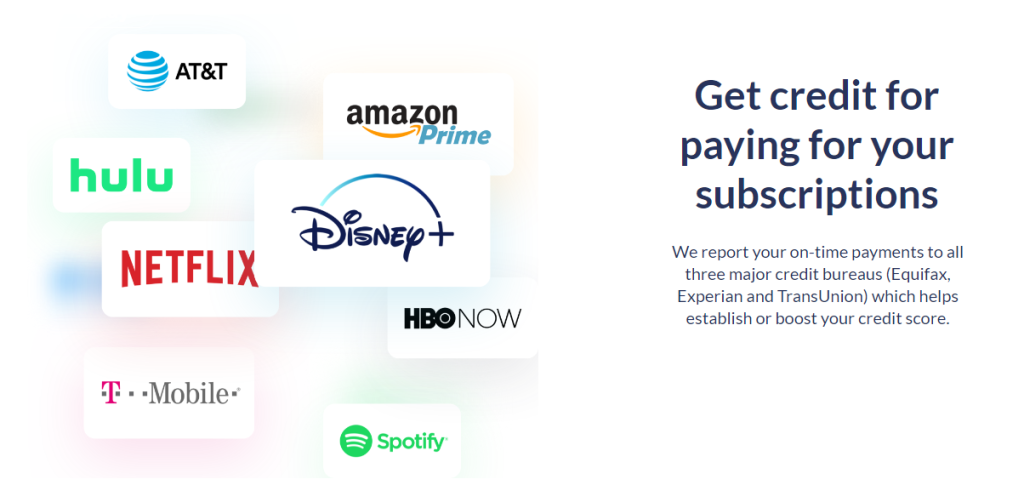 Available nationwide, Grow Credit continues to rank as one of the best credit-building apps you can download. It was founded in 2018 and calls California home.
You can download Grow Credit's mobile app or visit their website to create an account. It's definitely worth looking into if you're not sure how to improve your credit score.
To create a Grow Credit account, you'll need to be a permanent U.S. resident, have passed your 18th birthday, and link a bank account. You'll also be prompted to enter your email address, phone number, and Social Security number.
Grow Credit doesn't require that you have any existing credit. When you're approved for an account, you'll receive a virtual Grow Credit Mastercard you can use to make your utility and subscription payments.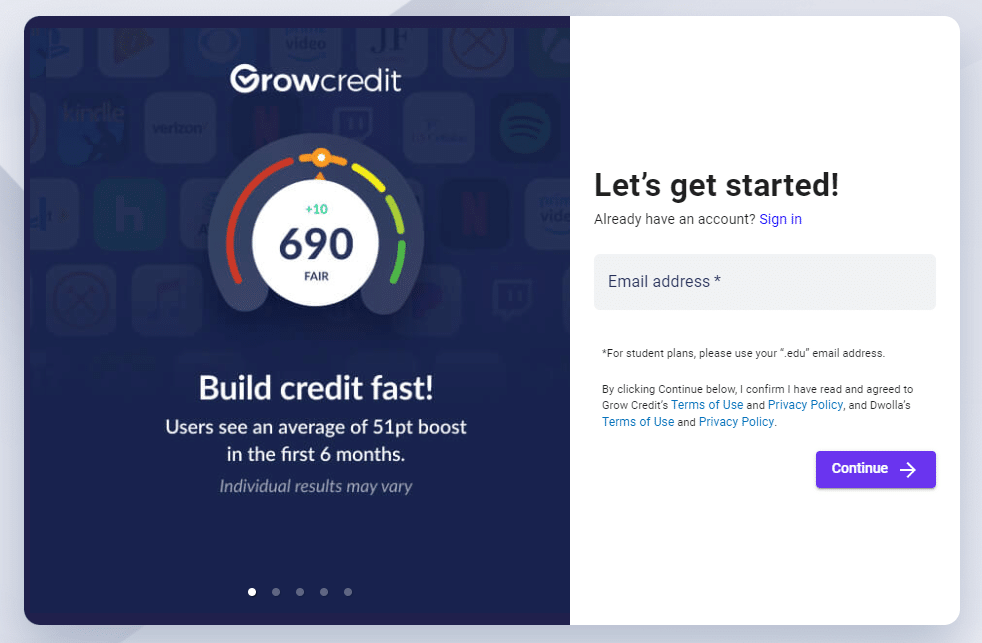 With an average boost of 51 points in the first six months, Grow Credit users can add subscription payments to establish a positive payment history. Grow Credit reports to Experian, TransUnion, and Equifax, so you've got all your credit bases covered.
Grow Credit was featured in Forbes' Fintech 50 amongst many of America's ground-breaking startups. Because you're using your utility and subscription payments to establish a positive payment history, your payments are interest-free.
How Does Grow Credit Work
If you don't want to use personal loans to build credit, Grow Credit can help you use the payments you already make to boost your credit score. It's also a great alternative if you want to know how to avoid bank fees, including costly interest payments.
Grow Credit does perform a soft credit check to verify your identity. You'll also have to use Plaid to connect your bank account information so Grow Credit can track your subscription payments.
With Grow Credit, you're required to pay in full every month. However, your interest rate is 0% APR because you're simply making your subscription payments work twice for your benefit.
The key here is using your new Grow Credit Mastercard to make your monthly payments for streaming services, utilities, and any other subscriptions you can connect. Grow Credit lists the services you can connect to build your positive payment history.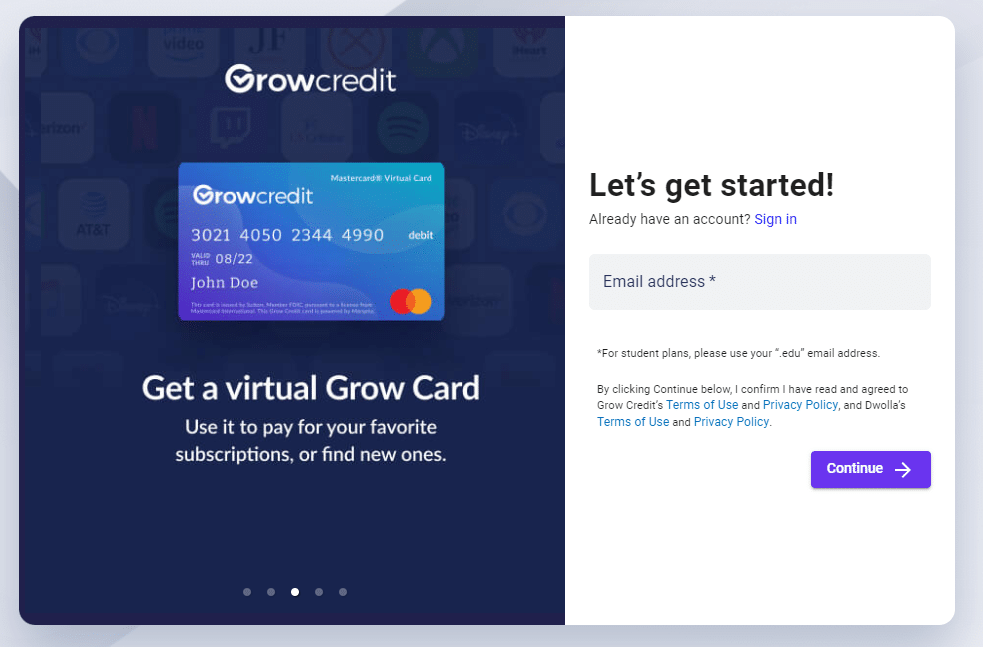 It can take up to 90 days for your new Grow Credit history to appear on your credit report. Grow Credit reports your account as an installment loan to diversify your credit mix.
Grow Credit Account Types
Grow Credit offers four different account types to choose from. Deciding between them depends on what your monthly budget looks like and how much you spend on the subscriptions you're signed up for.
Each level comes with a free FICO score so you can track your progress and monitor your score. Which Grow Credit membership will you choose?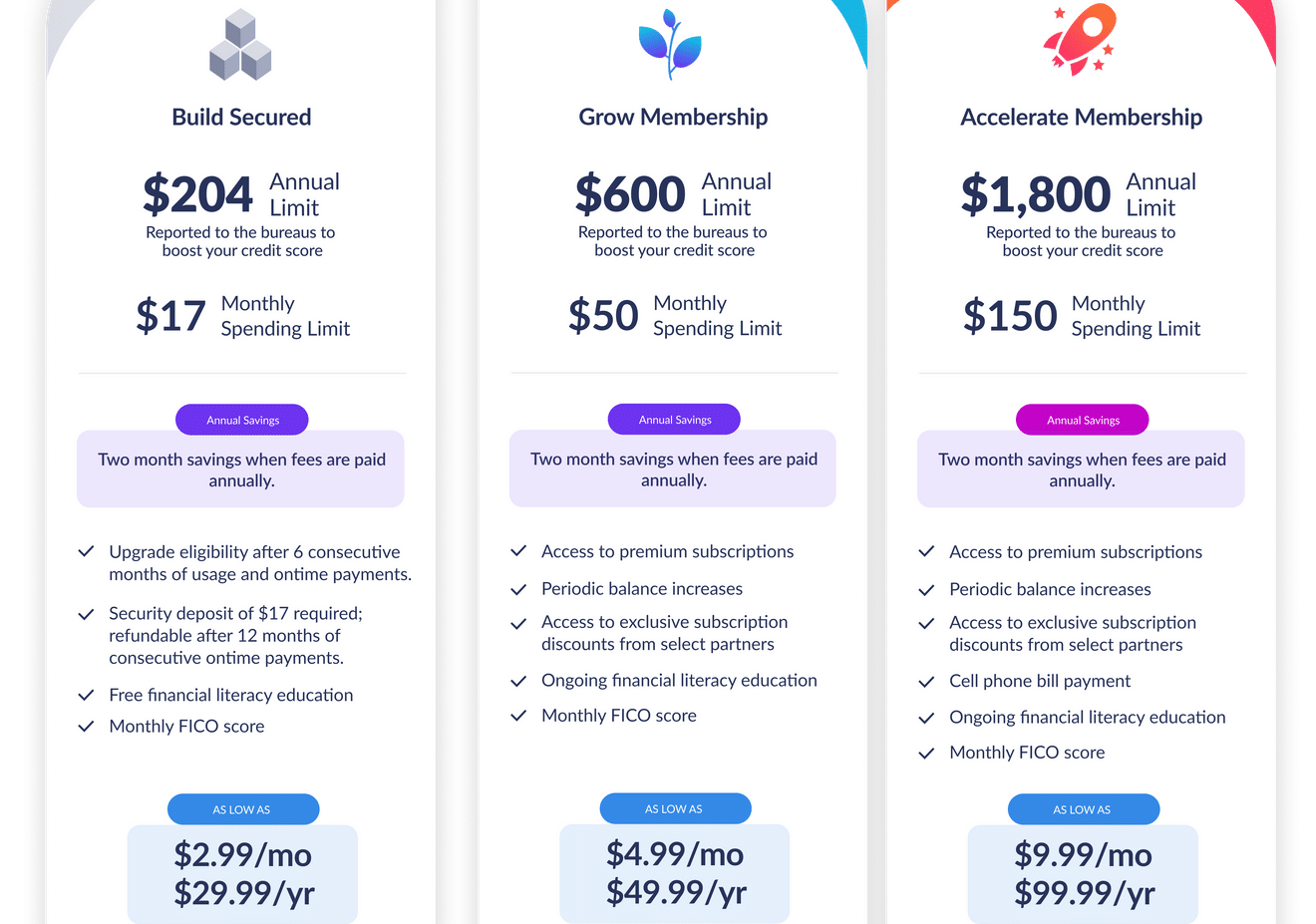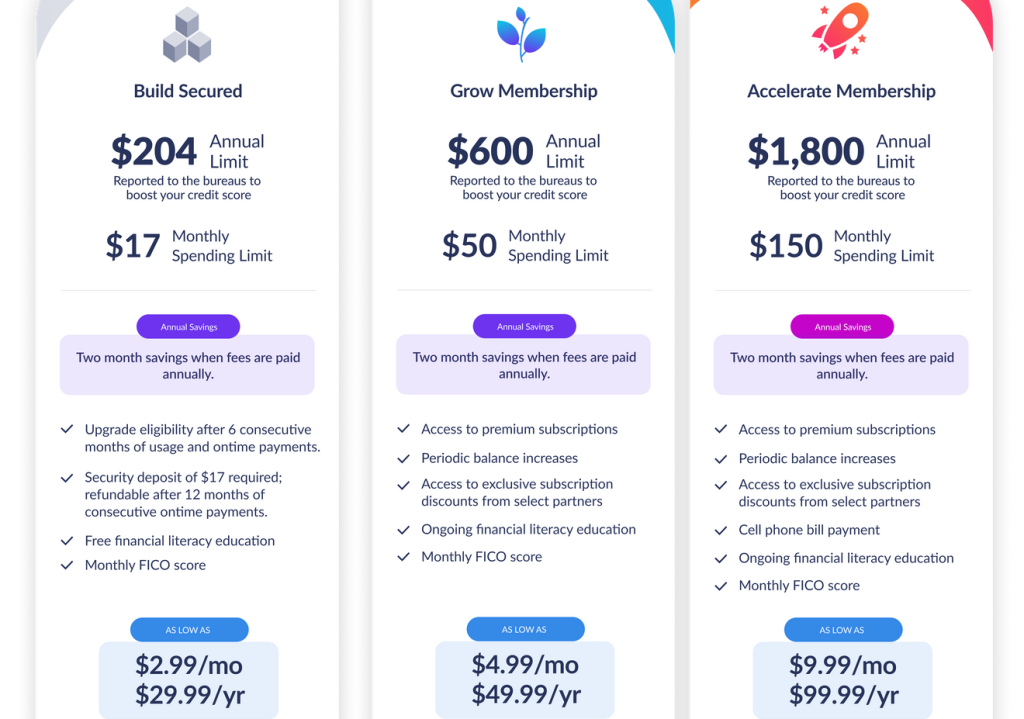 Build
This free account requires that you direct deposit at least $1,000 into your account each month. You'll get a monthly spending limit of $17 to pay for your subscriptions for a $204 line of credit that's reported to all three bureaus.
Build Secured
This account costs you $17 per month and comes with the same line of credit as the Build account. You can save up to two months' worth if you pay annually but you'll need to account for the $17 security deposit. The Build Secured account comes with free financial lessons and you can get your security deposit back after you make on-time payments for a year. Once you've made six months of on-time payments, you are eligible for an upgrade.
Build Student
This college student-focused account is $1.99 per month and is basically a discounted version of the Build Secured account.
Grow
With a $600 annual limit, this account has a $50 monthly spending limit and allows you to connect premium subscriptions. The Grow account gives you access to ongoing financial education as well as discounts from select subscription partners. Both the Grow and Accelerate accounts are eligible for periodic balance increases with good behavior.
Accelerate
This account adds cell phone bill payment capabilities, in addition to discounts from your favorite subscription services. Your monthly limit is set at $150, with a yearly limit of $1,800. You'll also have access to financial literacy lessons with this account.
You may not learn how to get free money or how to get paid today with Grow Credit, but it's a powerful resource you can use to your advantage without much effort. Unfortunately, there's no app bonus associated with your new Grow Credit account, besides seeing your credit score grow.
Available Subscriptions
Grow Credit differentiates subscriptions between "regular" and "premium." As you saw with your choice of account types, you'll need a Grow or Accelerate account to access the premium subscriptions.
If a new subscription service has been added, Grow Credit notifies its members via email. Keep an eye out for these if you don't see your subscription service listed.
Regular

Premium

AARP

AMC+

Arlo

Audible

BET+

Billie Razors 

Boomerang 

Chegg

ConvertKit

Crunchyroll 

Curiosity Stream

Discord Nitro 

Disney Plus

Dollar Shave Club 

DoorDash DashPass 

Dovly

Dropbox

EA Play

ESPN Plus 

Flexibits

Funimation

Gaia

Gamefly

Grammarly

GrubHub

HBO Max

Hulu

Humble Choice

iHeartRadio

Ipsy

Keeps

Kindle Unlimited 

Linguix

Mint Mobile

Mode Mobile

Mondly

MS Office 365

National Geographic

NBA League Pass

Netflix

New York Times

NordVPN

Nvidia GeForce Now

Pandora

Pantaya

Paramount+

Patreon

Peacock

Peloton

Playstation Plus 

Plex

Postmates

Pure Flix

Reddit Premium

Ring

Showtime

SiriusXM

SoundCloud

Spotify

Splice

Starz

Tidal

Tinder

Treads

Twitch Turbo

Uber Eats

Uplay

Rental Verification

VRV

Wagmo

WWE Network 

Xbox Live

Youtube Premium

Zeus Network

AAA

Adore Me

Adobe Creative Cloud

Allstate

AT&T

BarkBox

Boost Mobile

Boxycharm

Canva

Coursera

Cox

Cricket Wireless

DirecTV

FabFitFun

GEICO

JustFab

LinkedIn

Metro T-Mobile

OnStar 

Philo

Progressive

ShoeDazzle

Shopify

Simple Mobile

Sling

Spectrum

Sprint 

T-Mobile

UScellular

Verizon Wireless

Visible 

Xfinity

Xfinity Mobile
If you're looking for Amazon on this list, you won't find it. Grow Credit doesn't work with Amazon, Google, or Roku.
However, you can suggest that Grow Credit works with a merchant in the future. All you have to do is comment which merchant you'd like to see via the Grow Credit website.
Customer Service
You can contact Grow Credit's customer service through the chat box on the website or via email. Call Grow Credit customer service at 1 (888) 244-5886.
Closing Grow Credit Account
Grow Credit does not charge a fee to close your account early. However, you will need to pay your outstanding bill before Grow Credit will close your account.
Note that this bill is not the same as your subscriptions. It's the monthly rate you pay for Grow Credit to report your account to the three credit bureaus.
Fees
Breaking down the fees for your new Grow Credit account is fairly easy once you take a closer look. It's a given that you have to pay your subscription fees or risk losing those services altogether.
However, your budget doesn't have to include much more than that with Grow Credit. You do have to pay your security deposit, depending on which account type you choose.
At the same time, there are no interest fees or one-time account setup fees. You simply pay the fee associated with each account type and continue on as normal.
Build accounts are free, but Build Secured accounts cost you as little as $2.99 per month or $29.99 annually. The Build Student account is only $1.99 per month for a whopping $24 per year.
Once you've established enough payment history, you can upgrade to the Grow account, which costs as little as $4.99 per month or $49.99 per year. The Accelerate account is as low as $9.99 per month or just under $100 annually.
Advantages and Disadvantages of Grow Credit
Now that you know Grow Credit helps you use your subscriptions to boost your credit score, it's time to consider whether or not you decide to create an account. Here are a few points to consider as you decide.
Pros:
Low monthly and annual payments
Soft credit check
Subscription service discounts available
0% APR
Discounted college student account
Financial education available with each account
Cons:
Low credit limits
Can only use Mastercard to pay for subscriptions
Premium subscriptions only available in higher, more expensive tiers
No sign-up bonus
May not offer specific subscription services you pay for
Grow Credit Alternatives
Not all credit-building apps let you report your subscriptions to build a positive payment history. Here are a few other types of credit-building apps you can choose from:
Kikoff
Kikoff offers several credit-building opportunities, from loans and secured cards to a revolving line of credit. The $5 monthly fee is budget-friendly and, depending on which product you choose, Kikoff will report to two out of three credit bureaus on your behalf. Learn more in our Kikoff review.
Self
If savings goals never really worked out for you, Self can help. This app reports each time you make a deposit into a CD set aside for you until the loan comes to term. You'll receive that amount once you're done, minus the fees and interest. Learn more in our Self credit builder review.
Kovo
You'll find some of the best credit builder loans with Kovo without having to worry about a credit check. Kovo reports to Experian and Equifax and only costs $10 per month for two years. Learn more about this app in our Kovo credit builder review.  
Experian Boost
As the name suggests, this app only reports to Experian. However, you can use it to claim positive payments for subscriptions, utilities, and even rent.
The good news is that, if you really wanted to, you could open an account on each of these credit-building apps. However, it's often best to choose one or two that can make your life easier while still improving your credit score.
FAQs
Does Grow Credit require a credit check?
Yes, Grow Credit requires a soft credit check. However, this credit check is only used to verify your identity and doesn't negatively affect your credit score. 
Is Grow Credit legitimate?
Yes, Grow Credit is a legitimate service you can use to boost your credit score with your subscription service payments. It's one of many credit-builder apps out there.
How can I build credit with Grow Credit?
Grow Credit lets you use a virtual Mastercard to pay for your subscriptions and tracks your payment history. That responsible financial behavior is then reported to all three credit bureaus to improve your credit mix and payment history.
The difference between regular and premium subscriptions boils down to how Grow Credit classifies these services. You might think of this distinction as a way to entice users to work toward a higher account tier to connect those services and further improve payment history.
Subscribe to a Better Financial Future with Grow Credit
Keeping on top of your credit score is hard, especially if you're just starting out and aren't exactly sure how it all works. Finding an ally in the credit world can help you better navigate this complex financial terrain.
We hope this article has helped you to see that there are many resources out there if you want to establish and build your credit. Grow Credit was the focus of our review, but so many other similar apps exist to give you the best chance at improving your score. 
Higher credit scores give us the chance to pay less in interest and obtain loans we couldn't otherwise. How will you use your new and improved credit score to achieve your financial goals? 
Best for luxury benefits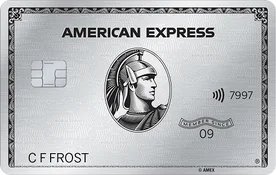 The Platinum Card® from American Express
INTRO OFFER: Earn 80,000 points (worth $1,600)
Earn 5X Membership Rewards® Points for flights booked directly with airlines or with American Express Travel up to $500,000 on these purchases per calendar year.
Earn 5X Membership Rewards® Points on prepaid hotels booked with American Express Travel.
Apply Now