A hefty food bill can have a huge impact on your finances.
Being a little bit crafty will help increase your disposable income and increase your savings. In this article, we will go over smart ways to save money on groceries, fill up your cart with the things you need, and not spend a small fortune. And you don't have to use coupon clipping services.
It might allow you to enjoy eating out more or get you a little bit closer to that two-month cross-country road trip!
Sound good?
Here are six ways to reduce your food budget and start being more frugal.
---
Want Free Money?
Aspiration: Want to get spotted a $150 for free? Simply sign up for Aspiration, and the free banking app will give you cash for free, you just relax while it gives you $150 just for opening a new debit card. There's no catch. This bank account is legit and only takes two minutes to sign up for an account.
---
Pro tip:
 Surveys are quick, easy, and can pay you cash from the comfort of your home. No wonder they are so popular.
Survey Junkie
,
Branded Surveys
,
Swagbucks
, and
InboxDollars
are just a few of the best survey sites to make money.
1. Planning is the Key to Success
It might seem simple but planning your meals and writing a shopping list is one of the best ways to save on your food shop.
Knowing what you need to make your meals for the week, means you don't end up buying unnecessary food.
It also means you check your cupboards at home to see what you need to purchase. It's easy to double up on an item, which is a completely pointless expense (especially when it's something you rarely use).
Writing a list means you aren't wandering around the shop and succumbing to offers and deals you didn't go out for.
If you're really into this, you can have a list of contents on the doors of your cupboards; then you know exactly what you have or haven't got at a glance.
2. See a Bargain? Go For It!
Sometimes all the planning in the world can be fruitless if that one lettuce you need is $6.99.
When you head to the supermarket take note of what fruit and vegetables are on sale. Most likely it will be things that are in season and in excessive.
Notice that 1 kg of pumpkin is only $.50? Why not grab a couple, vegetables can be so diverse and used in so many different recipes.
It might be just pumpkin soup or you can get create and make things like pumpkin cornbread, pumpkin, beef, and black bean chili or pumpkin cannelloni.
You might also see an abundance of cabbage or corn. You can use your natural gas smoker to preserve these foods and enjoy them at a later time. Saving you tones of money down the track.
3. Don't Be Afraid of Budget Supermarkets
Budget supermarkets are a sure-fire way to reduce your food budget with limited hassle. The great thing about them is they only have one option, and you either take it or leave it.
There's no opportunity to be taken in by higher-priced or branded products like in a normal supermarket, as they just aren't available.
Because these shops aren't so concerned about your shopping experience, it means your food shop costs less – this is a small price to pay when it comes to reducing your food spend.
4. Set a Budget and Stick to It
Setting yourself a food budget is a good way of giving you something to work towards.
Look at what you are spending on food on a weekly basis and set yourself a reduced (but reasonable) budget to work with each week.
Setting your budget too low will just set you up for failure, so make sure you aren't too hard on yourself!
You will be so pleased with yourself when you come in on budget, or even better – under budget!
You can make it into a challenge to see how low you can get your weekly food spend.
Pro-Tip
Interested in finding easy ways to save? Then you should know about Trim. This free app will work for you right away. After downloading it, I was able to save $100/mo as it was able to automatically negotiate my cell phone bill, cable and internet bills, and it analyzed my spending. It's saved it's members $1,000,000 in the past month, so I recommend trying out this free app that can help you save money!
5. Avoid Big Brands
Still unsure of how to reduce your grocery bill dramatically? Consider buying unbranded or own-brand products as it is an excellent way of reducing your food budget.
The products are often just as good (if not better) and you won't be disappointed when you swap your branded condiments, snacks and packets for an own-brand option.
When you compare the price of your branded and unbranded products when you are next in the shop, you might be surprised to see how much more expensive they are.
6. Calculate Your Food Shop as You Go
It's easy to place food in your basket and have no idea how much your shop will cost when you get to the checkout.
Adding up as you go is a great way to keep track of your spend; you can do this with a calculator or on your phone.
There's also a benefit to online food shopping here, as you can see how much you have spent before you pay.
You then have the option to go back to your basket and remove things and change them for alternatives.
Pro-Tip
Save money with the free Paribus app, that will scan your emails for any purchase receipts from dozens of online retailers. You don't even have to know about the price drop in order to get your refund. It's 100% free and will save you a lot of money. I pocketed around $50 in the first few weeks of signing up. Remember, it's 100% free!
Paribus compensates us when you sign up for Paribus using the links provided.
7. Use Grocery Cash Back Apps
When learning how to reduce your grocery bill dramatically, cash back apps are a must. What is a cash back, you might ask? It is a financial refund which you receive after making a certain purchase.
Download the free Ibotta app to make money off your grocery receipts. You can usually get $1 to $5 back on every grocery run. There is also a $10 welcome bonus for those who register for the first time. With Ibotta, you can earn real cash back every time you shop online or in-store. Simply check Ibotta before you shop in-store or online, travel, dine out, or make a purchase in your favorite apps, and you can get rewarded with cash back. Ibotta works with leading brands and retailers, including Best Buy, Lowe's, Safeway, eBay, and all major grocery stores, to help you save money without the hassle of traditional coupons, or promo codes.
Best Apps to Save Money on Groceries
There are a lot of apps like Ibotta, to see a full list of grocery rebate apps you can see this awesome list here or we'll list the top three below:
Ibotta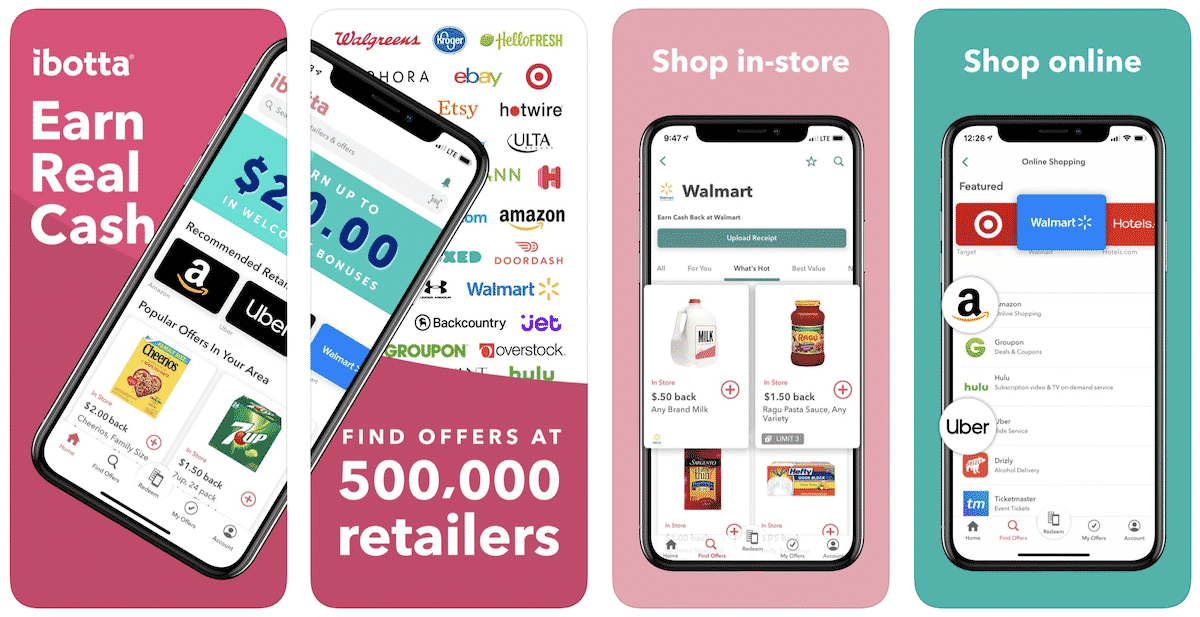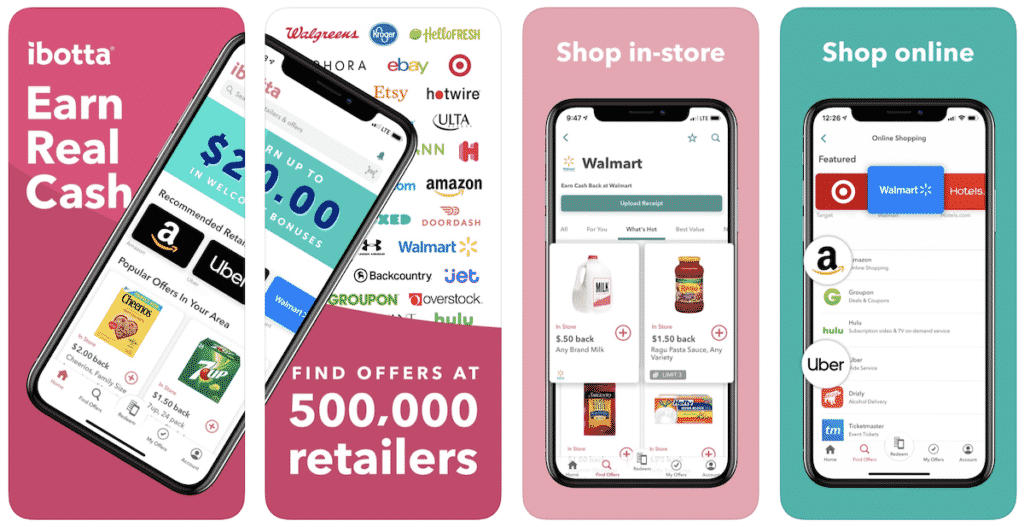 Ibotta allows you to earn real cash back shopping online and in-store with Ibotta. The average Ibotta user earns $150 a year on groceries, online purchases, delivery, and more. Register for the free Ibotta browser extension and app today to start saving.
You can probably file this one under "sounds too good to be true, but isn't." Ibotta is an app that works with 250 major retailers, including big-box stores, to help you get some money back, retroactively, on purchases you already make regularly. Some users report savings of up to $25 in their first month without changing their shopping habits and using Ibotta cheats.
Checkout 51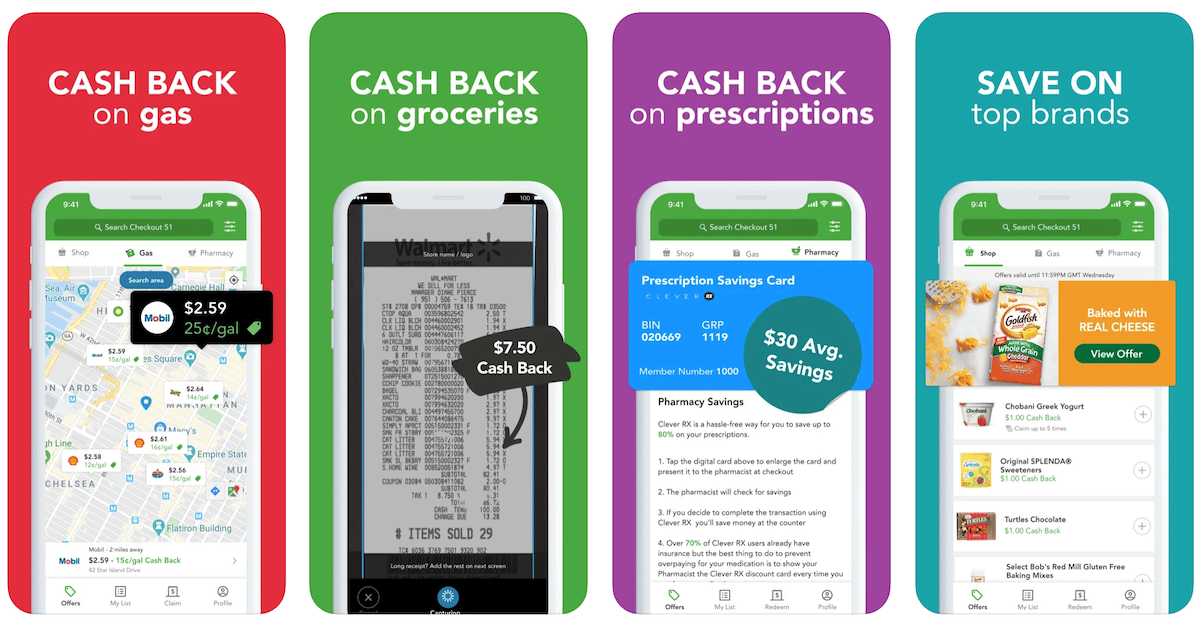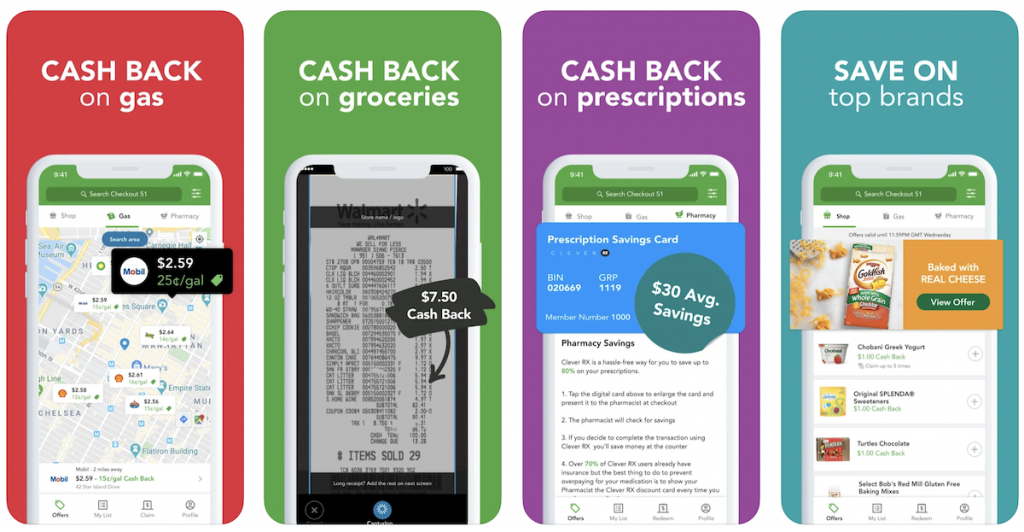 Checkout 51 is an excellent tool for anybody who frequently shops for household groceries and other items. Using the app is easy — you create a free account and then upload receipts of purchases you've made for qualifying items. Checkout 51 keeps a continually updated list of manufacturer deals and sends you cash back any time you buy something for which there's a posted deal. Earn $5 cash back once you redeem your first offer through this link.
Learn More: Checkout 51 Review
Coupons.com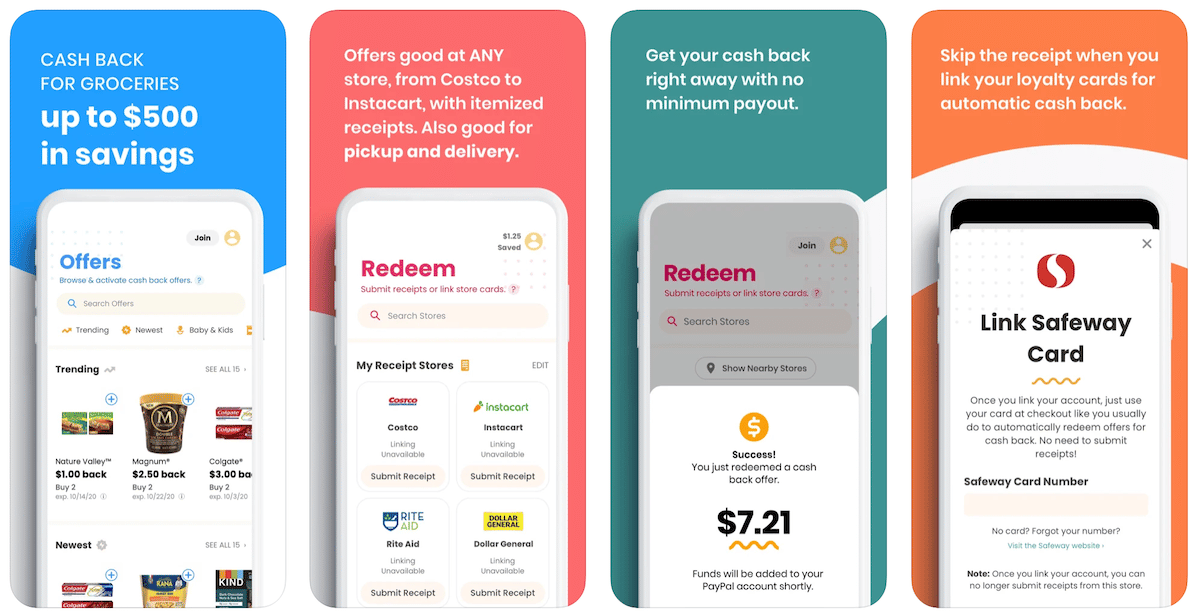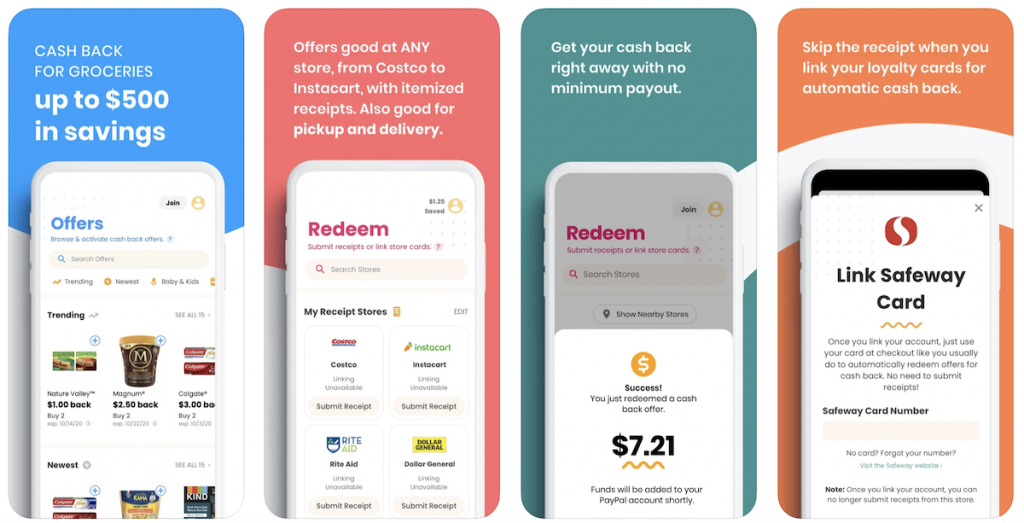 Clipping coupons and using apps like Ibotta and Rakuten are excellent ways to save an often-incredible amount of money on name brands. But without Coupons.com, you get stuck searching for, clipping or printing those coupons and the old-fashioned way. Coupons.com removes all the hassle from grocery shopping and gives you access to savings from 70,000 retail locations.
The Bottom Line
Once you implement a few of these money saving hacks you will notice the savings rolling in. Soon it will become a habit and you will notice that your surplus will allow indulging in more holidays or lovely meals out with your friends and family. Do you know any other tricks to cut your grocery bill and still be healthy?
If you looking for more easy ways to save money you can check out this article: Easy Ways to Save Money Today
Go
Description

Want Financial Wellness?
Acorns
Acorns is your guide to financial wellness. They'll help you invest, save and spend smarter starting at just $1 per month. There's no catch. This app is legit and only takes two minutes to sign up for an account.

LEARN MORE


Today's Best Offers
App
At a glance
download
Chime
★★★★★


Chime will spot you up to $200 if you accidentally overdraft. And even better: they won't charge you a dime.

GET SPOTTED $200

Axos
★★★★★


This free savings account delivers on its promise to save you money effortlessly. You can use it to get up to 6x the national average APY. It now pays to stash your cash in a savings account.

GET PAID TO SAVE