Neobanks are a new type of bank that allows you to bank solely online. In exchange for a lack of physical branches to visit, neobanks offer more perks and the convenience of banking from wherever you are.
This new type of banking experience has grown in the past few years and is expected to reach $96.4 billion in 2023. Most customers prefer neobanks because they are convenient and tend to offer better rates than most traditional banks.
GO2bank is one of these neobanks that makes banking from wherever you are as easy as could be. Plus, with fewer overhead charges, GO2bank can offer its customers better rates on savings, loans, and other financial products.
If you're curious about how you can use GO2bank to manage your finances, you're not alone. This neobank offers customers quite a few perks, but are they any better than the features you'd find at other neobanks?
You'll find the answer to that question in this in-depth guide on GO2bank. In addition to helping you understand what GO2bank has to offer, we'll compare those features to other banks to give you a better idea of what's out there.
Are you ready to learn more about neobanks with our GO2bank review? Let's get started!
GO2bank
GO2bank, a neobank by Green Dot, offers a checking account with savings subaccounts called vaults. Its biggest perks include a high savings rate on up to $5,000 and the ability to deposit cash at select retailers.
Open Account
What is GO2bank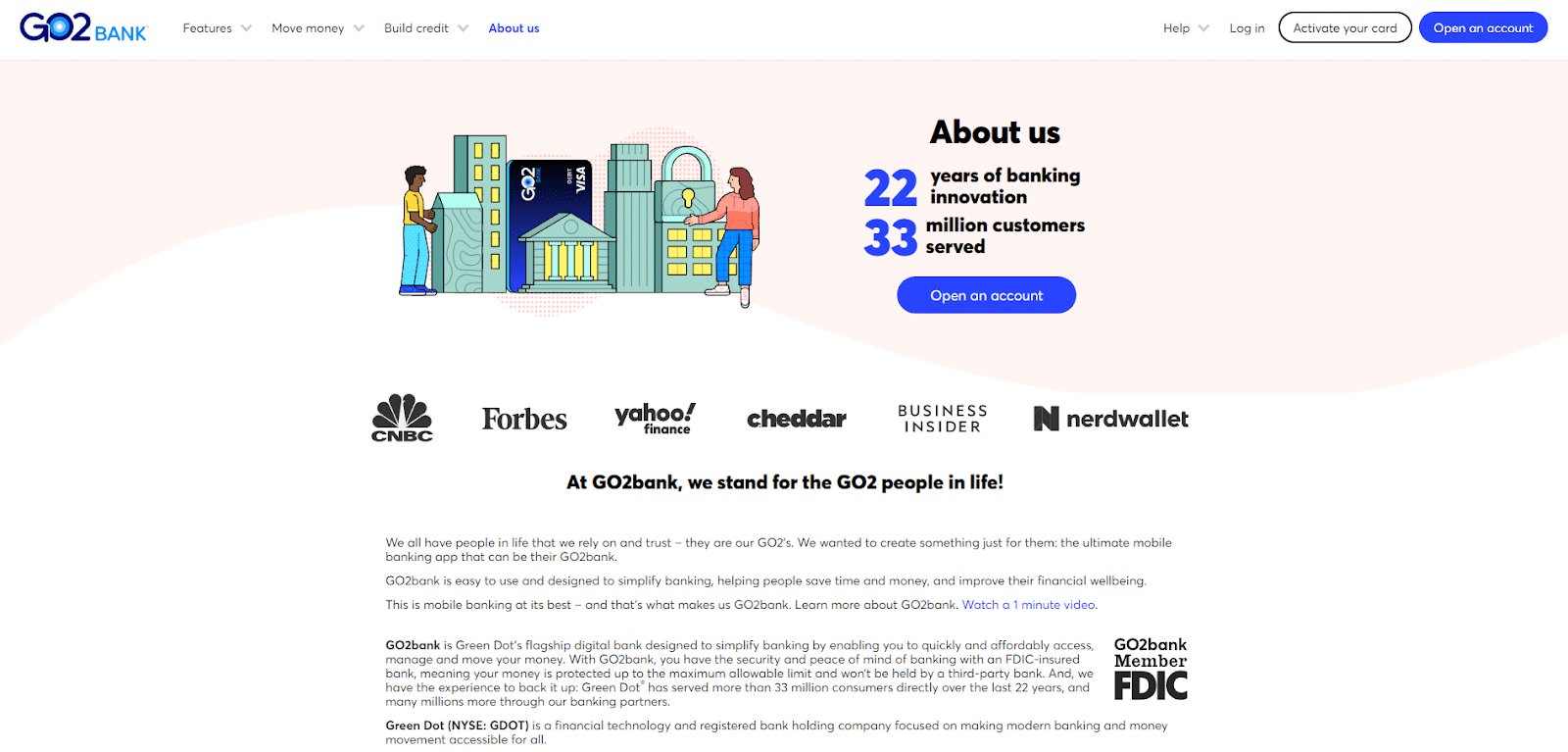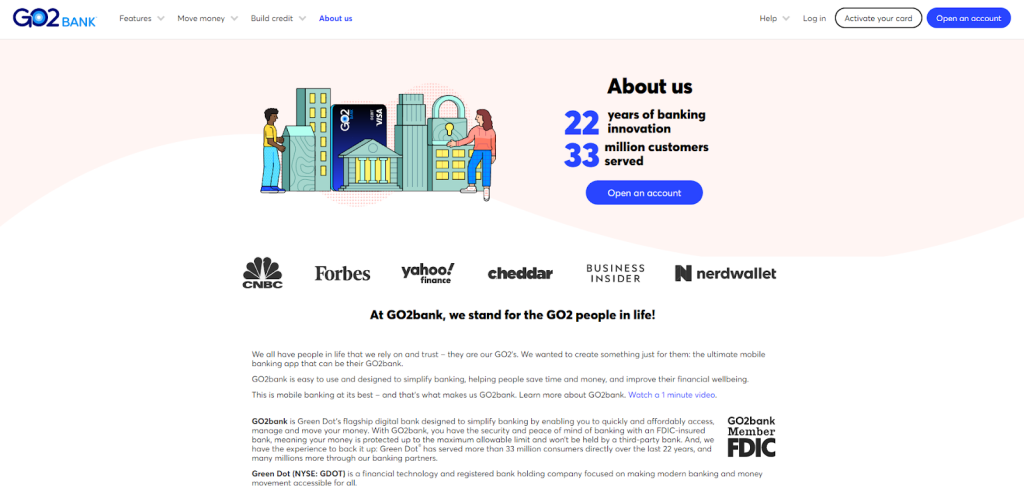 Go2bank, like many of the best neobanks, is an online-only bank that offers the same features you'd find at traditional banks, with a few adjustments. It was founded in early 2021 by Green Dot, a company that's also behind a completely separate financial service called GOBank.
GO2bank's mission is to serve the underbanked who may not be eligible to open a bank account anywhere else. The online-only aspect of the bank gives customers a chance to open an account no matter where they live so there are fewer limiting factors.
With a GO2bank account, you'll have 24/7 access to customer service via phone or live chat. You and a friend can also earn $50 each if you refer them to GO2bank when you sign up through this referral link.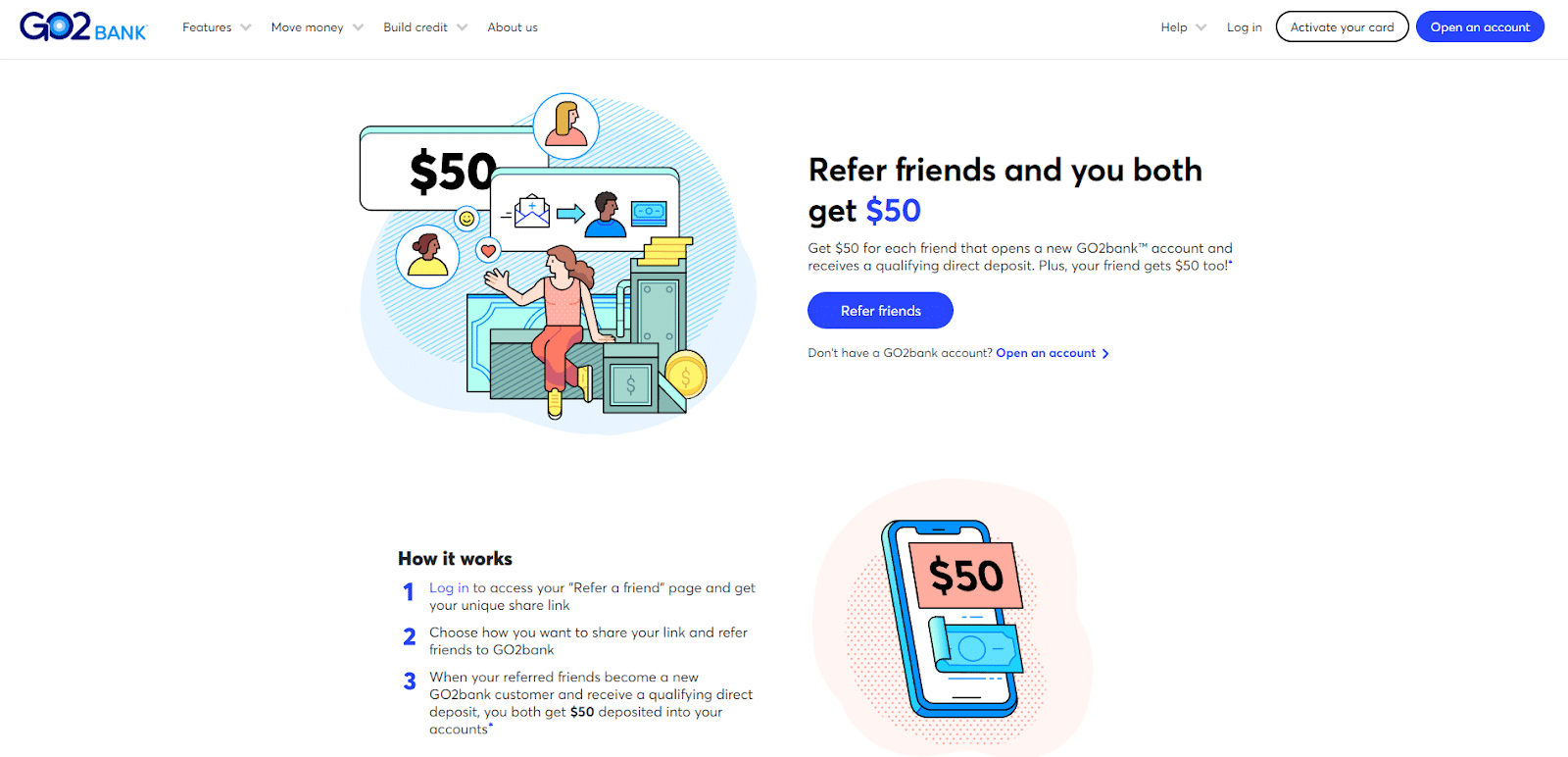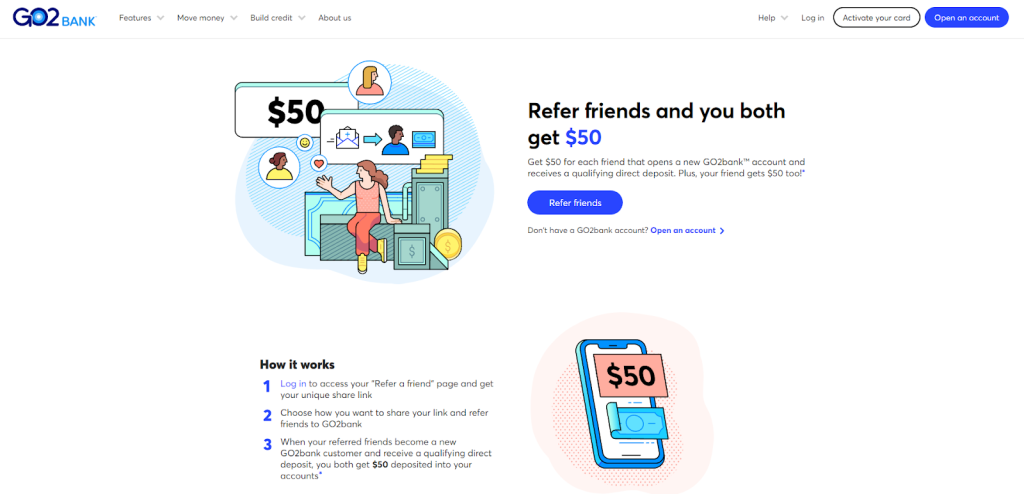 Tax Refund Promotion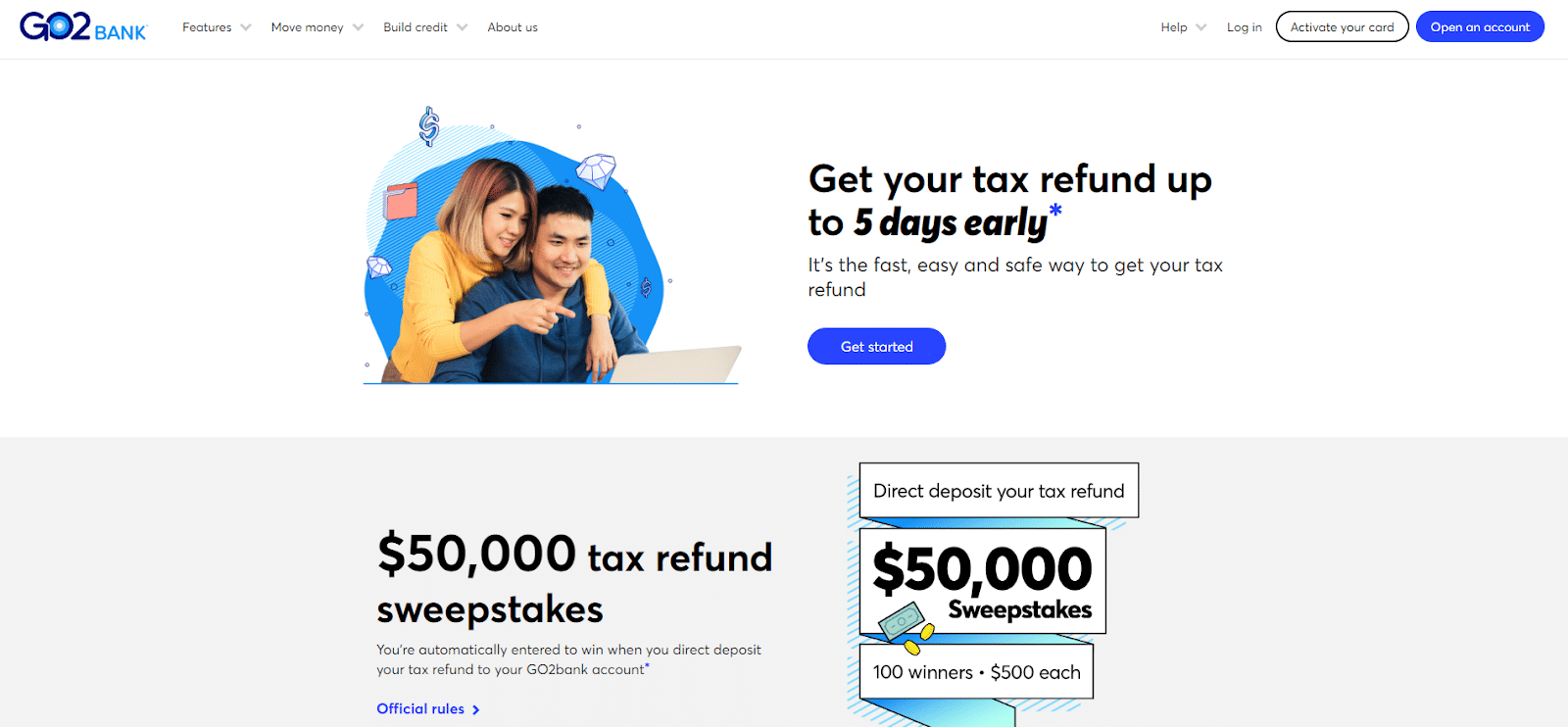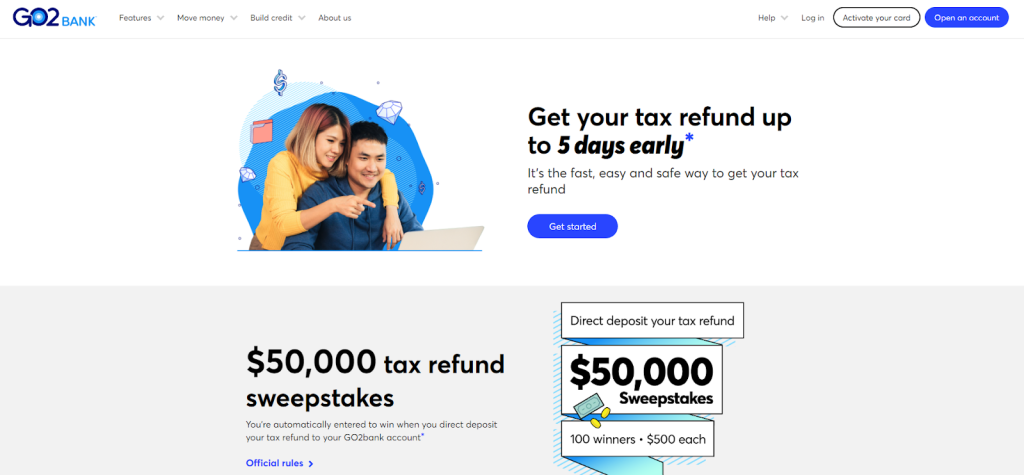 GO2bank is currently running a tax refund promotion where you can get your tax refund up to five days earlier and enter sweepstakes to win $50,000.
You'll need to enter your GO2bank account information when you direct deposit your tax refund to enter the sweepstakes.
GO2bank Account Features


You can download the GO2bank app for Android or iOS for free. While no current banking promotions are running for sign-up bonuses, the sign-up process is as simple as entering your personal information and verifying your identity.
Signing up requires your name, address, date of birth, Social Security number, and phone number. You'll also need to verify your identity by uploading a picture of your (valid) driver's license.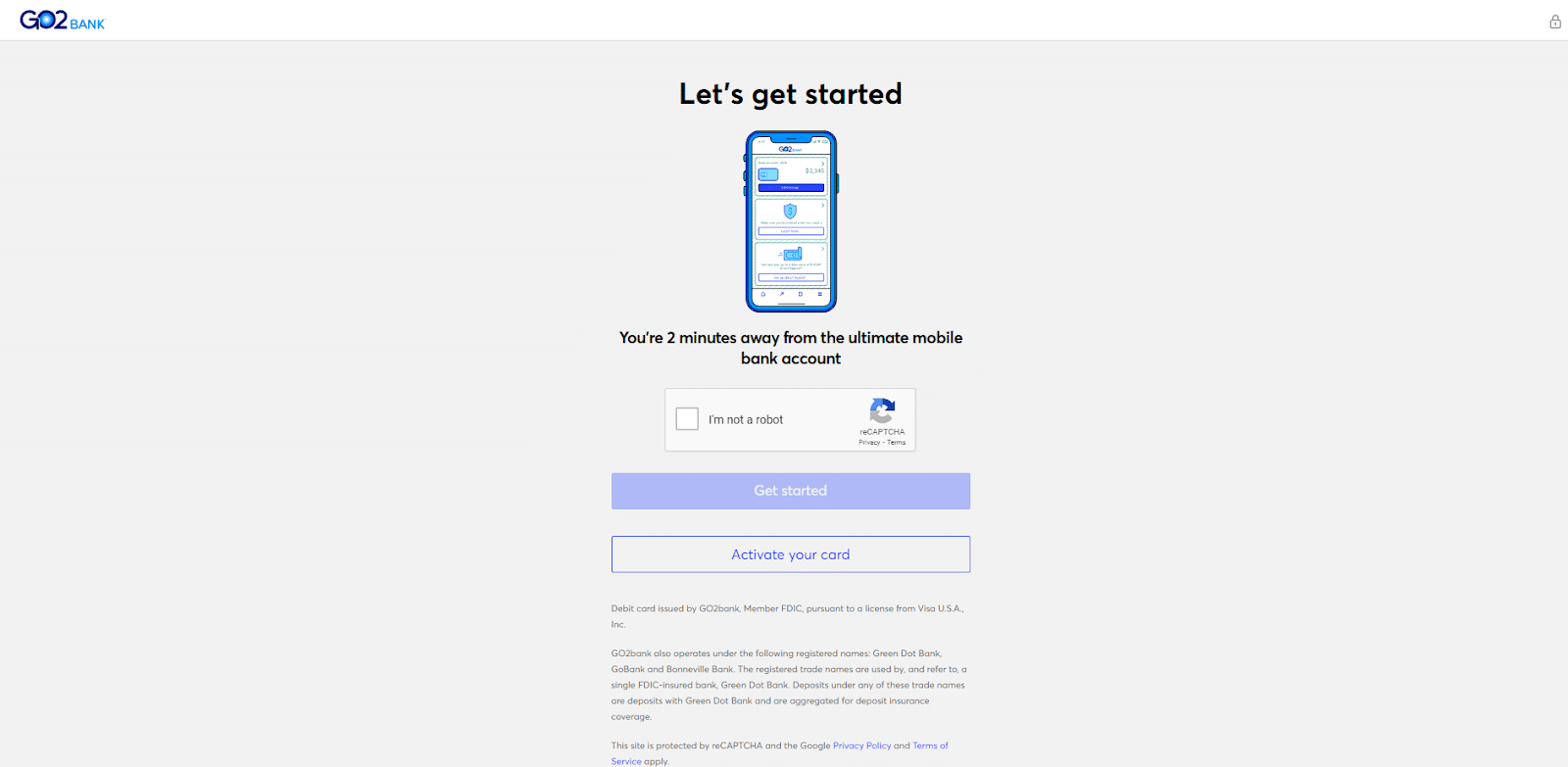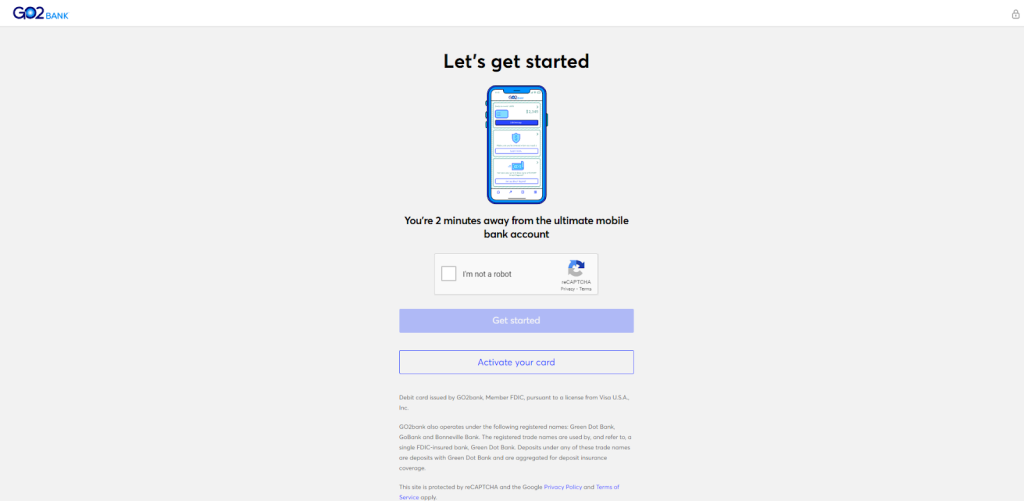 Once you create your account, GO2bank will issue a chip-enabled debit card that should arrive in seven to 10 business days. Your deposits are FDIC-insured and you can potentially earn cash back with your debit card purchases.
For example, you'll earn up to 3% back on Amazon eGift cards. Once the qualifying transaction posts to your account, your cashback deposits immediately as well.
GO2Bank Checking Account
GO2bank allows you to deposit cash, receive direct deposits, and save up to $5,000 with their mobile checking account. You can also earn up to 7% instant cashback on eGift card purchases through the mobile app with one of the best cashback debit cards available.
A GO2bank checking account includes several features. For example, you can use your new Visa debit card at major retailers just like you would with any debit card.
There's no minimum balance to open your GO2bank account. Plus, you can get paid up to two days early with GO2bank's partnership with Plaid.


Open the mobile app if you want to unlock or lock your debit card. If you want to get paid today and deposit cash funds, simply use a one-time barcode at a partnering retailer to do so.
Savings "Vaults"
GO2bank is one of the best money-saving apps if you're looking for high-interest savings accounts.
While the 4.5% APY rate isn't quite up to other rare 5% interest savings accounts, that's more than even some of the best digital banks can offer when it comes to high-interest savings accounts.
With GO2bank, you can create up to five Vaults to save your money. However, you'll only earn 4.5% on up to $5,000 across all Vaults.
The catch with GO2bank is that interest is only paid quarterly, rather than daily or even weekly. Plus, you have to transfer money from your savings Vaults to your checking account to spend it.
Limits and Fees
A GO2bank account does come with a $5 monthly fee. However, you can waive this fee if you have an eligible direct deposit each month.
When it comes to ATMs, you are limited to withdrawing $500 per day, provided you have the funds. We'll talk a bit more about overdraft protection, which GO2bank does offer, in the next section.
GO2bank also charges a $3 fee for out-of-network ATMs but otherwise in-network ATMs are free. Prepaid debit cards at major retailers can cost up to $2.95 and require a minimum deposit of at least $20.
When depositing cash at participating retailers, you'll pay up to $4.95 each time. GO2bank does let you deposit checks for free, as long as you can wait 10 days for the funds to clear.
If you want funds sooner, you'll pay anywhere from 1% to 5% of the check amount to receive it in minutes. A similar situation exists if you want to link an external bank account to transfer funds to your GO2bank account.
Transfers will take about three business days to complete, but you can also pay the greater of $2 or 3% of the transfer funds to receive them in about half an hour. It's up to you whether or not you want to pay these expedited fees.
Overdrafts


If you need cash now and have no other choice but to overdraft, GO2bank does offer overdraft protection. It doesn't come standard with a GO2bank account, but it's free to opt in.
The basic level of overdraft protection is $10 of coverage as long as you make a single direct deposit. It doesn't matter if that deposit is $1 or $1,000.
Choose Premium 100 or Premium 200 if you want $100 or $200 of overdraft coverage respectively. You'll need to deposit at least $200 within a 35-day period for $100 in coverage and $400 in that same time for $200 of coverage.
Overdraft protection only covers debit card purchases. You'll be charged $15 per overdraft transaction, with a maximum of 10 charges in three months.
GO2bank understands that sometimes you need some extra time to get your finances back in order. With a 24-hour grace period and enrollment in the overdraft protection program, you can resolve an overdraft without incurring the $15 fee.
On the flip side, if you overdraft less than $10, you won't be charged an overdraft fee if you're enrolled in overdraft protection. If you don't enroll, the transaction will be denied and you won't be charged.
Unfortunately, GO2bank doesn't give you the option to link to your savings account to cover overdrafts. You cannot link your account with a line of credit or credit card either.
Related: Banks That Let You Overdraft Immediately
Secured Credit Card


If you need to figure out how to improve your credit score and just aren't sure even the best credit score apps are right for you, GO2bank's secured credit card could be the break you need. It's a credit card that requires a deposit, but it also comes with no credit check to further dip your score.
Credit lines start at $100 with GO2bank, as you'll have to deposit this much on the card before you can use it. While it's not the same as a $100 loan instant app, it's a great way to build credit at a steady yet manageable pace.
Best of all, GO2bank reports your payments to all three credit bureaus. There's no annual fee, and you can also monitor your credit with VantageScore.
Credit Care Advantage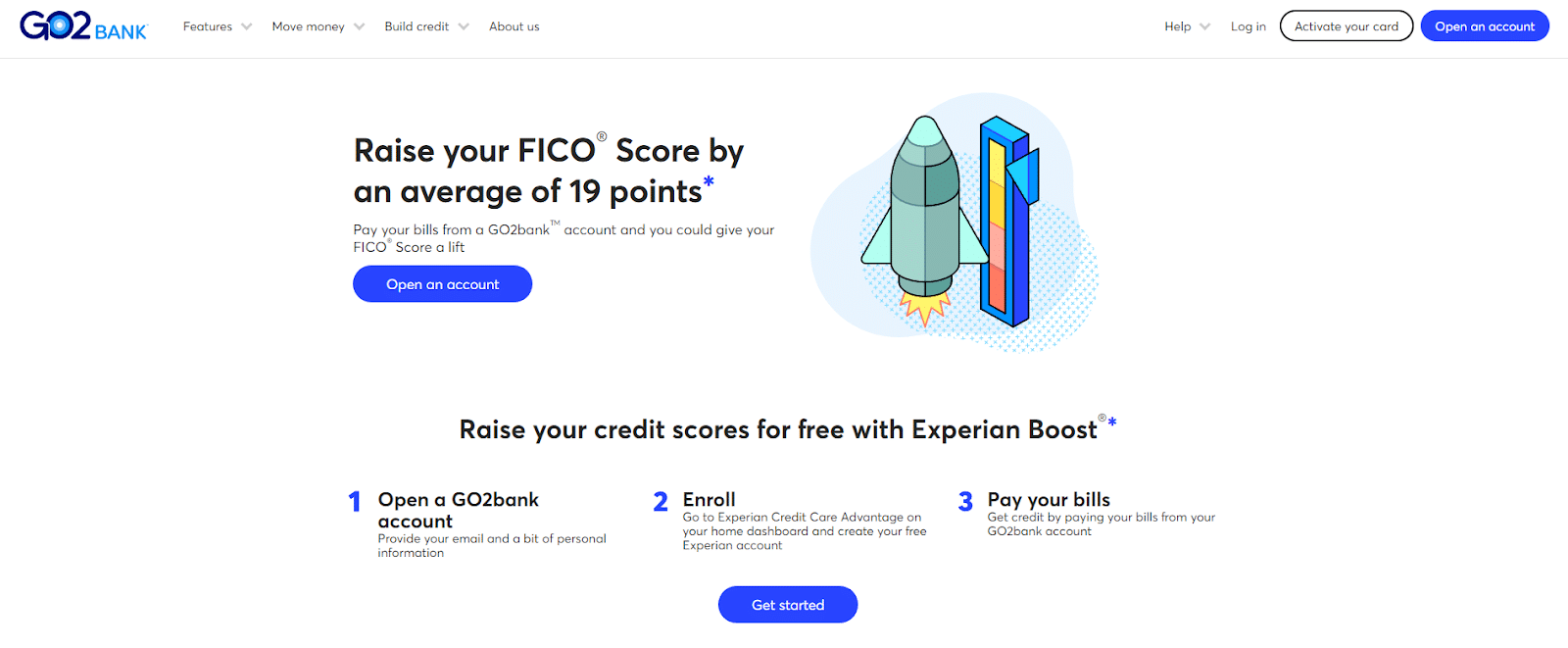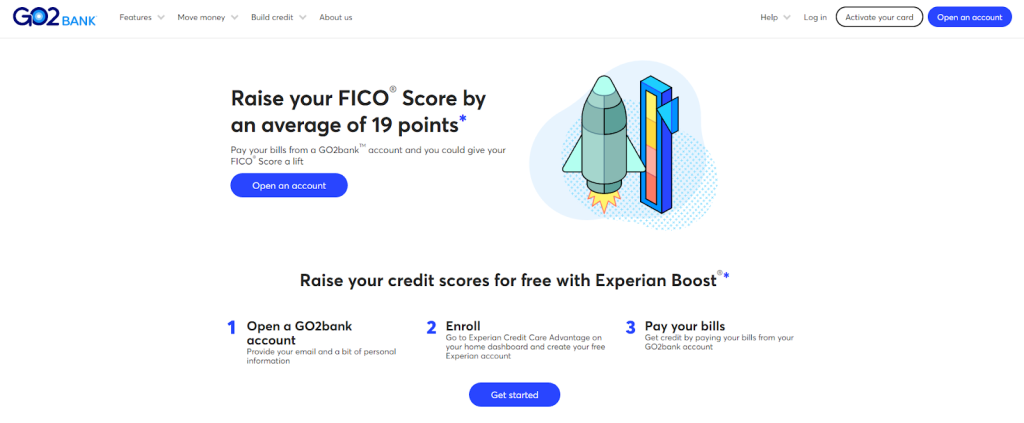 The best credit-building apps out there help you manage your finances daily. If you want to improve your score and get into the next set of credit score ranges, GO2bank can help.
With the Credit Care Advantage service, GO2bank offers free Experian Boost to FICO credit scores and dark web surveillance with Experian CreditLock. Use these services to monitor your credit score and any identity theft threats for free.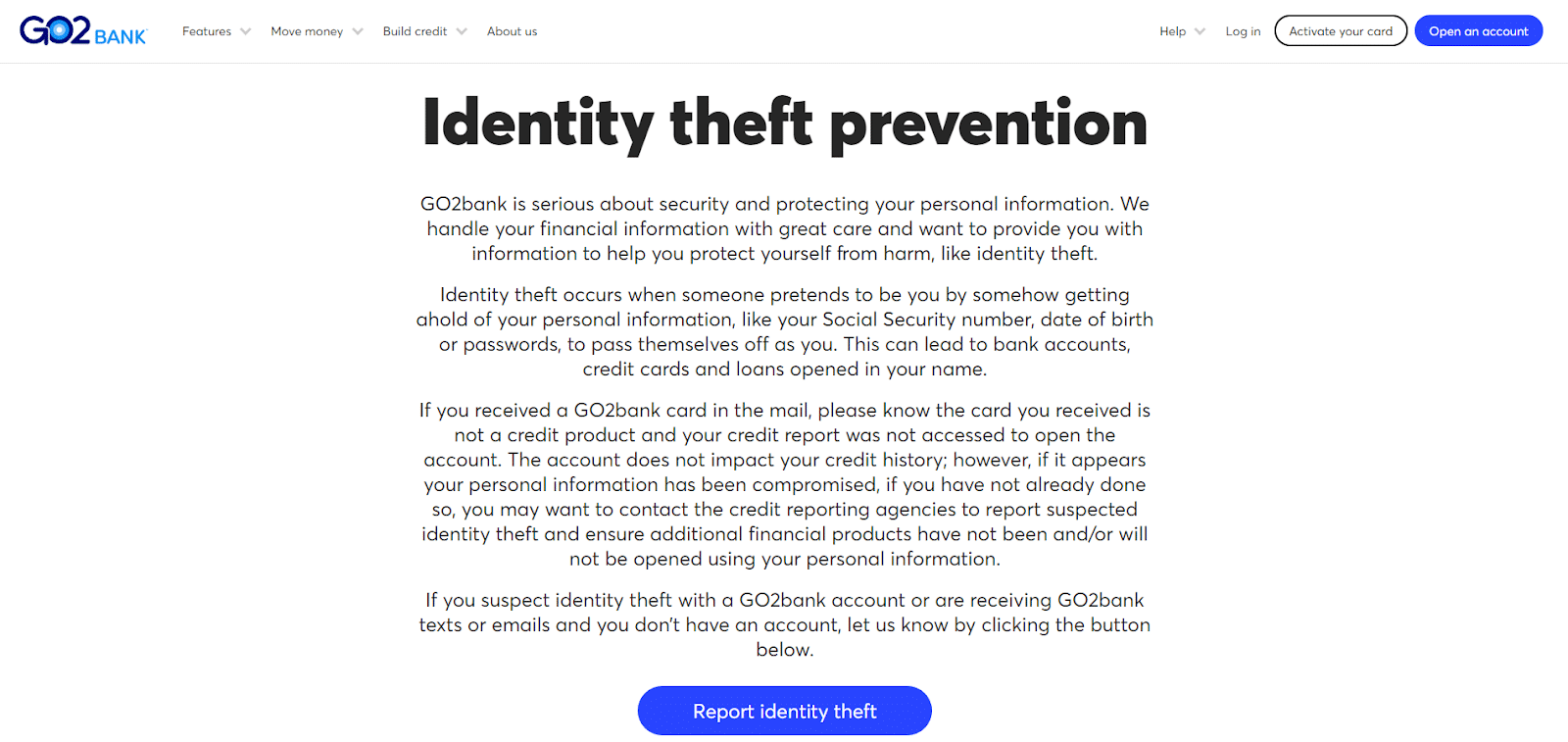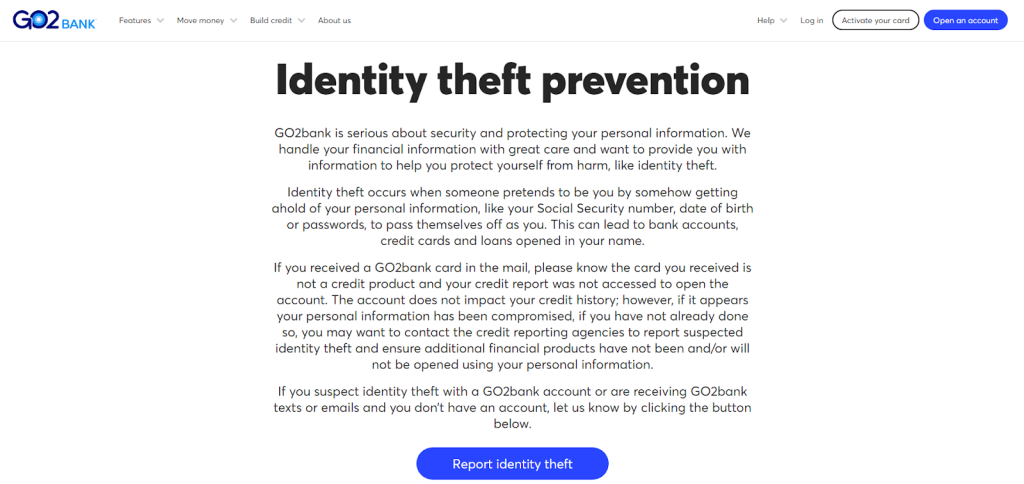 Advantages and Disadvantages of GO2bank
In addition to banking solely online, GO2bank offers several pros and cons. Here's a quick list to reference if you're still on the fence.
Pros
4.5% APY on savings up to $5,000
Ability to create up to five separate savings Vaults
Over 90,000 retail locations for depositing cash
19,000+ free ATMs to choose from
Waivable monthly fee
Free overdraft protection when you opt in
Cons
No check writing available
Many fees associated with account
$5 monthly fee
Cannot transfer funds out of account
Limited to $125 in savings interest per year
Interest compounded quarterly
Must opt in to overdraft protection
Cannot link to a savings account to cover overdraft charges
GO2bank Alternatives
GO2bank is just one of many neobanks out there. Here are a few alternatives you can turn to if you're not sure about a GO2bank account:
These are some of the best cash advance apps out there if you want the ability to request a cash advance on top of your regular checking account needs.
FAQs
Is GO2bank a legitimate bank? 
Yes, GO2bank is a legitimate bank offered through Green Dot. It's not to be confused with GOBank, which is another financial product from Green Dot. 
What does it cost to bank with GO2bank? 
GO2bank charges a $5 monthly fee for their checking account. However, you can waive the $5 monthly fee if you have a qualifying direct deposit. 
Can you transfer money out of your GO2bank account?
No, you cannot transfer money out of your GO2bank account. You can, however, transfer money from another bank into your GO2bank account. 
Does a GO2bank account come with overdraft protection? 
GO2bank accounts do not automatically come with standard overdraft protection. However, you can opt in to overdraft protection and get up to $200 in coverage. 
Achieve Your Financial Goals with GO2bank
GO2bank offers several perks we associate with neobanks, in addition to several features that make banking anywhere a cinch. You can earn up to $125 per year in savings interest and even deposit cash with this neobank.
At the same time, there are limits and fees associated with this account. The question remains, are those catches worth the benefits you get with a GO2bank account?
We hope this GO2bank review has helped you to understand what you can and can't do with a GO2bank account and compare that with the features of other neobanks. When you know more about what's out there, you can make a better choice for yourself now and for the future.
What will you do with your new GO2bank account?
GO2bank
GO2bank, a neobank by Green Dot, offers a checking account with savings subaccounts called vaults. Its biggest perks include a high savings rate on up to $5,000 and the ability to deposit cash at select retailers.
Open Account
Earn $200 bonus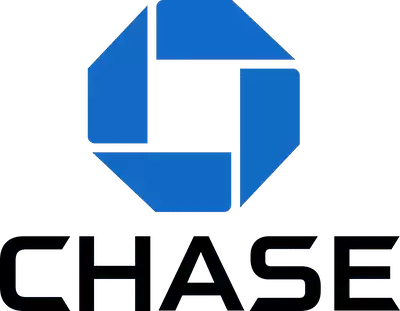 Chase Total Checking®
Secure a $200 bonus in a mere 15 business days when you establish your direct deposit within 90 days. Dive into unparalleled convenience with access to over 15,000 ATMs, 4,700+ branches nationwide, intuitive online banking, and a top-rated app. Offer expires 10/18/2023, so act fast!
Redeem your $200 here