Have you ever heard anything about Checkout 51? If not, this Checkout 51 review will tell you everything about this cash back app that lets you save on brands you love.
Checkout 51 lets you save money with ease: get new offers weekly, buy from any store, snap a photo of the receipt and earn cash back!
If you wanted to sign up you can download it free here or continue reading the Checkout 51 review below.
What is Checkout 51?
You must be wondering about what is Checkout 51? It is basically a rebate app that allows you to buy everything you need and get cash back. The special thing about this innovative money saving app is that it allows you to get cash back when you make a purchase through it.
There are a number of cash back rebate offers on the app on various products such as pasta, bread, milk, meat, vegetables, fruits, organic foods, detergents, and cleaning items etc.
---
Want Free Money?
Aspiration: Want to get spotted a $150 for free? Simply sign up for Aspiration, and the free banking app will give you cash for free, you just relax while it gives you $150 just for opening a new debit card. There's no catch. This bank account is legit and only takes two minutes to sign up for an account.
---
Pro tip:
 Surveys are quick, easy, and can pay you cash from the comfort of your home. No wonder they are so popular.
Survey Junkie
,
Branded Surveys
,
Swagbucks
, and
InboxDollars
are just a few of the best survey sites to make money.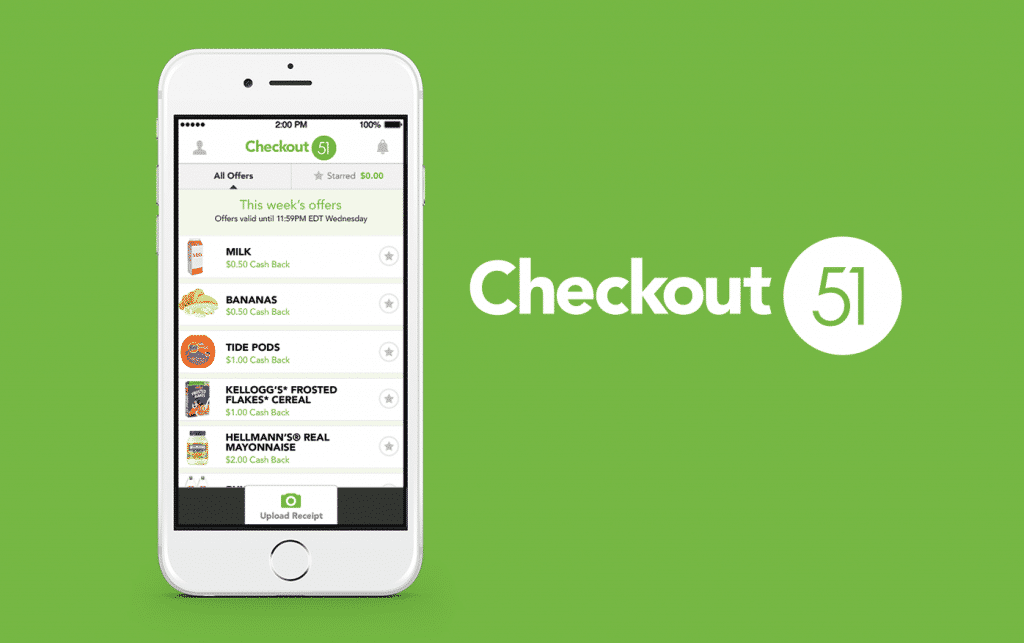 In short, you can buy anything that you need and upload the receipt on the Checkout 51 app which will get you amazing cash back opportunities (and pad your wallet).
Short Description about Checkout 51
Get cash back on everyday purchases with the Checkout 51 app.
Scam your receipts and get cash back!
One of the easiest and best ways to save money.
Best part? The app is totally free.
How Does Checkout 51 Work?
You must be thinking about how it is possible to get your cash back for free? It actually works and there are hundreds of thousands of people who are enjoying lucrative cash back offers from this free app. Now, let's look at a short and simple process of how Checkout 51 works.
Download the free app on the App Store and Play Store. Create your account in minutes to start saving today!
Browse your offer list which updates on Thursdays with new saving opportunities. Just add your favorite offers to your shopping list.
Select your offers by tapping "Redeem" and check off the items you purchased on your receipt. This tells the system what to look for.
After making your selections, use the app's built-in camera feature to take clear, readable photos of your receipt.
When your receipt is approved, we credit your account with Cash Back. Cash out when you hit $20, woohoo!
Is Checkout 51 Legitimate or a Scam?
Checkout 51 has been working since 2012 and there are no valid complaints or customer issues regarding it so far.
You can read a number of reviews about Checkout 51 and everyone has praised this cash back app. It has been working since 2012 and still offering rebates to the people and people are getting benefitted through it. Therefore, it is absolutely a legitimate savings app and not a scam.
Pros & Cons of Checkout 51
Benefits
You can use any of the free offers for any store you want.
The Checkout 51 Referral program awards you $5 for each person you refer
It is very easy to use and has the simplest interface.
You can even use to get the cash back from your online shopping.
You will get the cash back into your account within the 24-48 hours after you upload your shopping receipt there.
Downsides
There are many new things to try in this app but some of those are paid features. The main point of using this app is to save your money, not to spend more.
As compared to other such saving apps like Ibotta (learn more about Ibotta here), and it doesn't have as many non-branded rebates.
Checkout 51 FAQs
When do offers appear?
Offers go live on Thursdays at 12:00 AM in each time zone. They expire the following Wednesday at 11:59 PM in each time zone. You must upload your receipts while the offers are live.
Offers are available in limited quantities. Please check your offer list before you go shopping to ensure that the offer is still available, and upload the receipt immediately after purchase to avoid disappointment.
Some offers may be claimed multiple times. Tap into the offer to see its claim limit.
Can you use a receipt more than once?
Each receipt can only be used once. You can only earn cash back for the exact product listed, so please read carefully. You can earn Checkout 51 Cash Back in combination with any other coupon or discount unless otherwise stated. Tap into the offer to see any conditions.
Where must products be purchased to be eligible for cash back?
Products must be purchased in your country of registration. Checkout 51 currently supports the United States (the 50 states of the United States, the District of Columbia, Overseas US Military Bases, Puerto Rico) and Canada.
Receipts uploaded must be in English, French or Spanish.
Items purchased from online retailers are eligible for Cash Back. Itemized packing slips are accepted as proof of purchase. Online purchases are subject to the same upload timelines as receipts. For more information, please visit the Help Desk.
Checkout 51 Summary
Checkout 51 lets you save on the brands you love: Get new offers weekly, buy from any store, snap a photo of the receipt and earn cash back! It's pretty simple too…
Signup for your free Checkout 51 account in a few seconds.
Now, choose the refunds or rebate offers that you like. Once you choose them, add them to your cart.
Go for shopping the things that you specified at checkout 51. Make sure you make the right purchases. If you don't purchase the right product, you will not get the cash back. Therefore, never make this mistake.
Take a picture of your receipt and upload it to your Checkout 51 app.
When you submit your receipt, wait for around 24 to 48 hours. During or after this duration, your account will be credited.
You can withdraw your cash once it reaches the $20 threshold.
Go
Description

Want Financial Wellness?
Acorns
Acorns is your guide to financial wellness. They'll help you invest, save and spend smarter starting at just $1 per month. There's no catch. This app is legit and only takes two minutes to sign up for an account.

LEARN MORE


Today's Best Offers
App
At a glance
download
Chime
★★★★★


Chime will spot you up to $200 if you accidentally overdraft. And even better: they won't charge you a dime.

GET SPOTTED $200

Axos
★★★★★


This free savings account delivers on its promise to save you money effortlessly. You can use it to get up to 6x the national average APY. It now pays to stash your cash in a savings account.

GET PAID TO SAVE