Playing pool online can be a lot of fun, regardless of whether you are playing for fun or competing for real money. Interestingly, there are several of these games available in an in-app format that can be played online. One of these is the Pool Payday app where you can play pool online and earn some real cash while you're at it.
In fact, mobile gaming applications are now gaining popularity as they give people the opportunity to make money while enjoying their leisure time by playing games. This is because many of these games can be easily found in the App Store or Galaxy Store.
Hence, there's an opportunity to gain real money by playing with others. So, if you are in the mood for some rounds of free practices and genuine cash tournaments, then Pool Payday is the one for you. You can compete against other users and win real money from your smartphone.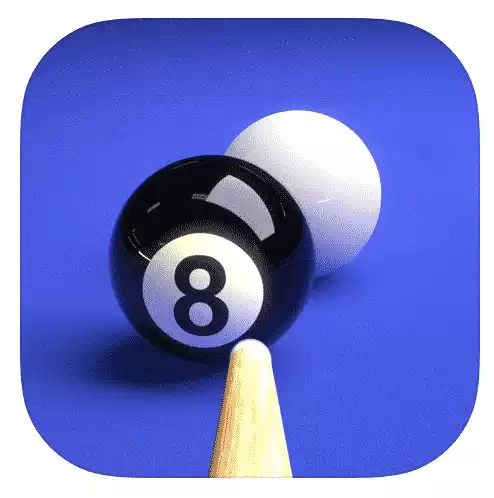 Pool Payday
You a fan of billiards? Compete for 1-on-1 in live real-time games for fun, for profit, or both! The cash prizes are redeemable via PayPal, Apple Pay, and more.
Play Now →
What is Pool Payday?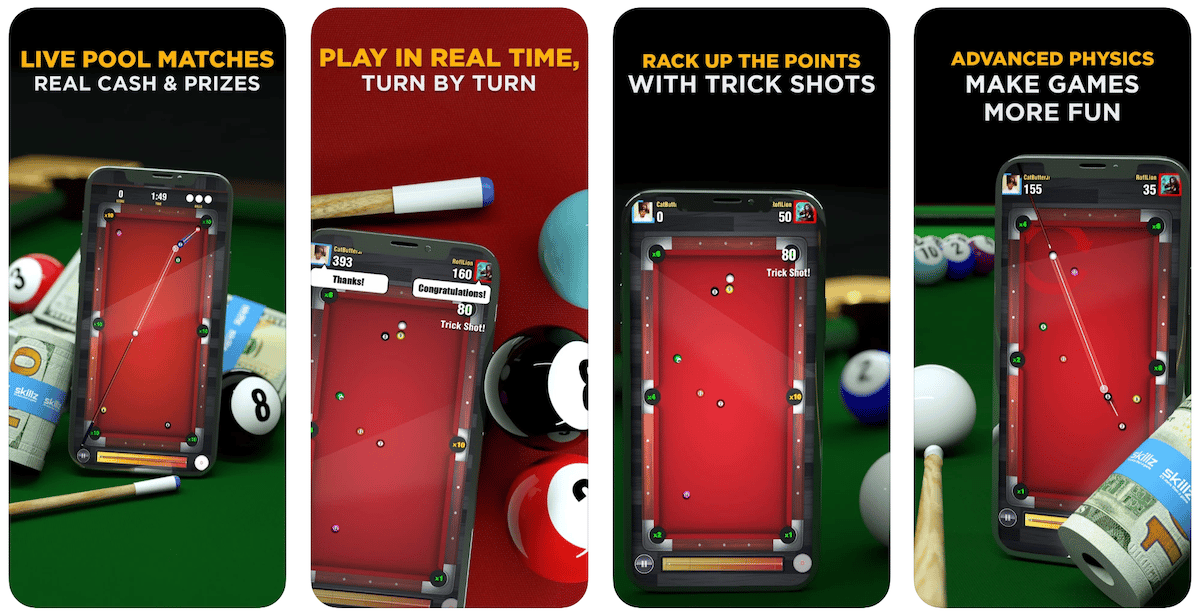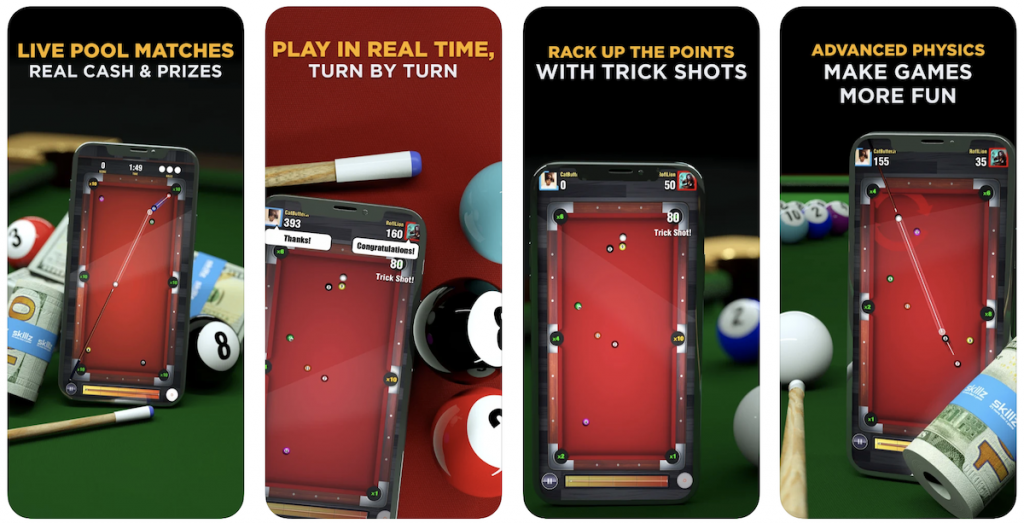 Pool Payday is a mobile pool game made by Hidden Pixel Games, a company established by Mike Marr and Brian Goble.
It is the company's first game, which was released following its founding in 2017. You can download Pool Payday from either the App Store or the Galaxy Store.
On Pool Payday, you can practice for free to sharpen your skills or engage in friendly competitions if you so wish.
Since this is a casino game, there is the possibility of winning real money in cash tournaments.
In fact, it's an app that has a lot of reviews and likes on the App store due to people just like you wanting to potentially win money playing pool online.
How Does Pool Payday Work?
When you open the game for the first time, you must create an account. The next step is to create an avatar and follow a tutorial before playing a practice game, just like other Skillz-powered games.
In the tutorial, first-time players are shown how to line up their cues and take shots by pressing a slow or quick screen swipe.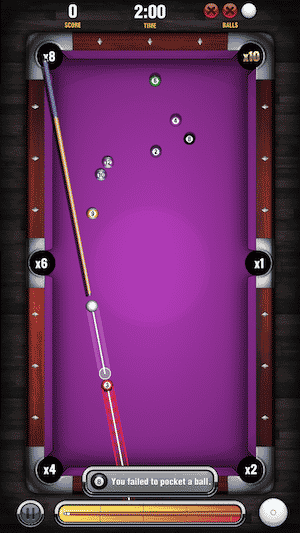 Although this might be a bit tricky at first, it takes a few minutes to get the hang of it. All that is required is to use the Z coins (found within the game) or the cash deposited in your account to play the game.
You have the opportunity of earning more of the Z coins by winning more of the matches you play, win trophies, and claim daily rewards that will give you the opportunity to play the game for an unlimited number of times.
Here are the following game modes you can find on Pool Payday: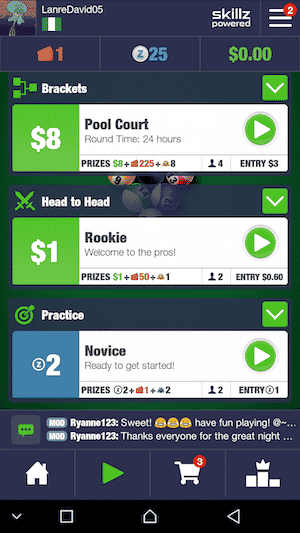 Practice: Pairs you with another player with the same level of skills, with the entry requirement for playing being the Z coin. In this mode, you will earn prizes such as Ticketz, league medals, and Z coins.
Brackets: Here, you will play against multiple opponents. This mode also has a cash entry requirement, with prizes to be won including tickets, league medals, and cash.
Head-to-head: is a game mode that requires cash entry, and when played well gives the opportunity to win various prizes like cash, tickets, or league medals.
Real-time matches: involve a live, turn by turn match against one player and another. Before playing, you will select either an 8-ball pool or a trick shot pool, as well as whether you would like to pay cash or with Z coins.
Events: this game mode involves multiple players' participation with the goal to see who will get the highest scores. Cash entry is also required, but players have the option to re-enter the game several times to increase their score. In addition, there is a total prize pool for each event, which is often composed of cash and tickets, and distributed among the top scorers.
Typically, Pool Payday games are usually won by scoring more points than the other player.
However, depending on the mode of play (8-ball or 9-ball), the scoring may vary, but don't be alarmed since it usually follows regular Billards rules, such as placing the ball into the pocket correctly.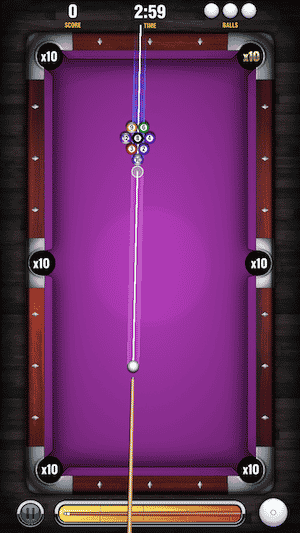 Additionally, bonus points can be acquired by utilizing the game's essential features, like trick shots and dropping a ball into a certain pocket.
But, you will lose one of the three starting cue balls if you fail to pocket a ball or scratch it.
However, when all of the cue balls have been pocketed, or when the time has expired, the game eventually ends, and the winner is determined.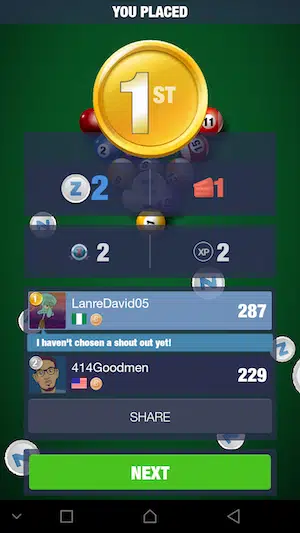 Playing Pool Payday offers the chance to earn Ticketz: two for the winner and one for the runner-up.
Following the practice games, each round requires a Ticketz.
Playing for free is always an option, but it can become quite addictive.
However, Pool Payday encourages its users to compete. Especially, as these ticketz can earn you free money, cash, and prizes, but the grind is real and you must win a lot of games to earn the featured swag gifts.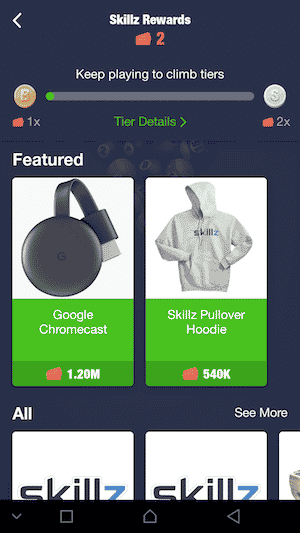 The point is that most users will not find endless hours of play worth it in order to earn prizes. Especially since a Google Chromecast is worth around $30 and they have listed for 1.20M ticketz.
However, in order to win guaranteed prizes, Pool Payday recommends moving into league play, where tournaments are played in real-time.
In any case, as you earn more medals, you are closer to the top of the League and have a greater chance of winning a payout at the end of the timer.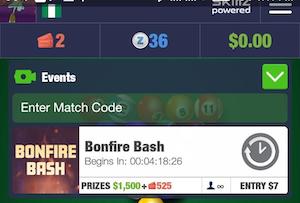 If you are playing with cash or Z coins, the leagues are organized into two categories: pro and practice.
The only entry requirement for League is playing more games.
Once you've played enough practice games, a popup explains how you can unlock a league that has a prize of $6,115.
$6,115 is a pretty solid cash prize for just a $7 entry fee.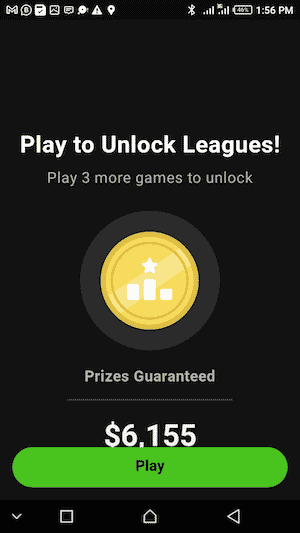 Just be mindful, you′re not the only one who has sights on that prize money so your game has to be pretty good.
It's suggested that you get enough practice with the practice mode before you move on to the big Leagues.
Who Can Play Pool Payday?
Due to the fact that Pool Payday is a casino/gambling game, the App Store requires that you be at least 17 years old before you can download the app.
You can play Pool Payday for free, but if you wish to participate in real money games and cash out, there is an option to use real money.
However, if you struggle with gambling addiction or tend to YOLO in the stock market, it is advised you stay away from this game.
But if you like playing games during your leisure time and would like to earn real money, then you can explore having some fun in your downtime.
In Pool Payday, rounds of free practice are available in many states and countries, however, players must be 18 years of age or above to participate in cash tournaments.
Meanwhile, cash tournaments aren't available in the following states:
Arizona
Arkansas
Connecticut
Delaware
Louisiana
Montana
South Carolina
South Dakota
Tennessee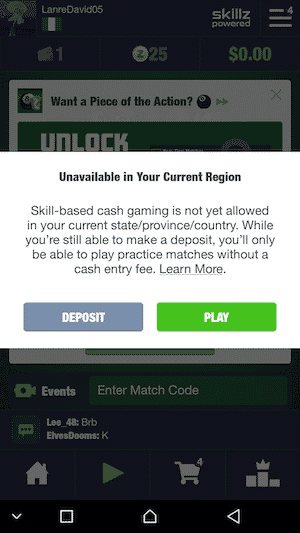 You can download the app on any iOS device running iOS 11.0 or later, including iPod touch devices, iPhones, and iPad. The game is also available through the Galaxy Store for users with specific Android devices.
Can You Win Real Money Playing Pool Payday?
Can you make money playing Pool Payday? The short answer is yes. By winning against other players, using promo codes, or referring friends to the app, you will receive rewards.
However, due to the competitive nature of the game and the fact that you are playing with other real people, there is no guarantee that you will win even if you invest sufficient time into the game.
Thus, like all forms of gambling, there is a risk of you losing the money deposited into the game.
Pro-tip: If you need access to fast cash I'd suggest using a cash advance app so you can just access your paycheck and get paid today instead of losing money.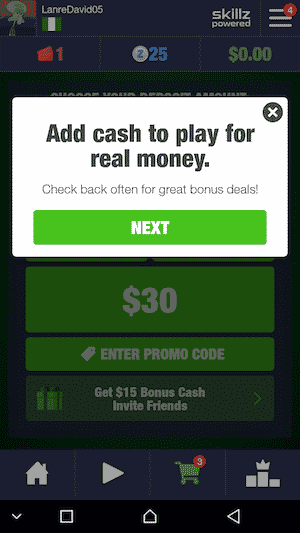 Cash mode is generally the most affordable mode of play, with a jackpot prize amounting to $1 for a play of approximately 60 cents.
However, if you are able to afford it, you may consider purchasing the premium game modes.
You could, for instance, pay $3 for a chance to win $8 or enter an event for $1 to be eligible for $150. This is because the prize pool is potentially worth over $700 and the top winners of the game share the prize pool.
I've found that you generally have better luck with sports betting using apps like FanDuel.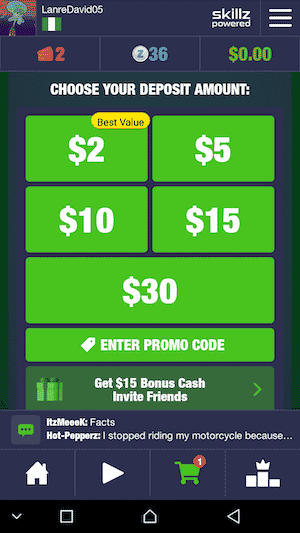 Can You Withdraw Money on Pool Payday?
Well, the process of withdrawing your cash is as simple as selecting the "Withdraw" option from the game menu.
For a first-time player, this option will only appear once. In the event that your account has already been credited, cash withdrawals will transfer the funds to the method of payment you used at the time of deposit.
This could be via credit card or PayPal.
Generally, players in the United States will receive a paper check, and players from other countries will receive a payment via PayPal.
Other Skillz Apps to Win Real Money
This isn't the only game app to win real money, we have reviewed a few of them:
Pros:

Unlock $100 rewards by exploring new apps!
MOST POPULAR ✔
Pros:
Unlock $100 rewards by exploring new apps!
Pool Payday Review Summary
Now you might ask, is Pool Payday the best mobile pool game out there?
Well, no mobile pool game can replicate the experience of the real thing, but if you′re looking to kick back and relax and have a few games with someone without leaving the comfort of your home, then this is a perfect app for you.
Pool Payday Review FAQs
Can I trust Pool Payday?
Pool Payday is a legitimate gaming app that has over 75K reviews on App Store and is rated 4.5 from 5. The game is free for play and gives the user the opportunity for competition and real money. Compared to other pool game apps, it is a top pool game that lets you win real money.
How do you cash out on Pool Payday?
You can withdraw the balance of your account from your account using the Withdrawal tab on your main menu whenever you play. Any withdrawal from a credit account will be processed using PayPal or a credit card in accordance with age and new deposits. Winning money playing pool on Pool Payday, depends on how much you deposit.
Is Pool Payday free?
To make money through a game you should upgrade to a Pro account, This account is required to participate in tournaments or leagues and invest in them (even 10 dollars) and to gain a share of the prizes. It is an awesome game to play pool for free without spending money.
Can I get money from 8 ball pool?
You may also play eight ball pool for money. To do so, you must compete in real-time games against real people. It is mandatory to pay for a cash game entry. You have the option to learn from the tutorial mode or play a practice game before entering your first cash game.