Did you know that over 280,000 Canadians are employed by banks in Canada?
Banking in the Great White North may look slightly different than the largest banks in the United States, but you can still find some of the best banks in Canada.
Like in America, Canada has its fair share of large national banks that serve most Canadian residents.
Known as the Big Six, these banks offer Canadians the convenience of banking in almost every territory.
However, you can also bank regionally and locally to find lower rates, more personalized service, and charitable initiatives to support the community.
Regardless of which bank you choose, you have plenty of options to consider.
Indeed, many of the banks below offer full-service banking under one roof. You may also find that some banks offer welcome bonuses and other perks for new members.
Are you ready to learn more about the best banks in Canada? Let's get started!
12 Best Banks in Canada
If it pleases you, here are the dozen best banks in Canada. You don't have to speak French as a prerequisite to open a bank account either.
Note that in Canada, checking accounts are called "chequing" accounts. You'll also come across GICs, or "guaranteed investment certificates," the Canadian version of certificates of deposit (CDs).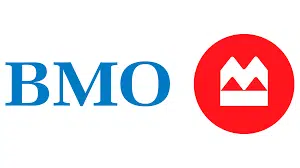 Bank of Montreal (BMO) is the sixth largest national bank in Canada with over 900 physical branches and and was founded in 1817.
Beinging one of the Big Six, they offer online, telephone, and mobile banking to anyone looking for a full-service bank.
BMO offers five different chequing accounts:
Premium Chequing
Performance Chequing
Plus Chequing
AIR MILES Chequing
Practical Chequing
Monthly fees for these accounts range from $4 for the Practical Chequing Account to $30 for the Premium Chequing Account. Accounts come with access to over 1,400 ATMs throughout Canada.
BMO offers several of the best bank account bonuses depending on which account you open and what requirements you meet.
You can also open any of these four savings accounts:
Savings Amplifier
Savings Builder
Premium Rate Savings
U.S. Dollar Premium Rate Savings
Bank of Montreal also offers:
GICs
Credit cards
Personal loans
Mortgages
Home equity lines of credit (HELOCs)
Investment accounts
You also have access to a registered retirement savings plan (RRSP), a tax-free savings account (TFSA), or a registered education savings plan (RESP) with BMO. This Canadian bank also offers over a dozen credit cards.

This financial technology, or "fintech" company offers several accounts that make it easy to see what you're getting:
Neo Credit: With no annual fee, this cashback credit card doesn't require a security deposit and allows you to earn unlimited cashback.
Neo Money: This spending and savings account offers high-interest rates at 2.25% on your balance. There's no monthly fee or minimum opening deposit, and you get free everyday transactions.
Neo Secured Credit: This guaranteed-approval card is fee-free and offers cashback and helps build your credit safely when you make on-time payments.
Neo Mortgage: This service works best for first-time home-buyers.
Neo Invest: Plan for your future with a professionally managed portfolio, starting at only $1.
You can access your account through Neo's mobile app. The app also lets you set transaction alerts, view cashback offers, and monitor your balance.

You can find branches for The Canadian Imperial Bank of Commerce (CIBC) in nearly every province, with over 3,400 ATMs available throughout the country.
CIBC offers several types of bank accounts, everything from chequing and savings accounts to GICs, credit cards, business banking, and investment accounts.
CIBC offers some of the best bank accounts in Canada where you can manage your accounts the way you like with top-ranked online and mobile banking, plus one of the largest ATM networks across Canada.
CINBC offers these three chequing accounts:
CIBC Everyday Chequing: This entry-level account costs $4 monthly and allows up to 12 free monthly transactions.
CIBC Smart Chequing: This account costs up to $16.95 per month, depending on how many transactions you make.
CIBC Smart Plus Chequing: You get free unlimited transactions with this account and free non-network ATM withdrawals and fee rebates.
You can access your CIBC account online, on your smartphone, or over the phone.
Choose from four savings accounts, each of which earns a respectable APY:
CIBC Bonus Savings Account
CIBC eAdvantage Savings Account
CIBC Premium Growth Account
CIBC US$ Personal Account
Candian Imperial Bank also offers over 20 different credit cards you can apply for, including the CIBC Aventura Visa Infinite and the AC Conversion Visa prepaid card. You'll also find RRSPs, TFSAs, and RESPs at CIBC.

In Canada, HSBC operates as HSBC Bank Canada, offering various banking and financial services to individuals, businesses, and institutions.
HSBC Bank Canada provides services such as personal and business banking, mortgages, loans, credit cards, and investment products.
HSBC Bank Canada serves over 40 million customers with several deposit accounts.
Choose from the following five chequing accounts:
HSBC Premier
HSBC Advance
Performance Chequing – Unlimited
Performance Chequing – Limited
Student Chequing Account
The Student Chequing Account is free and has unlimited transactions. The Performance Chequing accounts have low monthly fees, but you'll find the most value (at a higher monthly cost) in the Premier and Advance accounts.
Depending on your balance, you can waive the monthly fees for these two top-tier accounts. You can waive the monthly fees if you have deposit and investment accounts.
HSBC also offers several savings accounts:
High Rate Savings Account
Tax-Free Savings Account
Youth Savings Account
You can also choose from several foreign currency savings accounts depending on your preferred currency. HSBC also offers several credit cards you can apply for.
KOHO is a free spending and savings account where you can get instant cash back and earn interest on your entire account.
You get a prepaid reloadable Mastercard that gives you all the spending power of a credit card without any fees or interest.
With a KOHO card you can only draw from funds that are already yours, unlike a credit card. This key difference makes you spend more mindfully and effectively save more. It's connected to a smart budgeting app that simplifies day-to-day finances with spending insights and balance updates after each purchase.
As a result, the average KOHO user saves 7% of whatever money they load into their account.
KOHO offers four plans you can choose from. You can switch your plan as often as you like at the end of the month.
There are plans to choose from:
KOHO offers a secured or unsecured line of credit to build your credit. You can also open both if you want.
KOHO reports your payments to Equifax monthly. There are no applications or interest, and you can get up to $500 in credit.

You won't find any physical Manulife Bank branches in Canada. Instead, this bank offers mobile and online banking so you can manage your funds from anywhere in Canada.
You can choose from two accounts with Manulife Bank:
All-In Banking Package: For $10 monthly, you get an impressive APY on your balance and unlimited transactions. You can also earn your monthly fee back when you grow your account by $100 or more during that month.
Advantage Account: This account comes with no monthly fee or transaction fees when you maintain a $1,000 minimum balance. You earn a higher APY with this account.
Manulife Bank also offers GICs, business banking, credit cards, investment accounts, and mortgages. There are over 3,500 ATMs to access your account conveniently and two credit cards to help you build your credit.

Motusbank, despite the name, is actually Canada's largest credit union.
This credit union offers the following services:
No-fee chequing accounts
RRSPs
TFSAs
RESPs
GICs
HELOCs
Investment accounts
Mortgages
Motusbank works with over 3,000 EXCHANGE ATMs in Canada and over 40,000 Allpoint ATMs in the States. This makes it a good bank if you travel a lot between the two countries.
However, Motusbank doesn't offer lines of credit or credit cards. You can get investment help from a financial advisor, but Motusbank doesn't provide in-person services.

The sixth largest bank in Canada, the National Bank of Canada, offers over 3,300 ATMs and operates nearly 400 branches in Ontario and Quebec. It is headquartered in Montreal and provides banking services in both French and English.
You can choose from several chequing accounts at the National Bank of Canada:
The Minimalist
The Modest
The Connected
The Total
The National Bank of Canada also offers a youth bank account. Chequing account fees range from just under $3.95 to $28.95 monthly.
This Canadian bank offers eight credit cards, GICs, mortgages, investment accounts, and insurance. You can also open a High-Interest Savings Account.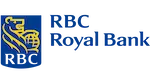 The Royal Bank of Cananda is a national bank in Canada and offers customers comprehensive personal and business banking products and services.
This national bank, along with its subsidiaries, employs about 87,000 people and serves nearly 17 million customers.
Choose from the following chequing accounts:
RBC Day to Day Banking
RBC Advantage Banking
RBC Signature No Limit Banking
RBC VIP Banking
You can also pair these accounts with one of many credit cards.
RBC also offers four savings accounts:
High-Interest eSavings
Enhanced Savings
Day to Day Savings
U.S. High-Interest eSavings
When you link your debit card, you can get up to 20% more Petro-Points at select Petro-Canada gas stations. This is in addition to a $0.03 per liter savings you're already welcome to as an RBC member.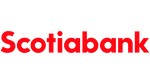 Bank of Nova Scotia, otherwise known as Scotiabank, is a full-service bank that offers the following:
Chequing and savings accounts
GICs
Credit cards
Various loans, including mortgages
Home equity lines of credit (HELOCs)
Investment accounts
Travel and creditor insurance
RRSP, TFSA, and RESP
Here's a quick summary of the five chequing accounts Scotiabank offers:
| | Student Banking | Basic Account | Basic Plus | Preferred Package | Ultimate Package |
| --- | --- | --- | --- | --- | --- |
| Debit transaction cap | Unlimited | 12 per month | 25 per month | Unlimited | Unlimited |
| Monthly fee | $0 | $3.95 | $11.95 | $16.95 | $30.95 |
| Min balance to waive monthly fee | None | None | $3,000 | $4,000 | $5,000 |
| Special features | Senior discount, earn Scene+ points, up to $150 waived in credit card fees, savings interest rate boost, unlimited free non-network ATM withdrawals per month, free checks | Senior discount, earn Scene+ points, up to $150 waived in credit card fees, savings interest rate boost, one free non-network ATM withdrawal per month | Senior discount, earn Scene+ points | Senior discount, earn Scene+ points | Earn Scene+ points, $100 welcome bonus |
Scotiabank also offers several savings accounts, including:
MomentumPLUS Savings Account
Savings Accelerator Account
Money Master Savings Account
Scotia U.S. Dollar Daily Interest Account
Scotia Euro Daily Interest Savings Account
With a MomentumPLUS Savings Account, you can earn a significant base rate APY. You can also upgrade to a more substantial APY depending on how long you maintain your balance and if you have a chequing account with Scotiabank.
There are over 900 Scotiabank branches in Canada. You can also visit Scotiabank online or via your mobile phone.

As the direct banking arm of the Bank of Nova Scotia, Tangerine is one of the best digital banks in Canada.
It's ideal for those who want to bank on the go without worrying about visiting a physical branch for their banking needs.
Tangerine offers a slew of deposit accounts, including the No-Fee Daily Chequing account.
This free account includes:
No monthly fees
Unlimited free debit transactions and email money transfers
Free access to over 3,500 ATMs
Up to 0.01% interest on your account balance
A free first checkbook of 50 checks
You can also choose from five savings accounts:
A high-yield Savings Account
Tax-Free Savings Account
RSP Savings Account
US$ Savings Account
RIF Savings Account
In addition to five GICs, Tangerine also offers two cashback credit cards:
Tangerine Money-Back Card: Earn up to 2% cash back on purchases and pay no annual fee. Cardholders receive unlimited cashback in three spending categories and 0.5% cashback on all other purchases.
Tangerine World Mastercard: Travelers will love the cashback offers this card provides, including premium rental car perks and a complimentary Mastercard Airport Experiences membership. There's no annual fee, and you get free WiFi at over 1 million hotspots worldwide.
You can find a few Tangerine cafes and kiosks in Vancouver, Montreal, Calgary, and Toronto.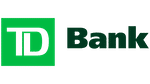 Toronto-Dominion (TD) Bank operates over 1,000 branches in 10 provinces in Canada. You can also access your account(s) via 2,6800 ATMs nationwide.
This Canadian bank is best for those who want a full-service bank that's also available in the United States.
TD Bank offers:
Chequing and savings accounts
GICs
Credit cards
Investment accounts
Business banking
Mortgages
HELOCs
RRSPs, TFSAs, and RESPs
The following chequing accounts range from $3.95 to $29.95 monthly. However, the TD Student Chequing Account is free with proof of enrollment until the student is 23 years old.
TD Youth Account
TD Student Chequing Account
TD Minimum Chequing Account
TD Unlimited Chequing Account
TD Every Day Chequing Account
TD All-Inclusive Banking Plan
You can also choose from three savings accounts.
TD ePremium Savings
TD Every Day Savings
TD High-Interest Savings
TD Bank is also one of the largest banks in the U.S. and offers online and mobile banking. In Canada, however, TD Bank advertises longer hours and Saturday hours, similar to American banks open on Sunday.
How Do I Choose the Best Bank in Canada for Me?
Selecting the best bank in Canada for your needs involves careful consideration of several factors. Here's a step-by-step guide to help you make an informed decision:
Define Your Needs and Priorities
Before you start your search for the best bank in Canada, take a moment to identify your specific financial needs and priorities. Are you a student looking for a simple chequing account, an individual seeking a high-interest savings account, or someone interested in comprehensive investment and retirement planning? Understanding your financial goals will help you narrow down your options effectively.
Research Available Banks
Canada offers a diverse range of banks and financial institutions catering to various needs. Alongside the well-known major banks like RBC, TD, Scotiabank, BMO, and CIBC, consider exploring credit unions and online banks. Credit unions often provide personalized services and community-focused banking, while online banks can offer competitive interest rates and convenient digital banking experiences.
Evaluate Account Fees
When comparing banks, carefully review the account fees associated with their services. These fees can include monthly maintenance charges, transaction fees, ATM withdrawal fees, and overdraft fees. Seek out banks that provide transparent fee structures, and assess whether you can qualify for fee waivers based on factors such as maintaining a minimum balance or signing up for specific account types.
Interest Rates
Interest rates play a crucial role, especially if you're considering savings or investment accounts. Higher interest rates on savings accounts, Guaranteed Investment Certificates (GICs), or high-yield savings accounts can contribute to more significant returns over time. Research and compare the rates offered by different banks to determine which aligns with your financial objectives.
Accessibility and Convenience
The accessibility of branches and ATMs is essential, particularly if you prefer in-person banking. Choose a bank with branch locations that are convenient to your home, workplace, or other frequently visited areas. Additionally, inquire about the bank's ATM network and whether they offer fee-free access to a substantial number of ATMs across the country.
Online and Mobile Banking
In today's digital age, the quality of online and mobile banking platforms is crucial. A user-friendly and intuitive banking app and website can streamline your banking tasks, from transferring funds to paying bills and tracking transactions. Look for features like mobile check deposit, real-time balance updates, and secure messaging for customer support.
Customer Service
The level of customer service provided by a bank can significantly impact your banking experience. Research customer reviews, testimonials, and ratings to gauge how well the bank handles customer inquiries and resolves issues. Access to responsive and knowledgeable customer service representatives can save you time and frustration in the long run.
Additional Services
Consider your potential need for additional financial services beyond basic banking. If you're interested in investment opportunities, retirement planning, mortgages, or specialized loans, evaluate whether the bank offers these services. A bank that can cater to multiple aspects of your financial life might be more convenient and beneficial in the long term.
Financial Stability
The financial stability and history of a bank are paramount. Look into the bank's track record, its credit rating, and its overall reputation in the financial industry. A bank with a solid history of stability and sound financial practices is more likely to protect your deposits and maintain a secure environment for your money.
Innovations and Features
Some banks offer innovative features that can enhance your banking experience. These might include budgeting tools integrated into their apps, cashback rewards programs, or unique savings options like round-up programs that automatically save spare change from transactions. Explore whether these features align with your financial management preferences.
Switching Process
Moving your accounts from one bank to another should be as seamless as possible. Investigate whether the banks you're considering offer a straightforward switching process. Some banks even provide incentives, such as cash bonuses or fee waivers, to attract new customers looking to make the switch.
Ask for Recommendations
Don't hesitate to seek recommendations from friends, family, colleagues, or online communities. Hearing about others' experiences with specific banks can provide valuable insights that you might not find in official bank literature.
Visit the Bank
If feasible, visit the physical branches of the banks you're considering. This firsthand experience can give you a sense of the bank's atmosphere, the professionalism of its staff, and the level of comfort you'd feel as a customer.
Ultimately, the best bank in Canada for you will depend on your unique financial situation and priorities. Take your time to research and compare your options before making a final decision.
FAQs
What are the Big Six banks of Canada?
The Big Six banks of Canada include:

Royal Bank of Canada (RBC), Toronto-Dominion (TD) Bank, Bank of Nova Scotia (Scotiabank), Bank of Montreal (BMO), The Canadian Imperial Bank of Commerce (CIBC),
National Bank of Canada

These represent the largest banks in Canada.
What is the safest bank in Canada?
The Royal Bank of Canada (RBC) is commonly known as the safest bank in Canada. However, many of the other Canadian banks on our list prioritize safety. 
What do you need to open a bank account in Canada? 
You must have a government ID, proof of address, your Social Insurance Number (SIN), and an initial deposit. You must also submit your personal and employment information on your application. 
Banking as Sweet as Canadian Maple Syrup
Many people think about maple leaves, hockey, and the phrase "eh?" when they think about Canada. But you'd be surprised to know how many of the best banks can be found in this northerly land.
We hope this article helped bring your attention to these banks, a few of which are available here in the States. If you ever move to Canada, you'll already know which banks you can choose from to get the best deals.
Would you move to Canada to take advantage of these banks?
Earn $200 bonus