Do you like to play mobile games like Call of Duty: Mobile, Genshin Impact, Roblox, and Fate/Grand Order? These apps were among the top mobile games downloaded in 2022.
Most people download games as a way to have fun and decompress from their day. In fact, apps like JustPlay reward you for the time and effort you put into downloading and playing mobile games in your free time.
If you are looking for another type of gaming app to try out, or just aren't sure what's out there, you've come to the right place. Our guide includes apps that let you earn money for the games you play on your smartphone.
While many of the games below are Android-only, you can find several iOS games that pay real money. Chances are, many of the most successful mobile gaming apps may incorporate an Apple version in the future if they become popular enough.
Are you ready to find out which apps will reward you for gaming on your smartphone? Let's get started!
Android Games That Pay Real Money
If you're looking for more game apps to win real money, check out our list below. These apps offer you the chance to get paid to play games.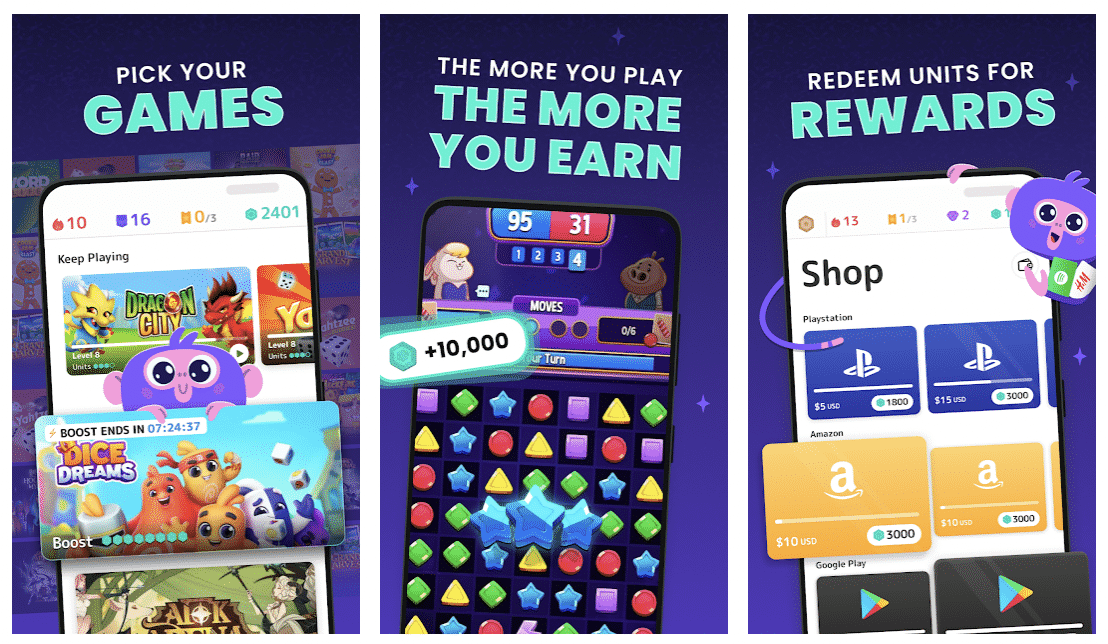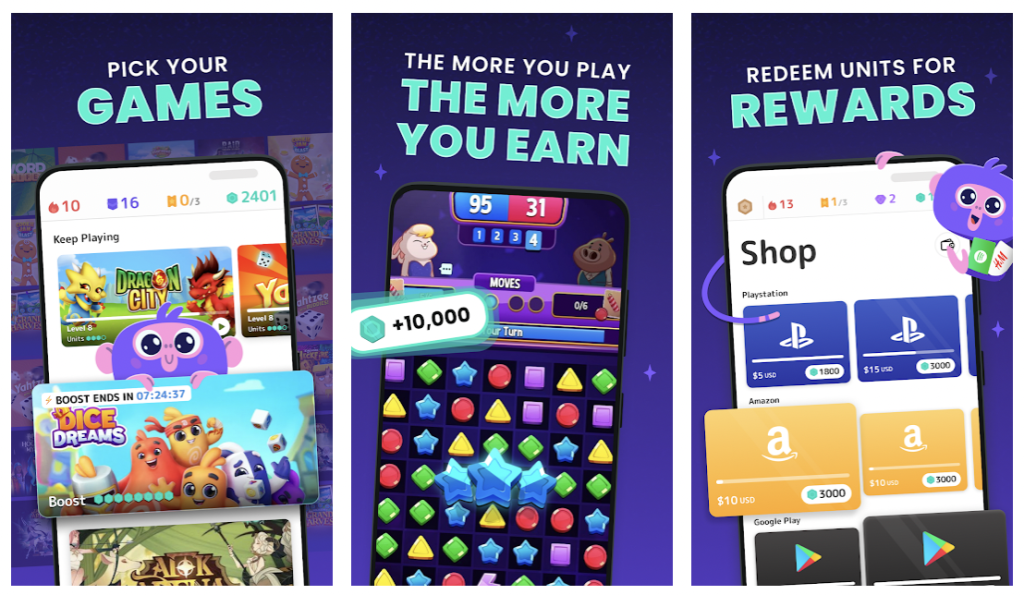 Our Mistplay review showed us that it is one of the more popular gaming apps you can download to play games. Like JustPlay, you'll have a wide variety of games to choose from that allow you to earn points that you can redeem for PayPal rewards.
In addition to puzzle, bingo, arcade, action, and strategy games, Mistplay offers multi-player games and the chance to earn more rewards as you level up. This Android-only app lets you cash out beginning at $0.50, but the rewards slow down the more you play.
100% free, no deposits required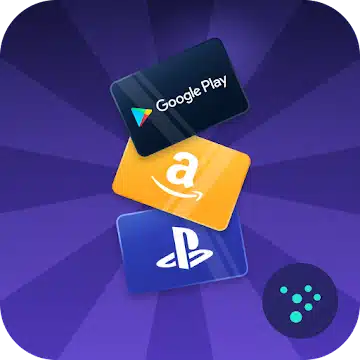 Mistplay (Android Only)
Earning money by playing games on your phone sounds like a dream. But Mistplay really pays you for playing new games with free gift cards. It is 100% free to play and you never have to deposit any money.
Start Playing
Mistplay Review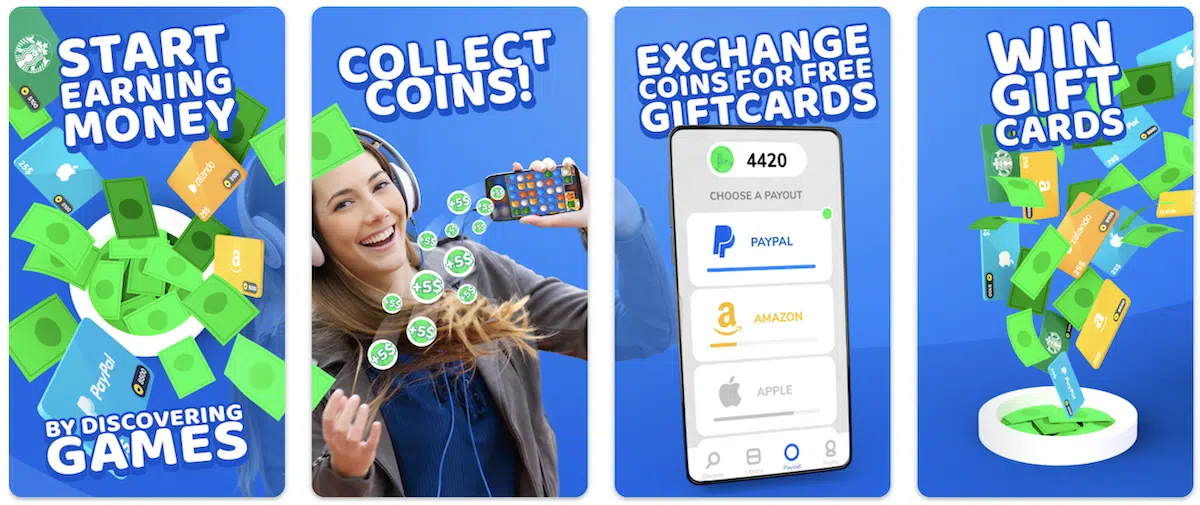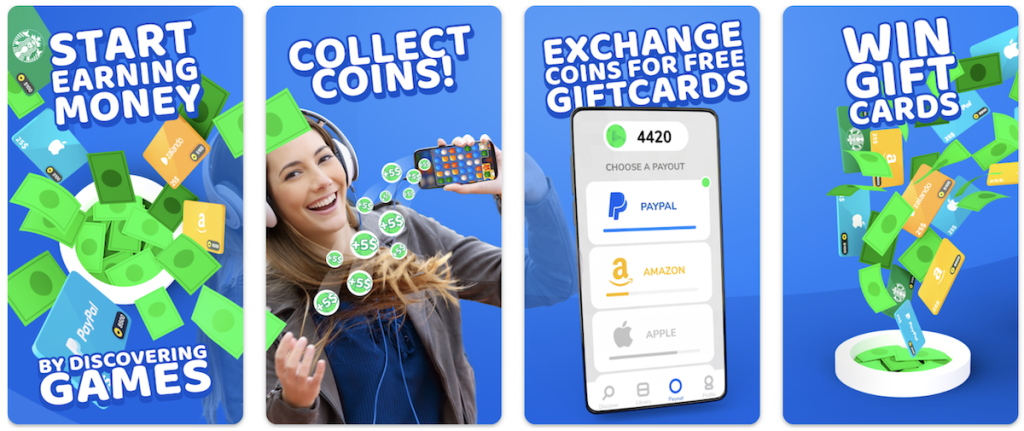 As long as you've earned $0.50 in rewards with Money Well, you can cash out via PayPal. Money Wall also partners with popular retailers to offer gift cards to its gaming customers.
Money Well is an Android-only app that's available worldwide. As with most Android gaming apps, you don't have to make any in-app purchases to earn rewards.
Many gamers prefer Money Well because there are no pesky ads and you can check your progress at any time. The app will track your time and show you how close you are to earning more tickets.
You can also earn more with referrals. Money Well offers games from casual, strategic, arcade, and adventure genres.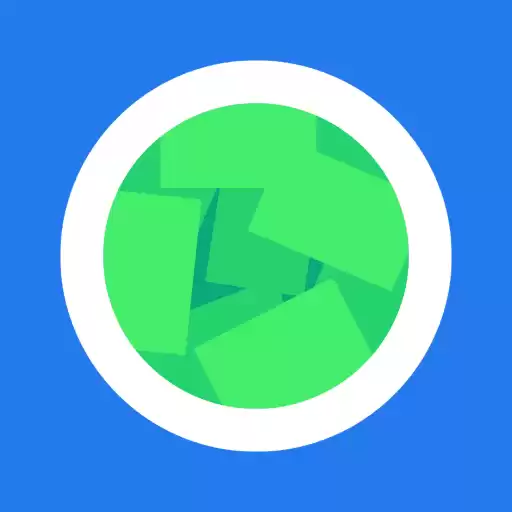 Money Well (Android Only)
Get the free app with no in-app purchases, deposits required, or advertising. Play games from the offer wall, track your active time for cash, and collect tickets for gift cards. Redeem gift cards or cash out on PayPal in less than 2 days.
Download on Google Play →


You can find out everything you need to know in our Rewarded Play review, but we'll cover the highlights for you here. Rewarded Play is an Android-only app that pays you for the games you download and play.
As you play each game, you'll be rewarded with points. Games come from several genres, including strategy, card, arcade, and puzzle games. 
While Rewarded Play doesn't let you cash out via PayPal, you can easily redeem your points for gift cards once you reach the $5 mark. Depending on what games you play, you can earn a few extra dollars per week to pad your pocketbook.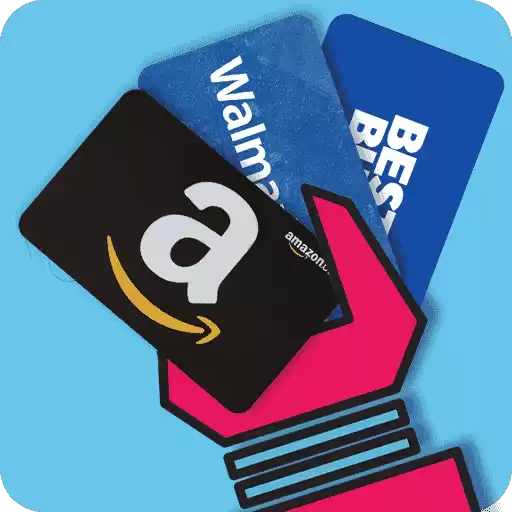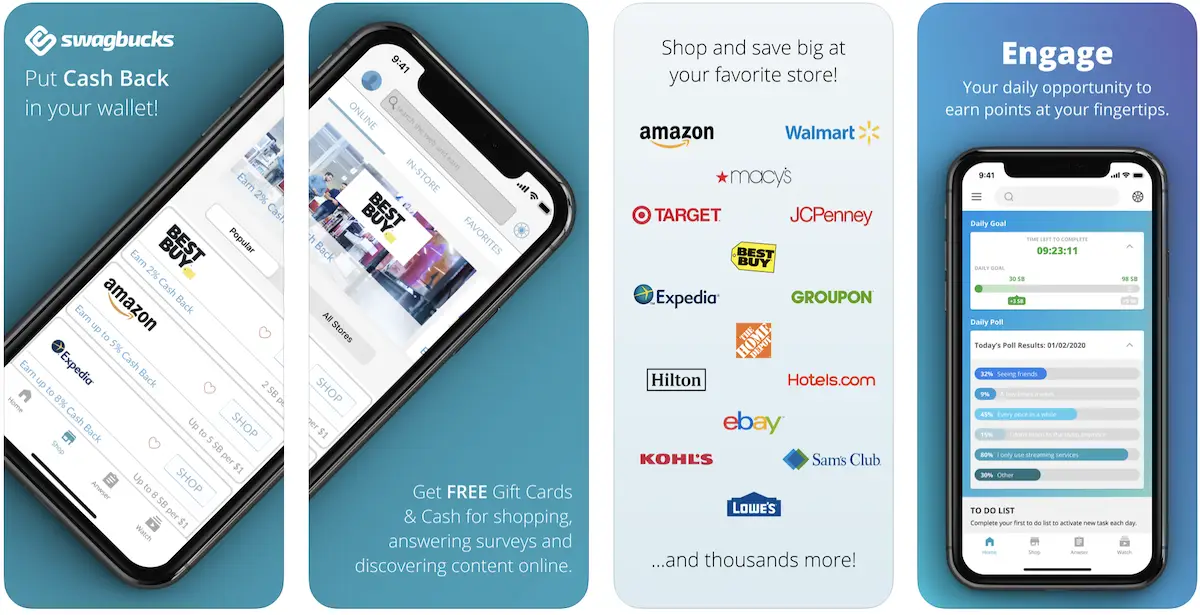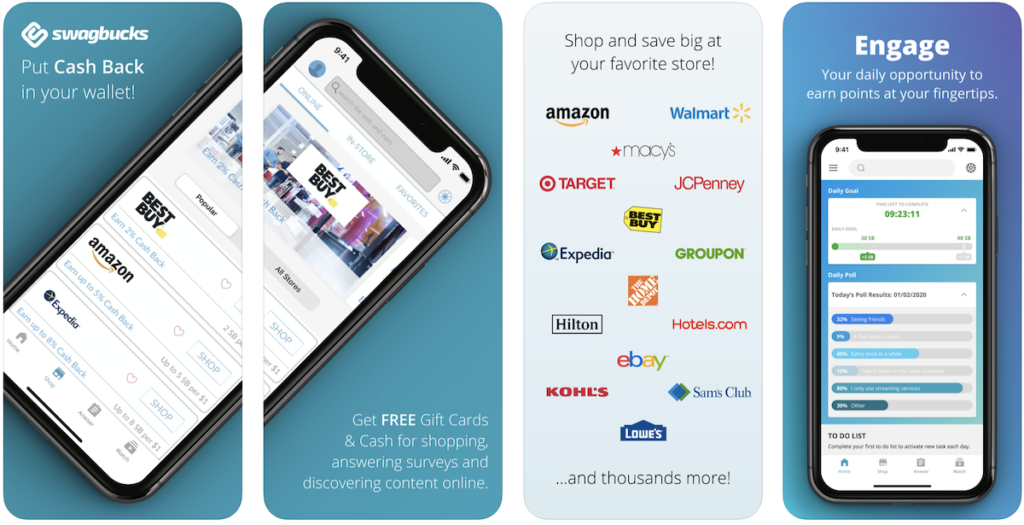 Survey sites like Swagbucks are popular for the many ways you can earn points and redeem them for real money. Swagbucks offers a $10 sign-up bonus as well as the chance to cash out via gift cards starting as low as $1.
You can also cash your rewards out via PayPal once you reach $5 in rewards, or donate your funds to charity. Swagbucks can be downloaded on both iOS and Android, but you can also access Swagbucks via their website as well.
In addition to playing games, Swagbucks rewards you for watching videos, shopping online, answering survey questions, reading emails, and participating in daily tasks and challenges. Check out more about this get-paid-to app in our Swagbucks review.
Earn around $50 to $1,000 per year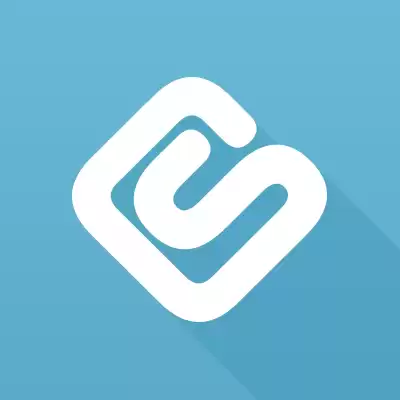 Swagbucks
Swagbucks offers a variety of ways to earn money online. You can take surveys, play games, surf the web, watch videos and more to earn points towards gift cards or cash.
Start Earning
Swagbucks Review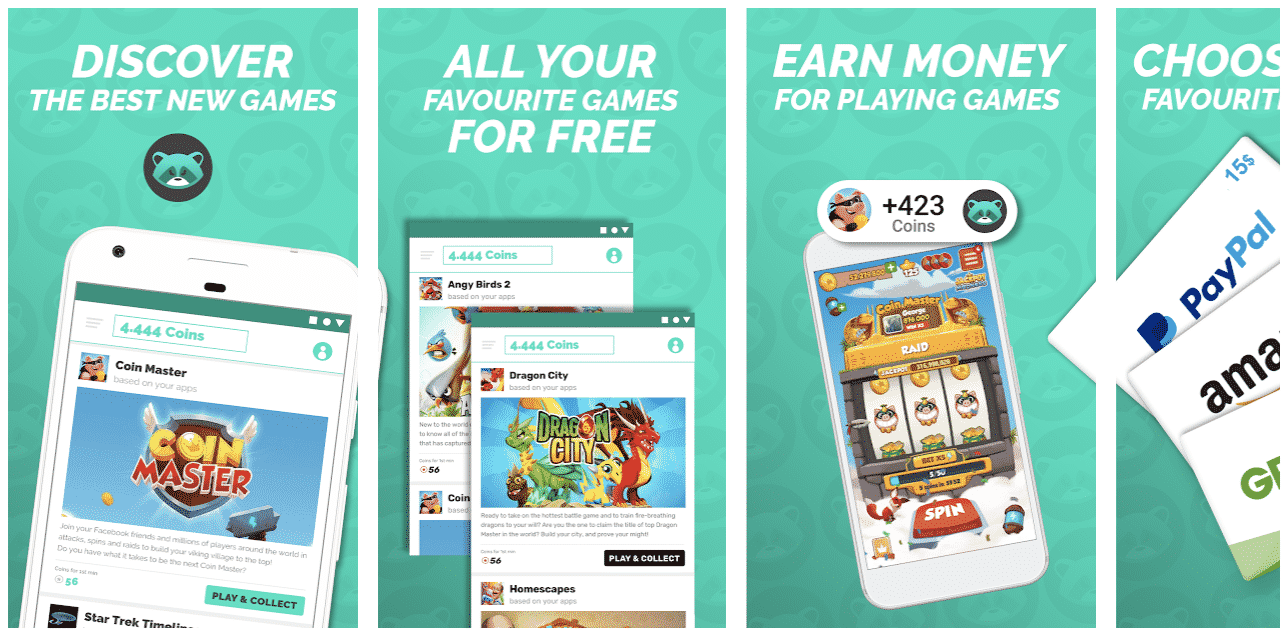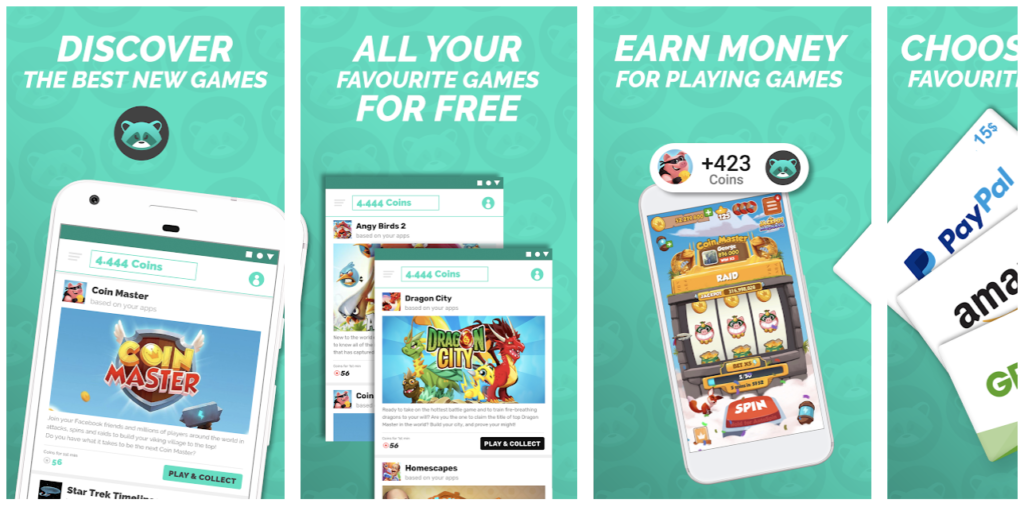 Our AppStation review showed us that it lets you earn points for the games you download and play. This app is available for Android users only.
Games within AppStation's list include genres such as puzzle, strategy, arcade, and action. You'll earn a lot of points the first time you play each game but the amount dwindles the more you play.
With AppStation, you can cash out via PayPal or gift cards once you reach $5 in rewards. AppStation doesn't charge any fees to cash out as long as you meet the minimum threshold.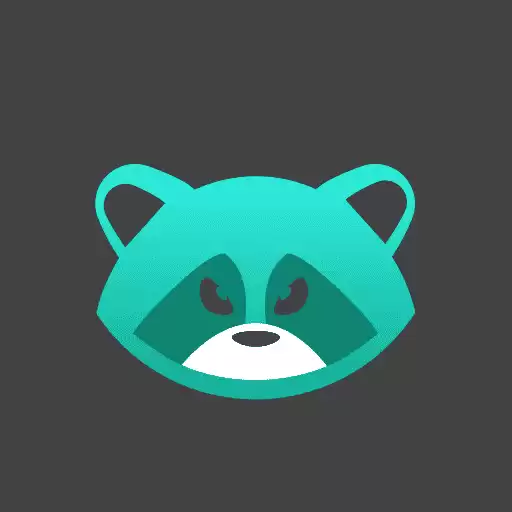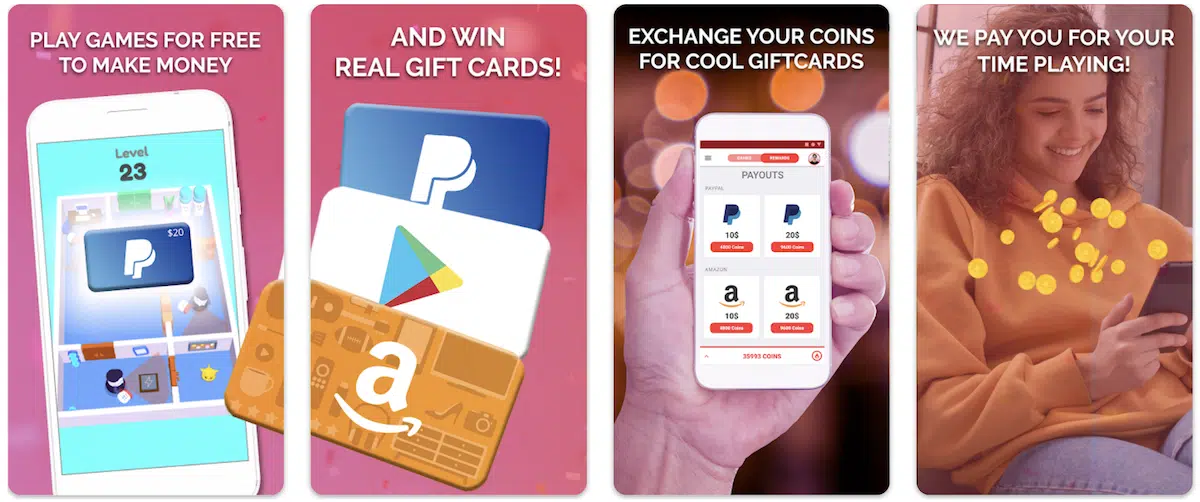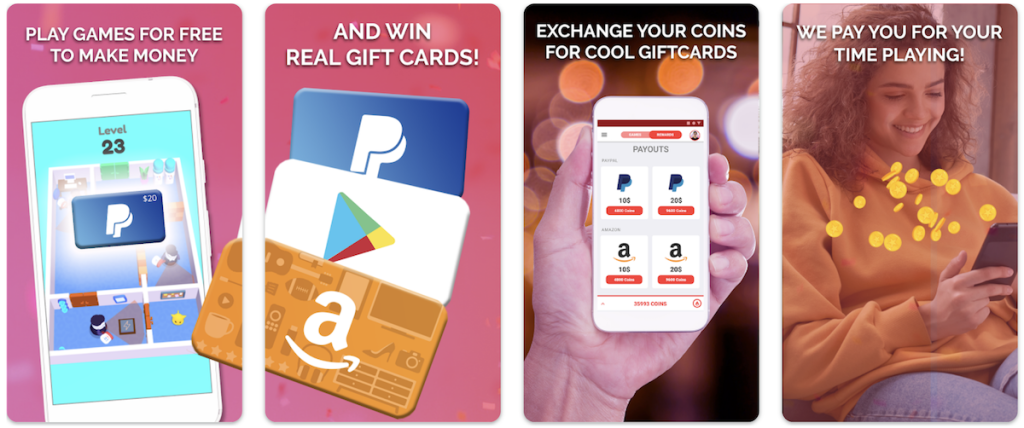 We delve deep into how to succeed with this gaming app in our App Flame review. However, like JustPlay, this gaming app lets you cash out for gift cards and PayPal deposits without charging you a fee.
You can easily cash out for a PayPal deposit with only $0.50 in rewards. Check out which games list the highest per-minute rewards to rack up points and cash out for free rewards.
App Flame doesn't have as many games as others on this list, but there are still plenty to choose from. Games include bingo, strategy, action, and more.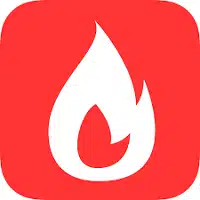 App Flame
You can earn money by playing your favorite games through the App Flame app. Users can download the app for free and play a variety of games. The app tracks the user's playing time and rewards them with coins, which can be exchanged for gift cards or money via Paypal.
Download Now (Free) →
App Flame Review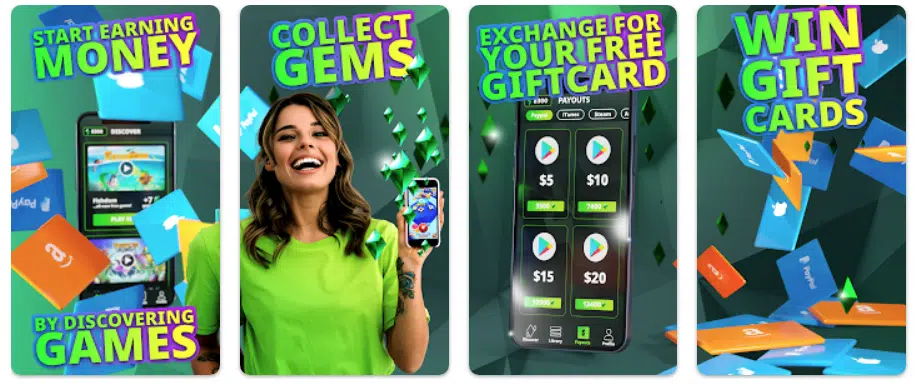 Looking for a fun and easy way to earn some extra coins? Look no further than Cash Giraffe! This free app offers you the chance to explore and download all sorts of apps – from thrilling games to paid surveys – and earn coins based on how long you use them.
Like many of the win-real-money apps out there, Cash Giraffe pays you the most for the first few minutes you play a game.
While in the apps that earn you coins, you'll receive notifications that tell you how many coins you can earn as time passes.
As you're playing or perusing, Cash Giraffe tracks your progress in the background. This app also offers sponsored deals and paid surveys, though the availability of these offers varies from one user to the next.
Cash Giraffe does let you cash out for PayPal rewards once you meet the $0.20 threshold. This Android-only app also features gift cards you can cash out for with $5 in rewards.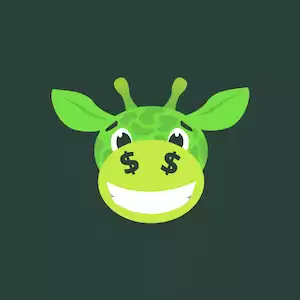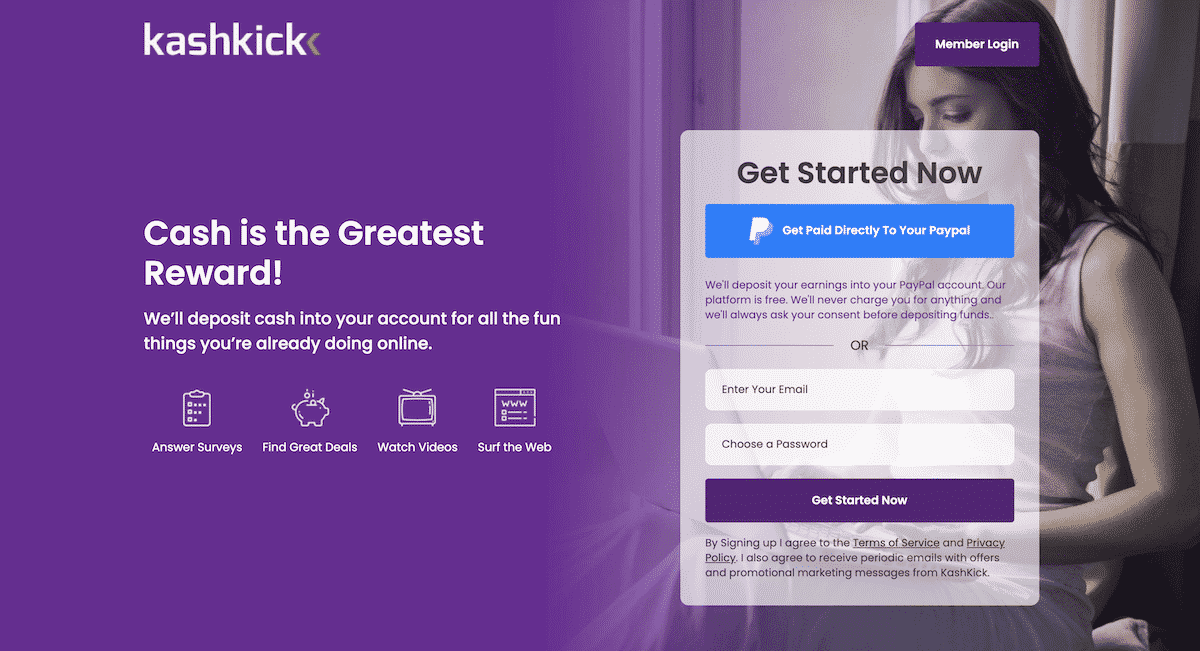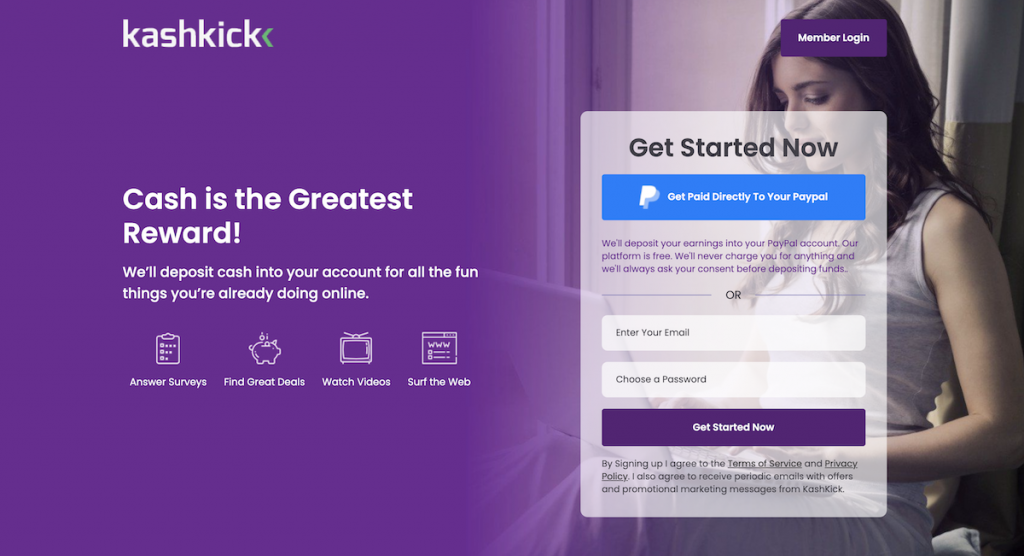 This get-paid-to app requires you to earn $10 before you can cash out via PayPal. Unlike other gaming apps on our list, Kashkick doesn't allow you to cash out any other way besides PayPal.
Kashkick rewards you for downloading and playing games. You can also take advantage of the offer wall to earn more cash, potentially up to $10.
As you complete achievements, Kashkick rewards you until you can cash out. You can also take surveys to build up your earnings.
Earn up to $100 today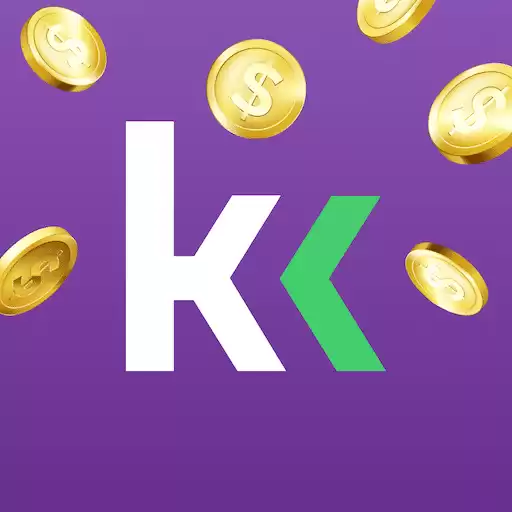 KashKick
Trusted by 2M+ users like you
This site pays you cash to play mobile games, save money, take surveys, and see offers — make $100 today. Over 2 million users agree that KashKick is a fresh and lucrative way to earn money and get paid directly to your PayPal!
SIGN UP & START EARNING NOW
9. Lucky Day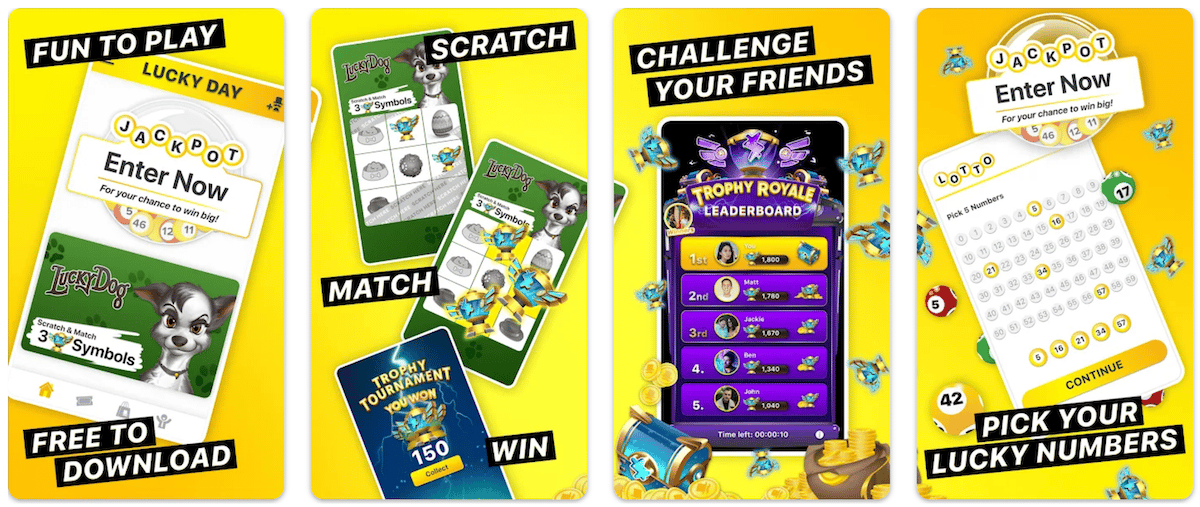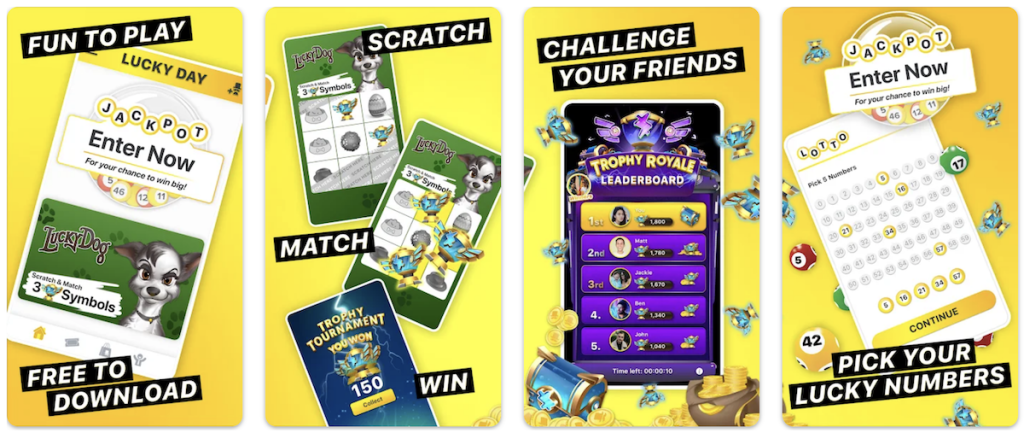 Lucky Day is one of the top money making games that actually work. They offer free scratcher, lotto, and raffle games for a chance to win real money and rewards. With daily opportunities to win up to $100,000 in cash instantly, earn rewards, or enter raffles.
In addition to winning money from scratchers, raffles, and lotto – you also win tokens every time you play which you can use to redeem gift cards and tangible prizes to nationwide companies like Amazon and Chipotle. While it isn't like other games that pay instantly to Cash App, it's worth a download.
10. Boodle
Boodle (android only) is one of the best apps to win money and it is completely free. You can earn coins towards gift cards for playing new games, completing fun and entertaining offers as well as participating in fun daily polls.
This is a legit money making app that doesn't take much effort to win free gift cards just for playing popular mobile games and engaging with well-known brands.
You can redeem your coins for gift cards from the lifestyle brands you love like Amazon, Nike, Visa, Burger King, Chipotle and many more. Plus, it's all 100% free and is a legit game app to win money and gift cards.
11. Buff
Many people have wondered, "Is Buff legit?" and the answer is, "Yes." This gaming app lets you earn points for playing both mobile and PC games, similar to the way Gamehag does.
Games on Buff include Leave of Legends, PUBG, CS: GO, Minecraft, Valorant, and Overwatch. With so many games to play, it can be harder to choose which one to play than to earn rewards.
Speaking of, Buff lets you cash out for several types of rewards, including in-game skins, accessories, gear, Steam games, and gift cards. It can be harder to earn points with Buff, but the rewards are often worth it for most players.
12. Coin Pop
This gaming app pays out similarly to Mistplay, though just slightly less. You only need 50 cents in rewards to cash out with Coin Pop through PayPal.
In addition to PayPal, Coin Pop also lets you cash out via gift cards or Google Play credits. Coin Pop, like many other apps on our list, can only be downloaded on Android smartphones.
13. Flash Rewards
Flash Rewards can only be downloaded from the Google Play Store and lists fewer games than Mistplay. You can redeem the points you earn with Flash Rewards via gift cards, PayPal, and prepaid Visa cards.
To earn points with Flash Rewards, you can play Clash of Clans, download S'mores, and subscribe to Hulu. Any offers you complete to subscribe to various services or try new products earn you rewards as well.
14. Gamehag
This app can be downloaded on iOS and Android phones, but it's mostly known for PC games. You can play World of Warships, War Thunder, World of Tanks, and State of Survival on Gamehag to earn and redeem rewards.
As you play games on Gamehag, you'll earn Soul Gems. These Gems can be exchanged for in-game skins, Steam games, gift cards, and prepaid Visa cards.
However, Gamehag doesn't offer the option to cash out with PayPal. All the same, earning free rewards with Gamehag might be easier than you think if you like both PC and mobile games.
What to Look For in a Gaming App
The best money-making apps are those that don't require you to do a whole lot for the rewards you get. Check out the following to see what you should look for in get-paid-to-play games:
User reviews: Most people look at what other users are saying about an app before they download it. If you find a mix of reviews that are mostly positive, chances are the app is worth checking out.
What permissions the app requires: Many apps will require you to allow tracking. For people who don't want to give this permission, gaming apps may not be the right choice for you.
How long it takes to get rewards: Apps that let you earn a lot of rewards fast are few and far between. Look for apps that make it worth your while to download.
Games list: The best gaming apps offer several games you can download in a variety of genres, from arcade and adventure to card and strategy.
Fees: Most gaming apps don't require you to pay a fee to download them. However, you may have to pay a fee for expediting reward cashouts or make in-app purchases to earn more.
Cashout options: Gift cards and a PayPal deposit are most common, but the best gaming apps let you donate to charity or make a direct deposit as well.
Most apps work off a similar playbook. However, that's not to say you can't find an app that works better for you and offers features that fit your lifestyle.
FAQs
How much can you earn with games that pay real money on Android?
You can earn as much or as little as you want with these gaming apps. Most apps reduce the rewards you earn the more you play, so there is a declining rate of return. 
Are Android gaming apps a legitimate way to earn extra money?
Yes, these apps are a legitimate way to earn extra money. While you can't substitute a full-time salary with your earnings, you can certainly supplement your income with a few bucks here and there. 
What rewards do Android apps that pay real money offer?
These gaming apps offer several rewards. For example, you can earn PayPal cash, free gift cards, Steam codes, free Google Play credits, and other in-game prizes. 
Do you have to pay to play games on these apps?
No, you don't have to pay to play games on these game apps. Instead, you download games and play them to earn points that you can redeem for gift cards, PayPal cash, prepaid Visa cards, or in-game prizes, depending on which games you play. 
Just Do It with Game Apps That Pay Real Money on Android Devices
Getting paid to play games and have fun seems too good to be true, but that's not the case with gaming apps that you can play on your Android device. These apps may differ in many aspects, but the basic structure makes it easy to understand how to earn more in your free time.
We hope this article has helped you to see how you can use your free time to earn more money while having fun. Plus, you can take advantage of several gaming apps to pad your bank account and pass the time.
Earning money is something we often associate with hard work, but with these gaming apps, that thinking goes out the window. Let your brain rest and check out from real life with these paid gaming apps.
What games will you download and play on your Android phone?
Earn up to $100 today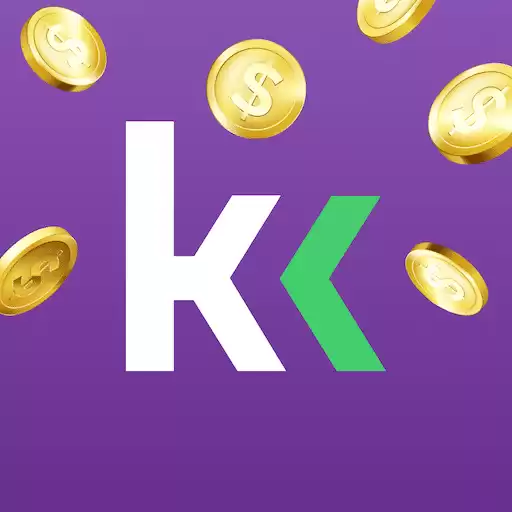 KashKick
Trusted by 2M+ users like you
This site pays you cash to play mobile games, save money, take surveys, and see offers — make $100 today. Over 2 million users agree that KashKick is a fresh and lucrative way to earn money and get paid directly to your PayPal!
SIGN UP & START EARNING NOW