Managing your finances with an app isn't a new trend. But, if you want to monitor every aspect of your finances with a single app, from daily spending to even investing in cryptocurrency, there aren't many apps that can do the job.
Thankfully, Unifimoney is a new money management app that lets you spend, save, invest, and even borrow money to tackle your financial goals. If you want to learn more about this comprehensive, low-fee finance app, my Unifimoney review is for you.
What Is Unifimoney?
Unifimoney is a new investing and money management platform that began in 2019. The company is based in San Francisco and offers an online-online solution for users to manage their money.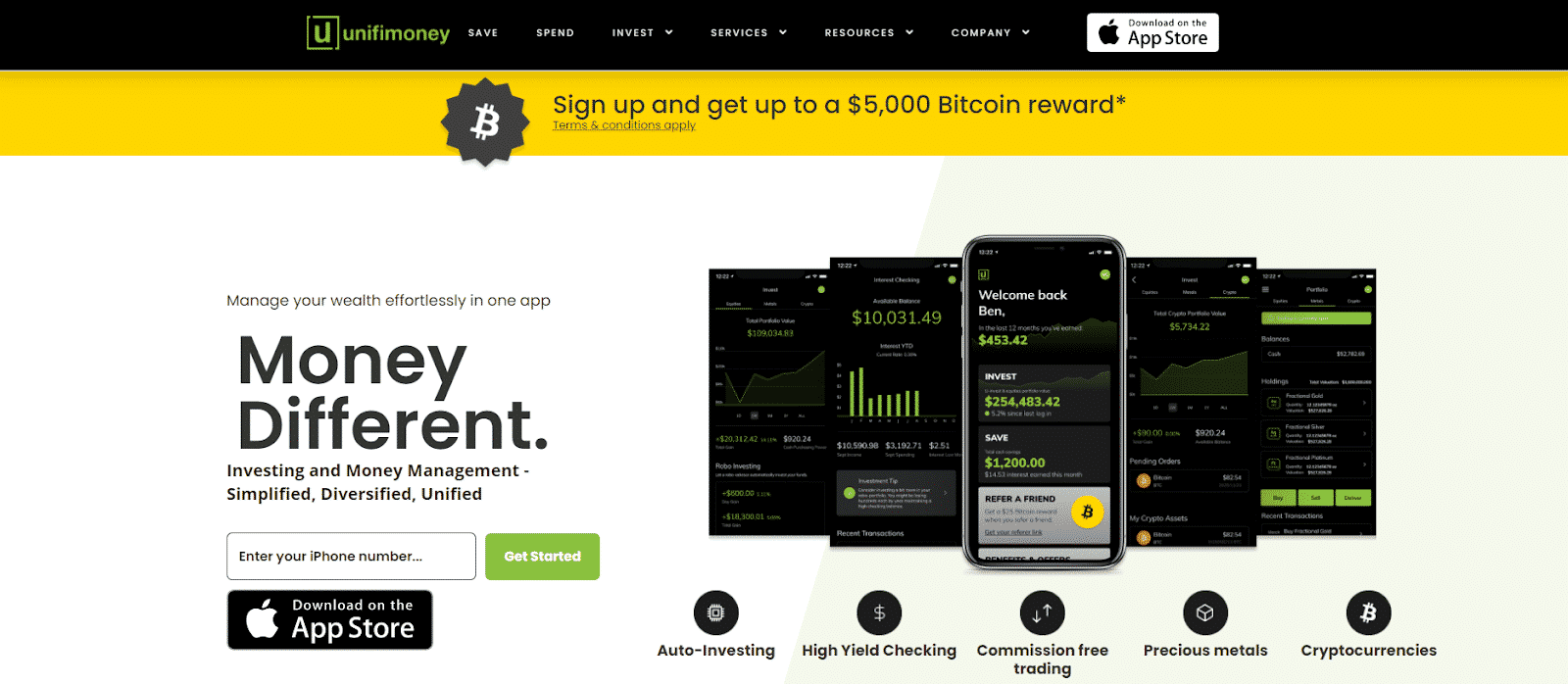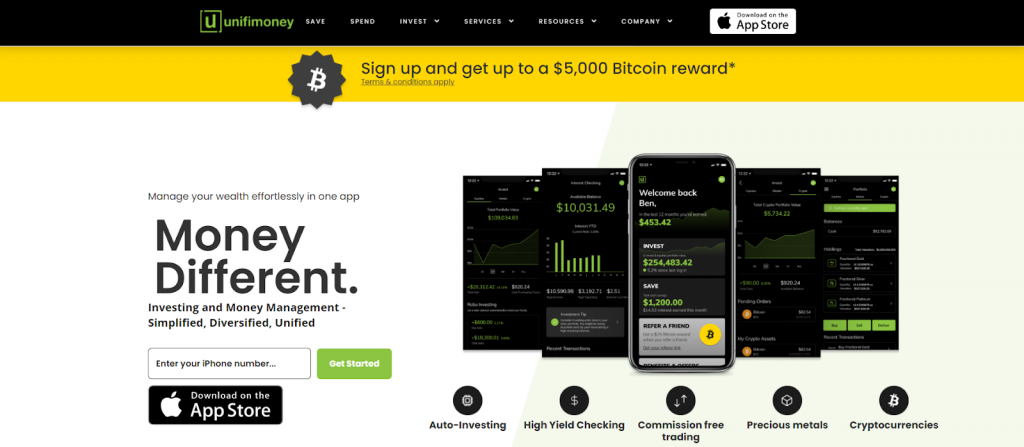 Unifimoney's ultimate goal is to simplify financial management and centralize everything in a single app.
If you're currently juggling multiple investing apps, a mobile banking app, and a cryptocurrency brokerage, this centralization could be a refreshing change that simplifies how you manage your wealth.
How Does Unifimoney Work?
Unifimoney is currently available for iOS. Android and desktop access is coming in the future, but for now, you download the free Unifimoney app from the Apple app store.
After downloading the app, you sign up with your SSN and ID. There's also a $100 minimum funding requirement to open an Unifimoney account. But with Unifimoney's sign up bonus, you can earn up to $5,000 in free Bitcoin the more you deposit. Reward tiers include:
| | | | |
| --- | --- | --- | --- |
| Tier | Initial Deposit | Bitcoin Reward | Deposit Period |
| 1 | $1,000 | $25 | 30 Days |
| 2 | $10,000 | $100 | 30 Days |
| 3 | $20,000 | $250 | 90 Days |
| 4 | $50,000 | $500 | 90 Days |
| 5 | $100,000 | $1,000 | 90 Days |
| 6 | $250,000 | $2,500 | 90 Days |
| 7 | $500,000 | $5,000 | 90 Days |
Taking advantage of this bonus is up to you, but it's nice that Unifimoney lets you earn free Bitcoin just for joining.
Just note: Unifimoney isn't technically a bank. Bank deposits are provided by UMB Bank N.A. and are FDIC-insured up to $750,000. Investing is SIPC-protected up to $500,000 by DriveWealth. In other words, Unifimoney uses various partners to provide its services to users.
How Much Does Unifimoney Cost?
Unifimoney's pricing depends on the features you use. Aside from the $100 minimum deposit, Unifimoney fees include:
Checking Account: Avoid fees if you keep a minimum balance of $35,000 or deposit at least $6,000 per month
Robo Advisor: 0.15% to 0.30% annually
Self-Managed Investing: Commission-free trading
Cryptocurrency Investing: Unifimoney uses Gemini for its cryptocurrency broker
Precious Metals: Typically 0.50% annually for storage
ATM Withdrawals: Free Allpoint ATM withdrawals
Unfortunately, Unifimoney doesn't state how much checking account fees are if you don't meet the minimum monthly deposit or account balance requirement.
Unifimoney Features
Unifimoney is more than just a mobile checking account with some investing options. If you want to manage your daily spending and invest for the future, there are numerous features you can take advantage of.
1. High-Yield Checking Account
You open a high-yield checking account with Unifimoney by default when you deposit $100 and sign up. This account is provided by UMB Bank and provides up to $750,000 in FDIC insurance.
Perks of this checking account include:
Earning 0.20% APY
Easily pay bills from the mobile app
Checkbooks are available and you can remotely deposit checks
Automatically invest at least $25 per month into your investment portfolio
ACH and wire transfers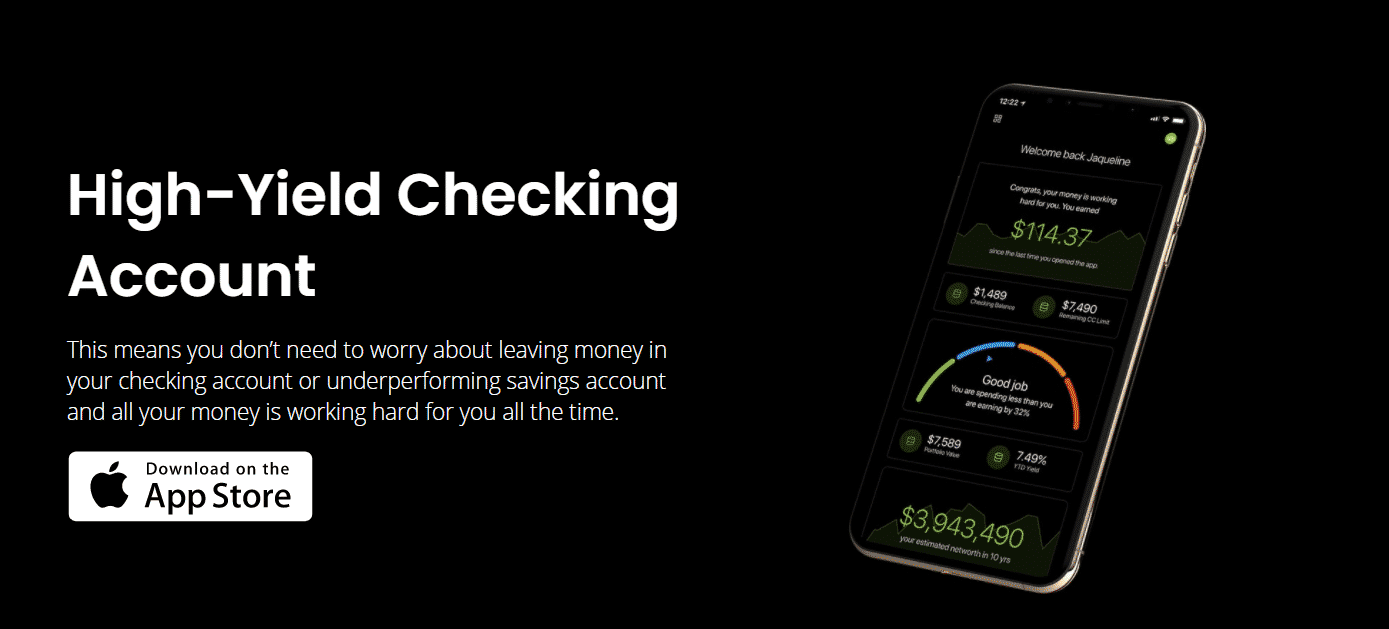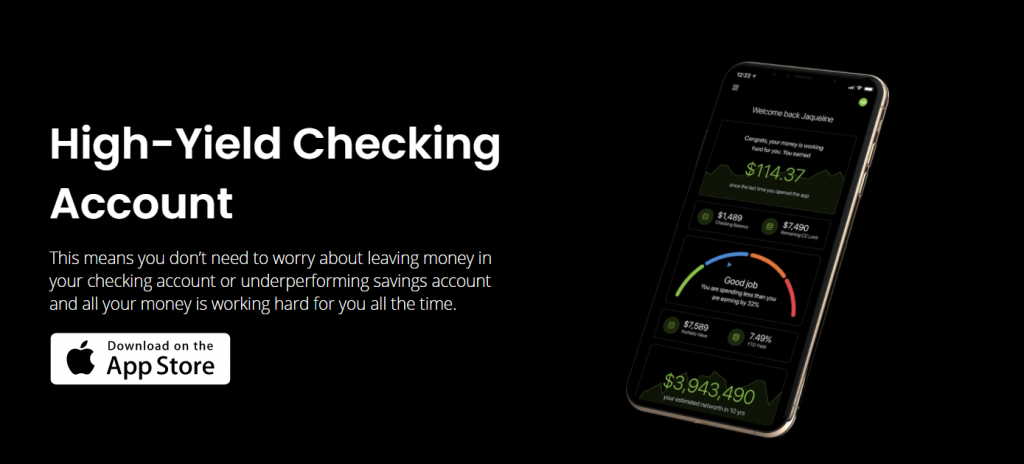 The $25 monthly investment minimum is technically another requirement, but this is just another way Unifimoney encourages you to keep growing your wealth.
2. Unifimoney Visa Credit Card
The Unifimoney Visa credit card is coming in Q3 of 2021 and is going to slowly rollout to existing customers. The main benefit of this card is that you can earn cash back in the form of Bitcoin, gold, or equity for your spending.
Since it's a Visa Signature credit card, members will also enjoy benefits like identity theft protection and auto rental insurance discounts.
3. Investing Services
Investing your money is Unfimoney's main feature alongside it's high-yield checking account. What I like about Unifimoney is that it also gives you the flexibility to invest on your own, with a robo-advisor, or in various cryptocurrencies and precious metals depending on your investment philosophy.
Self-Managed Investing
Unifimoney lets you invest in U.S. equities, ETFs, and American Depositary Receipts (ADRs.) Specifically, you can invest in:
3,000 U.S. exchange-listed stocks
1,000 ETFs
300 ADRs
If you're new to investing, Unifimoney's investing theme dashboard also helps you decide different sectors to invest in. For example, Unifimoney highlights categories like IT, SaaS, biotech, and AI to invest in. Categories also include companies that value LGBTQ+ and women in leadership.
To invest, you move money from your high-yield checking account into your investment account. Unifimoney doesn't support trading mutual funds, options, or fractional shares.
Robo-Advisor
Unifimoney's robo-advisor service requires a $25 minimum monthly investment to use. Like other robo-advisors, Unifimoney asks questions to determine your risk tolerance and investing goals to decide how to invest.
For actual investing, Unifimoney works with its partner TenjinAI to apply AI and Quant-based portfolio design to choose various stocks and ETFs to invest in. In other words, Unifimoney invests, monitors, and rebalances your portfolio to try and achieve optimal returns while sticking to your level of risk tolerance.
There are also two levels for the robo-advisor:
Tenjin AI Basic: Invest in various ETFs and pay 0.15% in annual advisor fees. This portfolio gets yearly rebalancing.
Tenjin AI Advanced: This plan also invests in ETFs but charges a 0.30% annual advisory fee. The difference is that you get quarterly rebalancing.
Unifimoney states there is a Pro robo-advisor service, but information on this plan isn't available yet.
Cryptocurrency
Unifimoney partners with Gemini, a popular cryptocurrency exchange, to let you buy and sell over 30 different coins. Bitcoin and Ethereum are available, as well as:
Bitcoin Cash
Chainlink
Dai
Litecoin
Uniswap
Zcash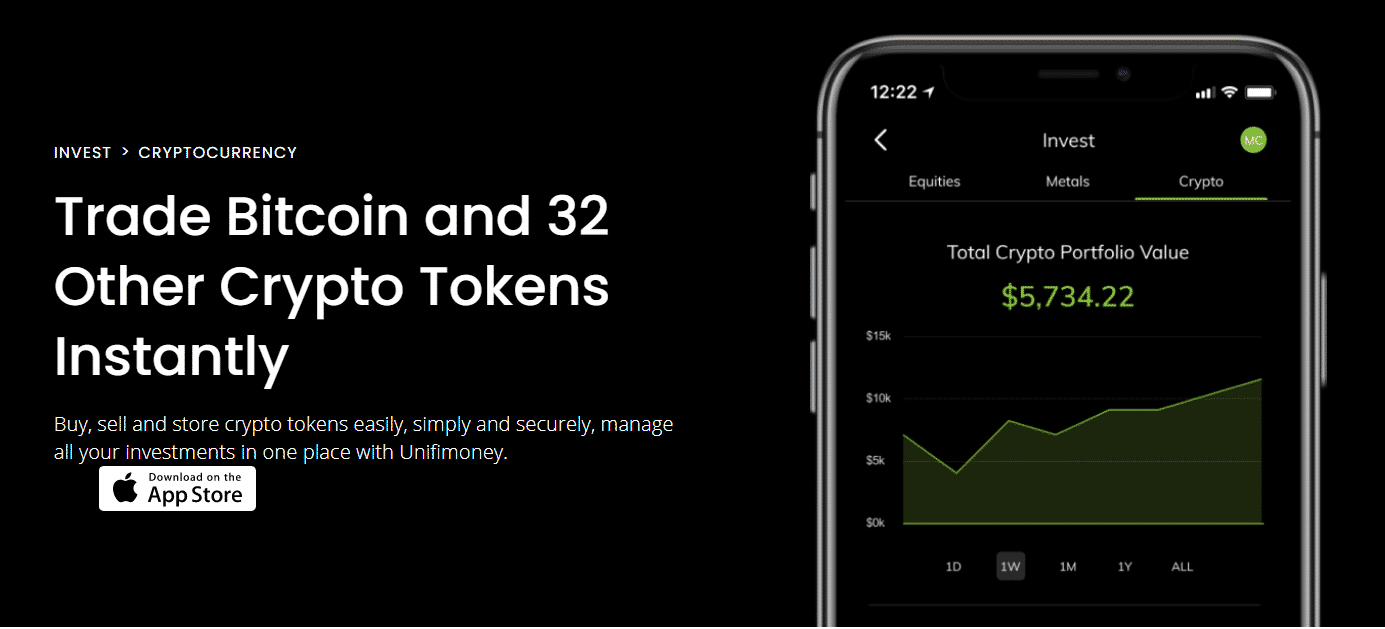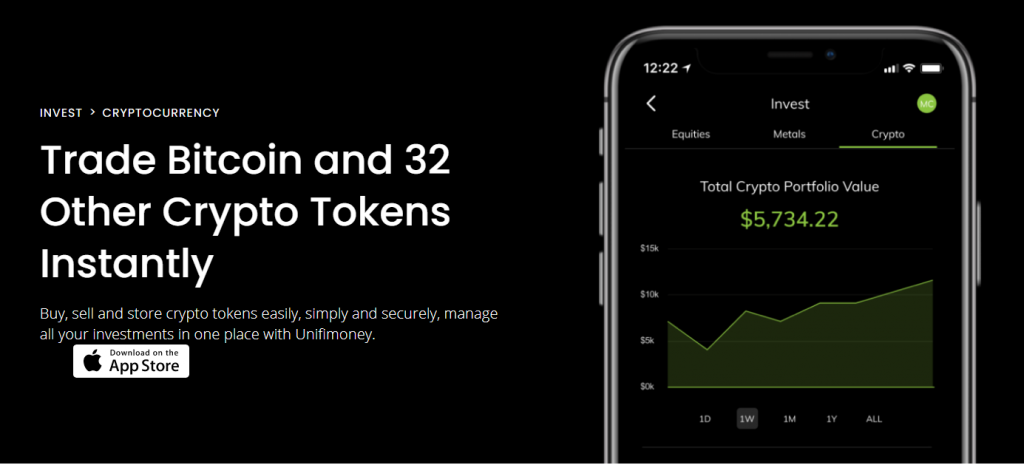 New coins are being added, and you invest with the funds in your Unifimoney checking account. Note that you can't transfer coins to or from your Unifimoney account to other wallets. If you're currently investing in crypto with a platform like Coinbase or eToro, this restriction is worth keeping in mind.
Precious Metals
Unifimoney lets you buy fractional gold, silver, and platinum if you want to invest in precious metals. In the future, coins and whole bars will be available. You also own the physical metal you invest in, not Unifimoney.
Unifimoney partners with security firms like Brinks and Loomis to store your precious metals in U.S. vaults. Storage fees depend on the value of your assets and are typically 0.50% annually. Trading fees are embedded in the cost and are also around 0.50% of the asset's value.
You can request delivery if you want to store precious metals yourself. However, delivery fees range from 0.75% to 2% of value depending on weight and your location.
4. Other Services
Unifimoney helps you spend, save, and invest your money. But the platform is also expanding its insurance and refinancing offerings to help you protect your assets and save money on existing loans. Currently, Unifimoney offers:
Home Loans & Loan Refinancing: Get a 0.50% discount, up to $10,000 on home loans or refinance your existing mortgage
Student Loan Refinancing: Get 1% back on your student loan, up to $2,500, for refinancing loans up to $250,000
Auto Loans: Get an auto loan and receive 0.50% cash back, up to $500
Car Insurance: Apply for a quote with Gabi to save money on car insurance and get $15 in free Bitcoin
Home Insurance: Apply for a quote with Unifimoney's partner Covered and get free $15 in Bitcoin
Life Insurance: Shop for life insurance with Unifimoney's partner Ladder Life and find plans starting at $16 a month
HSA: Move your HSA to Unifimoney's partner UMB Healthcare Services and get 1% cash back on your first deposit, up to $100.
Unifimoney states other insurance offerings are coming to the platform. Finally, you also get $25 in Bitcoin for referring users to Unifimoney. Between multiple bonuses and up to $5,000 in free Bitcoin for signing up, Unifimoney has a competitive sign-up bonus compared to other financial management platforms.
Who Is Unifimoney Best For?
Unifimoney is best for anyone who wants to manage their spending, wealth, and debt from a central app.
However, the ideal Unifimoney user also has a high-paying job or high net worth. This is largely because Unifimoney requires a $35,000 minimum account balance to avoid fees. Additionally, if you invest in alternative investments like cryptocurrencies, having a higher income lets you diversify your investments more than just putting all of your paycheck into crypto.
Finally, Unifimoney is only available for iOS at this time, so you must be an Apple user.
Who Shouldn't Use Unifimoney?
If you can't meet Unifimoney's $6,000 monthly deposit or $35,000 minimum balance requirement, this app isn't for you. Additionally, if you're brand new to investing, you can use various commission-free brokers like Robinhood or Webull to invest in stocks and ETFs before worrying about precious metals or cryptocurrencies.
Additionally, Unifimoney's insurance, refinancing, and loan services aren't useful if you're happy with your existing coverage and rates or don't want to borrow money.
Unifimoney Pros & Cons
Unifimoney is a comprehensive money management app, but you should consider the pros and cons before opening an account.
The Pros:
Low $100 account funding requirement
Commission-free trading and low-robo-advisor fees
Alternative investments like cryptocurrency and precious metals are available
Earn 0.20% APY
Various free Bitcoin bonuses
Manage your finances from one single app
The Cons:
High monthly deposit or minimum account balance requirements to avoid fees
Lack of transparency on fees like under-funded checking accounts
No Android or desktop version
Unifimoney vs Competitors
If you're looking for Unifimoney alternatives, you're really looking for two things: somewhere to park idle cash and somewhere to invest.
In terms of where to hold your money, there are other checking accounts or high-yield savings accounts that pay more than 0.20% APY. Plus, many Unifimoney competitors don't have such high deposit or balance requirements.
For example, Aspiration's Spend & Save Account lets you earn 1% APY and pays up to $200 for opening an account. You can also earn up to 0.40% APY with CIT Bank's Saving Builder if you just deposit $100 per month; 60x less than Unifimoney requires.
In terms of investing, there are also various commission-free brokers you can consider. For example, Robinhood alternatives let you trade for free and even pay you with free stock for signing up. Furthermore, both platforms let you buy fractional shares unlike Unifimoney.
As for robo-advisors, popular Unifimoney competitors include Betterment, which charges at 0.25% annual management fee for accounts under $100,000, making it slightly cheaper than Unifimoney's Advanced plan. You can also invest with SoFi Invest's automated investing for free.
Ultimately, Unifimoney is ideal if you want to centralize your financial management and can meet the minimum requirements. If you can't meet the funding requirements, stick with low-fee or free alternatives.
Pros:

Minimum to Earn APY: $1,000

Pros:

Minimum to Earn APY: $5,000

Pros:

Minimum to Earn APY: $100

Pros:

Minimum to Earn APY: $100
FAQs
Is Unifimoney Safe?
Unifimoney works with various financial partners, so your money and investments are FDIC-insured and SIPC-protected.
Is Unifimoney In Beta?
Unifimoney is currently in a live beta, but you can sign up for a waitlist and the platform is rolling out to more users.
Does Unifimoney offer robo-investing?
You can get robo-advising services through Unifimoney, which will be run by Tenjin AI, which will monitor your portfolio and reallocates your investments for an annual advisory fee of 0.15%.
Does Unifimoney have any monthly fees?
Unifimoney is fee free to those users who use it as their primary bank account and meet the minimum activity levels, which include minimum money transfers or direct deposit of $6k a month within 4 months of account opening (to give time to change salary payments, etc.). To keep costs low and to benefit users as a whole, we charge for accounts that are not being used the way they are intended. In the traditional banking model, the best customers are actually subsidizing the least active — we think that's unfair. We want our best users to benefit the most and inactive users to pay their own costs rather than being subsidized by others.
Does Unifimoney offer cryptocurrency trading?
Yes, you can manage cryptocurrency trading through Gemini and your normal investments in all one investment platform, with Unifimoney. Consider Unifimoney your one-stop-shop for your financial life.
The Bottom Line
Unifimoney is tackling the ambitious goal of letting you manage your wealth from a single app. And, while the app is only for iOS and faces some tough competition that's more specialized, the future is bright for this money-management app.
If you don't mind using several platforms to spend and invest, you should shop around to find the best interest rates, online brokers with sign-up bonuses, and lowest investing fees.
However, if simplification is important to you and you can meet minimum account balance requirements, use Unifimoney to handle your spending and invest for the future.
Partner
Rating
Type
Standout Feature

Unifimoney

★

5.0

/5 
Investment and money management app
New users can get up to a $5,000 Bitcoin welcome bonus

GET STARTED
On Unifimoney's website
Earn $200 bonus