Whether you're a new cryptocurrency investor or someone who's been investing in bitcoin since the Genesis Block in 2009, you already know there are a lot of options nowadays when it comes to cryptocurrency trading.
Today we're taking a look at two major players on the market, Coinbase and eToro, and comparing them to see what they have to offer, what the advantages are to each one, and which one is right for you. With eToro releasing cryptocurrency trading for American crypto enthusiasts, it's the perfect time to see how the service stacks up against one of the largest competitors in the industry, Coinbase.
At a glance
Go
Coinbase
Offer: Earn up to $28 worth of free crypto

Coinbase offers over 25 cryptos to trade, invest, or stake in. If you want to diversify your income sources through cryptocurrencies, Coinbase is an ideal platform to buy, sell, or even build your crypto portfolio.



CREATE ACCOUNT, GET $10



While Coinbase has continued to be one of the most well-known cryptocurrency exchanges on the market offering an easy to use experience for beginners, it lacks many features and offers only a limited number of cryptocurrencies.
eToro, on the other hand, has a similarly easy to use layout but offers more in the way of tools and unique features for users while also offering significantly more cryptocurrencies for investors to choose from. eToro has more to offer at first glance, but let's take a closer look to how the two differ and where they both excel.
Fast Facts
| | | |
| --- | --- | --- |
| | | |
| Beginner Friendly? | ✅ | ✅ |
| Mobile App (iOS & Android)? | ✅ | ✅ |
| Buy/Deposit Method: | Bank Account (ACH), Debit Card, Wire Transfer, Cryptocurrencies | Credit/Debit Card, Wire Transfer, PayPal, Skrill, MoneyBookers, WebMoney, Neteller, MoneyGram, Bank Transfer[1] |
| Sell/Withdrawal Method: | PayPal, Bank Transfer, Cryptocurrencies | Credit/Debit Card, Bank Transfer, PayPal, Neteller, MoneyGram, PayPal, etc. (Same as your deposit method) |
| Allows Crypto Deposits: | ✅ | ✅/❌[2] |
| Available Cryptocurrencies:[3] | BTC, BCH, ETH, ETC, LTC, 0x | BTC, ETH, BCH, XRP, DASH, LTC, ETC, ADA, MIOTA, XLM, EOS, NEO, ZEC, BNB |
| Offers Fiat Pairings? | ✅ | ✅ |
| Verification Required? | ✅ | ✅ |
| Trading Fees: | Medium | None |
| Withdrawal Fees: | 4% base fee, 1.49% after waiver | $25 flat fee |
| 2FA Enabled? | ✅ | ✅ |
| Licensed or Regulated? | ✅ | ✅ |
| Social Trading? | ❌ | ✅ |
| Market News Feed? | ❌ | ✅ |
| Instant Buy? | ✅ | ❌ |
| Offers Leverage? | ❌ | ✅ |
[1] Deposit methods and minimum deposits vary by country, US-based investors are currently limited to bank transfers
---
Want Free Money?
Aspiration: Want to get spotted a $150 for free? Simply sign up for Aspiration, and the free banking app will give you cash for free, you just relax while it gives you $150 just for opening a new debit card. There's no catch. This bank account is legit and only takes two minutes to sign up for an account.
---
Pro tip:
 Surveys are quick, easy, and can pay you cash from the comfort of your home. No wonder they are so popular.
Survey Junkie
,
Branded Surveys
,
Swagbucks
, and
InboxDollars
are just a few of the best survey sites to make money.
[2] eToro has recently released a new cryptocurrency wallet feature, though it's not available in all countries currently
[3] Both have indicated that they'll be adding more cryptocurrencies for trading in the future
Coinbase vs eToro: Instant Purchases
Though Coinbase and eToro have many similarities, if you're looking to purchase a cryptocurrency today, you're going to be better off with Coinbase.
Unlike eToro, Coinbase offers instant purchases with debit cards that allow users to lock in the purchase of a cryptocurrency at the current price immediately.
However, keep in mind that when making an instant purchase, you won't be able to sell the cryptocurrency immediately and there will be significantly higher fees attached to the transaction.
Related: What is Bitcoin? Bitcoin for Dummies Explained Simply
User Interfaces
One benefit that both have going for them is their intuitive design. Both eToro and Coinbase have excellent, user-friendly websites and mobile applications that make it for beginners to navigate and use their service.
However, simply because eToro has more features and options, the ease of use factor goes to Coinbase on this one, but only slightly.
With such simple websites and mobile apps for both platforms, beginners can seamlessly tap on the asset they want to buy without wading through a long list of choices or other options.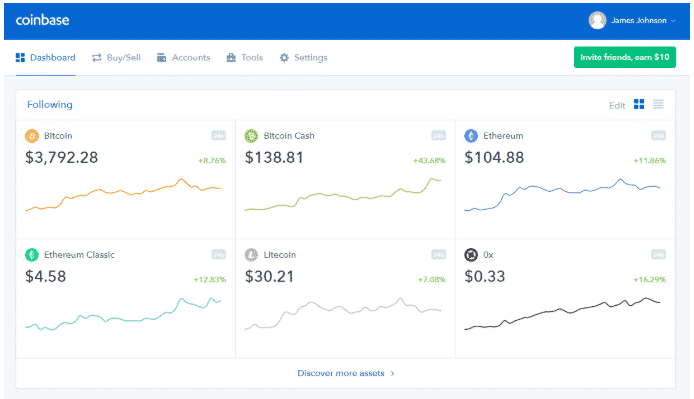 Coinbase user interface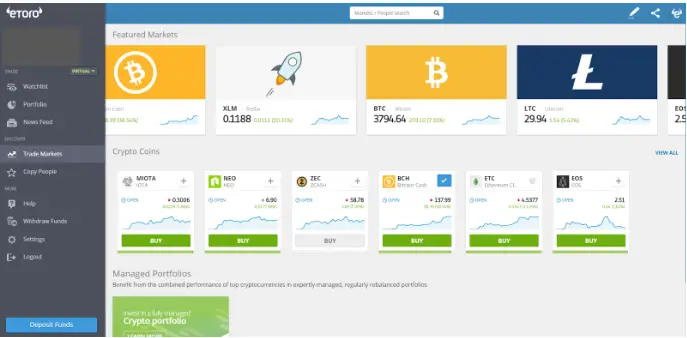 eToro user interface
Security and Trust
Unlike other new services on the market, Coinbase and eToro have both been active in the fintech realm for some time and have built up a significant amount of community trust along the way.
Coinbase first started in 2012 with a specific focus on cryptocurrencies and introducing the new asset class to the public, whereas eToro has been around since 2006 and began expanding into the cryptocurrency markets as far back as 2013.
In addition, both companies are licensed and regulated by the appropriate authorities in the US and EU.
Cryptocurrencies Offered
On this front, the advantage goes to eToro. While Coinbase continues to offer support for more cryptocurrencies, eToro's current positioning gives it the advantage.
Coinbase currently offers users the ability to buy, sell, and trade just six cryptocurrencies while eToro offers 14 different cryptos to choose from.
It should be noted that both are in the process of onboarding new cryptocurrencies for the future — so this could change.
Unique Features
When it comes to unique features, eToro is the clear winner. Coinbase is so suitable for a beginner that it does leave a lot to desire for more intermediate and advanced traders.
Of course, now there is "Coinbase Pro" (formerly GDAX) that investors can switch to, but that's an entirely separate exchange.
eToro offers a range of unique features that you won't be able to find on any other exchanges, most notably "social trading." Trading on eToro allows users to copy the trading strategies of other successful traders on the platform.
In addition, those looking to invest with a long-term mindset can choose CopyPortfolios that are created by other investors with a collection of different cryptocurrencies and weighted portfolios.
Along with social trading features, eToro also has a news feed with real time market updates from the trading community to create a social media experience for traders.
The Bottom Line
Because there's no one-size-fits-all approach for investing and trading, it's always difficult to rank different platforms/exchanges above others and determine which one is the "best" among the competition.
Keeping that in mind, the final say really comes down to your experience level, personals preferences, and goals when investing.
If you're entirely new to the cryptocurrency space and only intend to purchase a small piece of your first bitcoin, then Coinbase may be your better option for its simplicity.
At a glance
Go
Coinbase
Offer: Earn up to $28 worth of free crypto

Coinbase offers over 25 cryptos to trade, invest, or stake in. If you want to diversify your income sources through cryptocurrencies, Coinbase is an ideal platform to buy, sell, or even build your crypto portfolio.



CREATE ACCOUNT, GET $10



However, if you're looking to start investing in cryptocurrencies or trading more than once or twice, the high Coinbase fees are going to eat into your bottom line quickly and you'll only have access to limited currencies and features.
With that in mind, eToro is the much stronger choice for beginners who plan on staying in the crypto markets for the long run. Along with lower fees overall, new investors get access to eToro's Trading Academy and can participate in social trading to learn from successful traders in the markets.
If you're looking for straight simplicity with no added features, Coinbase is going to be a little simpler, but you'll be paying for that in fees. For those looking to learn and implement new trading strategies over time and want more options for investing in the future, then eToro is the clear winner.
Where to invest $500 right now
| Logo | Description | go |
| --- | --- | --- |
| | Fundrise is a very easy-to-use app that allows individuals to access crowd-funded real estate investing. This option is best for users who want to make money consistently and let their money make them money. | |
| | Want to know which stock to buy next? Check out The Motley Fool advisor program and you can get recommended stock picks before the next market close. | |
| | SoFi Automated Investing's range of low-cost ETFs and free management make it an attractive option for cost-conscious investors. | |