Did you know that Leonardo da Vinci's Salvator Mundi is the most expensive painting in the world, valued at over $450 million? For most of us, trying to invest in art that's worth over $30,000 can be difficult, let alone millions.
If you're looking for a way to diversify your investment portfolio but can't seem to find a way, Masterworks can help. This platform connects investors with opportunities to invest in high-end art and produce capital gains.
However, unlike many other platforms, Masterworks doesn't require you to purchase the entire artwork directly. Instead, you invest in fractional shares that then earn profits when the painting is sold at a later date.
Masterworks levels the playing field with its innovative approach. Rather than limiting these opportunities to invest in art to accredited investors, Masterworks only requires that you have $10,000 to put towards your first investment.
Our guide below includes everything you need to know about Masterworks, including details about how to sign up. We'll also cover the positive and negative Masterworks can bring to your investment portfolio.
Are you ready to jump into our Masterworks review? Let's get started!
What is Blue-Chip Artwork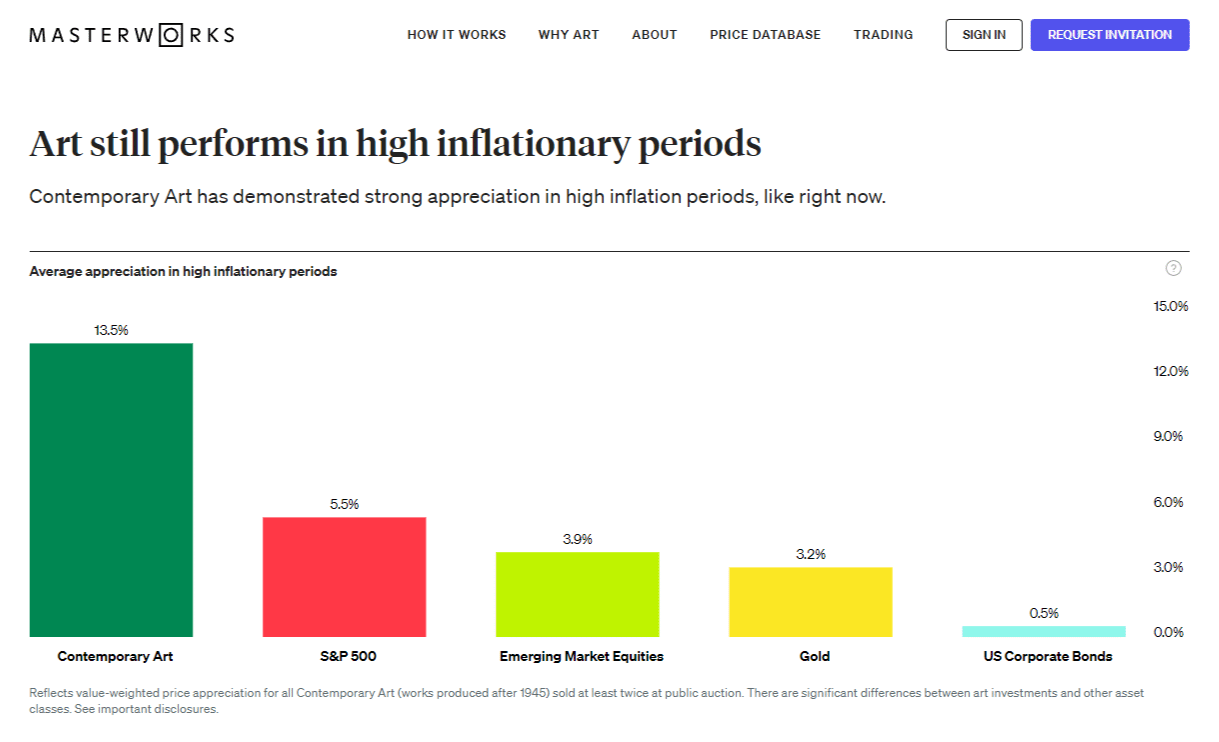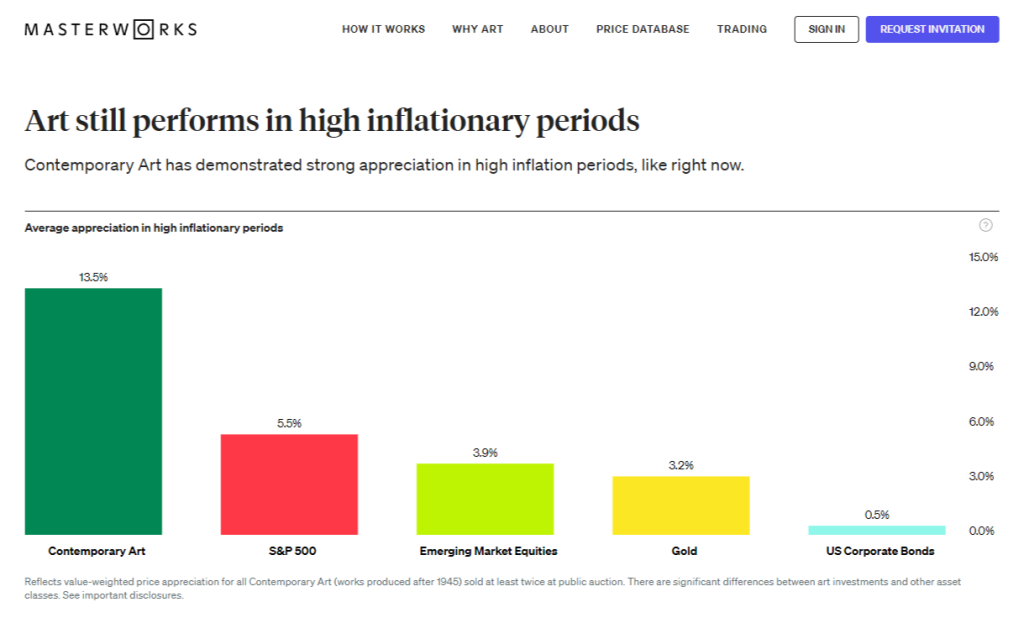 If you're looking for alternative ways to invest, blue-chip art is one of the more popular investments. This type of art is in contrast to red-chip art, which refers to artwork that's gained a great deal of attention seemingly overnight.
Red-chip artwork can be volatile as an investment opportunity. However, blue-chip artwork works with a similar blueprint, though the artwork comes from established artists instead.
Many investors of high net worth could only invest in blue-chip artwork previously. However, with the addition of Masterworks, that has all changed.
Blue-chip artwork is a favorite among investors because it's a commodity that often gains value as time passes. While this type of artwork doesn't provide passive income during the terms of the investment period, the capital gains can more than make up for it.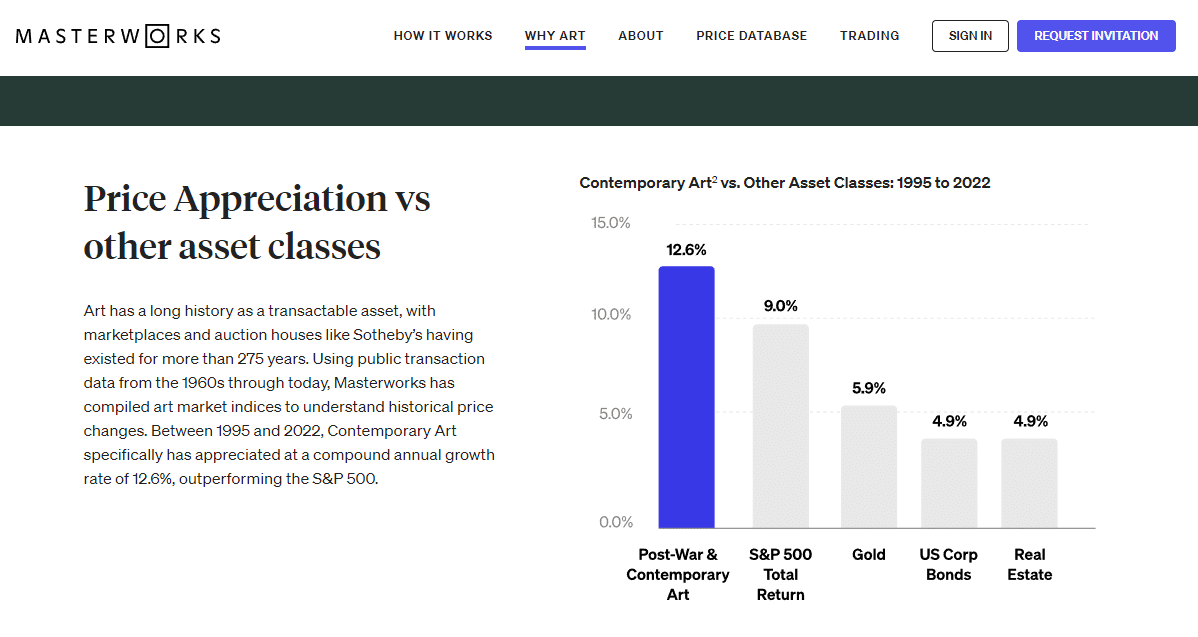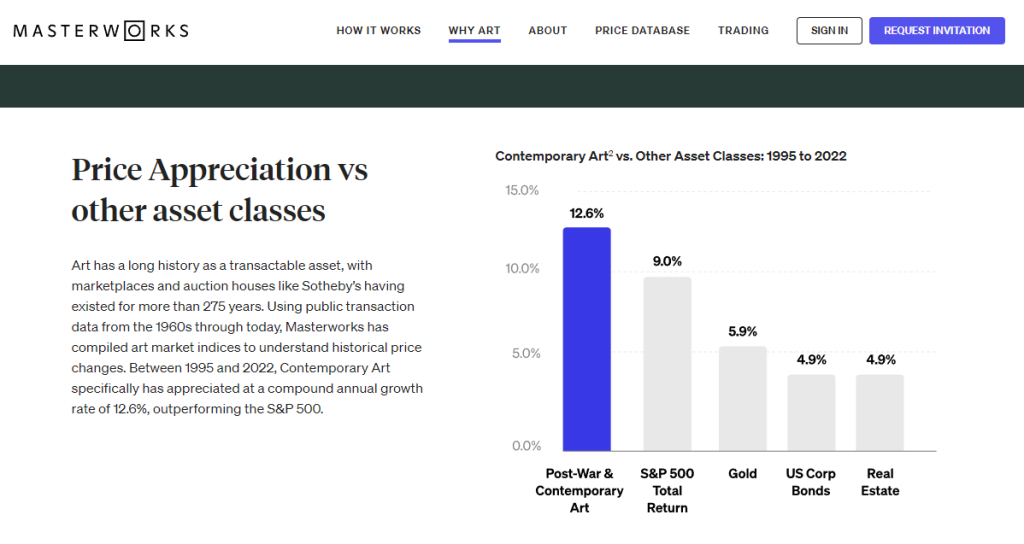 How Does Masterworks Work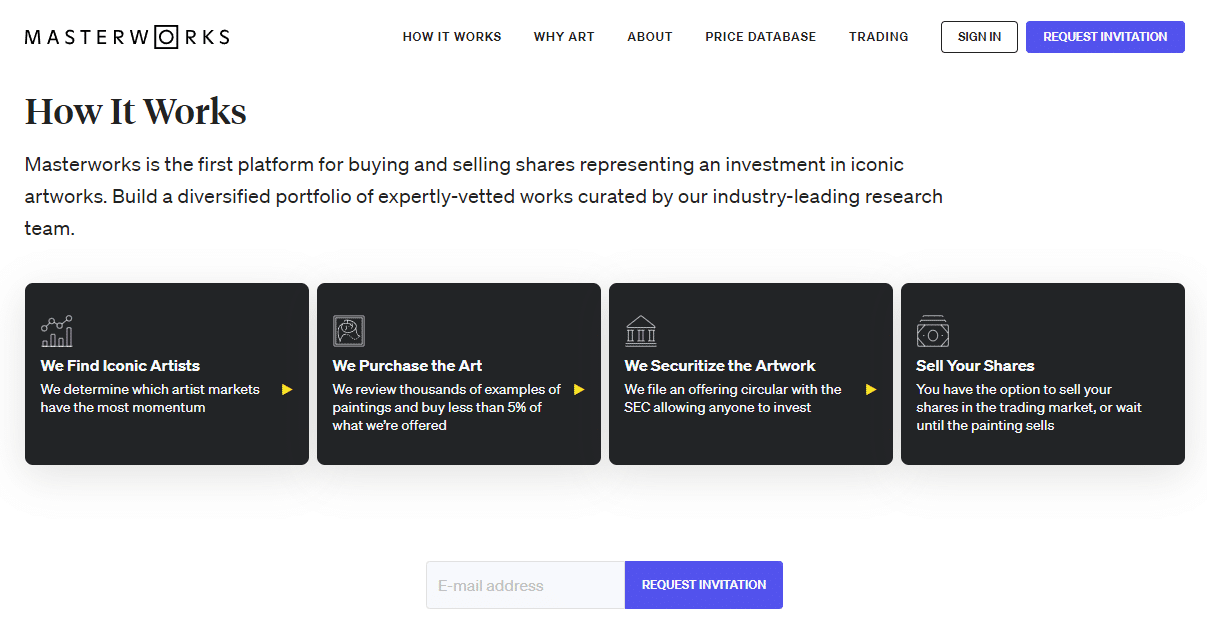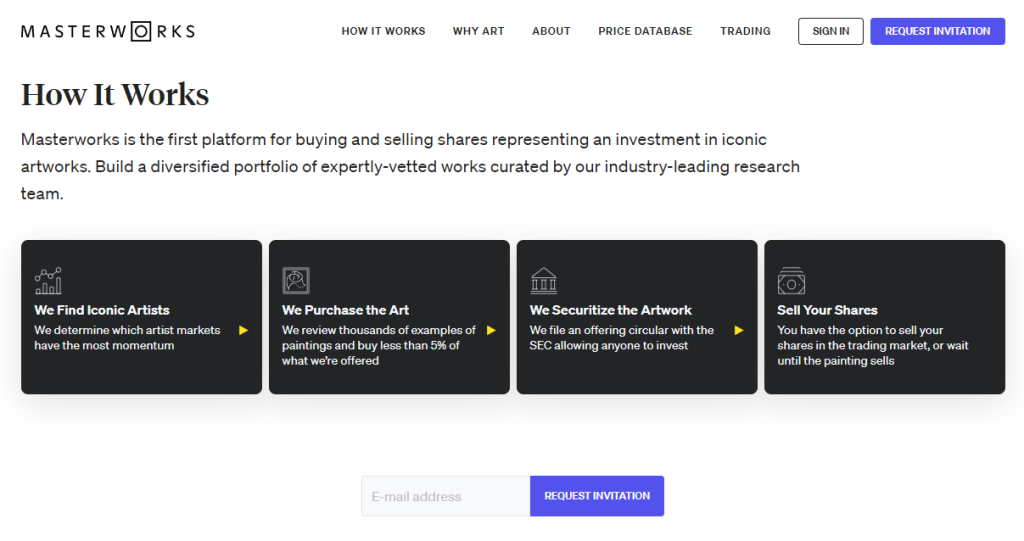 If you're not sure how to start investing for beginners or how to invest in art, Masterworks can solve both problems. This site works with non-accredited and accredited investors alike to fund the purchase of blue-chip art to sell later at a profit.
Masterworks is one of the first companies to offer art investments the way it does. The company was founded in 2017 by Scott Lynn, himself an avid art collector.
Headquartered in SoHo, where most of the artwork Masterworks offers for investment is stored, Masterworks connects investors with artwork investment opportunities to make a profit. However, Masterworks is more the middleman than anything else.
The Masterworks formula is simple:
Draw upon existing capital to purchase blue-chip artwork
File purchased painting with the Securities and Exchange Commission (SEC)
Offer fractional shares of artwork to investors
Display artwork and let it accrue more value over the years
Sell the artwork for a profit and share those with investors through previously agreed-upon terms
Masterworks uses encryption technology to keep your data safe. The artwork you invest in is also safe at Delaware Freeport
Masterworks has both a website and a mobile app. The company also offers investors several data reports regarding the artwork in question, from historical auction data to sales history and the estimated value.
You can contact Masterworks customer service by calling 203-518-5172 or emailing [email protected].
Eligibility Requirements
Anyone over the age of 18 is eligible to become a Masterworks art investor, even if you're not accredited. Plus, you don't need any existing experience in investing in art.
To begin, you'll need to request an invitation by entering your email on the website. Masterworks is available to both United States and international investors.
Masterworks then asks you to enter your name, email, and phone number, and create a password. The site will also ask you how much you want to invest over the next year.
You'll then need to schedule a phone interview with a Masterworks agent. This interview gives you both a chance to ask questions and gather information.
If you're approved, Masterworks will match you with a dedicated advisor. You'll also be prompted to link your bank account and choose your first investment piece.
Fees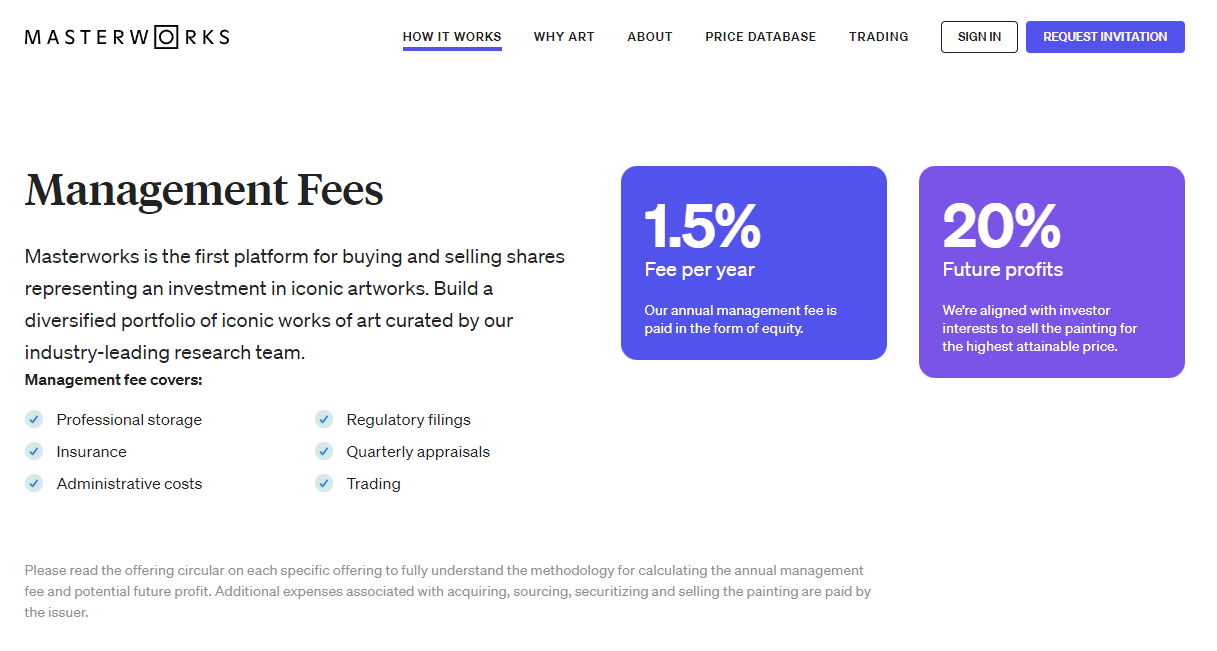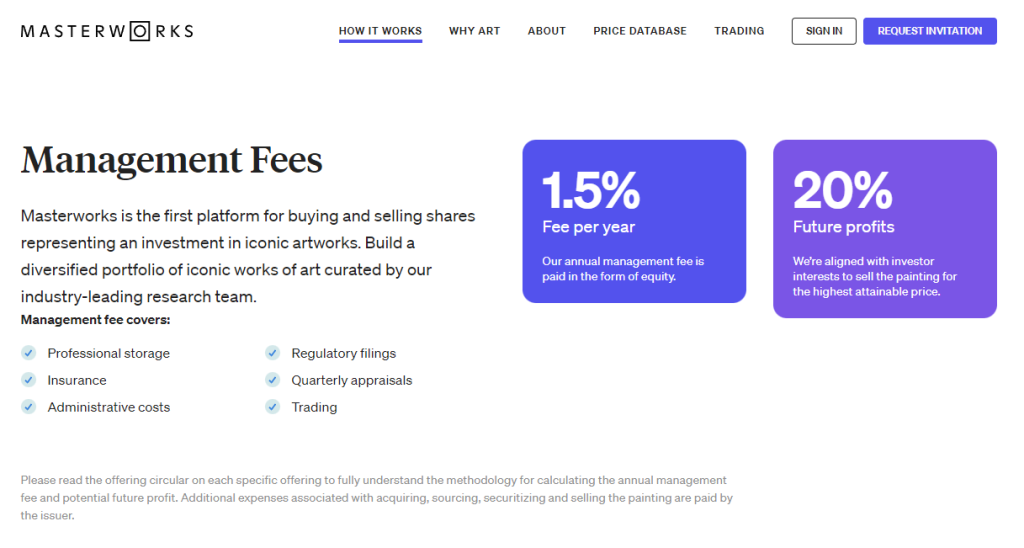 Though the $10,000 minimum investment is steep, Masterworks could help you figure out how to turn $10K into $100K. In addition, shares can be purchased as low as $20 once you meet that first threshold.
Masterworks offers terms of five to 10 years with fees of 1.5% annually at 20% of the sale price. This pricing structure is similar to hedge funds.
In addition, there exists a secondary market where you can offload your shares without a penalty fee. You can purchase and sell shares here, as many go for above $20.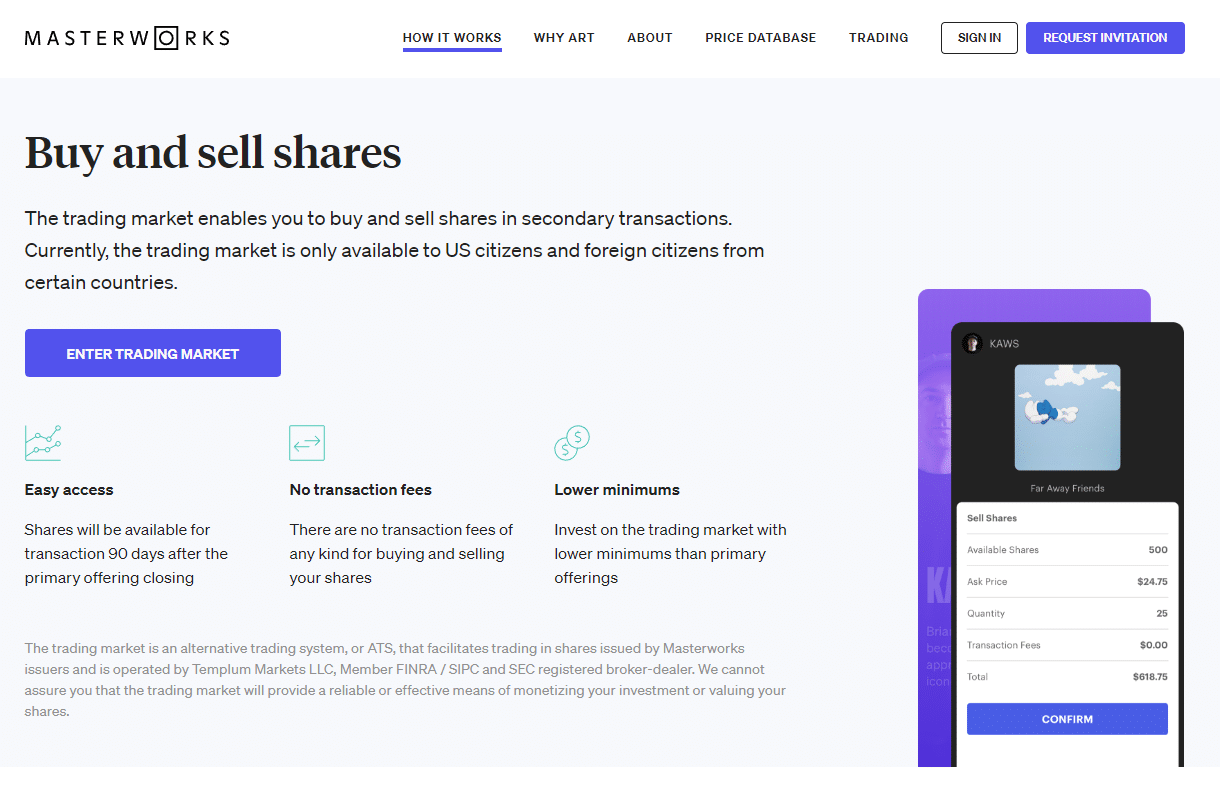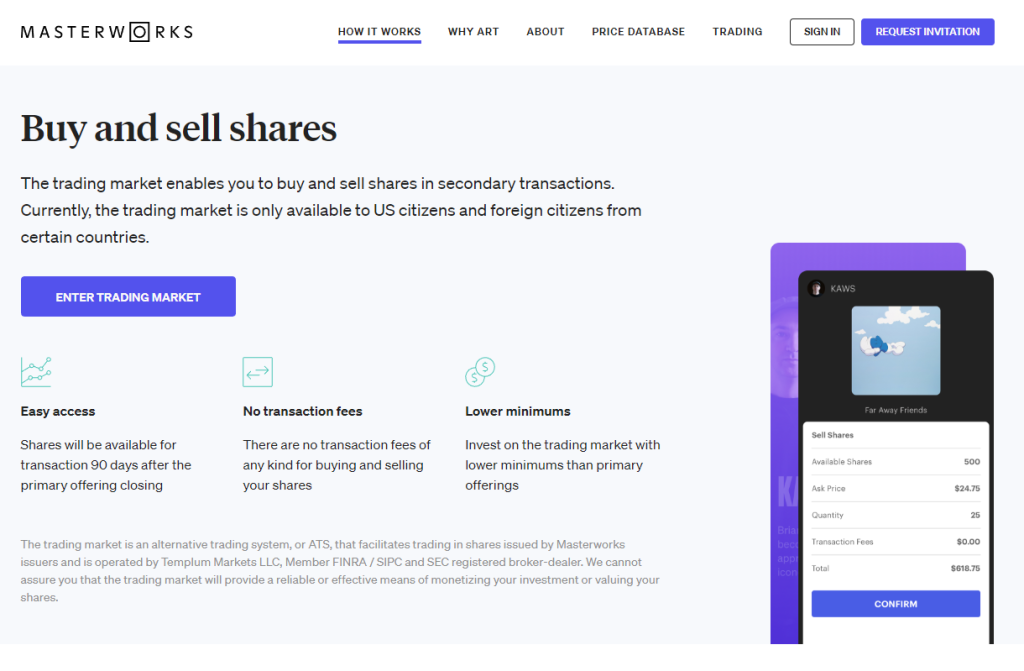 Masterworks Investing Process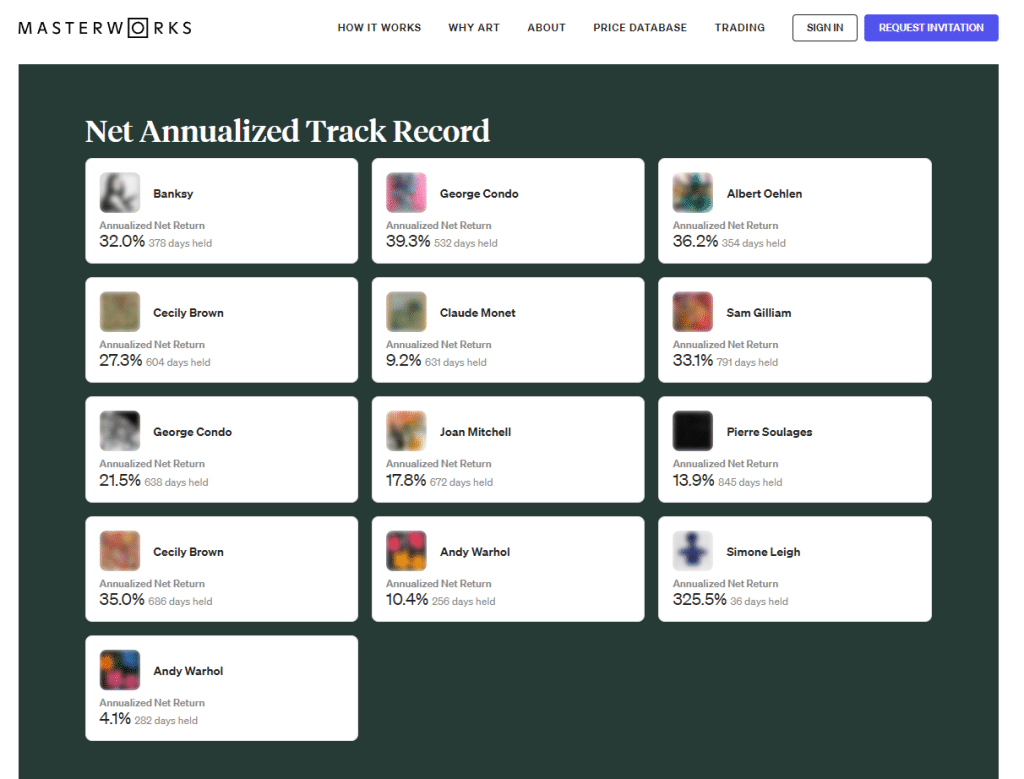 We talked about it in brief above, but let's take a closer look at how Masterworks obtains and sells artwork:
The team at Masterworks locates high-end art from a database of records and purchases.
Each piece is run through the proprietary Price Database, which collates data regarding how much the piece has sold for, as well as how much it's expected to appreciate.
When Masterworks has determined a worthy piece, the team purchases it and files it with the SEC. This is required to offer fractional shares to the public.
Masterworks then lists the artwork on its marketplace for investors. You can search the Masterworks database to find specific artists that you're interested in.
The company stores the art for a determined length but still keeps it open to offers should the opportunity present itself.
Investors can offload shares on the secondary market if necessary. Masterworks has a bulletin board feature that connects investors to trade shares.
Masterworks also hosts a members-only gallery where investors can go to see the artwork they've invested in. This gallery is located in the SoHo neighborhood of New York City.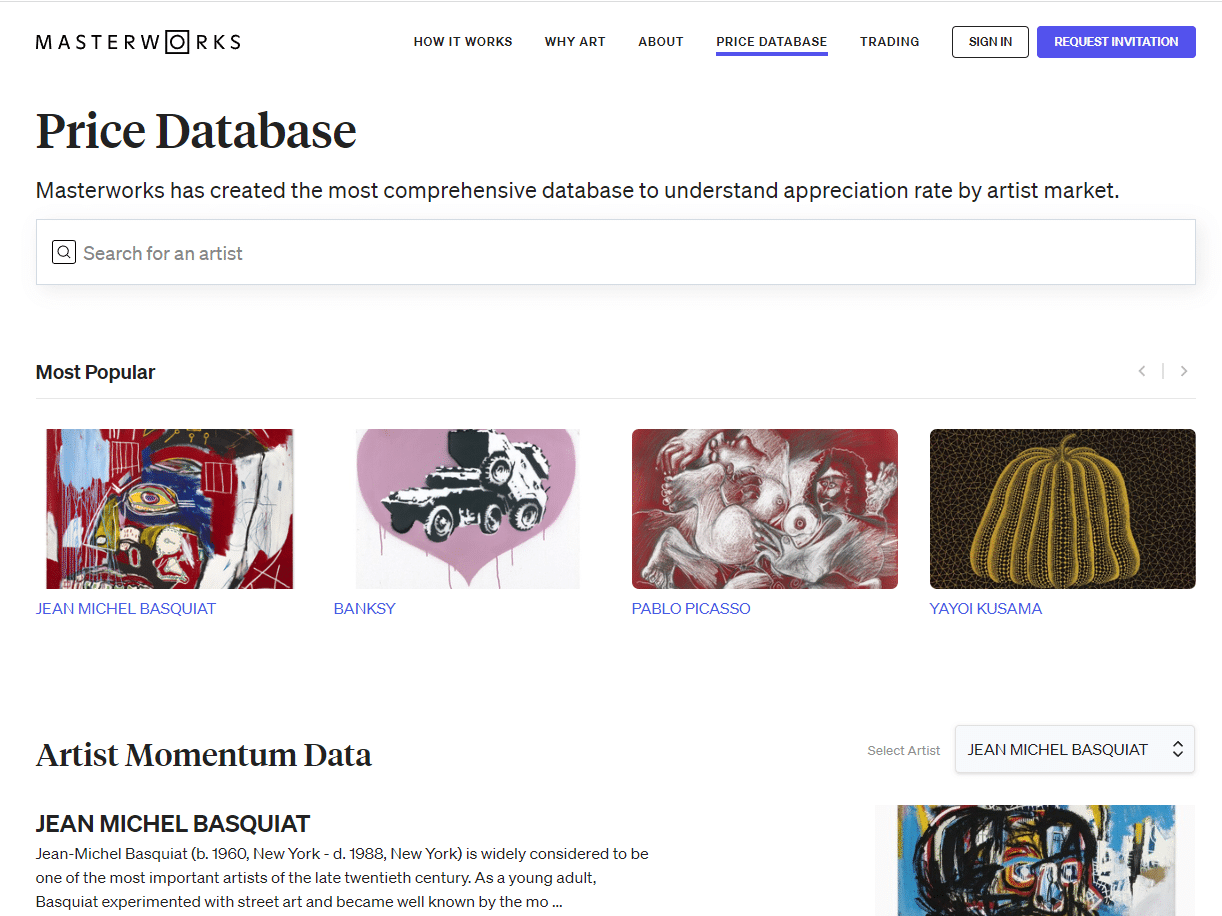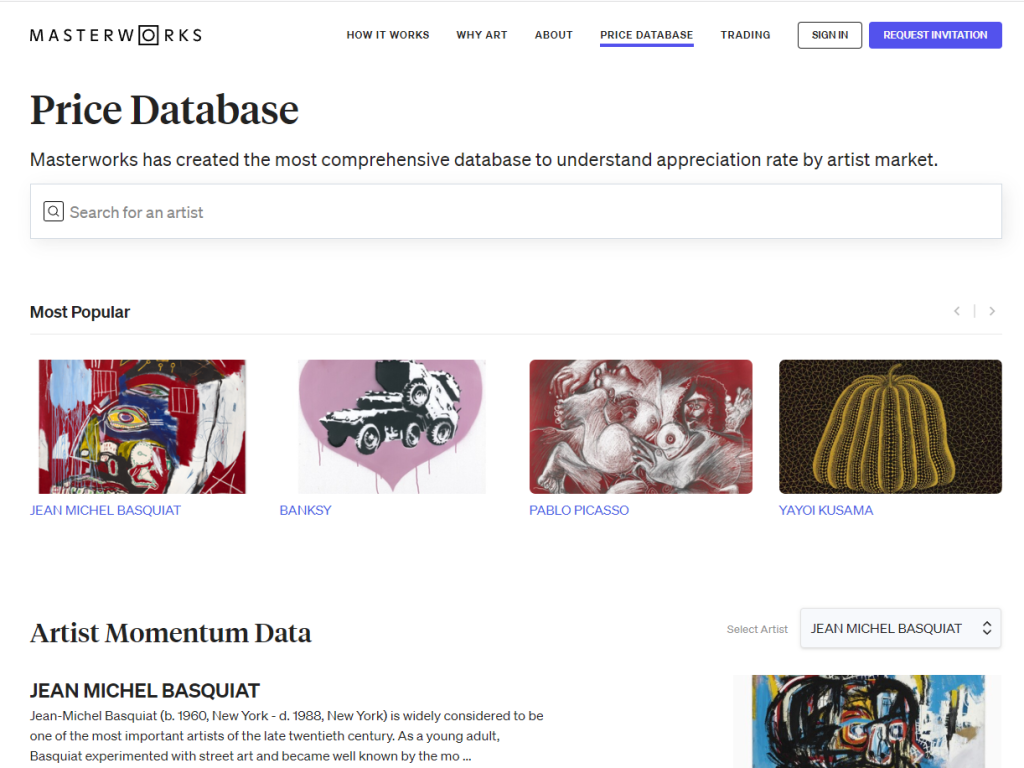 Masterworks Advantages and Disadvantages
Determining whether or not you want to invest $10,000 into Masterworks can be a big decision. Take these points into consideration as you evaluate Masterworks.
Pros:
Alternative investment opportunity via artwork
Masterworks is a pioneer in its field
Large potential for a high rate of return given its history
No knowledge of art required
Add diversity to your investment portfolio
Secondary market to offload shares
Cons:
$10,000 minimum investment
Low liquidity commodity
Secondary market only available to U.S. residents
Limited pieces to invest in
Long-term capital gains tax rate of 28%
Dependent upon (profitable) sales of artwork
Masterworks Alternatives
Due to Masterworks' unique offering, not many direct competitors currently exist. That's not to say you can't invest in artwork in other ways, just that Masterworks is one of the few that does it the way they do.
A similar example exists within the fine vintage wine industry. Vinovest lets investors pick and choose wines with a $1,000 minimum investment.
Vinovest advertises that you own all the wines in your portfolio. You can even request a bottle to enjoy at your leisure.
Amazon Art and Artspace offer a similar setup, but it's not quite the same. Money Metals Exchange lets you invest in bullion, including gold, silver, and copper.
Again, there's not much competition at the moment.
Additional Alternative Investments
Artwork is just one of many alternative investments you can use to make some extra money. Consider the following to see what other investments are out there to diversify your portfolio.
Real Estate
Most people were introduced to investing in real estate via Fundrise. This company lets you invest in real estate for as little as $10 and offers an 8-11% rate of return.
In addition, you can also invest in a single property and rent it out yourself. This does take more work but it offers a larger piece of the pie than Fundrise does.
If you want to invest in single-family residences, Ark7 offers several options. Like Masterworks, you don't have to be accredited to participate in this investment opportunity.
Rental cash flow can help you earn passive income without having to field questions or repair requests. Again, you'll take less home, but it can be worth it if you don't want the extra hassle.
Farmland
The fields that grow the food we store in our refrigerators and cabinets help investors earn passive income in two main ways: rental income and capital appreciation. Investors get paid as the farms are used and when they sell.
Farmland as an industry is expected to grow as food sources dwindle. In fact, the industry has averaged a return of 10% over the last 30 years.
Farmtogether is a low-fee platform investors can use to invest in farmland. The minimum investment is $15,000 and the platform only works with accredited investors.
Peer-to-Peer Lending
Lending money to your peers can help you make money in the most basic investment relationship. Personal loans earn you interest and you can easily pick and choose which individuals or opportunities you invest in.
Cryptocurrency
Alternative ways of paying for the things we buy every day defines the cryptocurrency market, where virtual coins hold value. Investing in cryptocurrency is easier than it ever was before, even as volatile as the cryptocurrency market is.
Coinbase and TradeStation offer several opportunities to invest in cryptocurrency tokens including Bitcoin, Ethereum, and Cardano. Investors can also sell their coins without having to worry about waiting for long-term appreciation.
Small Businesses
Did you know that you can invest in small businesses? Mainvest is a platform you can use to invest in businesses like bakeries and breweries, as well as restaurants. 
You'll only need $100 to start investing with Mainvest. It's free to join and there are no fees, though Mainvest aims to produce 10-25% returns.
FAQs
Is Masterworks a legitimate way to invest in blue-chip art?
Yes, Masterworks is a legitimate way to invest in blue-chip art. It's the first of its kind when it comes to investing in fractional shares for artwork.
Does Masterworks require you to be accredited?
No, Masterworks does not require you to be accredited. You will have to complete a phone interview to obtain membership but other than that, you'll just need to come up with the $10,000 minimum investment to begin investing with Masterworks.
What is the return on investment for Masterworks?
Masterworks' return on investment for the last seven pieces they've sold comes in at 17.8%. Individually, most artwork achieves a 9% to 39% rate of return.
Yes, you can sell your Masterworks shares on the secondary market. However, this is a relatively new addition to the site and you may or may not be able to offload your shares at a profit.
What other alternative investments exist?
You can also invest in alternative investments that include farmland, real estate, cryptocurrency, peer-to-peer loans, and small businesses. While many of these alternative investments are volatile, they can be lucrative with the right approach.
Paint Your Destiny with Masterworks
Investing in art can seem like a scary thing, especially if you need $10,000 to commit to the endeavor. However, Masterworks makes it easy to earn a profit from the sale of blue-chip artwork that has survived many a recession.
With Masterworks, you don't have to be accredited or know anything about art. Plus, you can always fall back on the secondary market if you ever need to liquidate your shares.
Alternative investment opportunities hold as much value as they do risk. While Masterworks is certainly the first of its kind, it could be a sign of things to come in the art and investment worlds.
Now that you know a bit more about investing in artwork, how can you support artists you enjoy? Masterworks could hold the key.