Fidelity recently did a study that found over 50% of consumers aged 18 to 44 "don't pay attention to saving and spending, as long as they have money in the bank." That might seem like a scary thought, but for most folks, even living paycheck to paycheck can be overwhelming
For most banks and financial institutions in general, not having a hold on your spending and saving habits can be extremely profitable. After all, every overdraft charge you pay only increases the massive earnings posted by these large banks.
At the same time, companies like Fidelity know that sometimes all it takes is a helping hand. That's where the Fidelity Bloom account comes in.
With this Fidelity service, you can separate your savings and your spending to take better control of your finances. When you're ready to capitalize on the fruits of your labor, you'll appreciate the resources this investment firm offers.
Are you ready to learn more in our Fidelity Bloom review? Let's get started!
What is Fidelity Bloom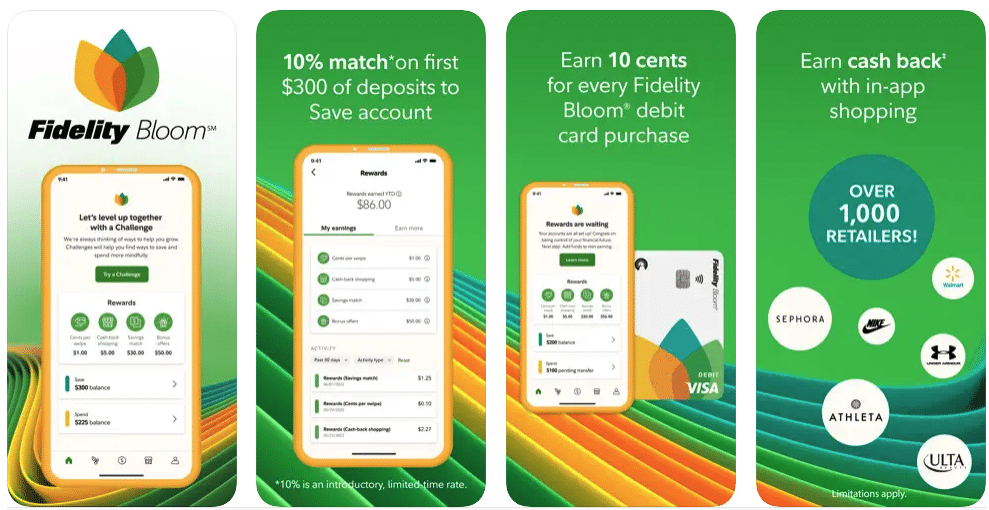 As part of Fidelity's list of investment services, Fidelity Bloom offers customers from all walks of life the chance to set up both a spending and a savings account. These accounts can help establish and ingrain healthy financial habits that will serve you for years to come.
This free financial service comes with a mobile app interface that puts you in the driver's seat. Plus, it's backed by real behavioral science Fidelity uses to help you better manage your money.
Fidelity requires account holders to be at least 18 years of age or older. At the same time, adults young and old can take advantage of a Bloom account, which is covered by the Securities Investor Protection Corporation (SIPC).
When you create a new Fidelity Bloom account, you'll be prompted to choose between the following as your core position:
Fidelity Interest-Bearing Option (FCASH)
Fidelity Government Money Market Fund (SPAXX)
Fidelity Treasury Money Market Fund (FZFXX)
Note that the interest-bearing account comes with a 2.44% APY as of March 27, 2023.
How Does Fidelity Bloom Work
Your new Fidelity Bloom account features two parts: the Fidelity Bloom Spend account and a Fidelity Bloom Save account. The Spend account offers a free Visa debit card you can use to earn bonuses that deposit automatically into your Save account.
Be aware: these are brokerage accounts and not checking accounts. The Fidelity Bloom app can be downloaded from the App Store as well as the Google Play Store.
With your two Fidelity Bloom accounts, you can track your savings progress, Round Up your purchases to grow your savings, set up recurring transfers to your Save account, and exchange gift cards for cash.
Bootcamps and Challenges
Fidelity Bloom is unique in that it offers both bootcamps and challenges. Bootcamps are collections of challenges you can complete to establish good financial habits.
While completing the challenges doesn't earn you any monetary rewards, they can help create a particular mindset. Plus, educational games and activities help you build a happier, more positive relationship with money.
You might be reading this and think these challenges resemble busy work more than valuable, actionable content. However, Fidelity has put in the effort to give practical, usable advice that can positively impact your financial life.
Debit Card
The debit card that comes with your Fidelity Bloom Spend account can be used wherever Visa is accepted. Fidelity won't reimburse any ATM fees you incur with the card and you're limited to 15 transactions per day.
Fidelity never charges overdraft fees with the Spend debit card. However, it does offer transaction and fraud alerts as well as the option to lock and unlock your debit card.
Round Up
This feature builds on similar concepts found in even traditional checking and savings accounts. With Round Up, you can round your purchases up to the nearest dollar or percentage amount to increase your savings.
Fidelity limits your Round Up transactions to $10 per charge. You're automatically opted into this service when you create an account but you can easily opt out if you'd like.
Cash-Back Rewards Button
In addition to a website and mobile app, Fidelity also has the Cash-Back Rewards button browser extension. This extension leverages Google Chrome to help you put more money back in your pocket for the purchases you already make.
The key to the Cash-Back Rewards button is that you have to initiate your purchases through the extension to earn the rewards. Failure to do so will have you missing out on some lucrative rewards you can add to your savings or treat yourself with later on.
Using the Cash-Back Rewards button does require you to be a Fidelity Bloom customer. While not all retailers partner with Fidelity, many of the most popular work with this cashback extension.
Gift Card Exchange
Getting cash out of your gift cards sounds like a great deal for most folks, especially when you don't have enough left to make it worth the trip. With Fidelity Bloom, you can exchange those pesky gift cards for real cash deposited into your Save account.
Fidelity works with CardCash to exchange your unwanted gift cards. Whatever amount CardCash determines the gift card to be worth goes straight to your Save account upon approval.
Fidelity Bloom Offers and Promotions
Fidelity has been known to frequently change up its promotions. While this can be helpful to those who may not qualify for the current promotion, it does pay to keep a close eye on the current promotional end dates to avoid missing out.
New Fidelity users can earn a $50 bonus when they deposit $25 into their new Spend or Save accounts. Yes, you can put $25 in either account, without having to keep it there for any longer than it takes for Fidelity to take note, and earn $50.
If you are a current Fidelity customer, you may be eligible for this reward as well. You'll have to meet the same requirements as new customers to earn the $50 bonus.
In addition to this cut-and-dry $50 promotion, Fidelity currently runs its Annual Savings Match Program. You can earn a 10% match on the first $300 you deposit, with a bonus of up to $30.
A whole $30 isn't much to sneeze at, but it's enough to pay for a decent meal, especially when you only deposited $300 to earn it. With your Fidelity debit card, you can also earn up to 25% cash back when you shop through the app and a dime every time you use your new Visa debit card.
Pros and Cons of Fidelity Bloom
Fidelity makes it easy to figure out how to start investing for beginners. The Fidelity Bloom app can be your springboard toward a better future.
Pros:
Free to download
Available for both Android and iOS phones
Free Visa cash back-earning debit card
No setup fee or monthly maintenance fees
Spend and Save accounts separate your funds for more effective management
Earn $50 when you deposit $25
Myriad of educational tools and challenges
Cons:
No monetary rewards for completing bootcamps and challenges
Technically not a checking account
Lacks sophisticated investment tools of other investing apps
Automatically enrolls you in the Round Up feature to potentially spend more than you wanted to
Can only earn a max of $30 with the Annual Savings Match Program
Ever-changing promotions can mean small windows of opportunity
Fidelity Bloom Alternatives
Fidelity rubs shoulders with several major investment brokers, from The Vanguard Group to J.P. Morgan. Additional competitors include fintech companies such as Webull, Yieldstreet, Moomoo, and Tastytrade.
Both Webull and Fidelity rank as some of the best fractional share brokerages, while Moomoo offers up to $30,000 in free stocks.
Get up 15 free stocks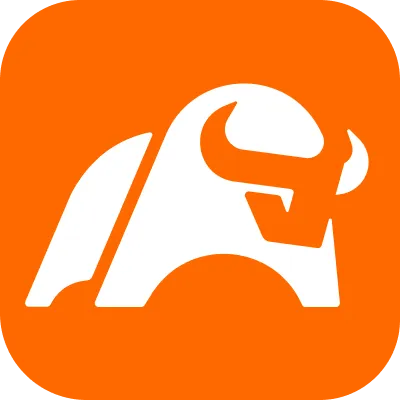 Moomoo
Moomoo offers zero-commission trading for stock, ETFs, and options on an advanced trading platform with robust research and analytical tools. New users can get up to 15 free stocks worth up to $30,000.
Open Account
We ranked Robinhood alternatives such as Yieldstreet and M1 Finance among the best free stock trading apps.
One of Fidelity's fiercest competitors is Robinhood, one of the best investment apps to begin with if you know nothing about how to make money with investments. Robinhood lacks certain features that Fidelity incorporates (and vice versa), so it's worth a closer look.
Robinhood
Unlike Fidelity, Robinhood is one of the newer investment apps to hit the market. Fidelity still stands as one of the largest asset managers across the globe and its nearly 80 years of business certainly demands respect.
At the same time, Robinhood ranks as one of the best cryptocurrency exchanges, something more traditional investment apps like Fidelity tend to struggle with. If you only want to participate in micro-investing, Robinhood takes the cake there as well.
We cover the gamut of features Robinhood offers in our in-depth review, but when it comes to investing, it mirrors Fidelity in ease of use and practicality. Robinhood doesn't require a minimum balance either.
Where Robinhood shines is in offering free commissions on stocks, ETFs, options, and cryptocurrency. Fidelity doesn't offer crypto as an asset and charges a minimal $0.65 fee for options contracts.
Qualifying for more sophisticated investment resources requires an additional account with Fidelity, called the Active Trader Pro account. This account cannot be bought.
Instead, you have to make 36 trades within 12 months to qualify. For similar stock-assessing tools, Robinhood requires a $5 monthly fee for the Gold account.
At the same time, Robinhood lacks a certain sophistication that advanced traders may prefer. Plus, you can only invest with taxable brokerage accounts, not IRAs.
Robinhood also recently added the option to withdraw your earnings via cryptocurrency without paying additional transaction fees. With over 17 cryptocurrencies to choose from, that's a competitive feature for this fledgling investment app.
Customer service is where Fidelity outranks Robinhood by a wide margin. Customer support is available 24/7 via phone and you can connect with an agent via live chat or physical branches.
Choosing between Fidelity and Robinhood can be difficult. It usually boils down to personal preference and investment goals.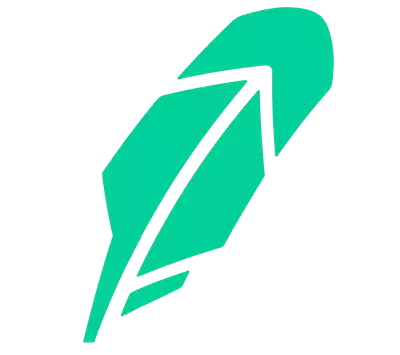 Robinhood
Robinhood has commission-free investing for stocks, options, ETFs, crypto, and tools to help shape your financial future. Sign up and get your first stock worth between $5 and $200, free.
Open Account
Robinhood Review
FAQs
What promotions can you take advantage of with the Fidelity Bloom app?
Fidelity is running several promotions for the Bloom app. You can earn $50 when you deposit $25 and earn a dime every time you swipe your new Spend Visa debit card. 

Through the Fidelity Annual Savings Match Program, you can earn up to $30 for depositing at least $300 into your account. It's not much but it's better than nothing. 
How much does the Fidelity Bloom app cost?
The Fidelity Bloom app is free to download and use. It is available on both the Google Play Store and the App Store. 
Does Fidelity Bloom require a minimum balance?
No, Fidelity Bloom does not require a minimum balance. However, you can earn $50 when you deposit $25 into your account, even if you are an existing Fidelity customer. 
Who is the Fidelity Bloom app best for?
The Fidelity Bloom app is best for a wide range of ages, from early adults to middle-aged folks. Fidelity does have an under-18-specific account that can be used in place of the Fidelity Bloom account. 
Let Your Finances Bloom with Fidelity
Learning how to manage your finances is often a long-term, life-long goal for most of us. However, with Fidelity's help, it doesn't have to be a struggle you go through alone.
With the help of the Fidelity Bloom app, you can separate what you spend and what you squirrel away. The bootcamps and challenges within the app also challenge you to think about how you interact with your money to make changes for the better.
Fidelity Bloom can help you get a grip on your finances if you're struggling. However, you should know that it doesn't replace a typical checking account and remains on the less-competitive side of things when it comes to savings balance interest rates.
Will you rise to the occasion and conquer Fidelity's financial challenges? Download the Fidelity Bloom app to test your financial knowledge.
If you're on the fence about Fidelity Bloom, give it a try. See how you can use this investment firm's resources to your advantage for a brighter financial future.