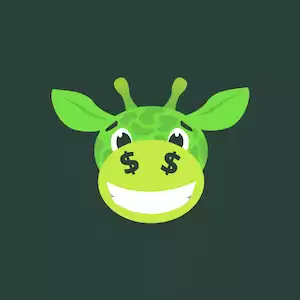 Cash Giraffe (Android Only)
With Cash Giraffe, you can receive gems or other forms of virtual currency as a reward for playing games or using apps. Once you've earned enough gems, you can redeem them for gift cards or cash via PayPal.
Download Now (Free) →
Picture this: you're nestled on the couch, your phone in your hands, and you're playing a game. When your friend texts you asking what you're up to, you reply, "Making money."
Sounds too good to be true, right? With Cash Giraffe and gaming apps like it, it's more real than you might think!
Cash Giraffe lets you play games and earn money at the same time. Sure, you can't go buy a house for what you get when you play Cash Giraffe games, but it can buy you a sweet treat for yourself here and there.
This gaming app comes from German developers and is free to download from the Google Play Store. Did you know that there are almost 2,500 German game developers with over 6,500 gaming apps available on the Google Play Store? 
The Germans weren't the first to think of paying you to download and play games. At the same time, we have to admit that Cash Giraffe sure makes it easy to have fun and earn a nominal token of appreciation for your time.
In fact, Cash Giraffe lets you choose from gift cards for popular retailers and a PayPal deposit when you cash out. Plus, you can earn more for each game you download and play.
Are you ready to dive deeper into our Cash Giraffe review? Let's get started!
What is Cash Giraffe
Cash Giraffe is an Android-only app available from the Google Play Store. Just Dice, a German gaming company, developed this get-paid-to-play-games app.
Released in mid-2022, Cash Giraffe now has over 1 million downloads. There are no hidden fees but tons of opportunities to earn rewards for trying out games and apps you haven't downloaded before.
If you're looking for some of the best money-making apps out there, Cash Giraffe is one of them. When you download Cash Giraffe in addition to many of the other gaming platforms that pay you to play, you can also double dip and multiply your earnings. 
How Does Cash Giraffe Work
Cash Giraffe's arrangement is fairly straightforward. For each new app that you download and explore (whether it's a gaming app or another type of app), you earn coins based on how long you use that app.
As you're playing or perusing, Cash Giraffe tracks your progress in the background. This app also offers sponsored deals and paid surveys, though the availability of these offers varies from one user to the next.
Signing Up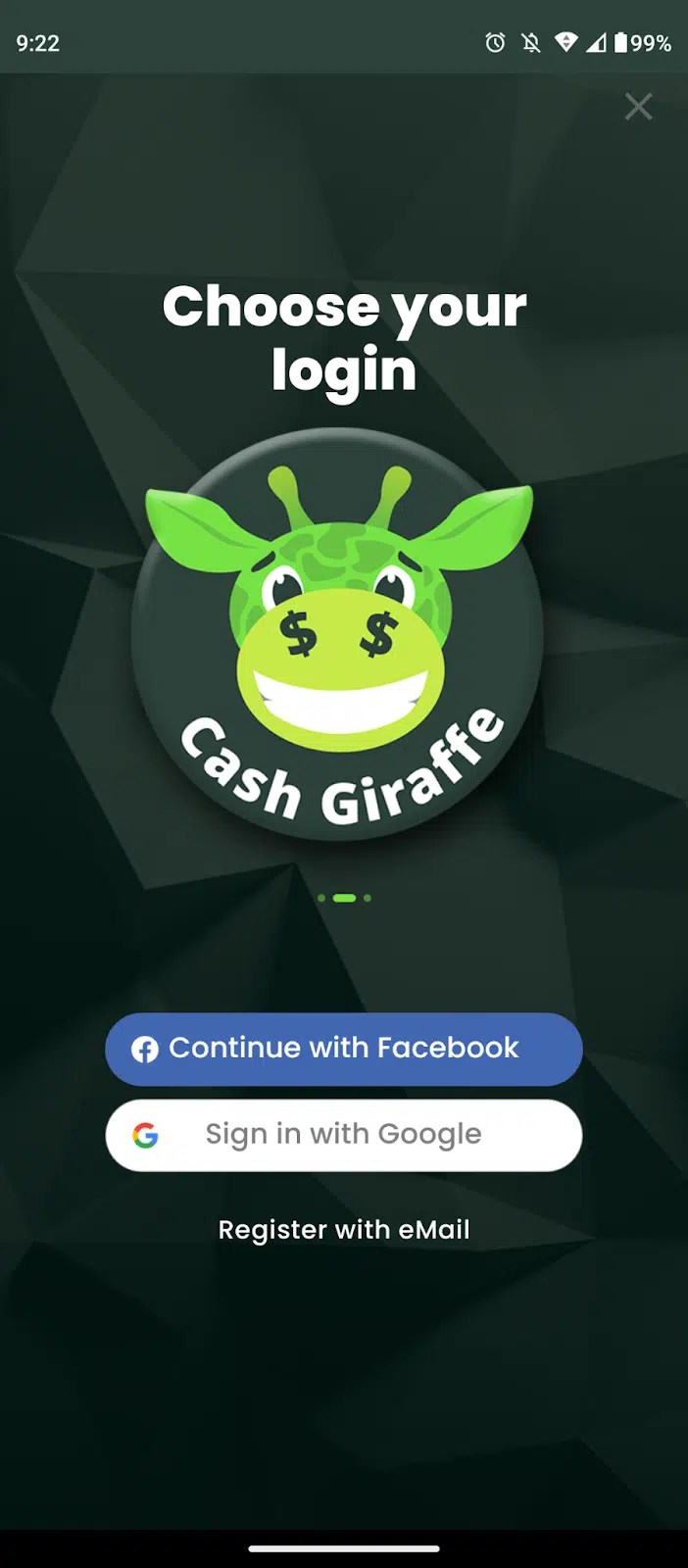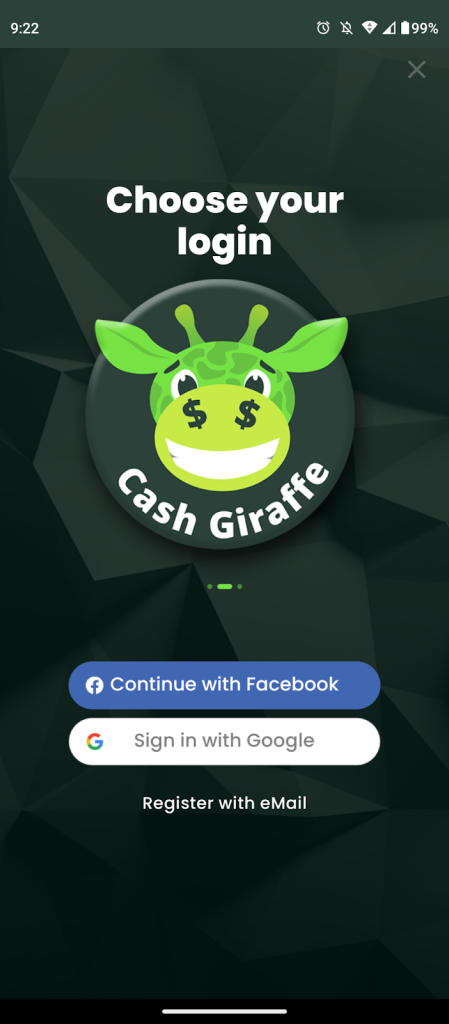 Creating an account with Cash Giraffe takes hardly any time at all. You'll need to choose if you want to use Facebook, Google, or another email to register first before you can move forward.
Then, Cash Giraffe will prompt you to review the terms of service and permit it to track you while you're not using the app directly. As a sign-up bonus, Cash Giraffe offers 4,499 coins.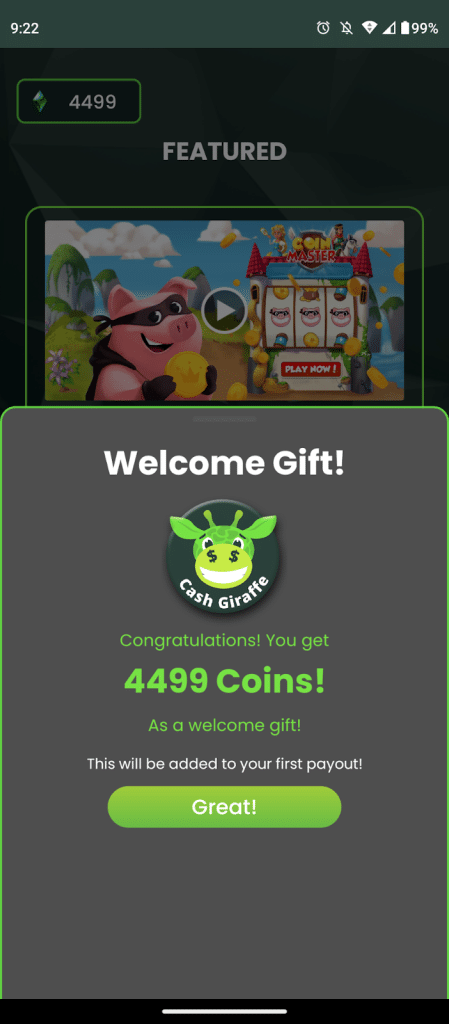 From there, you can explore the app, including what games you've downloaded, what featured games are listed for you to download and earn coins, and payout options. Take a minute to explore this app to see how you can get paid today.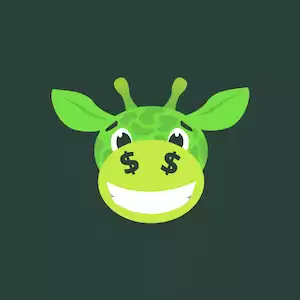 Cash Giraffe (Android Only)
With Cash Giraffe, you can receive gems or other forms of virtual currency as a reward for playing games or using apps. Once you've earned enough gems, you can redeem them for gift cards or cash via PayPal.
Download Now (Free) →
Playing Games
Like many of the win-real-money apps out there, Cash Giraffe pays you the most for the first few minutes you play a game. While in the apps that earn you coins, you'll receive notifications that tell you how many coins you can earn as time passes.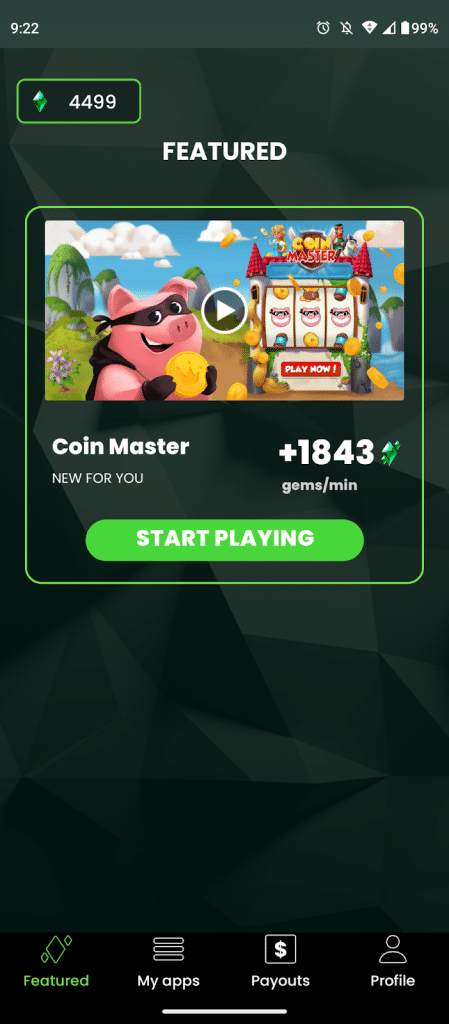 Games will change based on where you're located, but you don't have to enter any personal information so there's no bias towards more female- or male-oriented apps. You may even find that the same game offers a varying amount of coins you can earn per minute depending on when you log in.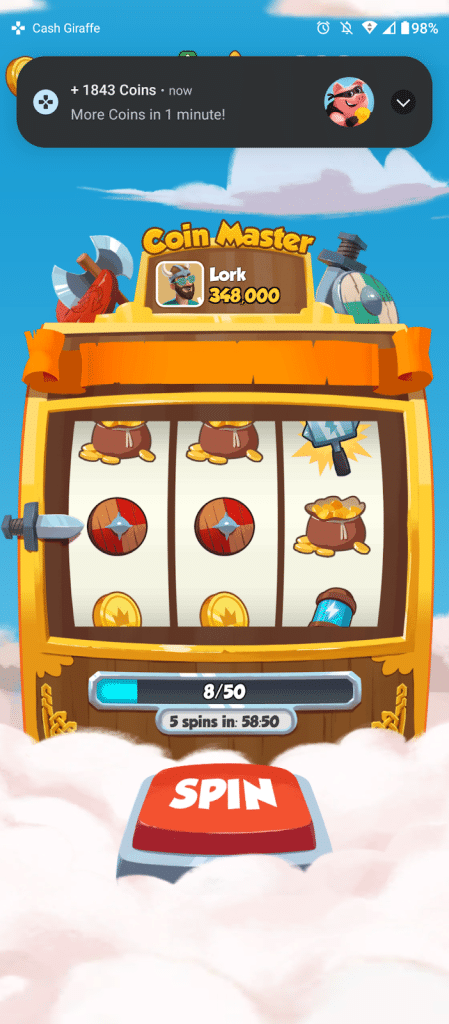 Cash Giraffe genres include slots, bingo, cards, simulation, adventure, and more. You'll find some or all of these games available:
Blast Friends
Farm Hero
Diamond City
Cornhole League
Solitaire Cash
Tile Master 3D
Slots Era
As you play each game, you'll find it harder to earn a substantial amount of coins. However, Cash Giraffe does run special events where you can multiply your earnings.
Cashing Out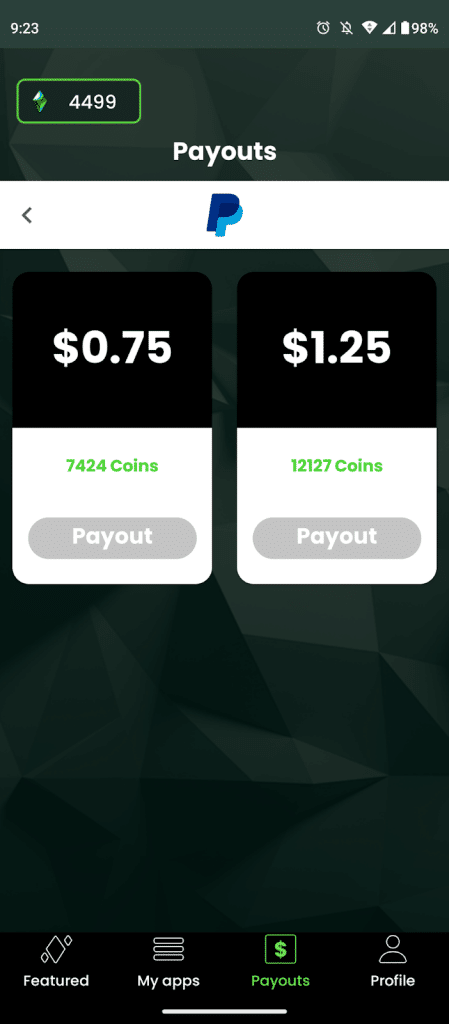 Unlike survey apps and some other gaming apps, Cash Giraffe doesn't require you to reach a specific minimum to cash out across the board. Instead, you'll see the different ways to cash out, including how many coins you need, for each payout option listed.
For PayPal, a minimum of 7,424 coins were necessary to cash out for $0.75. If you earned 12,127 coins, you could cash out for $1.25.
While the rewards are similar to your amount in coins (moved over a few decimal places, of course), you can earn better rewards if you rack up coins. For example, you could cash out for a higher amount with a lower ratio of coins to dollars if you saved up over 20,000 coins.
Cash Giraffe lets you choose between gift cards and a PayPal deposit. You'll need to verify your email after requesting a payout and provide a selfie to prove your identity.
There are no fees to redeem your coins. If you choose PayPal, the payouts come in the form of Euros, but PayPal typically lets you convert your currency for free.
Gift card codes often come in seven business days, while PayPal deposits take about five business days. Once you request a payout, you cannot cancel it.
Cash Giraffe Pros and Cons
It's time to put it all together. How does Cash Giraffe stack up in your mind?
Pros:
Free to download from the Google Play Store
Automatically tracks your game time
Low minimum cash out
Many cash-out options to choose from
Available in multiple countries
No hidden fees
Cons:
Available for Android users only
Featured games may not include the type(s) of games you like
Low earning potential that decreases with time
Spotty customer service
Software occasionally has trouble tracking rewards
How to Maximize Your Time with Cash Giraffe
Most get-paid-to-play gaming apps run off the same premise, making it easy to develop a strategy and maximize your earnings. Here are a few ideas to get the wheels turning:
Set a timer for 10 to 20 minutes and start it once you open a new app. Play the game until the timer rings and then move on to the next one.
After you've reached the point of diminishing returns (where the coins you're earning don't justify the time you're spending), uninstall an app. This can help provide space for downloading your next gaming app.
Check in with Cash Giraffe frequently to see what apps have been added.
Keep an eye out for bonus rounds where your earnings are multiplied. These events can easily help you earn the reward you're aiming for.
Invite friends to earn even more. You'll earn 250 coins and 25% of their lifetime earnings. They'll earn 25% of your lifetime earnings in exchange.
The good news is that Cash Giraffe isn't the only app of its kind. You can find plenty more opportunities to earn rewards with the apps featured in our next section.
Alternatives to Cash Giraffe
Branded Surveys and InboxDollars make it easy to earn rewards while sharing your opinion. If you're looking for other ways to maximize your downtime, check out these gaming apps.  
Another Android-only app, AppStation mirrors its name. The gaming app lets you choose from several games and earn rewards for giving them a whirl.
You'll only need $5 to cash out with AppStation. This gaming app lets you choose between a PayPal deposit and gift cards from popular retailers like Amazon.
The more you play games on AppStation, the fewer points you earn. However, you can potentially double-dip with other gaming apps if you play your cards right which we show in our AppStation review.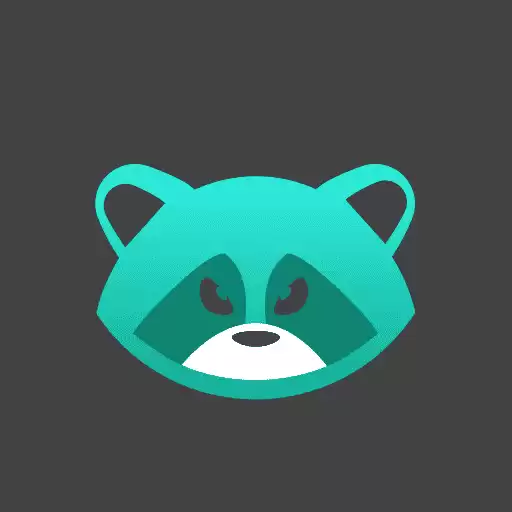 Not many people have heard of Money Well. This Android-only app works like any other get-paid-to-play gaming app on our list, with rewards that you can cash out via gift cards and PayPal.
The good news is that Money Well doesn't make you watch tons of ads to get through gaming. Instead, you'll enjoy your personal time uninterrupted.
Money Well offers referral rewards, in addition to several genres of games. Download Money Well today to see how you can earn extra cash without breaking your back.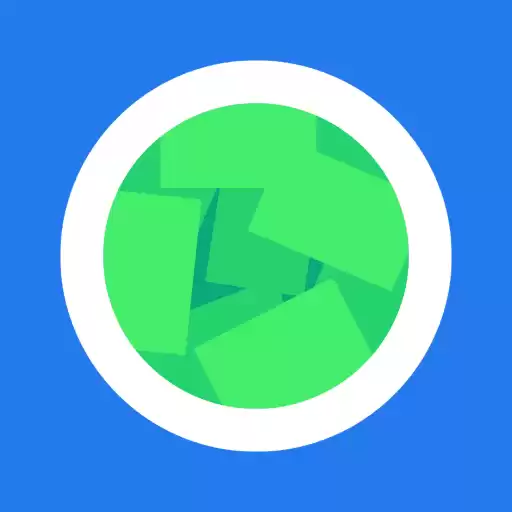 Money Well (Android Only)
Get the free app with no in-app purchases, deposits required, or advertising. Play games from the offer wall, track your active time for cash, and collect tickets for gift cards. Redeem gift cards or cash out on PayPal in less than 2 days.
Download on Google Play →
Similar to JustPlay, another app that lets you earn extra cash for each gaming app you download, App Flame lets you earn peak rewards from the get-go. Plus, you can cash out for gift cards or choose PayPal to transfer the funds to your bank account.
App Flame is available outside of the United States but can only be downloaded to Android phones. In our App Flame review, we easily achieved enough points to cash out for a $0.50 reward, so you really don't have to spend a lot of time on the app to see a positive result.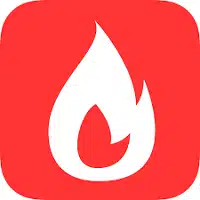 App Flame
You can earn money by playing your favorite games through the App Flame app. Users can download the app for free and play a variety of games. The app tracks the user's playing time and rewards them with coins, which can be exchanged for gift cards or money via Paypal.
Download Now (Free) →
App Flame Review
Among game players, our Rewarded Play review showed us that it is a common favorite. You can choose from several popular games to play on your Android phone and cash out once you reach the $5 mark. 
Rewarded Play doesn't work with PayPal, but you almost don't need that option if you're all about gift cards. Play games across several genres to earn more and buy yourself a little something every now and then.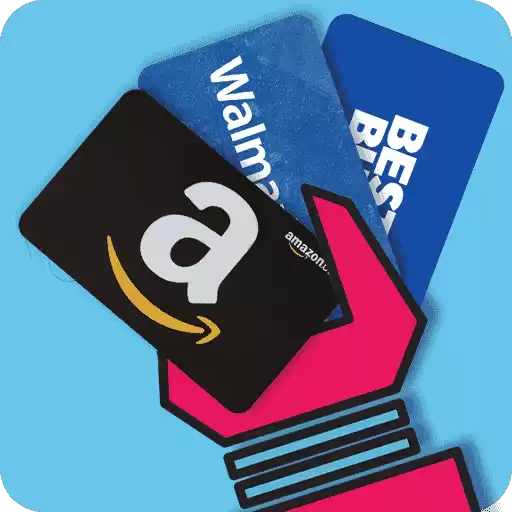 Download and play puzzle, action, bingo, arcade, and strategy games to see how much you can earn. Mistplay is an Android-only app that lets you cash out for as low as $0.50 through PayPal.
Like Cash Giraffe, our Mistplay review shows how it offers you several games you can download and play while it watches over your shoulder. It may not cheer you on, but it certainly pays you to play games more often throughout the day. 
As you level up in Mistplay, you'll also get the chance to earn more lucrative rewards. If there's only one other app you download besides Cash Giraffe, Mistplay is one of the more popular and rewarding gaming apps out there.
100% free, no deposits required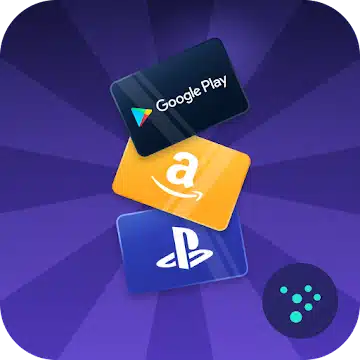 Mistplay (Android Only)
Earning money by playing games on your phone sounds like a dream. But Mistplay really pays you for playing new games with free gift cards. It is 100% free to play and you never have to deposit any money.
Start Playing
Mistplay Review
Sites like Swagbucks are almost as common as gaming apps that pay you to download new games. However, Swagbucks is one of the more lucrative apps out there that rewards you for more than just sharing your opinion.
For example, Swagbucks offers rewards for gaming, watching videos, reading emails, and participating in daily challenges. If you want to earn rewards for the online shopping you do, Swagbucks could put more money back into your bank account.
Earn around $50 to $1,000 per year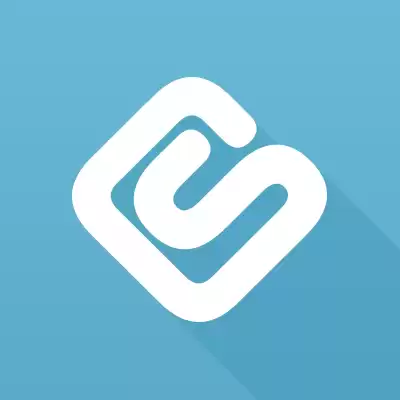 Swagbucks
Swagbucks offers a variety of ways to earn money online. You can take surveys, play games, surf the web, watch videos and more to earn points towards gift cards or cash.
Start Earning
Swagbucks Review
FAQs
Is Cash Giraffe legitimate? 
Yes, Cash Giraffe is legitimate. You can earn rewards by downloading and playing games and then cash out your coins for gift cards and PayPal deposits. 
How else can you play games and make money?
Mistplay, Rewarded Play, and JustPlay let you play games and make money. Each of these apps has different points and rewards systems, but you can still earn money by playing games. 
How much can you earn with Cash Giraffe?
Cash Giraffe lets you earn the most coins for the first few minutes you play a game. Earnings will drop off after a certain point, but you can easily go back to the featured games list and download another one to boost your earnings. 
What rewards does Cash Giraffe offer?
Cash Giraffe offers gift cards and PayPal deposits. Though PayPal deposits are transferred in Euros, you can easily convert them to U.S. dollars, typically without an additional fee. 
You Don't Have to be a Zoo Animal to Play Games and Earn
Cash Giraffe makes it easy and simple to explore the many games available for download and get paid for your time. When you download a new app with Cash Giraffe, you're improving your efficiency and maybe even decompressing a little.
We hope this article has helped you to see how you can use Cash Giraffe to make a few extra dollars. While it certainly won't replace your full-time career, it can definitely help you check out from the daily grind and have fun.
Who says earning money has to be a chore? With Cash Giraffe, you can stick your head in the clouds and escape reality to earn extra cash without the hassle.
How else can you earn money in your free time? Check out our blog for more ideas and advice.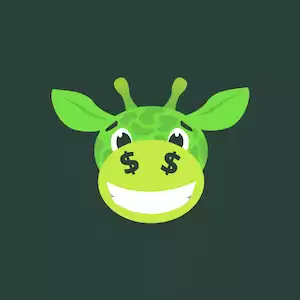 Cash Giraffe (Android Only)
With Cash Giraffe, you can receive gems or other forms of virtual currency as a reward for playing games or using apps. Once you've earned enough gems, you can redeem them for gift cards or cash via PayPal.
Download Now (Free) →
Earn up to $100 today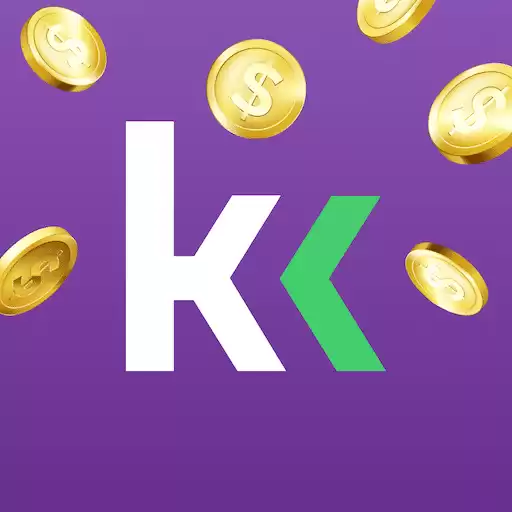 KashKick
Trusted by 2M+ users like you
This site pays you cash to play mobile games, save money, take surveys, and see offers — make $100 today. Over 2 million users agree that KashKick is a fresh and lucrative way to earn money and get paid directly to your PayPal!
SIGN UP & START EARNING NOW