Renting houses, condos, townhomes, or apartments can be a great way to earn passive income. At the same time, keeping track of all your rental investments can be hard, especially if you've got more than a few in your portfolio. Ensuring all of your tenants pay rent on time can get confusing quickly as well. In these cases, it pays to have an app on your side that can help you with many aspects of your rental property, including collecting rent. 
Our guide of 8 apps can keep you and your tenants on track when it comes to paying rent. Plus, many of them offer additional services that will aid you in other aspects of rental property ownership, such as screening tenants, reporting their rent payments to credit bureaus, and even integrating with bookkeeping services for tax preparation. Just like with property management, the best rent collection app can take a weight off your shoulders to give you more time to focus on what's important.
Are you ready to find out what rent collection apps can do for you? Let's get started.
What to Look for in an App for Rent Collection
Living rent-free might be a great way to save tons of money each month, but when it comes to rental properties, rent is critical for property owners. This is especially true of those who are renting out their first property and rely on multiple streams of income to make their own mortgage payments and other bills.
Here are some features you'll want to look for when browsing rent collection apps:
Payment methods: Most rent-collecting apps will allow tenants to pay in multiple ways, including credit and debit cards, bank transfers, or even cash. Choose a method that fits with your needs.
Fees: These rent collection apps may charge transaction fees, as well as monthly fees to manage one or more properties.
Screening options: Some apps will only do a simple background check, while others will perform a credit check as well. Look into what screening options your favorite rent collection apps offer.
Integration: Apps that integrate well with others can streamline the entire rental process. Examples include listing websites, credit bureaus, accounting software, etc.
Additional features: Rent collection apps have to stand out from the competition in some way. These additional features may tip the balance between one app and another based on what needs they address.
When it comes to picking out a rent collection app, choosing one that will help you ensure your rent payment comes on time can provide more security than almost anything else. After all, your part-time income from the rental may even help to pay for property management services as well.
Best Apps for Landlords for Rent Collection
Owning a home and renting one out are two different animals. Here are 8 of the best apps you can use to collect rent as a landlord, no matter how many rental properties you own.
Being a landlord has perks when you open an account with Baselane. This free rent collection app will pay you $150 to open a bank account or start collecting rent, as long as you (a) invite your tenant and collect two rent payments of $500 or more or (b) deposit at least $500 into your account and make 5 qualifying transactions with your linked debit card.
There are no fees associated with a Baselane account if you are a landlord, but you can receive up to 5% cash back on your debit card purchases. Plus, you're eligible for a 4.46% APY on any savings balances. Did we mention that Baselane allows you an unlimited number of properties with your free account?
When tenants pay rent with a credit or debit card or a bank transfer, the funds are sent directly to your account. Tenants are responsible for the 2.99% transaction fee for paying with a credit/debit card. You can choose to have a single account or even break up accounts based on how many rental properties you have. Tenants also have the opportunity to set up recurring payments or choose a one-time payment option.
In addition, Baselane also helps you manage your finances with various tools and charts. It will even provide a Zillow-sourced market value. If you're not yet insured, Baselane's partner Obie can help you with dwelling and liability insurance, as well as loss of rent and many other types of landlord insurance. Baselane will even help you find flexible real estate loans through Lendency. The only things it can't help you with are tenant screenings and property listing options.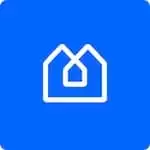 Baselane
Baselane is a good option for landlords and property managers who want a free platform for their rental property finances. It can help with the most challenging aspects of managing rental properties. From banking, bookkeeping, rent collection, reporting, analytics, and more – all in one place.
Open Account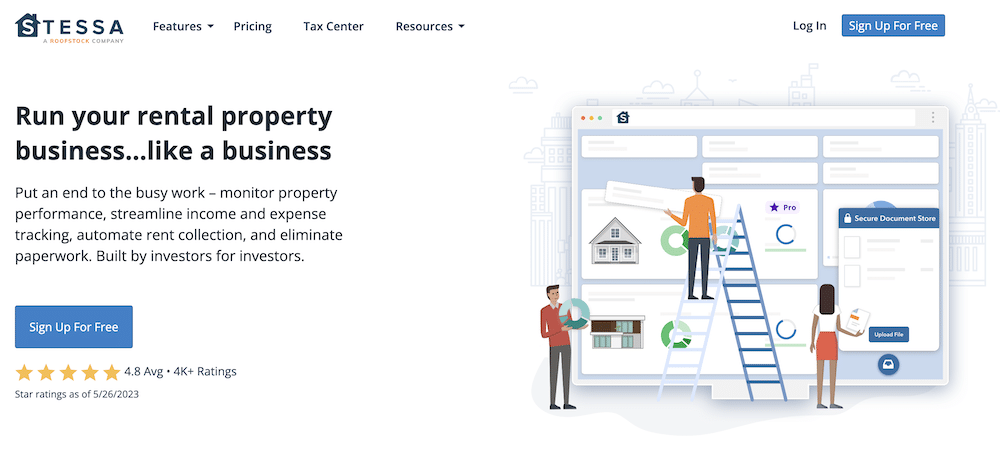 If you like financial reports, you'll like Stessa. This rent collection app receives rent through ACH transfers and can also help you track expenses. In fact, you can even update your income statements, balance sheets, and cash flow reports with Stessa. Plus, reports are generated automatically so you don't have to lift a finger.  
Stessa also has a Cash Management feature with integration capabilities and financial insights. You even get a free Visa debit card to tie your purchases directly to a property. This is often helpful for repairs or property management services, especially if you own properties in different states.
Stessa also helps with onboarding tenants and sending reminders about rent due. It will also update in the system when rent is received. You get an unlimited number of free accounts, so you can easily tie one to many properties within your portfolio. There are no fees for monthly maintenance or inbound wires, or a minimum balance requirement. Plus, you can manage your money through an FDIC-insured bank with competitive APYs and a connection to Roofstock, Stessa's parent company that allows you to invest in real estate.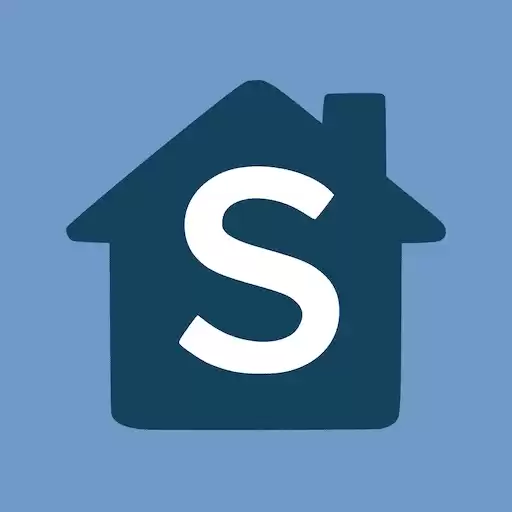 Stessa
Rental property finances made simple. Now real estate investors can easily maximize profits through smart money management, automated income and expense tracking, personalized reporting and more.
Sign Up Free
3. Avail
Collecting rent from your tenants is affordable with Avail. This app works best for small landlords who don't have too many rental properties. Plus, there are plenty of great features that help you make the most of your passive income source.
Avail's basic plan, called the Unlimited plan, is free. This account allows you to receive payments from tenants for rent, security deposits, and any other fees associated with applying/renting. Tenants can pay with either a bank account or a qualifying credit/debit card of their choosing. Plus, tenants will pay any application fees as well as transaction fees.
The Unlimited plan also includes the ability to list and schedule showings, provide potential renters with an application they can fill out, screen those potential candidates via a TransUnion credit check, create legally-binding leases specific to your state, and streamline maintenance requests. You can also keep track of expenses per unit in real-time. Avail will even allow you to integrate your properties with bookkeeping services and provide rent price analysis.
You can also opt for the Unlimited Plus plan, which is $5 per unit per month. This affordable plan includes next-day payments, custom lease cloning, waived ACH fees, and a customizable web page for marketing your rental property. While there are no chat features within the app, you can communicate with tenants via email.
4. Buildium
There are three packages to choose from with Buildium: the Essential package, which is $52 per month, the Growth package, which is $160 per month, and the Premium package, which tops out at $460 per month. However, Buildium also offers a free trial you can take advantage of to see which plan is right for you.
Buildium tracks tenant payments right out the gate. You can use this app to accept ACH payments or credit cards, in addition to cash payments made via PayNearMe. With an intuitive dashboard and end-to-end landlord services, Buildium is a favorite among many landlords. 
With Buildium, you can easily screen tenants, purchase renter's insurance, and even schedule showings. Plus, the app will provide you with leads in your target area. Buildium's app allows you to pay vendors as well as streamline maintenance requests, communicate with tenants, and approve lease applications.
5. Hemlane
Available in all 50 states, Hemlane is one of the best apps landlords can use to collect rent for multiple properties. Hemlane gives landlords the option to choose their services based on a tiered system, which is especially helpful if you have a property management service already. All tiers start at $28 per month, with additional fees as the number of units increases.
Hemlane allows you to collect rent via a credit or debit card payment, or through an ACH transfer. Unlike some of the other apps on our list that limit you to full payments, Hemlane allows you to accept partial payments as well. This is especially helpful if you have multiple tenants living within the same house.
If you're not sure Hemlane is the right app for you, you can take advantage of the 30-day free trial. Standard features cost $28 per month, with additional features cost you anywhere from $2 to $32 per unit per month on top of that. Hemlane allows you to connect several bank accounts to keep your finances organized, which is especially helpful if you have multiple properties you want to keep separate for taxes.
Speaking of which, Hemlane allows you to connect with local real estate agents and inspectors as well as advertise your properties. This app can send out rental applications, track income and expenses, manage maintenance requests, and do background/credit checks. Hemlane offers 24/7 support for tenant requests. At the same time, it might not be the best choice if you have a short-term vacation rental and/or more than 100 units, as you'll still need a property management service to pick up where Hemlane leaves off.
6. PayRent
There are three tiers you can choose from when you download PayRent. This app offers the Pay-as-You-Go tier, which is free, the Do-It-Yourself tier, which is $19 per month plus $3 per unit after 25 units, and the Go-Like-a-Pro tier, which is $49 per month and $3 per unit after 10 units. There is a $5 bank transfer fee for the Pay-as-You-Go tier and a $2 fee for the Do-It-Yourself tier. Bank transfers made with the Go-Like-a-Pro tier are free.
PayRent offers a free 7-day trial for the DIY tier, and a 14-day trial for the Go-Like-a-Pro tier. Payments made with PayRent are reported to all three credit bureaus, which can help tenants improve their credit score with on-time payments. When tenants pay their rent with a credit card, they will pay a 3.5% fee as well as $0.30 per transaction. Tenants can also pay with a bank transfer and even schedule payments in advance.
One of the best things about PayRent is that tenants who consistently pay on-time are eligible for interest-free emergency funds. These funds can help them with rent or even bills or other expenses. Plus PayRent's RentDefense helps tenants pay on-time with reminders and invoices in addition to past-due notices and notices of late fees.  
7. RentRedi
RentRedi helps you receive credit, debit, ACH, and cash payments for rent. Plus, tenants can set up automatic payments as well. Rent payments are reported to TransUnion, so tenants can improve their score as they pay their rent on time.
This highly-rated app also allows you to accept partial payments or block them completely. You can have an unlimited number of payment accounts and your funds are deposited within 4-5 business days after receipt. You'll also have access to listing your properties on RentRedi, Doorsteps, and Realtor.com.
RentRedi offers a pay-as-you-go plan which is $19.95 per month. You can also choose a 6-month plan that is $15 per month or an annual plan that comes out to $9 per month. RentRedit offers landlords the ability to generate and accept applications online, as well as screen potential tenants using SmartMove's ResidentScore database. Tenants can even e-sign documents.
Tenants can pay with cash at over 90,000 retail locations. You can choose to pay the $1 ACH transfer fee or the 2.9% plus $0.30 credit card transaction fee yourself, or you can pass that onto your tenants. RentRedi also allows you to set up automatic late fees and outsource maintenance requests. You can even add on accounting software through REI Hub as well. 
8. TenantCloud
Does the thought of listing your rental property on dozens of rental listing sites with one click sound like a dream come true? Check out TenantCloud, which helps you to connect to potential candidates and manage your properties in one go.
While TenantCloud's basic software is free, the Starter plan is $12 per month, the Growth plan is $40 per month, and you'll need to contact TenantCloud directly to discuss Business plan pricing. You can also use the 14-day free trial to check out the many features this app offers.
TenantCloud allows tenants to set up automatic payments or simply submit a single payment. You can create a customized website to promote your rental properties, though TenantCloud does provide them through Rentler in case you need assistance. Template Builder from TenantCloud also allows you to create state-specific leases you can adjust and send to future tenants.
With TenantCloud, you can schedule tours, send rental applications, run background and credit checks, report rent payments to all 3 credit bureaus, and account for it all with the app's end-to-end software. The TC Messenger system also allows you to interact one-on-one with tenants or message them all at once. 
FAQs
Can you collect rent for free online? 
Yes, there are a handful of apps that allow you to collect rent for free online, as long as you meet their criteria. Avail is one of those apps that allows basic plan members to collect rent online for free. 
Do landlords have to pay transaction fees for online rent payments?
Landlords can choose to pay transaction fees or pass them on to their tenants. It's all based on how the rent collection software sets up its processes. 
Can you collect rent online without a bank account?
No, it's not possible to collect rent online without a bank account. The rent must be transferred from one bank account to another, or at least any cash payments must be deposited to some sort of account. 
What's the safest way to collect rent online? 
One of the safest ways to collect rent online is to invest in a rent collection app. This service can also help you with other aspects of being a landlord, such as screening potential renters to integrating with your favorite bookkeeping services.
Manage Your Rental Properties with the Best Rent Collection App
We hope you've found this article on rent-collecting apps helpful in finding a service that fits your needs. Like a property management service, apps that help you collect rent can make a world of difference when it comes to allocating your time. After all, you should have the chance to enjoy your passive income investment, rather than agonize over whether or not you can rely on the rental income this month.
Our Pick