Launch your business in just a few clicks

Tailor Brands | Small Business Set-Up Made Easy
All the tools you need to start your business and look professional, in one place. Here, you can use AI-powered tool to create a logo and style guide that's the perfect match for your business. Create your online presence and launch your business online. Then get your LLC and register your business and trademark your logo
Get Started
Did you know that there are approximately 4.4 million businesses started each year? Not all companies are successful, but there are ways you can set your business apart and find the tools necessary for success.
Some of the most sought-after tools help you brand your business and gain a virtual presence. When social media is the main form of marketing across nearly all industries, a memorable virtual presence can make or break your business.
Tailor Brands is one of many business services that supports you in building your brand from the ground up. The company's list of services includes assisting you in forming an LLC, creating a logo, developing a website, and generating brand imaging for your social media accounts.
Our Tailor Brands review incorporates an overview and evaluation of these services. We'll also compare them to other branding services to see which is best worth your investment.
Are you ready to dive into our Tailor Brands review? Let's get started!
What is Tailor Brands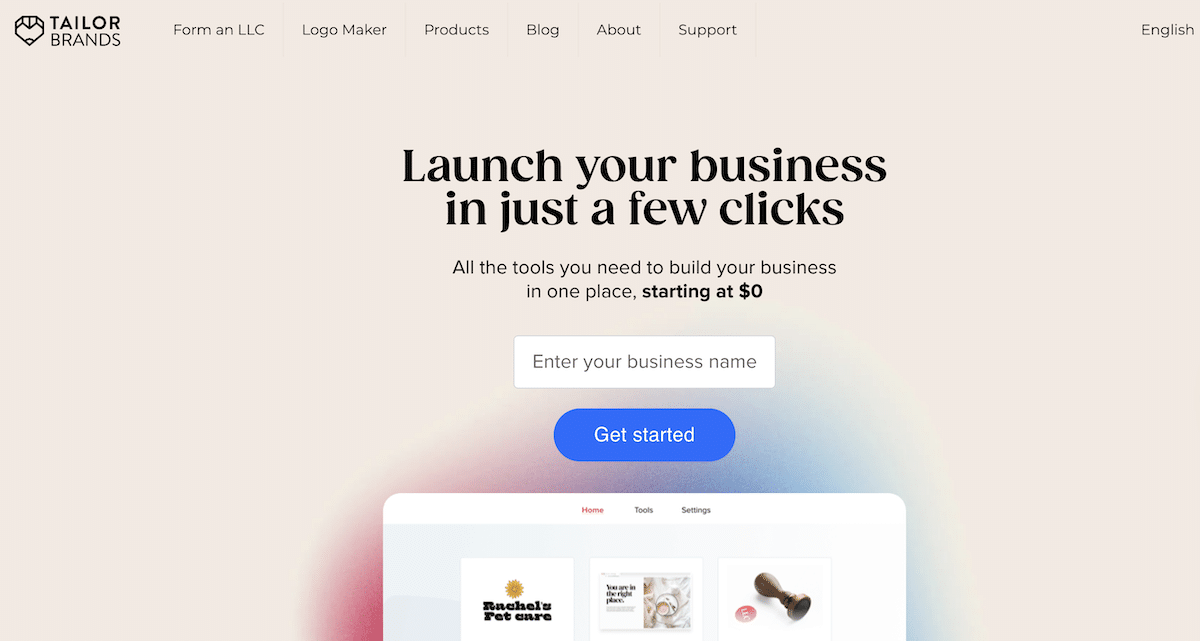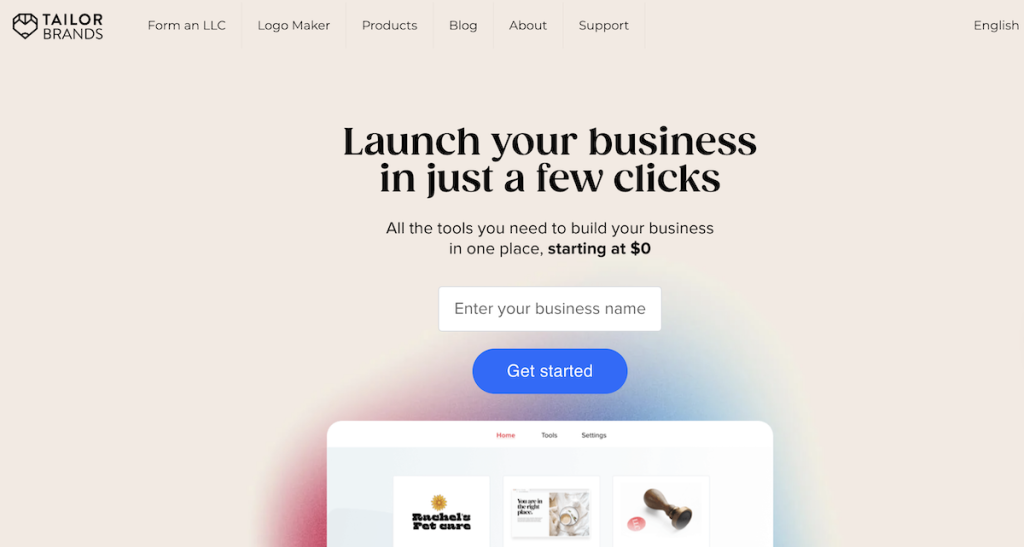 Tailor Brands uses AI-driven software to check all the boxes necessary to start a business.
In addition to assisting in the legal proceedings required to form an LLC, Tailor Brands focuses most of its efforts on visual elements that define a business.
If you'd like to form an LLC using Tailor Brands, services include assistance with:
Permits
Trademarks
Tax filing
Articles of organization
Operating agreement
Employer Identification Number (EIN)
You can learn more about starting an LLC with Tailor Brands here.
Squaring away your business legally is one of the first steps to ecommerce success.
The next is generating a brand identity and distinct visual elements that help your customers recognize you online.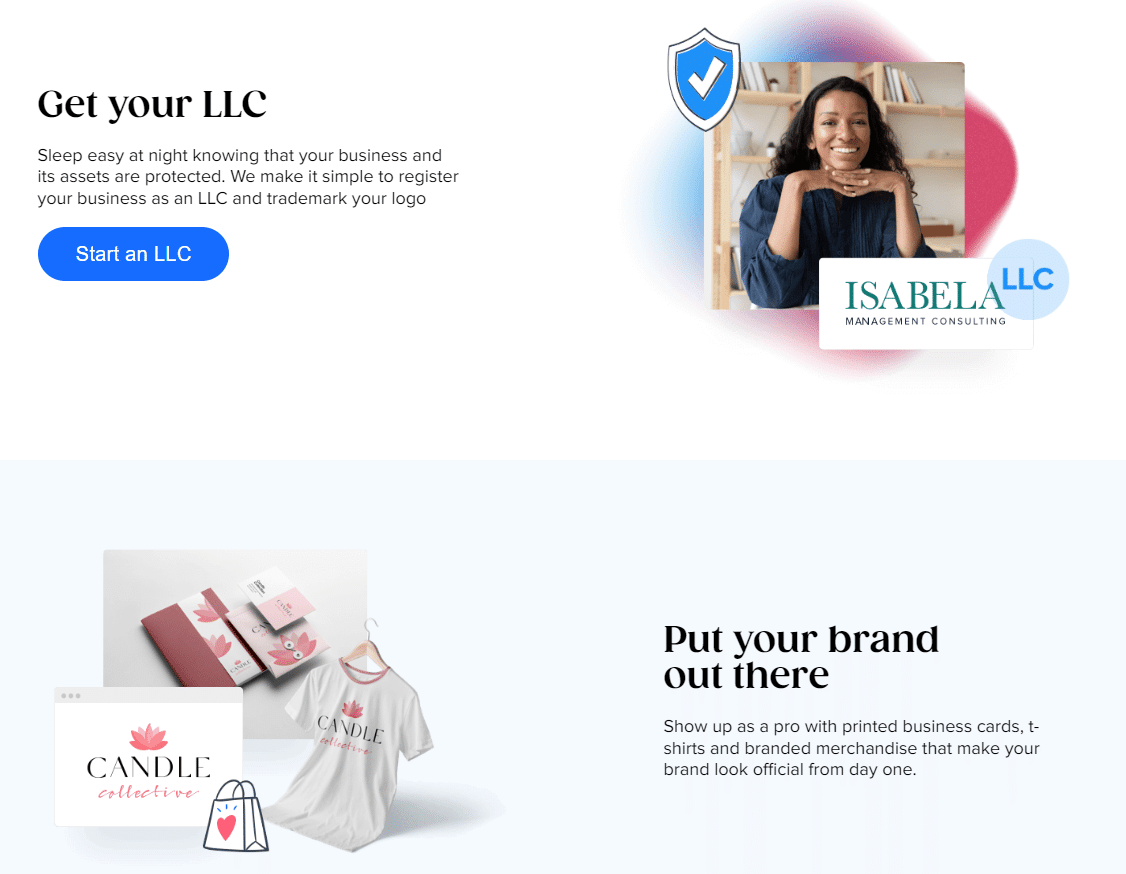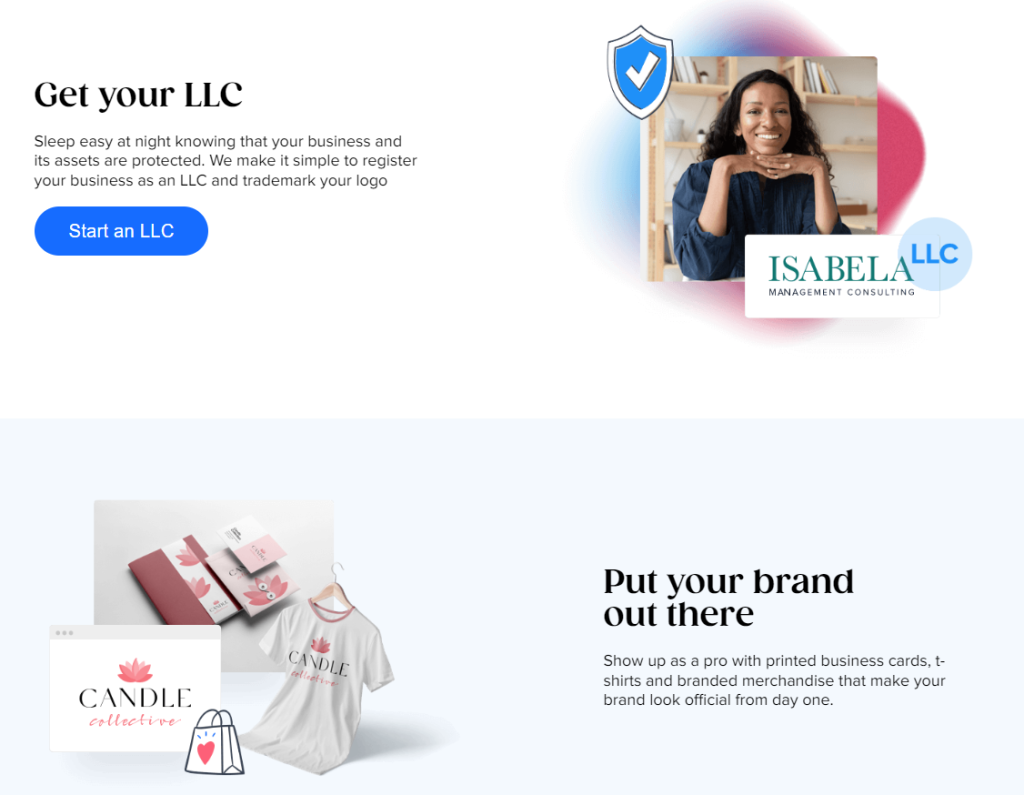 Tailor Brands is a great starting point if you're an entrepreneur, especially when quickly generating a logo. The free logo generator requires you to pay for your logo once completed.
You can also choose Tailor Brand's complete package, which includes a logo in addition to:
Domain name
Business cards
Social media marketing
T-shirts
Website
Tailor Brands advertises itself as a one-stop shop for all your branding needs. You can get a custom-made website from Tailor Brands in one month or less.
Tailor Brands Features and Pricing
LLC Formation Services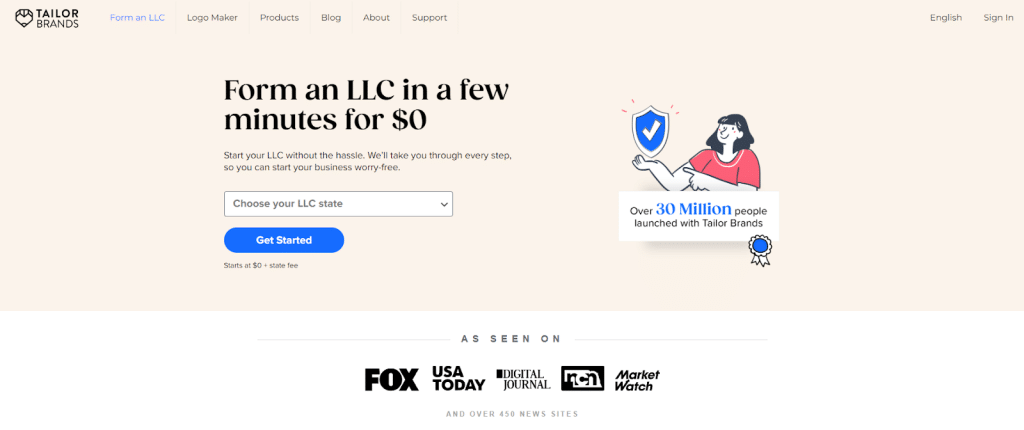 Starting your own business would be easy if it weren't for all the paperwork required. However, if you're researching how to start a micro business, forming your LLC is one of the first steps.
Creating your LLC with Tailor Brands offers several perks, including the following:
Registered agent support
Personal asset protection
Comprehensive LLC toolkit
Financial security
Strategic location
Digital banking advantage
Other US LLC-specific benefits
Tailor Brands offers three basic LLC formation services:
Lite: Starting at $0 plus state fees, this basic plan includes filing the LLC paperwork for you in the state of your choice. Unlike the Essential and Elite plans, the Lite plan is a one-time payment rather than a subscription.
Essential: Billed at $199 annually, this plan includes everything in the Lite plan as well as expedited processing, the formation of an operating agreement, and the guarantee of annual compliance. It's $50 cheaper than the Elite plan, but many find it worth that price to upgrade.
Elite: For $250 per year, the Elite plan puts the legalities of your business in the hands of Tailor Brands. You'll get a free domain for a year and a digital business card. It's also the best value for comprehensive services, including everything from generating a logo and business website to filing your LLC paperwork.
State fees across the board are set at $100. These fees are in addition to the prices listed for each plan.
You can also create an operating agreement for $29 plus your plan costs. If you want to expedite the process, it's an additional $49 to shorten it from four weeks to two days.
You can see more information regarding LLC formation here.
Branding Tools
Tailor Brands is available in several languages, including:
English
German
Italian
Spanish
French
Dutch
Portuguese
Tailor Brands requires you to choose between several subscription plans based on your desired features. You'll gain a better value if you pay for one or two years at a time.
Note that each logo you generate requires a separate subscription plan, and there are no refunds. If you subscribe and then decide otherwise, you'll need to download your logo before you end your subscription.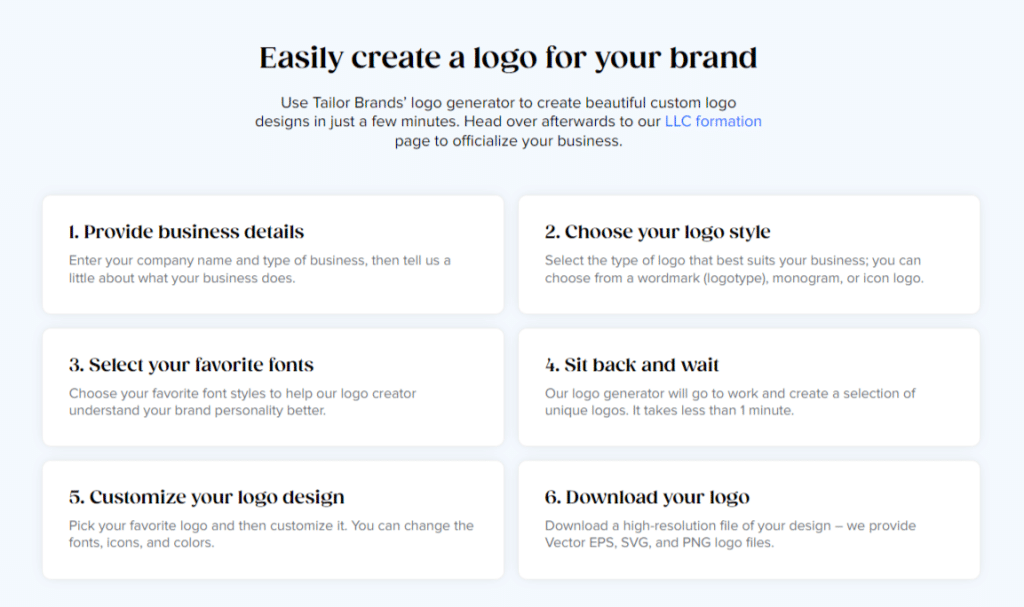 Tailor Brands allows you to download a low-quality preview of your logo to help you decide if you want to pay for it. You can also purchase a previous version of your logo if you don't like the one you've most recently generated.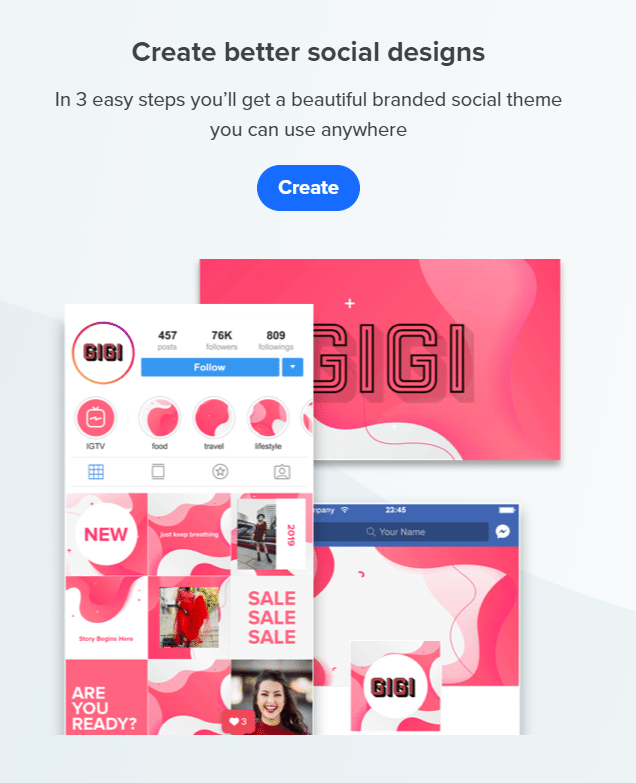 As you'll see, the more expensive plans include logo generation, print design tools, social media tools, and the ability to upload your own images. Some customers find these tools well with the upgrade.
Tailor Brands Custom Websites
With so many things to do in establishing a business and online presence, it can be challenging to remember what you've done and what comes next. Like many of the best business websites, Tailor Brands guides you in developing your brand.
However, you can also task a Tailor Brand web developer with creating a custom, unique website you can call your own.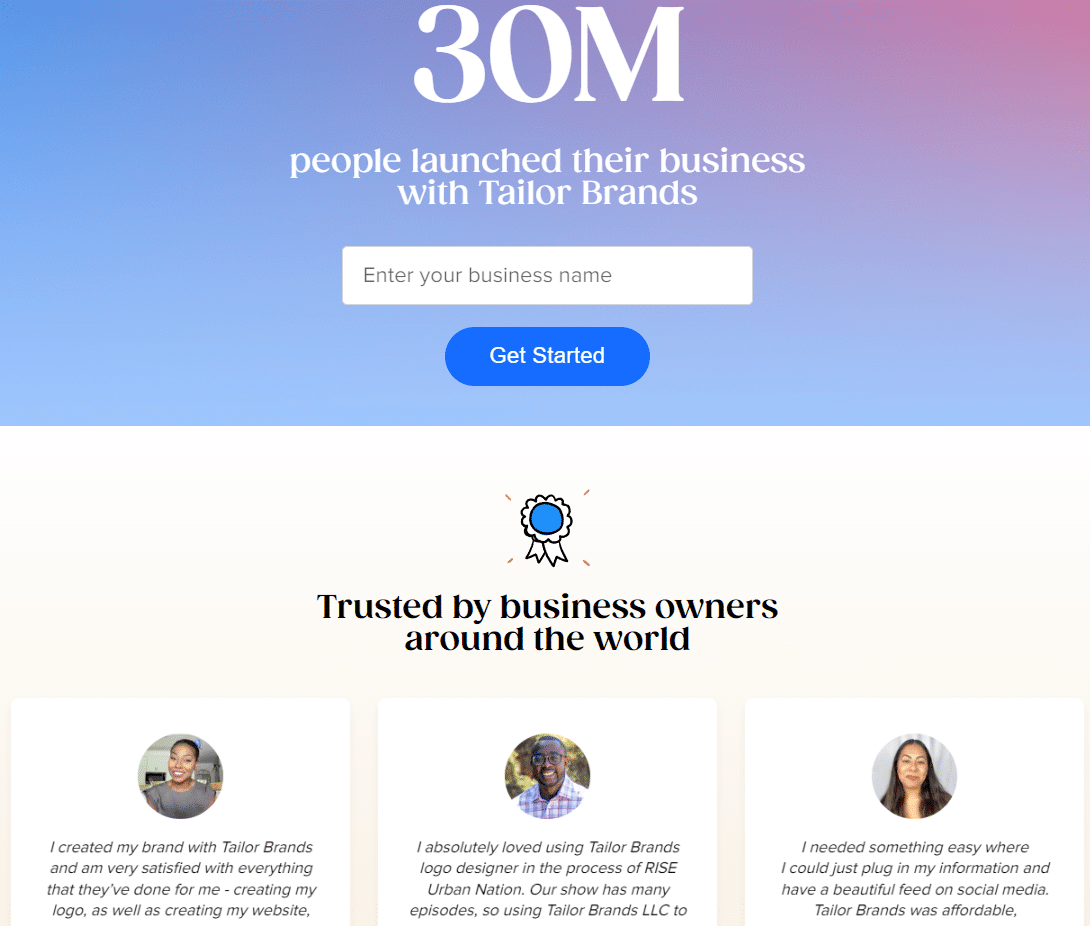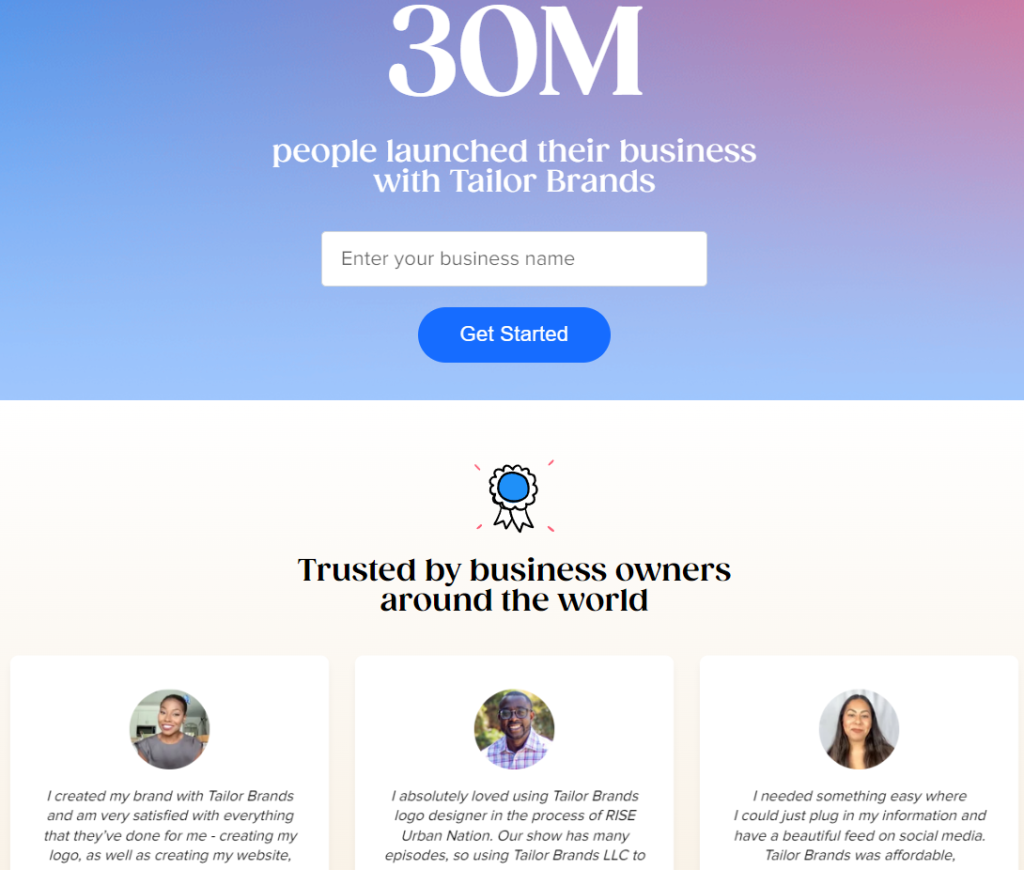 Here's the basic process involved in commissioning a custom website from Tailor Brands:
Navigate to the website section.
Choose to create a new website.
Select the "Hire a Designer" option.
Fill out the questionnaire with details about your ideal website.
Submit your request and payment.
Communicate with your designer once they reach out. Discuss your needs and what you're looking for in your custom business website.
Review the frameworks the designer provides you and make changes or approve as necessary.
Once you approve the final design, Tailor Brands web designers will build your website within a few weeks. You can spend that time developing other parts of your business to hit the ground running.
Basic Features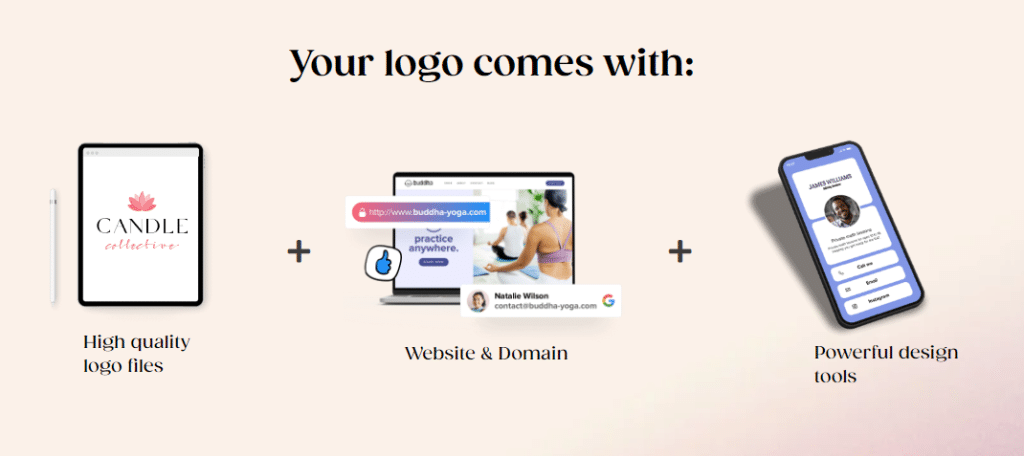 Logos created with Tailor Brands are limited to 28 characters with a 32 character-limit for taglines. You'll have a limited number of fonts to choose from, all restricted to the Roman alphabet.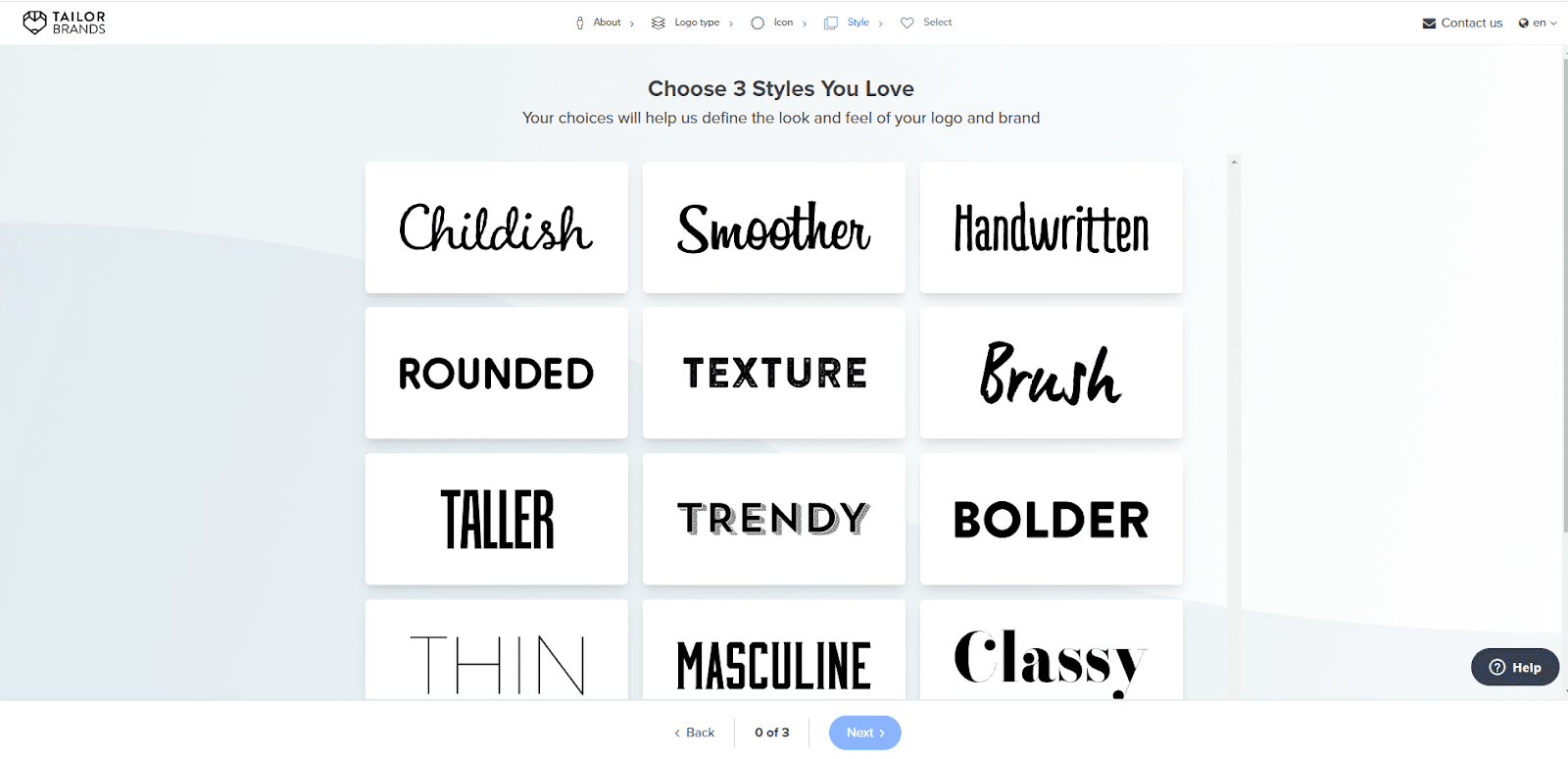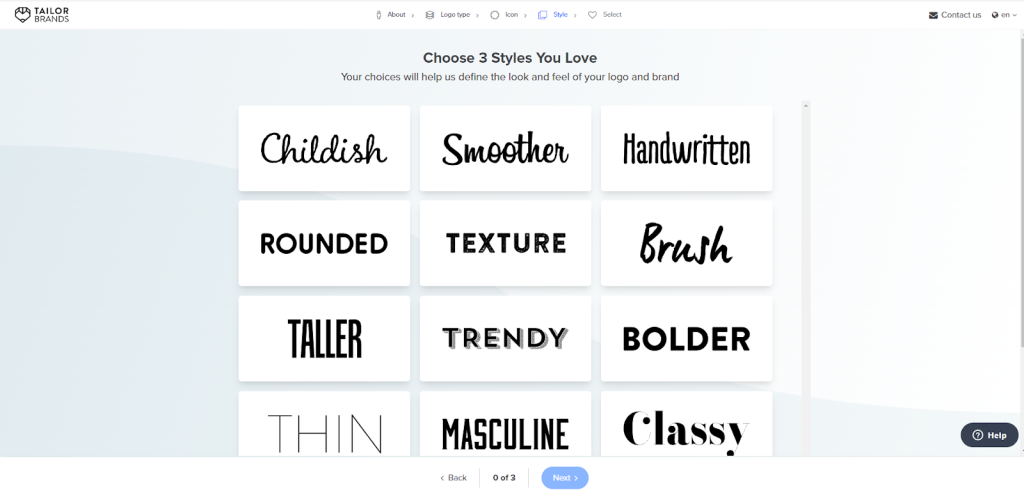 The basic plan includes the legal rights to use your logo online in business transactions. You can also integrate your business with Facebook and Google ads through Tailor Brands.
Check out the seasonal logo generator that gives you a holiday look you can use during various times of the year. You can also use Tailor Brands' partnership with Zazzle to purchase business cards, T-shirts, and other swag with your business logo front and center.
Pricing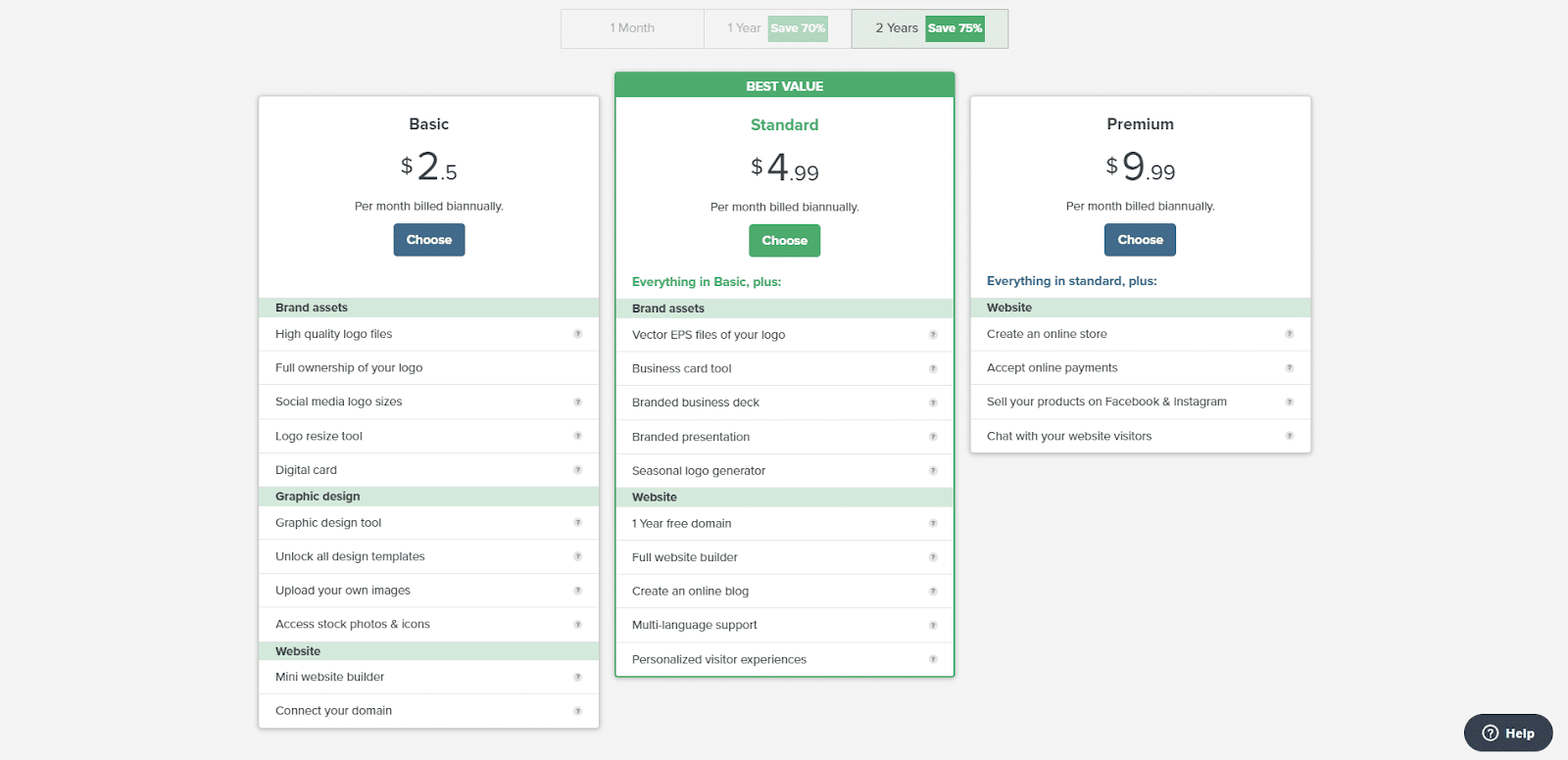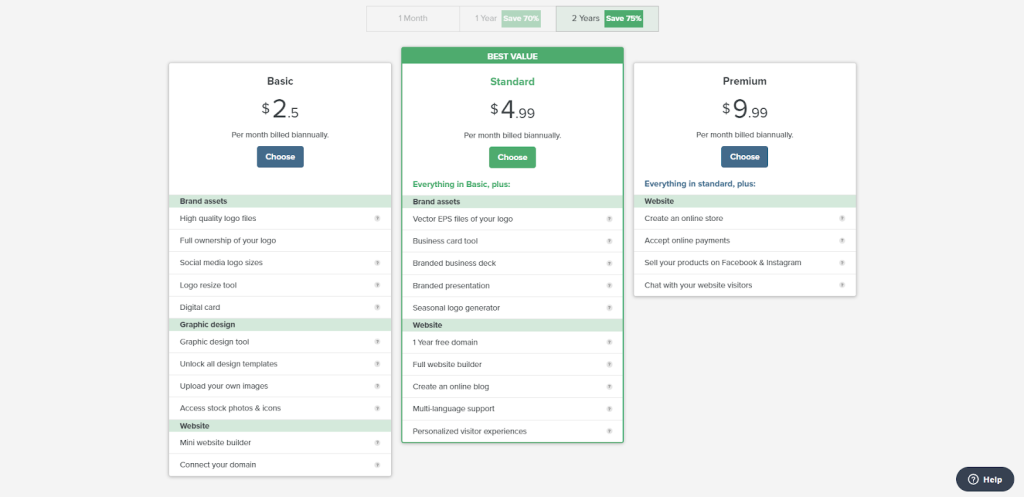 Tailor Brands features three plans to choose from, each with pricing for one month, one year, and two years:
| | | | |
| --- | --- | --- | --- |
| | Basic | Standard | Premium |
| Monthly | $9.99 | $19.99 | $49.99 |
| One year | $3.99/mo | $5.99/mo | $12.99/mo |
| Two years | $2.50/mo | $4.99 | $9.99/mo |
The Basic plan includes your custom logo, social media designs, and branding tools. You can also connect a domain with this plan.
The Standard plan gives you a free domain for a year and lets you create a website and blog. You'll also have the chance to create business cards and branded presentations.
If you choose the Premium plan, you'll have access to all the tools Tailor Brands offers, including priority support and the ability to create your online store. You can then accept payments and sell products on both Instagram and Facebook.
You can see more pricing information here.
Mobile App
You can use Tailor Brands' mobile app, which is available from the Google Play Store and the App Store. If you download it from the App Store, you'll find it under "Logo Maker Studio."
Like the website, Tailor Brands' mobile app will ask you the same things when generating your logo. Seeing your logo on a laptop or desktop is often easier, but the mobile app helps in a pinch.
Customer Support
Tailor Brands offers limited customer support through email and live chat. The chatbot will often redirect you to the help center to seek your answers.
You may also find the Tailor Brands blog helpful in answering your questions. However, it does lack visual aids that would help explain certain features.
Pros and Cons of Tailor Brands
Tailor Brands offers a valuable service between creating a brand identity and guiding you in forming an LLC. Let's look at what it does well and where it falls short.
Pros:
---
User-friendly software
Quickly establish your business online with one service
Relatively affordable pricing
Provides you with a business development roadmap
Professionally created custom websites
Easy-to-use logo generator
Cons:
---
Standalone services can be expensive
Limited customization tools
Requires full commitment to services for the best value
Annoying upsells
Lacks more sophisticated design features
Customer service can be hard to deal with at times
Launch your business in just a few clicks

Tailor Brands | Small Business Set-Up Made Easy
All the tools you need to start your business and look professional, in one place. Here, you can use AI-powered tool to create a logo and style guide that's the perfect match for your business. Create your online presence and launch your business online. Then get your LLC and register your business and trademark your logo
Get Started
Tailor Brands Alternatives
Searching for the best AI tools for business turns up several candidates besides Tailor Brands. These include:
Canva: You can quickly generate a logo for free using this design software. Many companies pay a yearly premium for Canva Pro to help them create marketing materials, logos, print products, and more. At $119.99 annually, it can be well worth it for entrepreneurs who want more design freedom.
Looka: Like Canva, Looka focuses on graphic design rather than the legal components of creating an online business. This logo generator is easy to use and can give you ideas more closely aligned with your brand vision. The Looka Brand Kit includes 300+ designs you can use across your website, social media, and other marketing materials. You can also create simple websites with Looka.
Wix: Creating a business website is where Wix shines. Wix charges more than other sites, but it's a popular service offering widespread support. You can also create a logo with Wix Logo Maker.
ZenBusiness: If it's the LLC you're worried about doing right, ZenBusiness can help. This company offers prices starting at $99 to guide you every step of the way in forming your LLC. If you stick with introductory pricing, ZenBusiness is more cost-effective than Tailor Brands, but the opposite is true for higher-priced tiers.
Logos, websites, and legalities are only part of developing online business ideas. You'll also want to consider the best merchant services, the best business apps, and the types of business insurance if you're looking for small business tips.
FAQs
Is developing your online brand with Tailor Brands worth it?
Developing your online brand with Tailor Brands can be worth it if you want to establish a brand identity fast. Many solopreneurs find that services such as those that Tailor Brands offers can be worth it to provide a road map for developing a virtual brand.
How much does Tailor Brands cost?
Tailor Brands' service costs vary depending on what you want. You can choose from several monthly subscription prices, and you'll save more if you sign up for a longer period, such as one or two years.
What services does Tailor Brands offer?
Tailor Brands offers guidance with creating a logo, developing a website, establishing a social media presence, and forming an LLC. You can also use Tailor Brands to create business cards, T-shirts, and other swag for your business.
Can I design a free logo with Tailor Brands?
Yes and no. You can design a logo for free with Tailor Brands, but if you want to download it once you're done, you must pay for it by subscribing to a plan.
Conceptualize Your Brand with Tailor Brands
Creating a business can take a lot of time and effort, depending on what tools you have available. Tailor Brands stands out from the rest when creating a website, logo, and social media presence.
We hope our review of Tailor Brands helped you to see how you can use this AI-powered software to your advantage. This all-in-one service lets you create your brand identity visually and legally for an affordable price.
If you're not sure Tailor Brands can help you develop your brand, several other websites can help. They offer various services and corresponding pricing models that fit your budget better.
How can Tailor Brands help you create your very own business? Try out this software and see for yourself!
Launch your business in just a few clicks

Tailor Brands | Small Business Set-Up Made Easy
All the tools you need to start your business and look professional, in one place. Here, you can use AI-powered tool to create a logo and style guide that's the perfect match for your business. Create your online presence and launch your business online. Then get your LLC and register your business and trademark your logo
Get Started
Earn $300 bonus

Chase Business Complete Banking℠
If it's a business bank account you're looking for, look no further than the Chase Business Complete Banking℠ account that allows you to earn up to $300 in free money for completing several key requirements.
Open Account