I decided to write an honest review about the Cube Cube app after seeing ads about it everywhere. Here's my Cube Cube review for 2023.
Sometimes I get in stuck in a phase where I play games on my phone for probably more than I should.
They are usually pretty mindless but really fun and help the time go by. Most of these games are free but tend to show in-game advertisements.
One of these ads caught my attention because I kept seeing it everywhere.
It was Cube Cube.
I think what caught my attention was the ad was saying you can actually win real money through head-to-head challenges.
I decided to download the app and give it a go.
What is Cube Cube?
It's a simple puzzle game for cash but to the game's credit, it does require deep strategy. You can fill the board, clear the board and score points and win. It is kind of similar to Tetris with no gravity.
The premise of the game is filling rows side-to-side or top-to-bottom to clear them out and score bonus points. You can clear multiple rows with one move and then you get "Combo Bonuses".
If you clear rows back to back turns then you get "Streak Bonuses." These bonuses are the key to winning.
The owners of Cube Cube are a company called Tether Studios, who also developed Mixmaster Showdown, Backgammon Blitz, Cribbage Blitz, Solitaire Cube and Texas Solitaire.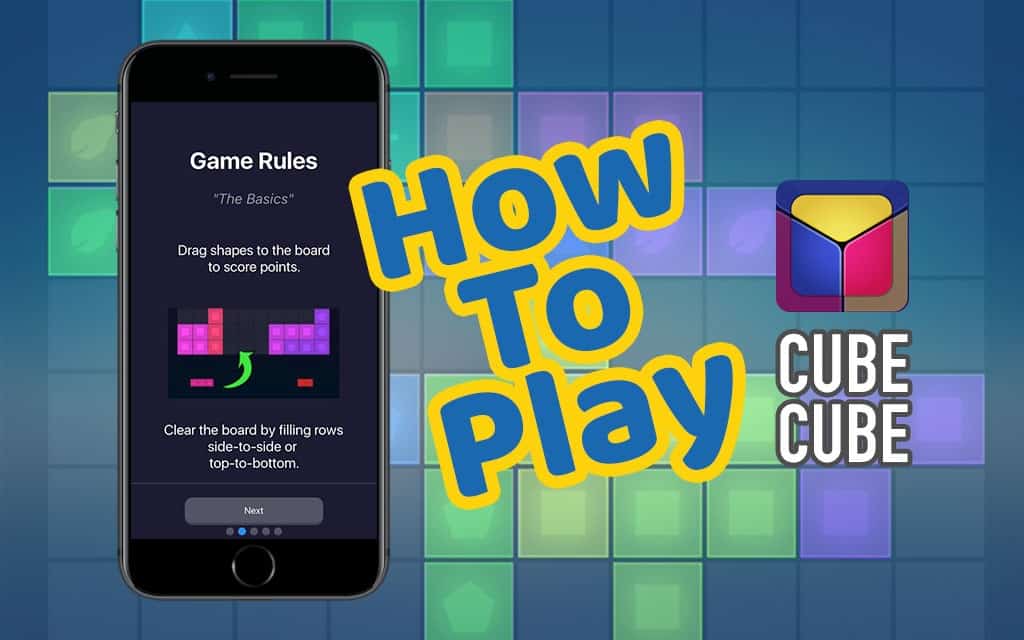 Cube Cube includes tournaments and head-to-head competitions with real cash prizes (where available). That's what I was interested in most.
Can You Really Make Money Playing Cube Cube?
Short answer: Yes.
In order to earn cash prizes, you'll have to enter head-to-head competitions in time games where every move matters. You get 3 minutes for each match to see how many points you can rack up.
Again, you'll want to focus on clearing multiple rows so you can earn Combo Bonuses and doing it back to back to earn Streak Bonuses.
Since you are in a head-to-head competition, you and the other player get the same shapes and in the same order and whoever ends up with the most points wins the cash reward.
So yes, you can really earn money if you beat other players in the head-to-head competition. But if you look at some user reviews on the iTunes App store, some players claim the game is using bots… but most reviews are actually 5 stars.
It's rated highly in the iTunes App Store with 4.6/5.0 stars out of 10,200 reviews. So Cube Cube is a legitimate app.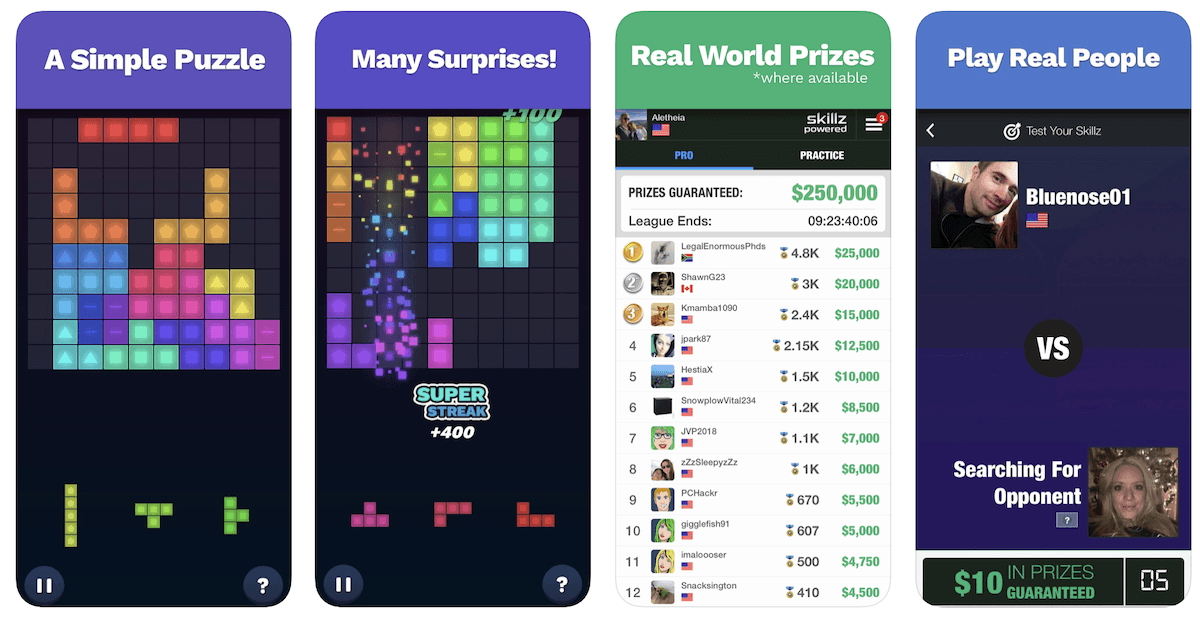 Is Cube Cube Available for Everyone?
Cash tournaments are available in about 75% of the world. Cash tournaments are not enabled in the following states: AZ, AR, CT, DE, FL, IL, LA, MD, MT, SC, SD, and TN.
If you don't live in a cash-enabled region, you can still play for fun with our virtual currency.
Game Apps like Cube Cube
If you are looking for real ways to make money from your phone for free then consider checking out my quick list of the best game apps to make money from Skillz games.
Skillz mobile app is an eSports mobile games platform that allows players to create games, launch, and ultimately earn cash.
Don't worry, I've personally tested all of the recommended apps and Skillz is legit and these games have great user reviews on the App Store and Google Play Store.
Download all or most of these free apps today to increase your odds of winning cash for playing games.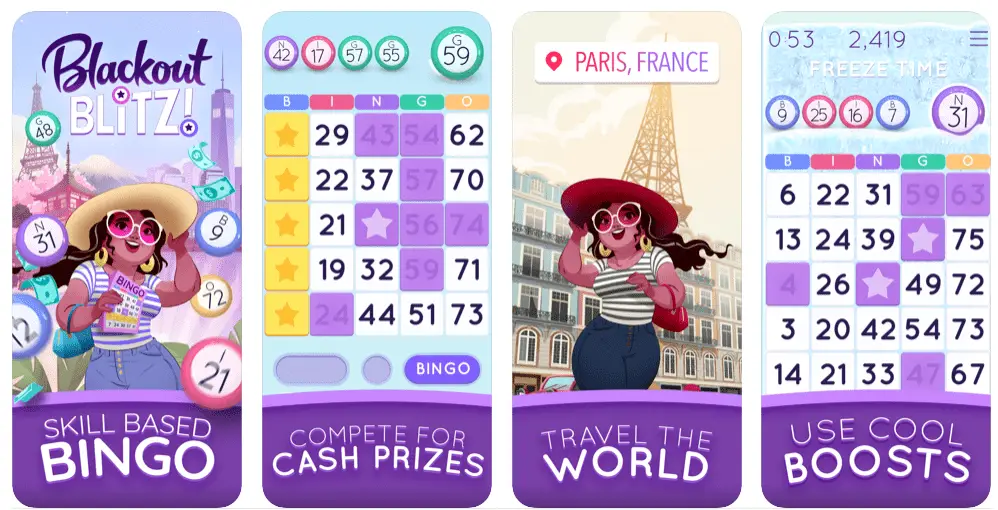 Blackout Bingo is a free bingo game where you can win real-world rewards and cash prizes. This game boasts over 13K+ positive reviews in the App Store.
Dive fast and use fun boosts to take the Bingo world by storm. Travel the world and play in amazing and exotic places. A recent player left a Blackout Bingo review saying:
"Are you going to make $700 from this game? No, probably not possible! But the two days I've been playing this I've earned about $34.59! "
It takes concentration, speed, and strategy to become a bingo master. Do you have what it takes?
Cash tournaments aren't available in AZ, AR, CT, DE, IN, LA, ME, MT, SC, SD, and TN but residents can still play the free games for swag! You can download it for free here.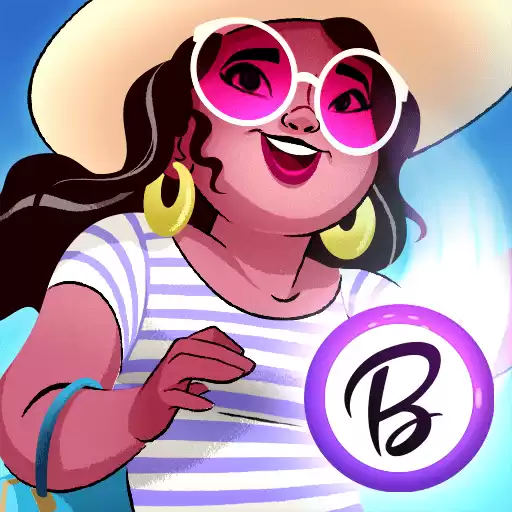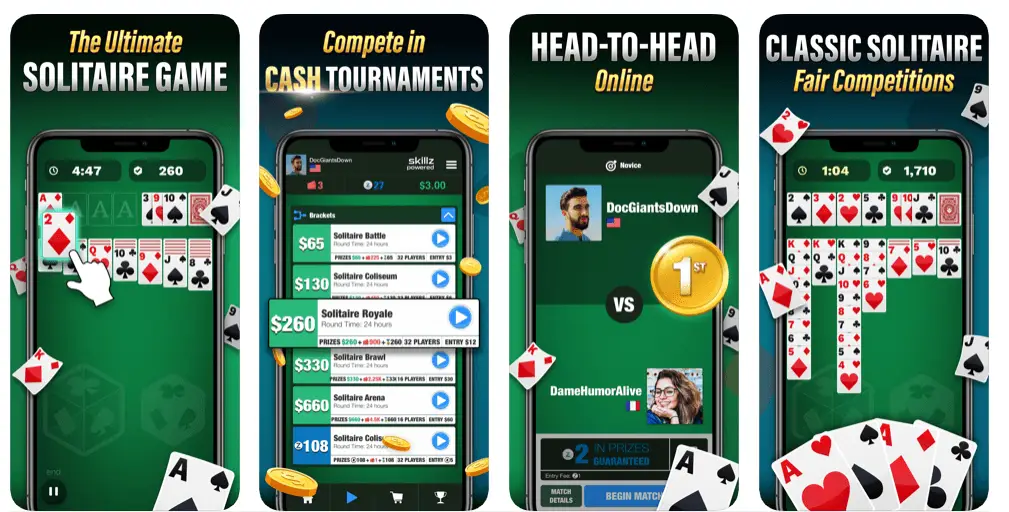 Solitaire Cube is an addicting game where you can play Solitaire on your phone for money. It's available on the Apple Store and Google Play Store.
It's pretty easy to get started and the game will match you up with other players who have the same level of skills in real-time.
Solitaire Cube includes tournaments and head-to-head competitions with real cash prizes (where available). That's what I was interested in most.
If you deposit money you can enter cash tournaments against other players. Cash outs are through PayPal and I had no issues withdrawing or depositing money.
How to play? Stack cards into piles to sort them by their suit. Sound easy? It is! You can download it for free here.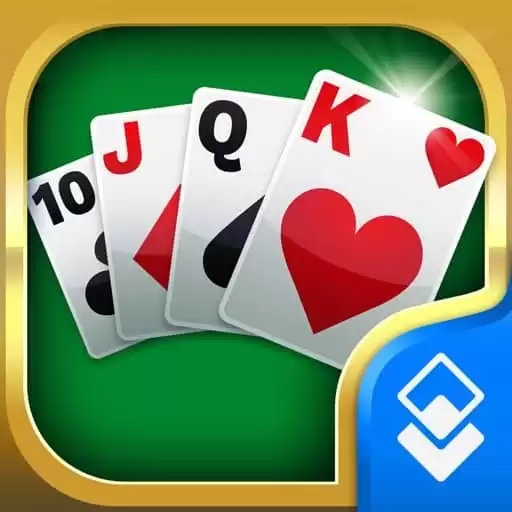 Solitaire Cube
Earn cash by playing solitaire against others from your mobile phone. Solitaire Cube is one of the best card games to play to make money. If you're fond of engaging in fast-paced card games that challenge your intellect and offer the opportunity to win cash prizes, consider trying out Solitaire Cube.
Deposit Money and Play →
Solitaire Cube Review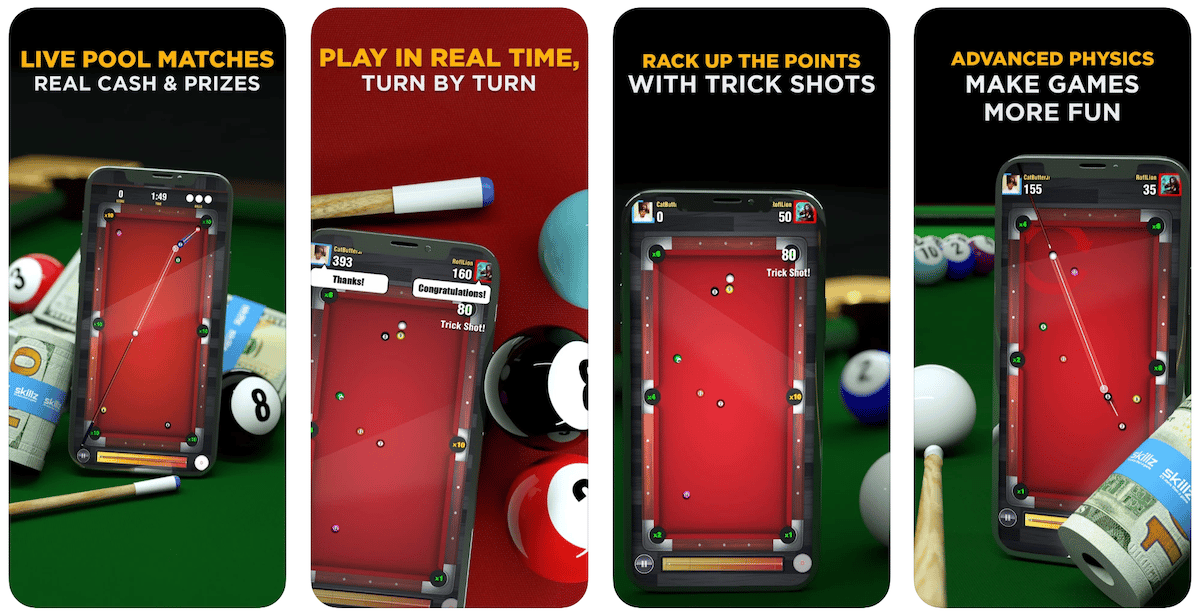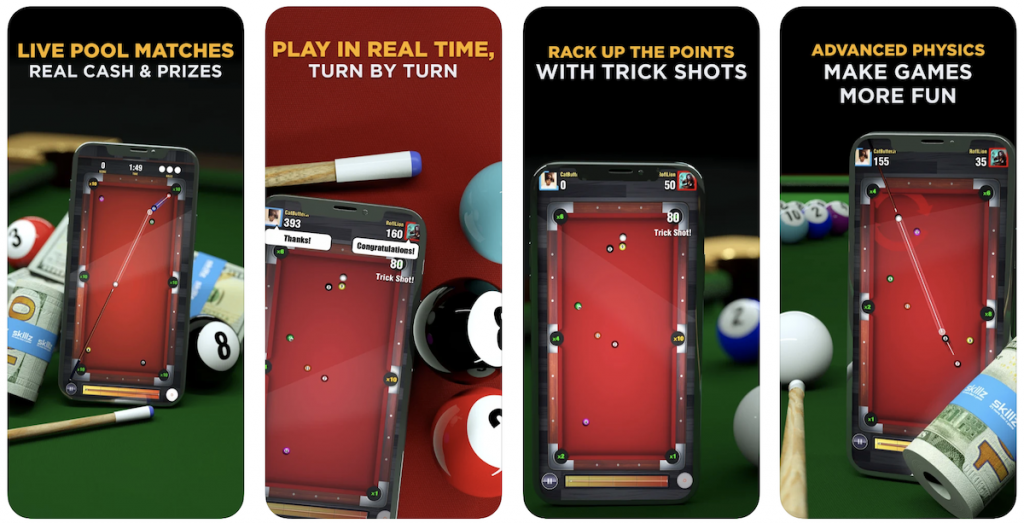 Install Pool Payday and play pool to win real money! This game is on the Skillz platform and lets you have fun while you earn.
Play against people from all over the world. Put a little money on the line if you want, or just play for fun. If you need some practice, there are free games to help you get better.
Lots of people like it! It has over 80,000 positive reviews on the App Store and a 4.6 out of 5 rating. On the Galaxy Store, it has a 4.5 out of 5 rating from 1,000 reviews.
The cool part? You can easily get your prize money through PayPal or Apple Pay. So, start playing, have fun, and you might win some cash too!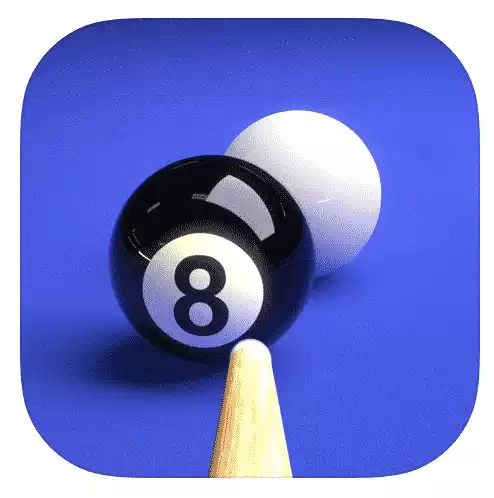 Pool Payday
You a fan of billiards? Compete for 1-on-1 in live real-time games for fun, for profit, or both! The cash prizes are redeemable via PayPal, Apple Pay, and more.
Play Now →
Pool Payday Review
Is Cube Cube Worth Your Time?
Cube Cube is powered by the esports company, Skillz.
Skillz is an online mobile multiplayer competition platform that is integrated into a number of iOS and Android games.
The app allows for leaderboards, trophies, cash or virtual currency prizes, and an amazing loyalty program that rewards you for playing.
So the app is legitimate and you do have a shot of earning some side cash, but you definitely won't get rich from using it or other game apps that pay real money.
So you do want to give it shot? You can score $10 in bonus cash when you make your first Deposit in Cube Cube after 1 hour of play time for new users!
If it's not for you, you can check out these 39 trivia apps for money that let you win real money (think HQ live).
Earn up to $100 today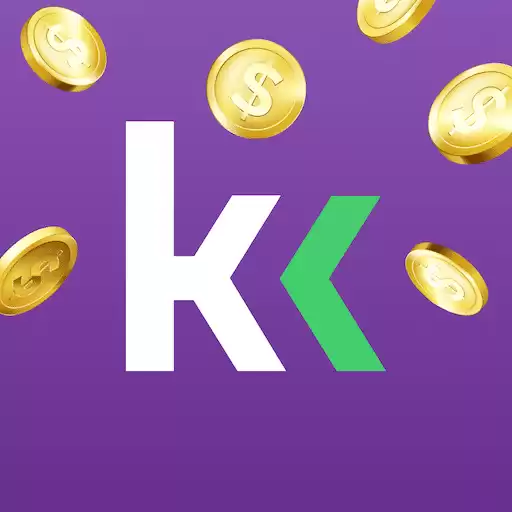 KashKick
Trusted by 2M+ users like you
This site pays you cash to play mobile games, save money, take surveys, and see offers — make $100 today. Over 2 million users agree that KashKick is a fresh and lucrative way to earn money and get paid directly to your PayPal!
SIGN UP & START EARNING NOW