Want to manage your budget and forecast your finances better? PocketSmith wants to help you make things easier by projecting the future of your finances with cash flow forecasts.
You probably already heard about financial independence apps and other money saving apps, but this is the first time we've done a PocketSmith review. We wanted to learn if the calendar and event-based approach that PocketSmith uses is viable.
Does the company have a real selling point here? Or is it not worth your time to even bother downloading? Let's find out in our PocketSmith review.

What is PocketSmith?
PocketSmith connects to over 14,000 banks worldwide to automatically download and categorize transactions from your bank, credit card and loan accounts.
It sorts and analyses your financial activity without the need for manual tracking.
Think of it as accounting software tuned for your personal finances.
PocketSmith Download
Featured:at PocketSmith

Short Description about PocketSmith

Build budgets your way with your own categories, flexible budget periods, nesting and roll-ups.
If you're short on time, use Auto-budget to predict your budgets based on historical spending.
Track your overall and per-category spending on the Trends page.
Get better clarity across your finances with Income & Expense, Cashflow, and Net Worth statements.
PocketSmith Features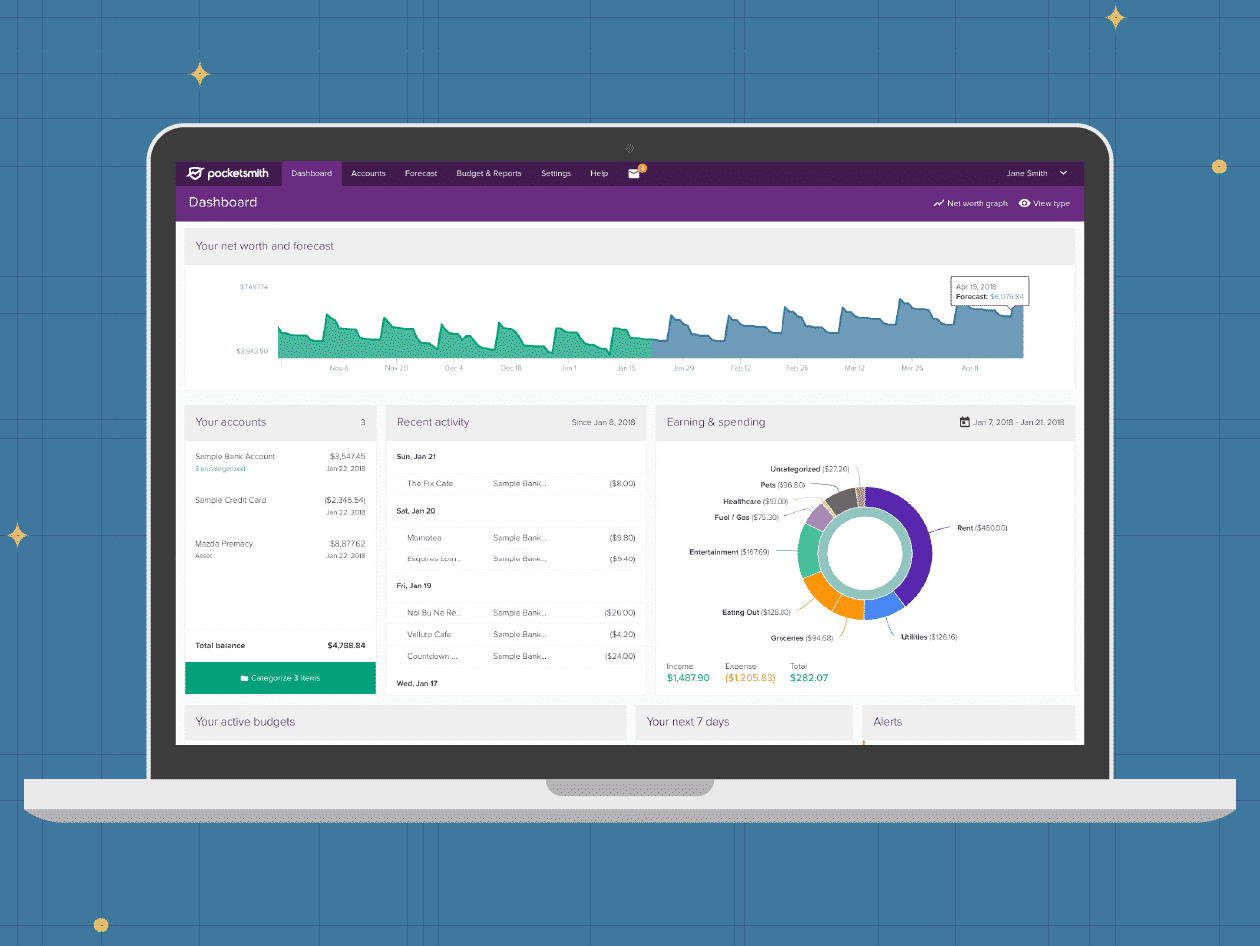 Secure automatic bank feeds
Connect to banks all over the world and track accounts in multiple currencies.
Add notes, labels, files, and pictures to your transactions, and further customize the automated categorization using rules and filters.
Find transactions quickly with a powerful multi-criteria search engine and saved searches.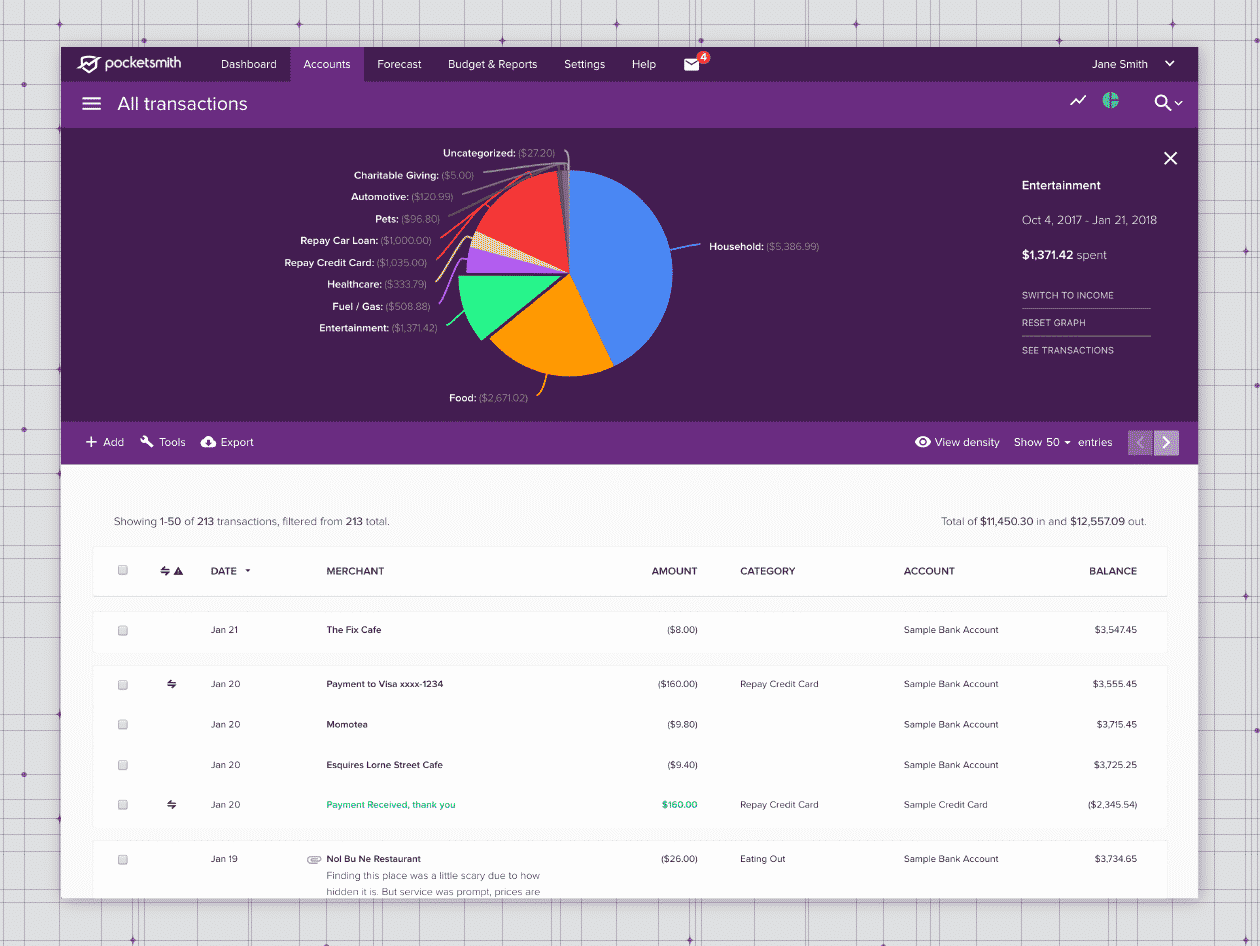 Powerful budgeting, tracking, and reporting
Build budgets your way with your own categories, flexible budget periods, nesting and roll-ups.
If you're short on time, use Auto-Budget to predict your budgets based on historical spending.
Track your overall and per-category spending on the Trends page.
Get better clarity across your finances with Income & Expense, Cashflow, and Net Worth statements.
Check your finances on the run with PocketSmith's mobile apps. View accounts, categorize transactions and keep an eye on budgets from your mobile device!
30-year forecast of your daily account balances
See your finances in a calendar.

See future outcomes based on your current budgeted spend.

Create and test what-if scenarios.
PocketSmith Pricing Structure
PocketSmith currently offers 3 subscription levels (Basic, Premium and Super subscriptions):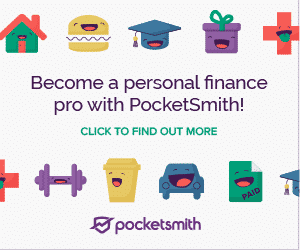 Basic
Basic is a free plan that tracks 2 accounts and manual transaction importing.

Premium
Premium tracks up to 10 accounts with automatic bank feeds, with a 10-year forecast.

Super
Super tracks an unlimited number of accounts with automatic bank feeds and offers a 30-year forecast.
All users have access to PocketSmith's comprehensive Learn Centre as well as stellar customer service team.
Track Your Finances with PocketSmith
PocketSmith Reviews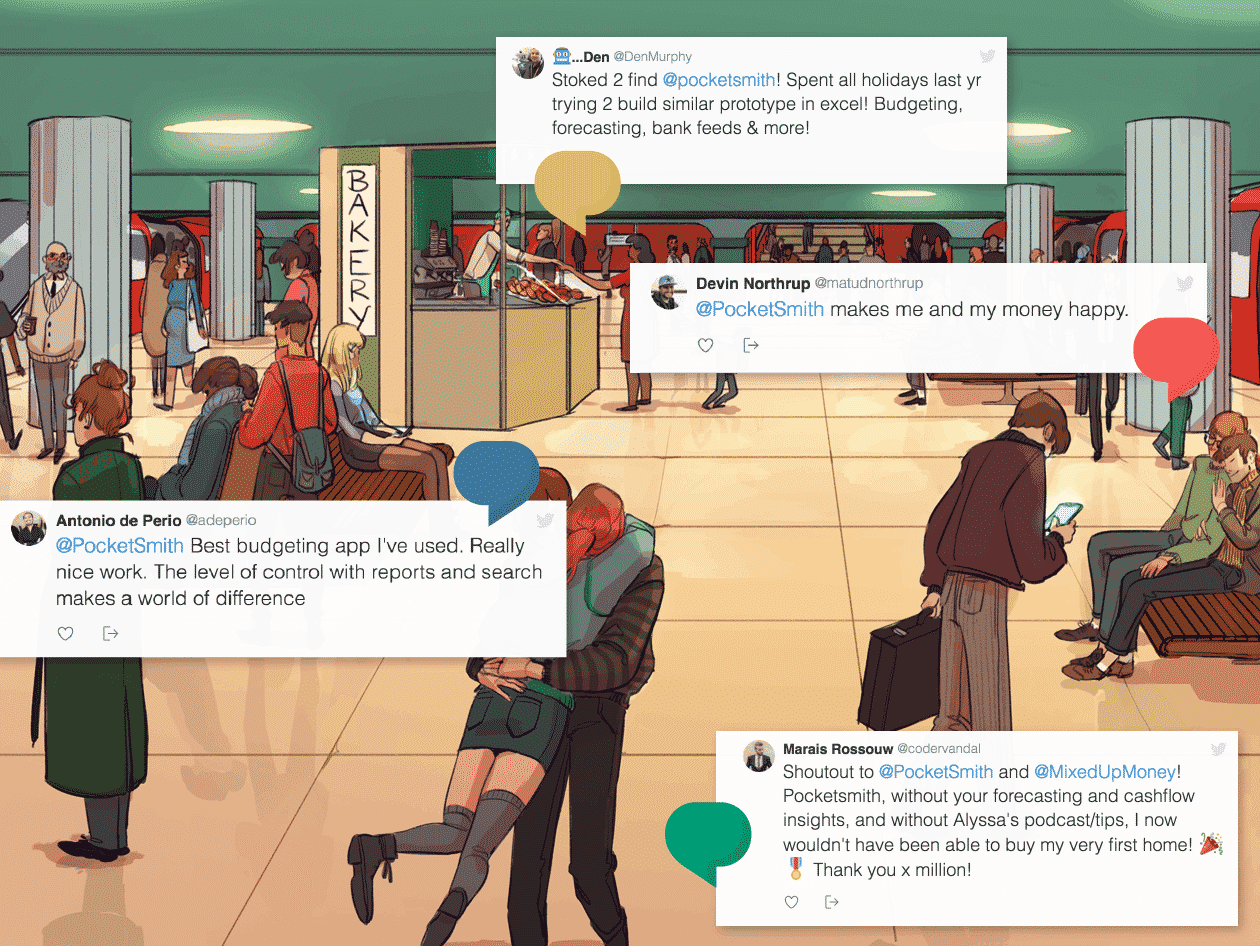 Pros & Cons of PocketSmith
Benefits
See all your bank, credit card and loan accounts in one place.
Live Bank Feeds keep PocketSmith automatically updated, so you can see where your money is going.
Categorize, label and annotate your transactions so you can refer to them in the future, like a diary.
Find your old transactions easily with a kick-ass search engine.
Downsides
A lot of functions makes the ability to use a bit of a learning curve.
The free version is very basic if you really want to use all the advertised services you'll have to upgrade to a paid plan.
PocketSmith Alternatives
PocketSmith vs Mint
Mint is an incredibly popular online personal finance app that's great for all kinds of users. Aside from it being a great finance app, it has a plethora of money management tools that you can also use. What's astounding is that the app is free to use and allows users to create financial reports in a matter of minutes.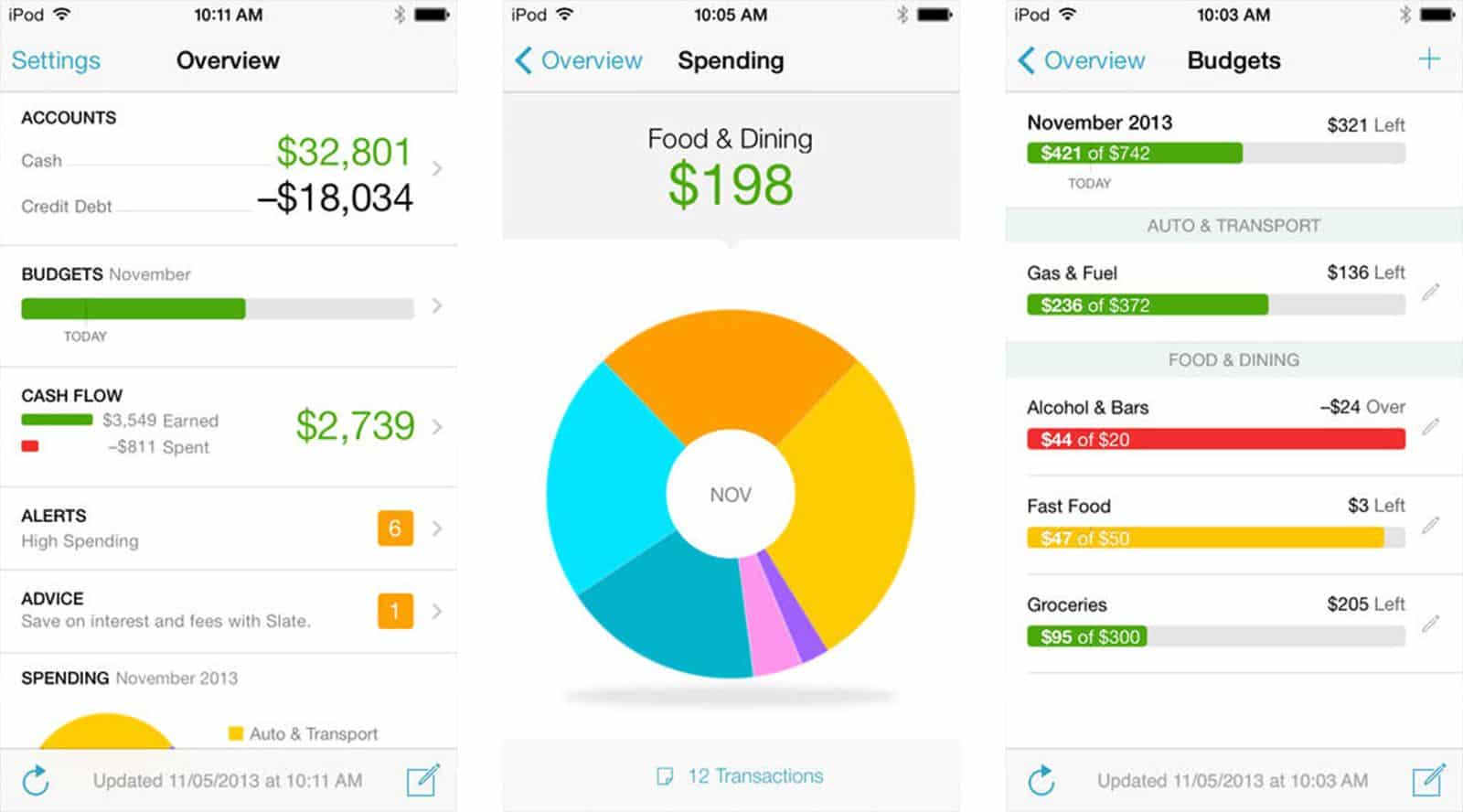 Some notable features of Mint include:
Versatile and flexible budgeting tool
The app can send you alerts and financial summaries via text message or email
Extra security measure – the app sends out an SMS or email if it notes unusual account activity
Account aggregation follows almost all bank-level policies for added security
Users can customize their financial reports into easy-to-read bar graphs and pie charts
However, the only downside is that Mint does not have an account reconciliation feature. This may be a letdown for some users but otherwise, the app is great on its own. If you already have Mint but want more features, I would recommend signing up for Personal Capital. In fact, Personal Capital and Mint's features are quite complementary. Users can also keep a track of their credit score with minimal hassle.
PocketSmith vs Personal Capital
The financial advisor company, Personal Capital offers several free tools to help users manage their budget and investments. What's best is that the tool has an easy to navigate dashboard, perfect for beginners trying to save up.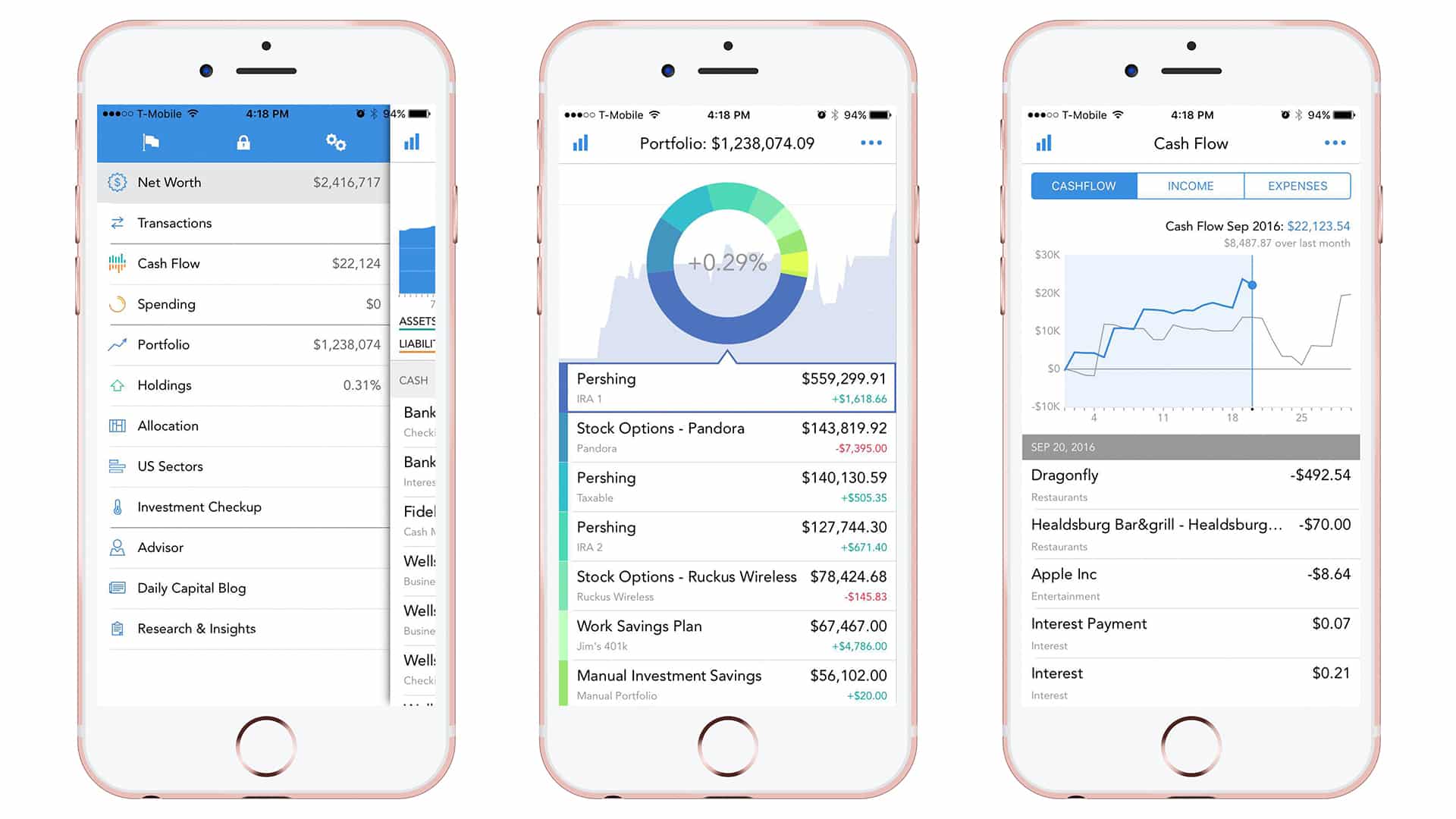 For greater ease, you avail maximum benefits by linking up both your investment and banking accounts. You can link your account manually or connect the account automatically. Since there are many categories, you can use the tool according to your convenience. What's best is that the tool will select the best category for you so you don't have to go through the trouble yourself.
You can use this brilliant online tool to keep a track of investments or even retirement funds. It'll do all the calculations so you can keep an eye on your investment costs and asset allocation without a worry. You can learn more in our Personal Capital review.
Some key features of this app include:
Track expenses down to every credit card swipe
Analyze all your expenses in real time on your account dashboard
Use the tool to manage your future goals whether you're planning to buy a house or get yourself a new car
Use the Retirement Planner tool
Track Net Worth with Personal Capital
PocketSmith Summary
PocketSmith shows you how your savings will reward you by revealing your projected daily balances up to 30 years into the future. While PocketSmith does offer a lot, there are definitely better free budgeting tools out there. If you want to see the best budgeting tools in one place, then you'll enjoy this best budgeting tools list. In that article, I personally tested and reviewed 12 free and paid budgeting tools. And you can filter through the list to find the best money saving apps for you that will help you save money.
Managing personal finances is a painstaking task, but that doesn't mean you shouldn't pay attention to budgeting. Managing your money is the best thing you can do for yourself in today's unpredictable economy. And, there are several online budget tools that can help you achieve your goal. That's second best after you're done reading the best personal finance books that money can buy!
Whether you want to keep track of finances for a residential/commercial move or are saving up for a car, it's crucial you stick to a saving or spending plan. Here are a couple of budgeting tools you should try:
Bank Bonuses Expiring Soon:
Enjoy financial incentives for opening a new checking account with current promos expiring soon: