Engagement rings, wedding rings, diamonds & fine jewelry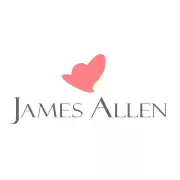 James Allen
James Allen is a highly renowned online retailer of engagement rings
Known for its affordable prices
360-degree diamond videos
Exceptional customer service
30-day full refund policy
Get 25% Off Through Here
Cue up the spy music and strap on your jewelry thief gear. Did you know that the most expensive diamond in the world, often called the Mountain of Light diamond, weighs over 105 carats?
It's hard to think of a diamond so big, especially when we're used to seeing the largest ones on the fingers of celebrities. We don't even want to think of how much that diamond would cost.
All expensive rocks aside, finding the ideal diamond for that special person in your life doesn't have to mean you fetch the biggest diamond out there. Instead, you can use online retailers like James Allen to pay less and still get a stunning diamond.
James Allen is a well-known diamond retailer with an exclusive online presence. Imagery and crystal-clear video set James Allen apart, even from local jewelers who often charge you a higher markup for their diamonds.
If you're in the market for an engagement ring, wedding ring, or other type of fine jewelry, James Allen has the selection and pricing you need. Plus, it ticks all the right boxes when it comes to acquiring diamonds properly and with the necessary certification.
Are you ready to dive into our James Allen review? Let's get started!
What is James Allen
James Allen officially launched its website in 1998 to sell diamonds and fine jewelry to the masses. However, after a few struggles and a significant rebrand, James Allen emerged in 2006 and continues to dominate the online diamond retail market.
Part of James Allen's rebrand involved targeting young millennials just waiting to pop the question. A brighter, more vibrant website allowed this diamond giant to maximize its online retail space without having to stock physical shelves with real diamonds.
When you shop for diamonds and engagement rings with James Allen, the company strives to offer you a similar service to what you'd receive if you walked into a physical store. At the same time, they remove all the commission-drive pressure and markup these brick-and-mortar jewelers are known for.
James Allen's focus on high-quality diamonds and a superior buying experience led them to be acquired by Signet in August 2017. Since Signet acquired the brand, James Allen continues to offer a quality experience with the addition of Signet's resources to boost those sales.
James Allen Experience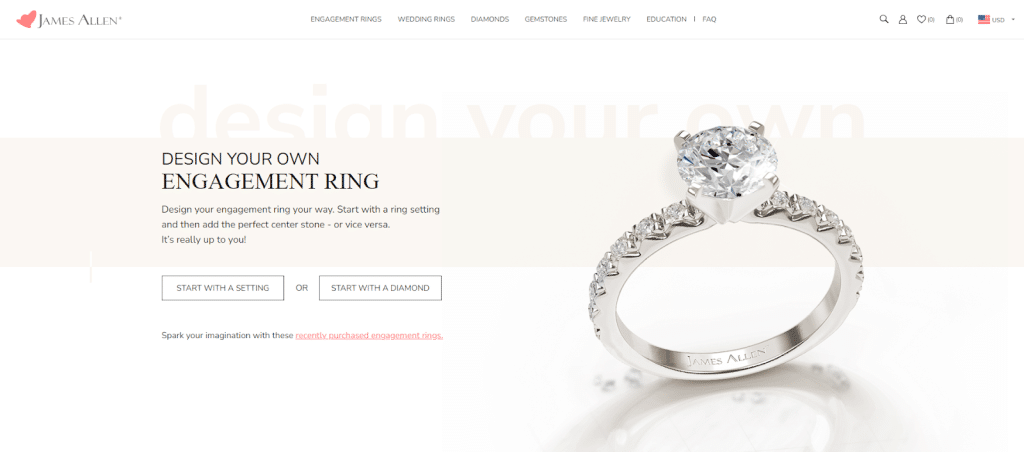 Purchasing an engagement ring or diamond through James Allen feels like a premium experience. The website is laid out similarly to Blue Nile, so if you're familiar with that brand, you're already one step ahead.
Most Popular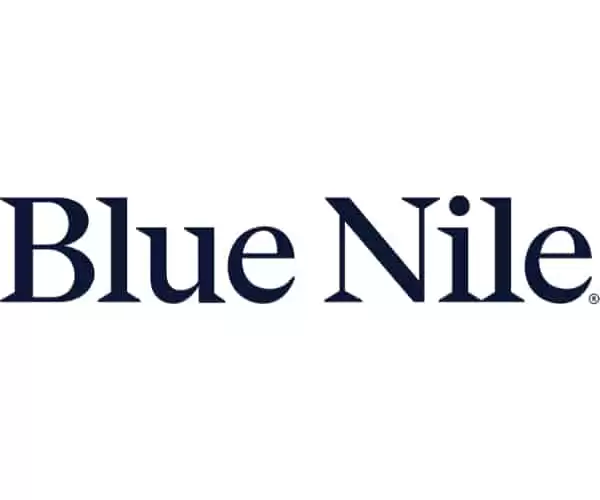 The sophisticated design and color scheme delicately complement the diamonds, gemstones, and fine settings on display. An abundance of choices can make James Allen's website feel overwhelming, but there are plenty of options to narrow down your choices for a diamond that fits your desires.
Indeed, when you peruse the website and find a diamond you'd like to inspect, James Allen includes not only high-resolution photos with 20X+ zoom but also 360-degree videos of the diamonds themselves. These stunning images are the next best thing to viewing the diamonds in person.
The attention to care extends to the boxes in which your diamond ships. The high-quality leather boxes feature foam inserts to cushion your ring, along with all the documentation you need.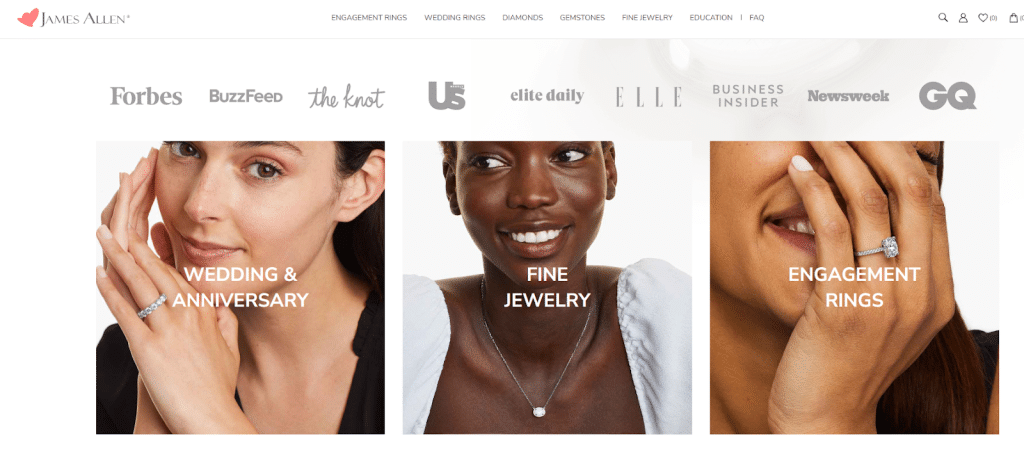 James Allen offers free international shipping, overnight shipping for US orders over $500 via FedEx Priority Overnight, and multiple payment options. You can also take advantage of 24/7 customer support and the chance to virtually chat with a diamond expert (no audio or video).
If you ever decide you want to sell your engagement ring, James Allen can help. Contact a representative today to discuss your options.
Will you choose James Allen for your next fine jewelry or diamond purchase? If so, you can consider clicking here to get 25% off James Allen through here.
Engagement rings, wedding rings, diamonds & fine jewelry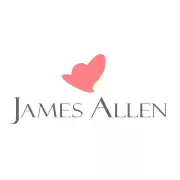 James Allen
James Allen is a highly renowned online retailer of engagement rings
Known for its affordable prices
360-degree diamond videos
Exceptional customer service
30-day full refund policy
Get 25% Off Through Here
Certification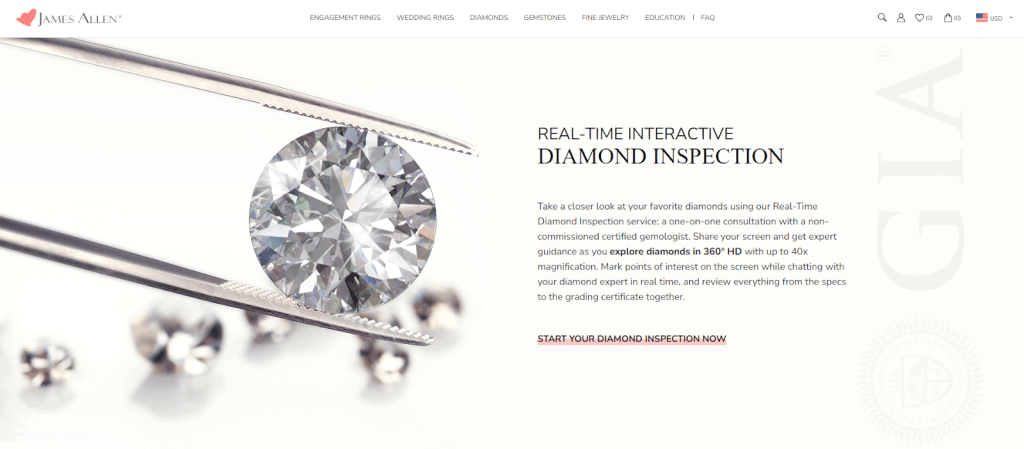 Every James Allen diamond is well-documented and comes straight from certified conflict-free suppliers who also abide by the Kimberley Process. Diamonds are also certified by the following entities:
Gemological Institute of America (GIA)
American Gem Society (AGS)
International Gemological Institute (IGI)
Other online retailers may offer similar certifications. It's important to have this certification to fully insure your diamond as well.
Engagement rings, wedding rings, diamonds & fine jewelry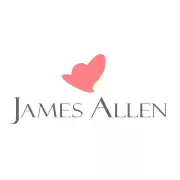 James Allen
James Allen is a highly renowned online retailer of engagement rings
Known for its affordable prices
360-degree diamond videos
Exceptional customer service
30-day full refund policy
Get 25% Off Through Here
Warranties
James Allen diamonds come with several warranties. The lifetime warranty includes rhodium plating, free maintenance, prong tightening, repolishing, and cleaning.
You can also engrave the ring for free if you like. And if the engagement ring isn't the right size, James Allen will resize it for free and cover the shipping, too.
Each James Allen diamond also comes with a lifetime upgrade. This allows you to return the loose diamonds you have for 100% credit towards a purchase that's valued at double the cost.
Note that you cannot exchange a lab-created diamond for a naturally occurring one and vice versa.
Payment Plans
James Allen offers several payment plans in addition to paying for the engagement ring in full:
Pay off your purchase in six months: You'll need to spend at least $1,000 to be eligible for this interest-free option. However, should you fail to pay off the purchase in full, James Allen will retroactively charge you interest for the six months at a rate of 29.99%.
Pay off your purchase in 24 months: Spend at least $2,000 and you can divide your payments up across the span of two years. You'll pay an interest rate of 9.9% until your purchase is paid off.
In contrast, you can earn a 1.5% discount if you pay via wire transfer. However, most banks charge for this type of transaction, so weigh the cost and benefits accordingly.
Returns
Should things not work out (as they often do), James Allen offers a full refund on your unworn engagement ring within 30 days. International return shipping costs $50 but it's free for Americans and Canadians.
To request a return, you'll need to contact James Allen directly. They will then send you an email with instructions on how to return your item, in addition to a prepaid, fully insured FedEx two-day label.
James Allen Products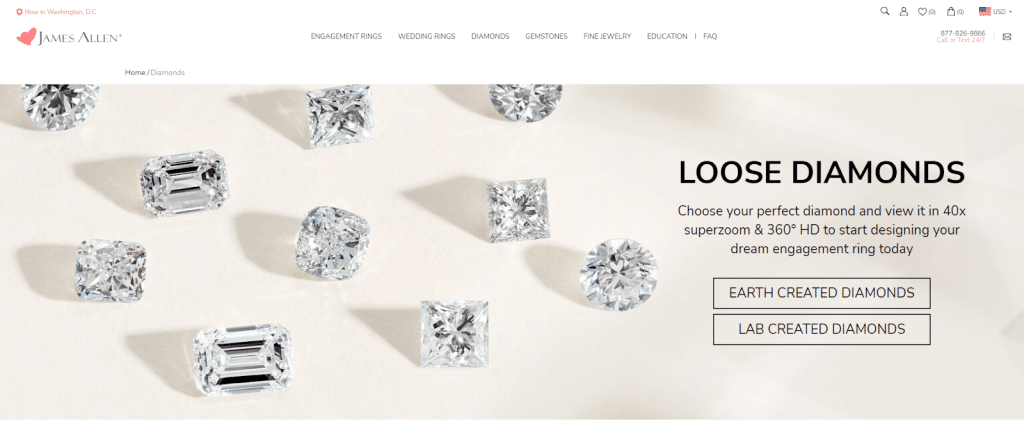 The sheer number of options available on James Allen's website continue to put it on the map as one of the best places to buy diamonds online. You'll pay less for a diamond at James Allen than you would at a physical jeweler, without sacrificing selection.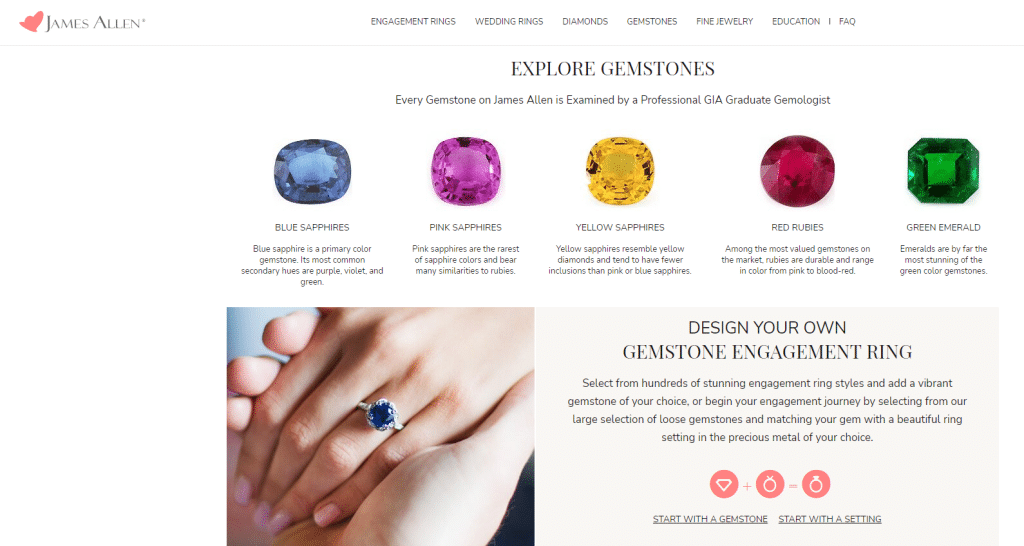 James Allen lets you choose from fancy and colorless diamonds, in addition to gemstones and hundreds of settings. You can easily customize your engagement ring for the perfect look.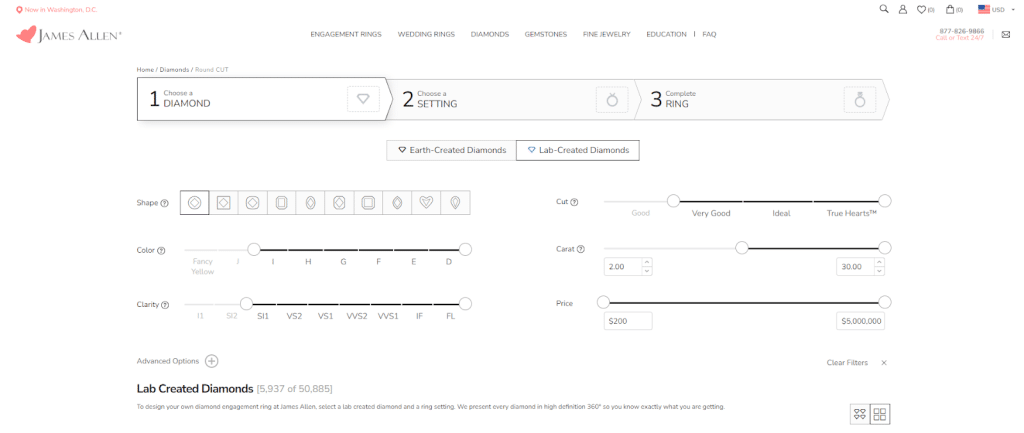 When searching for engagement rings, James Allen lets you toggle between:
Shape
Clarity
Color
Cut
Origin
Carat
Price
You can also choose between several advanced options, such as table, lab, symmetry, polish, depth, and fluorescence. James Allen's high-quality photos will dazzle you with every diamond you review.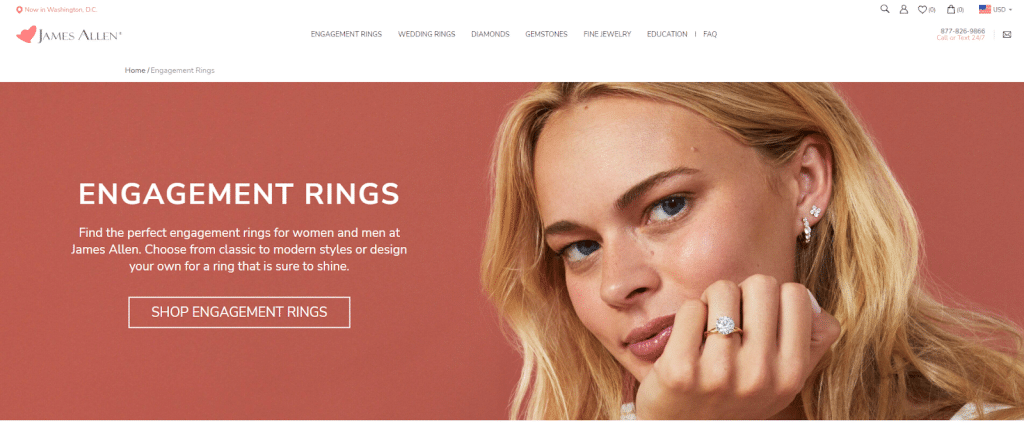 In addition to loose diamonds and engagement rings, James Allen also offers bracelets, earrings, gemstones, necklaces, and wedding bands. You can also purchase gold and platinum jewelry from James Allen as well.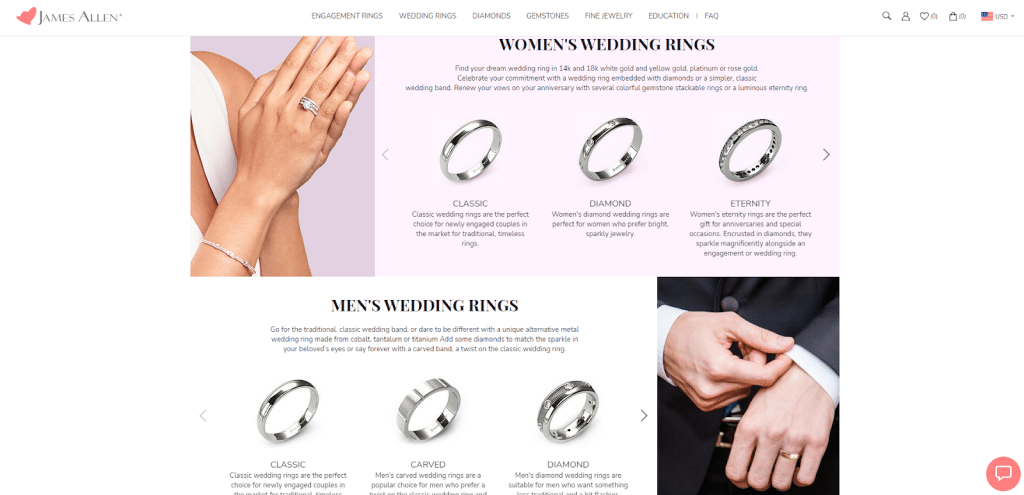 True Hearts Collection
This collection features round and princess-cut diamonds with near-flawless Hearts and Arrows patterns. The diamonds are cut in-house, but unlike other diamond retailers, James Allen doesn't necessarily specify what makes a True Heart diamond.
Lab-Grown Diamonds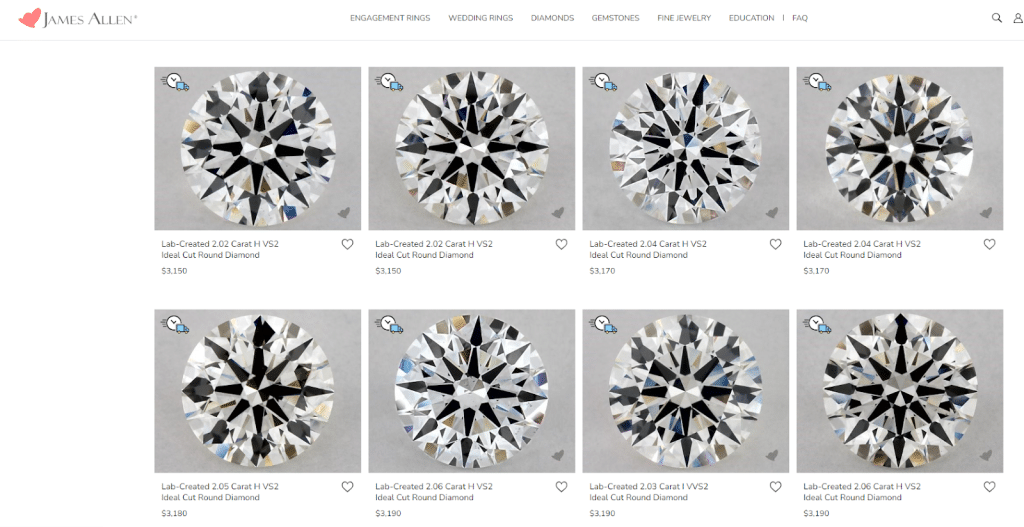 If you're looking to save money but still get a sparkling diamond, James Allen offers a wide selection of lab-grown diamonds. These diamonds are more affordable because they don't hold their value like real diamonds, but when it comes to the naked eye, it's hard to tell the difference.
On James Allen's website, you'll search for lab-grown diamonds the same way you would natural diamonds. Prices range from a few thousand to a few hundred thousand, depending on what shape, carat, cut, color, and clarity you choose.
James Allen Pros and Cons
Is it worth the savings to purchase a diamond from James Allen online? Weigh the following to help you decide.
Pros:
Many budget-friendly options, even if you don't have one
Lower markups than traditional jewelers
Easy to customize your purchase
High-resolution photographs
360-degree views of nearly all diamonds
Large selection
Pressure-free sales experience
Premium packaging
Generous warranty
Payment plans available
Conflict-free, certified diamonds
30-day refund policy
Cons:
Cannot view the ring in person
Customer service can sometimes be lacking
Limited refund timeline
Not as communicative as competitors
Settings can pale in comparison to diamonds
James Allen Alternatives
When it comes to purchasing diamonds online and competing diamond prices, James Allen's prices compare to many of its competitors. However, completed pieces sold by James Allen tend to go for more than those from Blue Nile or Whiteflash. 
Ranked among the best places to buy an engagement ring, Blue Nile competes directly with James Allen for its customers. It does offer a similar 360-degree view of some of its diamonds, but it doesn't sell lab-created diamonds.
You can find a diamond or engagement ring on Blue Nile's website for every budget type, including under $100 and the sky's the limit. Blue Nile diamonds are certified by the GIA and come with a lifetime warranty.
Compared to James Allen, Blue Nile has a similar inventory. However, James Allen offers higher security and a clearer view of what kind of diamonds you're purchasing.
Blue Nile offers a 30-day money-back guarantee on diamond purchases. Learn more about this online retailer in our Blue Nile review, including how you can spend less on an engagement ring without sacrificing that brilliant shine.
Most Popular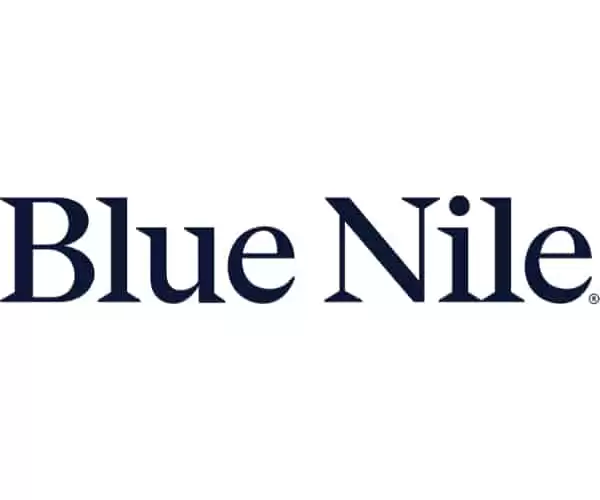 This luxury jewelry brand defines diamond sales, with higher prices and a tighter selection than most brick-and-mortar and online jewelers. Each diamond that Tiffany & Co. sells is pre-screened for quality and comes with in-house certification.
All diamonds sold by Tiffany & Co. are cut to Excellent standards. They don't drop below level I in color or VS2 in clarity.
Though Tiffany & Co. has an online presence, the selection doesn't compare to its physical inventory in stores. In addition, you cannot pick a loose diamond to put into a setting.
If your budget can't handle the prices at Tiffany & Co. but you want to still get a certified diamond that's top-notch, Whiteflash offers its A CUT ABOVE diamond collection. Within this collection exist diamonds that meet high standards and have the documentation to prove it.
Whiteflash includes only princess and round cuts in the A CUT ABOVE collection. If you choose not to purchase from this select diamond category, you can also find a diamond and engagement ring to match your budget.
Complete with HD videos and the chance to request an Ideal Scope and ASET image of the diamond you're considering, Whiteflash offers a premium buying experience and a large selection. You can also take advantage of 90-day financing if you need to spread out your payments.
Whiteflash also offers a one-year buyback program, complete with a service plan. You can also take advantage of a lifetime upgrade to exchange your diamond for another in-house.
FAQs
Is James Allen legitimate?
Yes, James Allen is legitimate. You can purchase conflict-free, certified diamonds and engagement rings from this online diamond retailer at affordable prices. 
Does James Allen abide by the Kimberley Process?
Yes, James Allen certifies that its sources for natural diamonds align with the Kimberley Process. Each diamond also comes with a certificate and documentation. 
Can you find quality engagement rings at James Allen?
Yes, you can find quality engagement rings at James Allen. Compared to your local jeweler's store, James Allen offers similar diamonds at a lower price. 
Does James Allen offer lab-grown diamonds?
Yes, James Allen offers lab-grown diamonds as well as natural diamonds. The lab-grown diamonds listed on James Allen's website are budget-friendly but just as dazzling. 
Find Your Future Engagement Ring with James Allen
Picking out an engagement ring can be a difficult process. James Allen makes it easy to find the ring you want without paying a huge markup in the process.
We hope this article has helped give you a peek into what James Allen can offer you. The diamond retailer competes with several of the largest players but still offers affordable pricing, a wide selection, and a generous warranty.
A look at competitor websites shows that James Allen stands out with its high-quality photos and videos. It's one reason James Allen can compete with traditional jewelers that have the upper hand when it comes to viewing a diamond in person.
Will you choose James Allen for your next fine jewelry or diamond purchase? If so, you can consider clicking here to get 25% off James Allen through here.
Engagement rings, wedding rings, diamonds & fine jewelry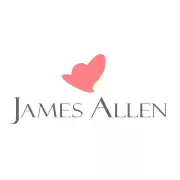 James Allen
James Allen is a highly renowned online retailer of engagement rings
Known for its affordable prices
360-degree diamond videos
Exceptional customer service
30-day full refund policy
Get 25% Off Through Here
Get Out of $30,000 or More of Credit Card Debt