Purchasing expensive jewelry, including an engagement ring, can be a daunting task. This is especially true if you know nothing about diamonds or women's jewelry.
Walking into your local jewelry shop can be intimidating. But with so many online scams these days, how do you know the site you purchase from is legitimate?
After all, the lab-grown diamond market is expected to reach $36 billion in value by 2027. That's a whole lot of cash spent in a market where spending more is practically expected. 
If you're in the market for an engagement ring or other fine jewelry and aren't sure where to turn, you're not alone. That's why websites like Blue Nile make it so easy to find what you're looking for and gain confidence by knowing that you're working with a reputable diamond retailer. 
In this Blue Nile review, we'll cover what types of diamonds and other gems the company carries, in addition to what types of jewelry are available for purchase. In comparing and contrasting Blue Nile to its several competitors, we'll establish the good and the bad to help you make a better final decision, no matter the outcome.
The more you know about diamonds and how to purchase them online, the more your results and desires will align. All it takes is just a bit of research and effort to see what's out there.
Are you ready to dive into our Blue Nile review? Let's get started!
What is Blue Nile
Among several online jewelry retailers, Blue Nile makes a name for itself by selling diamonds at a much lower price than you'll find at your local jewelry store.
With a wide selection, affordable prices, and plenty of customizable designs, it's no wonder Blue Nile has established itself as one of the largest online jewelry retailers you can depend on.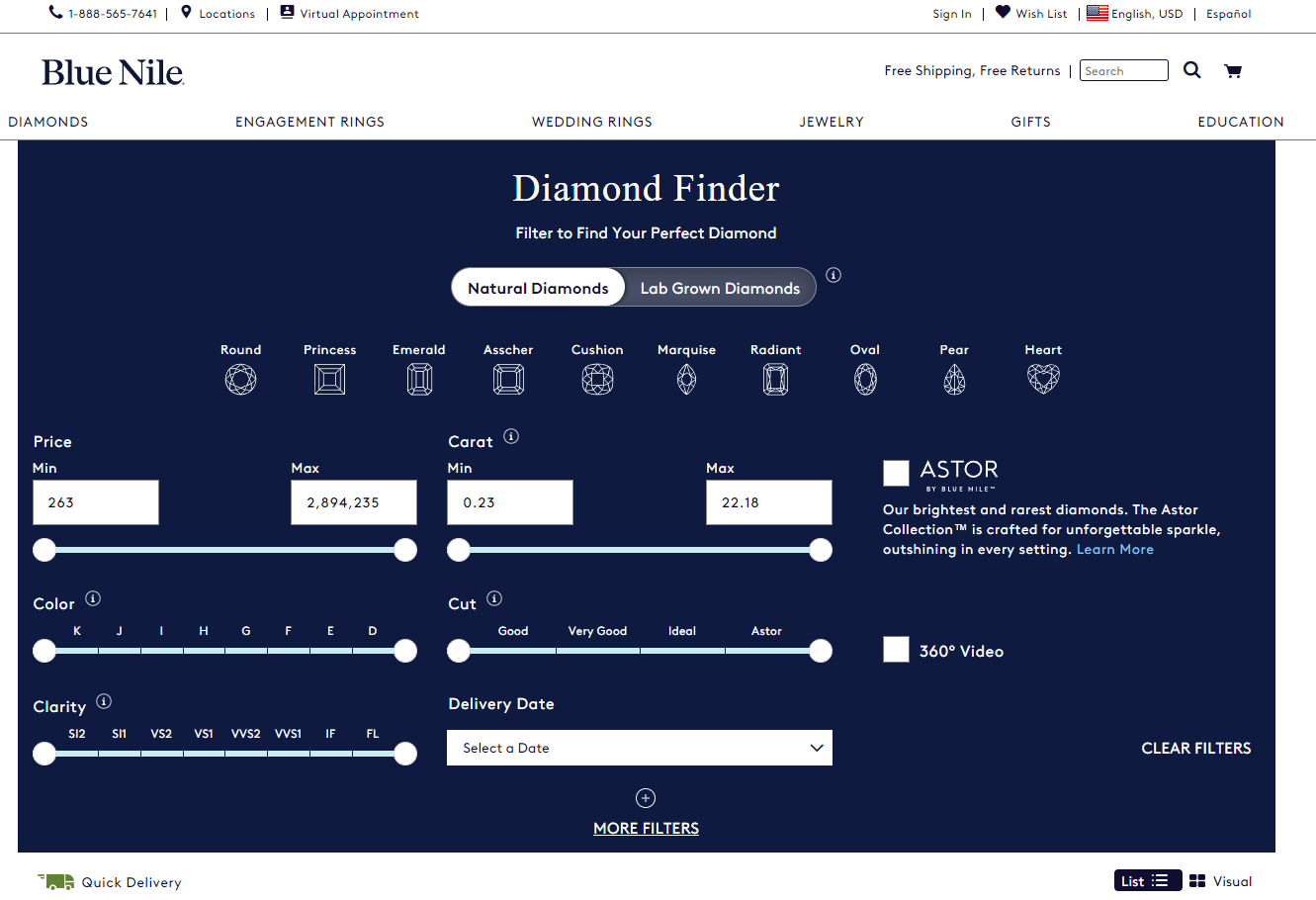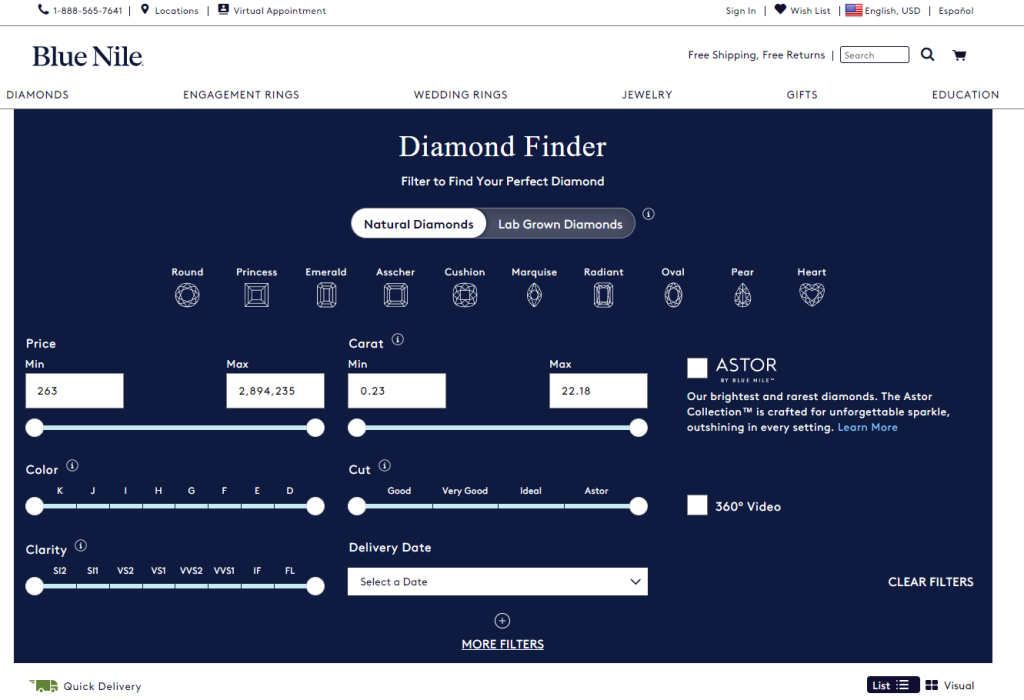 Blue Nile began in 1999 when Mark Vadon had a terrible diamond-buying experience. He then purchased an online site that sold diamonds and the beginnings of Blue Nile grew from there.
Many customers who are looking for an affordable engagement ring seek out Blue Nile. This Tiffany and Co. rival carries diamonds ranging in size from a quarter of a carat to 20 carats in weight. 
Currently, Blue Nile carries over 600,000 loose diamonds, in addition to gemstones and pearls. You can find Blue Nile showrooms in New Hampshire, Virginia, Oregon, New York, and Washington.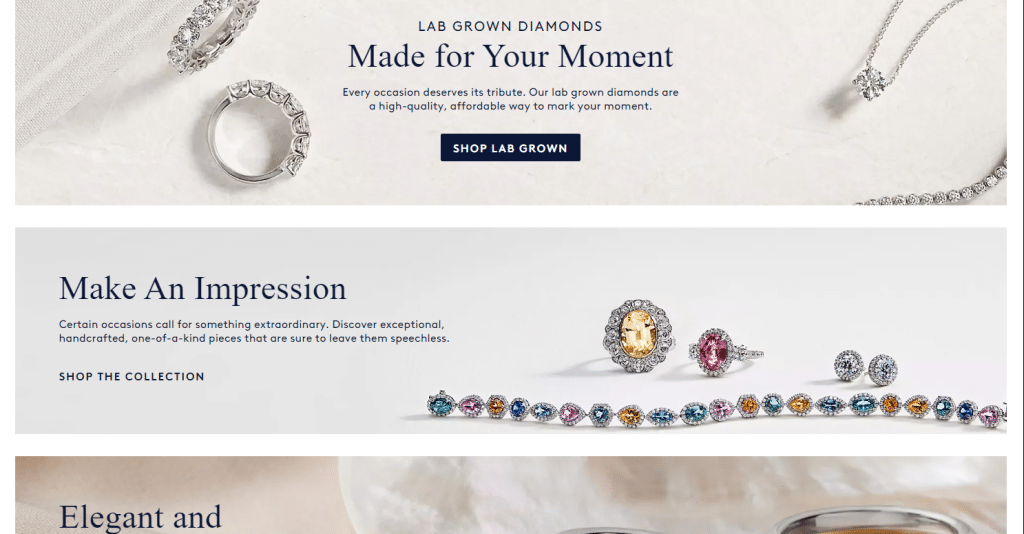 In August of 2022, Signet Jewelers acquired Blue Nile for a whopping $360 million. This same company owns Jared, Kay, Zales, and James Allen.
How Does Blue Nile Work
One of the reasons Blue Nile was able to achieve such success lies in the contracts the company has with diamond wholesalers across the globe.
Each of these sources is conflict-free, as Blue Nile abides by the Kimberly Process for sourcing diamonds ethically.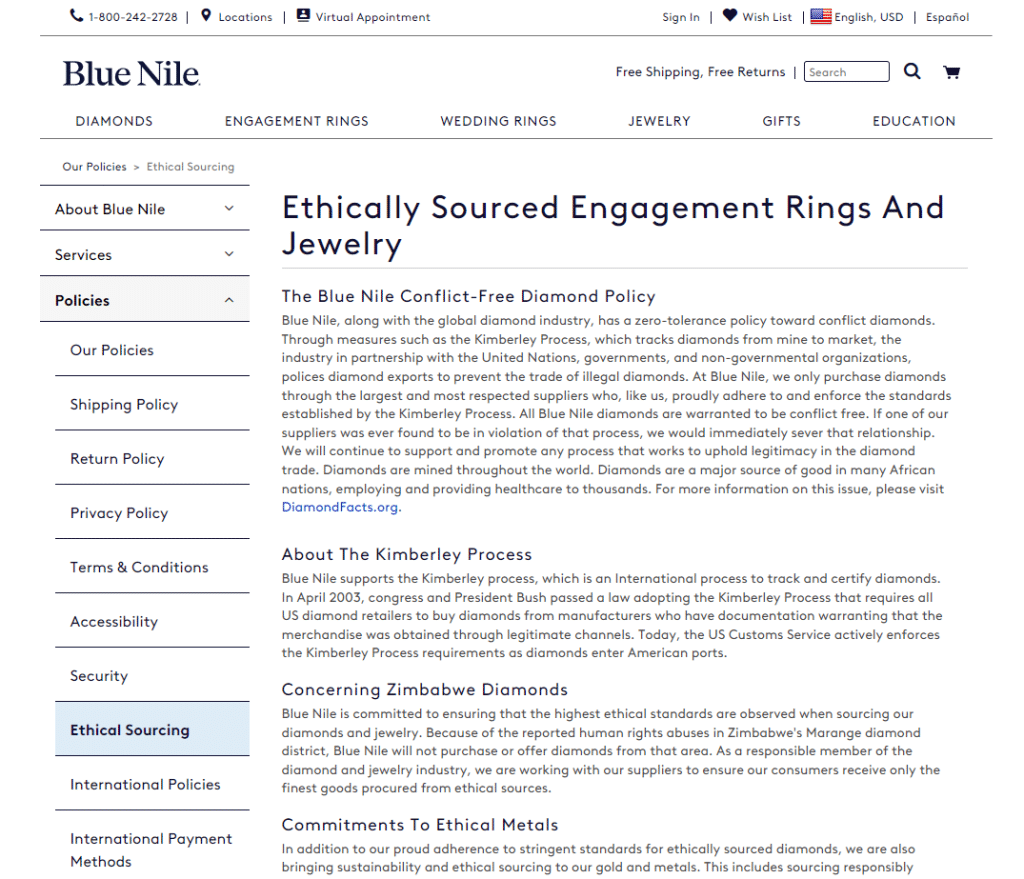 Blue Nile recently transitioned from drop-shipping diamonds to their customers to inspecting each diamond in person before it ships out. Every diamond under the Blue Nile name is inspected by an expert from the Gemological Institute of America (GIA) so you can be sure you're getting a quality diamond when it arrives.
Should you find a lower price elsewhere, Blue Nile offers a price match guarantee. The diamonds must be nearly identical for Blue Nile to honor the lower price.
Visit Blue Nile's website to compare diamonds and gain inspiration from recently purchased engagement rings. Blue Nile's 360-degree view helps you envision the diamond in real life to get a better sense of what it will look like in person.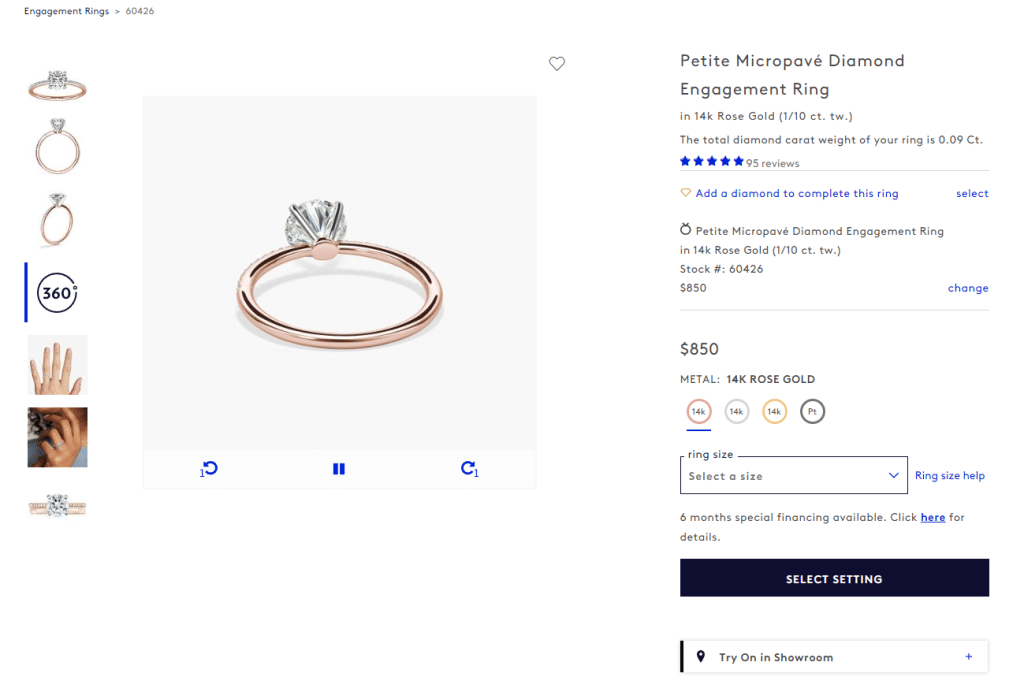 Sign up for Blue Nile's email list to get exclusive offers and early access to sales, in addition to $50 off your next purchase. You can also order a free plastic ring sizer or print one from the Blue Nile website.
Products
Blue Nile isn't just known for their engagement rings. You can also purchase several other types of jewelry and unique stones from this online diamond retailer: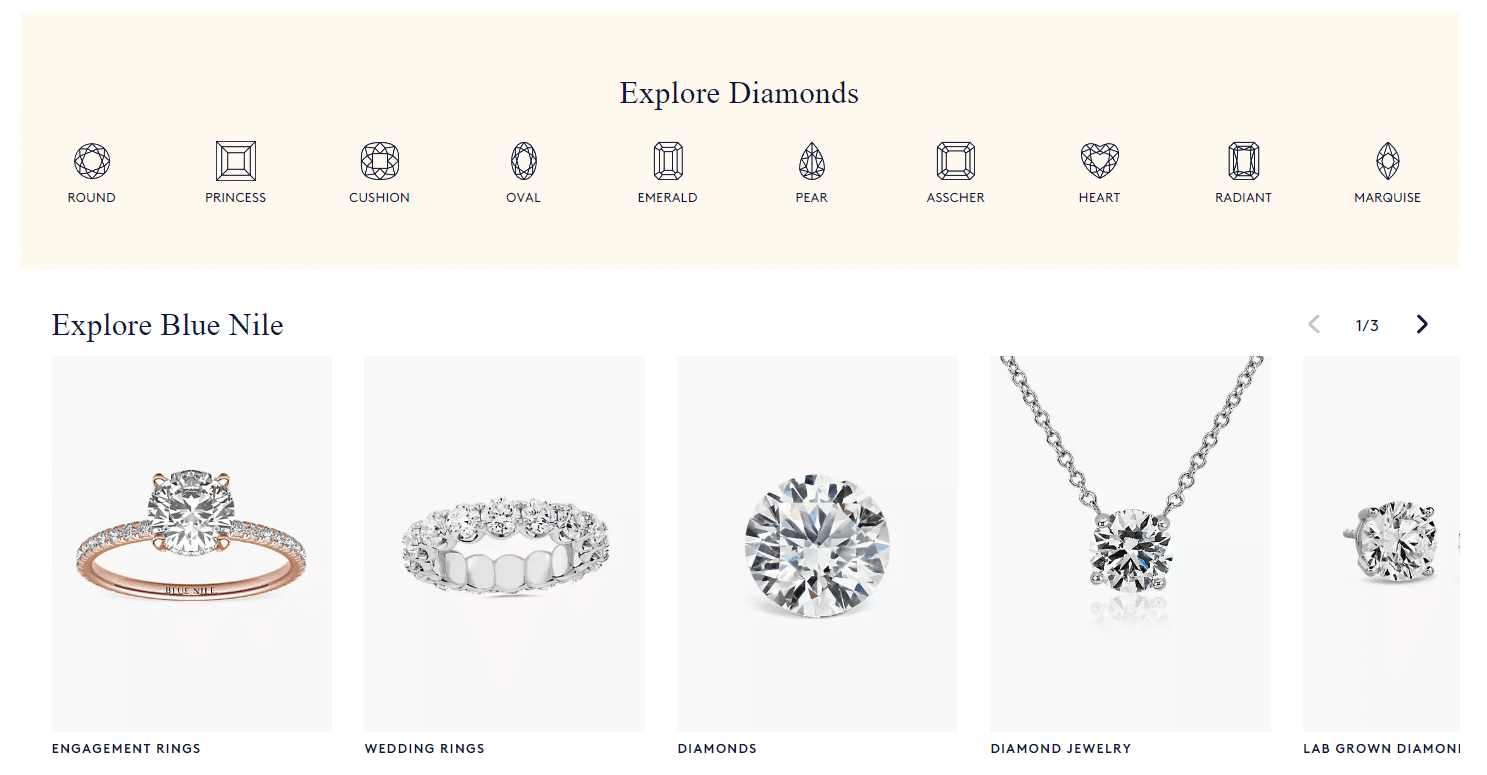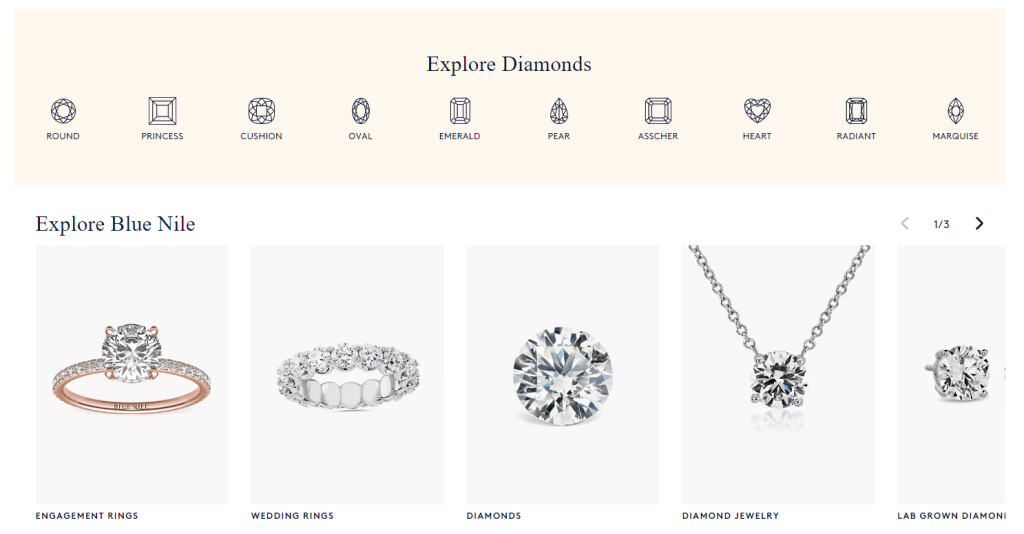 Loose diamonds: Blue Nile sells diamonds in multiple shapes, quantities, and sizes, including lab-grown diamonds. Each diamond comes with a GIA grading report. Blue Nile also offers fancy colored diamonds, from yellow to red and in between.
Engagement rings: Choose from over 500 engagement ring settings with Blue Nile. This company offers solitaire, three-stone, halo, vintage, and pave arrangements, in addition to rings with gemstones.
Gemstones and other fine jewelry: Blue Nile offers several types of pearls for sale, in addition to rings, earrings, pendants, and bracelets. You can even purchase designer jewelry from the Blue Nile Design Studio as well as artists like Zac Posen.
Astor by Blue Nile: This signature line-up features super-ideal diamonds with an Excellent cut grade from the GIA. These diamonds are also graded by GemEx and come with a 360-degree view. You can purchase Astor by Blue Nile diamonds in radiant, round, heart, oval, princess, and cushion shapes.
Blue Nile also sells unique men's wedding bands featuring titanium, cobalt, and tungsten. If you're in the market for an engagement ring or any type of fine jewelry, Blue Nile could be your new trusted source. 
Selection
Designing and purchasing your engagement ring from Blue Nile couldn't be easier: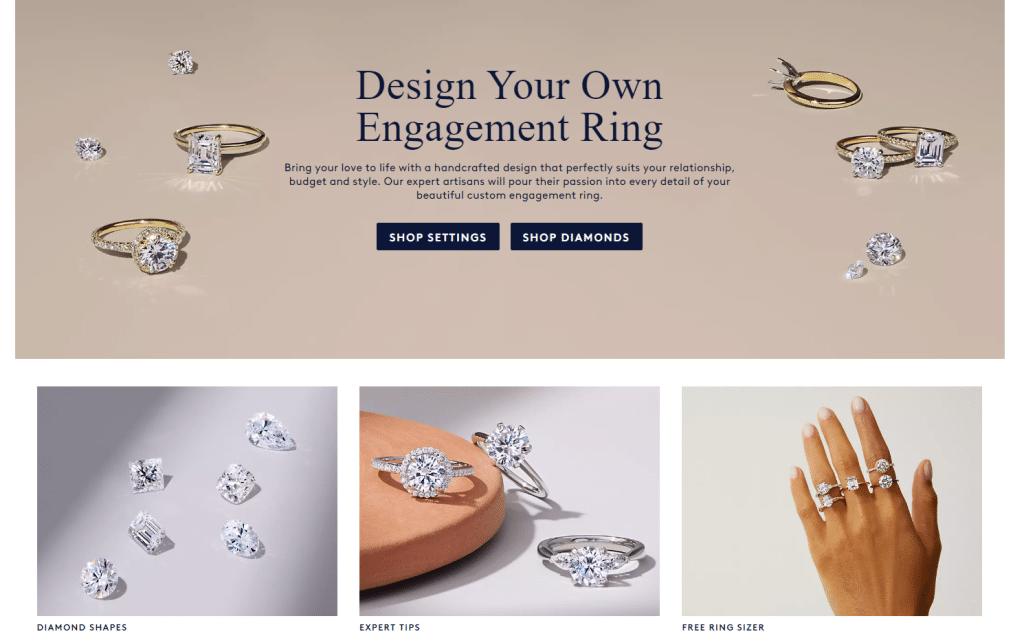 First, you'll select your diamond or choose which setting you want to work with.
As you peruse the various diamonds and gemstones Blue Nile has to offer, you can filter your results according to the four Cs (cut, clarity, carat, and color).
Select your engagement ring style, as well as the type of metal you want for the band.
Blue Nile will alert you if there's a matching band so that you can coordinate.
Once you've assembled your perfect engagement ring, you can review the options and pricing.
Blue Nile also offers several educational resources if you want to learn more. If you're not sure how to begin with your engagement ring, these guides can be a great place to start.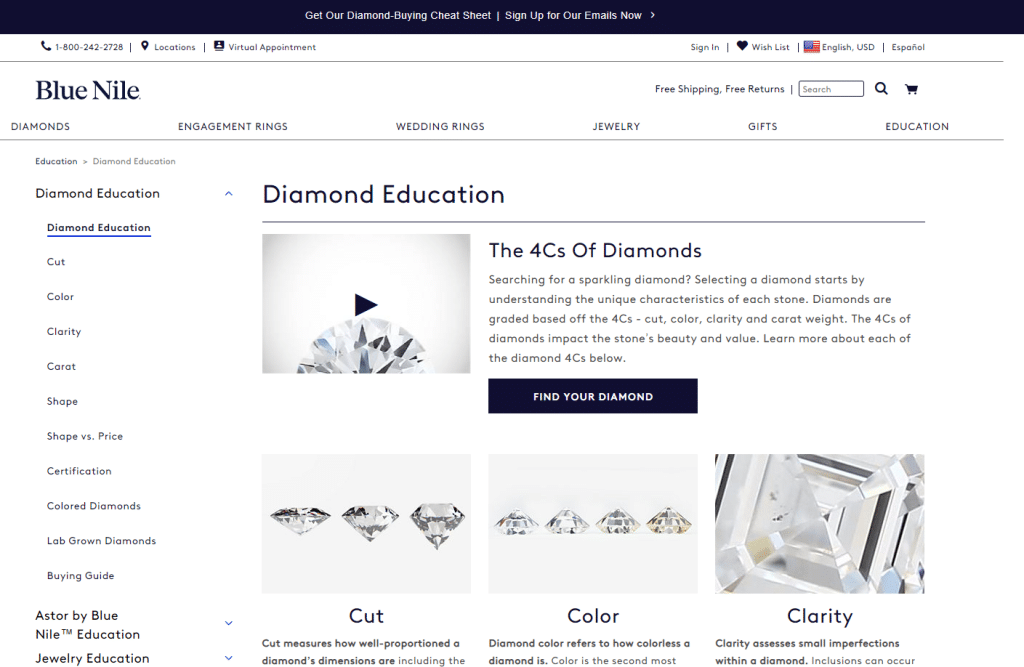 The Fine Print
Creating your own engagement ring can be exciting and rewarding, but don't overlook the finer details. Blue Nile offers several services you can take advantage of if you purchase from them.
For example, you have 30 days to return and refund your purchase. Blue Nile will email you a free shipping label and it takes about four to five business days to process your return.
Should you choose to pay by wire transfer, Blue Nile will discount your purchase of $750 or more by 1.5%. The lifetime warranty doesn't cover normal wear and tear but does include complimentary cleaning as long as you pay the shipping costs.
Blue Nile also offers one free ring resizing, the chance to upgrade your diamond for 100% credit toward your new purchase, and up to $100 in rewards when you refer a client. If you're looking to insure your ring, Blue Nile and Jewelers Mutual Insurance Company work together and can provide you with a free quote.
In addition to selling diamonds, engagement rings, and various gemstones, Blue Nile is also a great place to sell your engagement ring. If you're not sure where to sell jewelry for the highest price, Blue Nile could offer you more than you'd get at your local jeweler or pawn shop.
Blue Nile Customer Service
You can contact Blue Nile's customer service representatives 24/7 via email, phone, and live chat. Blue Nile also offers virtual appointments where a diamond expert walks you through the process and can even show you a close-up of several products.
Blue Nile diamond experts are not paid on commission, so you won't be pressured into a sale. However, the company does receive mixed reviews concerning delivery times and customer service experiences.
Financing
Blue Nile offers a credit card or an equal payment plan for those who are purchasing on a budget and need financing. The credit card comes with no annual fee and an introductory 0% APR for a certain amount of time based on how much you spend.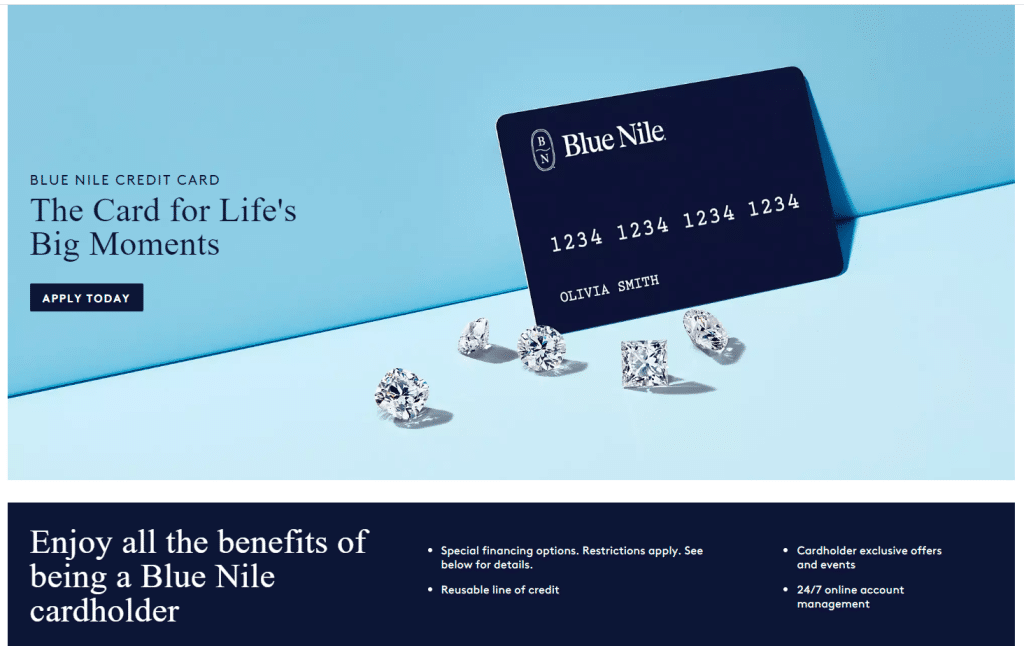 For example, if you spend less than $1,500, you'll get no-interest payments for six months. That increases to 12 months with purchases between $1,500 and $2,000, and 18 months for purchases over $2,000.
Alternatively, you can choose the equal payment plan as long as you spend over $2,000 with Blue Nile. If you spend less than $3,000, you'll have 24 months to pay off your balance.
Balances of $3,000 to $3,999 come with 36-month terms, while anything over $4,000 comes with a 48-month term. If you still carry a balance after the terms are up (for both credit card and payment plan), the APR increases to 29.99%. You can learn more here.
Advantages and Disadvantages of Blue Nile
Blue Nile isn't the only online diamond retailer. Let's take a closer look at the good and the bad before we compare this site to others out there.
Pros:
360-degree view
Affordable pricing
Financing options available
Virtual appointments with a diamond expert
Customizable options
30-day refund policy
Lifetime warranty
Cons:
Limited setting choices
Large selection geared more toward popular choices versus rarer pieces
Customer service can be lacking
Imaging can be lacking compared to competitors
The Four Cs of Diamonds
If you've ever wondered how much you should spend on an engagement ring or how diamond prices are set, you're not alone. Besides the various options you choose to compliment your chosen diamond, the characteristics of the diamond itself play a large role in the price:
Cut: You can easily tell the cut of the diamond by how it directs the light through the various facets.
Clarity: A flawless diamond scores high on the GIA clarity scale but the more miniature markings a diamond has, the less clear it is.
Color: Colorless diamonds fetch the highest prices, while yellower diamonds are more common.
Carat: Most people recognize that more carats mean a higher price. A single carat is 100 points but if you choose a diamond just short of half of a carat or a full carat, you can save a significant amount without sacrificing quality or looks.
As you look through Blue Nile's catalog, you'll start to see the changes in pricing based on how you upgrade each aspect.
Blue Nile Competitors
If you're looking for the best place to buy an engagement ring and aren't sure Blue Nile is the right choice, here are a few alternatives:
James Allen: This company also offers a 360-degree view of its products, with a bit more attention to lighting than Blue Nile. You can also choose from a wide selection of diamonds and gemstones and many consumers prefer James Allen customer service representatives to those at Blue Nile.
Whiteflash: If you're looking for super-ideal diamonds, check out Whiteflash's A CUT ABOVE collection. It rivals the Astor by Blue Nile line and comes with hearts and arrows imagery. 
Brilliant Earth: This online retailer is known for going beyond the Kimberley Process to ensure their diamonds are ethically sourced. Brilliant Earth also offers a 30-day warranty and free resizing services as well. 
You can also purchase diamonds from traditional jewelers near you. However, these jewelers typically have a limited selection and may pressure you to buy if they're paid off commission.
FAQs
Make the Cut With Blue Nile Diamonds
Buying diamonds can be stressful, especially if you're not sure what to get and who to get it from. How can you be sure the online store you're sending hundreds if not thousands of dollars is a legitimate diamond retailer?
We hope this article has helped you to see that there are qualified diamond retailers out there on the internet, including Blue Nile. This leading online diamond retailer is just one of many resources you can take advantage of if you want to purchase an engagement ring or any other type of fine jewelry. 
The biggest step you can take toward feeling good about your purchase is researching what you're trying to do. The more you know about it, the more confident you can feel in your final decision.
Now that you know more about diamonds and where to purchase them for a fair price, does that change your mind about popping the question? Check out Blue Nile's inventory to see how you can surprise your love without breaking the bank. 
Our Pick

Rocket Money
Navigating your finances can be challenging. Why tackle it solo? A staggering 80% of individuals have discovered savings by utilizing Rocket Money to identify and eliminate unnecessary subscriptions. More than just subscription management, Rocket Money equips you with the tools to maximize savings, minimize spending, gain a comprehensive view of your finances, and reclaim mastery over your financial well-being.
Start Saving Now
Read Review