Buying a Forever stamp can be a great way to save on postage. If you're interested in learning more about Forever stamps, check out our guide.
How Much is a Forever Stamp Worth in 2023?
The answer is: A Forever Stamp is worth 63 cents in 2023.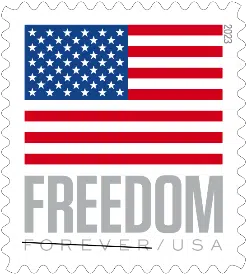 The United States Postal Service announced that Forever stamps will be worth $0.63 as of January 22, 2023. This comes about six months after the last price hike, which was in July of 2022. Back then, the price went from $0.58 to $0.60. 
So what does this mean for Forever stamps purchased before now? Those stamps are worth the equivalent of a Forever stamp printed in 2023. That means a Forever stamp purchased back in 2007 (or any year since) is now worth $0.63, even if you only paid $0.41 for it back then.
Are you ready to learn even more about how much a Forever stamp is worth? Let's get started!
What is a Forever Stamp
To clarify, a Forever stamp and a regular stamp are not the same thing. Regular stamps allow you to send letters and postcards as proof of payment when it comes to postage. Forever stamps, however, are first-class postage stamps you can purchase and use forever to mail a one-ounce letter. That is, the Forever stamp doesn't expire. If you purchased a Forever stamp back in 2015, you can still use it today in place of 2023 Forever stamps.
The concept of a Forever stamp was first introduced in April 2007. Did you know that then, the Forever stamp was worth $0.41? The Liberty Bell graced the first Forever stamp, along with the words "USA FIRST-CLASS FOREVER." Since then, many different images have been printed on Forever stamps each year.
If your stamp says "USA FOREVER" on it, it's a Forever stamp that can be used on postcards, one-ounce letters, and international mail as well. Depending on the weight and size of your international mail, however, you may need additional postage. This is the case for domestic mail as well, though sometimes it's cheaper to pay a shipping fee instead of using your Forever stamps. 
Who Uses Forever Stamps?
Snail mail has a rich history but it's quickly giving way to new ways of communicating. After all, it's a lot easier to send a text or email than it is to write out your conversation, put a stamp on it, and wait for a response. Not to mention the fact that sometimes what you're expressing isn't something that can wait five to seven business days.
That said, there are many reasons we still use the postal service today. For example, you might need to send in an official document, submit important files, or even correspond with your relatives and friends abroad. Stamps are the currency of the postal service, signaling that you've paid the balance necessary to get your letter to its destination. Without proper postage, your letter isn't going anywhere.
The post office produces Forever stamps as a way for individuals to mail their letters without having to worry about how much that stamp is worth. For example, if you were to purchase a regular stamp, that sticker is only worth what you paid for it. In contrast, Forever stamps are worth the going rate, so you don't have to worry about adding additional postage if your stamp isn't the correct amount.
Where Can I Buy Forever Stamps
There are many places where you can buy stamps, including Forever stamps. These places tend to offer additional services such as money orders, copies, or even cashing checks.
Post office
Grocery stores
Pharmacies
Convenience stores
Office supply stores
Banks
ATMs
You may be able to find Forever stamps online as well, but sometimes you have to visit stores physically to purchase these stamps. It all depends on how quickly you need the stamps and if you're willing to pay for shipping.
Who Designs Forever Stamps
The United States Postal Service (USPS) designs and issues forever stamps. However, the process of creating a new stamp design is a collaborative effort. The process typically begins with the USPS's Stamp Development team, which is responsible for identifying themes and subjects for new stamps, and for developing the concepts for stamp designs. They take into account important upcoming events, anniversaries, and figures that should be commemorated. They also consider feedback from postal customers, stamp collectors, and other interested parties to develop ideas for new stamps.
Once the concepts for new stamp designs have been developed, the Postal Service turns to artists and illustrators to create the final artwork for the stamps. The USPS works with a wide range of artists and illustrators, both well-known and emerging talent, to create artwork for new stamps. Some of the artists are commissioned to create designs, while at other times, the USPS solicits designs through open competitions.
Once the final artwork is created, the Postal Service's stamp production team takes over. They are responsible for creating the master die, which is used to produce the stamps, as well as for overseeing the printing and distribution of the stamps.
During the whole process, the USPS works closely with the Citizens' Stamp Advisory Committee (CSAC), an independent body that advises the Postmaster General on stamp design. The CSAC is composed of experts in fields such as art, history, and education, who review stamp proposals and make recommendations to the Postal Service on which stamp designs to produce.
Overall, the process of designing and issuing forever stamps is a collaborative effort involving various individuals and groups within the USPS, as well as outside experts working together to create stamps that are informative, attractive, and that honor significant events and figures.
Popular Forever Stamp Designs
The United States Postal Service (USPS) has issued several different designs of forever stamps over the years, many of which commemorate historical events, people, or places. Here are a few examples:
In 2009, the USPS issued a series of four forever stamps to celebrate the 200th anniversary of the birth of Abraham Lincoln. The stamps featured portraits of Lincoln taken at different stages of his life.
The 2011 World Series forever stamp featured the St. Louis Cardinals and Texas Rangers teams in recognition of their success in the 2011 World Series.
The 2013 Forever Stamp "Love" features an illustration of two birds sitting on a branch with a heart-shaped design between them. It's been very popular among customers, especially on Valentine's day.
The "World War II: 1942-1945" forever stamps, issued in 2015, depict the American flag, a soldier, and a bomber plane to commemorate the 70th anniversary of the end of World War II.
The 2017 Forever stamp "Happy Birthday" design features a pink and purple cupcake with lit candles and the phrase "Happy Birthday" written in white script.
In 2020, USPS issued a Forever stamp to honor Ruth Bader Ginsburg. This stamp marks the first forever stamp to feature a woman who is not a monarch.
As you can see, forever stamps can commemorate a wide range of historical figures and events, including presidents, military conflicts, and important anniversaries. They also come in different designs and themes.
Why are Forever Stamps So Expensive
Forever stamps have tended to gain value every one to two years. This latest price jump is often cited as an effect of current inflation. However, some believe the post office continues to lose money in the face of other carriers, especially when it comes to shipping packages overnight. You can mail a certified letter through FedEx or UPS, so the postal service may be facing more of a competition issue than anything economic-related.
No matter the cause, Forever stamps are expected to increase in price as time goes on. That means purchasing now could help you save money in the future if you plan on mailing a lot and needing Forever stamps to do so. At the same time, it's more about saving a few pennies here and there than really profiting from such a specific commodity.
Should You Invest in Forever Stamps
Historically, laws have capped the rates the postal service can charge for a stamp. However, that's been removed somewhat as the Postal Regulatory Commission reviewed the law in 2017 and found it was hurting the profitability of the postal services. This judgment makes it easier for the postal service to increase prices, which could work in your favor in specific instances.
For example, if you own a business or plan on mailing out quite a few first-class one-ounce letters, you might consider purchasing a book or two of Forever stamps before the new price goes into effect on January 22. At the same time, you have to ask yourself if you're going to benefit from such an investment. Take a real look at how much postage you use and whether or not it makes economic sense to "invest" in Forever stamps.
Let's take a hypothetical situation where you purchase 100 Forever stamps at $0.60 per stamp. You'd be spending $60 on stamps, which is only $3 less than you'd be spending on stamps if you were to purchase them at $0.63.
In addition to such a small profit margin, you'd likely have a hard time reselling Forever stamps on a secondary market. With such small margins in cost (a penny here or three there), there's little to no incentive for people to purchase a Forever stamp second-hand than direct from the post office.
The Future of Forever Stamps
The future of Forever stamps ties in with the future of direct mail, or the mail you receive in your physical mailbox. The evolution of mail from the era of penpals to the age of email spans several years, but the effects continue to influence old forms of communication. This is true even for a system that still allows you to get free books for kids in the mail, receive coupons to your favorite stores and restaurants, and even get free money in the mail as well.
Many people associate the post office with someone you notify when you have a change of address or want to forward a package. At the same time, it's a network of hubs and employees that hand off your mail to one another until it reaches you. Until we move to a completely digital world or can teleport packages from one location to another through time and space, post offices and Forever stamps are here to stay. 
Collective Thoughts on Forever Stamps
Using a stamp to mail a letter isn't something many kids may experience in the face of texting, email, Facetime, and Zoom. However, there are still tons of applications for Forever stamps. These stamps also survive past basic stamps because they're valuable forever, as the name suggests.
We hope you've found this article on the history and meaning of Forever stamps useful in your search for information. There's a lot to learn about how our nation began communicating across long distances. It even gives you a sense of gratitude for how far we've come in such an essential function.
FAQ
What type of mail can I use a Forever stamp on? 
You can use a Forever stamp to mail a 1-ounce letter or a postcard. As long as you use a Forever stamp, it doesn't matter when you purchased the stamp. It's good for the going rate of Forever stamps at any time. 
Do Forever stamps expire?
No, Forever stamps do not expire. They can be used as long as the U.S. Postal Service accepts Forever stamps to mail letters. 
Can you sell old and unused Forever Stamps? 
No law says you can't legally sell old and unused Forever Stamps, potentially for a profit. However, finding someone to purchase your Forever Stamps at current values when they can buy them straight from the Postal Service could be difficult. 
Get Out of $30,000 or More of Credit Card Debt