Oh my word. You're going to love this list of the best referral bonus apps that allow you to sign up for money and bonuses.
Just take a look at the list and see which ones interest you and you'll receive a free sign-up bonus ($5, $10, $50, $100 and even up to $200 in free money) when you complete qualifying activities or requirements.
Best Referral Bonus Apps (Apps That Give Free Money)
Learn how to get free money for signing up for these free money apps. Your wallet will thank me later.
1. Swagbucks – Rewards App – $10 Bonus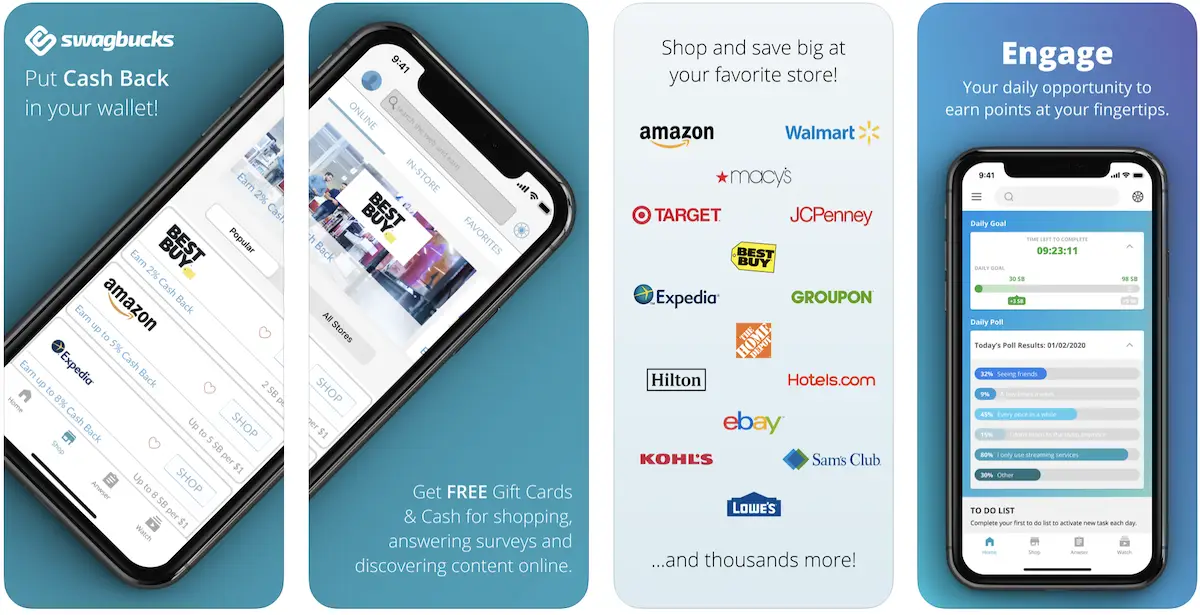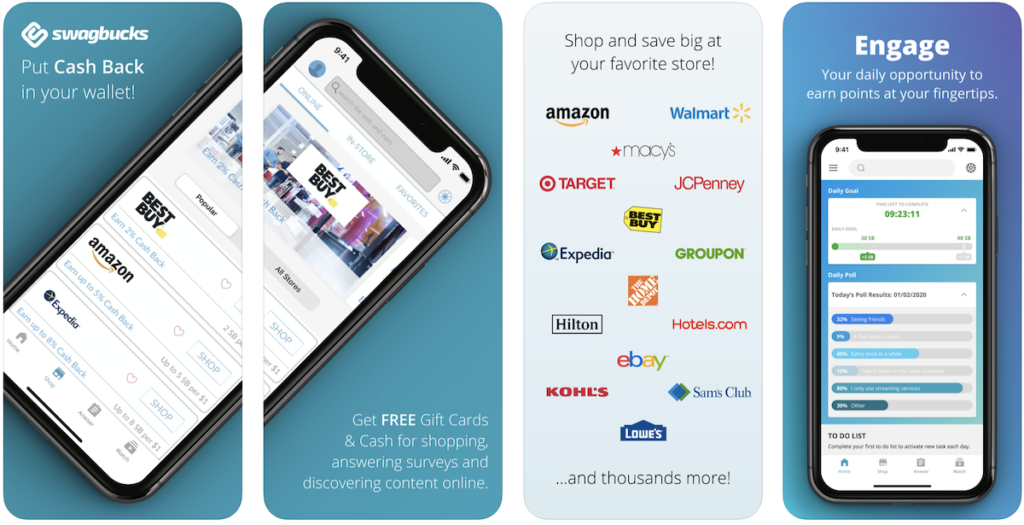 Swagbucks App Bonus Link – To activate this bonus you must spend at least $25 on a single purchase from the cash back portion of the app/site.
Swagbucks offers a variety of ways to earn money online. You can take surveys, play games, surf the web, watch videos and more to earn points towards gift cards or cash.
There are a lot of apps like Swagbucks but nothing can beat the king of reward apps. Here you can earn a special currency called Swagbucks for completing offers, answering surveys and logging online activity.
You can redeem the currency for gift cards or cash rewards once you've accumulated enough. This is one of the best apps that pays you through PayPal. The $10 bonus is a Swagup located on your Swagup page. To activate this bonus you must spend at least $25 on a single purchase from an eligible merchant. It's similar to other cash back offers.
Once you complete your purchase, it will typically credit within 32 days and the $10 bonus will be awarded a couple of days after. Be sure to check the merchant's shop page prior to your online shopping experience to ensure the category is eligible for SB as merchants can change their categories from time to time.
Moomoo Promo Link – You could get up to 16 free shares of stock, each valued at $3-$2,000.
Moomoo is a freeß investing app that enables users to make zero-commission stock trades and also provides them with many innovative research and technical tools.
Moomoo also offers a pretty popular sign up bonus, where if you sign up you can get up to 16 free stocks valued up to $2,000 each.
Moomoo is just like other investing apps like Robinhood. Just sign up for a Moomoo account through this promo link.
Then you'll need to deposit $100 to get a chance to win a free stock worth between $3 and $2,000.
You can also deposit $1,000 for more chances to win free stocks.
And if you deposit $5,000 or more you get a free share of $TSLA or $GOOG.
Although selling your shares or cashing out is allowed at any time without fees or penalties, you must first keep the deposited bonus amount for 60 days.
In addition to stock trades, Moomoo allows users to trade options and ETFs with no commission fees! I use this app and it's legit.
4. Upromise – 529 College Savings – $30 Bonus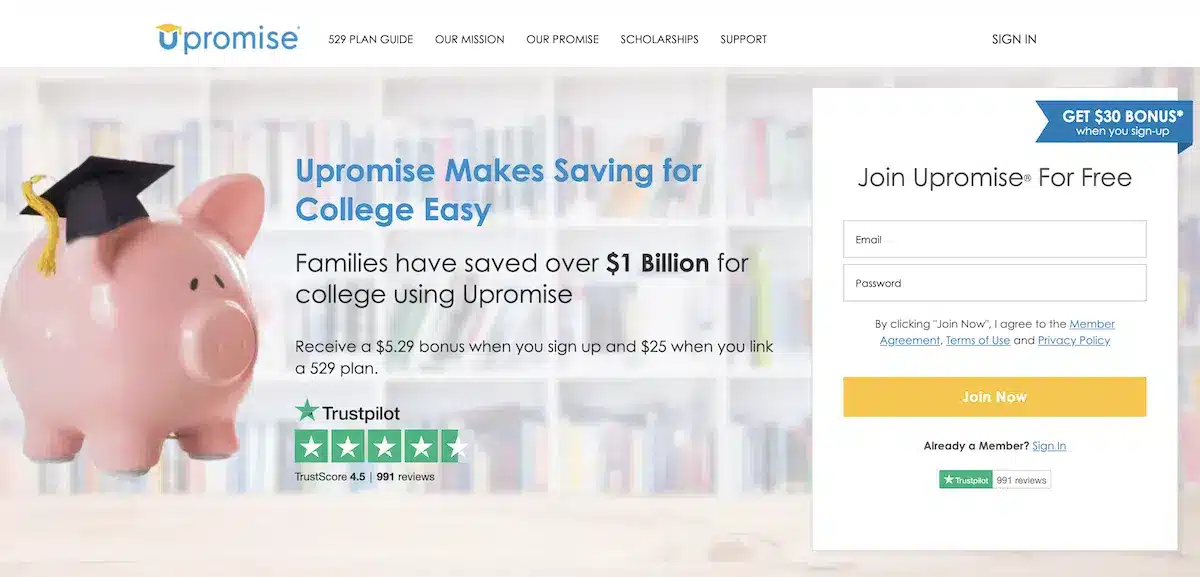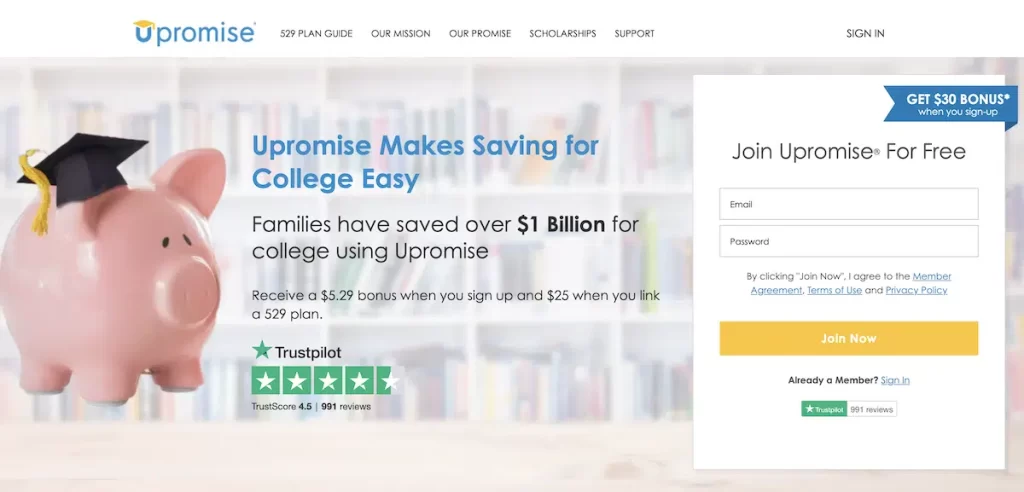 Upromise Bonus Link – Sign up for Upromise and link a 529 account and get $30 instantly.
Upromise® is a free service with a mission to help families save for college. Upromise provides unique opportunities for consumers to earn cash-back rewards for shopping, dining out, and using the Upromise Mastercard.
Families have saved over $1 Billion for college using Upromise and they currently have a $30 sign up bonus offer for new members. You can join Upromise for free a receive a $5.29 bonus when you sign up and $30 when you link a 529 plan.
What to do:
Go to the Upromise registration page.
Enter your email address and create a password.
Confirm your email address to get $5.29
Link a 529 account to get $30 instantly
5. Chase Total Checking® – Banking – $200 Bonus
Chase Promo Link – Enjoy $200 as a new Chase checking customer, when you open up a new checking account and set up direct deposit within 90 days of enrollment.
The Chase Total Checking® account remains a top choice as it's the most popular account from one of the country's best banks. With over 4,700 branch locations, 16,000 ATMs, and a highly-rated mobile app, you'll have ample access to your money.
Opening a new account is a breeze with the online application, and earning the bonus is simple: receive a qualifying direct deposit within 90 days, and Chase will credit the reward within 15 days.
While the account comes with a $12 monthly maintenance fee, it can be waived through various means, such as maintaining a minimum daily balance of $1,500 or making at least $500 in electronic deposits each month.
As long as you can avoid the maintenance fee, we highly recommend seizing this legit cash bonus from Chase!
6. InboxDollars – Surveys – $5 Bonus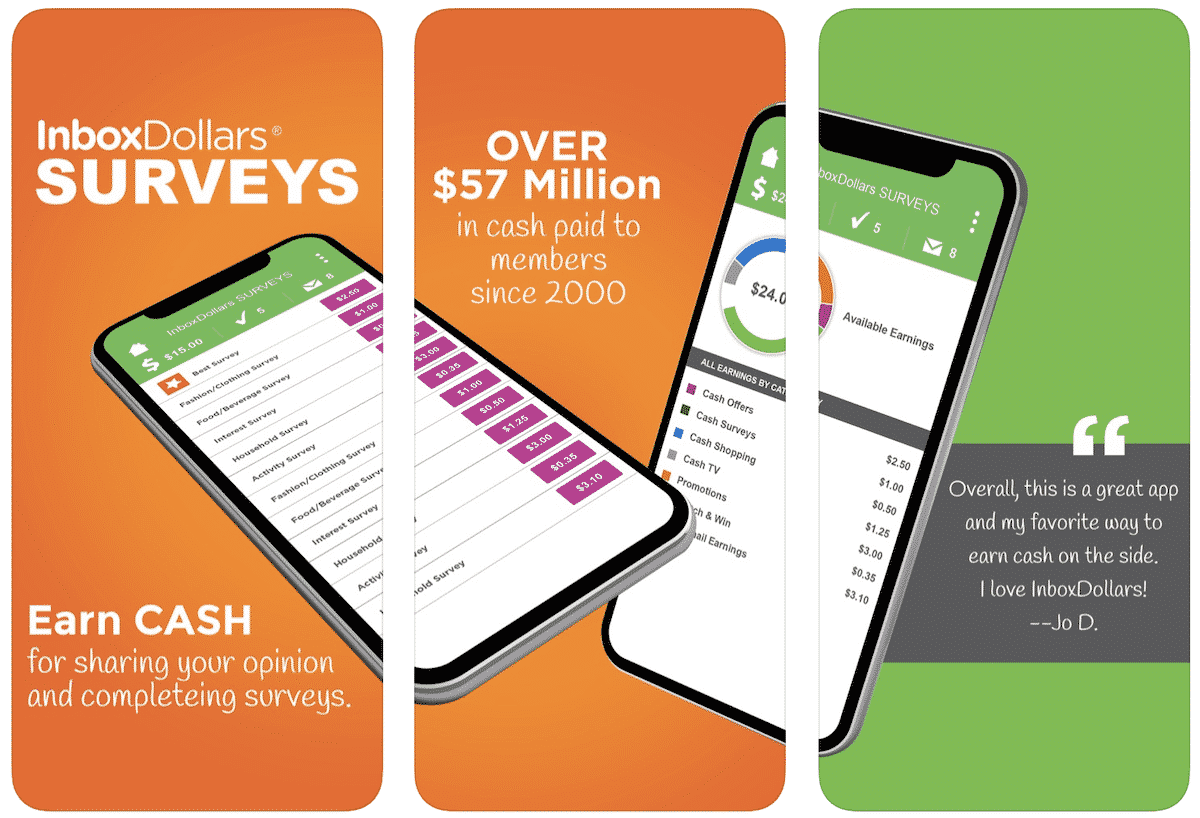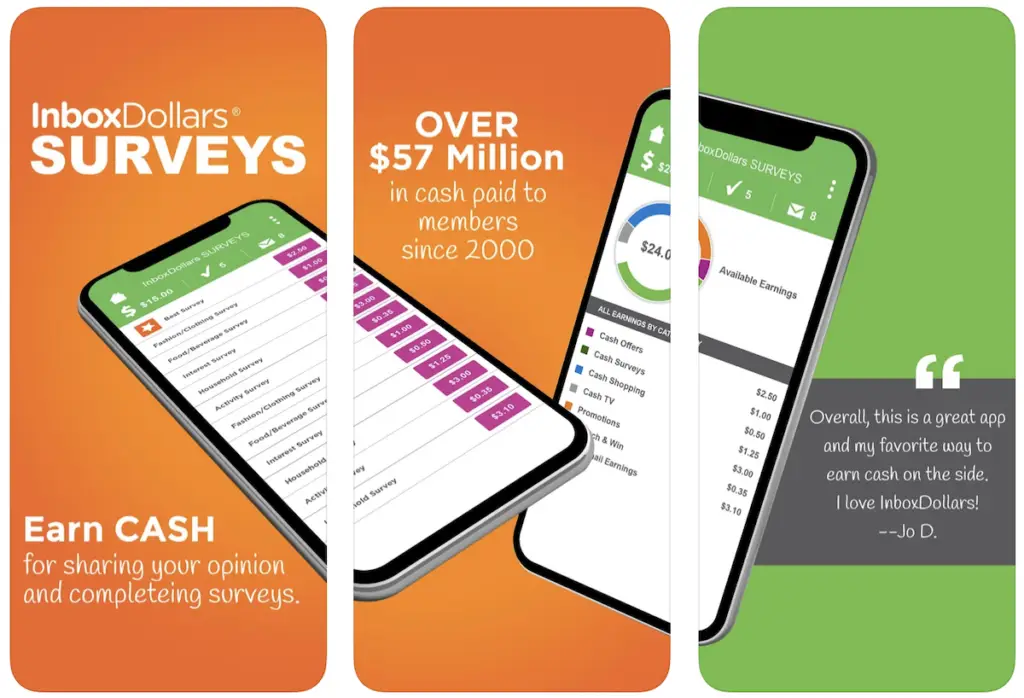 InboxDollars Bonus Link – You earn a $5.00 bonus for confirming your email address and completing all the to-do list activities on the welcome page.
The next thing you can do is sign up for InboxDollars which pays you, in cash, to watch fun videos and take surveys. If you sign up before the end of this month, they also give you a $5 free bonus just to give it a try.
By spending just 5-10 minutes per day on this (either on your lunch break or during TV commercial breaks) you can earn and earn an extra $50 per month. More people should be using one of the best survey apps.
Collect $5 bonus at InboxDollars
7. Upgrade – Banking – $200 Bonus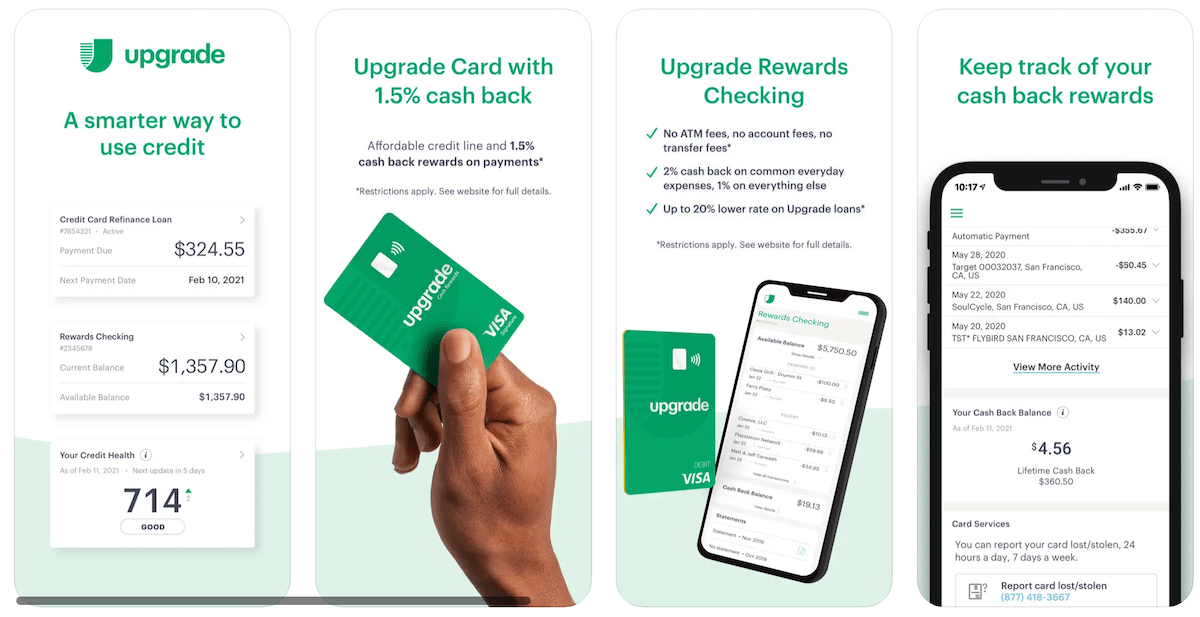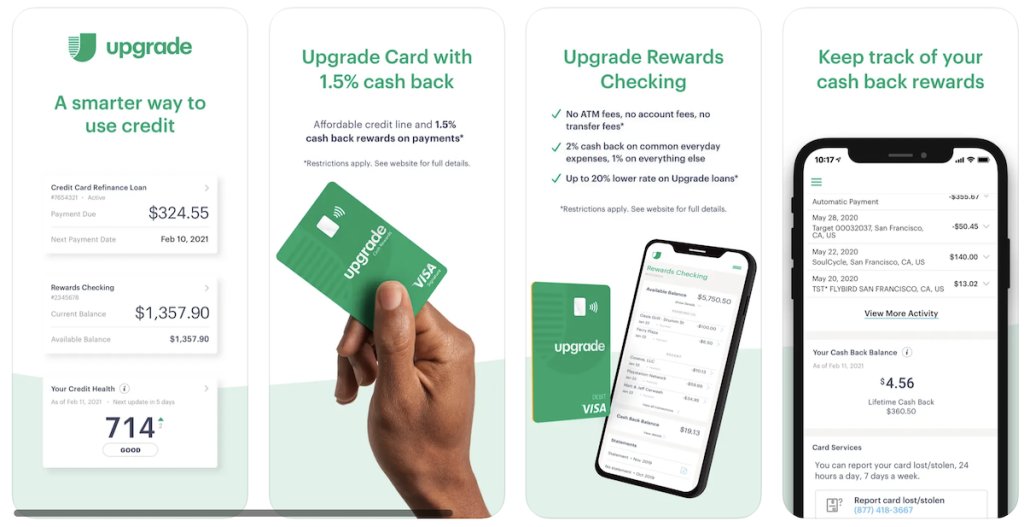 Upgrade Bonus Link – Apply for an Upgrade card using the link and fund a new account and use the card to make at least 3 purchases to get a $200 statement credit.
You'll earn a $200 welcome bonus when you apply for an Upgrade Card and then open a new Rewards Checking account.
To be eligible for this promotion, you'll need to sign up for their Upgrade Card first. This card is a cross between a credit card and line of credit.
Next, you'll need to open a free Rewards Checking account. Finally, you'll only have to make three transactions with either your Upgrade Card or your new debit card.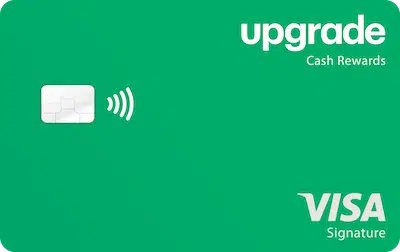 All things considered, this is a bank account bonus that requires little effort to earn. While it's possible opening a line of credit results in a hard credit pull, we have seen Upgrade only do soft pulls based on customer input.
Compared to other cash offers, this one is significantly higher and does not have any requirements such as a direct deposit, minimum balance, or monthly fees. It's a legit offer.
8. Albert – Banking – $250 Advance
Albert Promo Link – Get an advance up to $250 in 2 minutes.
Albert can spot you up to $250 from your next paycheck. No late fees, no interest, no credit check. No mandatory repayment timeframe. Repay Albert when you get paid or when you can afford it. Download the banking app to see what you qualify for.
Albert costs $8 per month after a 30 day free-trial.
9. Robinhood – Free Investing App – Free Stock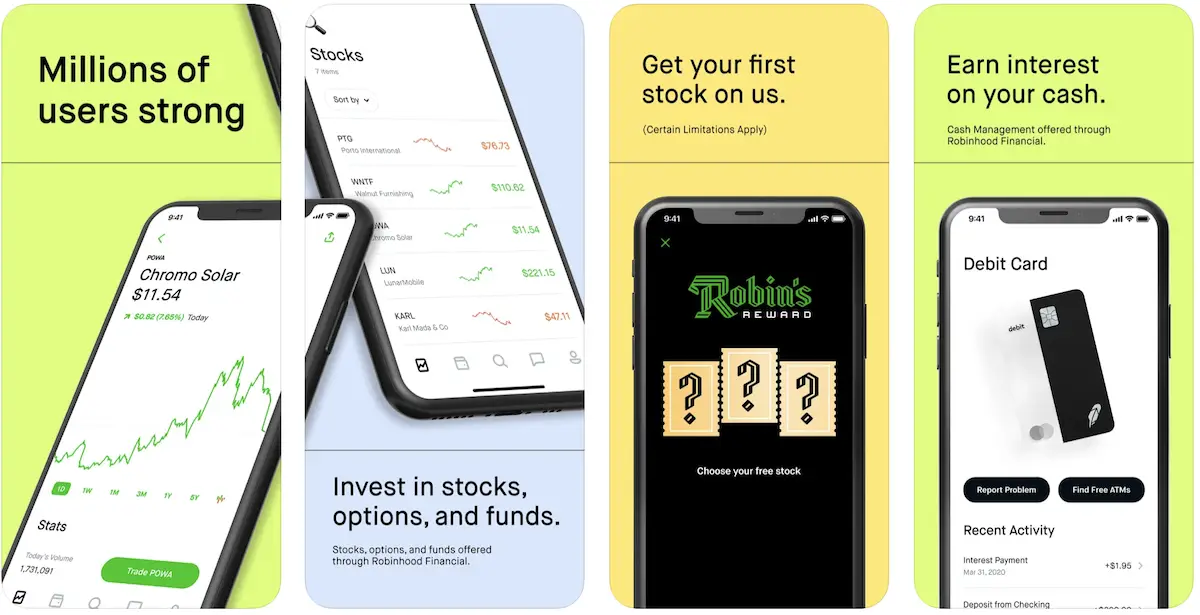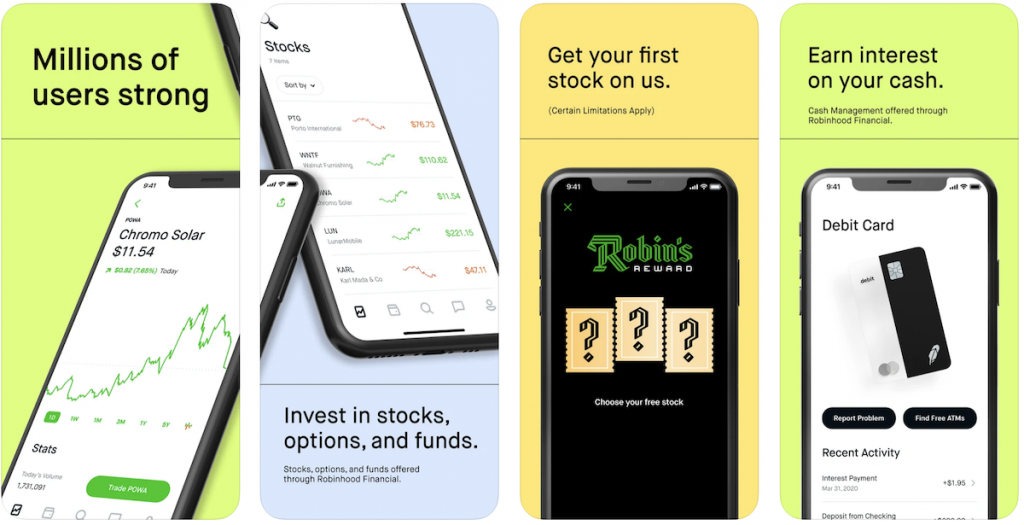 Robinhood Bonus Link – Get a Free Stock (worth between $5 and $200) after you submit your application.
Robinhood offers free investing for everyone with commission-free investing, plus the tools you need to put your money in motion. Sign up and get your first stock for free worth up to $200.
And more free stock (up to a $200 value) every time one of your friends opens a Robinhood account from your promotional link. That's up to $1,000 in free stock every year.
If you join through this link, you'll earn a specified dollar amount and be able to pick your gift stock from a list of 18 of America's leading companies.
The value of the fractional share may be anywhere between $5.00 and $200 and fluctuates based on market movements.
10. Discover – Cash Back Credit Card – $100 Bonus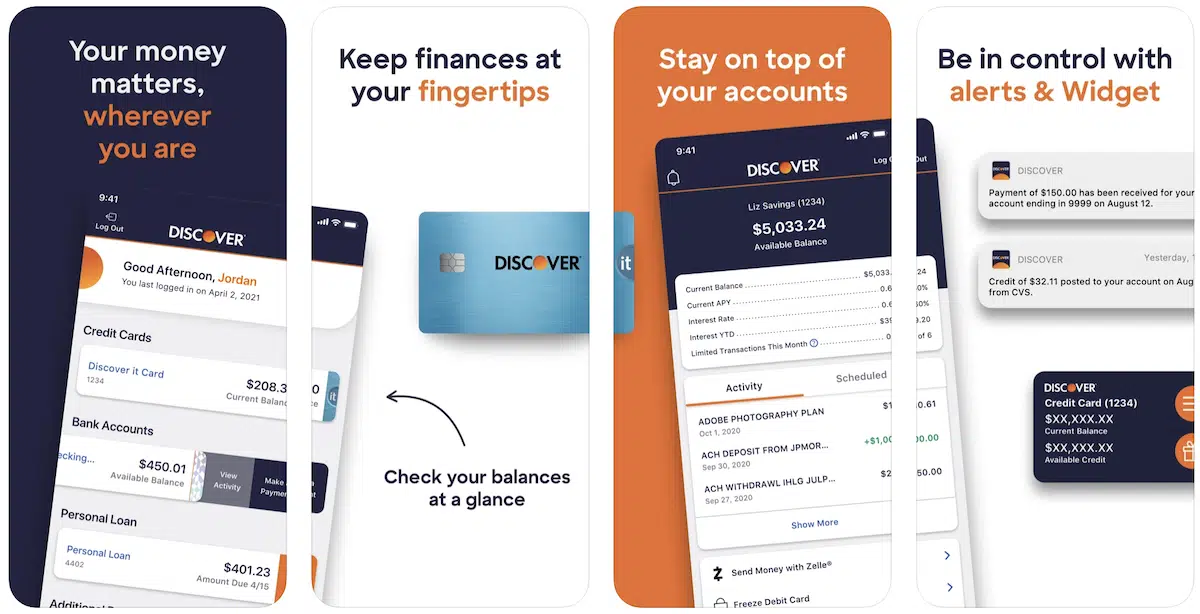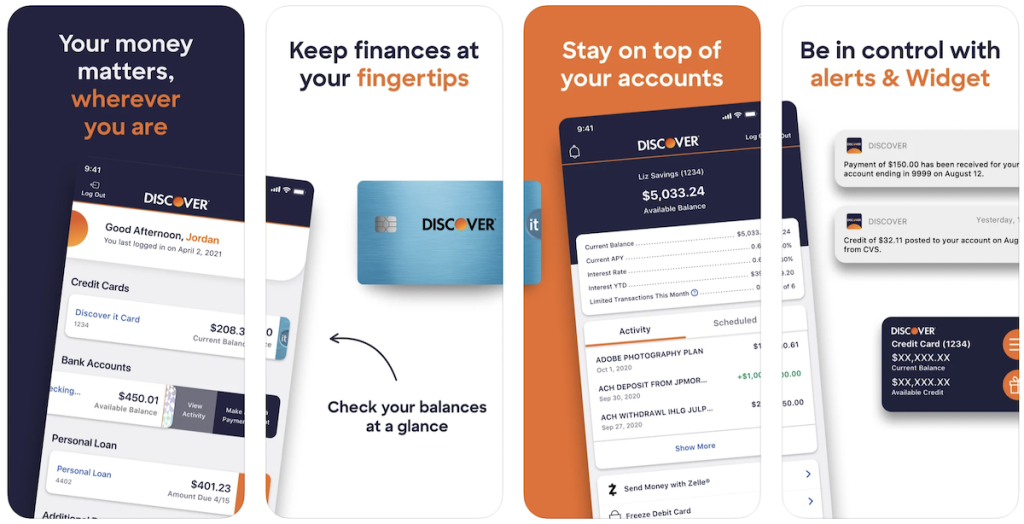 Discover it Bonus Link – Apply for the Discover it card. If approved, you will get a $100 $50 statement credit after you use your card in the first 3 months.
Looking for easy sign up bonuses? One of the best ways to make some serious extra cash is to take advantage of credit card signup bonuses.
My favorite card with the best credit card rewards is the Discover it® credit card which has no fees at all. Plus, you can earn 5% cash back on everyday purchases at different places each quarter like Amazon.com, grocery stores, restaurants, gas stations and when you pay using PayPal, up to the quarterly maximum when you activate.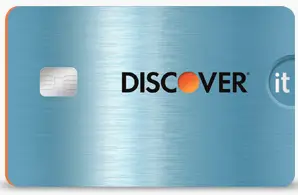 You can also get a 0% Intro APR for 15 months on purchases and balance transfers, so if you have any credit card debt with high-interest rates, it's worth switching over so you save on interest. Then you can find ways to pay off the credit card debt while saving on interest.
Also, this card is beneficial if you wanted to claim a $100 bonus after you make any purchase with your new Card in your first 3 months. Signup and earn $100 back in the form of a statement credit.
Click here to apply and get a $50 bonus!
11. Ibotta App – Grocery Shopping Cash Back – $20 Bonus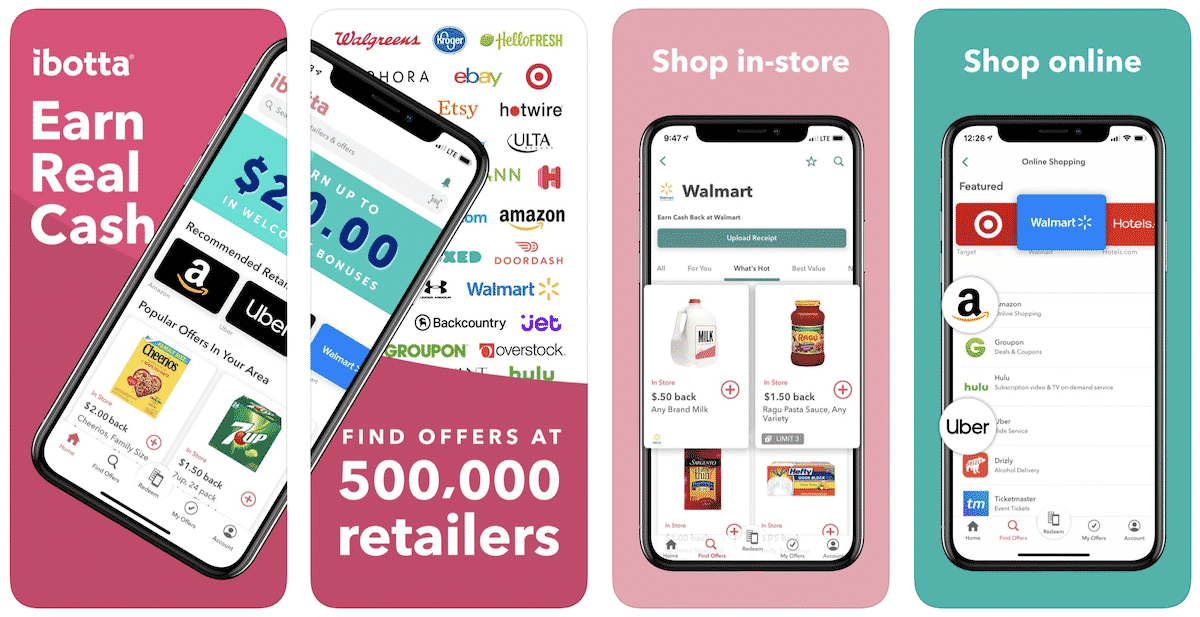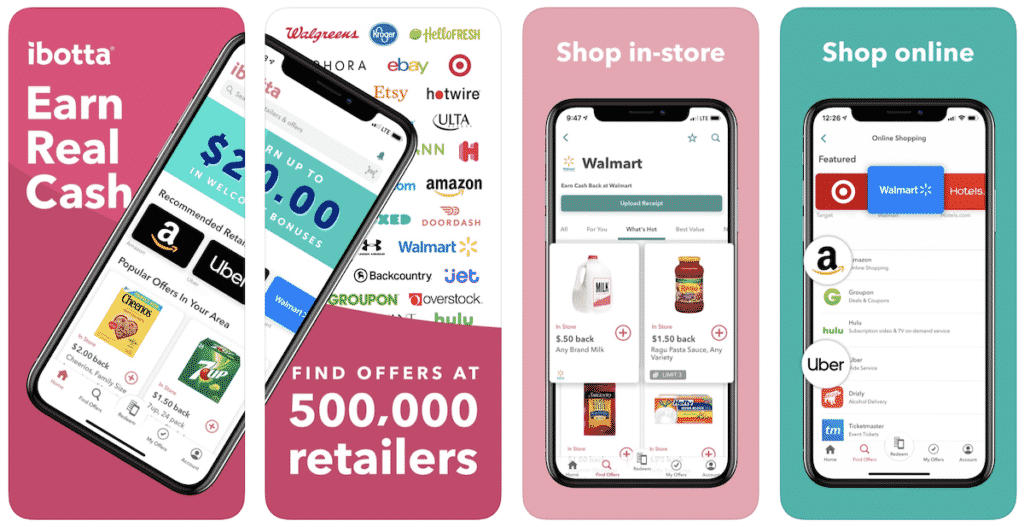 Ibotta Promo Link – Install it, use it and get $20 for free.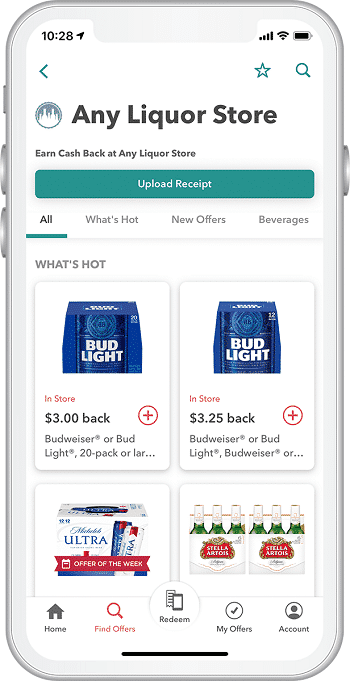 Don't want to get a new bank account? I feel ya, but you may be interested in the next referral app bonus — Ibotta is a fun rebate app that lets you get cash back on your purchases from major stores like Walmart, Target and almost every grocery store all over the country.
It's one of the best cash back apps that's been around since 2011! They are conveniently offering a way to make $20 fast with its referral app bonus after uploading your first receipt. So act fast.
Plus, this money-making app actually gives you cash back on things you buy every day, even booze! You heard me right, you can make money for the booze you buy at groceries (how cool is that?). However, you do have to be 21 or older to take advantage of the booze deals.
12. Cash App – P2P Payments and Money Transfers – $5 Bonus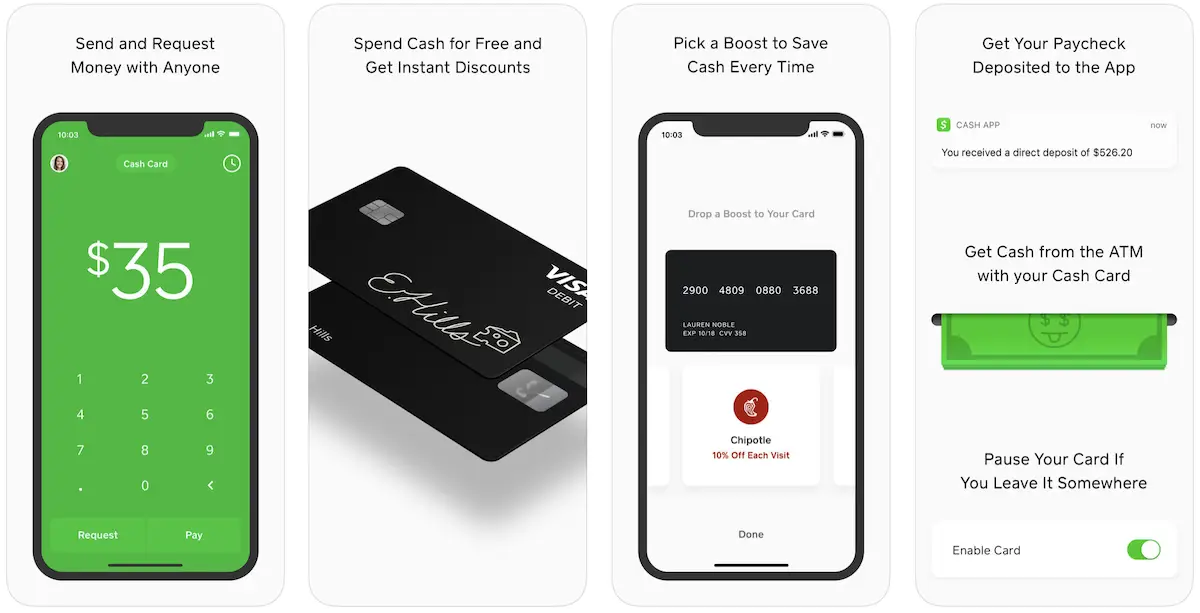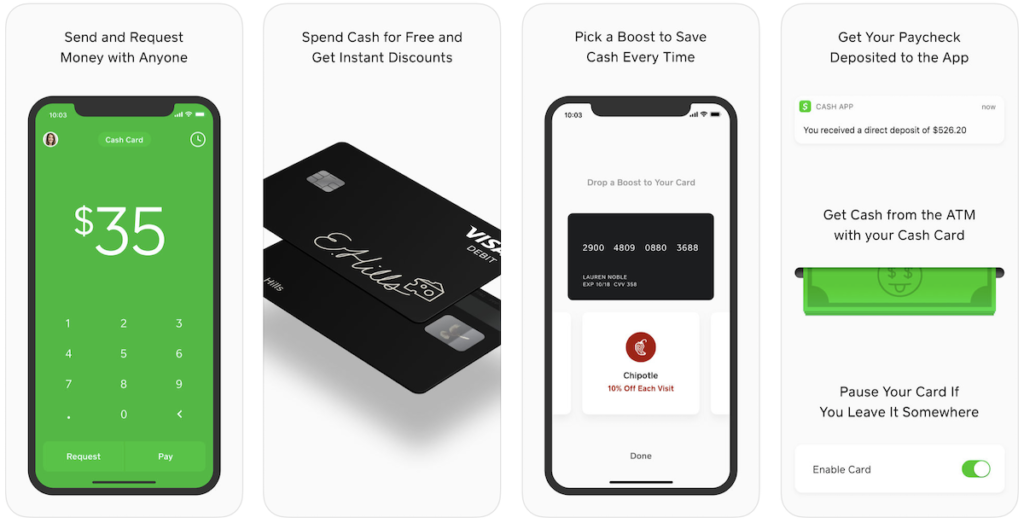 Cash App Bonus Link – Install it, use it and get $5 for free.
Cash app is a free digital wallet for all the people who need to make transactions or payments. It is a very simple way to send money to anyone you want and without paying any money transferring fee. It's similar to Venmo and PayPal and is a super-easy way to send cash to your friends and family.
They offer a $5 signup bonus just for downloading the app and using it.
You'll earn a $5 bonus when you download the Cash App, register a new account, and send your first $5 within 14 days with a linked debit card. You'll need to use a current member's referral link for the offer.
13. MyPoints – Shopping Cash Back App – $10 Bonus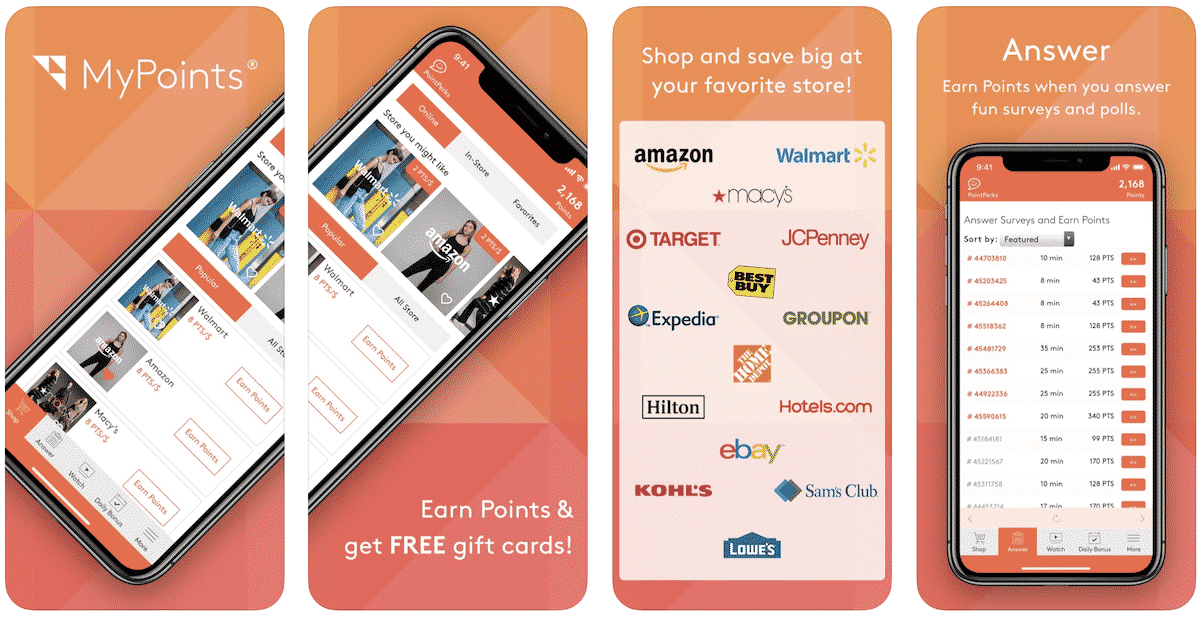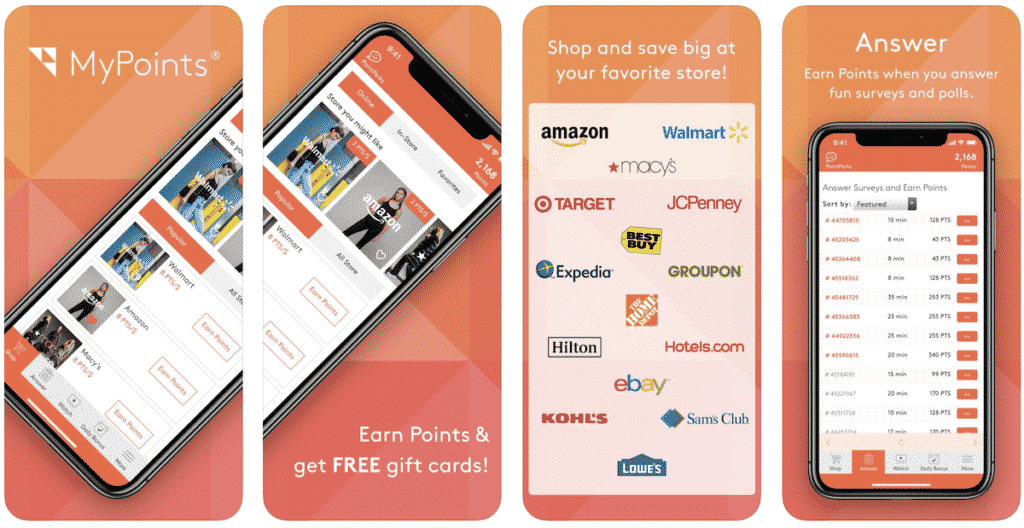 MyPoints Bonus Link – Sign up for free, use it and purchase $20 worth of products at any time to get a $10 bonus.
The MyPoints app is the perfect way to extend your earning opportunities wherever you go. MyPoints is a cash back app that pays you to shop online. I love it because it lets you earn cash for the shopping you would do anyway.
Plus, you can earn money for watching videos within the app which is a legit little money maker. The app boasts over 1.8K positive reviews in the App Store. And right now, you can earn a $10 Amazon gift card with your first purchase at any retailer through MyPoints! They really payout fast and the app is a must-have if you are looking for a quick referral app bonus.
14. Fetch Rewards – Grocery Cash Back App – $2 Bonus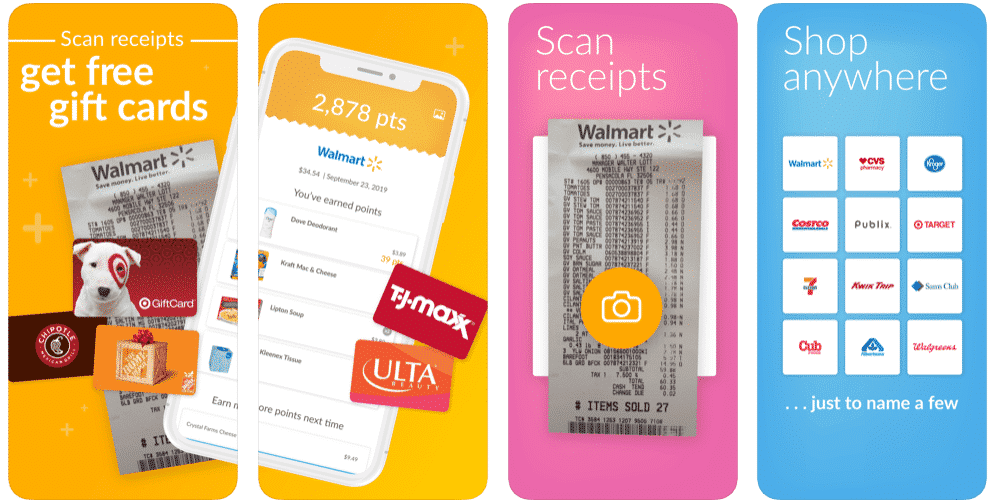 Fetch App Bonus Link – Install it, use it and get $2 for free.
Fetch Rewards is a mobile saving and gift cards earning app that rewards you for the purchases you already make or the restaurants you dine in. Just snap pictures ? of your receipts or eReceipts to watch the gift cards and reward points roll in.
Life is complicated enough, so this app brings the savings to you. No more cutting coupons or long waits for rewards like with other shopping rewards apps. Just shop, scan, and save. It's that easy and you can score a $2 app bonus after scanning your first receipt.
15. Dosh App – Cash Back on Shopping and Entertainment – $1 Bonus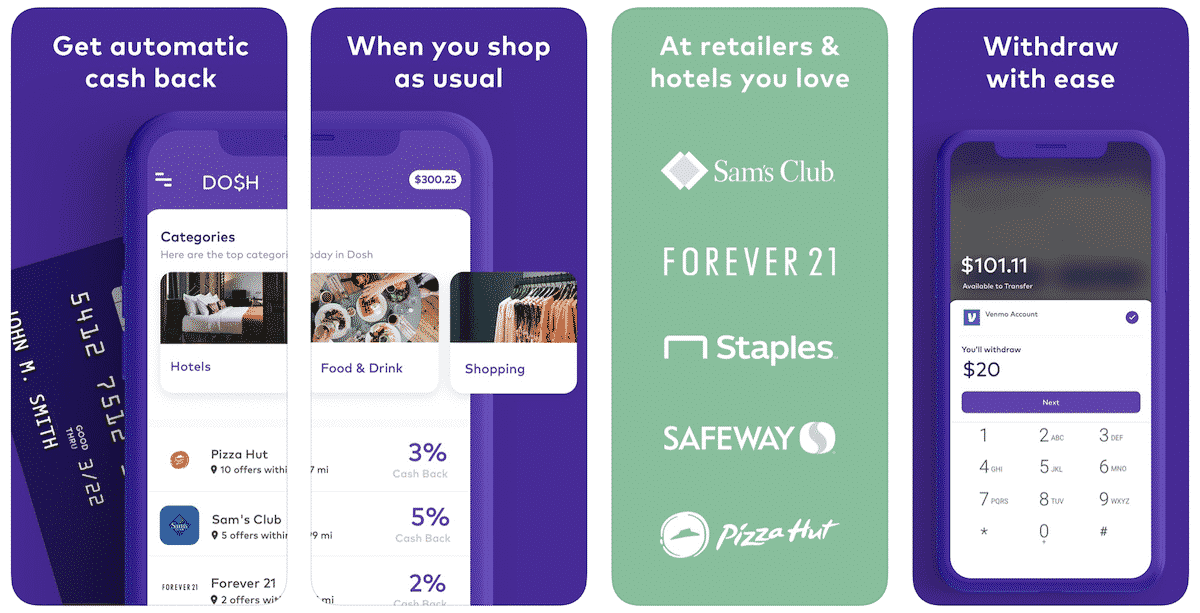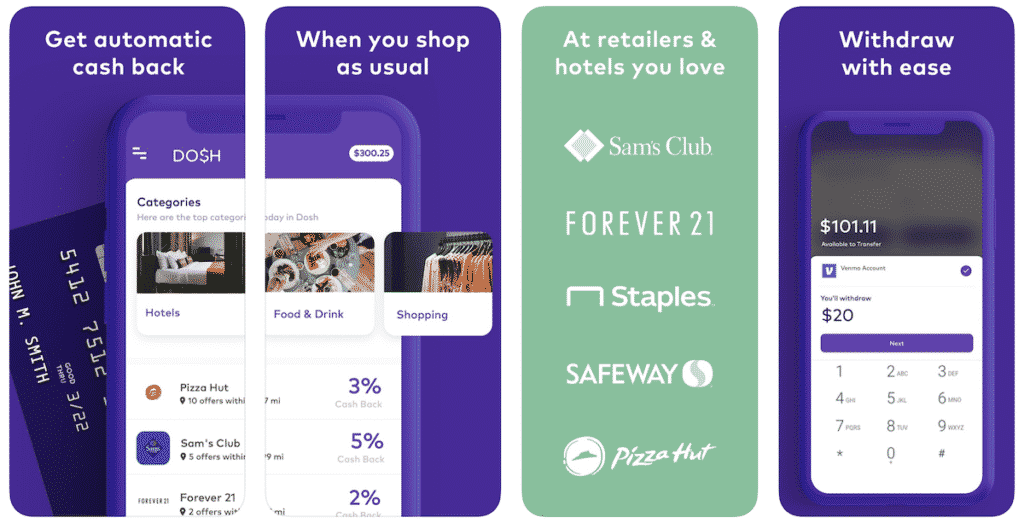 Dosh App Bonus Link – Install it and connect your first card and get $1 for free.
Looking for easy money? The Dosh app is the free cash back app that finds you money for shopping, dining out, and booking hotels and travel activities with more than 100,000 merchants and brands nationwide.
This company not only allows you to get cash back on everyday purchases, but no receipt scanning required! You can learn more about this app by checking out these Dosh Reviews.
Click here to get started with Dosh and get a $1 sign up bonus after linking up your first credit or debit card.
16. Rakuten – Shopping Cash Back App – $30 Bonus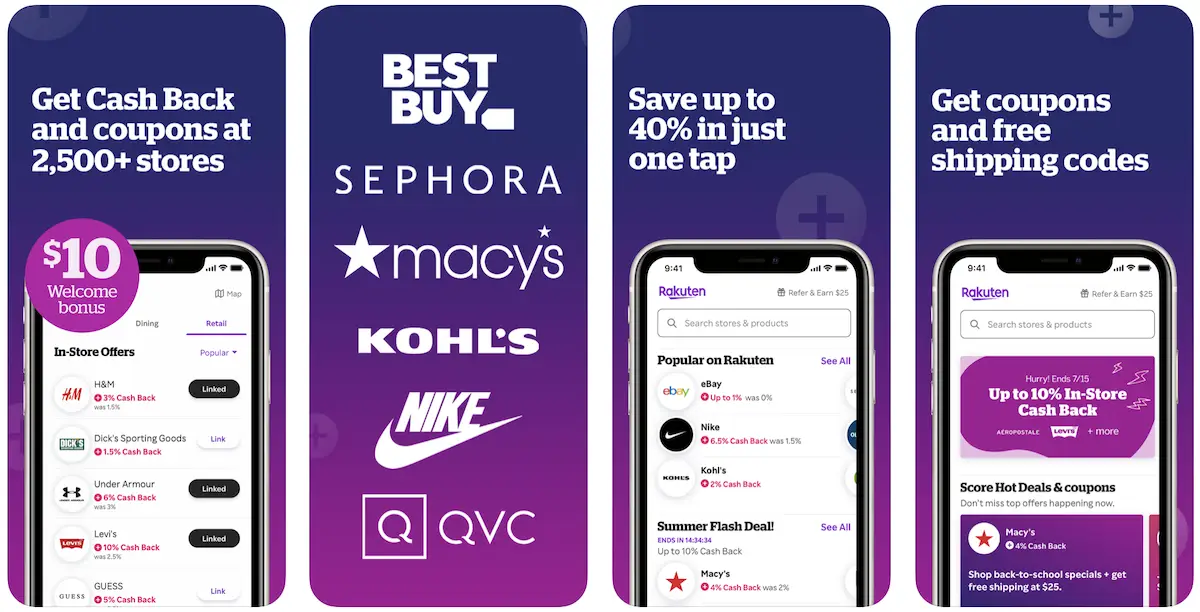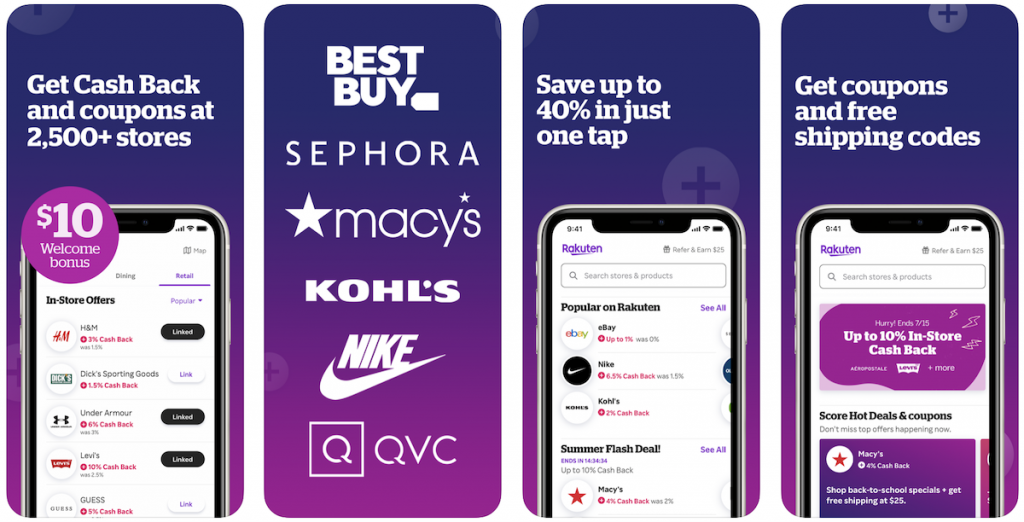 Rakuten App Bonus Link – Sign up for free, shop like regular and get $30 for free.
You'd be silly not to get cash-back for items you would have bought anyway. You can do this by shopping online with Rakuten.
Every time I shop online, I start at Rakuten and then I get cash back deposited into my PayPal account.
Rakuten is my favorite way to make money when I shop online and right now they are offering $30 referral bonus through this link. You can save money with over 2,000 stores and when you use Rakuten to shop — you get cash back.
Click here to sign up for Rakuten and get $30 to start.
The Best Referral Bonuses Can Earn You Extra Money
These apps offer you a sign up bonus with sometimes instant withdrawal in 2023.
These are some of the most popular referral bonuses available to you if you're looking to earn some extra money just for trying new apps on your mobile device.
A ton of people are searching online for the fastest ways to make money online through app bonuses.
Odds are that you have searched for:
Free money apps
money on apps
apps that give you money
apps that give you free money
Sign up bonus instant withdraw 2023
Sign up bonus instant withdraw app
Sign up bonus instant withdraw 2023 no deposit
$50 sign up bonus
$10 sign up bonus
podercard rewards free
$50 cash app
$100 free cash app money
banks with immediate sign up bonus
Or something similar to get to this post.
Well, look no further, because if you wanted more sign up bonus apps besides these apps listed above, there are more apps that pay you real money.
If you wanted to see other ways to earn with your phone, check out our recent blog post on it.
Most popular ✔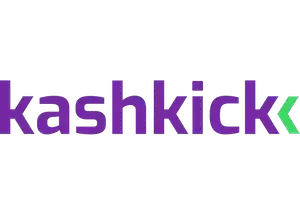 KashKick
Want to earn up to $200 or more in your first month? KashKick pays you for playing games, taking surveys, and more! Earn cash at home or on the go.
Create Your Account