$15 Bonus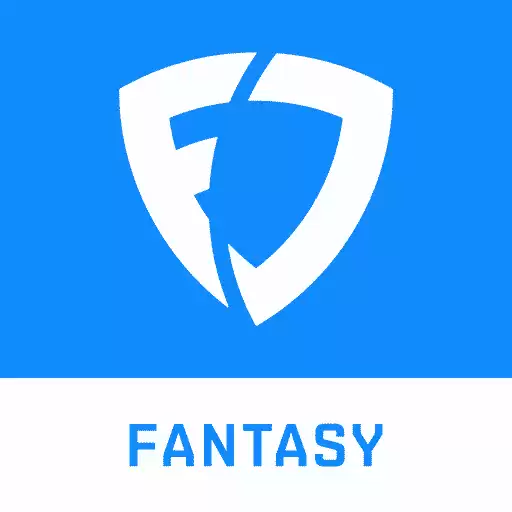 $50 Instant Bonus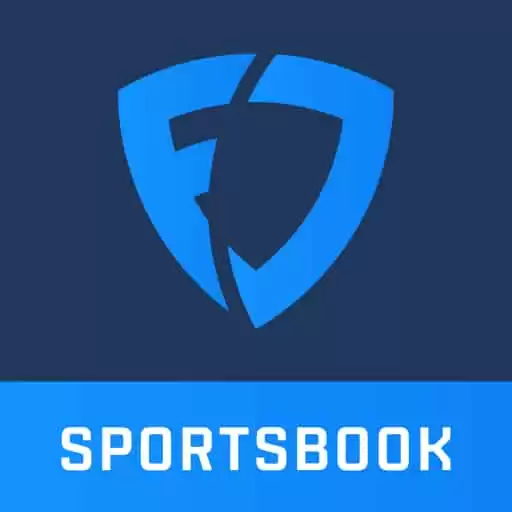 FanDuel Sportsbook - $50 Bonus
Bet on all your favorite sports
Easy to sign up and place bets
Place any bet over $10 or more and get a $50 bonus within 72 hours
Get Your Bonus
Available in NJ, NY, PA, WV, IN, CO, IL, TN, IA, VA, MI, AZ & CT
Let me start by stating what should be clear: daily fantasy sports apps are not a reliable source of money.
Playing any fantasy sports with real money on the line — you're as likely to lose money just as much as you make it — and in most cases, more so.
At the same time, however, daily fantasy has become an extremely popular activity, with almost 57 million people in the U.S. and Canada playing as of just a few years ago (and more growth since).
In case you're feeling lucky and want to try out the best win real money apps for daily fantasy sports — these are the only three legitimate sports apps any player should mess with (promise).
Best DFS Apps for US Players 2023
Those in the USA can register today for free for the following DFS apps and sites to legally bet on all your favorite sports — including pro and college football, basketball, baseball, hockey, and more.
FanDuel Fantasy Sports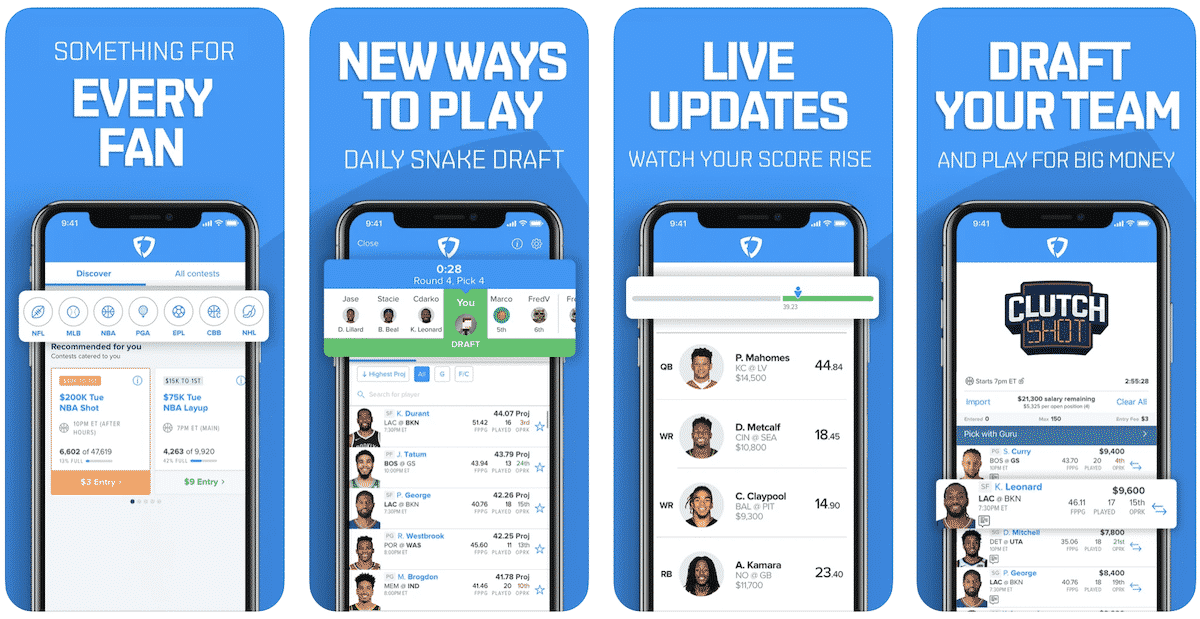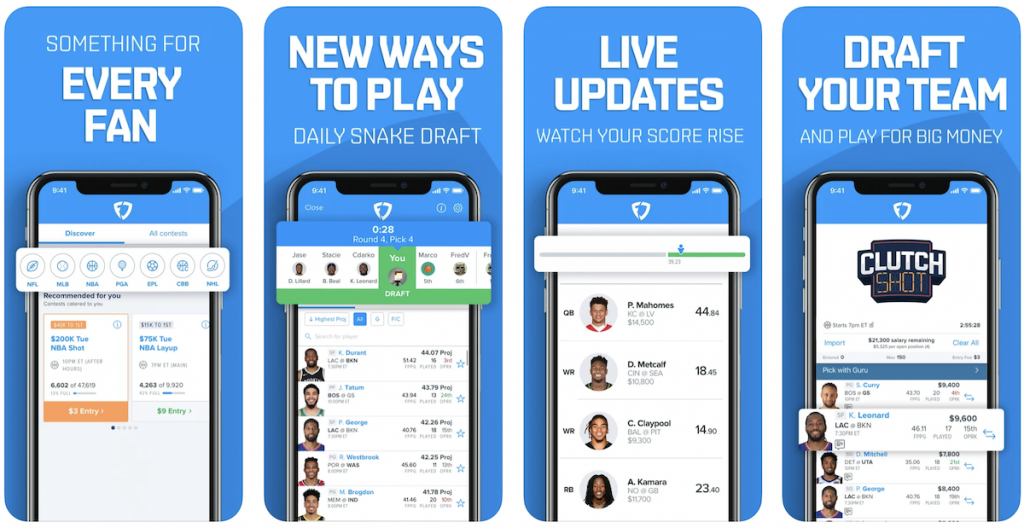 You can play daily fantasy sports on FanDuel, there are a ton of different contest types and game styles to chose from in every sport.
Whether your game is football, baseball, basketball, golf, or soccer, FanDuel has daily and weekly contests you'll love. Plus, you have your own choice of contest options, from world-famous tournaments to beginner contests — where there are no experienced players allowed.
Build your team using any players you want, just stay under the cap, and the real fun starts when the games begin. Watch your score rise in real-time and see what you win.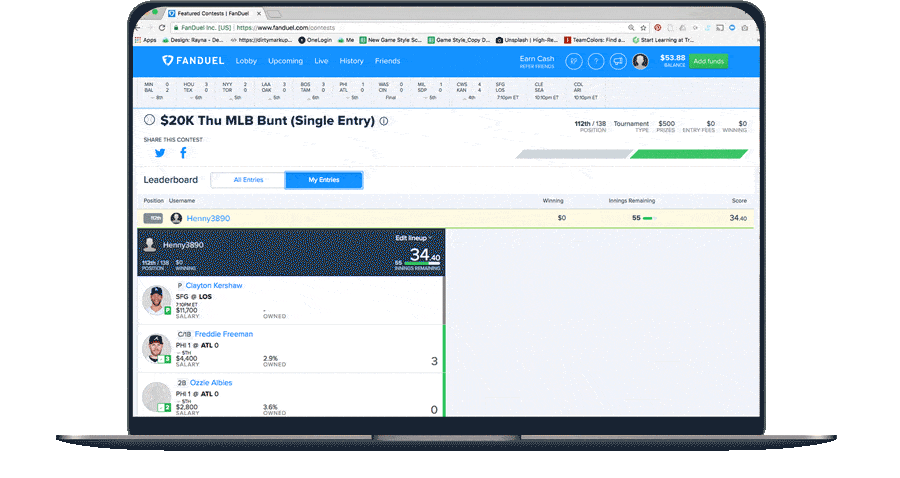 You can download FanDuel Fantasy Sports on iOS and Android devices.
$15 Bonus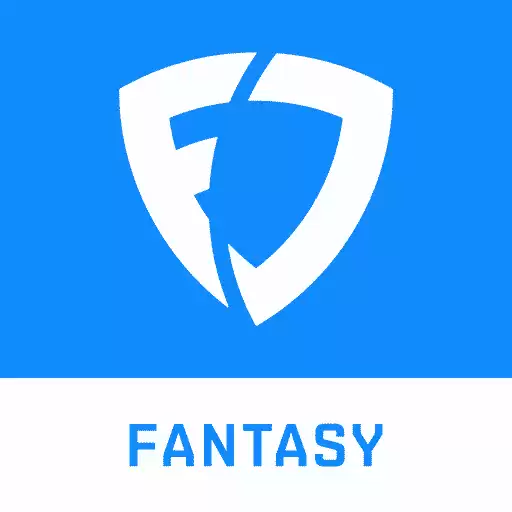 DraftKings Fantasy Sports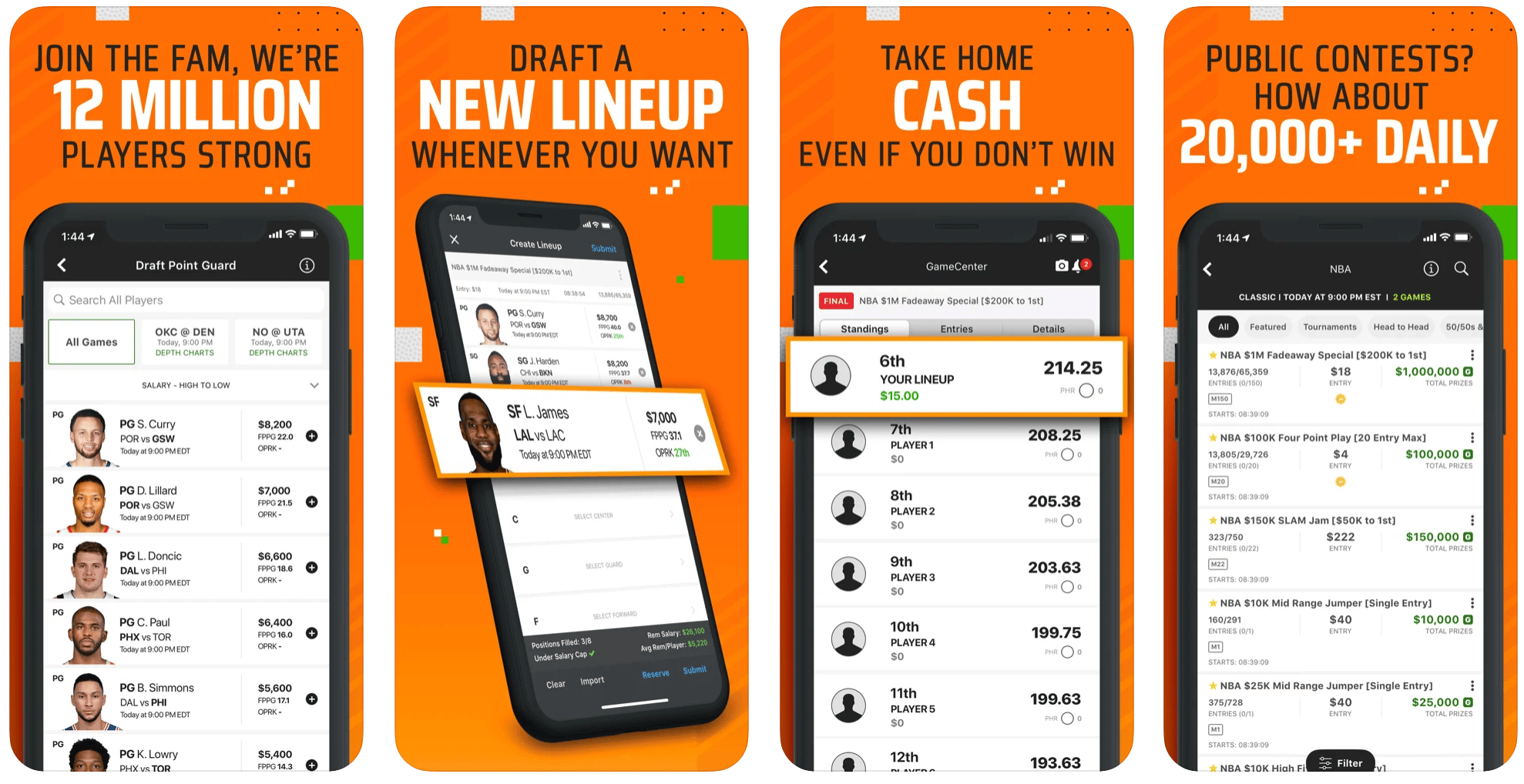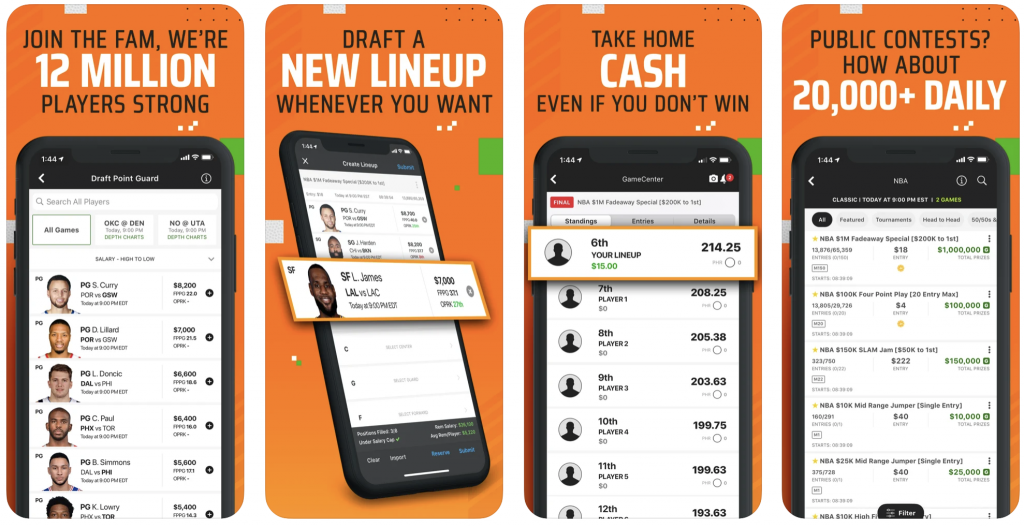 DraftKings gives you a shot at winning real cash prizes playing fantasy sports. Here you can play for the largest cash payouts in fantasy sports – over $10 billion in prizes have been awarded to date.
You'll enjoy the fact that winners are paid out immediately after a contest ends. You can always join in for free, choose your sport, and play with friends or other fans.
You can download DraftKings Fantasy Sports on iOS and Android devices.
Yahoo Fantasy & Daily Sport‪s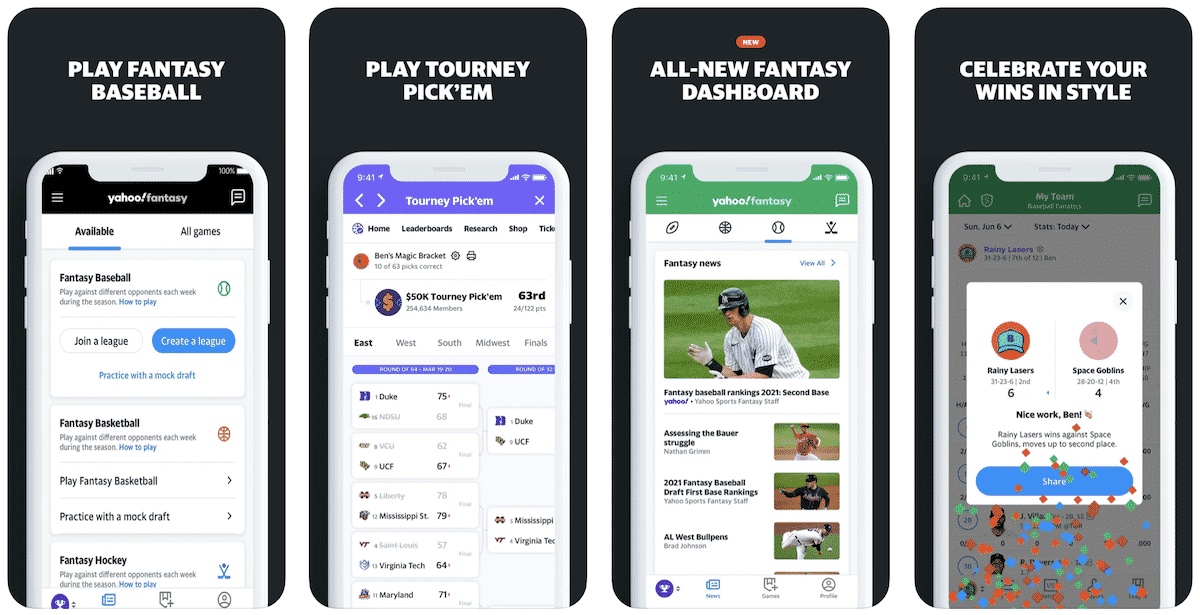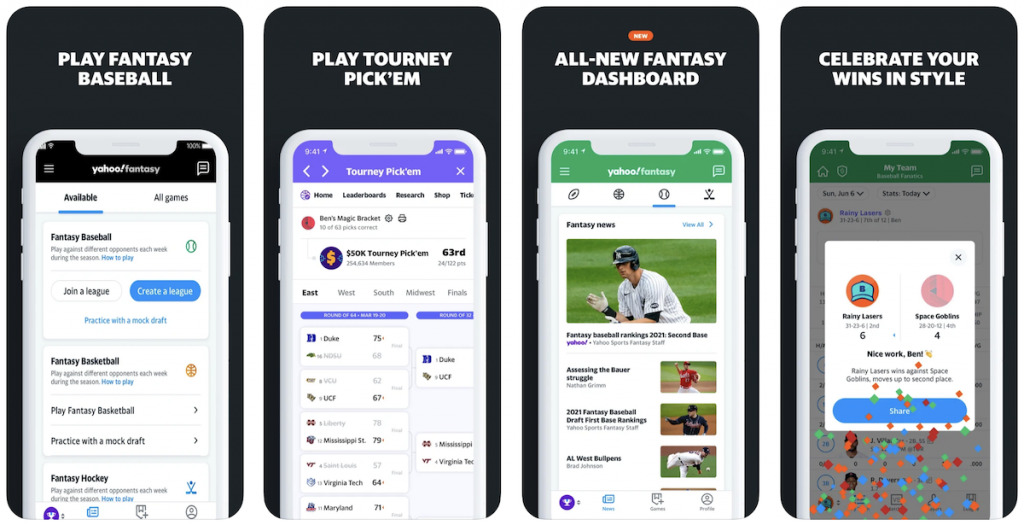 Yahoo Fantasy Sports is the #1 rated fantasy sports app to play Fantasy Football, Baseball, Basketball, Hockey, Daily Fantasy, Tourney Pick'em and more.
Voted the Best Fantasy Sports App, Best Season Long Fantasy Sports Game, and the Best Daily Fantasy Sports Game by the Fantasy Sports & Gaming Association, Yahoo Fantasy Sports has you covered every day, year-round.
The Yahoo Fantasy Sports App is your one place stop to play and manage all of your fantasy leagues and contests. Easily switch between fantasy games and focus on what really matters: drafting your team, setting your lineup, and winning your fantasy contests. Get all of the live scores and player news whenever and wherever you want.
You can download FanDuel Fantasy Sports on iOS and Android devices.
Here is a list of some of the best-rated DFS apps in USA
While the top three apps are the biggest daily fantasy sports apps in the game — here are some other options:
FanDuel Fantasy app (Android, iPhone)
DraftKings Fantasy app (Android, iPhone)
Draft Daily Fantasy sports app (Android, iPhone)
FantasyDraft DFS app (Android, iPhone)
StarsDraft DFS betting app (Android, iPhone)
Yahoo Daily Fantasy app (Android, iPhone)
Fanvest Wagering Index app (Stock Market of DFS Sports)
Can You Make Money on Daily Fantasy Sports?
A ton of people are trying to make money through DFS. So – can it be done? And if so, how?
I can't claim to be a DFS millionaire, though such people do exist. Having played my share, however, and having had mixed success, I can at least recommend some logical tips.
Mind you, these do not comprise any foolproof guide to success or earnings – and again, there's a reason not all the DFS apps in the App Store don't appear here. They are not reliable sources of income.
If you're going to play anyway though and you're hoping to generate some side income, you can follow these steps to put yourself in a decent position to succeed.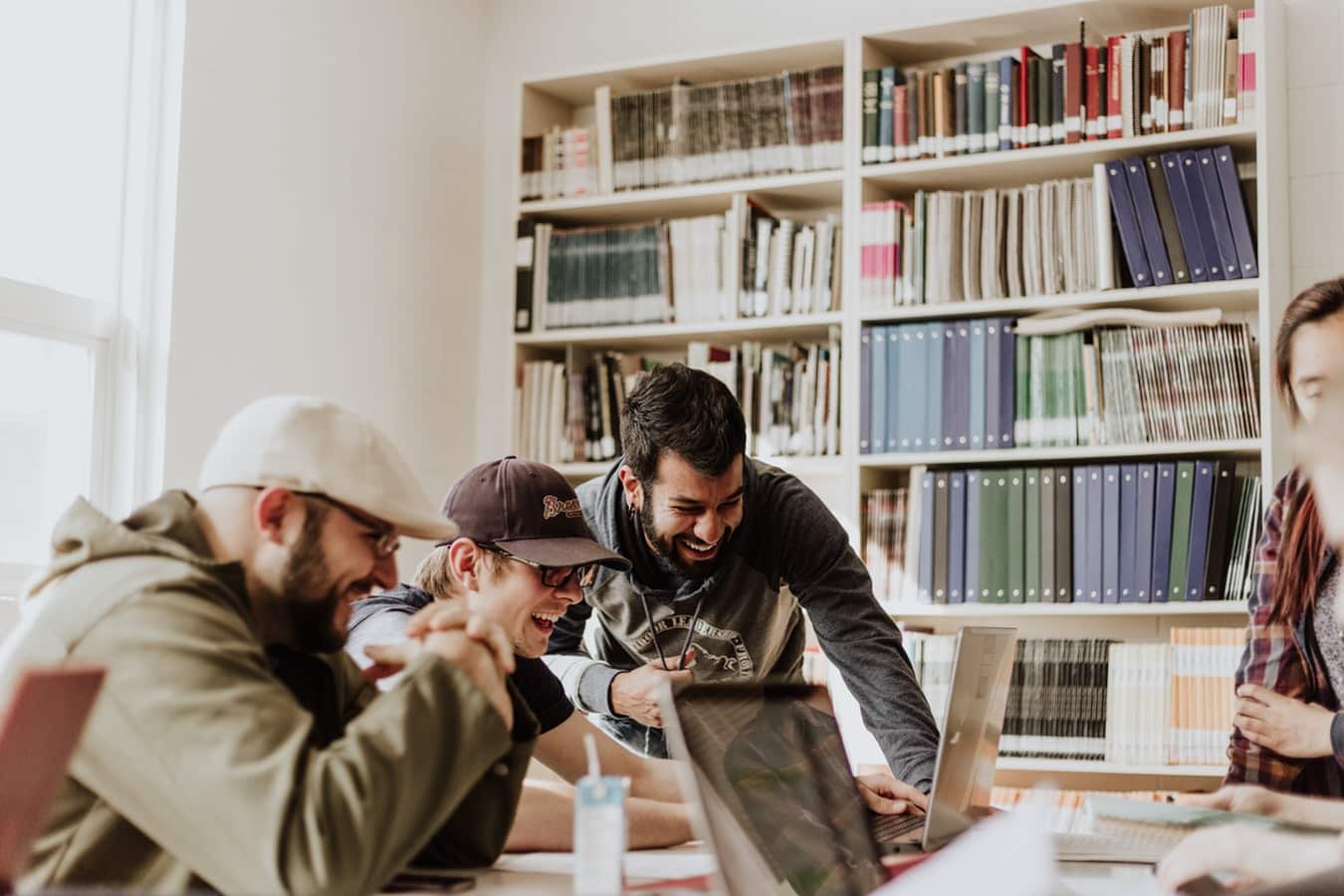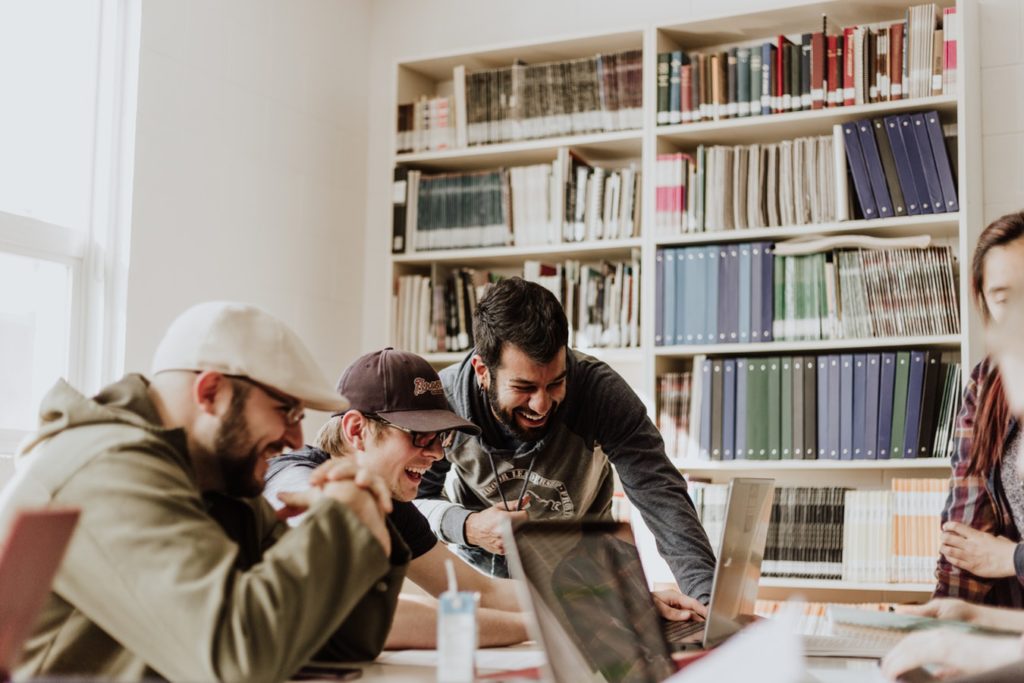 Step 1: Stay Informed
The good news, if you're determined to play daily fantasy, is that there's a lot of very good expert advice out there.
You can always read articles or subscribe to various fantasy newsletters and statistical tools. You can also listen to a range of fantasy podcasts that have emerged over the last few years.
Just be sure you're opting for analysis rather than opinions.
Many of the people covering fantasy sports for a living have teams of researchers or at least analytical tools at their disposal and can provide information you don't necessarily see just by browsing through data on your own.
This can be valuable, and can inform your decisions with your own daily fantasy strategy.
Step 2: Compare Game Styles
The most intimidating thing about daily fantasy can be the lobby on a major site or app.
When you first get into DFS, you'll see innumerable contests, and some big numbers attached.
You might see "$100 entry," or "50,000 participants." As you delve into the lists of available game styles however you'll find a huge range of contests, from massive ones with those kinds of numbers to head-to-head, one-on-one matchups with $1 on the line.
You'll also find different types of games with different odds for players. For example, two of the easier options are "50/50" games in which exactly 50 percent of participants earn money back, or "Double-Up" games in which slightly less than half of the group doubles the buy-in.
Choosing a game with better odds is the first step toward strategic, responsible DFS gaming.
Step 3: Compare Platforms
Deciding between game styles is important no matter what DFS site or app you end up playing on. However, choosing a daily fantasy platform is an important part of the process as well.
At this point there is a lot of overlap in terms of the various offerings described above. However, some sites focus more on certain sports than others, they all have different options when it comes to matched deposit bonuses, and some offer fun alternative games, such as "Pick'em" contests.
To some extent the differences between platforms are more about what you like than what's most likely to win you money. But at the very least you want to makes sure the platform you choose has ample opportunity in the sports you know the most about.
Step 4: Do The Math
When you're actually choosing a lineup of players in daily fantasy, it's important to do the math, rather than just look at the players. In DFS you secure the stats of a roster of players for a given day or week, but each player costs fake money, and you have to work within a set salary.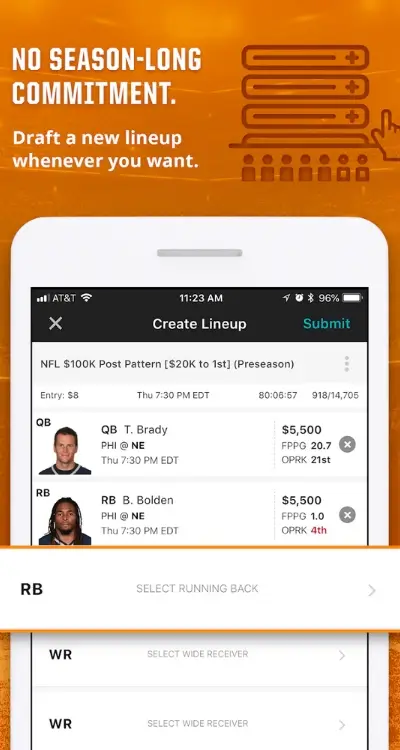 So for instance, in NFL daily fantasy, Patriots legend Tom Brady is always going to look more valuable than Jaguars quarterback Blake Bortles. But if Brady
costs $7,000 and Bortles costs $5,000, and they've scored comparably in the last two weeks, Bortles is the better buy.
Add up your salaries and expected point totals as you go, build a few different lineups, and then compare projected point totals, and you may be surprised which lineups work best. But it's almost always wise to take this kind of mathematical approach.
Step 5: Diversify
If you're really getting into DFS and you're interested in having multiple active games at the same time, it's also a good idea to diversify. This is actually what stock traders do, and while it doesn't work exactly the same way, the concept holds up.
The idea is not to trust the same assets (in this case lineups) with your whole investment. Instead, try a few different lineups or types of contests.
You may not be likely to win them all, but you're less likely to lose them all.
Best Sports Betting Apps
Want more than just daily fantasy sports? Check out the best online sportsbooks in Illinois, Colorado, New Jersey, Pennsylvania, Tennessee, Indiana and West Virginia.
FanDuel Sportsbook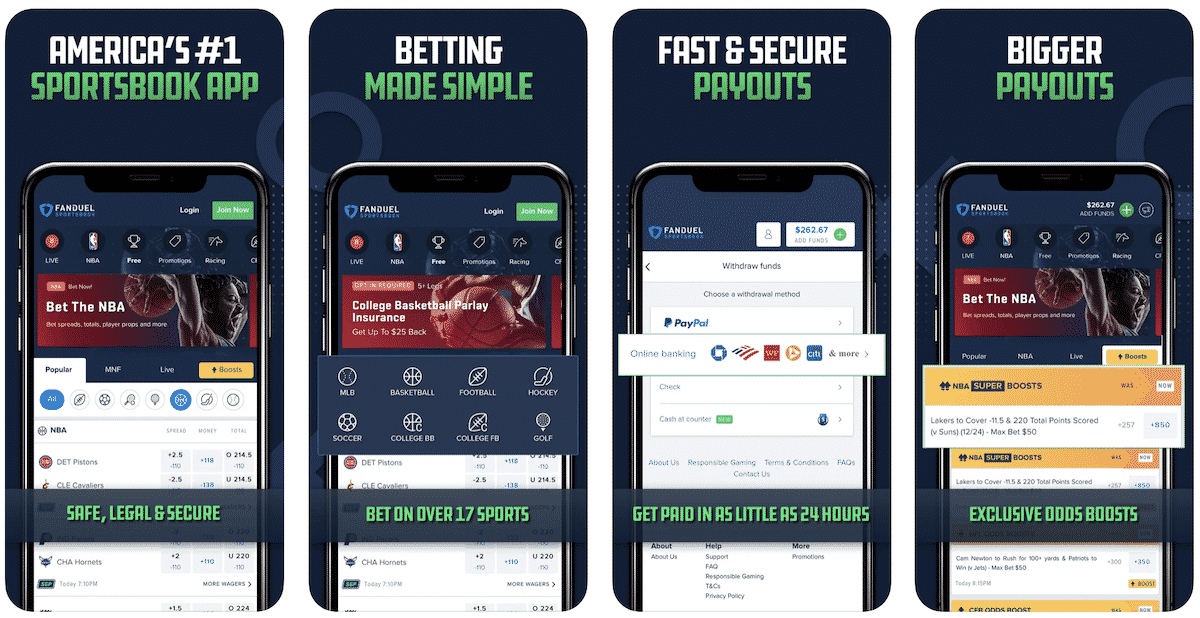 You are able to get in on the nightly action of the NBA, NHL, and College basketball this winter with a secure U.S. sportsbook and collect your winnings same day. FanDuel Sportsbook is officially live in Virginia, Michigan, Illinois, Pennsylvania, Tennessee, New Jersey, Indiana, Colorado, West Virginia, and Iowa.
With FanDuel Sportsbook, getting started and putting down a wager is quick and simple:
Download the app and create your account
Find the sport, game, and outcome you wish to bet on.
Submit your bet slip and look out for great live in-game opportunities in app as the match progresses.
From straight bets to special player props, there's no lack of action to get skin in the game on FanDuel Sportsbook. Don't forget to check out the latest offers for more ways to win on the ice or hardwood. In addition to college hoops and major leagues like the NBA, NHL, MLB and NFL, users can take advantage of our in-game betting offers, same game parlay feature, and boosted event odds. Sign up to bet on all your favorite teams year-round, or try Fan Duel's casino games all within the FanDuel Sportsbook and Casino app.
You are able to cash out your winnings is lightning fast, and you'll get the same convenience, safety, and security you've come to expect from FanDuel. You decide what to put your money on, including live in-game wagering, cross-sport parlays, futures, teasers, round robins, numerous prop bets, and more.
You can download FanDuel Sportsbook on iOS and Android devices.
$50 Instant Bonus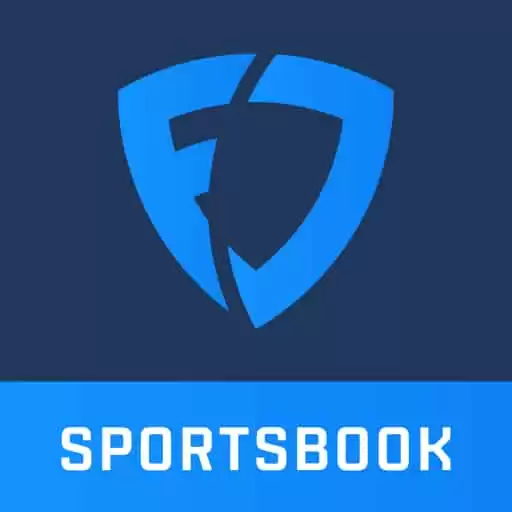 FanDuel Sportsbook - $50 Bonus
Bet on all your favorite sports
Easy to sign up and place bets
Place any bet over $10 or more and get a $50 bonus within 72 hours
Get Your Bonus
Available in NJ, NY, PA, WV, IN, CO, IL, TN, IA, VA, MI, AZ & CT
DraftKing Sportsbook & Casino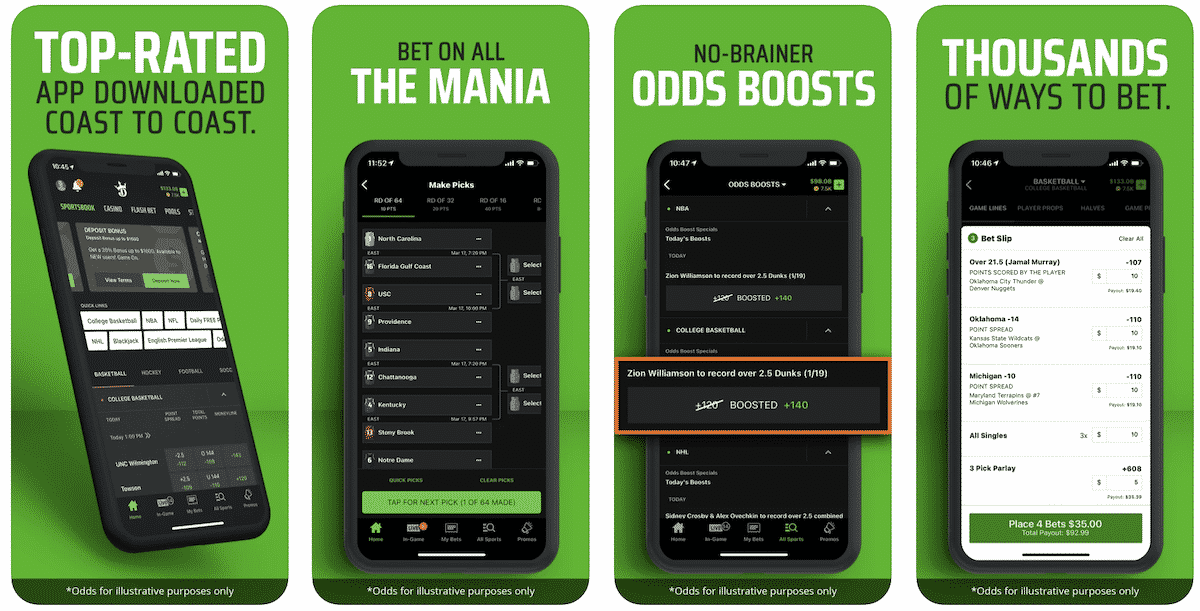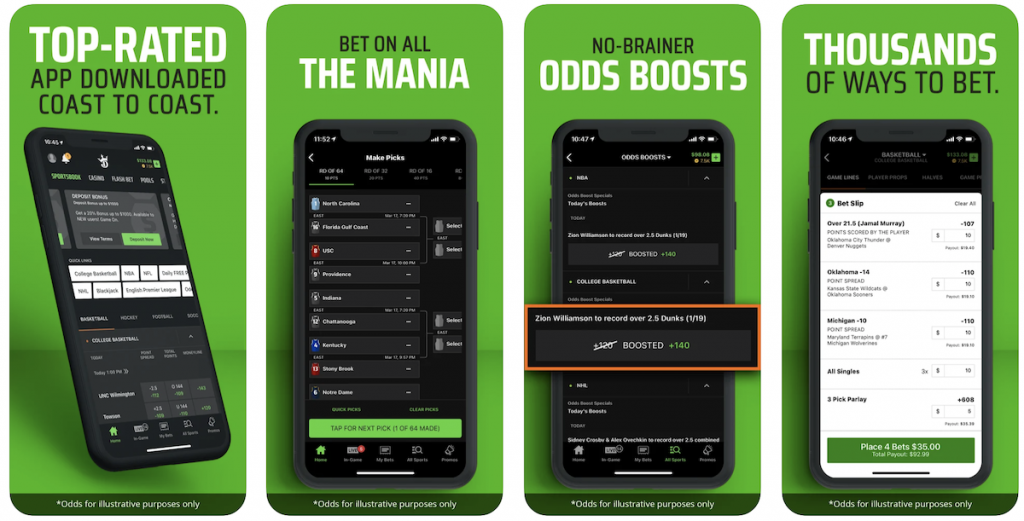 Bet on all your favorite sports with America's top rated legal mobile sportsbook app. DraftKings Sportsbook gives you more ways to have skin in the game and get closer to the games you love, all on a safe and secure platform. Join DraftKings Sportsbook for free and win cash money betting on all your favorite sports online, including pro and college football betting, basketball betting, hockey betting, baseball betting, golf betting, and soccer betting — just to name a few.
We've also got many ways for you to bet — and win. Put your money on the line with live/in-game bets, cross-sport parlays, moneylines, round robin bets, futures, spread betting, prop bets, and more. Or simply pick the winner in pools to win prizes.
And since they are using the same advanced technology as our industry-leading daily fantasy sports product, you can bet with confidence knowing everything is safe and secure.
Getting started and placing bets is quick and easy:
Download the app and create a free account.
Find the sport and outcome you want to bet on.
Place a bet and follow along to bet live in-play as the action unfolds.
You can download DraftKing Sportsbook on iOS and Android devices.
BetMGM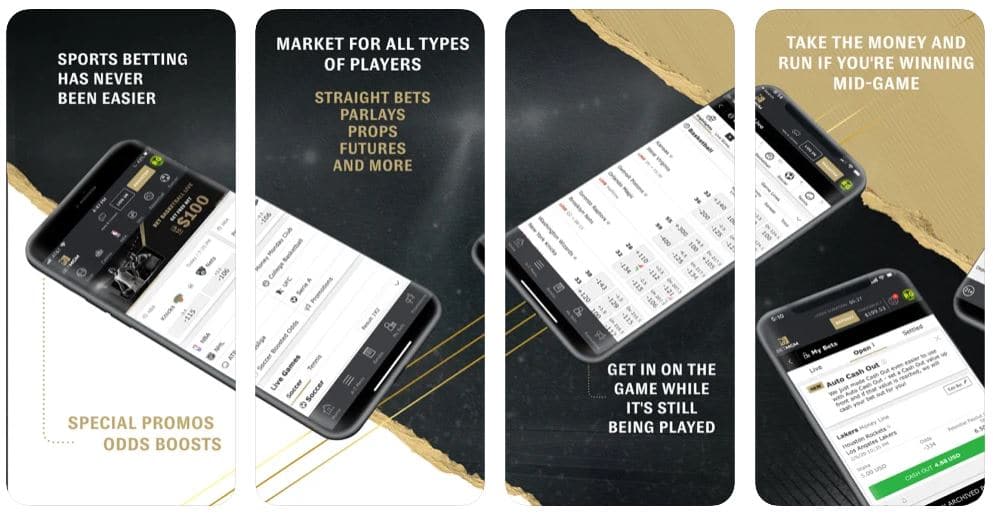 BetMGM Sports is where the action is. Brought to you by the world's leading resorts and casinos, BetMGM is the premiere sports betting destination for all major professional and college sports. Experience the excitement of betting on Football, Baseball, Basketball, Hockey, MMA, Soccer, and Tennis as well as College Football, College Basketball, and College Baseball.
The BetMGM sportsbook app brings you closer to the sports you love giving you real-time betting odds, enhanced offers, and tons of different betting formats from moneyline and point spread bets to parlays and futures. Not to mention the player props and live, in-game betting options.
Join millions of Sports Fans and betting enthusiasts who are putting their sports knowledge to the test. Believe in your game with BetMGM Sports!
You can download BetMGM Sportsbook on iOS devices. It is not currently available for Android devices.
How Does Sports Betting Work?
The very exciting thing about sports betting is that it offers an option to bet on e-sport tournaments that also involve video games.
There are plenty, amazing and unique loyalty programs and event-based promotions to attract more users. The platforms focus on security, performance and customer service.
Quality, reliability, and performance are its most important features. The loyalty program takes the form of monthly leaderboards. Players can choose between several leaderboards at the beginning of the month and start betting according to the eligibility criteria for the chosen badge.
The bets placed by the players are reflected in the position of the leaderboard. As players collect more points, their winnings will also grow considerably.
Finally, sports betting sites actively support its users and offer multiple channels to get in touch with customer support. It is a perfect occasion for beginners and experienced players anywhere in the world to place bets and win.
What if Sports Betting is Not Available in Your State?
Another way to earn money through sports betting, if it not legal in your state, is through blockchain sports betting, but what's that look like?
What is blockchain sports betting?
Sports betting apps like Fanduel and DraftKings now accept Bitcoin deposits. As well as more and more bookmakers have implemented Bitcoin as a form of payment.
Some of them were born precisely as Bitcoin betting houses, that is, everything is focused on the new digital currency. Blockchain sports betting has become very popular offering an impressive blend of Bitcoin and sports.
On some online betting sites, you can bet on various virtual sports like football, cycling, horse and greyhound racing, table tennis, motor racing, badminton or archery. Bitcoin betting houses are based on three fundamental principles: fun, fast and fair.
The main advantage of such platforms is their reputation for having a secure infrastructure and the variety of sporting events they cover. Most platforms do not require any personal information from their users. Users can easily and fastly create an account and place their bets anonymously.
Bitcoin is a digital currency that has some features that make it interesting for sports betting. Deposits and withdrawals can be processed within a few moments and are also completely anonymous. Therefore, to register with a Bitcoin bookmaker, no personal information is required so you can do it even if sports betting is not legal in your state.
Can you trust sports betting online?
Absolutely. Paying in Bitcoin is 100% safe. You only have to enter the amount of Bitcoin you want in an encrypted address, which you can remove any time you want.
Nobody knows your identity or where the Bitcoin comes from. Nothing.
For that reason, using sports betting house may be safer than a betting house where they accept all kinds of payments. If anything characterizes the betting houses where Bitcoin is allowed, it's perfect security.
Why use Bitcoin?
There are a lot of companies that accept Bitcoin in 2022. In addition, Bitcoin is increasingly used by online betting houses due to the many advantages it has, both for users and for the betting houses themselves. These advantages are being used by thousands of users around the world, who already prefer to operate with Bitcoin instead of traditional currencies. You have seen that Bitcoin is in the media right now with it dumping to 20K just this month.
Online betting houses present an entertaining way to hang out, making sports bets, including live bets that cause a lot of emotion. Something that draws attention and is new are virtual games.
Most betting platforms provide excellent customer service and extremely fast payments. Find your favorite teams and sports easily and place your bets.
You can bet on women's or men's tennis, ice hockey, boxing, volleyball, cycling, or golf. Try thrilling live bets that require immediate action.
Anyone is able to bet on sports
Online betting software has been designed to ensure that you are able to find the best odds and place a bet with no more than three clicks. The live countdown begins.
Time is the essence in the Bitcoin world and live sports betting. Countdown timers allow you to accurately track the progress of any sports competition.
Sports betting experience
Online sports betting leaders cover all major categories of sports and games, including basketball, football, handball, soccer, volleyball, winter sports, tennis, cycling, cricket, billiards, ice hockey, motorsports, rugby, bandy, darts and even e-sports.
You can place bets in tournaments and popular leagues such as the NBA, the NHL, the NFL, the English Premier League, the Spanish First Division, the Italian Serie A and many more.
Where is sports betting available?
Sports betting is available in all countries of the world. It is a website exclusively for Bitcoin users, so it would be a contradiction that it would not work anywhere in the world.
In those countries where you can not play because of licenses, using a VPN like Surfshark we can skip the restriction without problems. Betting houses are 100% international.
Conclusion
There are some sites exclusively developed for players who wanted to have Bitcoin as a payment method. Everything there is focused on Bitcoin, a digital currency that allows users total control of their accounts thanks to the Bitcoin wallet from which they pay. It guarantees complete security in their transactions and absolute privacy.
In fact, neither the casino nor the betting house knows who you are, nor where are you from and where do you live. It only knows that you, an email account, have made a transaction to bet or play the casino and that you have also made a withdrawal of money because you have won a few times. Nothing else. This allows anyone from anywhere in the world to have access to the betting house. You can use it even if you do not have a license from your own country.
Most betting houses offer both single and multiple bets and have different types of bets for each event. Usually, they offer not just football. There are also main & famous basketball and tennis tournaments well known in the world, as well as the major American leagues ( NHL, NBA, MLB and NFL ) and all the major sporting events that take place throughout the year. Perhaps, the only thing that can be missed is that there is no possibility of betting on the World Championship of Motorcycling, although there is Formula 1, NASCAR and even Superbikes.
In addition to all this, you can also bet on minority sports such as cricket, badminton or snooker. Also, the e-Sports, so fashionable now, also have some events to bet.