Lucktastic had a cool and fun ride with you so far but sadly, they had to say goodbye. As of March 16th 2022, Lucktastic will be retiring and no longer be available to play. You can see other game apps to win real money if you want to get in on the action.
Pros:

Brand new game

Engaging and simple to play

Unlimited free games

Secure withdrawals with PayPal & Apple Pay

Pros:

Make money play bingo in your free time

Real-money tournaments and no ads

Cash out securely using PayPal

Pros:

Earn up to $83 every time you win

Free to play with many opportunities to win cash

Cash out with PayPal and Apple Pay
Best new game app
Pros:
Brand new game

Engaging and simple to play

Unlimited free games

Secure withdrawals with PayPal & Apple Pay
Pros:
Make money play bingo in your free time

Real-money tournaments and no ads

Cash out securely using PayPal
Pros:
Earn up to $83 every time you win

Free to play with many opportunities to win cash

Cash out with PayPal and Apple Pay
Lucktastic is a scratch card and reward app available for iPhone and Android users in the United States. It's one of those game apps where you can win real money and claims to have paid out over $3 million winners rewarded with prizes and rewards.
Even though Lucktastic is free to download and play with no deposits or in-app purchases, is it worth it? What are the odds of winning?
To answer this, I downloaded and played Lucktastic for a few months to test if you can really win cash prizes through digital scratch-off games and contests. Before you lose a week of your free time to an app that may not be worth using — this article will give you everything you need to know in our Lucktastic review.
What is Lucktastic?
Lucktastic claims to offer free scratch card games and real world prizes. Lucktastic is headquartered in New York, New York. According to ZoomInfo, Lucktastic has a revenue of $5M, and 27 employees.
As of July 2021, Lucktastic has 3.0M fans on Facebook and 395K followers on Twitter. The app also boasts 4/5 stars out of 346k reviews on the Google Play Store and is currently not on the Apple App Store.
However, it is in the process of fixing bug issues and should be added sometime this year per relevant sources.
How Does Lucktastic Work?
Lucktastic is free to play, and you can win money in 7 different ways:
Scratch Cards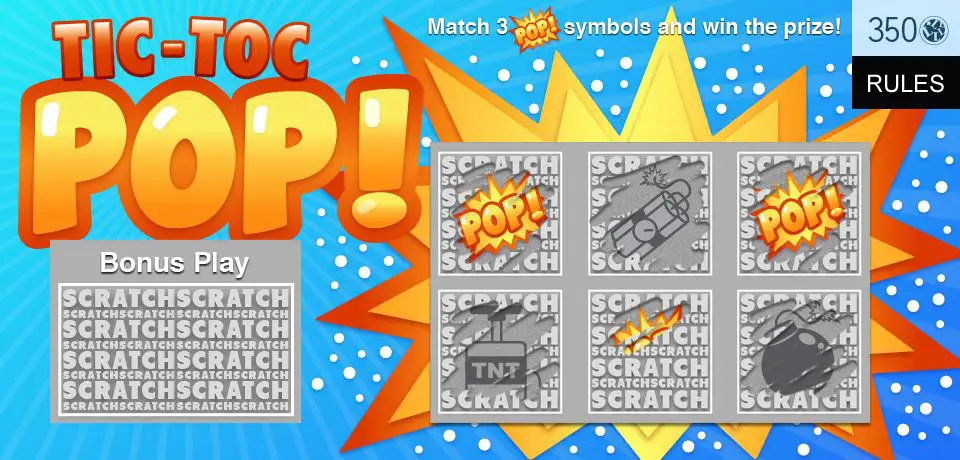 Your scratch cards reset every day at 5 am EST/2 am PST. They also offer an additional bonus card every day between 1 and 5 pm EST depending on the day.
At 9 pm EST, they offer additional nightfall cards. Make sure to turn on your push notifications to find out when these extra cards become available.
You can scratch these off scratch cards with your finger and try to get winning scratch cards that pay out a large number of tokens.
I played these scratch card games each day for a week and won less than 100 tokens, which I did not find worthwhile.
The biggest annoyance with the scratch cards is the 30-second ads before each and every card.
Contests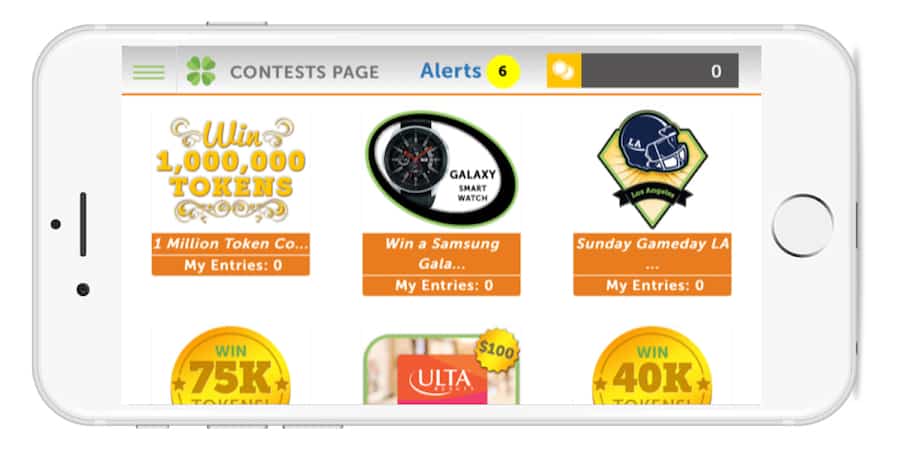 Lucktastic has a contests page within the app that offers contests and sweepstakes. Examples of contests include winning 1,000,000 tokens or winning a Samsung Galaxy Smartwatch.
Contest winners are selected from all eligible entries randomly. One winner is selected per contest via the app's automated system.
Once a contest has ended, Lucktastic begins the process of selecting a winner shortly afterward. Contest winners are contacted via their Lucktastic registered email address.
If the winner does not respond within 48 hours, they select another winner and begin the process again. They only announce winners once they've been confirmed.
Winners are announced on Facebook, Instagram, Twitter, on its site, and in the Lucktastic app.
If you are a winner, Lucktastic will send you a congratulatory email with instructions on claiming your prize. Should you win a contest with Lucktastic, please allow up to 4 weeks to receive your prize after confirming.
After 2-4 weeks, if you still have not received your prize please contact Lucktastic's support team ([email protected]).
Daily Bonus for Logging In
If you log in daily to the app you can get daily rewards. Just log in to receive the following:
Day 1: 150 Tokens
Day 2: 250 Tokens
Day 3: 350 Tokens
Day 4: 500 Tokens
Day 5: Daily Mystery Bonus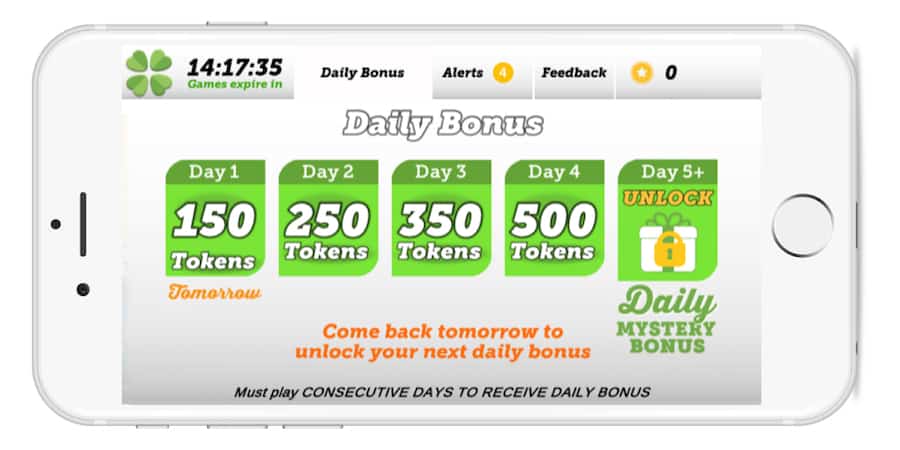 Logging in to simply claim the daily rewards was worthwhile for me instead of doing the scratch offers themselves.
Offers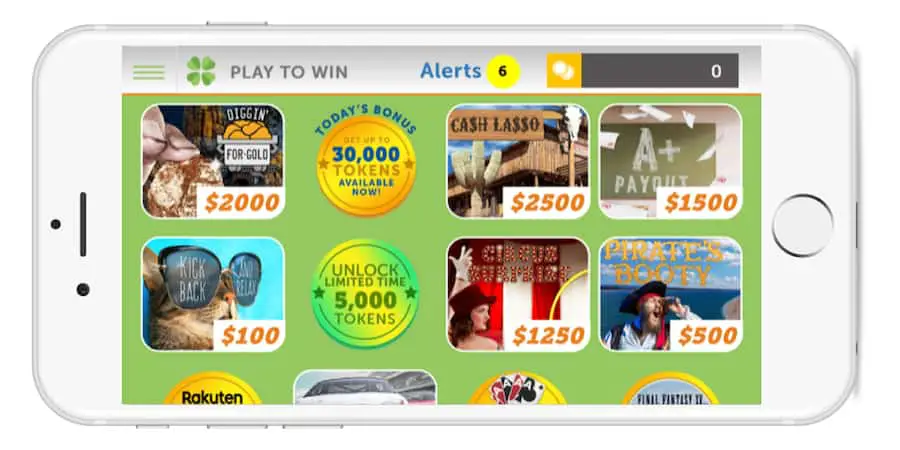 You can now get Lucktastic tokens for taking surveys and downloading partner apps on the Lucktastic offers page.
While you will get more tokens for downloading apps and taking surveys, you still won't win big for doing so.
Lucktastic VIP Program
Lucktastic VIP is how the company rewards its most loyal players. As a thank you for their dedication they give VIPs daily freebies like extra opportunities to win.

The first VIP tier is "Insider" which you get just for registering your account. In exchange, you get access to enter contests and receive the secret email bonus codes. You'll also get your first daily freebie: and a VIP Insider scratch card.

After that, there's Bronze, Silver, and Gold tiers. Each one gives you more access perks and freebies. To make progress through the tiers, play scratch cards and gather crowns. Once you have enough, head over to the VIP screen and unlock the next tier.
Crowns can be collected from the Prize Wheel and from installing partner apps. Your participation allows them to continue to offer all of its prizes and rewards for free.

You can see your progress and all your perks on the VIP screen in the app.

According to their FAQs, they are working on adding an upcoming Diamond tier plus more ways to earn crowns.
Refer Friends
Lucktastic gives 1,000 tokens to every friend that installs and plays the app using a referral code.
To share your code, tap the four-leaf clover in the top left corner of the app. Share via Facebook, Twitter, email, or SMS.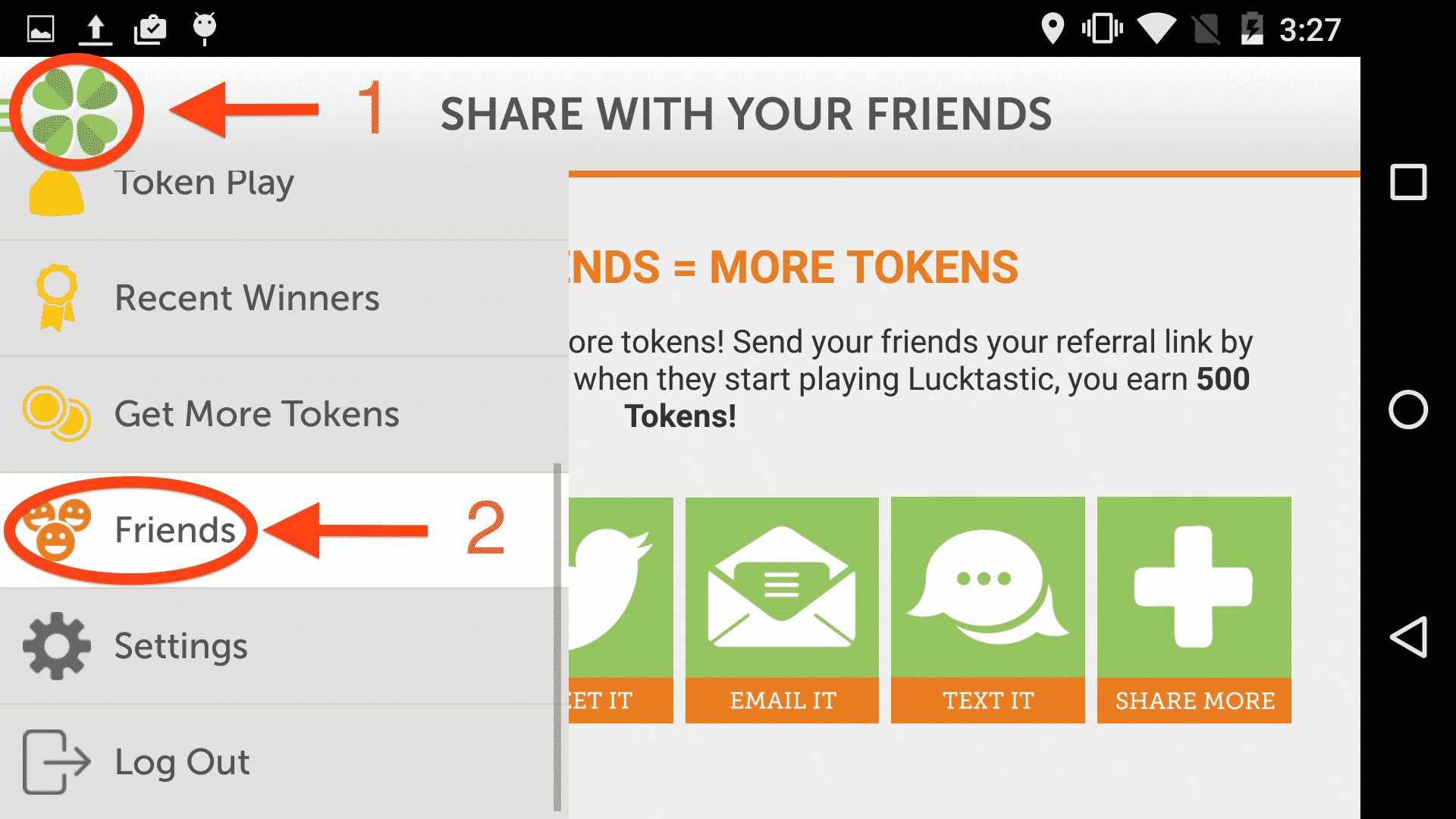 College Ambassador Program
The College Ambassador Program gives credits for inviting friends to play Lucktastic. You can earn up to 20 credits per 60 people you invite.
Lucktastic will give participants a swag package including apparel, stickers, pens, and more.
Lucktastic Review FAQs
Is Lucktastic a scam or not?
Lucktastic is not a scam, but there seems to be a number of people on Reddit claiming they had issues trying to redeem their tokens for free Amazon gift cards or other retailer cards.
This is definitely concerning, but there are also many people who had successfully redeemed their tokens for gift cards. So it is up to you if you want to work hard to get enough tokens to try and redeem them for compensation. Or you can learn about how to get paid to play games or playing daily fantasy sports.
How do you earn money with Lucktastic?
Similar to using trivia apps to win money — Lucktastic has two different currencies: cash and chips.
Money can be redeemed immediately if you have a dollar or more through three different methods, with more to come. Tokens are used to participate in sweepstakes and to win digital gift cards, if you have a lot of them.
How do you get one or the other currency? If you want money or chips, luck is the name of the game and the name of the app now that I think about it. Every day you receive a certain number of tickets with a scratch theme that you play against money or chips, but each card has a guaranteed number of chips to win.
At the beginning of almost every ticket, there is a video or image ad that usually lasts fifteen to thirty seconds. Once the ad is complete and you close it, you can scratch your ticket and, if you are lucky, claim winnings which are usually only 25 to 50 points.
At the same time, you can install other selected apps via ads or another page of the app to get a token bonus that is usually higher than anything you earn with a scratch-off ticket.
What are the odds of winning on Lucktastic?
Similar to other PayPal games that pay real money, the site gives no mention of statistics of winning, unfortunately. But these types of apps, just like slots at the casino, always favor the house. They are not meant to pay out frequently and are very calculated.
However, Lucktastic is free, so what's the catch? The company is making money in various of ways like displaying ads before every scratch game, having users download partner apps that have affiliate links, and sponsorships with other companies.
Can you win real rewards with Lucktastic?
Potential rewards vary from one card to another, but each card will give you real money or a portion of the app's virtual currency that you can use to redeem gift cards when you have enough.
If you have used a survey site before, you already know the problem. Most of them are legitimate, not a scam, but they always take a lot of time.
Even though Lucktastic is one of the bigger rewards apps, it is not one best apps to use to make to exchange your time to make extra money. You would be better off using games that pay instantly to Cash app.
Is Lucktastic legit?
Yes and no.
I tried Lucktastic and it took around 6 months to get enough points to redeem a $10 gift card to Bed Bath & Beyond.
You can earn around >100 points per day normally. I think I've only won a big scratch card once, it's usually the smaller cards you win on semi-regularly (25 to 50 points). Mostly you're just earning small 4-7 point bonuses per card.
Not worth it. Takes too much time for very small rewards. It's like doing a 20-minute survey for 5 cents.
How to get started with Lucktastic?
The fastest way to connect to one of these apps is to have a tedious and complicated registration process. Fortunately, this is not the case with Lucktastic. To begin with, you only need your zip code, and you must be in the United States. After this, you can immediately start playing to see if you like the app.
The app stores all coins and money you have, even if you are not registered, as long as you have it in hand, but you cannot redeem a reward before you have registered. To sign up, you need an e-mail address, your name, or you can use your Facebook account if you want to avoid all of this together.
I advise you to register usually and not to use the Facebook option. It can be faster, but it opens your information to more people than it should and can put your privacy and account at risk.
After following the e-mail you have sent, you are ready to use Lucktastic. It is an extremely user-friendly application that is difficult to leave due to its addictive nature. You can view this video for details:
Lucktastic Review
Looking at Lucktastic (assuming the conceptual use of words as Luck is Fantastic) it all seems fairly simple and straightforward. This is an application available in the Google Play Store and Apple App Store that lets you earn real cash for playing scratch games online.
Lucktastic is absolutely no scam, and I like this app but you won't win much. This is a legitimate and fun app that allows you to earn real money, but there is not much potential to win (what is expected).
Because it is so easily accessible from your phone and you can play virtually anywhere for a few minutes, it can be fun to do it during your free time or when you wait (at the doctor, while waiting for the start of the class, during a work stoppage).
But remember, the makers of Lucktastic want to make money. Your chances of making serious money are therefore minimal.
But if you are down for the tasks of playing free scratch-offs and viewing a ton of ads then you'll need to have an Android or iPhone device to join in on the fun.
Lucktastic Summary
App Name: Lucktastic
Type: Money making app
Price: Free (completely free)
Legit?: Yes
To download the Lucktastic app, you can do so in the Google Play Store or Apple App Store.
Bottom line: While it's super legit and quite fun to play Lucktastic, the problem is that you will spend a lot of time looking at ads (mainly for other apps) before you can see any scratch-cards. But there's more to it, you likely make enough money to make using it worthwhile.
There are also some concerns on reviews and Reddit about users getting locked out when trying to redeem free gift cards, which is concerning. If you want to still try it out, you don't have much to lose, other than your free time.
Earn up to $100 today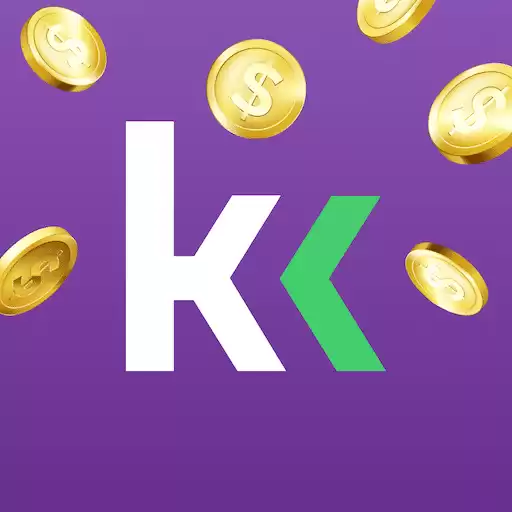 KashKick
Trusted by 2M+ users like you
This site pays you cash to play mobile games, save money, take surveys, and see offers — make $100 today. Over 2 million users agree that KashKick is a fresh and lucrative way to earn money and get paid directly to your PayPal!
SIGN UP & START EARNING NOW