These days, people watch TV on their laptops or computer and most Millennials have totally cut the cord.
Unlike traditional cable or satellite TV subscriptions, with Hulu there are:
No appointments, home installation, or special equipment necessary
All you need is a subscription, home network, and a supported device to start streaming your favorite TV shows and movies on Hulu.
No hidden costs or fees (sales tax required in some areas)
They keep it simple with straight-forward pricing. Plans start as low as $5.99 for Hulu and $54.99 for Hulu + Live TV.
No commitments or cancellation hassle
Change your mind? No problem. Switch plans, add or remove add-ons, and even cancel altogether at any time via your Hulu.com account page.
Hulu has progressed into becoming one of the biggest online streaming websites, much like Netflix.
Hulu was actually free to use to watch your favorite TV shows as well as new series until they decided to switch to a paid membership instead, with four package types — Hulu, Hulu (No Ads), Hulu + Live TV and Hulu (No Ads) + Live TV.
Hulu vs Hulu Plus Live TV
This Hulu Plus Live TV vs. Hulu comparison explains what you get with a Hulu Plus Live TV subscription compared to using Hulu.
---
Want Free Money?
Aspiration: Want to get spotted a $150 for free? Simply sign up for Aspiration, and the free banking app will give you cash for free, you just relax while it gives you $150 just for opening a new debit card. There's no catch. This bank account is legit and only takes two minutes to sign up for an account.
---
Pro tip:
 Surveys are quick, easy, and can pay you cash from the comfort of your home. No wonder they are so popular.
Survey Junkie
,
Branded Surveys
,
Swagbucks
, and
InboxDollars
are just a few of the best survey sites to make money.
What Makes the Two Packages So Different?
Hulu essentially has types of memberships, Hulu (standard) or Hulu Plus Live TV.
Both of these have their differences and although one might seem better than the other, if you are on a budget, the standard package is more affordable and enjoyable in the long run, even if they're a few disadvantages which we will go over in this article.
Click here for Live TV & Streaming in one place with Hulu.
Hulu Standard Review
The standard Hulu package allows you to have one month free initially which allows for a trial and you are able to take advantage of the features that are available to you under this package.
Once the free trial is over, there is a monthly cost of $5.99. The features are standard within this package type in having unlimited access to the streaming library that has limited advertisements and sometimes none.
On top of this, you will be able to watch a full series of new and old TV shows, top movies, original series, and documentaries. You can also cancel your package at any given time or upgrade to the plus live TV package.
Click here for Live TV & Streaming in one place with Hulu.
Hulu Plus Live TV Review
This package has a 7-day free trial, and if you wish to continue you will be billed for a monthly membership that is $54.99 or $60.99 without ads. This is a much higher cost than the basic package but there is much more on offer with this package. To chalk it up, you can bundle up your Hulu subscription with other premium streaming services and partners, like Disney+, ESPN+, Spotify, and Sprint.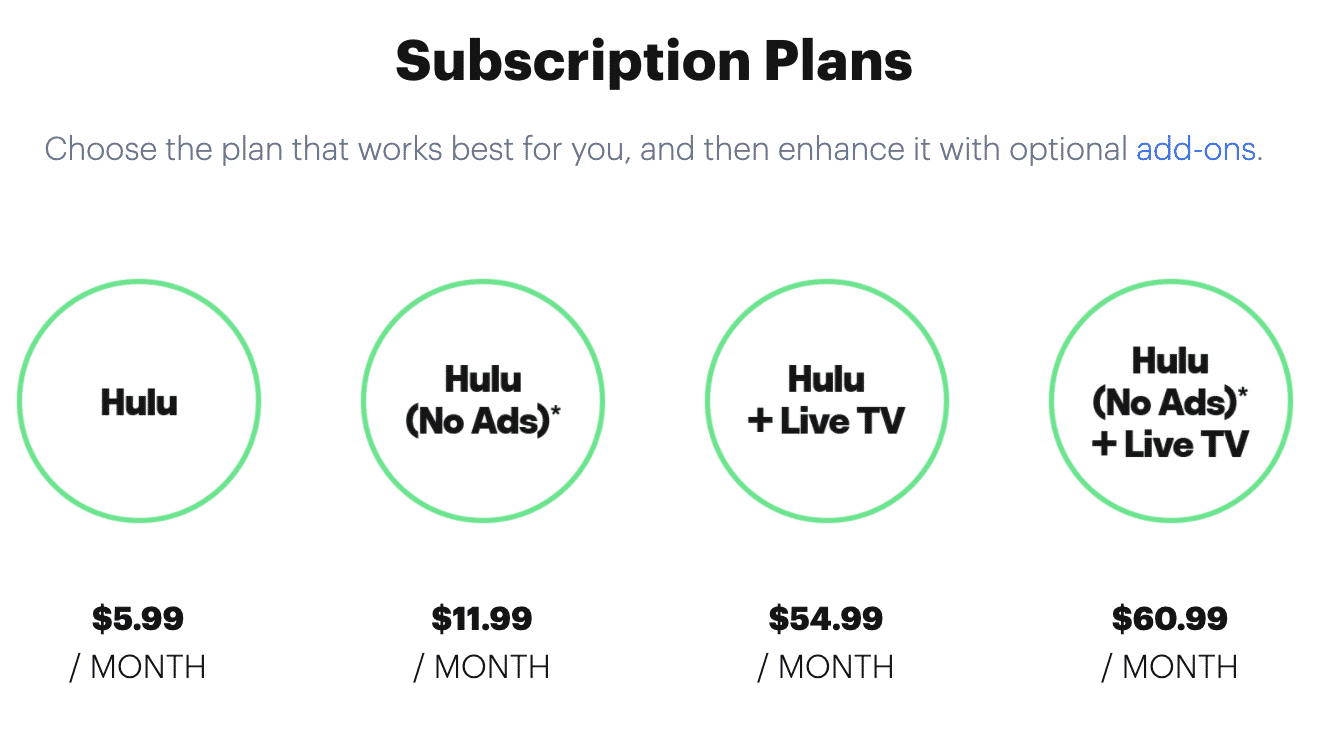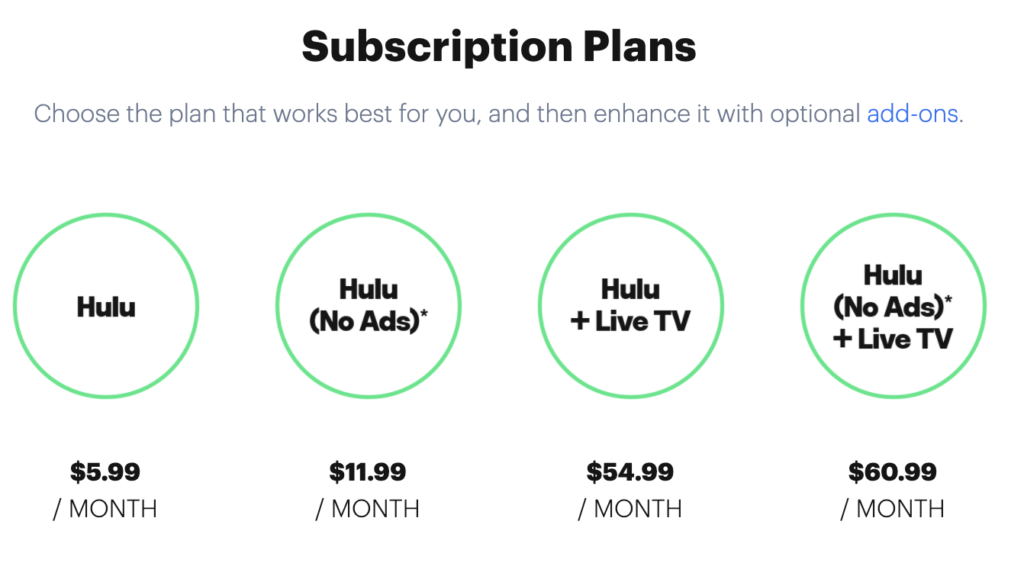 If you sign up for Hulu Plus Live TV you are able to watch live TV on your main device as well as a range of other devices, for easy viewing that is accommodating.
Unlimited access to streaming the library is available with limited commercials and original series are available as well as the basics included. You can also stream on-demand channels like news and sports.
Click here for Live TV & Streaming in one place with Hulu.
Is Hulu Plus Live TV Worth It?
Although the Hulu Plus Live TV package has limited commercials, the same is said with the basic package, therefore the fact you are paying more for the plus but receiving the same amount of commercials or even more is a bit unfair considering the price.
However, Hulu is known for regular commercials with all streams and is deemed part of both memberships. Hulu Plus Live TV allows you to view a plethora of channels compared to the standard package and does work out to be more valuable if said channels are what members are looking for and watch constantly.
Hulu Plus Live provides more but also is quite similar to the basic package which is a lot cheaper. If potential members are wanting a broad range of channels, then Hulu Plus Live TV is definitely the one to go for.
Click here for Live TV & Streaming in one place with Hulu.
Hulu Plus vs Netflix
Hulu and Netflix are both popular however Netflix has gained its popularity with its original series and a myriad of different TV shows, documentaries, and movies.
Netflix is not so quick, however, to release shows, whereas Hulu if faster. Hulu is more proactive with talk shows and also news channels. Hulu also spreads further to offer anime which Netflix does not have.
Netflix has complete series that are all available to watch, whereas Hulu has instances where there are limits to how many episodes you can watch, furthermore the episodes are not always in the correct order.
Netflix has new and old TV shows and movies which offers a range of entertainments for different audiences. Some streams Netflix has, Hulu does not. The quality of stream differs with Netflix produces HD quality on all devices. Hulu has many advertisements that are not budging whereas Netflix does not have as many or even some cases none.
Go
Description

Want Financial Wellness?
Acorns
Acorns is your guide to financial wellness. They'll help you invest, save and spend smarter starting at just $1 per month. There's no catch. This app is legit and only takes two minutes to sign up for an account.

LEARN MORE


Today's Best Offers
App
At a glance
download
Chime
★★★★★


Chime will spot you up to $200 if you accidentally overdraft. And even better: they won't charge you a dime.

GET SPOTTED $200

Axos
★★★★★


This free savings account delivers on its promise to save you money effortlessly. You can use it to get up to 6x the national average APY. It now pays to stash your cash in a savings account.

GET PAID TO SAVE