What the heck is an NFT? Where did they come from what value do these non-fungible tokens have?
Let's start by saying that until a few years ago it would have been unthinkable to collect a work of art or an object in digital form as unique as you can do now thanks to the birth of NFTs.
And they seem to be growing by the day.
So how many NFTs are there? As the data shows, trading in nonfungible tokens (NFTs) hit $17.6 billion last year, an increase of 21,000% from 2020.
NFTs are not all the same, there are thousands of them and new ones pop up every day. In this article, we want to reveal some of the methods that you can use to collect NFTs for free.
5 Ways to Get Free NFTs through Airdrops, Mints & More
Ready to earn free NFTs? These ideas make earning free NFTs a reality. Buckle up.


1. Get Free NFTs via NFT Airdrops
You may be thinking to yourself, what the heck is an NFT airdrop?
NFT airdrops, commonly referenced as NFT drops — are a promotional practice that allows producers and creators of non fungible tokens to distribute free NFT giveaways to a limited number of users and collectors.
We have seen, in these last years, how the NFT market has exploded, generating billions of dollars of exchanges and bringing some non fungible tokens to become valuable digital assets.
Artists and brands crafting NFTs usually offer NFT drops as one of the main promotional methods where the NFT minting will happen.
The reason why free NFTs are offered through these particular "launches" is mainly related to online marketing and promotion of a certain brand or a specific collection.
On the other hand, online visibility is a fundamental metric nowadays to get a return from building an NFT project and creating NFTs.
We have seen many times how the community linked to a certain event or digital reality can be of fundamental importance for the success of a project, whether it is a fungible token, a platform, or an NFT collection.
We can therefore define NFT airdrops as:
"NFT airdrops are events that involve a free distribution of a limited number of non-fungible tokens. Typically, as a reward for a marketing campaign or as a reward for the loyalty shown by members of a particular community."
Usually, to participate in a certain airdrop, all you have to do is follow the rules provided for that particular event, as required by the ecosystem that issues the NFTs or tokens offered as a prize.
The main actions, which generically allow you to successfully participate in an NFT airdrop are:
Holding a certain amount (even minimal) of NFTs from the same or related creation house.
Using a certain decentralized service, such as a particular "swap".
Participating in social groups and marketing operations, such as re-sharing promotional messages or inviting friends to join airdrop-related groups.
Generally speaking, taking part in an official airdrop of a large collection of NFTs can be convenient. It seems obvious that receiving free NFTs in exchange for sharing a post on Instagram or inviting 10 friends to join a server on Discord is a nice payoff.
All the more so if you're talking about famous collections tied to big brands or famous crypto artists.
Free NFT drops like the one that happened with the "Bored Ape Mutant Serum" collection are a great example of how an NFT airdrop can turn out to be extremely profitable.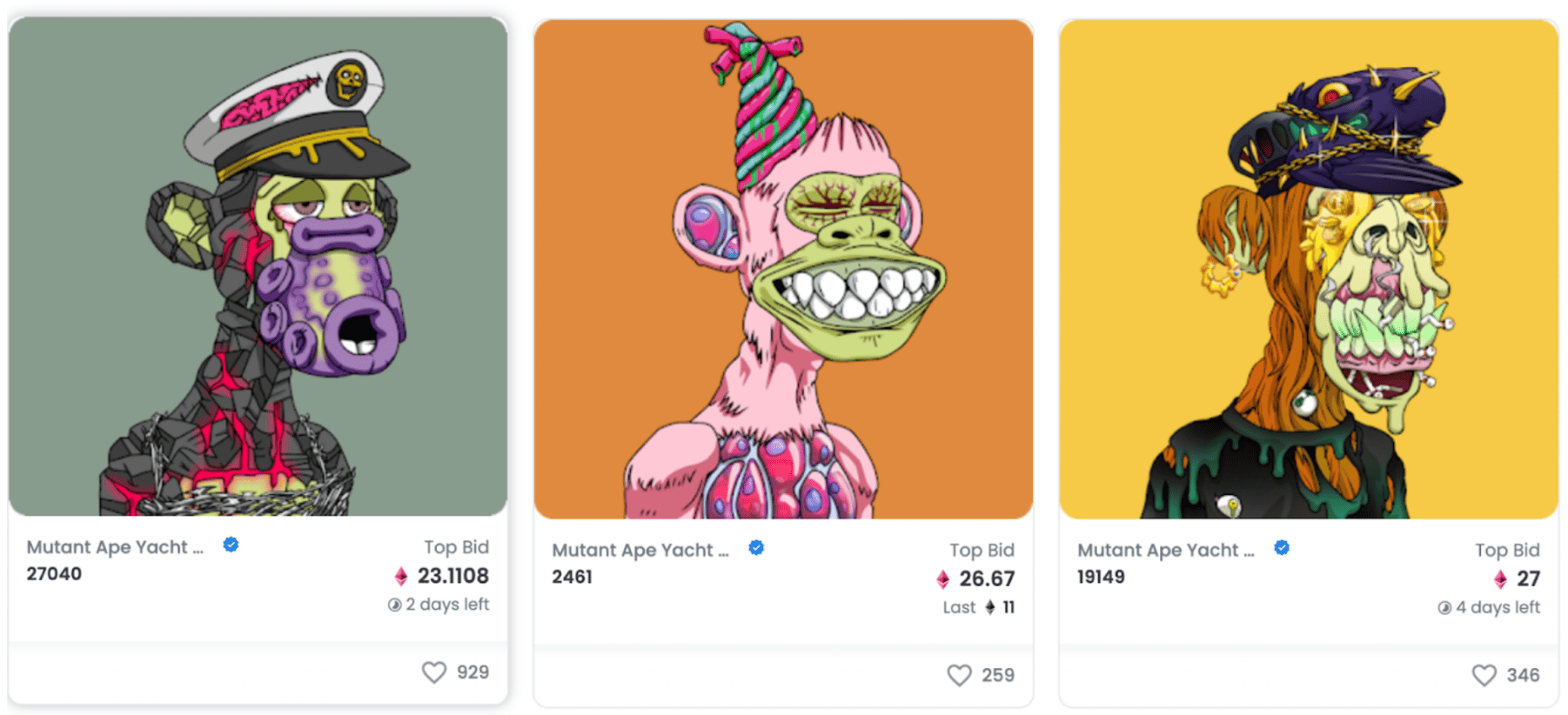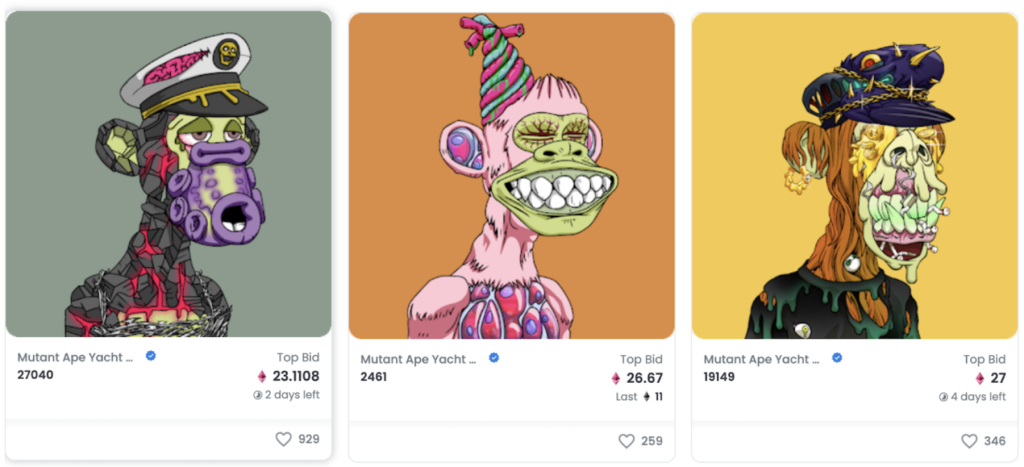 Linked to the very famous BAYC collection, these NFTs have been given away via exclusive airdrop to all owners of other NFTs belonging to the same house of "collectibles", generating a very high value on secondary markets.
Only one NFT of the collection: a Mega Mutant Serum, has reached a sales quote (January 2, 2022) exceeding 1,500 ETH (over $5 million).
2. Free NFT Mints
Some projects provide free mints to grow quickly and generate attention. Except for the gas fee to mint the piece to the blockchain, there are no upfront costs associated with giving away free mints NFTs.
Keep in mind that some blockchains may be more expensive than others; for example, free Ethereum mints may cost more than $100 owing to rising gas fees.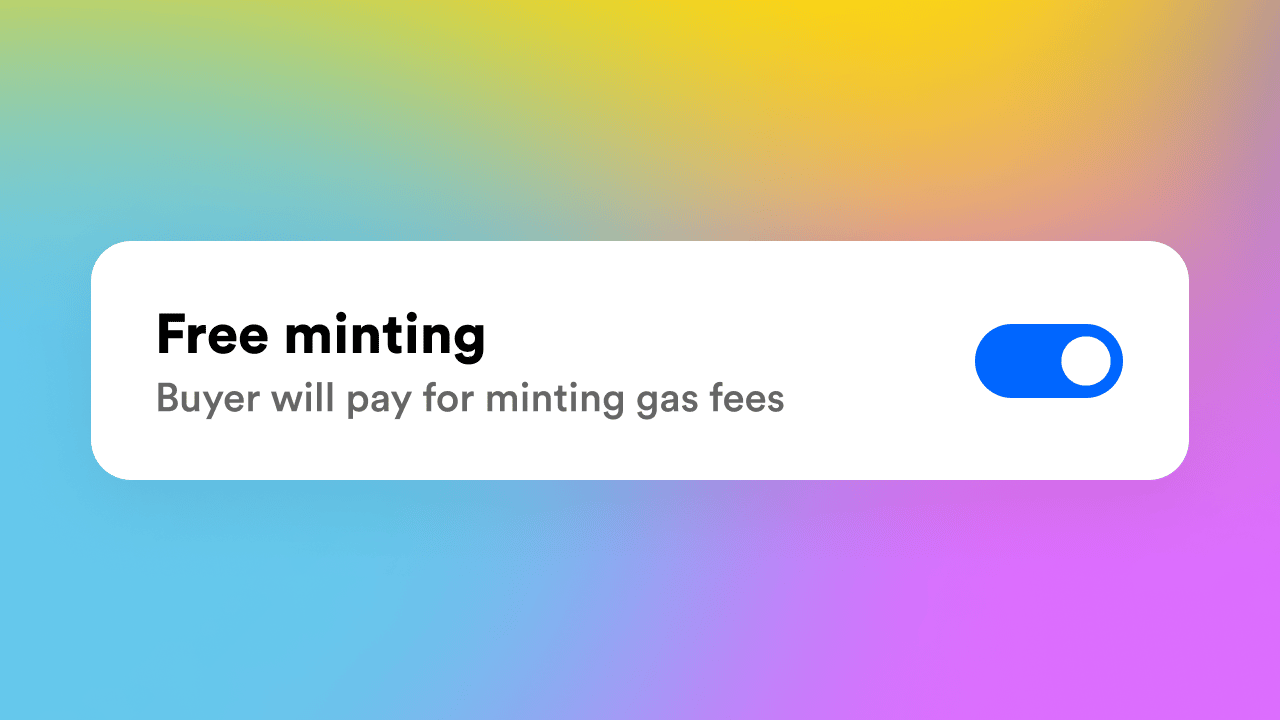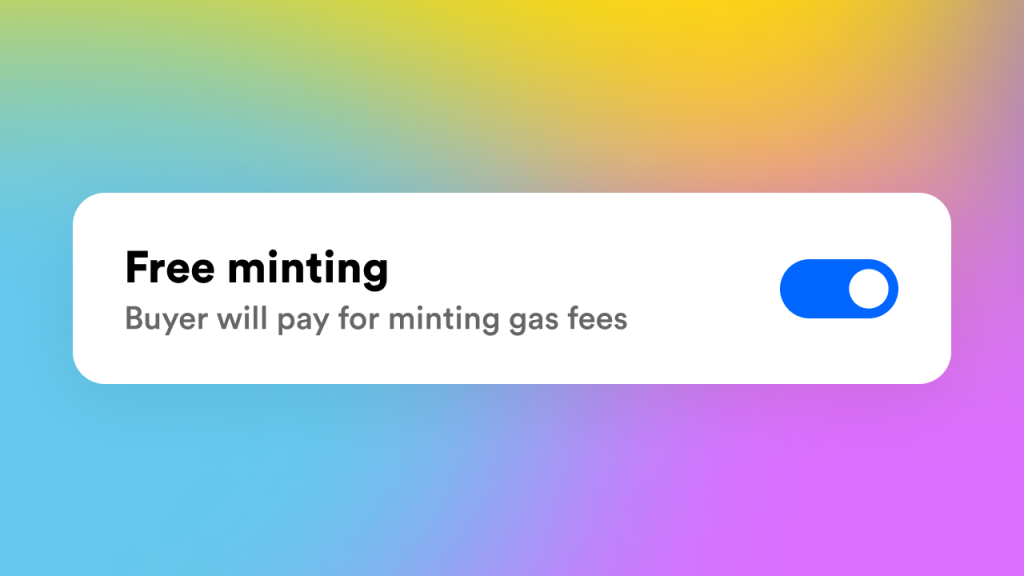 Acquiring free NFT mints can be acquired when individuals take the bold step of joining the NFT community. Any individual seeking to join the NFT community is required to perform proper research, and gather relevant information to enable them to get the best deals on offer and avoid being scammed or rug pulls.
Getting free NFT mints can be achieved through NFT Airdrops or Play-to-Earn NFT games like Axie Infinity, The Sandbox, Gods Unchained, DeFi Kingdoms, and Spliterlands.
3. Make Your Own NFT Projects to Profit
If you're like me, you've probably thought about how feasible it would be to create your own NFTs and then resell them for huge profits.
An NFT can be created by anyone with a small amount of money to spend. Today's NFT platforms provide features that allow you to create a wide range of NFTs as well as embed unlockable material in your files.
You may make your own NFT using simple minting technologies accessible on NFT marketplaces, whether you're artist, musician, game developer, or just someone looking to flip your money.
There are dozens of ways to create your own NFTs — if you're inclined to learn how to start your own NFT project from scratch, I will share an overview of what that'll look like.
The steps to create and sell your free NFT are:
Decide what type of NFT you want to create
Create a Metamask portfolio by adding the extension on Google
Go to a Mintable website e.g OpenSea, Rarible, SuperRare, Foundation, Atomic Market e.t.c
Go to the menu and select "mint an item".
Choose whether to create a file or upload it
Complete the procedure and enter the details of the NFT
Select the selling method (fixed price or auction)
Sign the transaction with the Metamask wallet
Congratulations, you've created an NFT and already have it for sale.
There is also another solution to create and sell NFTs, but in this case, you will be asked for an Ethereum commission in advance. If you want to do some more digging into this idea, Oberlo has a great guide on how to make your own NFTs here.
4. Play-to-Earn NFT Games
Perhaps many people don't know: there is a whole new separate genre, the audience of which is seriously growing day by day of games that pay real money or crypto.
We are talking about a recent hot topic: NFT games, Play-To-Earn crypto games, and blockchain-based games.
Of course, it's growing when there's a real opportunity to get money even just for the time spent in the game itself (like Axie Infinity).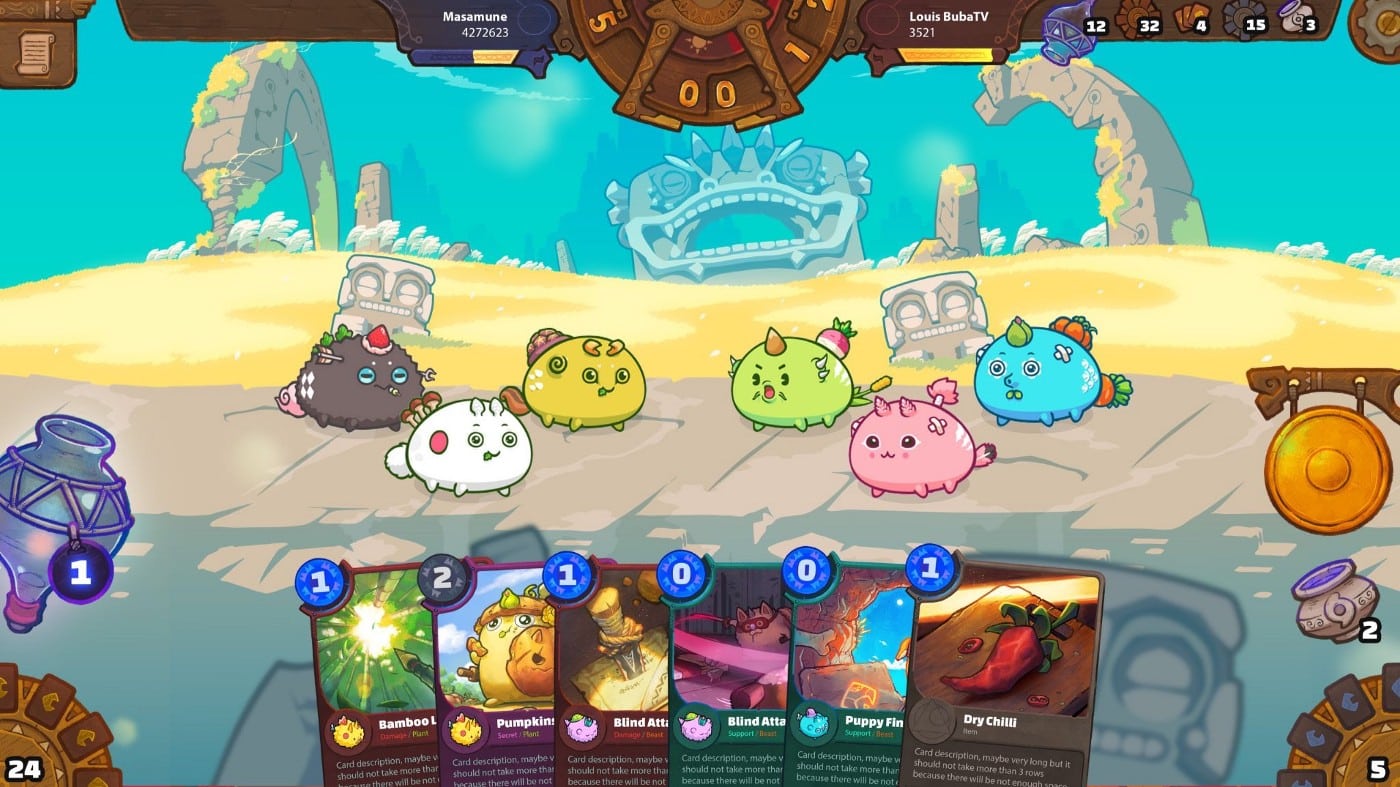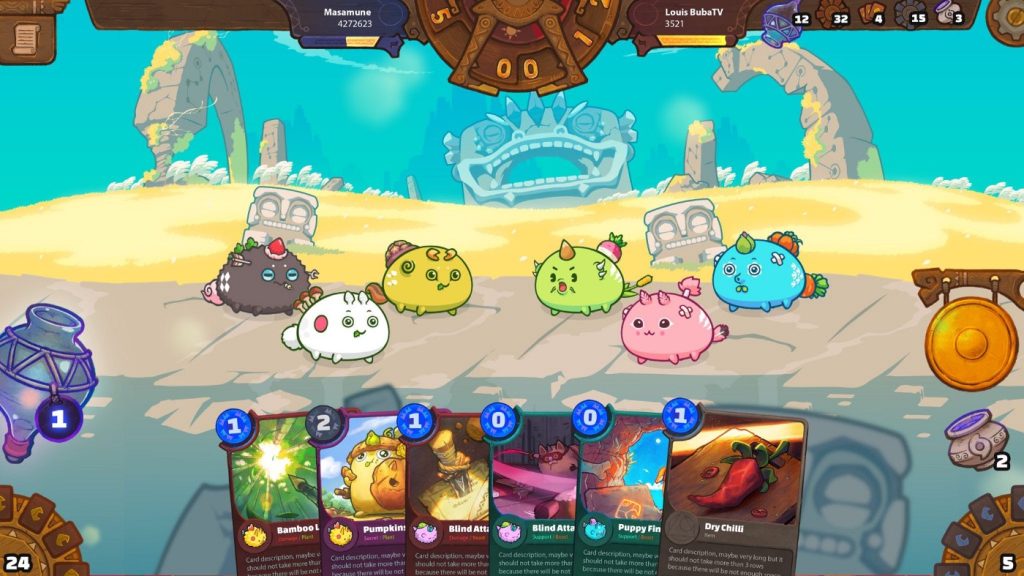 These NFT games give you real tokens and cryptocurrencies which you can convert into real money that you can withdraw, or use however you like. Also, these game tokens are constantly increasing in value.
Remember that cryptocurrencies are different than NFTs, just like their volatility is different. The price of cryptocurrencies fluctuates daily, so opportunities to make money in the same game can be very different and different, day by day.
These games are seriously surpassing all of their predecessors in terms of game mechanics and entertainment. They attract not only people who want to get paid to play games but also real professional gamers from around the world.
5. NFT Breeding
NFT breeding is a systemic process by which NFT owners decide to multiply their possession of NFTs by creating more NFTs that have similar traits to the parent NFT but differ in some characteristics. This is only done in NFT gaming.
This breeding will create a new NFT whose value is higher than its parents' sources and will fetch more value for the NFT owner.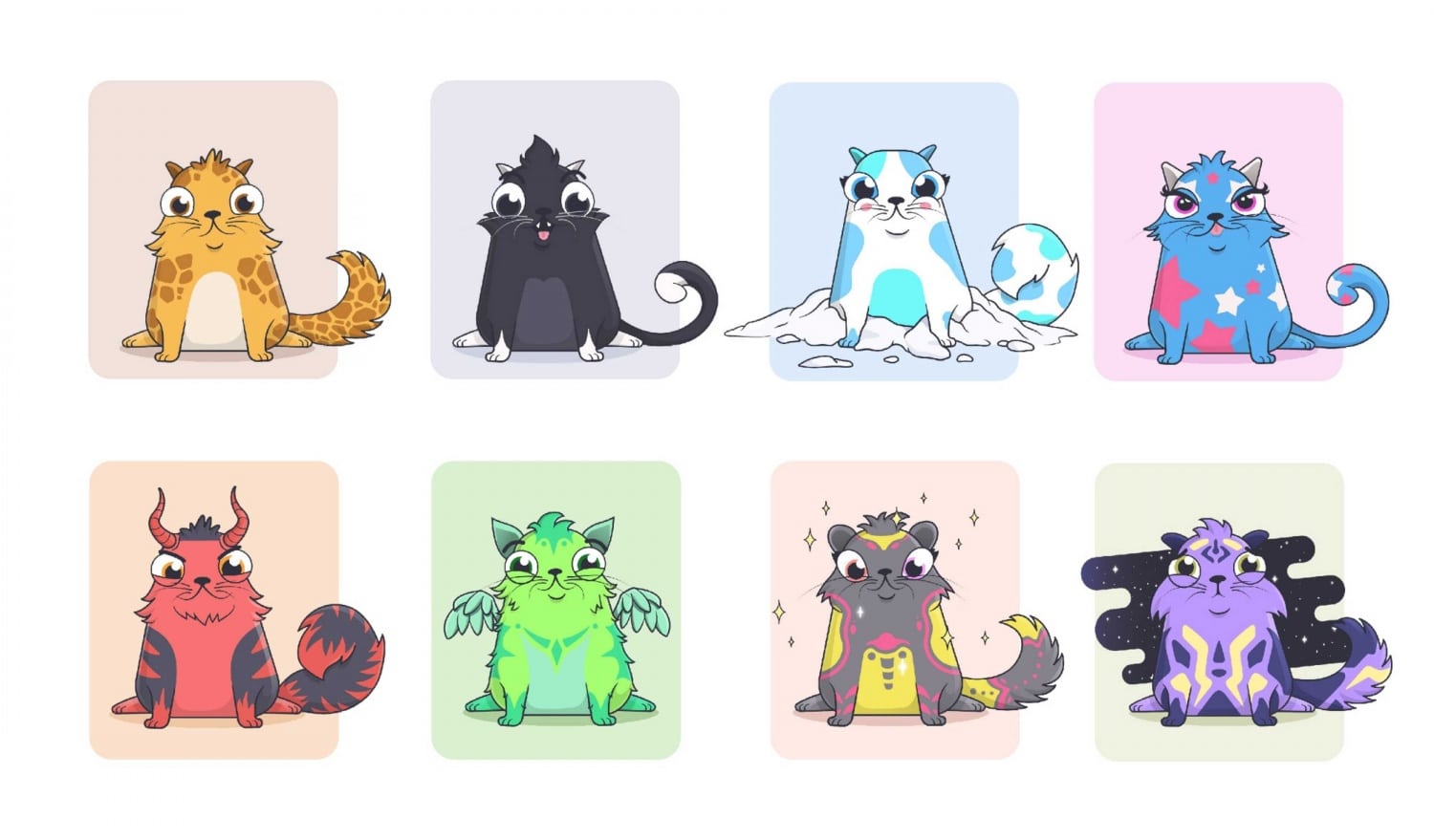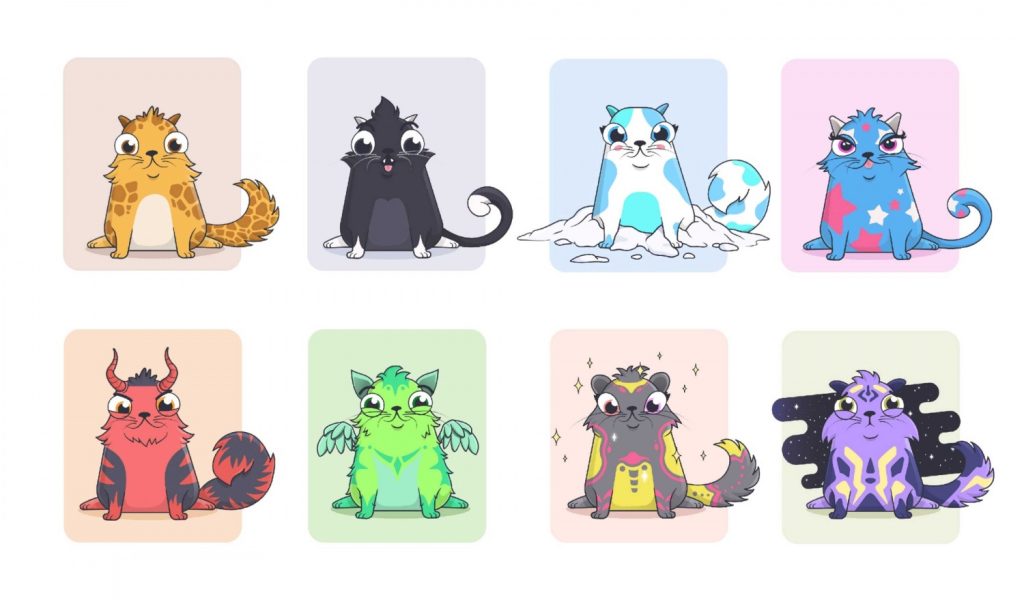 There is no singular rule that governs the way NFTs are bred. Therefore, whatever way an NFT is bred, depends on the specifications the owner infuses during its creation.
NFT breeding creates various opportunities for the owners and buyers respectively. It is made available to individuals from all walks of life willing to partake in the exponential growth of an NFT as it unfolds.
NFT breeding is a reliable means through which individuals with no knowledge of crypto can get into the crypto space and explore its endless amount of opportunities.
What are NFTs?
NFTs (Non-Fungible Tokens) are a new form of collectible items tokenized on the blockchain. This type includes digital art and the exchange of "digital objects" from online games.
Trying to simplify the concept as much as possible, NFTs are digital certificates of authenticity.
On the surface, NFTs are intangible digital content, infinitely replicable and the same as many others. However, they become "unique pieces" thanks to a certification that takes place through blockchain. Blockchain technology became famous thanks to Bitcoin and other cryptocurrencies that are now widely accepted as payment by major companies.
NFTs are, therefore, "digital information" that makes the file with which they are associated have its uniqueness and cannot be replicated.
In the case of digital works of art, it is equivalent to saying that they are signed by their author, who in doing so recognizes their authenticity and can eventually transfer ownership.
Thanks to these, a new market has been created where people can buy, sell and exchange their NFTs with other people because they have full ownership rights.
Some artists have even gone so far as to burn real works, to certify the uniqueness of NFT works. Indeed, hardcore digital artists, believe that this ceremony of burning the real work is the only way to certify the uniqueness of the NFT. This was, for example, the fate of Banksy's Morons.
How to Get Started with NFTs?
OpenSea is a marketplace where you can create, sell and buy non-exchangeable tokens (NFTs). To make transactions, you need to register on the site and open a cryptocurrency wallet.
Login to your account on the OpenSea platform, click on your profile icon, and select My Collections.
To form a new collection, click Create a collection.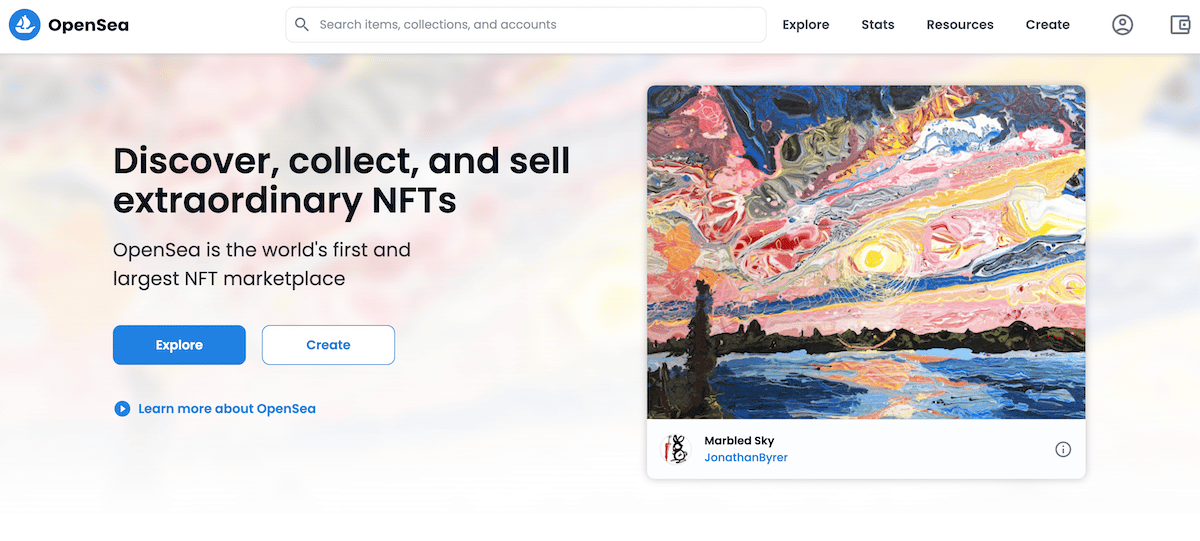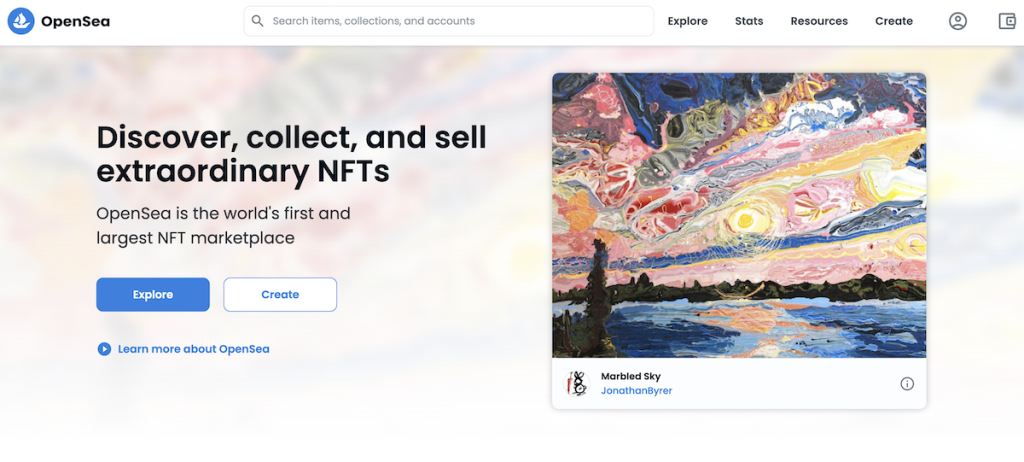 It is possible to create separate collections for different groups of NFTs, united by a single description. You can categorize them: as art, sports, collectible cards, etc.
Now you have to select the category, the name, the description, and the logo of the collection. This is not yet NFT and this data can be changed.
In the collection settings, you can set Royalties – the percentage that will be paid to the seller in case the token is later resold by the buyer. The maximum rate is 10% of the value of the NFT. Here you can also choose what currency royalties are paid in. The default setting is Ethereum (ETH).
OpenSea is a convenient marketplace that allows you to realize your creative potential and promote your works of art without large initial expenses. The marketplace is suitable for emerging artists, musicians, and photographers who can increase their audience using modern sales mechanisms. Those who already have fans will benefit from the opportunity to auction their creations and sell NFTs on OpenSea at the maximum price.
What's the Best Way to Store NFTs?
A cold-storage hardware wallet, such as Ledger or Trezor, is the most secure and preferable way to store your NFTs.
This is because hardware wallets and their crucial information, such as the seed phrase, password, and touch authentication, are saved on the device itself, making it harder for hackers and keyloggers to access them.
Are NFTs a Bubble?
So are NFTs a bubble?
Let's take for example…
Jeff traded his $1,000,000 for a buy a right on uncertain future annuities. It's kind of like what you do with stocks. You buy stocks to become a partner in large companies and buy rights to future dividends.
Just as with publicly traded stocks, the right associated with the NFT can be sold to a third party.
If future earnings are expected to be better than expected then those who have the shares will demand a higher price for their shares.
If, on the other hand, future earnings are expected to be worse than expected then the sellers will be willing to accept a lower price as well, and the value of the shares will fall as a result.
The same is true for Jeff's NFT investment. If the sales of the product associated with the NFT that Jeff has acquired are better than the expectations, the value of the NFT in which Jeff has invested will increase. If, on the other hand, sales are poor, people will be willing to pay much less in royalties on those sales. Therefore also the value of the NFT will go down.
NFTs then can become a kind of customizable contract, certified by the blockchain and transferable to anyone at any time.
Just like in the case of stocks, investing in NFTs can lead to a gain in terms of an increase in the value of the NFT itself, but also in terms of periodic annuities linked to annuity rights. If we wanted to speak in financial terms, it is these latter rights that determine the real value of the NFT.
The discourse is completely different if we talk about "artistic" NFT or collectibles (which at the moment are also the most common). In this case, the value of the NFT is commanded only by the demand, that is the desire of the people to have that specific digital object.
Think about it. Why is Valentino Rossi's latest helmet worth hundreds of thousands of dollars? Because it is unique. There will never be another case like it. The value of the case itself will be a few hundred dollars at most. So why are people willing to pay tens of times its value as a "helmet"?
Fanaticism.
There is no other reason. And there is nothing wrong with this. Just know that there is no "economic" reason why people should ever pay hundreds of thousands for a motorcycle helmet.
The value of art and artistic or collectible NFTs is irrational and based on non-financial fundamentals.
Just as Valentino's latest helmet would go back to being just a helmet if people forgot about Valentino, so your digital art objects would go back to being just "certified" images on the blockchain if people stopped wanting them.
This means that investing in "artistic" or collectible NFTs is very risky!
The only thing that ensures their value is their "desirability". Take that away and your NFT will be worthless.
I want to specify that this is valid only for the investments in NFTs that do not have an economic "underlying", that is that they do not assure you in some way of the returns. If the NFT is linked to some form of asset (monetary, real estate, metaverse real estate, securities, patents, etc.) then the matter changes, and what we said in the first part of this section applies: Cash Flow is king.
If you're interested in NFTs you might benefit from learning about the best crypto credit cards and best crypto savings accounts to earn even more.
Earn Free NFTs – Frequently Asked Questions
What is an NFT airdrop?
An NFT airdrop refers to an airdrop of a certain amount of NFT (Non-Fungible Tokens) for free to those who make themselves eligible by participating in the required activities. Usually, airdrops refer to promotional activities for new collections or new platforms, to increase the marketing reach of the issuing company's activities.
How to participate in an NFT airdrop?
There are several ways to participate in an airdrop and, usually, they are clearly expressed at the time of the actual NFT airdrop announcement. Usually, it is referred to activities related to marketing and communication, so it is not uncommon to participate in the NFT airdrop it is enough to re-share the social posts of the marketing campaign or to make up for sharing requests, such as, for example, inviting several friends to participate in the same airdrop. To receive free NFTs as a result of an NFT airdrop, you need to have a crypto account on one of the best cryptocurrency platforms.
Is it worth participating in NFT airdrops?
In principle, yes, it is worthwhile to participate in NFT airdrops to receive free NFTs to resell on the secondary market. However, experts warn those who do not know the Web 3.0 sector about the possibility of running into real scams able to deprive the user of cryptocurrencies or other NFTs deposited in the wallet.