| | | |
| --- | --- | --- |
| Best overall crypto credit card | | An alternative crypto rewards card |
| | | |
| | | |
Best overall crypto credit card
An alternative crypto rewards card
As cryptocurrency continues to go mainstream and the economy is incorporating crypto into daily spending and transactions — many people are now learning about easy ways to spend crypto.
This has brought about the upsurge in the number of available crypto credit cards, which offer cash back oon spending and purchases, coupled with trading benefits and access to a variety of services at a discount.
If you are new to the crypto space and seeking to invest and earn passively while going about your daily business then this article is for you.
Here are 7 of the best crypto credit cards that you should definitely consider.
The Best Crypto Credit Cards for 2022
We've curated the best crypto credit and debit cards you can use to make life easier. Here are the 7 best crypto credit cards.
Our pick for the best crypto credit card pick is Upgrade:
Disclosure: Please note that some of the links below are affiliate links and at no additional cost to you, I'll earn a commission. Know that I only recommend products and services I've personally used and stand behind.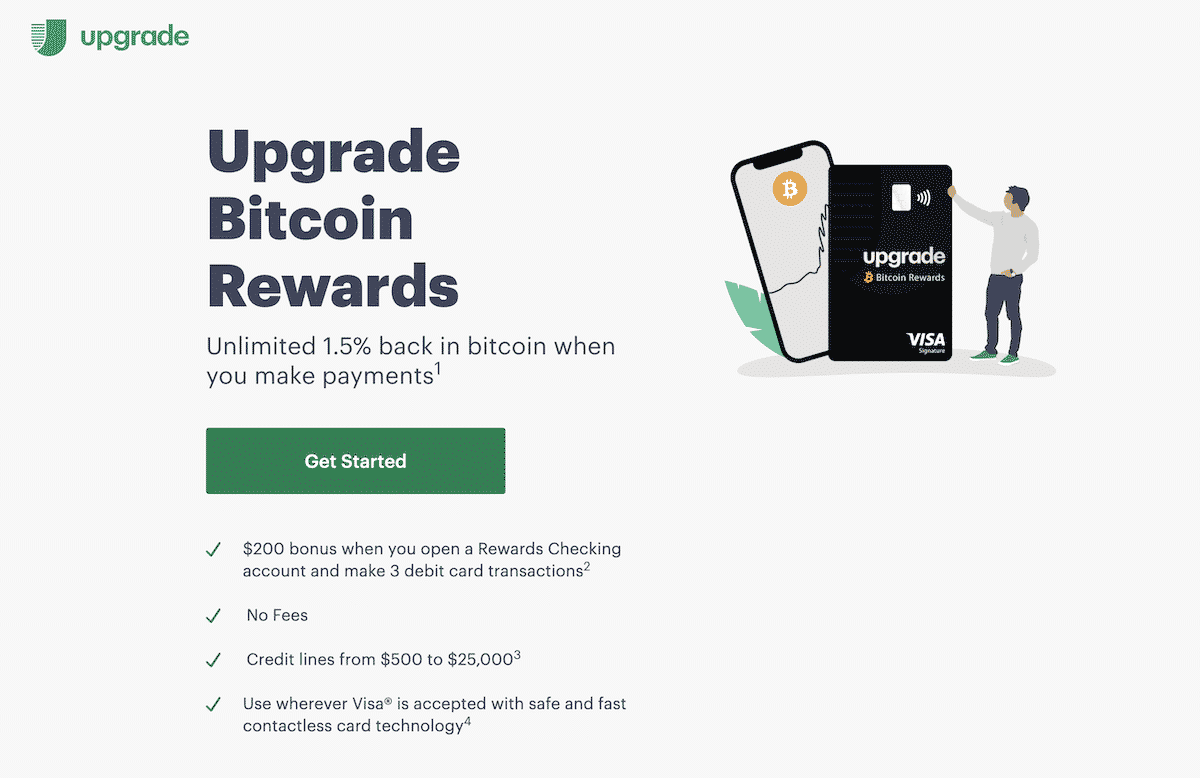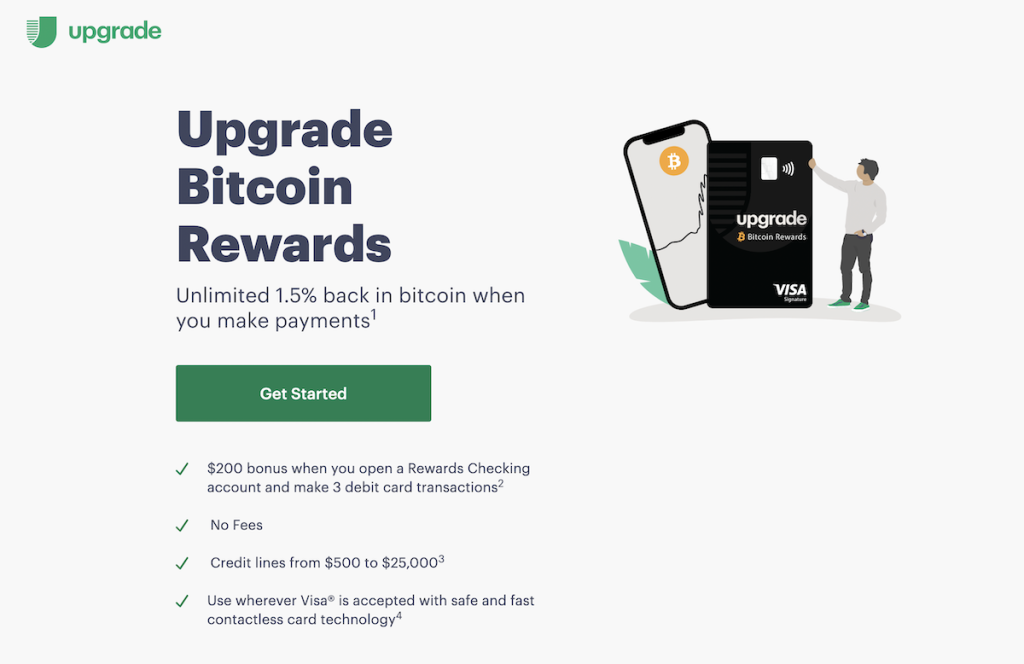 The Upgrade Bitcoin Rewards Visa® Credit Card is one of several credit cards offered by the financial firm Upgrade and issued by Sutton Bank. It serves as a credit card and personal loan all in one, allowing you to make purchases then pay down your balance in equal monthly installments for a set number of months with a fixed interest rate.
That may not be the only distinction: When you make your monthly payments, the card earns 1.5% back in Bitcoin, another among a growing number of credit cards that provide crypto rewards. This card also offers you credit line from $500 – $25,000, depending on your credit score.
Fees
No monthly fees, no foreign transaction fees
1.5% transaction fee when taking statement option by selling Bitcoin
Cryptocurrencies
The card currently supports just Bitcoin.
Rewards
1.5% Bitcoin is earned on purchases made with the card, which is deposited in the NYDIG wallet and can redeem or kept there to accrue value as the price of Bitcoin increases.
Also, membership of this credit card provides users with access to services like Trip & Baggage Insurance, Roadside Dispatch, Purchase Protection, Travel & Emergency Assistance Services, and Extended Warranty Protection.
Availability
Upgrade Bitcoin Reward Visa Card is available to users in the United States, with the exemption of certain states like the District of Colombia, Hawaii, Indiana, Iowa, Louisiana, Nebraska, Nevada, New Hampshire, North Carolina, Washington, West Virginia & Wisconsin.
Pros
---
Percentage Bitcoin back on all purchases
$200 bonus when you open a Rewards Checking account and make 3 debit card transactions
Access to several extra services
Insured by FDIC
Potential Investment as Bitcoin held for 90 may increase as Bitcoin price increases.
Cons
---
The card cannot be used at ATMs
Rewards have limited flexibility
Availability is still very restricted
BlockFi is the first credit card to offer rewards in Bitcoin.
This means that with this BlockFi Rewards Card, you get a particular amount of return on every fiat purchase made in Bitcoin.
The BlockFi credit card emanates from BlockFi, a New Jersey Cryptocurrency exchange company founded in 2018 which offers a crypto savings account, crypto lending and borrowing services to retail and institutional clients.
Fees
No annual fee: Yes, you heard just right.
No foreign transaction fees.
Cryptocurrencies
BlockFi Reward Card currently supports a total of 8 coins.
Cryptocurrency: Bitcoin, Litecoin and Ethereum
Stablecoin: USDT, USDC
Commodity-Backed
USDT is, however, not available to U.S. clients.
Rewards
New members can get a sign up bonus of 3.5% back on purchases up to $100 for the first 3 months of membership (this means you will have to have spent about $2,857 within the first 3 months to enjoy this benefit fully).
This is followed by the 1.5% Bitcoin back on purchases which is a rate offered by Capital One, Chase Freedom Unlimited, and other top credit card issuers.
Heavy spenders can also get 2% back on every purchase over $50,000 annual spending.
These rewards are transferred to the BlockFi Interest Account (BIA), where they accrue daily interests up to 4% compounded monthly.
For instance, this means that Bitcoin cash back of $100 earned in the first 3 months will accrue an additional 4% if held for that period.
Other rewards would include 0.25% back in Bitcoin on eligible trades up to $500 each month and 2% extra on stablecoin holdings up to $200.
Availability
BlockFi Rewards Card is available to U.S. residents (in qualified states) and can be used at any merchant that accepts Visa.
Pros
---
The intriguing sleek metallic build of this credit card is thankfully not the only perks of owing a BlockFi Rewards Card.
Other advantages include:
An initial soft pull on credit does not affect credit score.
Investment backing of Coinbase, SoFi, and Fidelity Investments.
Zero fees on foreign transactions and zero annual fees.
Passive income in the form of Bitcoin back on purchases which increase with market prospect and price.
Extra income on eligible trades and stablecoin holdings.
Cons
---
There are several drawbacks to this card.
A major one would be that the entry bonus rate is low compared to other card memberships that offer up to a $200 bonus for spending $500 in the first month.
Other drawbacks are:
Money deposited is not SIPC and FDIC insured.
Volatility of cryptocurrency.
Inability to take advantage of price action during the month as rewards are redeemed at the end of a billing cycle.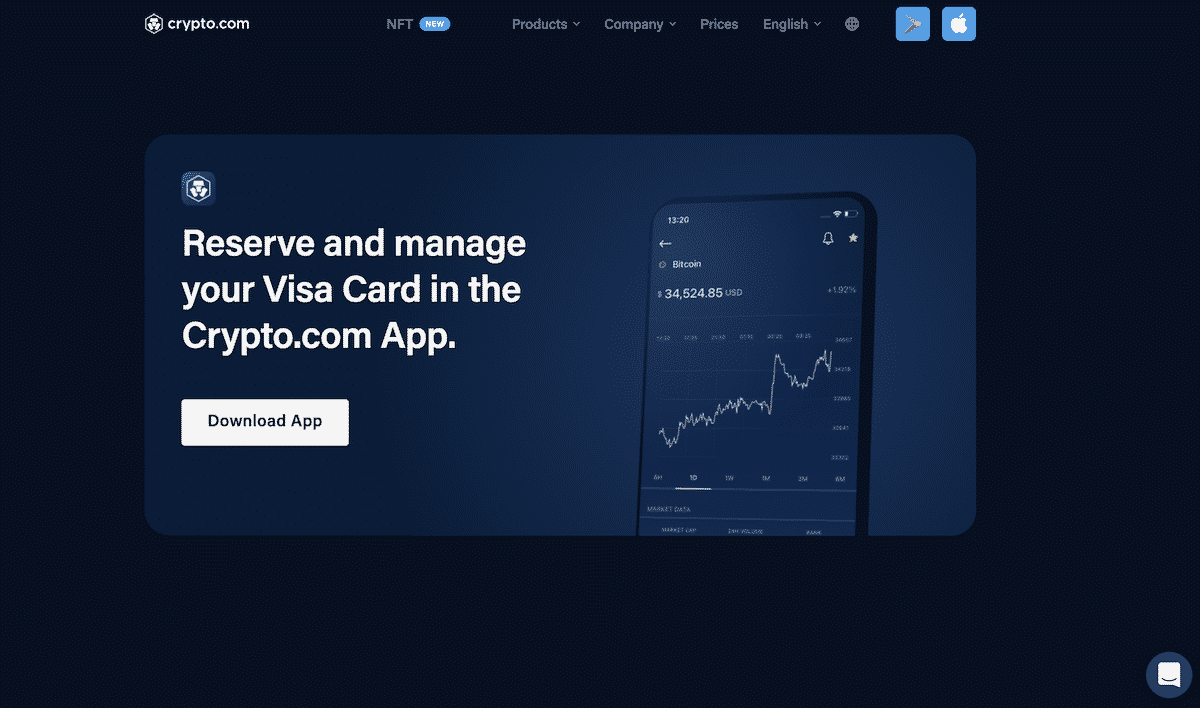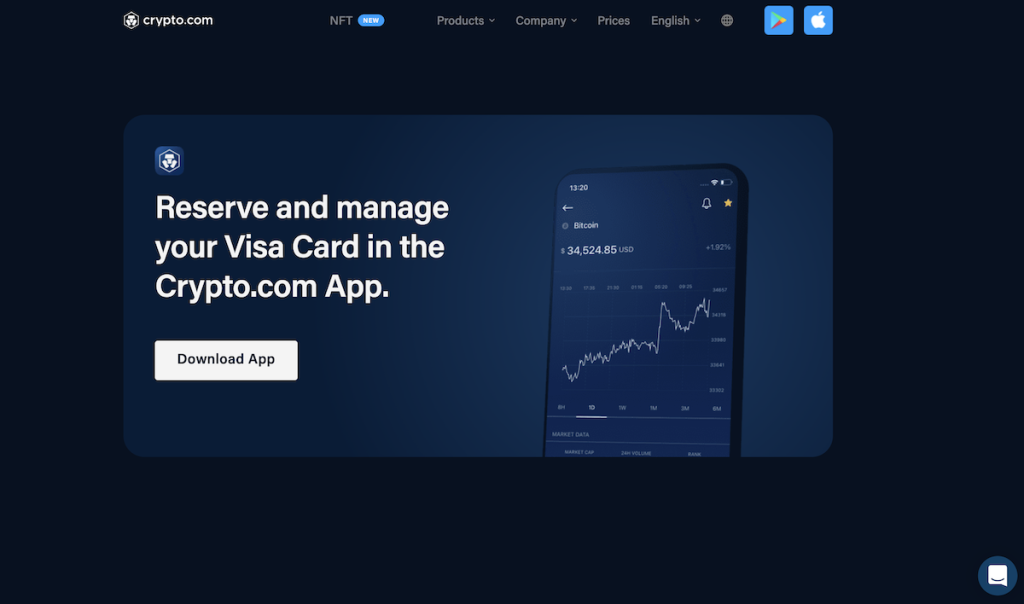 The Crypto.com Visa Card is a prepaid card made for holders of cryptocurrency that want to transact fluidly between fiat and cryptocurrency.
This comes with the added advantage of purchase rebates in the form of CRO tokens (which is the official token of the exchange) and other rewards such as free access to services such as Netflix, Spotify, Airport lounge access among other things.
Fees
No monthly fees, delivery fees, or ATM fees
Trading fees: 0.4% taker & maker fee on trading volume of $0 – $25,000
Cryptocurrencies
A card from Crypto.com currently supports a total of 7 coins:
BTC
ETH
LTC
XLM
EOS
Paxos Standard
TrueUSD
This was updated in July 2021 on the company's blog, which added 17 new supported Cryptocurrencies for card top-up.
Rewards
The perks on the card from Crypto.com which include purchase rebates, reimbursement on subscriptions, and access to premium services, are determined by the card tier of the user.
Below are the tiers, staking fee, card limit on ATM withdrawals (per month), and rewards:
Midnight Blue: $0 stake, 1% rebate, $200 withdrawal limit
Ruby Steel: $400 stake, 2% rebate, $400 withdrawal limit
Royal Indigo & Jade Green: $4,000 stake, 3% rebate, $800 withdrawal limit
Frosted Rose Gold & Icy White: $40,000 stake, 5% rebate, $1000 withdrawal limit
Obsidian: $400,000 stake, 8% rebate, $1000 withdrawal limit
These cards attract an additional 2% card on withdrawals above the limit and access to other rewards like Spotify, Netflix, Amazon prime, Airbnb, Airport lounge access, bonus reward, Private Jet partnership, and exclusive merchandise welcome pack depending on your card tier.
Availability
Crypto.com Visa Card is available to users in the United States, Europe, United Kingdom, Canada, Australia, and Asian-Pacific regions.
Pros
---
Percentage Bitcoin back on all purchases
Interest back on all CRO staking
Fiat and Crypto option top-up and withdrawal
In-app option to change pin and freeze card in case of loss
Cons
---
It is expensive. You would have to stake at least $400 to get actual benefits from the card.
There is not a reversal on top-up.
Notifications are heavy and can choke up relevant information.
Transactions on this card does not affect your credit score, which can be a disadvantage to those who would have preferred an impact of their daily transactions on their credit score.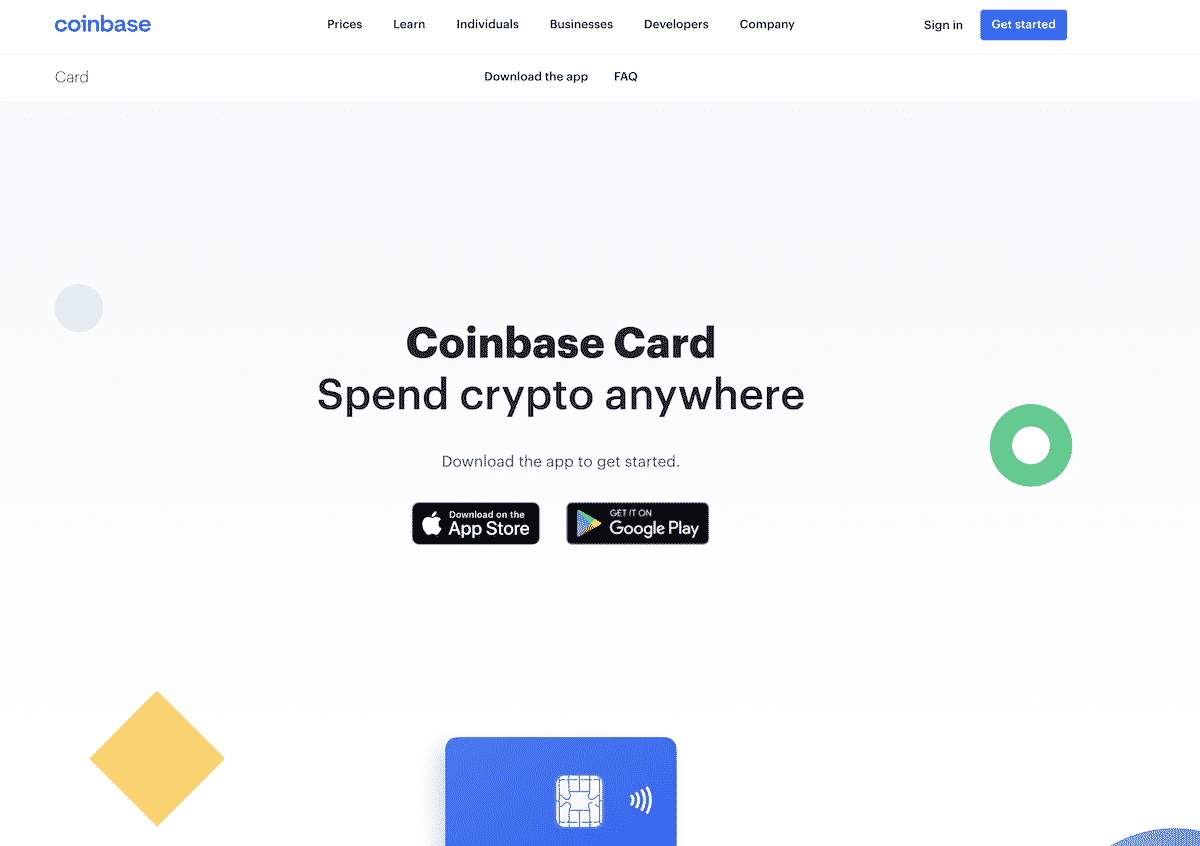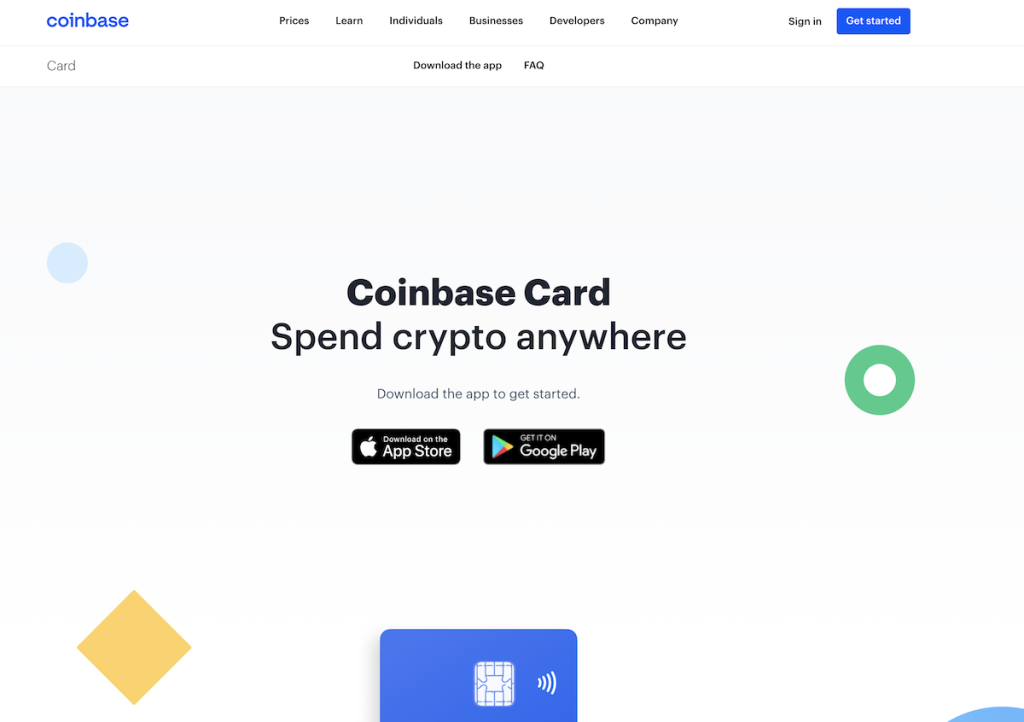 This is a Visa debit card from the Coinbase crypto platform that connects to your Coinbase wallet, allowing users to earn and spend Cryptocurrency when they make purchases.
The Coinbase Card is a Visa debit card that may be used at any Visa-accepting payment terminal, online checkout, or ATM.
Fees
No Annual Fee
Coinbase charges a flat 2.49 percent transaction fee.
The company also charges a 2.49% crypto liquidation fee.
Cryptocurrencies
This Card supports multiple cryptocurrencies held in your Coinbase Wallet.
Right now, users can hold:
BTC
BCH
ETH
LTC
XRP
BAT
REP
ZRX
XLM
Those in the United States, fortunately, can spend any cryptocurrency in their Coinbase Wallet.
Rewards
This card offers Security. Security is at the heart of everything Coinbase does, and their debit card is no different.
Bank-level security, revolutionary blockchain technology, 256-bit encryption, bespoke authentication methods, and superior fraud protection are all on the table for customers.
With the Coinbase Debit Card, cardholders may earn up to 4% back on all purchases.
Availability
Customers in roughly 30 countries, including the United Kingdom and Europe, can get a Coinbase debit card.
Pros
---
Earn up to 4% back on all purchases
Spend your Crypto instantly
Easily choose which Crypto you want to spend
Can earn rewards in multiple crypto assets
Worldwide acceptance
Mobile App enables you to easily monitor spending, track your balance and use your debit card with ease.
Cons
---
2.49% Cryptocurrency Liquidation Fee
Since it is a debit card, it does not offer the consumer protections that a credit card does.
5. Nuri Visa Debit
Update: Nuri filed for insolvency on Tuesday 9 August 2022. Nuri's partnership with Solarisbank AG means your deposits are safe and you are still able to access any funds held in your Nuri account. This includes Euro deposits, cryptocurrency funds and Nuri Pot investments. You will be able to continue to deposit and withdraw funds at any time.

Please see Nuri's FAQ page for more information.
This is a prepaid debit card linked to your Nuri Euro bank account. Only the Euros on your account can be spent using the card.
It would help if you first exchanged Bitcoins for euros before using this debit card to spend Bitcoin. This will keep your Bitcoins safe, but there are other Bitcoin Credit Card choices as well.
Nuri provides the ideal Bitcoin debit card for making secure and quick payments; for instance, when you sell Bitcoin to Nuri, the Euros equivalent to the bitcoin is credited to your current account.
Once the Euro has been deposited into your bank account, you can spend it using your debit card.
Fees
There are no monthly fee charges.
There are no fees for ATM withdrawals.
Nuri's only fee is for each BTC and ETH transaction completed within the Nuri account. This fee is 1.00% plus the network fee.
Availability
Nuri is available for the European Economic Area residents, which includes Switzerland and the U.K., and accepts identification documents of over 70+ nationalities.
Cryptocurrencies
Rewards
Customers receive a € 50 bonus they open a Nuri account or for using the Visa debit card.
This Card grants customers access to funds online via a mobile app.
Pros
---
You can make fee-free cash withdrawals anywhere in the world up to a maximum of €3,000.
No card fees
Trading charge of 1%
Cons
---
Supports BTC and ETH only
Uses email as its channel for client support.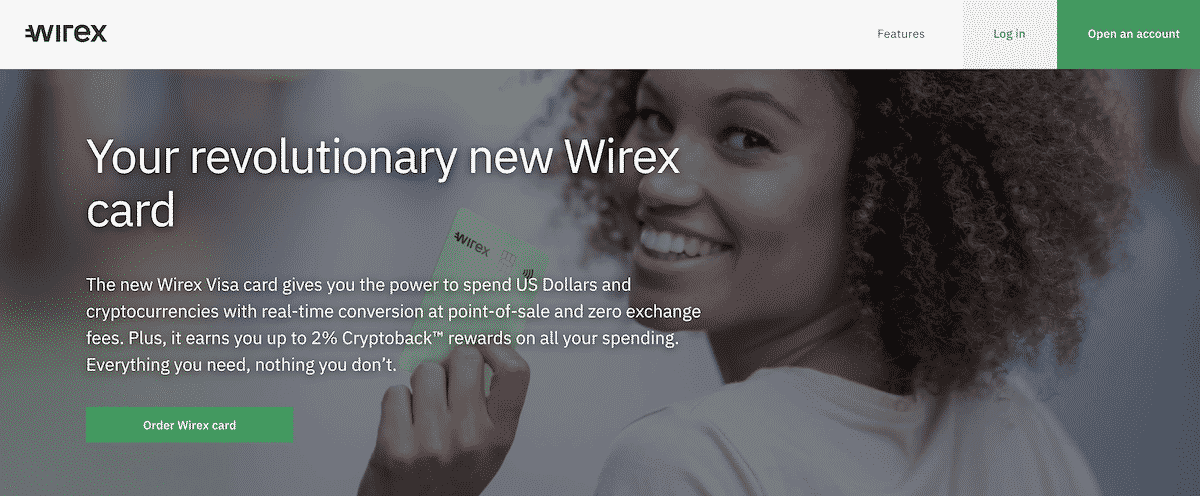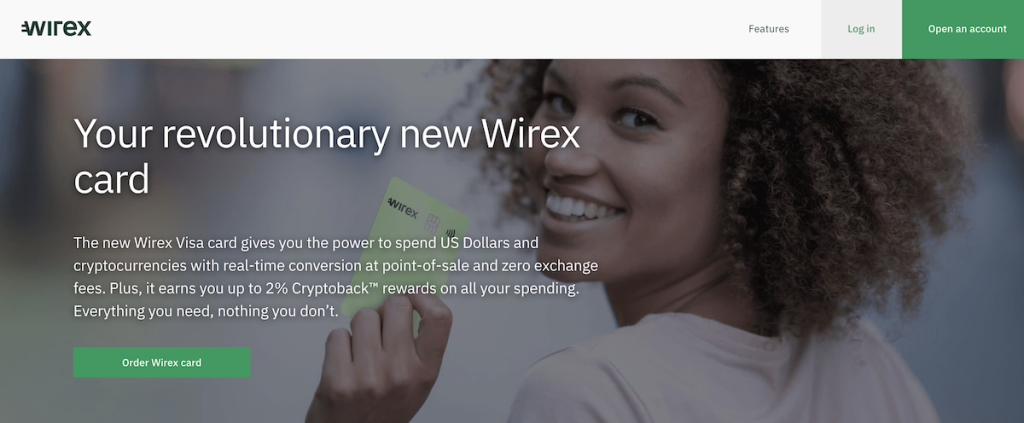 This is a Mastercard that customers can use anywhere. This is of great benefit because Mastercard (and VISA) are the most accepted cards globally.
It was the second cryptocurrency company to join Visa as a primary member, and the Card was formerly a VISA card.
Wirex could expand its business by issuing Visa cards, providing related financial services, applying for additional licenses, and providing payment services to clients who use that identification to pay at Visa merchants.
Fees
No monthly fee.
No issuance fee.
An ATM-usage fee of USD 2.50 per withdrawal.
No domestic transaction fees
Availability
Wirex is available in 40 countries, including Australia, New Zealand, and most of Europe.
Cryptocurrencies
BTC
DOGE
ETH
LTC
NANO
XRP
XLM
UNI
WAVES
WHO
Rewards
Crypto cashback is a rewards program offered by Wirex. You can get up to 1.5 percent cash back when you use your Wirex Card at any retailer.
Pros
---
For all in-store transactions, you can earn up to 1.5 percent cash back.
Quick notifications about your Card.
Over 150 fiat and cryptocurrencies are accepted.
Account funding is simple.
Fees are subsidized.
Cons
---
Rewards are modest.
Exchanging Cryptocurrency for fiat currency is expensive.
To receive the highest perks and rewards, users must stake a proprietary token.
Japan, the United States, and a few other big countries do not have it.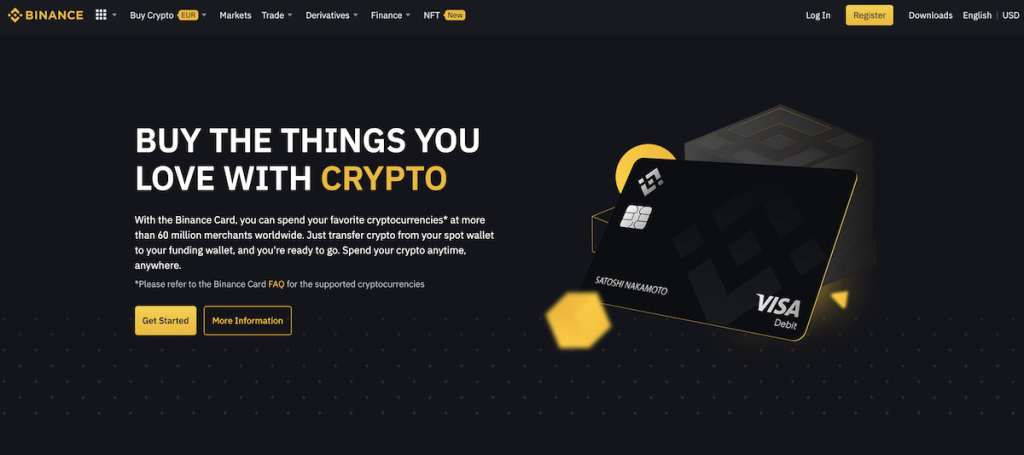 The Binance Card serves all of the features of a regular payment card, as well as many others.
It works in the same way that a standard debit card provided by your bank — in this example, your Binance.com account — does.
Load funds onto your Card in the form of Bitcoin or BNB using the Binance Card App, and you're ready to go.
Fees
The Card is completely free.
Customers only have to pay 15 USD as a first-time compulsory top-up fee.
Availability
The Card is currently supported in selected European countries, which includes: Aruba, Austria, Belgium, Bulgaria, Croatia, Curaçao, Republic of Cyprus, Czech Republic, Denmark, Estonia, Finland, France, French Guiana, Germany, Gibraltar, Greece, Guadeloupe, Hungary, Iceland, Ireland, Italy, Latvia, Liechtenstein, Lithuania, Luxembourg, Malta, Martinique, Mayotte, Netherlands, Norway, Poland, Portugal, Reunion, Romania, Saint-Martin, Sint Maarten, Slovakia, Slovenia, Spain, Sweden.
Cryptocurrencies
Rewards
The card rewards your account with up to 8% cash back on eligible purchases.
Pros
---
Over 50 Cryptocurrencies are available.
Low spending fee.
Around 60 million merchants worldwide accept it.
Option for automatic top-up is available.
There are several active support platforms.
Cons
---
To qualify for the 8% cashback, you must spend an average of 6000BNB.
To receive higher rewards, one must wait until the end of the month.
Best Crypto Credit Cards Summary
From varied membership prices to different perks, functions, usage, and availability, selecting the right crypto credit card that best satisfies your spending limits and risk profile can be tasking but finding that right one will bring you into a world of financial possibility.
We look forward to market breakthroughs even as we anticipate the new ways that companies create utility for Crypto credit cards.
What is a Bitcoin credit card?
Bitcoin credit cards do not exist. What is available are Bitcoin Debit cards. Bitcoin Debit cards let individuals make online transactions, purchases, or withdraw cash in person from ATMs, even if the vendors and ATMs do not accept Bitcoin.
How do I get a Bitcoin card?
the bitcoin card. You open an account with your chosen company and purchase the Card (Wirex, Coinbase, Bitpay, or Cryptopay).
What credit cards allow Bitcoin purchases?
Amex EveryDay® Credit
Alliant Cashback Visa® Signature Credit Card
Cash Magnet® Card from American
USAA Preferred Cash Rewards Visa Signature
Blue Cash Everyday®
Best Online Brokers Of September 2022
| | | |
| --- | --- | --- |
| Best for commission-free trades | Best for automatic investing | |
| | | |
| | | |
| Promotion: free stock worth up to $225 | Promotion: $20 sign up bonus | Promotion: $10 sign up bonus |
| | | |
Best for commission-free trades
Promotion: free stock worth up to $225
Best for automatic investing
Promotion: $20 sign up bonus
Best micro-investing app
Promotion: $10 sign up bonus