Grant Cardone, is an American author of The 10X Rule and Sell or Be Sold, was dubbed by Forbes the #1 Marketing Influencer in the World, and has a net worth of $350 million.
Caught your attention?
Today we will go over a Grant Cardone University Review. We are here to make it easier for you to figure out if the Cardone program is suitable for you or not.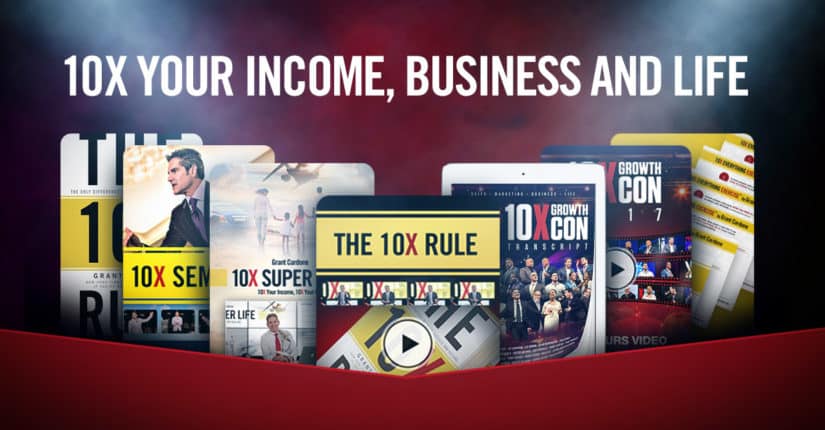 We know how difficult it can be for you to access the best courses on leadership and sales. That's why a lot of people recommend the Grant Cardone University.
Want free money?
Aspiration: Want to get spotted a $100 for free? Simply sign up for Aspiration, and the free banking app will give you cash for free, you just relax while it gives you $100 just for opening a new debit card. There's no catch, just use your card to make at least $1,000 in cumulative transactions within 60 days of opening an account. This bank account is legit and only takes two minutes to sign up for an account.
But is Cardone University worth it or not for you?
Let's find out!
What is the Grant Cardone University?
This is a sales training platform that has a plethora of different interactive video content segments. These are created by Grant Cardone, one of the major marketers that you can find in the online world nowadays.
Despite this being a sales training platform, you don't learn only about sales. You also learn about how you can be more creative, you learn about success, being a leader and a successful person in the long run. All the little details count when it comes to growing as an entrepreneur, but you need the right guidance if you really want to achieve success.
And that's where the Grant Cardone University comes into play and it can indeed pay off immensely if you do everything right. Click here to what other classes the Grant Cardon University offers.
CLICK HERE FOR 40% OFF ANY COURSE
Who is Grant Cardone?
Grant Cardone was born in Lake Charles, Louisiana in March 1958. Cardone is a real estate mogul who built his $566 million portfolios of multifamily properties from scratch.
Before making his first acquisition, Cardone spent several years consuming as much information as he could on the subject of real estate.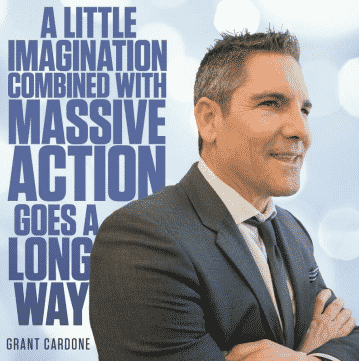 Grant Cardone Net Worth: How Much Has He Made?
Are you wondering how rich Grant Cardone is, and how he stacks up against the richest people in America?
Well, as of March 2018, according to Forbes, the top 15 billionaires are the following.
You can click here to see the rest of the richest people in America list.
Grant Cardone's net worth is $300 million. Not too bad…
Grant Cardone University
---
Games that pay you to play. Yes, we're serious.
These 3 apps will pay you to play games on your mobile device:
Mistplay (Android) - If you have an android device, you can download this app and start getting cash rewards for playing new games.
Solitaire Cube (iOS) - Earning money by playing games on your phone sounds like a dream. But this app really pays you for playing solitaire with cash rewards.
Lucktastic (Android) - This free app offers the same daily scratch-off cards that you find at your local convenience store — but here you can play for free and win real money.
---
During our Grant Cardone University review, we noticed that there are some important modules you can find here. Handling objections, personal finance, internet lead response, traits of great sales people, ways to stay motivated, prospecting, follow up, incoming calls, closing strategies and the theory of closing, the sales process, understanding the buyer and selling basics are some of the most interesting options for you to focus on here.
The best part about these modules is that you don't have to focus on learning all of them. You can easily go in there and pick the one you like the most. Our Grant Cardone University review shows that the information you acquire here is diverse and to the point. We liked the fact that you are encouraged to take action and not slack off on the info that you get. Stuff like this really motivates you and it makes it easier for you to enjoy life in ways you would not imagine. The possibilities are limitless here, and that's maybe the nicest thing about the Grant Cardone University. You have all the information right in front of you, now it all comes down to you to use it the way it was intended if you want amazing results and benefits from it.
CLICK TO SEE THE CHEAPEST COURSES
Grant Cardone University Modules
Selling Basics (28 Courses)
Understanding the Buyer (29 Courses)

The Sales Process (73 Courses) Theory of Closing (42 Courses)
Closing Strategies (106 Courses)
Incoming Calls (22 Courses)
Prospecting (30 Courses)
Follow-Up (132 Courses)
100 Ways to Stay Motivated (101 Courses)
Top Traits of Great Sales People (65 Courses)
Internet Lead Response (23 Courses)
Personal Finance (21 Courses)
Handling Objections (322 Courses)

And More Content Being Added Every Week!
Are there bonuses?
Just like any other program similar to this, Grant Cardone University does have bonuses. You have 2 bonus programs which are actually very professional and convenient to browse through. These are the mastermind group and Mastering the Cold Call. The first one has 52 weekly coaching sessions, while the latter one has 60 online videos. So there's certainly a wealth of content there and it's well worth the entry costs.
How Much Does the Course Cost?
Entering the Grant Cardone University costs you a little under $5000. Normally it costs around $19800, so it's certainly not cheap. Whether you can afford it or not, that's definitely a personal perspective. But they did create a very impressive set of courses with lots of content in there. While many online universities are less expensive, the benefit here is that you have control over what you learn and you can easily start all the courses at once if you want. You can only get a full year at a time, and there are no additional discounts that you can access to slash the price even further.
Normally the Grant Cardone University is a very good sales training course, and it does even more than that to begin with. The challenge that comes from this Grant Cardone University review process is that it doesn't matter what you learn, it all comes down to the way you apply it. And that's the most important aspect behind all of that. It's very efficient, distinct as long as you start using the notions you acquire. If you don't do that, then you won't have to worry about any problem like this.
It's something very tricky that you can rarely find nowadays. But the reality is that it does work very nicely as long as you know what you are getting into with stuff like this.
LEARN MORE ABOUT CARDONE UNIVERSITY
Grant Cardone Sales Training: How Much Is It?
The sales training university has over 1000 online lesssons, 24/7 on-demand access and full test and certifications. You can see the different courses and prices in the photo below.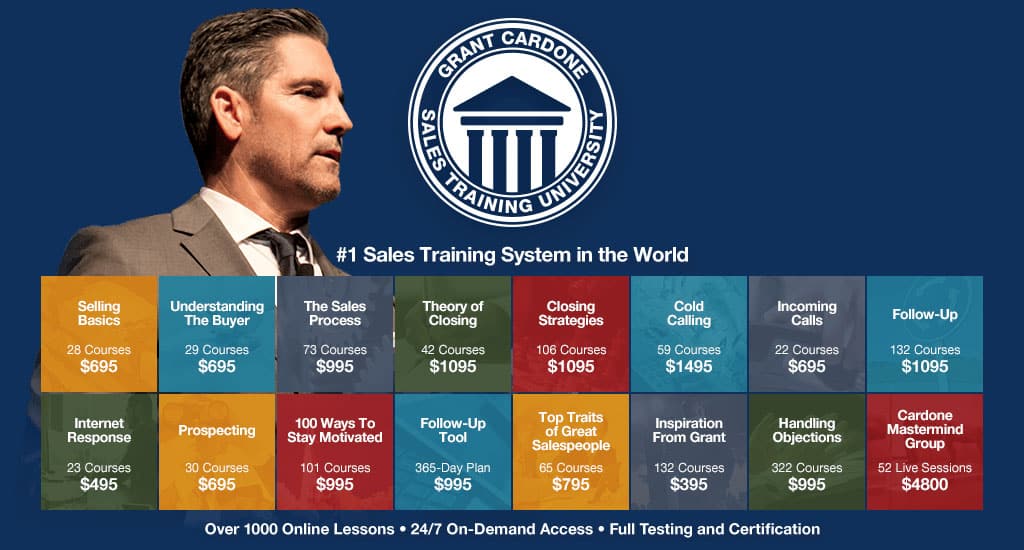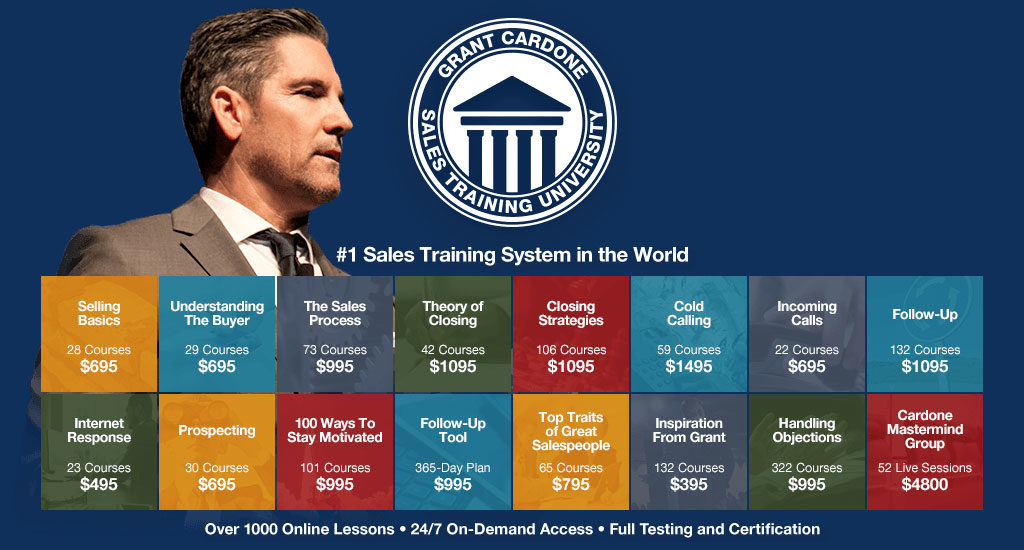 Pros & Cons of Grant Cardon University
Benefits
You get practical information that you can apply in real life and make a lot of money.
The course shows exactly what you need to do and how the process works
It includes the best sales training information out there.
Downsides
The sales methods are very aggressive
You have a lot of content to go through, and if you don't apply what you learned it will be all for nothing.
CLICK HERE FOR 40% OFF ANY COURSE
The Verdict: Is Grant Cardone University Worth It?
One thing we learned from our Grant Cardone University review experience is that you can always do wonders as long as you dedicate yourself to the process and work hard to achieve your goals. This is not a course that will hold your hand all the time. It does that in the beginning, but the more hard work you place into it, the better the results will be in the end. Adaptability is key when it comes to this, and that's why the entire process is so unique and exciting at the same time.
What you will enjoy about the Grant Cardone University is that it has a wealth of content and it receives constant updates. It's definitely going to take a while to get into it and the sales methods are a bit aggressive. But if you're a sales person or an entrepreneur that needs lots of guidance, then this is one of the best courses for you. It's efficient, reliable and it definitely delivers all the value you want. The price might be on the high side, but it's worth it considering the wealth of info you get here!
Want free money?
Robinhood is a free investing app for your phone. I really mean free all around – free to join and they don't charge any fees to buy or sell the stock. You can get a share of stock like Apple, Ford, or Sprint for free when you join through this link. The value of the free share may be anywhere between $2.50 and $200 and fluctuates based on market movements. You've got nothing to lose.