CreditWise compensates us when you sign up for CreditWise using the links we provided.
For most people, credit scores are a number they struggle with throughout their lives. Did you know that only 21% of the population has a FICO credit score over 800?
There are many services out there that can help you with improving your credit score, but not all of them are free. CreditWise from Capital One offers several ways to tackle your credit for free.
Our CreditWise guide includes a list of helpful features you can use to help you monitor and improve your credit score, a step-by-step guide to signing up, and comparisons to other credit monitoring services.
Are you ready to see what CreditWise can do for you? Let's get started!
What is CreditWise
CreditWise from Capital One is a free credit monitoring tool that offers personalized suggestions to help you improve your credit score at the same time. Like many of the best credit score apps, CreditWise requires you to create an account, but you don't have to be a Capital One customer. 
You do, however, need to be over the age of 18 with a valid social security number that can be matched to a credit profile from the TransUnion credit bureau. CreditWise keeps your personal information secure and protected by 256-bit Transport Layer Security (TLS) protocol, which helps prevent unauthorized transfers and simply signing up for CreditWise doesn't negatively impact your credit.
How to Use CreditWise
Most CreditWise members use this free tool to monitor their credit report, learn how they can improve their credit score, and stay connected to changes in their credit report that can help them detect potential fraud and similar threats.
CreditWise can be helpful if you're unsure how to pay off credit card debt, figure out if a short-term loan could help you improve your score, or even determine which credit score range your score fits into.  
CreditWise uses your VantageScore 3.0, powered by TransUnion and leverages Experian to provide dark web monitoring. This free service monitors the dark web for your personal information to alert you of potential threats.
You can also use CreditWise from Capital One in conjunction with the free credit reports you're entitled to by law. Access these reports at AnnualCreditReport.com to stay on top of your credit score. 
CreditWise Features
CreditWise incorporates updates to your credit score up to weekly (if users log in that often) and tracks your score over time to give you a bigger-picture view of your progress.
Let's take a closer look at what other features CreditWise from Capital One offers.
Signing Up
Creating a new account with CreditWise doesn't take more than 10 minutes at most. You can either sign up online through CreditWise directly or navigate to the option from your Capital One mobile app.
You'll be prompted to enter your first and last name, as well as your email address.
Enter your phone number to begin the phone and identity verification process.
Next, you'll need to enter your home address, as well as your birth date and social security number.
Agree to the Terms and Conditions as well as the Privacy Policy to continue.
Send a code to your phone to validate your identity. Be sure to enter it within five minutes as the code does expire.
Now it's time to create your account officially! Enter a username and a password.
Congratulations, your new CreditWise account has officially been created! Wait for the site to retrieve your credit score for your review.
Credit Score Report Breakdown
Your home page will show you your recent VantageScore® 3.0 credit score from TransUnion. at the top, with a bar showing how close to 850 your score is. As you can see from the screenshot, the date of your last credit score update will be shown as well.
Scroll down the page slightly to view the various factors that may affect your credit score. CreditWise names these categories with its own terms, but they mirror the six most common factors that affect your credit score.
The first factor you'll see is on-time payments, which reflect your payment history. On-time payments are the largest factor affecting your credit, so it makes sense that it's first on the list.
Next is your oldest credit line, which establishes your credit history. The longer you've had credit, the more experienced you are, which is positive in the eyes of a lender.
Credit used will vary depending on your financial situation. Suffice it to say that a credit utilization rate of over 30% will negatively impact your score but it is sometimes necessary given the right circumstances.
Recent inquiries and new accounts are next, which help to show you're using credit regularly. Available credit relates to your credit usage percentage as it shows lenders how much debt you have compared to your credit limit.
Underneath the names of each factor, you'll see a rating. This particular example credit profile includes the entire range, from below average and average to good and excellent.
TransUnion Credit Report
Just above the "What Affects Your Credit?" section, you'll find a link to "Your TransUnion Credit Report." Click this to see a summary of your accounts and balances.
Click on "Accounts & Balances" near the top of the page for more details. Choose a lender to see more details about that account, including a history of how many on-time payments (denoted with a green "C" for current") you've made over the life of the entry.
Under "Remarks," you'll also see notes such as "Inactive account" or "Canceled by credit grantor." Most often canceled cards are due to inactivity.
Improve
Head over to the "Improve" tab to see how you can improve your score based on CreditWise's suggestions. Here are four suggestions CreditWise offers based on the example report.
In summary, the four most impactful factors that affect this example score are:
1. Lack of account history compared to others with similar credit
2. High balances on loans compared to the credit limits
3. A high balance of total debt
4. No real estate accounts present
Each factor also includes suggestions on ways to improve that particular area. Paying down debt and acquiring a mortgage loan could help this fictional credit profile, but in terms of account history, it's just a matter of time.
Credit Score Simulator
Navigate to the "Simulator" section under "Improve" to play the hypothetical. You can choose from factors such as making on-time payments for a certain length of time, increasing credit limits on a card, borrowing money to buy a house, or even allowing an account to become delinquent.
For example, let's say you need cash now and want to take out a personal loan to build credit. You would enter that in the appropriate line and then click "Simulate."
Activity
As we mentioned previously, CreditWise updates weekly (if the consumer logs in that often). Though you cannot retroactively access your credit score after creating your CreditWise account, keeping it open for a few months can help you understand how your efforts are affecting your score, either positively or negatively.
Alerts and Dark Web Scanning
As new alerts appear, you'll see a red circle with a number in it in the "Alerts" tab.
Use this feature to view any alerts from CreditWise regarding credit report changes, dark web activity, or use of your social security number. One of the best credit card safety tips is to use this Alert function to help track potential issues with your credit report.
You'll be notified of these alerts via the app as well so you don't miss any critical notifications.
For You
When you first open a CreditWise account, it can take a minute before you see anything under the "For You" tab. As the site states beneath the tab, this section is for "products and topics focused on your credit journey." 
You can also see recommended blog posts beneath these offers that can guide you toward improving your score. These posts correspond to the main suggestions for improvement you saw under the "Improve" tab.
Advantages of CreditWise
Many people have used CreditWise to help them improve their credit score for a better financial future. Here are many of the perks associated with using CreditWise:
A detailed explanation of credit factors
Free credit score simulator with real-life factors
Suggestions for improving your credit score
Exceptional customer service
Free TransUnion report (doesn't replace the free report you are eligible to receive each year without negatively affecting your credit)
Intuitive dashboard
Plenty of educational tools and resources
The best part about CreditWise is that you can sign up for an account for free without any commitments. If you end up choosing not to continue with the service, simply cancel your account.
Disadvantages of CreditWise
Unfortunately, CreditWise does lack a few features compared to other credit monitoring apps and websites, such as:
No identity insurance
Doesn't include reports from all three credit bureaus
You cannot dispute credit report errors through the CreditWise site
All things considered, CreditWise still offers several key benefits that make it a favorite among those looking to understand their financial situations.
CreditWise Alternatives
CreditWise isn't the only tool available when it comes to monitoring and improving your credit score as well as checking for potential threats. Here are a few other CreditWise competitors:
With so many credit-monitoring apps and sites to choose from, you're sure to find a partner to help you build your credit.
FAQs
Gain Credit Knowledge with CreditWise from Capital One
Credit scores may tell us a lot about our financial habits, but both things can change with the right mindset. If your goal is to improve your credit score, there are plenty of ways you can use CreditWise to take that critical first step in the right direction.
Maintaining a positive credit score can take a lifetime of struggling, but with Capital One's CreditWise, you've got an ally on your side. Use CreditWise to monitor your credit report, identify threats ahead of time, and help improve your credit score to potentially save thousands down the road.
We hope you've found this CreditWise review helpful in figuring out how you can use the CreditWise tool to help improve your score without paying any fees. We've got a ton of other resources to help you get ahead when it comes to personal finance, so stick around and see what else you can learn.
Disclosures
The CreditWise score is calculated using the TransUnion® VantageScore® 3.0 model, which is one of many scoring models. Some monitoring and alerts may not be available if your enrollment information does not match the information at one or more consumer reporting agencies. 
Alerts are based on changes to your TransUnion and Experian® credit reports and information CreditWise finds on the dark web. 
The CreditWise tool is not guaranteed to detect all identity theft. 
The CreditWise Simulator provides an estimate of your score change and does not guarantee how your score may change.
Best for luxury benefits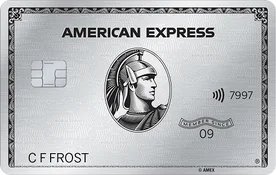 The Platinum Card® from American Express
INTRO OFFER: Earn 80,000 points (worth $1,600)
Earn 5X Membership Rewards® Points for flights booked directly with airlines or with American Express Travel up to $500,000 on these purchases per calendar year.
Earn 5X Membership Rewards® Points on prepaid hotels booked with American Express Travel.
Apply Now