Oh, my word. Looking for a sign up bonus? If so, you're going to love this list of the best sign up bonus offers that allow you to sign up for money and app bonuses.
Just take a look at the list and see which ones interest you and you'll receive a free sign up bonus ($5, $10, $25, $50, $100 and even up to $200 in free money) when you complete qualifying activities or requirements.
15 Best Sign Up Bonus Offers
Learn how to get free money for signing up for these sign up bonuses. Your wallet will thank me later.
1. Acorns – Investing App – $5 $20 Bonus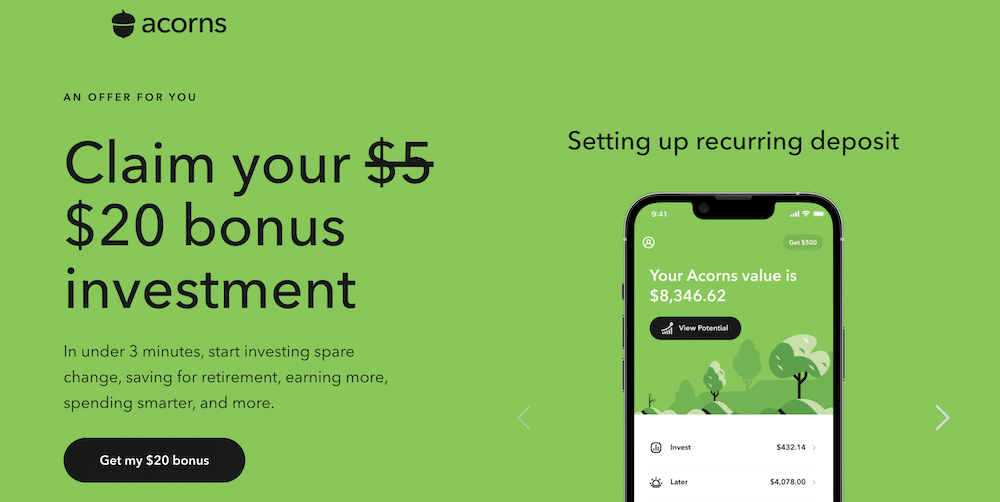 Acorns $20 Bonus Link – Acorns can help you invest, save and spend responsibly. Join now, invest regularly, and get a $20 bonus instead of the usual $5.
Acorns stands out as one of the most popular investing apps. Its innovative "round-up" feature transforms your spare change into meaningful investments over time. For just $3 a month, the app will easily set you up smart portfolios tailored to your pace, ensuring optimal growth (all in under 3 minutes).
Beyond investing, Acorns boasts a versatile checking account, mirroring the essentials of a conventional bank. This includes direct deposit, mobile check deposit, and a debit card suitable for both you and your young ones. Moreover, gain access to over 55,000 Allpoint ATMs globally, with zero withdrawal fees.
Ready to amplify your savings and join over 10 million sign-ups? Join Acorns by clicking the button below and snag a $20 bonus when you establish recurring investments.
Join now & claim your $20 bonus
2. KashKick – Rewards Site – $1 Bonus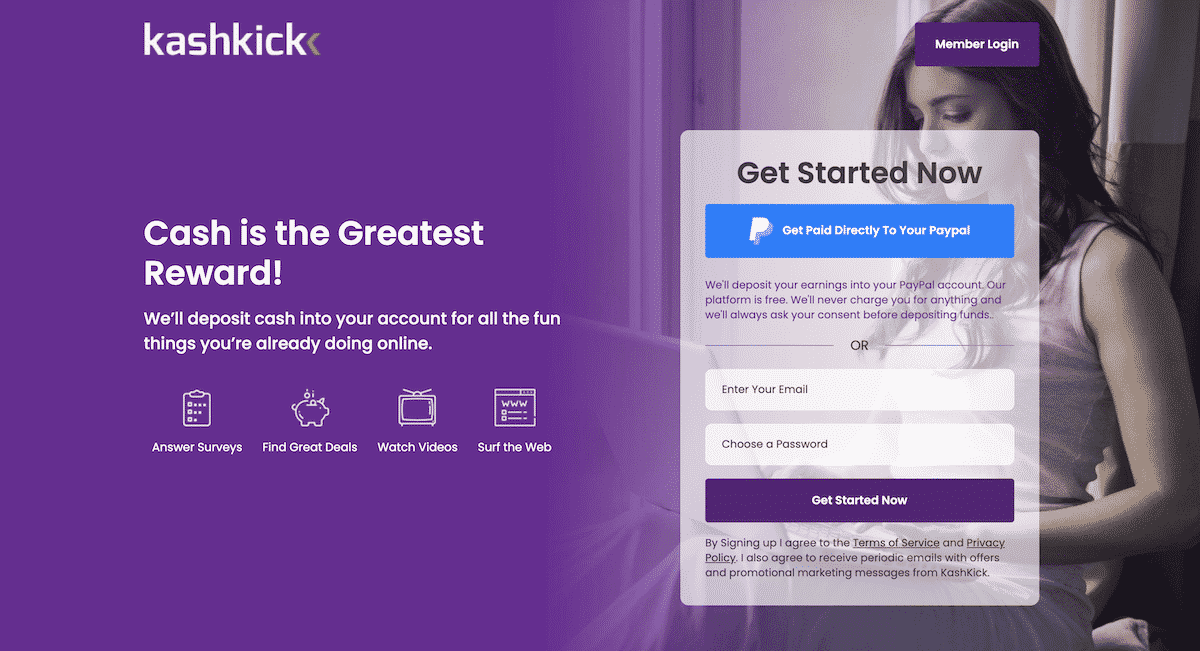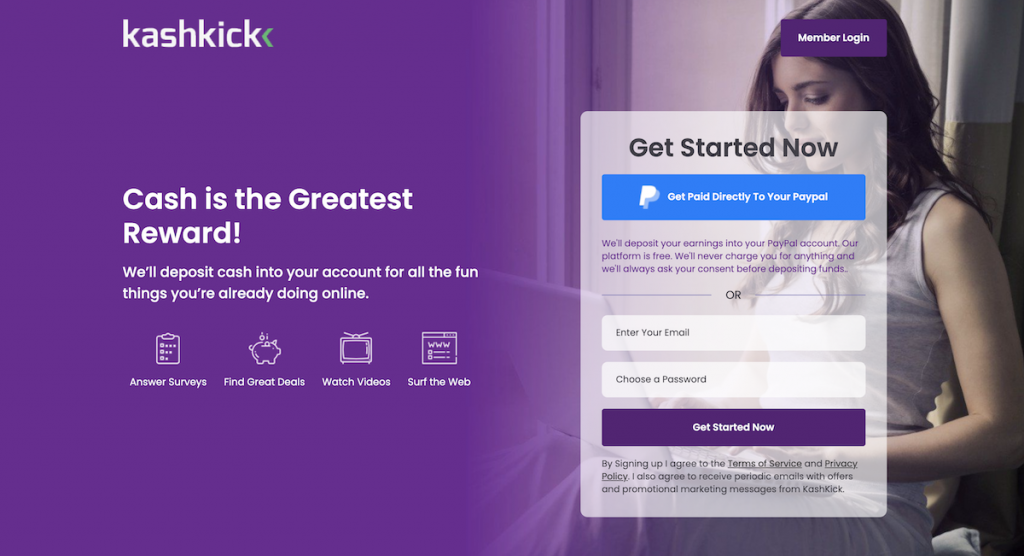 KashKick $1 Bonus Link – KashKick helps you earn real cash by finding great deals, playing games, answering surveys, and more! Get a $1 bonus when you sign up and complete your profile.
Ranked as one of the best games that pay money instantly, next we have KashKick. KashKick will pay you $100s+ per app to play games like Coin Master, Monopoly GO and more!
Not just that, you can also make money fast by trying new products and services, watching videos, answering surveys, and even simply reading emails.
The best part? As soon as your balance hits $10, you can cash out through PayPal. Over 2M users are making money the easy way.

Ready to start earning real cash? It's an easy sign up through here and complete your profile to earn a $1 sign up bonus and start earning for FREE!
Sign up for KashKick and get $1
3. Swagbucks – Rewards App – $10 Bonus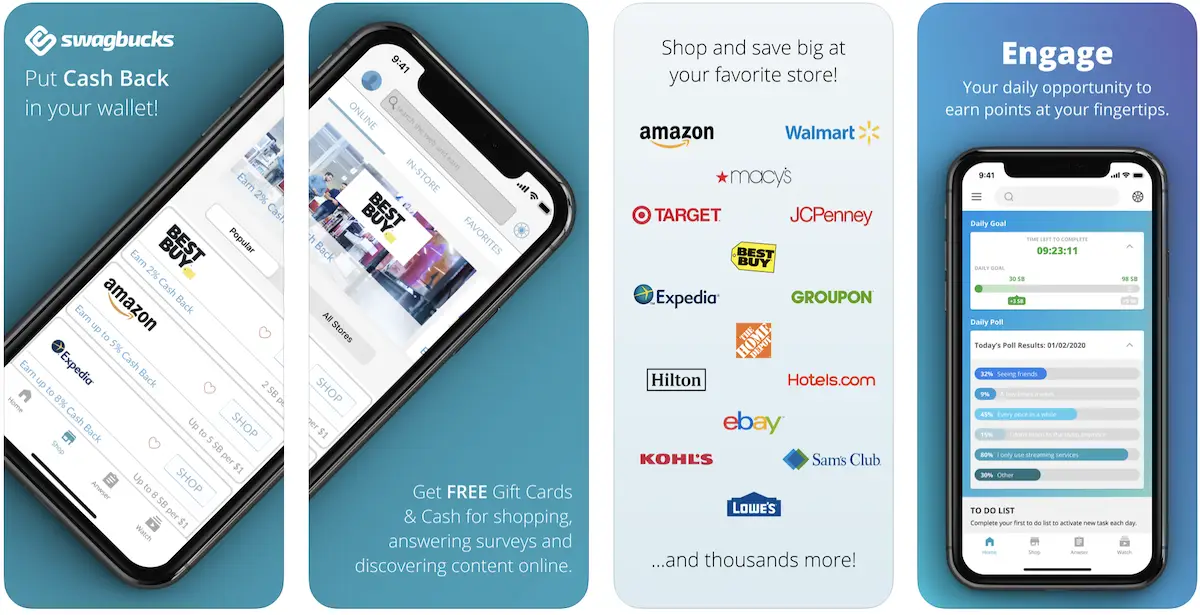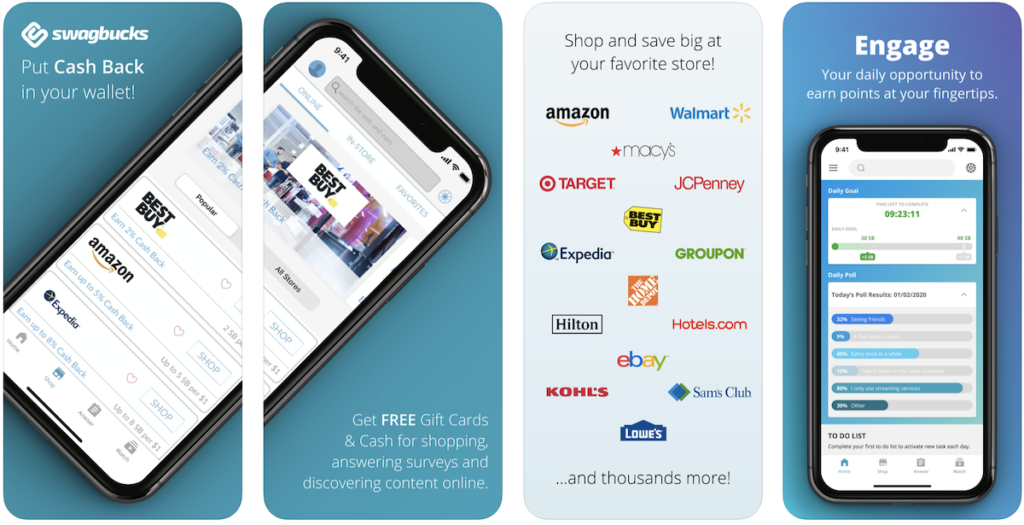 Swagbucks $10 Bonus Link – Earn cash and gift cards on Swagbucks by completing tasks. Get the bonus by spending $25+ in the app's cash back section.
Swagbucks offers a variety of ways to earn money online, similar to KashKick. You can take surveys, play games, surf the web, watch videos and more to earn points towards gift cards or cash.
Here you can earn a special currency called Swagbucks for completing offers, answering surveys and logging online activity. You can redeem the currency for gift cards or cash rewards once you've accumulated enough.
They offer a $10 sign up bonus through here for new users. To claim the bonus, just spend at least $25 on a single purchase from an eligible merchant. It's similar to other cash back offers.
4. Moomoo – Investing App – 15 Free Stocks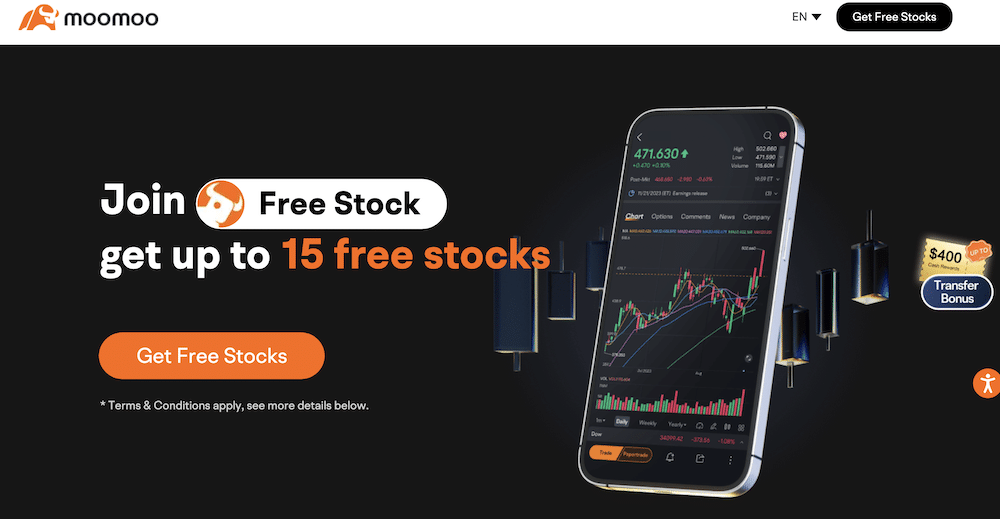 Moomoo Promo Link – Join Moomoo and get up to 15 free stocks!
Moomoo is an investing app that offers commission-free trading stock trades and also a free, powerful suite of tools with real-time data.
Moomoo offers an attractive free stock bonus. Here's a simplified breakdown:
Join Moomoo using this link.
Deposit $100: Get 5 free stocks.
Deposit $1,000: Get 15 free stocks.
Maintain either $100 or $1,000 balance for 60 days to get your bonus stocks.
5. Upromise – 529 College Savings – $30 Bonus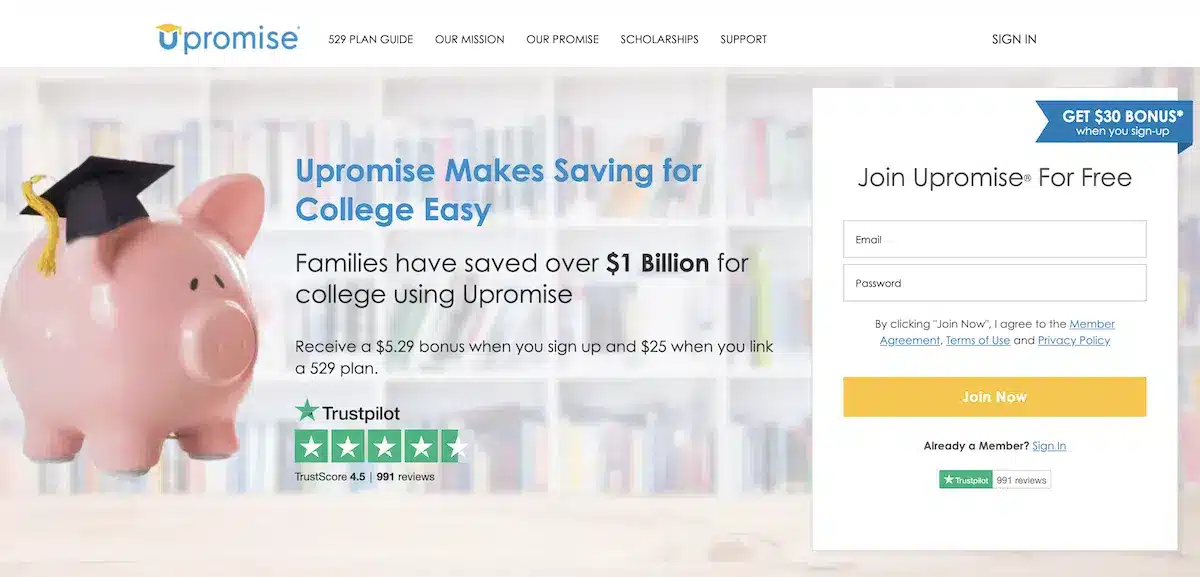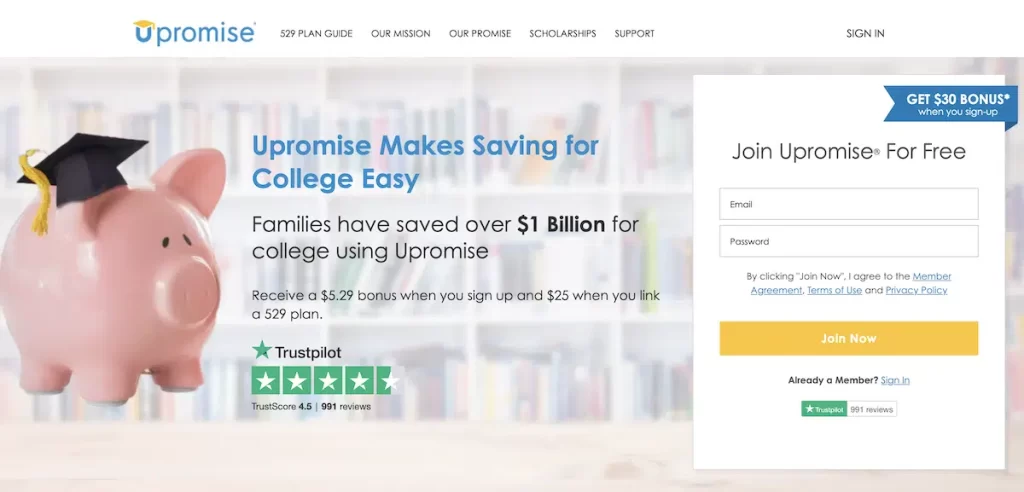 Upromise Bonus Link – Sign up for Upromise and link a 529 account and get $30 instantly.
Upromise® is a free service with a mission to help families save for college. Upromise provides unique opportunities for consumers to earn cash-back rewards for shopping, dining out, and using the Upromise Mastercard.
Families have saved over $1 Billion for college using Upromise and they currently have a $30 sign up bonus offer for new members. You can join Upromise for free a receive a $5.29 bonus when you sign up and $30 when you link a 529 plan.
What to do:
Go to the Upromise registration page.
Enter your email address and create a password.
Confirm your email address to get $5.29
Link a 529 account to get $30 instantly
6. Chase Total Checking® – Banking – $200 Bonus
Chase $200 Promo Link – Enjoy $200 as a new Chase checking customer, when you open up a new checking account and set up direct deposit within 90 days of enrollment.
The Chase Total Checking® account remains a top choice as it's the most popular account from one of the country's best banks. With over 4,700 branch locations, 16,000 ATMs, and a highly-rated mobile app, you'll have ample access to your money.
Opening a new account is a breeze with the online application, and earning the bonus is simple: receive a qualifying direct deposit within 90 days, and Chase will credit the reward within 15 days.
While the account comes with a $12 monthly maintenance fee, it can be waived through various means, such as maintaining a minimum daily balance of $1,500 or making at least $500 in electronic deposits each month.
As long as you can avoid the maintenance fee, we highly recommend seizing this legit cash bonus from Chase!
7. Cash App – P2P Payments and Money Transfers – $5 Bonus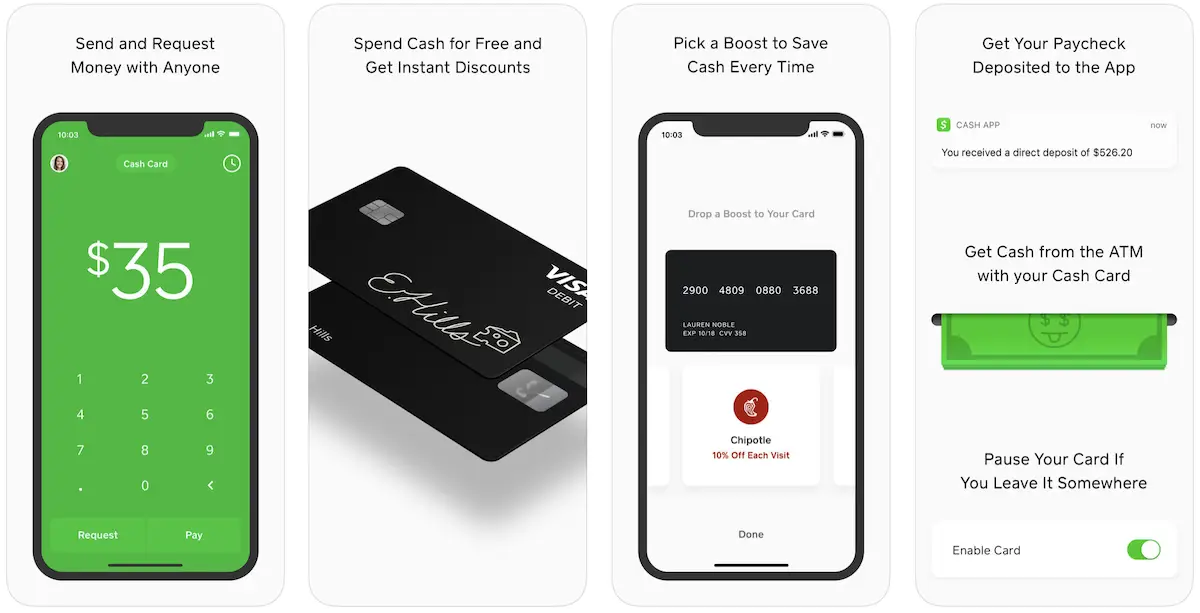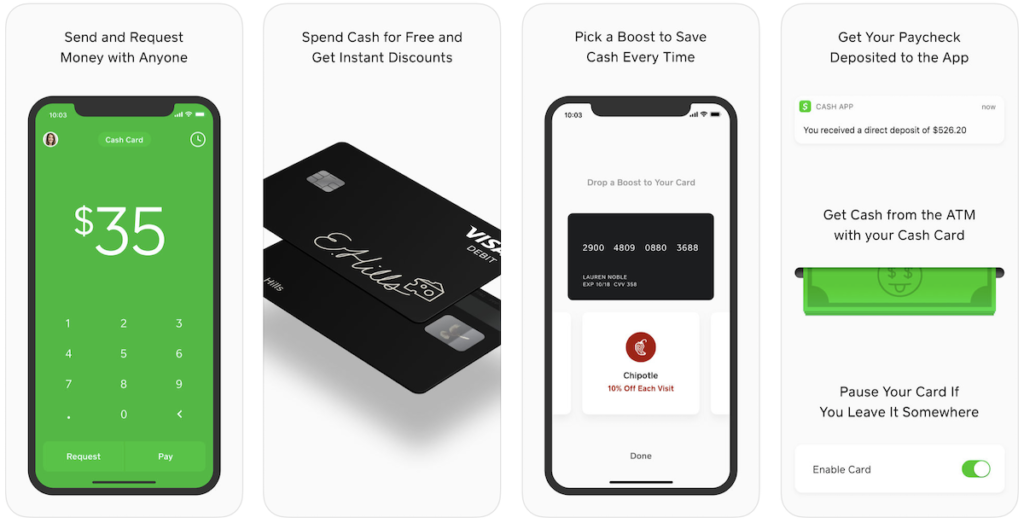 Cash App $5 Bonus Link – Install it, use it and get $5 for free.
Cash app is a free digital wallet for all the people who need to make transactions or payments. It is a very simple way to send money to anyone you want and without paying any money transferring fee.
It's similar to Venmo and PayPal and is a super-easy way to send cash to your friends and family.
They offer a $5 signup bonus just for downloading the app and using it. That's right, you can get free money on Cash app.
You'll earn a $5 bonus when you download the Cash App, register a new account, and send your first $5 within 14 days with a linked debit card.
8. InboxDollars – Surveys – $5 Bonus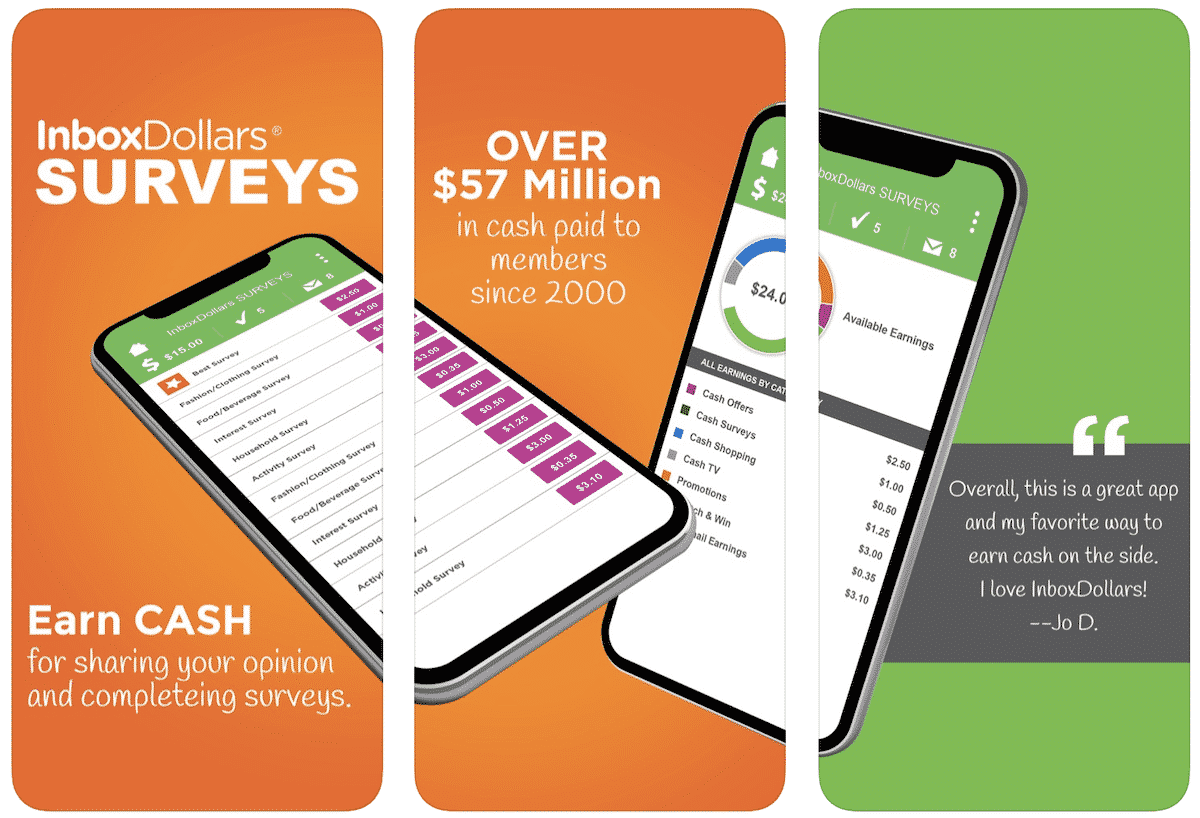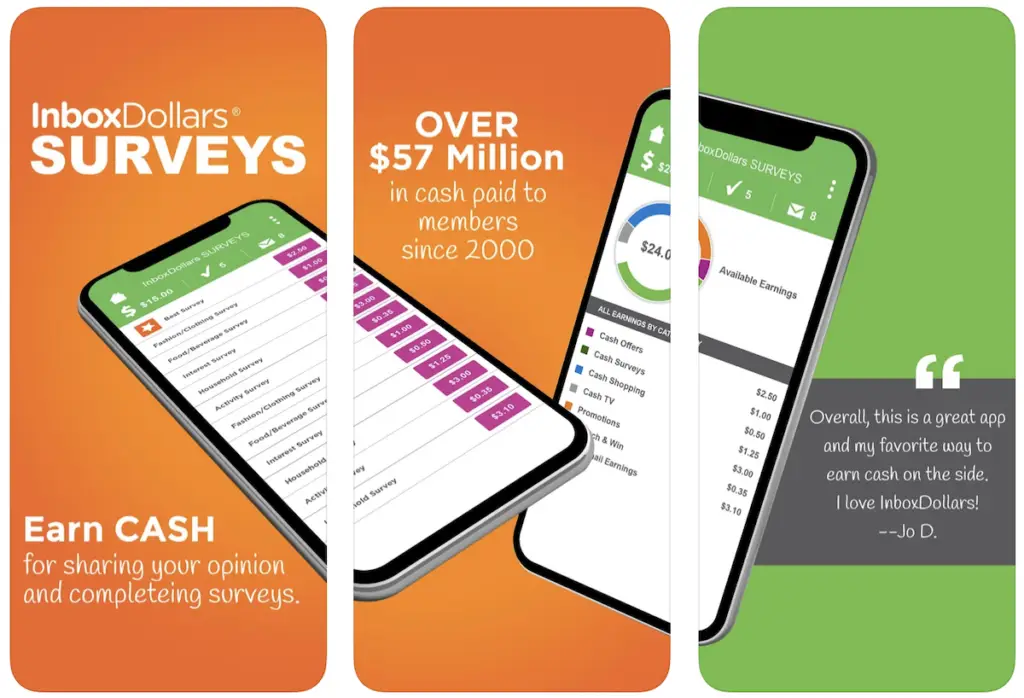 InboxDollars $5 Bonus Link – You earn a $5.00 bonus for confirming your email address and completing all the to-do list activities on the welcome page.
The next thing you can do is sign up for InboxDollars which pays you, in cash, to watch fun videos and take surveys. If you sign up before the end of this month, they also give you a $5 sign up bonus just to give it a try.
By spending just 5-10 minutes per day on this (either on your lunch break or during TV commercial breaks) you can earn and earn an extra $50 per month. More people should be using one of the best survey apps.
Collect $5 bonus at InboxDollars
9. Discover – Cash Back Credit Card – $100 Bonus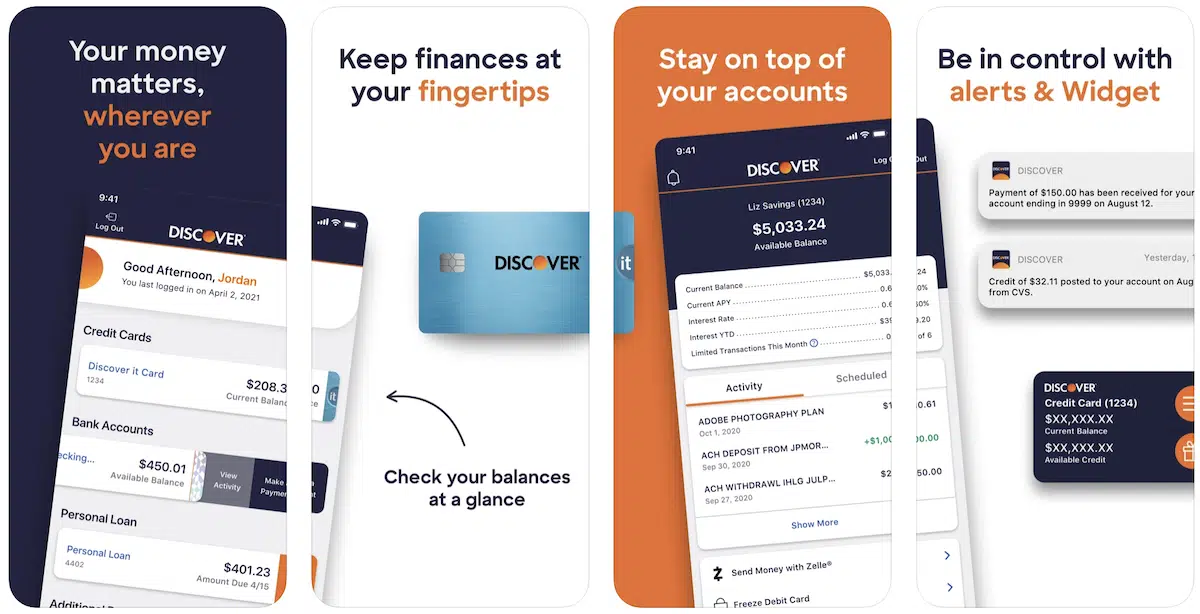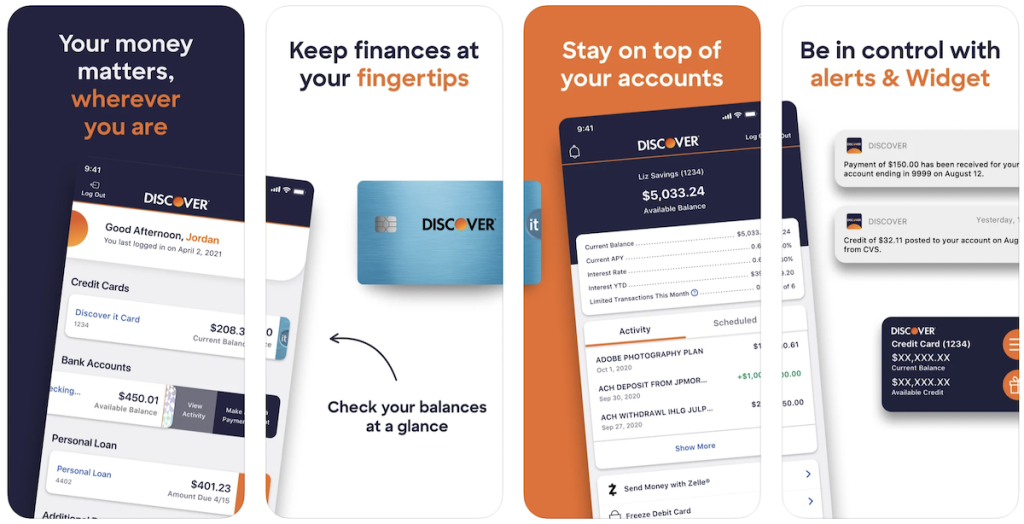 Discover it Bonus Link – Apply for the Discover it card. If approved, you will get a $100 $50 statement credit after you use your card in the first 3 months.
Looking for easy sign up bonuses? One of the best ways to make some serious extra cash is to take advantage of credit card signup bonuses.
My favorite card with the best credit card rewards is the Discover it® credit card which has no fees at all. Plus, you can earn 5% cash back on everyday purchases at different places each quarter like Amazon.com, grocery stores, restaurants, gas stations and when you pay using PayPal, up to the quarterly maximum when you activate.
You can also get a 0% Intro APR for 15 months on purchases and balance transfers, so if you have any credit card debt with high-interest rates, it's worth switching over so you save on interest. Then you can find ways to pay off the credit card debt while saving on interest.
Also, this card is beneficial if you wanted to claim a $100 bonus after you make any purchase with your new Card in your first 3 months. Signup and earn $100 back in the form of a statement credit.
Click here to apply and get a $100 bonus!
10. Dosh App – Cash Back on Shopping and Entertainment – $1 Bonus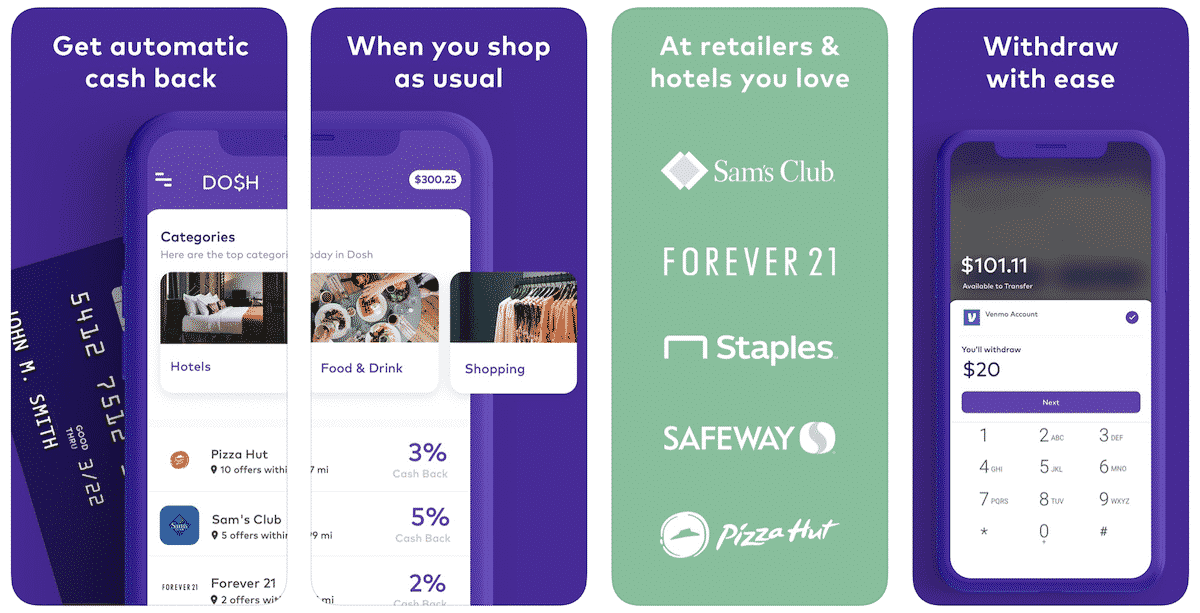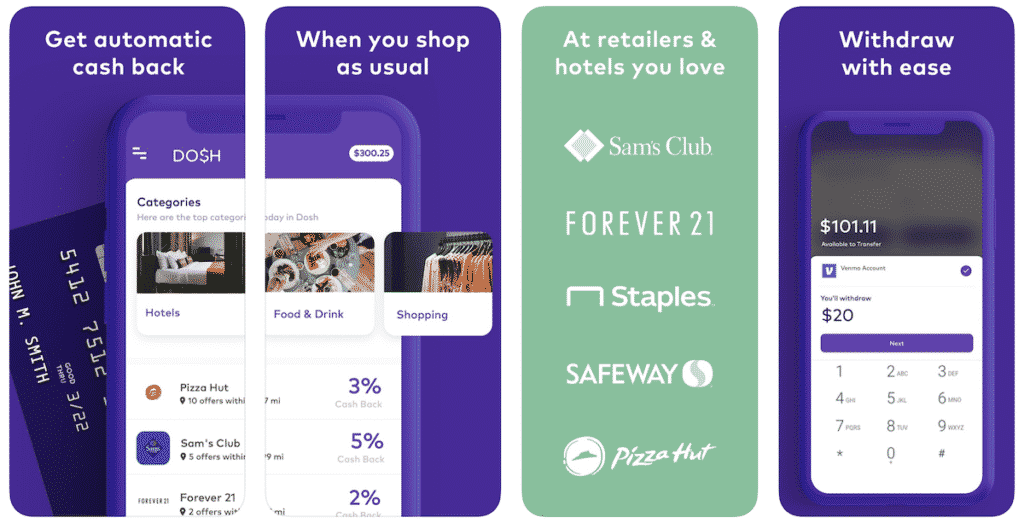 Dosh App Bonus Link – Install it and connect your first card and get $1 for free.
Looking for easy money? The Dosh app is the free cash back app that finds you money for shopping, dining out, and booking hotels and travel activities with more than 100,000 merchants and brands nationwide.
This company not only allows you to get cash back on everyday purchases, but no receipt scanning required!
Click here to get started with Dosh and get a $1 sign up bonus after linking up your first credit or debit card.
11. Robinhood – Free Investing App – Free Stock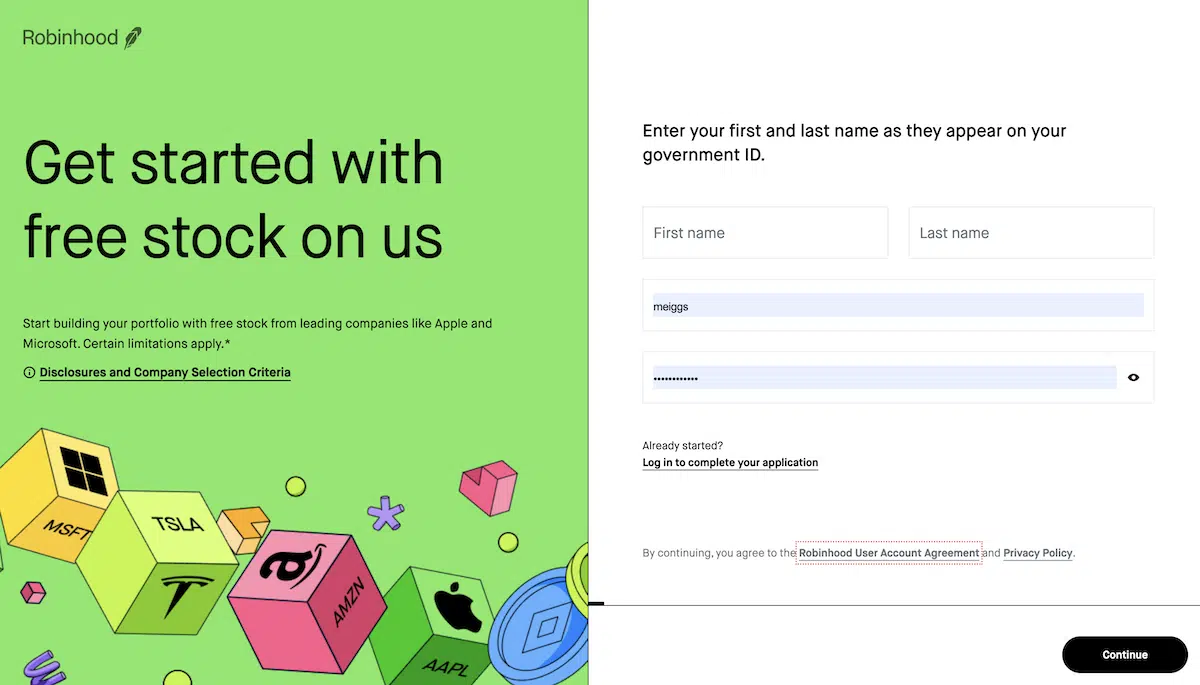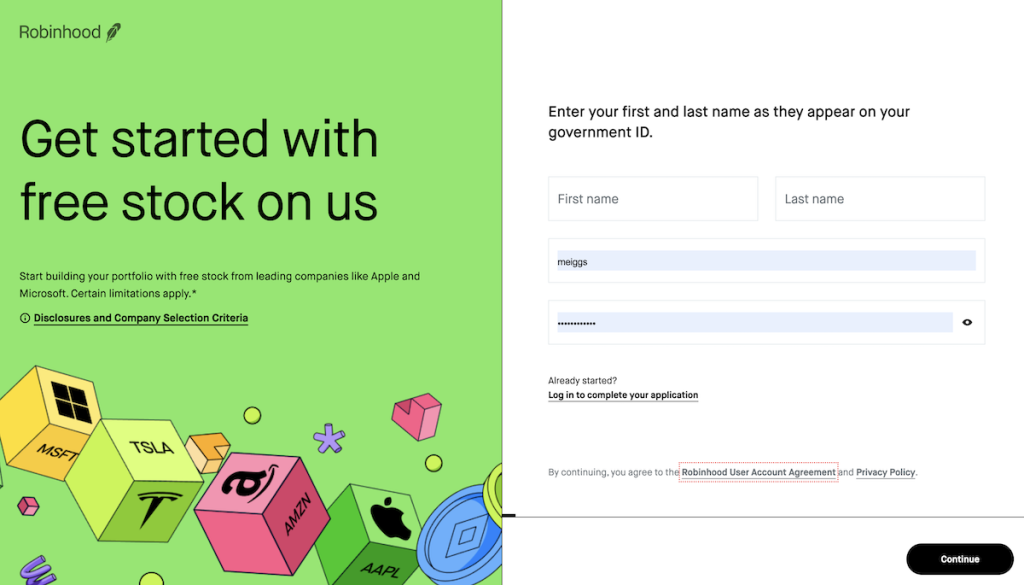 Robinhood Bonus Link – Get a Free Stock (worth between $5 and $200) after you submit your application.
Robinhood offers free investing for everyone with commission-free investing, plus the tools you need to put your money in motion. Sign up and get your first stock for free worth up to $200.
And more free stock (up to a $200 value) every time one of your friends opens a Robinhood account from your promotional link. That's up to $1,000 in free stock every year.
If you join through this link, you'll earn a specified dollar amount and be able to pick your gift stock from a list of 18 of America's leading companies.
The value of the free share may be anywhere between $5.00 and $200 and fluctuates based on market movements.
12. Survey Junkie – Survey App – $5 Bonus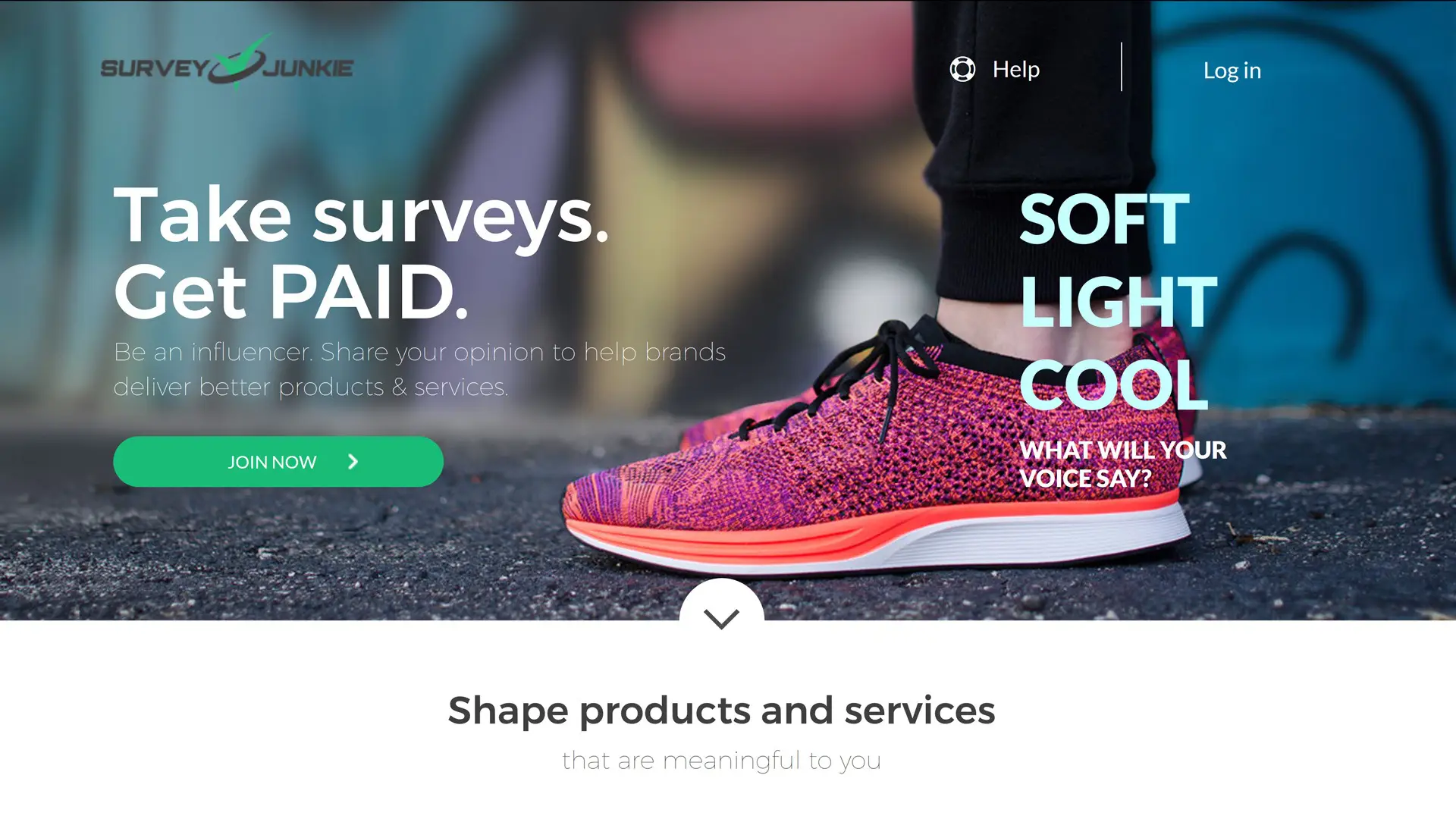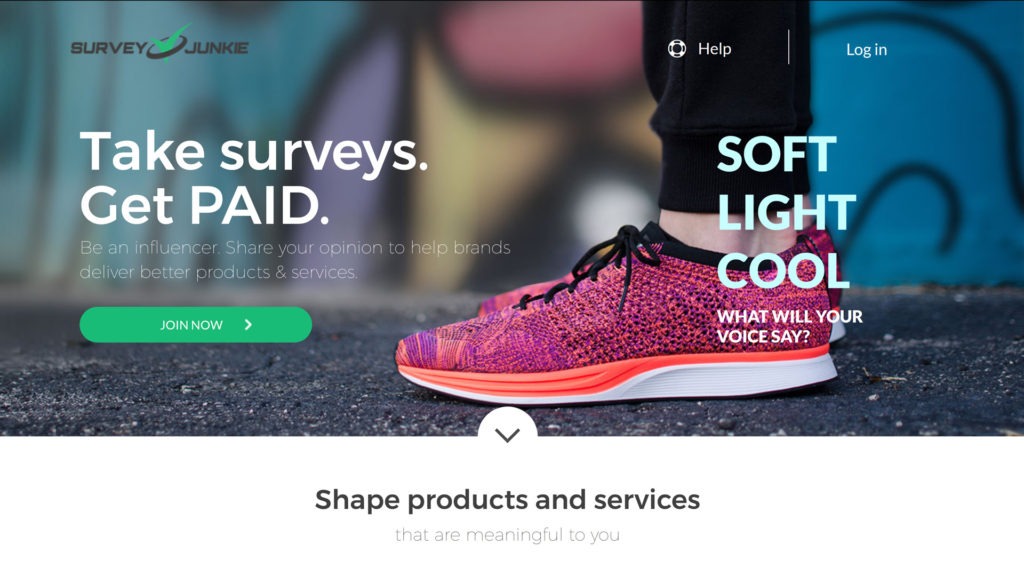 Survey Junkie Bonus Link – Make up to $5 per survey in your spare time from home to take online surveys, participate in focus groups and trying new products. Join Survey Junkie and get a $5 bonus.
Survey Junkie connects users with various market research companies looking for consumer opinions. Survey Junkie has more than 20 million members and lets you earn cash through surveys, online shopping, and watching videos.
You can literally convert your activities into gift cards or PayPal funds.
Sign up, complete 5 surveys, and snag a $5 bonus. Plus, refer friends and earn 10% of their lifetime earnings!
13. MyPoints – Shopping Cash Back App – $10 Bonus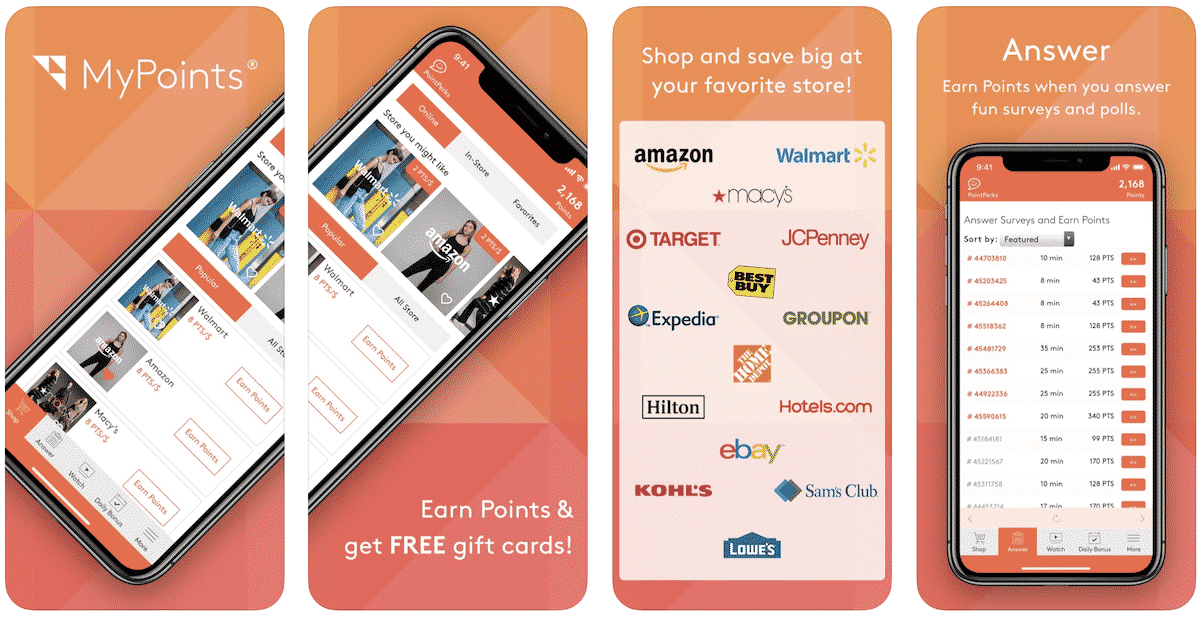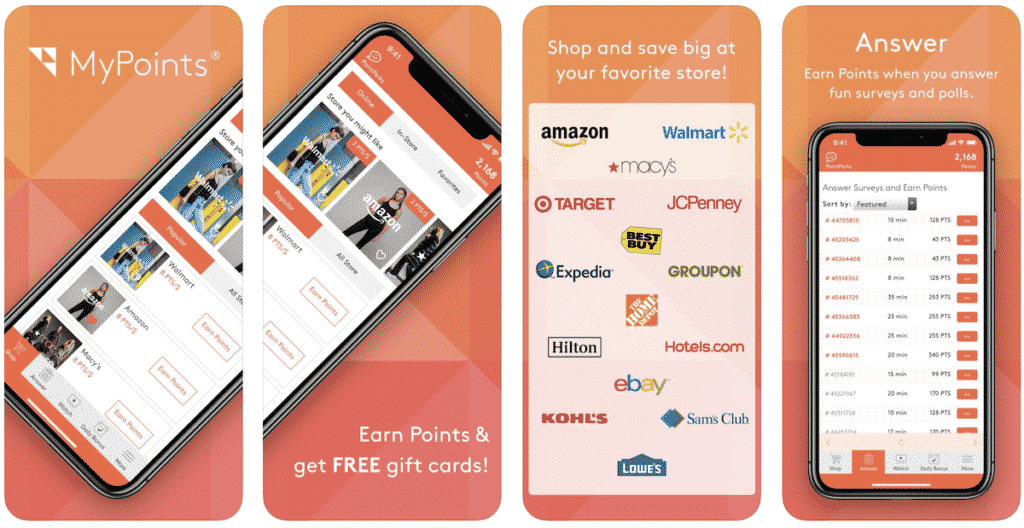 MyPoints Bonus Link – Sign up for free, use it and purchase $20 worth of products at any time to get a $10 bonus.
The MyPoints app is the perfect way to extend your earning opportunities wherever you go. MyPoints is a cash back app that pays you to shop online. I love it because it lets you earn cash for the shopping you would do anyway.
Plus, you can earn money for watching videos within the app which is a legit little money maker. The app boasts over 1.8K positive reviews in the App Store.
And right now, you can earn a $10 Amazon gift card with your first purchase at any retailer through MyPoints! They really payout fast and the app is a must-have if you are looking for a quick app bonus.
14. Fundrise – Real Estate Investing – $10 Bonus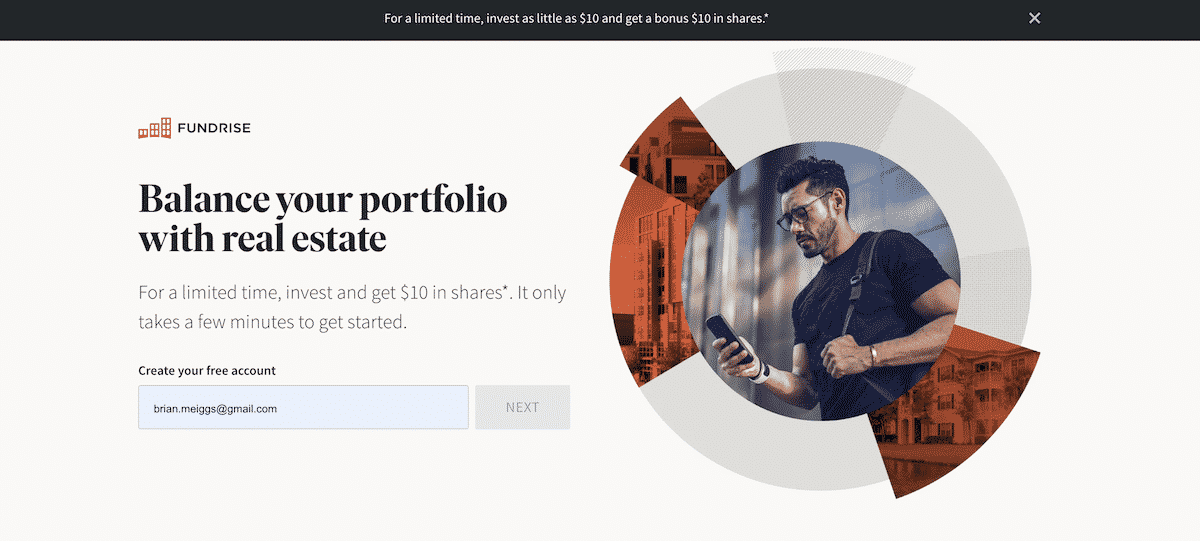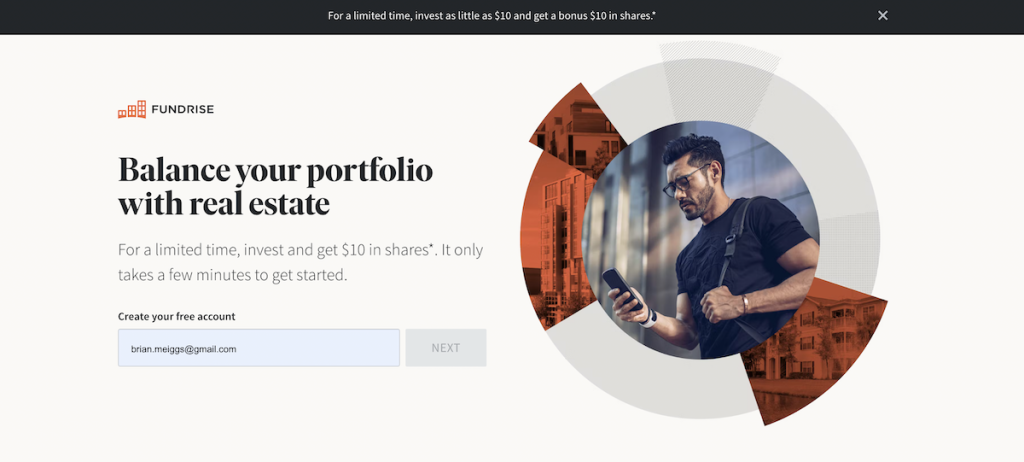 Fundrise Bonus Link – Fundrise gives you a $10 bonus upon account approval. Testing this offer, I got the bonus after opening an account and investing as little as $10.
Want quick money? Fundrise gives you a $10 bonus upon account approval. Testing this offer, I received $10 worth of shares instantly through this link after opening account and investing as little as $10.
With Fundrise, it is the first real estate investing app to create a simple, low-cost way for anyone to invest in real estate for solid returns.
There is a reason why we ranked as one of the best real estate investing app, you can really make money with Fundrise.
If you're interested, I recommend you sign up for more information from Fundrise by clicking here.
15. Rakuten – Shopping Cash Back App – $30 Bonus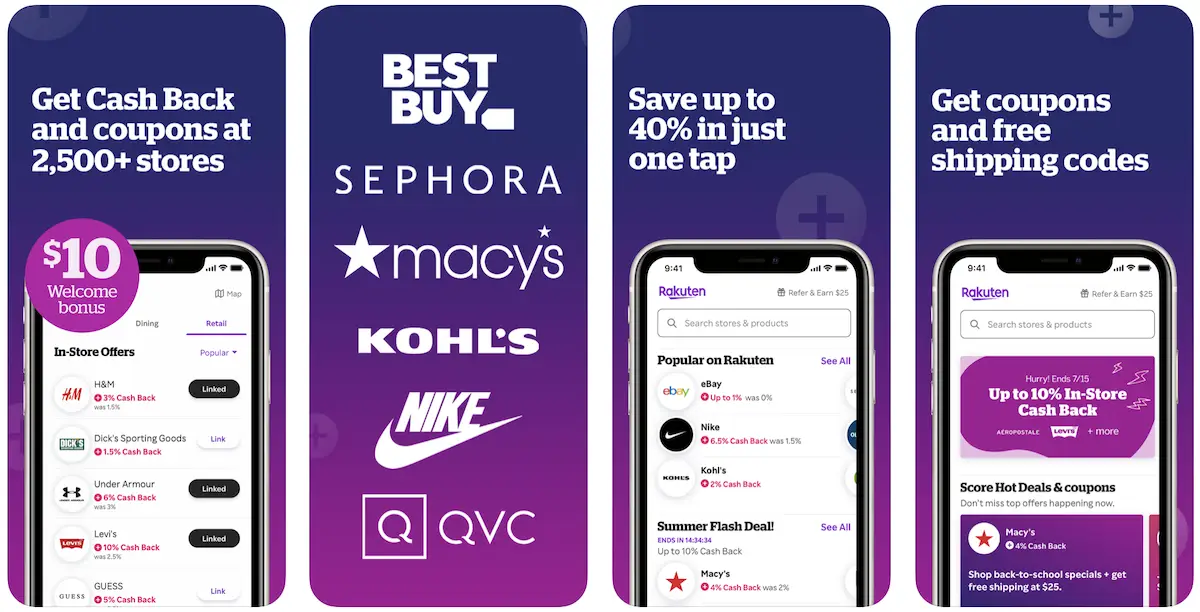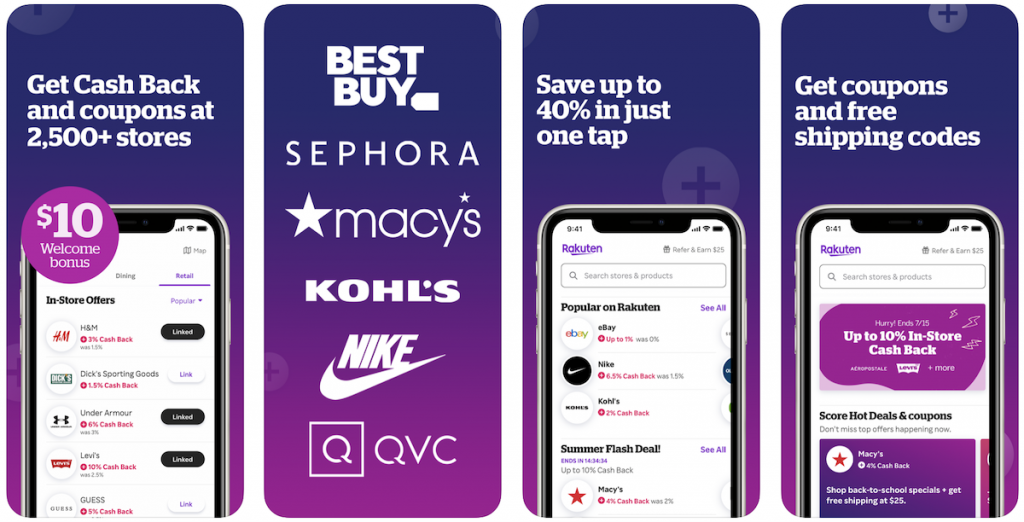 Rakuten App Bonus Link – Sign up for free, shop like regular and get $30 for free.
You'd be silly not to get cash-back for items you would have bought anyway. You can do this by shopping online with Rakuten.
Every time I shop online, I start at Rakuten and then I get cash back deposited into my PayPal account.
Rakuten is my favorite way to make money when I shop online and right now they are offering $30 app bonus through this link. You can save money with over 2,000 stores and when you use Rakuten to shop — you get cash back.
Click here to sign up for Rakuten and get $30 to start.
What is a Sign Up Bonus?
A sign up bonus is an incentive offered by financial institutions, primarily credit card issuers and banks, to attract new customers to open an account.
When you open a new account, especially a credit card or an online savings account, you might be offered a sign up bonus. This bonus can range from points after you spend a certain amount within a specified period, like "spend 4,000 on purchases in the first three months from account opening," to a direct cash reward. Some banks might offer bonuses for qualifying direct deposits or a certain number of debit card purchases within a set timeframe.
For instance, Chase Ultimate Rewards might offer bonus points as a welcome bonus for new credit card holders who make eligible purchases. Similarly, Discover online savings account may provide a bonus to those who open an account and maintain a certain balance or set up direct deposits.
It's essential to read the terms and conditions, as there might be annual fees associated with the credit card or stipulations on how to earn the sign up bonuses. Sometimes, the best sign up bonuses might come with strings attached, like minimum spending requirements or the necessity to make purchases in the first few months.
In addition to the bonus rewards, some credit cards offer added benefits like no foreign transaction fees, baggage delay insurance, lost luggage reimbursement, or rewards credited for other eligible purchases. These perks enhance the value proposition of the credit card sign up bonus.
However, it's crucial to be cautious. While sign up bonuses can be alluring, they shouldn't be the sole reason for opening a credit card or a savings account. Always consider if the product aligns with your financial goals. For example, if two accounts from the same bank offer different bonuses, choose the one that best fits your needs rather than merely going for all the cash or points.
In summary, a sign up bonus is a promotional tactic used by banks and credit card issuers to attract new customers. By offering bonus rewards, cash, or points, they incentivize account opening and specific spending behavior. However, customers should always evaluate the overall value and potential fees associated with these offers before committing.
Frequently Asked Questions (FAQs) on 'Sign Up Bonus'
1. What is a sign-up bonus?
A sign-up bonus is a promotional offer or incentive provided by banks, credit cards, or other companies to encourage new customers to open an account, make a purchase, or engage in a specific activity.
2. How can I qualify for a sign-up bonus with a savings or checking account?
Most banks, such as PNC Bank or a Chase Total Checking® account, require you to open an account online and make a qualifying deposit or set up a direct deposit within a specific timeframe, typically 90 days of opening.
3. Are there any monthly fees associated with these bonus offers?
While some accounts come with monthly fees, many banks waive these fees if you maintain a minimum balance, set up a direct deposit, or meet other criteria. Always review the terms before opening an account.
4. How do sign-up bonuses for investment accounts work?
Investment accounts, such as those offering commission-free trading or dealing with exchange-traded funds, often offer sign-up bonuses like free stocks when you deposit a certain amount or start investing in their platform. The bonus amount might vary based on the deposited amount or the type of investment portfolio you choose.
5. Can I get more money or points by referring friends?
Many banks and services offer a referral link or program, where both you and the referred person benefit from special offers or bonuses upon signing up. You can check our post on the most popular referral bonus apps to get started.
6. How long does it typically take to receive my bonus cash or free money?
The waiting period varies by bank or company. In most cases, bonuses are deposited into your account within a few business days after meeting the required criteria. Always check the details provided in the offer.
7. Are sign-up bonuses considered income for tax purposes?
Yes, in most cases, sign-up bonuses, whether in the form of cash or gift cards, are considered taxable income. Always consult with financial experts or review any related tax documentation provided.
8. How often do banks and companies update their sign-up bonus offers?
Offers can change frequently, depending on the bank's or company's promotional calendar and marketing strategies. It's a good practice to check their official website or contact customer service for the most up-to-date promotions.
9. Are there any tips or strategies to maximize my bonus earnings?
Stay updated with promotions, enroll in rewards programs, take advantage of referral links, and use your account frequently to earn points or rewards on your purchases. Moreover, be diligent about managing fees, ensuring you meet the criteria for the sign-up bonus, and redeeming points before they expire.
10. Is my information safe and secure when signing up online?
Reputable banks and companies prioritize the security of their online banking and services. It's crucial to ensure that the platform you're using is trustworthy, utilizes encryption, and follows strict editorial integrity.
Remember, always review the terms and conditions, ask questions if uncertain, and consult with financial experts to make the best decisions based on your financial needs.
The Best Sign Up Bonuses Can Earn You Extra Money
These apps and banks offer you a sign up bonus with sometimes instant withdrawal in 2023.
These are some of the most popular sign up bonuses available to you if you're looking to earn some extra money just for trying new products or services.
A ton of people are searching online for the fastest ways to make money online through sign up bonuses.
Or something similar to get to this post.
Well, look no further, because if you want more sign up bonus apps besides these apps listed above, there are more apps that pay you real money.
Earn up to $100 today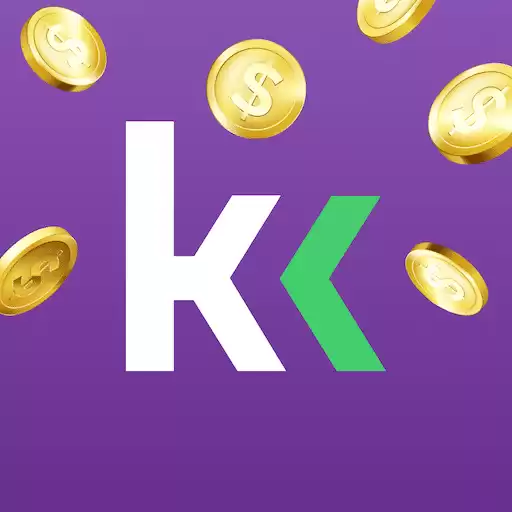 KashKick
Trusted by 2M+ users like you
This site pays you cash to play mobile games, save money, take surveys, and see offers — make $100 today. Over 2 million users agree that KashKick is a fresh and lucrative way to earn money and get paid directly to your PayPal!
SIGN UP & START EARNING NOW