If you're looking for a way to earn money for shopping that you do anyways then you may want to read my SavingStar Review down below.
With more than 100,000 locations to shop from, does it really pay to download the app?
They claim you save money by shopping at tons of your favorite retailers, like CVS, Food Lion, Kroger, ShopRite, Stop & Shop, Target, Walgreens, Walmart and hundreds more.
The best part? SavingStar does not require that you upload receipts for confirmation. You just link your grocery store loyalty cards to SavingStar and you'll get your cash back automatically if you've purchased the items you selected.
It's simple.
Let's dive into why you should or shouldn't try the SavingStar App.
What is SavingStar?
The app we are going to review and you should know about is a top cash back app called SavingStar. SavingStar is a smart and simple way to save money on your groceries. They offer grocery rRakuten that are fully digital with nothing to clip or print. We have reviewed most of the major grocery rebate apps and this is a feature that is catching on and is nice to have. SavingStar currently has over 7 million members and was founded in 2011. So it's not that new to the grocery rebate game. The cell phone app is available for both iOS and Android devices, and its main goal is to help you make money off your grocery receipts. But how does it work exactly?
How Does SavingStar Work?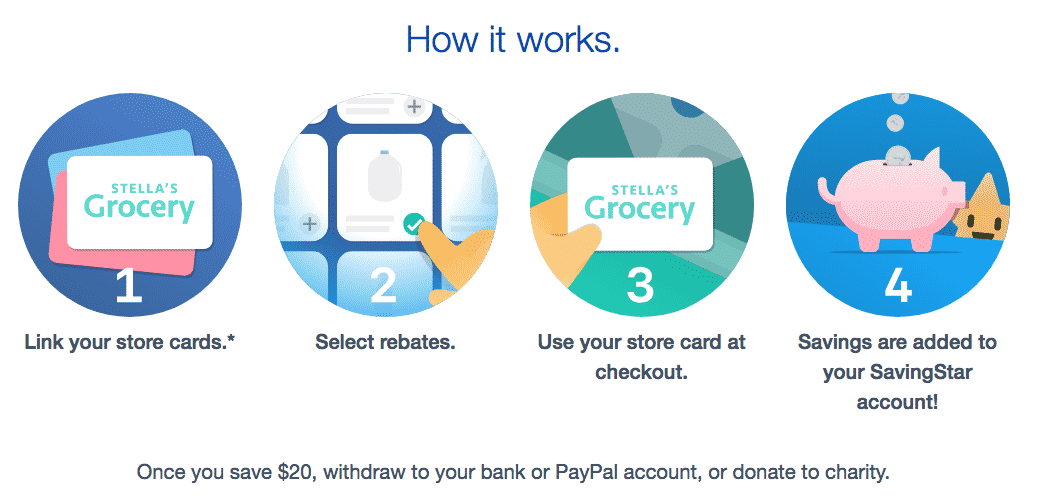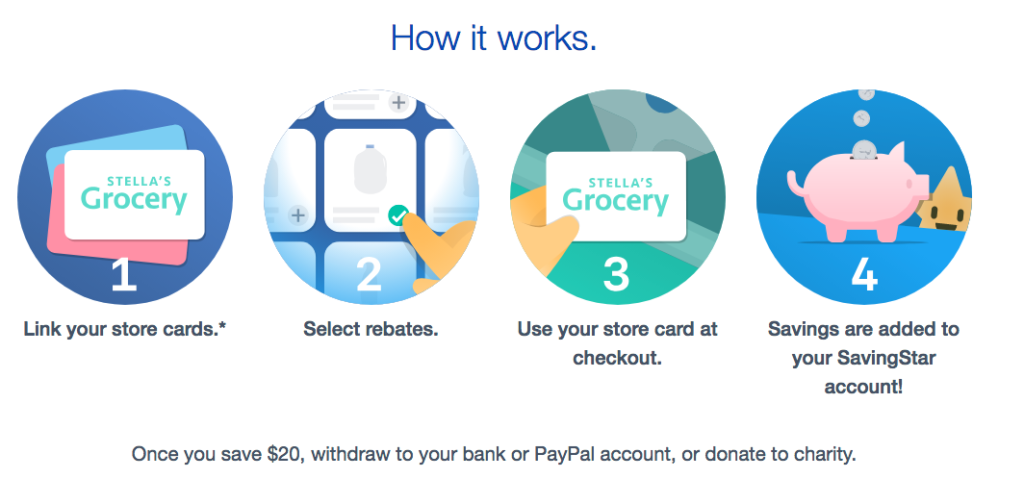 SavingStar
is a paperless way of saving with rRakuten at the grocery stores where you shop every day.
Depending on the store, rRakuten link to your existing grocery and drug store loyalty cards or you can submit receipts for your purchases.
The SavingStar Process:
1. Sign up
First, click here to join SavingStar for free.
2. Choose Your Favorite Stores
Choose the stores where you shop at and link your loyalty cards. For some stores you'll register your grocery and drugstore loyalty cards on SavingStar, (for example, your CVS ExtraCare card, your Stop & Shop card, etc.) and for other stores, you'll need to save your receipts from purchases. So the majority of time no scanning is required, but sometimes it's necessary.
3. Clip Rebates & Offers
Then, click the rebate you want and they will link them to all of your registered store cards.
For Automatic-Savings Stores, when you use your card at checkout like you normally do, your savings are automatically added to your SavingStar account within 2-14 days depending on when the store sends us the purchase data. (Note: the savings are not given at checkout in the store and they are not printed on your receipt).
For Receipt-Scan Stores, you'll just need to save and submit your receipt through the SavingStar app or website.
4. Cash Out Your Savings
Once your accumulated savings in your SavingStar account reach $20, you can pick your payout from a deposit into your bank or PayPal account or a donation to American Forests.
It's that easy!
Is SavingStar Free?
SavingStar is free to use and will actually get you your money back. They will never send you a bill for using SavingStar and don't ask for your credit card number or any other important information when you sign up.
Which stores participate in SavingStar?
Over 100,000 stores participate in SavingStar, representing over 100 retail chains. Click here to see a list of retailers. If your favorite store is not listed as a participating retailer, you can even let them know that you would like them to join SavingStar.
SavingStar Referral
Saving Star does not currently have a referral program.
Competitors and Alternatives?
Actually, this is not the only mobile application whose goal is to provide people with an effortless way to get money back. There are other alternatives, including Capital One Shopping, who offers a similar service to their mobile customers.
Capital One Shopping vs SavingStar
The winner is Capital One Shopping — a free tool that can help you get money back for your online purchases instantly just for signing up for free.
Capital One Shopping offers more features and you can get cash back from dozens of online retailers. You also don't have to do anything other than originally sign up for Capital One Shopping. The SavingStar app is great for grocery store savings, but Capital One Shopping focuses on every receipt you get once you link your email inbox.
It's as simple as that. You can learn more about Capital One Shopping in our Capital One Shopping review.
This free app will scan your emails for any purchase receipts from dozens of online retailers. You don't even have to know about the price drop in order to get your refund. Capital One Shopping Price Protection can help you receive reimbursement when possible through this link.
Capital One Shopping compensates us when you sign up for Capital One Shopping using the links we provided.
Is SavingStar Legit?
A free app that pays you real cash. What's not to love? SavingStar is legit and features over 100 participating retailers consisting of more than 100,000 stores. These aren't random corner store companies either. We're talking about well-known retail chains such as Walmart, Costco, Kmart, and Target. SavingStar is another useful app for saving money on your groceries. It's free money for basically everyone who buys groceries and does all their normal purchases, so it makes sense to buy while using the SavingStar app.


SavingStar Reviews
If you wanted to learn more about what SavingStar is and how youc an use it, check out this detailed video review:
Get Out of $30,000 or More of Credit Card Debt