The cash envelope system has been around for years. It has been hailed as the best method to successfully budget and take control of your finances.
It's so good, in fact, that financial guru Dave Ramsey got behind it and coined one of his programs the 'Envelope System.' Simply put, the cash envelope system advocates for keeping your cash stashed away in physical, labeled envelopes.
Do your groceries cost $100 a week? Keep that money aside in an envelope labeled 'groceries' to prevent yourself from spending it on something else. The idea is to account for every cent you earn.
But what if you pay some of your expenses online? Or what if you're an avid online shopper, like me? Physical cash can certainly seem archaic and inconvenient in those instances. It can also be pretty difficult to keep track of different envelopes and payments.
Enter: Qube Money.
Qube Money takes the idea of cash envelopes and digitizes it. The app has been called 'transformational' and even been featured on websites like Forbes. App statistics have shown that its users save an average of $440 per month. But is it really worth it? What makes it different from other budgeting tools?
In this Qube Money review, we will go over one exciting solution that can help you digitize the cash envelope system.
Pros
Severage people (couples, families) can connect to the same account.
Individual plans are free.
Cons
Only available for US users.
Currently in beta testing with the final version launching early next year.
Costs $8 to $15 if you want to use the app with your partner or kids.
Qube Money Review
How Does Qube Money Work?
You may be surprised to learn that Qube Money is more than a budgeting app; it's a digital banking system that allows you to link your bank account to your phone. It's currently partnered with Choice Financial Group, a bank with a "people first" slogan that coincides with Qube's overall vision. This partnership ensures that your money is safeguarded with an FDIC insured bank.
To begin your journey of 'intentional spending,' open a bank account with Choice Fin, a division of Choice Financial Group, to be issued with a debit card.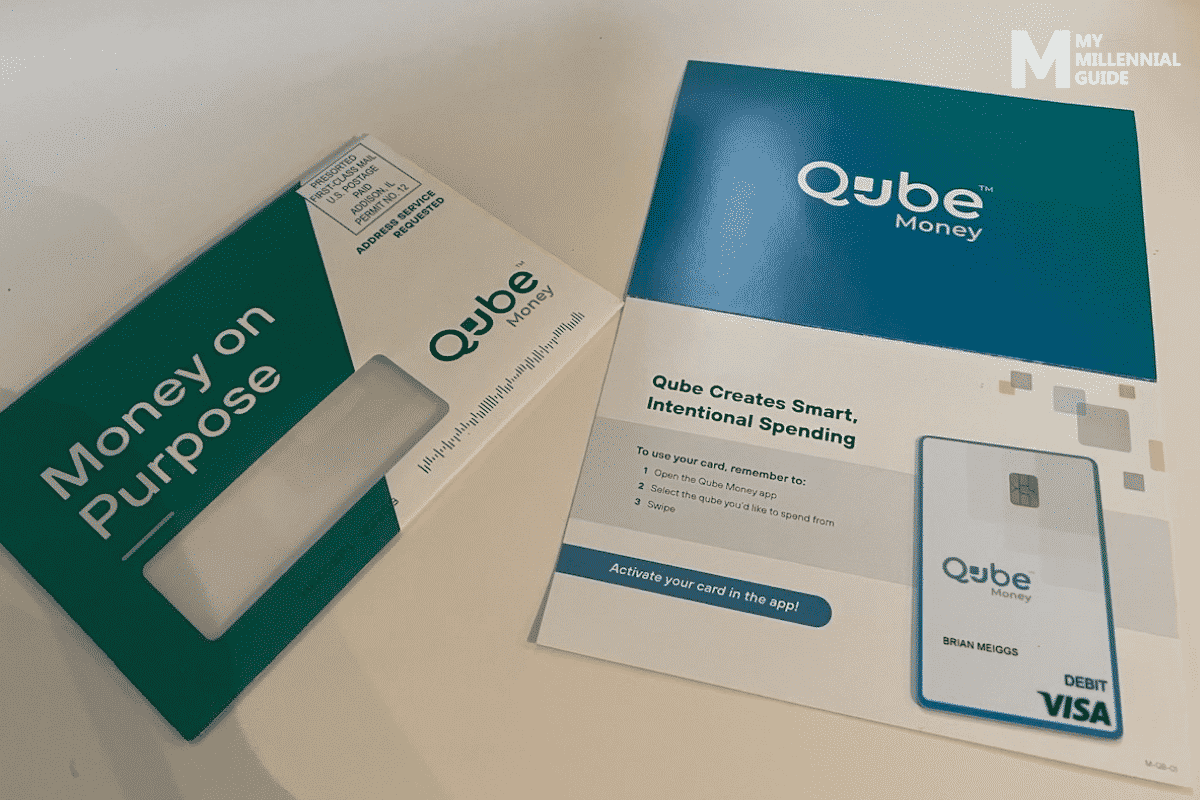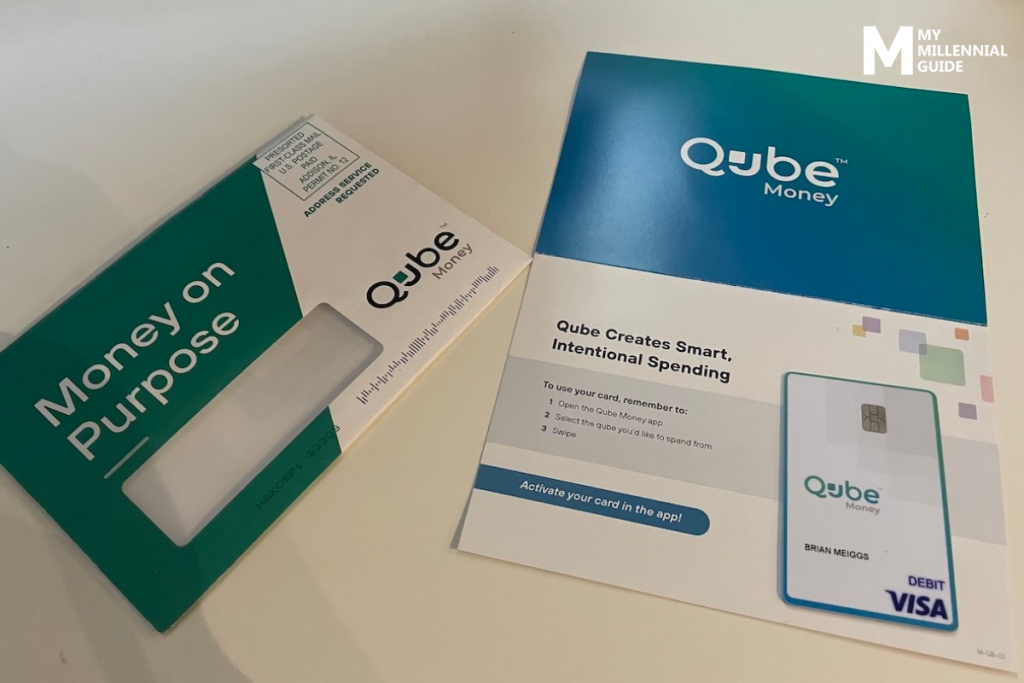 You don't have to wait for your physical card to set up your account and start spending with purpose. You can access your virtual card within the app.
This card is the link between your app and real-life purchases. It acts like a normal debit card, but only uses the funds allocated in your digital cash envelopes, or 'Qubes.'
What the Qubes are created for are completely up to you – groceries, utilities, mortgage, vacation – you name it. This way, you can easily keep track of all your expenses for the month.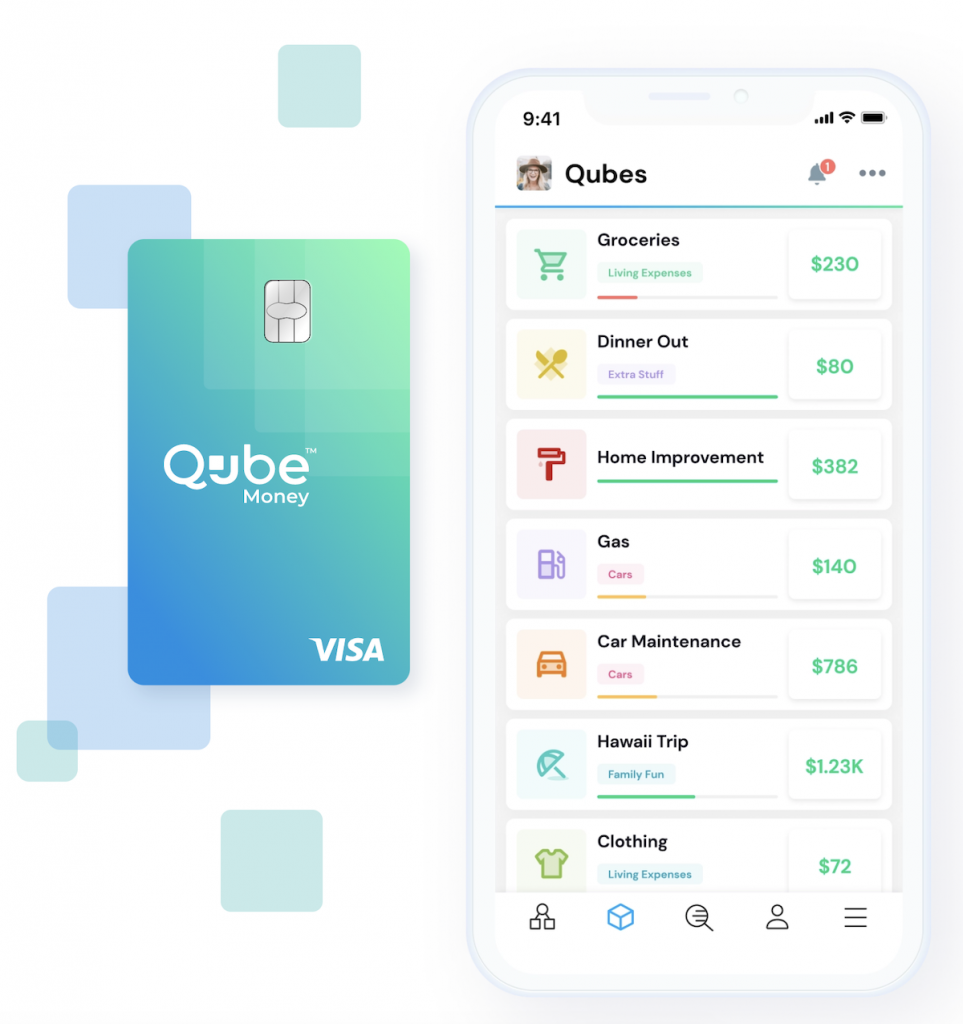 The app itself is also straightforward and easy to use. When you're ready to make a purchase, follow these three simple steps:
Open the Qube Money app.
Select the Qube from which you want to withdraw money. Once it's selected, the app will instantly transfer the funds onto your card. For example, let's say you've allocated $500 in the Qube labeled 'Groceries.' When that Qube is selected, the money available will automatically move to your card.
Use the card like you would any other debit card. Back to grocery shopping: if the total cost of your purchase is $100, your Qube card will deduct that amount from $500. It will then return the balance to its assigned Qube.
That's all there is to it!
The automated transfer system does all the work for you. Additionally, all your purchases are tracked for later review. If you have a shared account, each member of the account will receive a phone notification once money is spent.
The Pros and Cons of Using Qube Money
Pros
Qube Money has several unique features, making it one of the most efficient apps to track expenses. For one, the platform allows several people to connect to the same account. This comes in handy for couples and families looking to improve their spending and saving habits. Couples who struggle with mismatched financial priorities, secret spending, impulse buying, and credit card debt are all too familiar with the rift money can create.
Makes managing mone much easier couples. Keeping married couples together was one core motivator for Ryan Clark, the founder of Qube, who watched his parents as well as countless other married couples divorce due to financial strains. With the notification system, Qube creates the environment of transparency necessary for couples to be successful in achieving their financial goals. One feature the app offers for joint account users is the requirement for both users to authorize a payment. While this may not be the best option for every couple, it can be life-changing for others.
The family account is a great recommendation for parents who want to teach their kids financial literacy early on. Qube understands the importance of teaching kids how to earn and manage their money. In light of this, the family account includes an in-app chore tracker which parents can use to reward kids for chores done. With up to 10 cards, each child can have their own card which parents can transfer funds to. With parental permissions, purchases can also be authorized.
Qube Money is safe to use. Perhaps one of the most unique features Qube has to offer, however, is the added security on the debit card. Besides being insured by a reputable bank, the card has a default balance of $0. So rest assured, even if your card is lost or stolen, it's void of money and can't be used without your permission.
There aren't many cons when it comes to the Qube Money app. The biggest detriment comes to users who live outside of the United States. Currently, it isn't available in all regions nor has it been released to app stores. A waiting list is available for those who are interested – and who wouldn't be? Qube also requires a mobile data or Wi-Fi connection in order to operate.
How Much Does Qube Money Cost?
Qube Money for Family
With all of these features, you might think the cost would be through the roof, right? The lifetime membership for families costs $324 while the monthly and annual plans are priced at $15 and $180 respectively.
Qube Money for Couples


Couples can subscribe to this plan for $8 per month, $96 annually, or $216 for a lifetime membership. This affords the users two debit cards, unlimited Qubes, and a savings account, among other features.
Cube Money for Individuals
But individual plans are free and you have the option to pay annually or pay once for a lifetime membership.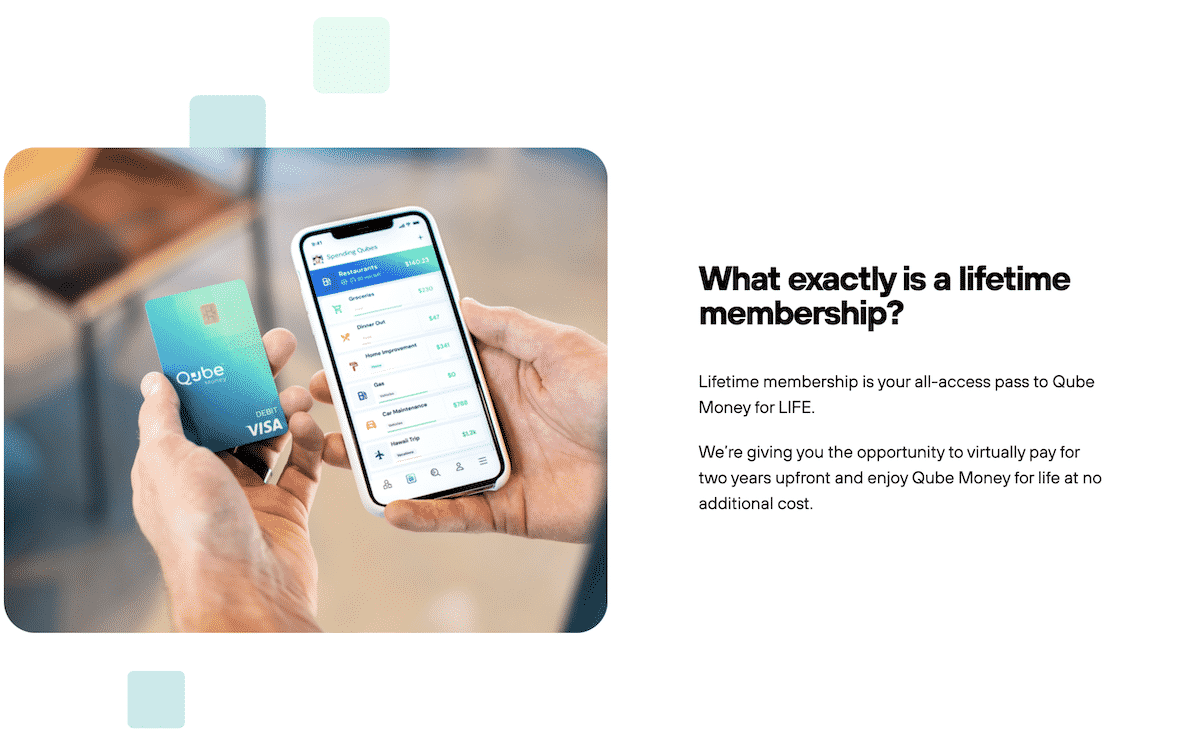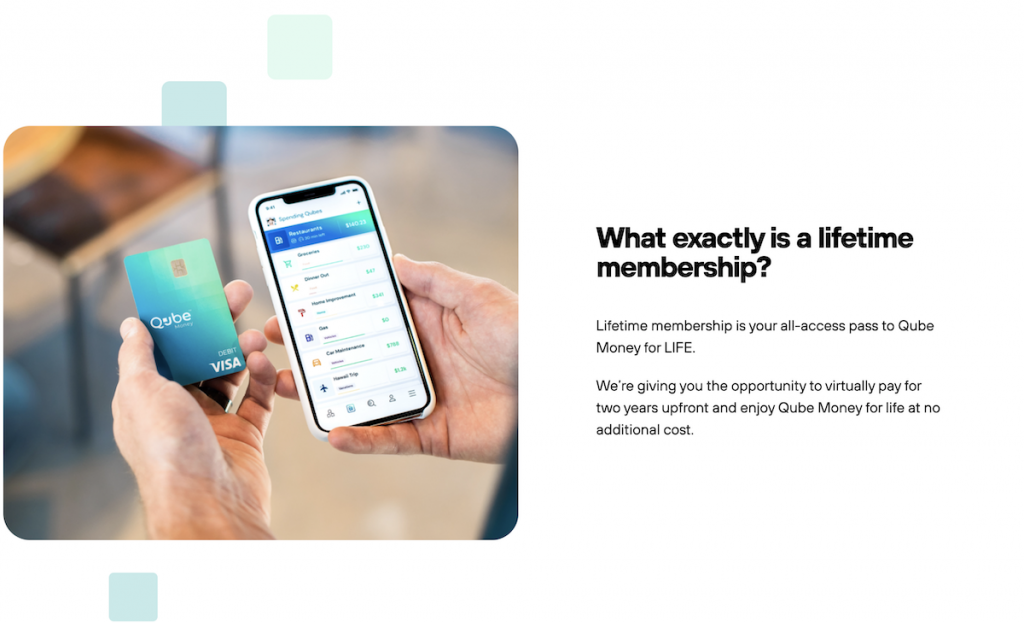 Of course, if you don't need a couple's or family plan, an individual plan is available and – best of all – completely free of charge. It offers you 10 Qubes you can freely name, a mobile wallet, peer-to-peer transfers, and bill payment. This deal is perfect if you're beginning your venture into budgeting and are looking to try out the cash envelope system that millions are raving about.
How much does Qube Money cost? You'll pay $8 to $15 a month if you want to use Qube Money with your partner or kids. But individual plans are free and you have the option to pay annually or pay once for a lifetime membership.
The Verdict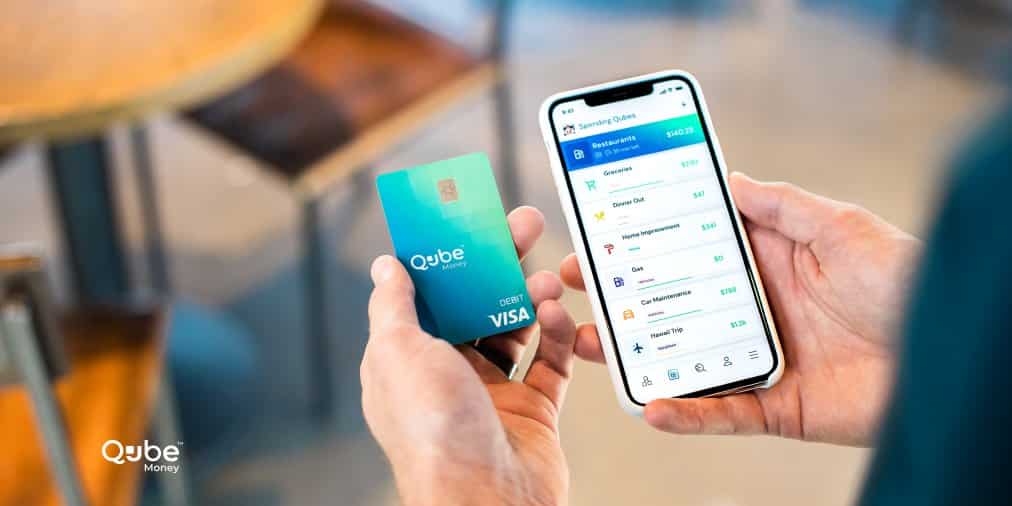 Qube Money is a mobile banking system that combines the cash envelope system with the convenience of debit cards. It tackles a problem most budgeting apps avoid: the spending problem.
Rather than forcing its users into a constrained, penny-pinching budget, Qube Money emphasizes responsible and intentional spending. The digital cash envelopes, or Qubes, allow users to decide what expenses are most important for them to manage.
Purchase tracking, purchase authorization, and working on debit also improves accountability whether it's personal or between couples. Affordable rates (including a free basic plan for individual users) and a host of useful features, makes downloading this app a no-brainer. Budgeting doesn't have to be complicated or unpleasant as you've learned in this Qube Money review.