Federal student loans and private student loans… which is better?
Most schools, the federal government, and even private lenders recommend taking out federal student loans over private student loans.
With federal student loans, every student gets the same competitive rate, they come with more flexible repayment plans and they offer more options for deferment, forbearance, and forgiveness.
But there are a few cases where private student loans actually make more sense. If you're not sure which is right for you, consider these five factors.
1. Are you eligible?
Not everyone can qualify for federal student loans or private student loans.
To qualify for federal loans, you must:
demonstrate financial need for need-based federal student aid programs;
be a U.S. citizen or an eligible noncitizen;
have a valid Social Security number (with the exception of students from the Republic of the Marshall Islands, Federated States of Micronesia, or the Republic of Palau);
be enrolled or accepted for enrollment as a regular student in an eligible degree or certificate program;
be enrolled at least half-time to be eligible for Direct Loan Program funds;
maintain satisfactory academic progress in college or career school;
sign the certification statement on the Free Application for Federal Student Aid (FAFSA) form stating that you're not in default on a federal student loan, you do not owe money on a federal student grant, and you'll only use federal student aid for educational purposes; and
show you're qualified to obtain a college or career school education.
Private student loans also have requirements that some students might not be able to meet without a cosigner. Most have minimum income and credit requirements — two things most undergraduates generally can't meet on their own.
But it's possible to find a lender that's willing to work with students who are under 18, attending a school that isn't eligible for federal aid, or don't have the right residency status to qualify for federal aid — as long as you have a cosigner, that is. Without a cosigner, your options are considerably limited.
Some of the best private student loans are shown in the table below:
Pros:

Fast & easy online application

No application or origination fees

Cover 100% of school costs

Verifying rates will have no impact on your credit score

Pros:

No origination fees or prepayment penalty

Checking rates will not impact your credit score

Pros:

Offers both cosigned and non-cosigned loans for students

Checks rates without affecting your credit score

Includes access to outcomes-based loans for eligible persons

No application fees, covers up to 100% of your tuition and costs
Best Choice 2023
Pros:
Fast & easy online application

No application or origination fees

Cover 100% of school costs

Verifying rates will have no impact on your credit score
Pros:
No origination fees or prepayment penalty

Checking rates will not impact your credit score
Pros:
Offers both cosigned and non-cosigned loans for students

Checks rates without affecting your credit score

Includes access to outcomes-based loans for eligible persons

No application fees, covers up to 100% of your tuition and costs
2. Which actually has a better rate?
Federal student loan rates have been going up over the past few years.
According to Federal Student Aid, the maximum interest rates are 8.25% for Direct Subsidized Loans and Direct Unsubsidized Loans made to undergraduate students, 9.50% for Direct Unsubsidized Loans made to graduate and professional students, and 10.50% for Direct PLUS Loans made to parents of dependent undergraduate students or to graduate or professional students.
If you're only eligible for a Graduate or Parent PLUS Loan, a private loan might actually cost less. Especially if you have a cosigner with strong personal finances — like a credit score over 750 and a low debt-to-income ratio.
However, PLUS Loans aren't eligible for as many perks as other types of federal loans, so you might not actually be missing out on much by borrowing from a private lender.
Private student loan rates start at 3% with no origination fee. Even if you don't get the lowest offered rate, it could be lower or close to the cost of a federal loan with a more competitive rate.
3. How much do you need to borrow?
One of the main drawbacks to federal student loans is that there are limits to how much you can borrow for its most competitive programs.
Direct Subsidized Loans and Direct Unsubsidized Loans are federal student loans offered by the U.S. Department of Education (ED) to help eligible students cover the cost of higher education at a four-year college or university, community college, or trade, career, or technical school.
These loans might be referred to as Stafford Loans or Direct Stafford Loans interchangeably, but please note that these are not the official names for these specific loans.
The amount you can borrow for school is set by your school, and it cannot be more than what you need financially.
The most you can borrow through the Federal Direct Loan Program as a freshman is between $5,500 and $9,500. And you're limited to borrowing $57,500 as an undergraduate and $138,500 as a graduate or professional student.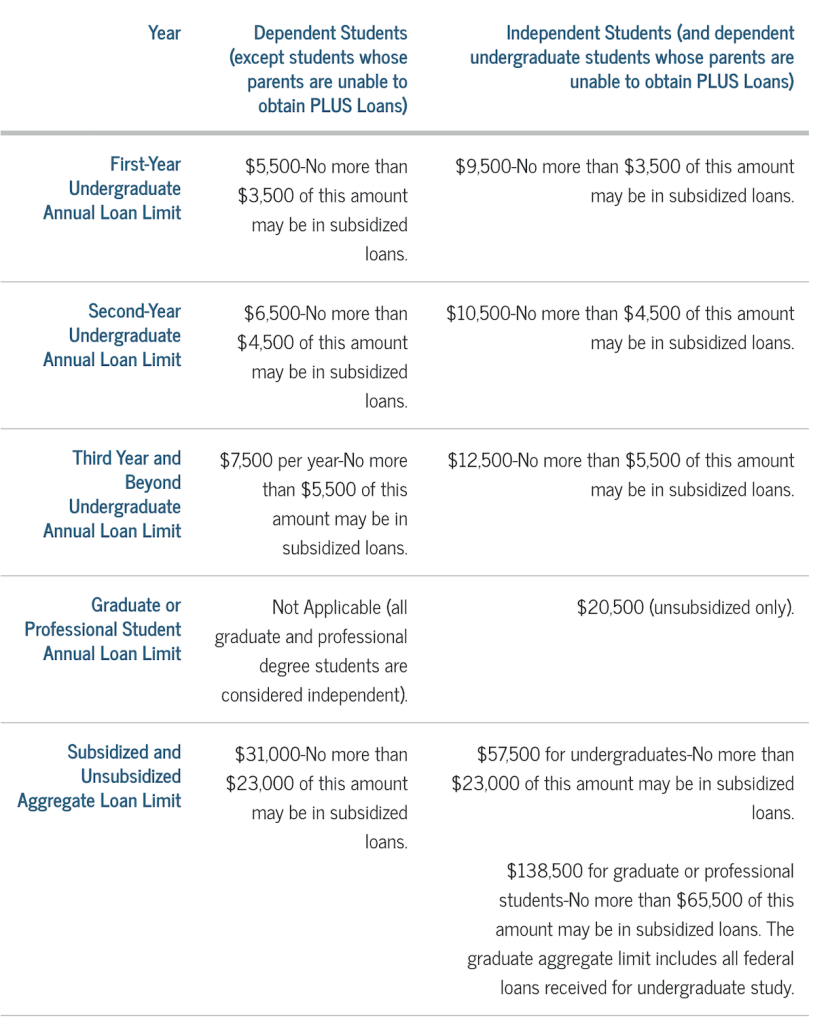 While $138,500 might sound like a lot, it isn't if you're getting a medical degree or going to law school. In these cases, you might not have any other option but to borrow from a private lender — or use a combination of both.
Private lenders typically have much higher limits or allow you to borrow up to 100% of your school-certified cost of attendance.
A note about the cost of attendance
The cost of going to college doesn't stop at tuition and fees. Schools consider what it calls the cost of attendance (COA) when coming up with your financial aid package.
Each school has different criteria for what it considers to be your COA. It usually includes housing, meal plans, textbooks and supplies, transportation, and other miscellaneous living expenses.
Student loan providers are legally not allowed to let you borrow more than your school's COA. That's why private lenders reach out to your school to confirm your loan amount when you apply.
4. Can you afford to start paying off your loans while in school?
Federal student loans generally don't require you to start making repayments until six months after you've graduated or otherwise dropped below half time — this includes taking a semester off.
Private student loans don't always offer that luxury. Or when they do, they offer multiple in-school repayment options. These often include interest-only repayments, fixed repayments of around $25 or starting with full repayments right away.
While you might not be able to afford full repayments right away, making small repayments on your loan while you're in school could actually help you save. You can do this by getting an internship while in college or using college budgeting apps to save money each month.
With the exception of Federal Direct Subsidized Loans, interest starts adding up on your federal loans as soon as your school receives the funds. When you finally start making repayments, all of that accumulated interest gets added to your loan balance — and you effectively end up paying interest on interest.
By taking out a private student loan and making small repayments early on, you could both save on your total loan cost and get out of student loan debt faster.
5. What are your plans after graduation?
What you plan on doing after graduation is an extremely important, albeit unpredictable factor to consider when choosing between federal student loans and private student loans.
Undergraduates planning on going to graduate school in the future might want to consider federal loans, which you can defer while you're in school again. Not all private lenders allow in-school deferment.
Thinking about going into public service or working for a nonprofit? You could be eligible for full forgiveness after making 10 years of repayments on your federal loans through the Public Service Loan Forgiveness (PSLF) Program.
In fact, anyone considering traveling around or who thinks they might have a low-income job might want to choose federal loans over private, since they're eligible for income-driven repayments. Private lenders typically only offer one standard repayment plan, and fewer deferment and forbearance options.
What You Should Know About Federal and Private Student Loans
Landing that college acceptance letter is only half the battle when it comes to attending higher education — you still need to find a way to pay for it.
"Higher education has so many challenges, and private higher education has a special challenge of ever-rising tuition costs"

Ken Starr
It is true that student loans to fuel your dream of getting into that Ivy League college will definitely help any student kick start his career.
However, there is no denying that the cost of higher education has gone from high to the highest within a short time span. In some cases, parents start saving every penny just so that they can provide the basic necessity to their child which is that of a good college education.
There are some who are able to achieve this feat and for those who are unable to, there is the option of applying for a federal or private student loan.
With something like 40 million Americans juggling student loan debt, it's no surprise that paying for school with a federal or private student loan are popular ways to handle those costs.
Before getting too far down the rabbit hole, here are six things to keep in mind:
1. Are student loans the only way?
Before a parent or a student signs below that dotted line on the terms and conditions of a loan application, first, ask yourself whether applying for a student loan is the only way. People assume that the only way through which any student can be put through formal high school education is by taking the excessive burden of a student loan.
But, if you look better and analyze your options, there are many other alternatives. If a student is sharp and has performed well you can apply for a scholarship or some sort of grant. These days a number of universities come up with grants and scholarships to attract more eligible students to them. All you need to do is search extensively and keep your eyes and ears open for the correct opportunity.
2. Will you be able to pay the student loan debt back?
If you are a student of 18 years and above and you plan to take a student loan in your name, you will be the signee and the amount that will have to be paid back will also be your responsibility.
There is a lot at stake here and paying back a huge amount is not as simple as signing that student loan agreement. So, be very careful and see if your finances allow you to pay the bank back.
3. Is taking out a student loan even worth it?
Some may ask why this is important while taking a student loan whether it be a federal or private student loan. As discussed in the point above if you as a student are taking a loan on your name you are the one who is liable to pay it.
If part of your repayment plan includes your prediction of getting a job and then paying back the amount, then you very well be prepared and on the lookout for it. The better the job you get, the better will be your package and this will mean a better ability of you to pay back the amount loaned to you.
4. Are you sure you understand the student loan repayment terms?
If you see any banking document at the time of taking a loan right at the bottom many things are written in rather smaller texts. Such small texts that they often go unnoticed. These small texted sentences are actually the most important because they cite all the conditions applied and levied on you.
Before you take any sort of student loan — make sure you understand all the pros and cons and also understand what the penalty charges will on account of non-payment. It is your right to find out the rate of interest and the repayment schedule so that you don't encounter any surprises later. Be cautious rather than be sorry.
5. Do you have any other debt?
If you or anyone in your family already has another loan taken, then you might want to reconsider the option of taking yet another loan and an added financial burden. Considering if the loan amount is small then probably there is no need to worry, however, if the amount is noticeably big, then the advice would be to think of other options but stay away from another student loan. People often don't realize that in the event of non-payment their credit score will get ruined and this will affect their future loan aspects.
6. Will you keep tabs on the repayment terms?
Even once you take a student loan it is very important to keep a tab on the repayment cycle and keep a regular check on how much you have already paid, and how much of the amount is still left. If you plan things right from day one there will be no reasons why you may encounter a problem like non – payment.
It is understandable that in order to reach your dreams people often seek help. And, as a student, if you have to settle for applying for a student's loan, take all the necessary precautions and play it safe. Speak to some advisors (could be your parents or someone known from the banking sector) and only then go ahead once you figured out what to know about student loans in full.
Federal vs Private Student Loans Summary
In the end, federal student loans are usually a more favorable choice. Private student loan providers even tend to recommend that you apply for federal aid first before you apply for their products.
But if you can't qualify for federal aid, can get a better deal with a private lender or want to get out of debt as soon as possible, private loans could be the way to go.
Ascent's undergraduate and graduate student loans are funded by Bank of Lake Mills or DR Bank, each Member FDIC. Loan products may not be available in certain jurisdictions. Certain restrictions, limitations; and terms and conditions may apply. For Ascent Terms and Conditions please visit: www.AscentFunding.com/Ts&Cs. Rates are effective as of 9/1/2023 and reflect an automatic payment discount of either 0.25% (for credit-based loans) OR 1.00% (for undergraduate outcomes-based loans). Automatic Payment Discount is available if the borrower is enrolled in automatic payments from their personal checking account and the amount is successfully withdrawn from the authorized bank account each month. For Ascent rates and repayment examples please visit: AscentFunding.com/Rates. 1% Cash Back Graduation Reward subject to terms and conditions. Cosigned Credit-Based Loan student must meet certain minimum credit criteria. The minimum score required is subject to change and may depend on the credit score of your cosigner. Lowest APRs require interest-only payments, the shortest loan term, and a cosigner, and are only available to our most creditworthy applicants and cosigners with the highest average credit scores. 
College Ave Student Loans products are made available through Firstrust Bank, member FDIC, First Citizens Community Bank, member FDIC, or M.Y. Safra Bank, FSB, member FDIC. All loans are subject to individual approval and adherence to underwriting guidelines. Program restrictions, other terms, and conditions apply.
(1) Rates shown include auto-pay discount. The 0.25% auto-pay interest rate reduction applies as long as a valid bank account is designated for required monthly payments. If a payment is returned, you will lose this benefit. Variable rates may increase after consummation. Information advertised valid as of 08/01/2023. Variable interest rates may increase after consummation. Approved interest rate will depend on creditworthiness of the applicant(s), lowest advertised rates only available to the most creditworthy applicants and require selection of full principal and interest payments with the shortest available loan term.
Our Pick: Albert