Scams surrounding payment processing apps like Cash App are constantly in the news. Though we try to keep an eye out for those out to take our money, the lengths to which scammers go can often dupe us into feeling like they're legitimate.
Cash App's popularity impressed experts with its exponential growth, albeit with growing pains. However, former employees at the parent company, Block, reveal that up to three-quarters of the accounts were often fake, fraudulent, or an additional account made by a single person.
Many scamming Cash App accounts rely on fake screenshots to lure their victims. Fake Cash App screenshots can also be generated to demonstrate a dummy account for various blogging purposes.
Generating fake Cash App screenshots doesn't automatically make you a scam artist. It's what you do with those screenshots that matters.
If you're curious about how to generate both real and fake Cash App screenshots, our guide can help. We'll show you the various ways to create a Cash App screenshot and what to look for if you think the screenshot you received was faked.
Are you ready to learn more about how to spot and generate a fake Cash App screenshot? Let's get started!
Why Generate a Fake Cash App Screenshot
Most people generate fake Cash App screenshots for two purposes: teaching and scamming. Whereas the former purpose seeks to protect personal information, the latter seeks to gain it to the scammer's benefit (and their benefit only).
For example, individuals may create a fake Cash App screenshot to answer questions about how to add money to your Cash App card or how to get free money on Cash App. They may share their Cash App referral code in their explanation but any screenshots are meant for demonstration purposes only.
Fake Cash App screenshots made by scammers, however, can take advantage of someone searching "how to borrow money from Cash App." These tricksters know that you're seeking money so they may tempt you with a particular scheme to get you to share your personal information and subsequently lose any money you have in your account.
You can bet that if someone is using a fake Cash App screenshot to get money out of you, the topic will come up (perhaps almost immediately). If they just want to share knowledge about Cash App with you, money won't matter.
8 Ways to Generate a Fake Cash App Screenshot
Search for "750 Cash App reward" on Google and you're bound to come across quite a few scams. Here's how they potentially made those fake Cash App screenshots they're sharing with you.
1. Adobe Photoshop
Adobe's suite of digital tools can be used for several purposes, including generating a fake Cash App screenshot. However, you will need an original Cash App screenshot to work from.
Once you load your screenshot into Photoshop, you can use various tools to manipulate the image. You might erase any personal information from the screenshot or even change the amount listed there.
If you're able to find the same or a similar font to what Cash App uses, you might even be able to add more details. Then, you can save the doctored Cash App screenshot and pass it off as the original.
2. QuickReceipt
Available through the App Store, QuickReceipt lets you make invoices that look professional and legitimate. You can add business logos, your name, the services you provided, and more.
However, QuickReceipt can also be used to create fake Cash App screenshots. Plus, you don't have to pay anything for a membership or additional features to produce this screenshot.
Believe it or not, invoice makers are an easy way for scammers to create a fake Cash App screenshot. You can use similar design markers to create a passable fake.
3. Cash Prank Maker
This Android-only app advertises itself as a vehicle for pranks. You might use this app to pretend to send your loved ones $1 million or something outrageous as a way to get a reaction.
Cash Prank Maker is free to download and create an account. Simply enter your email and create a password to log in.
Once you open your account, you can enter the amount of money you want to transfer, as well as the recipient's $cashtag and a note if you'd like. You'll then be prompted to download the screenshot.
What you do with that screenshot afterward is up to you. Though the app encourages you to prank your loved ones with it, scammers can easily access the same software for malicious purposes.
4. Receipt Maker – Sign & Send
Download Receipt Maker – Sign & Send on both the Google Play Store and the App Store. This invoice maker lets you send invoices immediately and create professional receipts for your customers.
It's also the perfect software for doctoring a Cash App screenshot. You can pick colors and themes and customize the screenshot for your own purposes.
5. Cash Receipt
Yet another invoice maker, Cash Receipt is available for free from the Google Play Store. The app lets you customize invoices with logos, dates, company names, and signatures.
In creating a receipt for a transaction (legitimate or not), Cash Receipt lets you personalize each element to your liking. You can then save the image and share it wherever and however you want.
6. Smart Invoice Maker by Billdu
Available on both Android and iOS devices, Smart Invoice Maker by Billdu is easy to use if you want to create custom invoices, or, as with the other invoice generators on our list, create a fake Cash App screenshot. Plus, it adds that professional touch.
While you can use Smart Invoice Maker by Billdu to create PDF receipts and organize your bill payments, it's often used with Cash App screenshots to manipulate the details. You can customize signatures and logos, making it easy to doctor screenshots to your advantage.
7. Receipt & Invoice
NF-Solutions offers a convenient way to create custom invoices, estimates, receipts, and credit notes with its Receipt & Invoice app. With over 500,000 downloads, it's a popular app to use if you want to create a fake Cash App screenshot.
8. Invoice Maker – Tiny Invoice
If you want to prank your friends with fake Cash App screenshots, Invoice Maker – Tiny Invoice provides the ability to add details and signatures to your heart's content. It's also only available for Android devices.
Upload your Cash App screenshot to Invoice Maker and tweak details as you see fit. Then, download the "invoice" to your phone and share it as you please.
How to Take a Real Cash App Screenshot
Taking a genuine Cash App screenshot can help you save information for your records. Here are the steps to taking a real Cash App screenshot:
Open Cash App on your mobile phone.
Navigate to the screen you want to capture.
If you own an Android phone, simultaneously press the power and volume down buttons. If you own an iPhone, simultaneously press the power and volume up buttons.
You can either edit the screenshot directly or simply save it to your screenshots for later.
When you save the screenshot to your gallery, you can then share it to your messages, email, or through other apps you have installed. You can also edit it from your gallery directly as well.
If you'd like an official Cash App receipt instead, you can select the correct payment from your activity and navigate to the three dots in the upper right-hand corner of the screen. Click "Web Receipt" to view and download this official receipt for your records.
5 Ways to Spot a Fake Cash App Screenshot
While games that pay instantly to Cash App can help you earn extra cash, fake Cash App screenshots can get you into a lot of trouble. Here's how to spot the fakes before you get taken advantage of.
1. Check the amount
We all dream about winning the lottery someday, but windfalls like that are often few and far between. If someone sends you a large amount of money through Cash App, a skeptical response is only healthy.
If you think the amount you're being "sent" through Cash App is fake, check your account balance. Don't respond to any messages you might receive regarding this amount either.
2. Check your transaction history
Should the scammer actually send you the funds they screenshotted, those will be reflected in your transaction history. Check the amount of money in your account against the Cash App screenshot.
3. Check the username
At a glance, it's often hard to tell the difference between account names, especially if they're similar enough to fool an unsuspecting eye. Double-check the username of the account sending or requesting information before you respond.
While verifying the username as it stands in the screenshot can help, it may also work to clear things up if you search for that username on Cash App. This will often reinforce what you may already know about this fake Cash App screenshot.
4. Look for errors
Scam artists are looking for your money, not your grammar approval. Take a closer look at how the account acts in conjunction with the screenshot and if there are too many errors, it's time to respond accordingly.
5. Check the format and resolution
If it looks like a Cash App screenshot, it's got to be a Cash App screenshot, right? That's not always the case, especially when it comes to sophisticated money-grabbing schemes.
The Cash App screenshot should look like the official thing, but if something doesn't look right, it's probably a fake. If the resolution is off or the font styles don't match, this can be a dead giveaway.
FAQs
Should you send a Cash App screenshot?
You can send a Cash App screenshot to your friends and family, but it's often best to avoid posting your Cash App screenshots online. Scammers can use your information to scam you or use the screenshot to scam others. 
How can you spot a fake Cash App screenshot?
There are many ways to spot a fake Cash App screenshot, most of them involving details that just aren't quite right. For example, there might be grammatical errors, the font or colors might be off, and the username may not match.
How can you generate a fake Cash App screenshot?
You can generate a fake Cash App screenshot with the help of several apps. These include Adobe Photoshop, Cash Receipt, Smart Invoice Maker by Billdue, Cash Prank Maker, and Receipt & Invoice.  
What should I do if I receive a fake Cash App screenshot? 
If you receive a fake Cash App screenshot, your actions depend on the situation. If your friends are pranking you to have fun, taking your case to the authorities could blow the situation out of proportion. 

At the same time, if you believe you truly received a fake Cash App screenshot from someone trying to scam you, you can report their account to Cash App itself. You may also want to look into further action if the behavior continues. 
Don't Let Scammers Cash In on Your Cash App Account
Fake Cash App screenshots plague the internet, preying upon unsuspecting victims who may not realize how deviously they've been duped. If you're concerned you might have or will receive a fake Cash App screenshot, knowing what to look for and what to do can help you better handle the situation.
We hope this article has helped you to see how you can create a fake Cash App screenshot, whether you use it to help or hurt others. Coming across a fake Cash App screenshot doesn't mean there's treachery involved, but it pays to stay cautious and skeptical.
Now that you know how fake Cash App screenshots work, you can better prepare yourself for the future. Instead of falling victim to a sophisticated scheme, you can stay proactive.
How can you better protect your Cash App account?
Get up to $250 today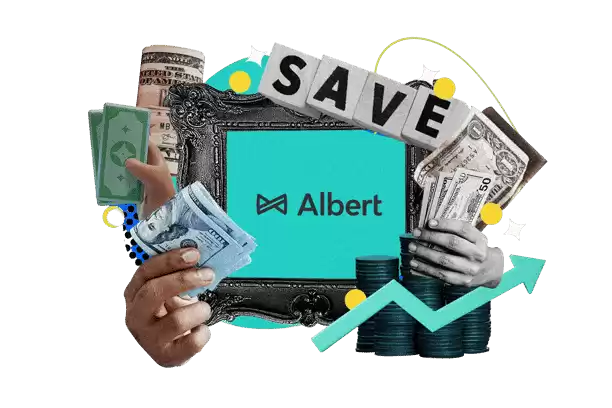 Albert
Get spotted up to $250 without fees
Join 10+ million people using the finance super app
Banking with instant discounts on gas, food delivery, groceries and more
Start investing, saving, and budgeting for free
JOIN ALBERT NOW