Oh my word. You're going to love this list of the best crypto sign up bonuses that allow you to sign up for money and bonuses.
Just take a look at the list and see which ones interest you and you'll receive a free crypto sign up bonus ($5, $10, $50, $100 and even up to $200 in free money) when you complete qualifying activities or requirements.
Best Crypto App Bonus (Apps That Give Free Crypto)
Learn how to get free Bitcoin for signing up for these free crypto apps. Your wallet will thank me later.
1. eToro – Crypto Bonus – $10 Crypto Sign Up Bonus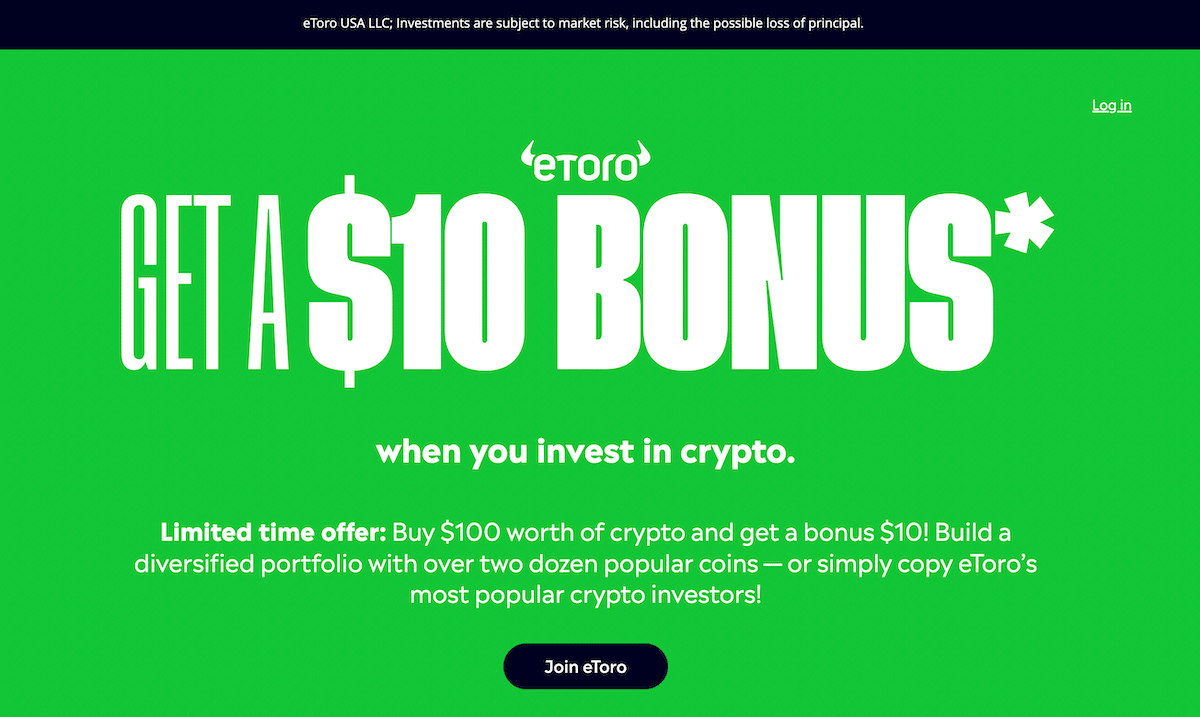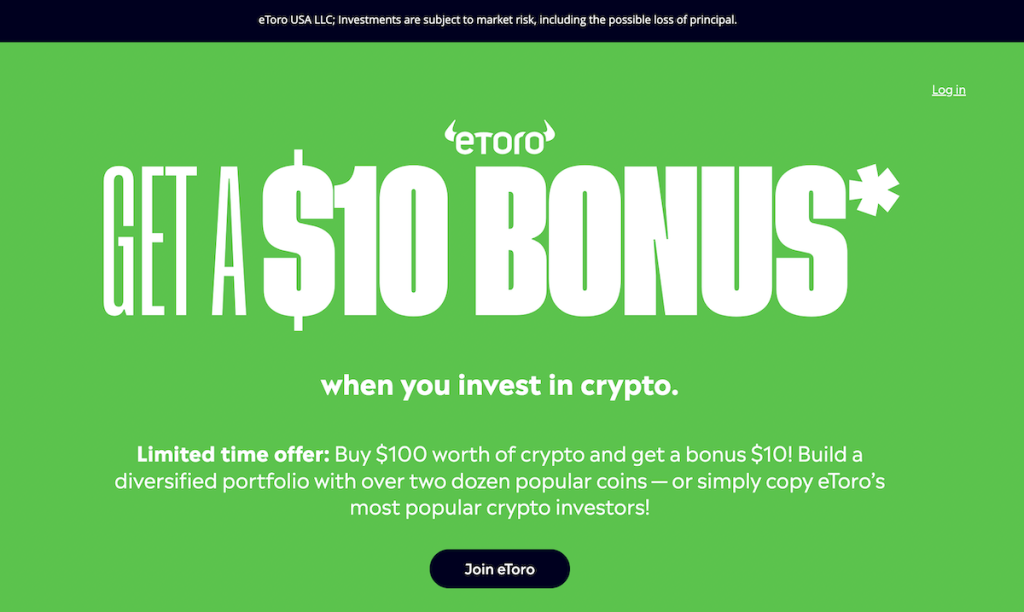 eToro Bonus Link – Buy $100 worth of crypto and get a bonus $10!
eToro allows you to create a diversified portfolio without paying any markup, ticketing or management fees. By doing so, you can build a diversified portfolio with over two dozen popular coins — or simply copy eToro's most popular crypto investors.
For a limited time, you can get $10 when you invest in $100 worth of crypto on eToro. Here's how:
Deposit funds
Invest in $100 worth of crypto
You'll automatically receive $10 directly to your account balance.
eToro USA LLC; Investments are subject to market risk, including the possible loss of principal. "Virtual currencies are highly volatile. Your capital is at risk.
2. Coinbase – Crypto Exchange – Up to $400 in Crypto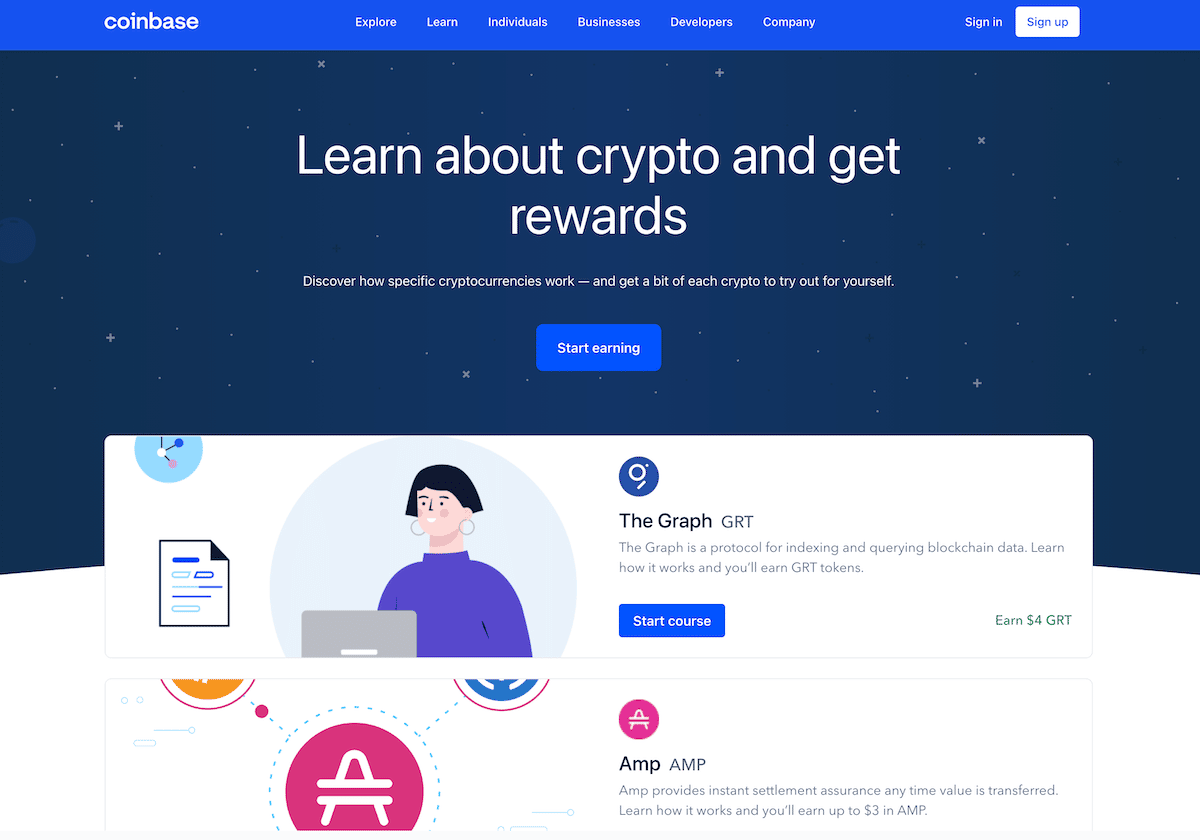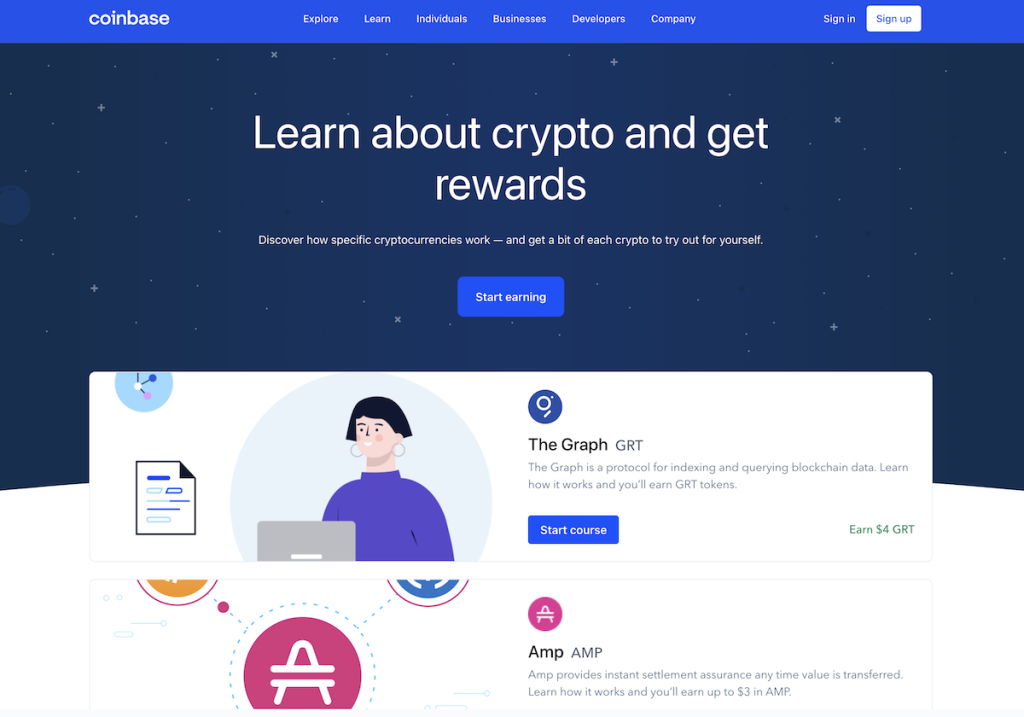 Over 108 million people and businesses trust Coinbase to buy, sell, and manage crypto.
Both beginners and professionals can benefit from Coinbase. Digital currency on this platform is insured, part of the many reasons why it leads the pack in cryptocurrency exchanges.
Coinbase Earn users can earn up to $400 on average just by taking advantage of its rewards.
Simply discover how specific cryptocurrencies work — and get a bit of each crypto to try out for yourself.
3. BlockFi – Crypto Exchange – $250 Bitcoin Bonus [EXPIRED]
BlockFi $250 Promo Link – Offers a sign-up bonus of $250 plus upwards of 9% APY on your account balance (not available in the U.S.).
BlockFi is a crypto-trading app and crypto savings account that works similarly to a bank account. With BlockFi, there are no hidden fees and no minimum balances with its interest-earning account.
BlockFi allows you to earn interest on cryptocurrencies that you own, use crypto as collateral for a loan, or trade currencies including Bitcoin, Ethereum, Litecoin and several stablecoins.
Additionally, new investors can earn a sign-up bonus worth up to $250 when opening a new account through this link.
Fund your Block Interest Account (BIA) for the first time to earn a one-time Bitcoin bonus of up to $250.
| | | |
| --- | --- | --- |
| Tier | Deposit Amount (New Money) | BTC Payout |
| Tier 1 | $100 – $1499 | $15 |
| Tier 2 | $1,500 – $1,999 | $20 |
| Tier 3 | $20,000 – $39,999 | $40 |
| Tier 4 | $40,000 – $79,999 | $75 |
| Tier 5 | $75,000 – $99,999 | $150 |
| Tier 6 | $100,000 or more | $250 |
No referral code is needed for the BlockFi promo when using this link to open an eligible account.
4. Nexo – All-in-One Crypto Platform – $100 BTC Bonus [EXPIRED]
Nexo Promo Link – Offers a sign-up bonus of $100 when you add $1,000 or more to Nexo.
Nexo is one of the world's leading digital assets institutions, that lets you buy, sell and trade crypto instantly, earn crypto interest, borrow cash or stablecoins at low rates, and offers a Nexo card tied to instant crypto credit lines.
Nexo offers a simple, secure way to build your crypto portfolio. Get a $100 welcome bonus, paid out in Bitcoin, when you make your first top-up of $1,000 or more.
It's pretty easy to do, just create your Nexo account via any link on this page and verify your identity.
Top up $1,000 or more in supported assets and hold them for 30 days.
Receive your $100 reward, paid out in Bitcoin – it's really that easy!
5. TradeStation – Crypto Bonus – $150 Crypto Sign Up Bonus [EXPIRED]
TradeStation Bonus Link – Start growing your money by investing and get a $150 crypto bonus for doing so.
Here's a present from TradeStation which is one of the best places to buy Bitcoin and other popular crytocurrencies. You can now unwrap $150 in crypto on them. That's right, get $150 in crypto with all newly approved accounts.
TradeStation gives you a $150 bonus (in one of the platform's supported cryptocurrencies) upon account approval, when you open a new account with promo code TSTVAFYB. Testing this offer, I received $150 in Bitcoin (BTC) through this link after opening account and depositing at least $500 of cryptocurrency assets within 45 calendar days of account enrollment. You'll need to maintain this balance for at least two months to receive the $150 bonus.
Just finish the two-minute application and take its award-winning tools and platform for a spin. Choose how and what you trade with a wide variety of commission-free and low-commission investment products.
Claim $150 TradeStation crypto bonus
The Crypto Sign Up Bonuses Can Earn You Extra Money
These apps offer you a sign up bonus with sometimes instant withdrawal in 2023.
These are some of the most popular crypto app bonuses available to you if you're looking to earn some extra money just for trying new apps on your mobile device.
A ton of people are searching online for the fastest ways to make money online through crypto app bonuses.
Odds are that you have searched for:
Free money apps
Crypto bonus no deposit
Bitcoin bonus login
Free $10 crypto
Bitcoin bonus
Crypto sign up bonus reddit
Free crypto sign up bonus 2023 no deposit
Money on crypto apps
Crypto exchanges that give you money
Crypto apps that give you free money
Sign up bonus instant withdraw 2023
Sign up bonus instant withdraw app
Sign up bonus instant withdraw 2023 no deposit
$50 crypto sign up bonus
podercard rewards free
$50 crypto on cash app
$100 free cash app money
Crypto banks with immediate sign up bonus
Or something similar to get to this post.
Well, look no further, because if you wanted more sign up bonus apps besides these apps listed above, there are more app bonuses that aren't limited to crypto.
If you wanted to see other ways to earn with your phone, check out our recent blog post on it.
Our Pick