ZapRates is an online lending marketplace that connects consumers with multiple lenders who offer many types of home loan products. They also help consumers find small business loans, as well as hard money loans which are popular with home flippers. We recommend it for those who are looking to find the best rates possible.
Note: They do not offer personal loans, but you can check out Honest Loans in case you need to get a quick loan as soon as tomoorrow.
ZapRates Can Help You Find the Best Home Loans
Zaprates.com offers a plethora of home loan products that can help you compare the rates, terms, and conditions of mortgage loans across multiple providers.
Keep in mind that it is not a direct lender, it is a broker that finds you best rates possible.
Through its trusted provider's network, Zaprates helps you access and compare a large range of home loan products that include conventional, FHA, VA home purchase loans, home equity loans, HELOC, reverse mortgages and refinance loans.
Zaprates' quotes are free and come with no obligations and no impact on your credit score.
Zaprates can help you find the best rates in the market for the following mortgage products:
Fixed monthly payments
Adjustable monthly payment
Available terms: 10 years, 15 years, 30 years, and 40 years
Decreased interest rate
Potentially reduced loan term
Help to switch from ARM to FRM
Private loans insured by the federal government
Only 3.5% down payment
Increased monthly payments due to mortgage insurance
Special home equity loans for homeowners of 62 years of age or older
Allow borrowers to borrow against the built-up equity
Supplement the retirement income
Convenient for those looking to pay down medical or consumer debt, start a business or pay tuition
Limited amount of money one can borrow against their home
Lower interest rates
Private loans insured by the federal government
Only available to qualified military veterans and their families
$417,000 loan limit
Loan amounts higher than $417,000
Features both fixed rate and adjustable rate programs
Higher interest rates
Used to finance the construction of a new structure
Each loan is adjusted depending on the property one is looking to construct
Home Equity Line of Credit (HELOC)
Lenders agree to lend a maximum amount within a period
Lower, tax-deductible interest
Low to none closing costs
Improves your credit score
Related: Emprise Bank Review
How It Works
ZapRates will help you find and compare the best home loan offers at no cost. From start to finish, when you're buying a home or refinancing your mortgage, they help you find the lowest loan rate in the market. The application process is really easy and you will be guided through a series of questions that will ask for your loan purpose, amount, credit score, and some personal finance information. Once you enter your information, they will send you pre-approved loan quotes from direct lenders in minutes.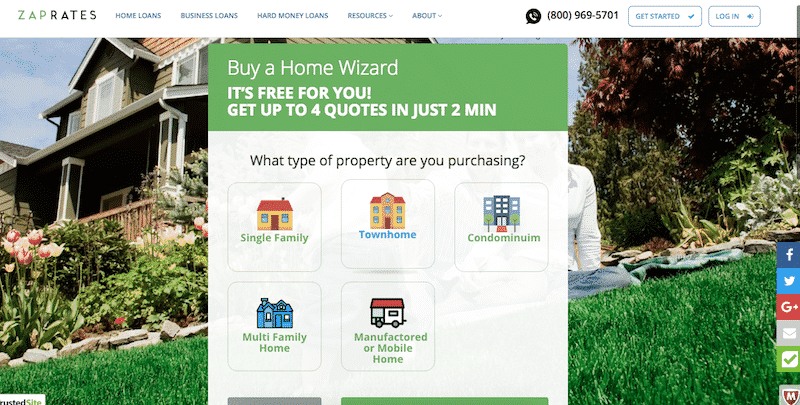 From there, you can decide which option makes sense for you or you don't have to accept any of them. If you decide to proceed with a lender, you continue the application process from there. Each individual lender will have their own process but you can be guaranteed the best possible rates.
If you wanted to get started, you can get your free rate here.
Pros and Cons about ZapRates
Pros
Many different loan products to choose from
A lot of customizable terms and rates available
Great for those who aren't sure what type of loan product they want
Takes under 4 minutes to check your rates
Totally free and no obligation to check your rates
Websites interface is smooth and responsive
Customer service is very responsive
Cons
For a beginner, it can be confusing to go through the application process
No ability to see what rates you are eligible for without having to check your rates and inputting your information
What other products does ZapRates Offer?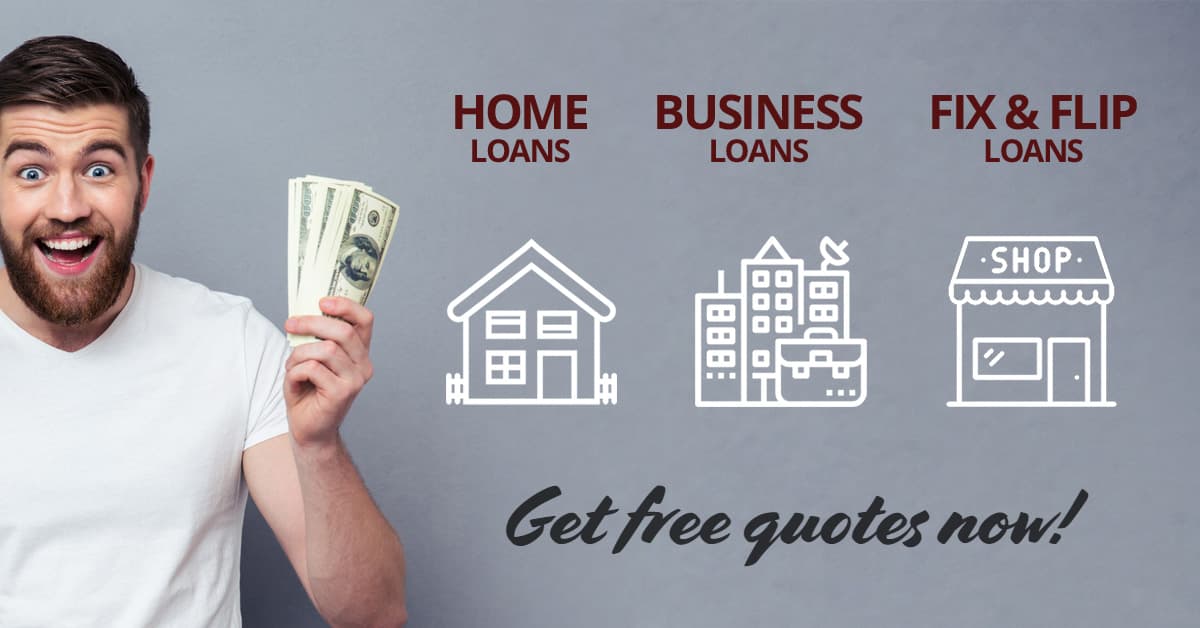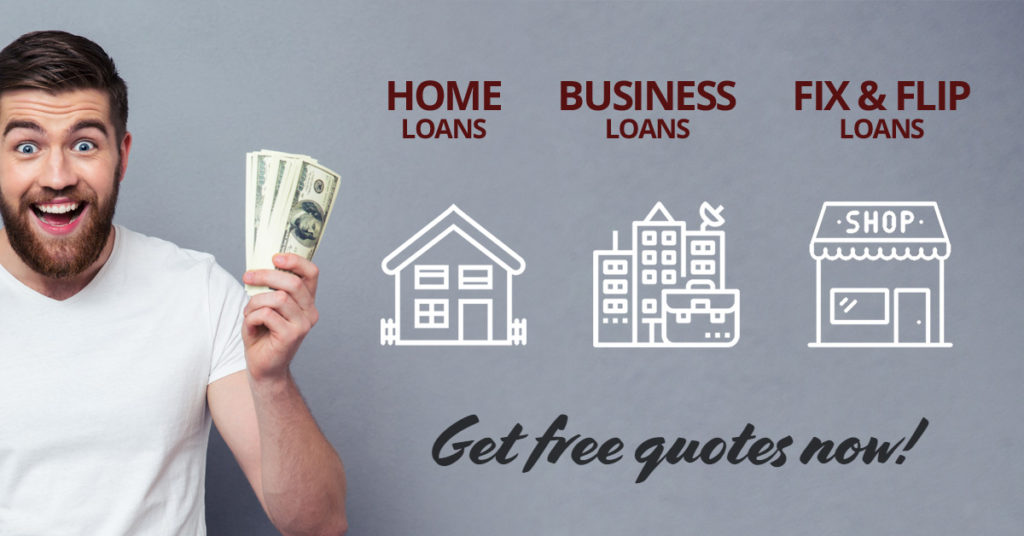 Small Business Loans
| | |
| --- | --- |
| | Little or No Collateral Required |
| | Minimum Paperwork Required |
| | Approvals for Average or Bad Credit |
| | Approval Within 24 Hours |
| | No Credit History Required |
| | Flexible Repayment Terms |
| | No Business Plan Required |
| |  Easy and Fast Application |

Click here to learn more about their Small Business Loans
| | |
| --- | --- |
| | 40 Years of Experience |
| | Hundreds of Homes Financed |
| | Very Fast Closings |
| | Quick and Flexible Funding |
| | Low Rates and Fees |
| | Extremely Satisfied Clients |
| | No Upfront Fees |
| | No Hidden Fees |

Click here to learn more about their Hard Money Loans
Requirements:
Because of the wide range of loan terms and many different lenders, eligibility requirements vary. All lenders will require you to:
Be over 18 years old
Be a citizen or permanent resident of the USA
Meet certain credit score minimum requirements
In some cases, have a minimum down payment or equity in your home of 3.5%, 10%, or up to 20%
For a reverse mortgage, the youngest borrower must be 62 or older
In some cases, meet certain minimum income requirements
Repayment Terms
You will have to refer to the repayment terms of the mortgage company that has the best rates for you. Each company will have their own repayment options. However, rest assured that you will have the best rates possible for your financial standing. You can keep in mind that most fixed-rate loans come with terms from 15 to 14 years and variable-rate ARM products have loan terms that start at 5 years.
Help & Support
ZapRates website is very user friendly and they offer a lot of information to help you make an informed financial decision. Their customer support number is (800) 969-5701 and are available 9am-7pm M-F and by email at [email protected].
Physical Address
550 Cochituate Road Suite 25, Framingham, MA 01701
ZapRates Review: Do We Recommend It?
ZapRates offers a ton of different mortgage products, as you can see above. Their service is ideal for those homebuyers who want to see the best possible rates they are eligible for. Since ZapRates does not charge any fees, and checking your rates takes 4 minutes or less, you do not have much to lose.
I would highly recommend this service for those with poor credit scores and aren't eligible for conventional loans to see the best rates for government-backed FHA loan options that don't require 20% downpayment. If you are interested in the small business loan or a hard money loan they also are a great option to find the lowest possible rates.
Get Out of $30,000 or More of Credit Card Debt