Is PrizeRebel a legitimate site? Will I get paid after my work?
These are the questions I wondered about this survey site that I've been hearing about, so I had to try PrizeRebel for myself.
To sum it up, PrizeRebel is a 100% legitimate site that has paid users over 16 million in cash and rewards since 2007.
They have a resounding reputation amongst the beermoney community and raving reviews.
The question isn't whether you will get paid but how do I get paid and is it worth my time?
PrizeRebel Review
Short Description about PrizeRebel

They offer paid surveys for money.
Give your opinions on paid surveys for money and be rewarded with free money and gift cards.
Trusted survey site since 2007, signup is always free!
What is PrizeRebel?
PrizeRebel is a rewards site where members earn points by doing a variety of tasks that include answering surveys, watching videos, and completing offers. The points earned are used to exchange for cash or gift cards at a 1 point to 1 cent ratio. The tasks that PrizeRebel offer are a great way to earn money in your free time.
SIGN UP IN 10 SECS, MAKE MONEY NOW.
Making Money with PrizeRebel App
Earning points on PrizeRebel is done in 3 ways: answering questions on surveys, watching videos, or completing offers.
Surveys are your best bet at making money on PrizeRebel. They are the simplest and easiest way.  The answers to these surveys are anonymous and confidential. The responses are used to help research companies and organizations figure out better ways to market and understand habits.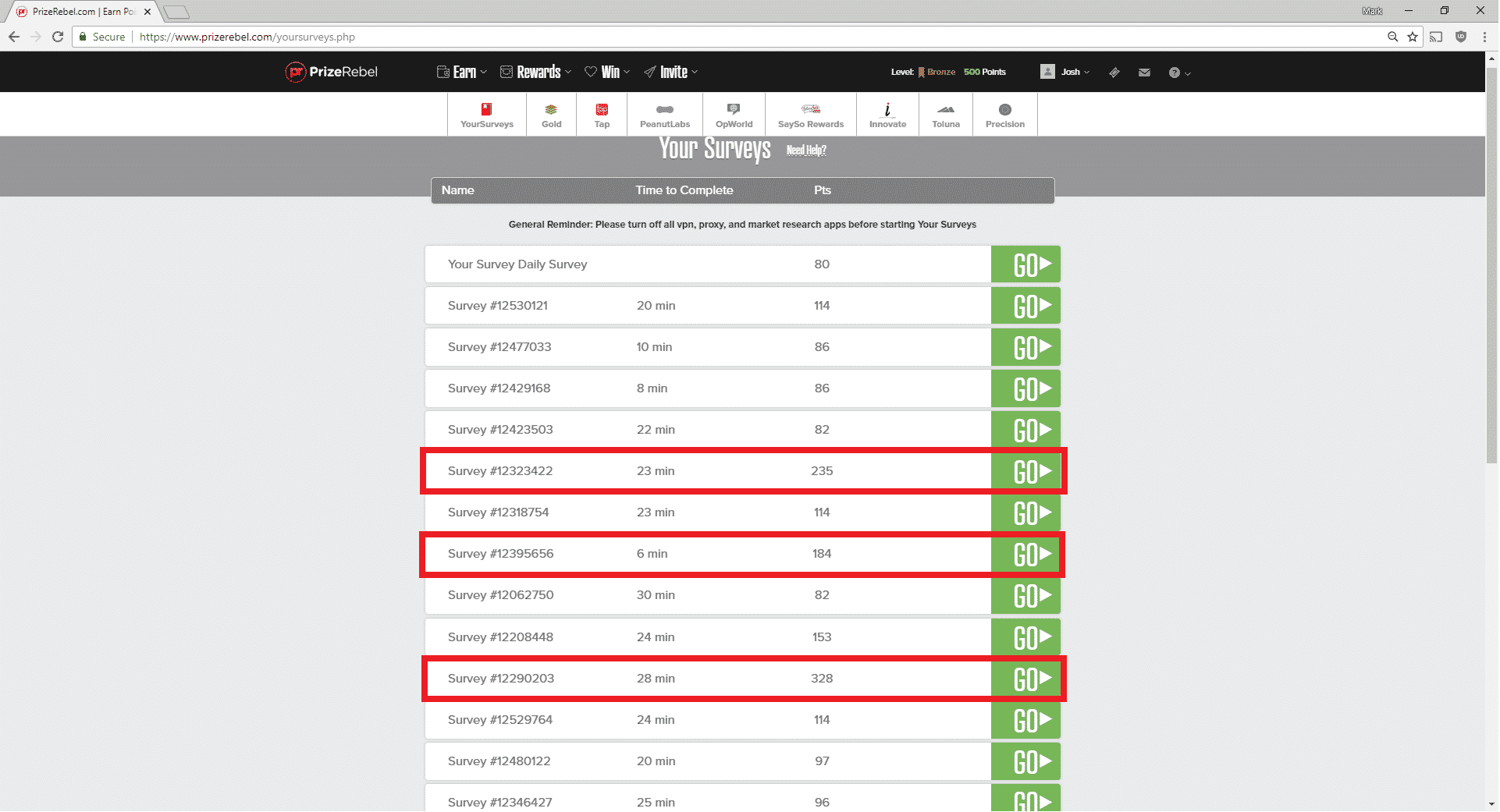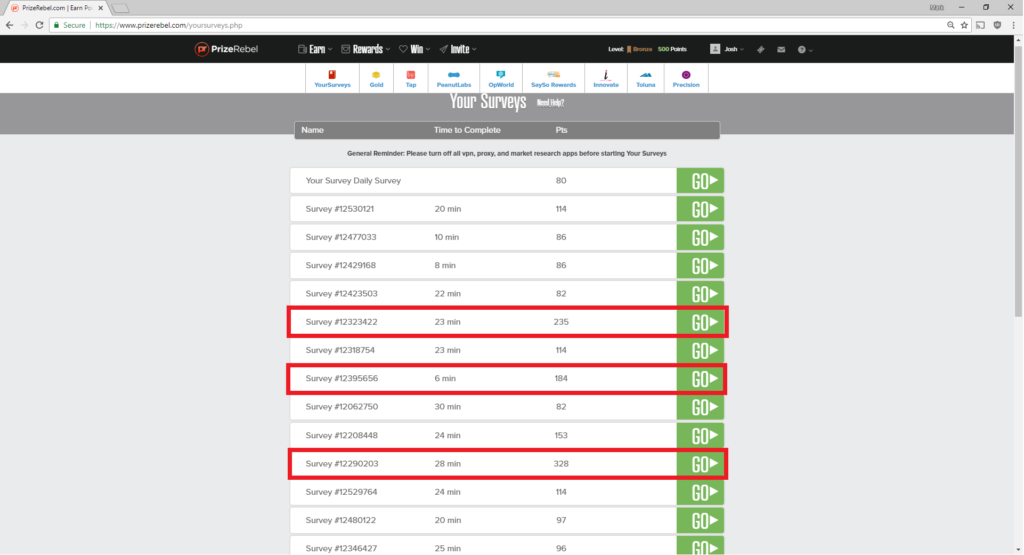 PrizeRebel Hacks
Here are a few tips that I found useful in completing surveys.
1) Always answer truthfully and be consistent with your answer. If you lie or change your demographic answers, you will most likely be disqualified from the survey. Just sticking to the truth will help you complete more surveys than if you attempt to play the game of what the surveyor wants.
2) Read all questions carefully. Make sure you read the question before answering as surveyors will routinely check to see if participants are paying attention to the survey or just answering randomly. An example of an attention check question is: What color is the ocean? We want you to answer b. When a is listed as blue and b is listed as red.
3) Don't speed through surveys. This can lead to disqualification and errors. Errors can occur when submit buttons are hit twice or formats haven't completely loaded.
What Makes PrizeRebel different than other Survey Sites?
A commonality amongst most rewards sites is that they offer users surveys to earn rewards. PrizeRebel has the largest inventory of surveys amongst their competitors. They work with the leading top 10 research company in the United States which keeps a larger revolving inventory of surveys that members can qualify for. At any moment, you may easily qualify for anywhere between 20 -60 surveys a month.
The referral program is one of the strongest among their competitors. While they don't offer a sign-up bonus like other sites, members are able to start referring as soon as they create an account. PrizeRebel offers the largest percentages incentives at a starting rate of 20% and going all the way up to 30% of a referral lifetime earnings. For example, if you referred your friend who earns 500 points in a week, you get 100 points just for referring them to PrizeRebel. There is also no cap on how much you can earn with your referrals so start referring friends, family, and coworkers.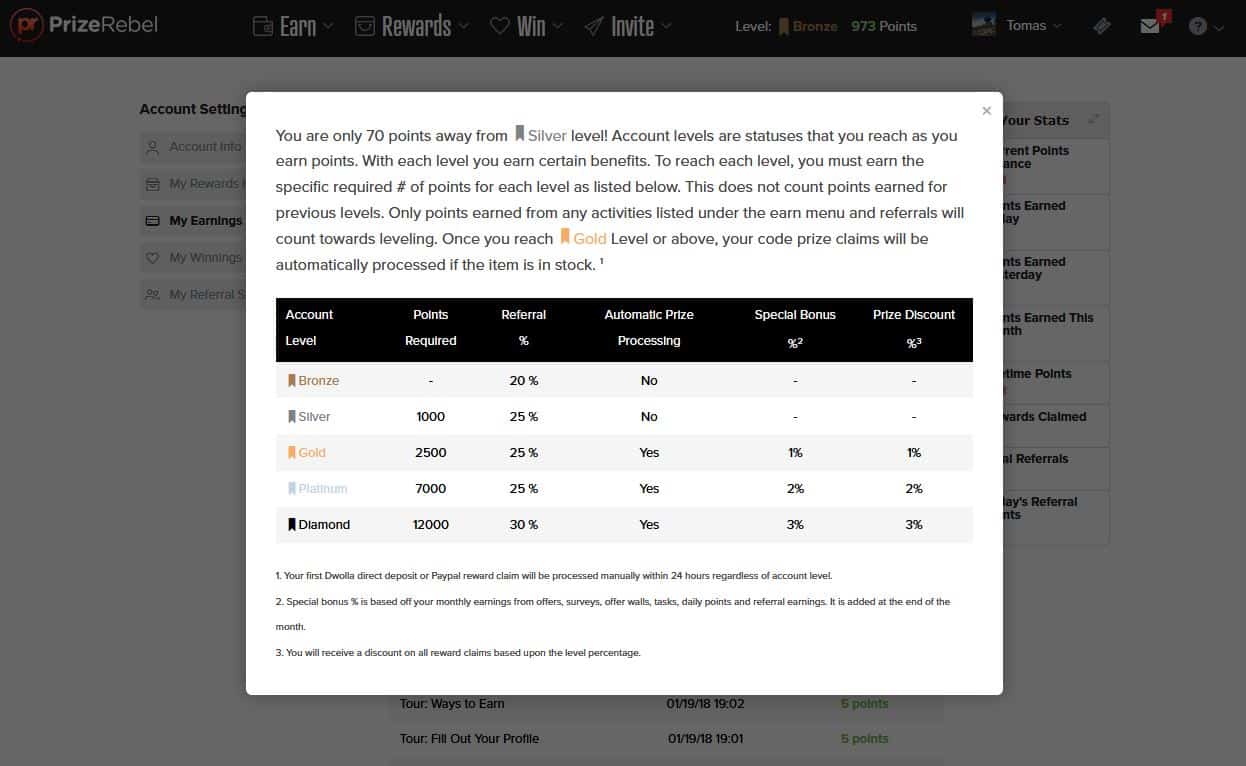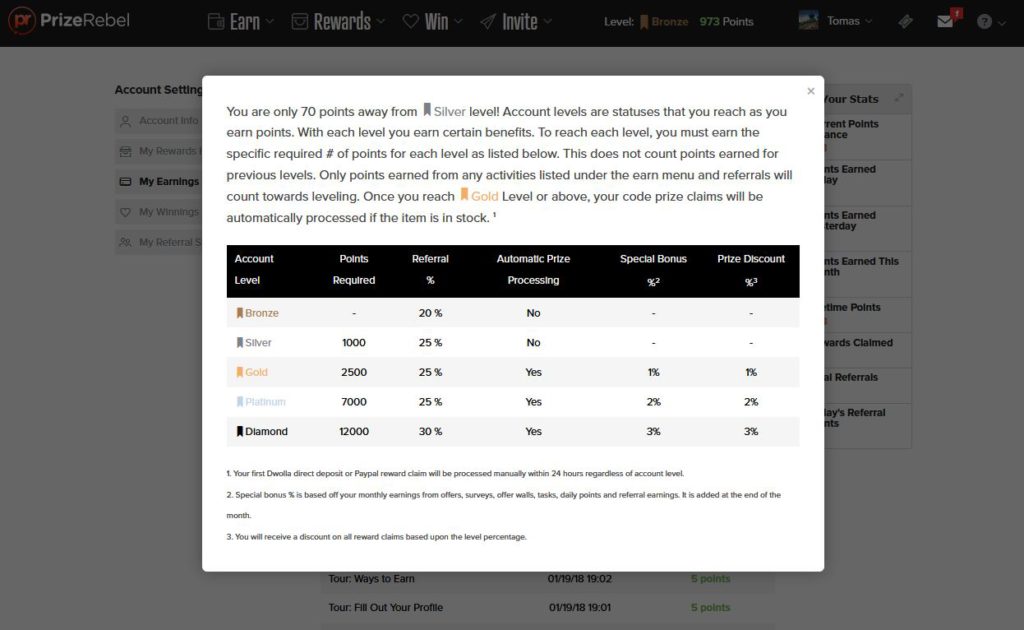 PrizeRebel customer service goes above and beyond your typical customer service. While most sites offer a customer service that might respond in a week or never, PrizeRebel typically responds within 24 hours of your submission. Their goal is to always be available to help their members.
Is PrizeRebel Worth It?
Here is the cold hard truth. You won't be able to quit your current job or pay for a new home while completing tasks with PrizeRebel or any rewards site. You won't be able to generate 100's or 1000's of dollars by doing tasks on PrizeRebel.
However, you can earn some extra income doing these tasks. The extra income can be anywhere between $5-50 dollars a month by finishing simple tasks a few hours a week. For some users, there is a possibility of earning up to $10 per hours.
How to sign up for PrizeRebel?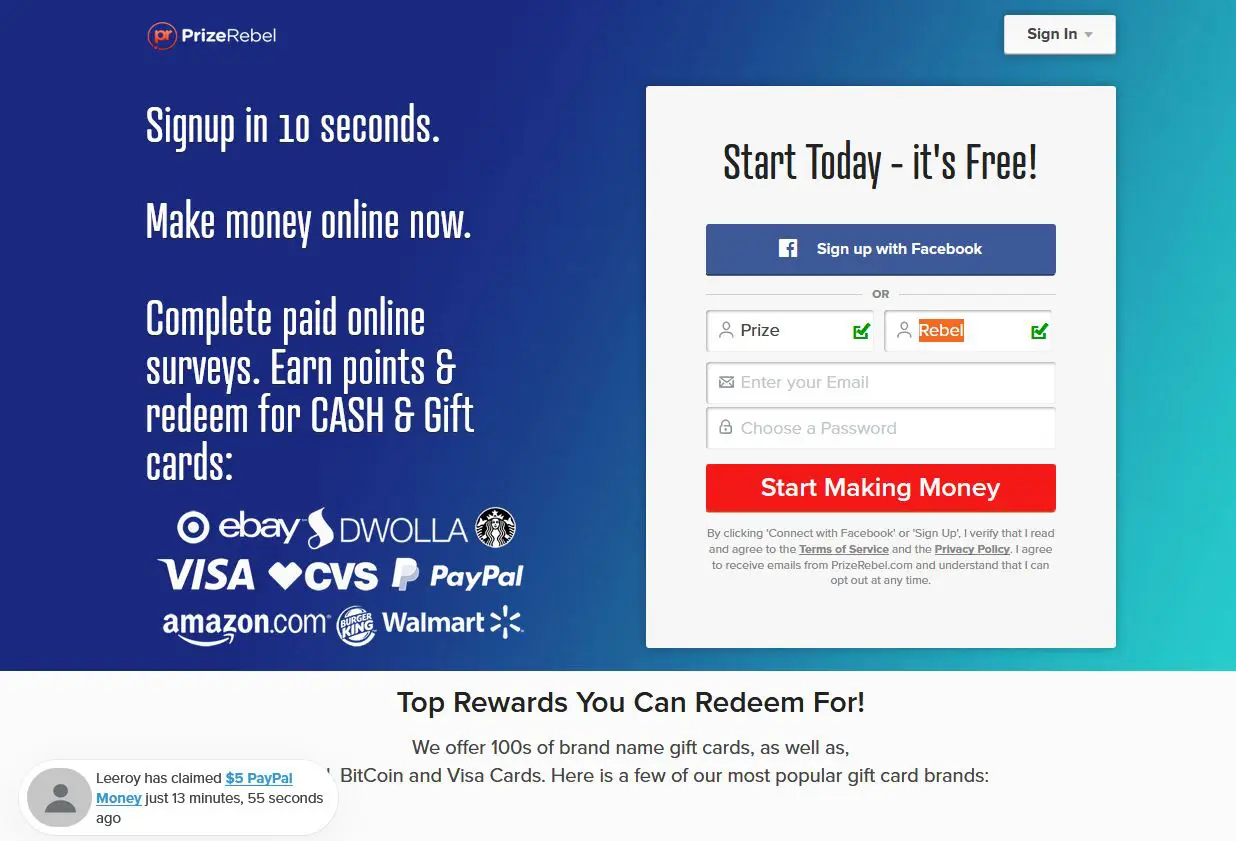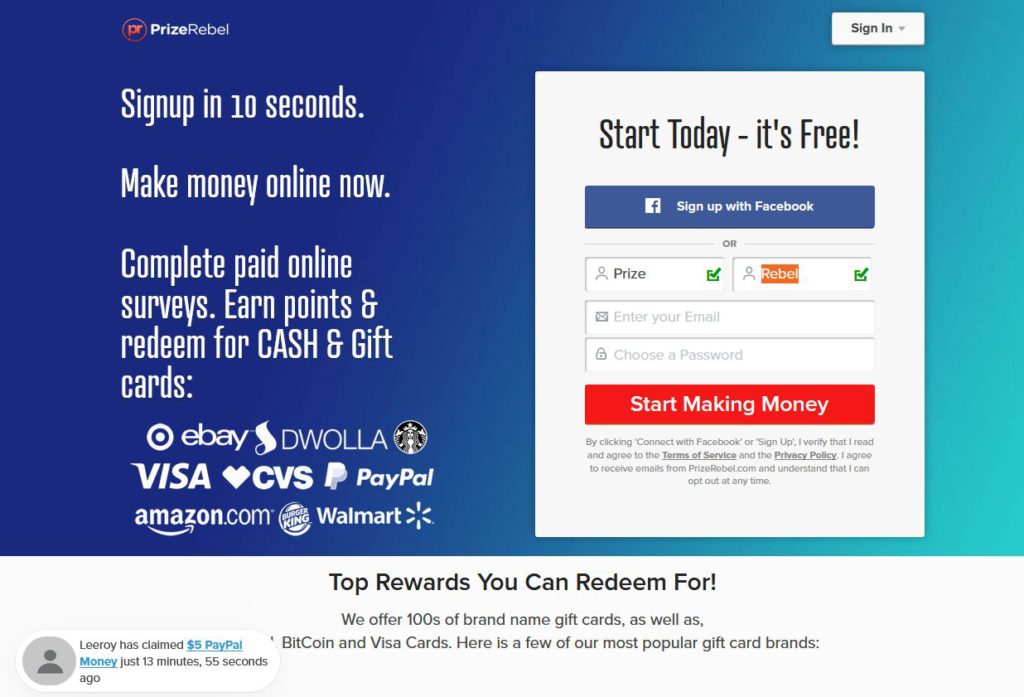 Signing up for PrizeRebel is easy. Head over to PrizeRebel and enter your name and email address or sign up using your Facebook account. Upon signing up, you will be sent an email confirmation. After confirming your email, you can start earning a few easy points by following the walkthrough.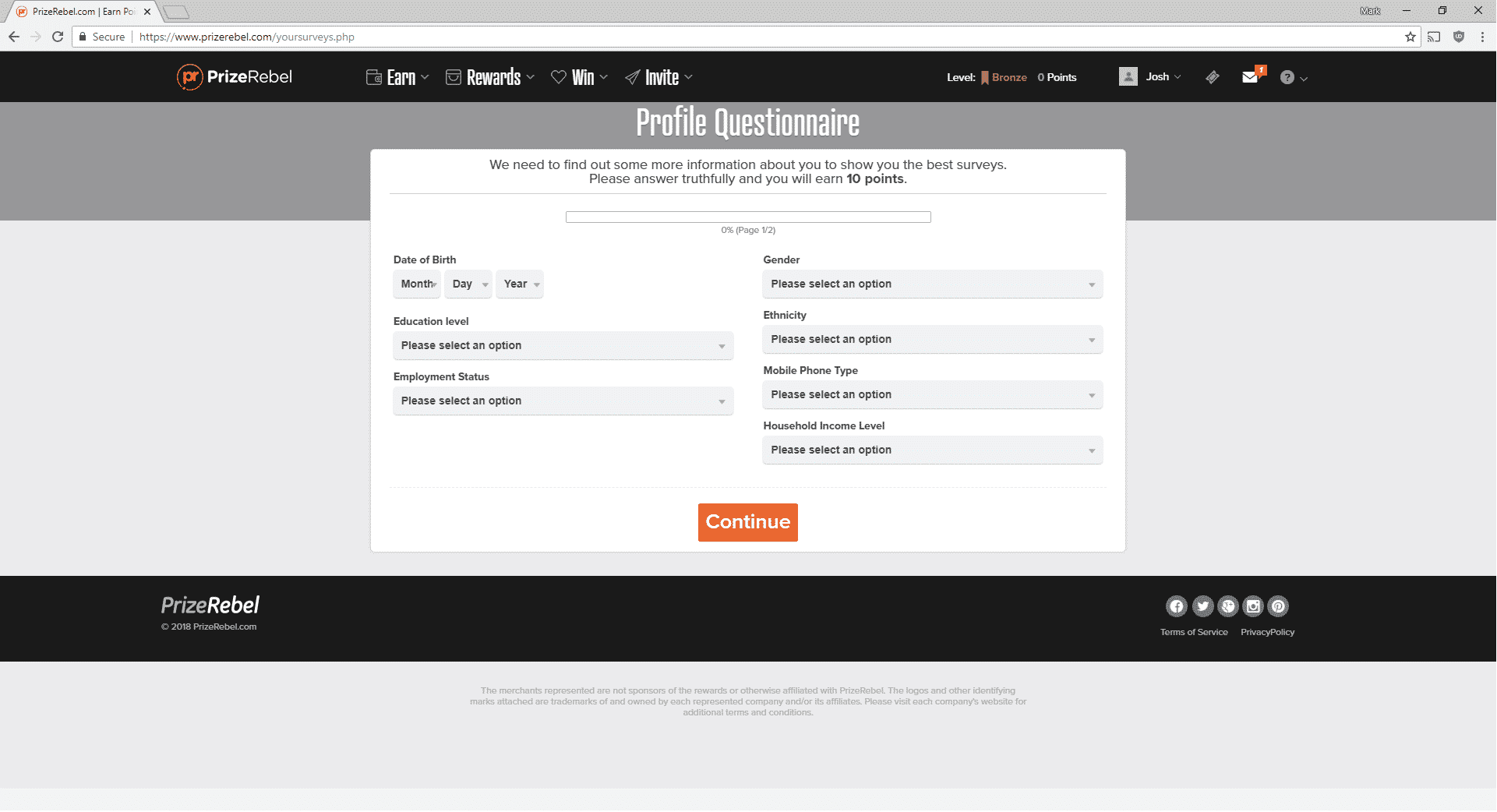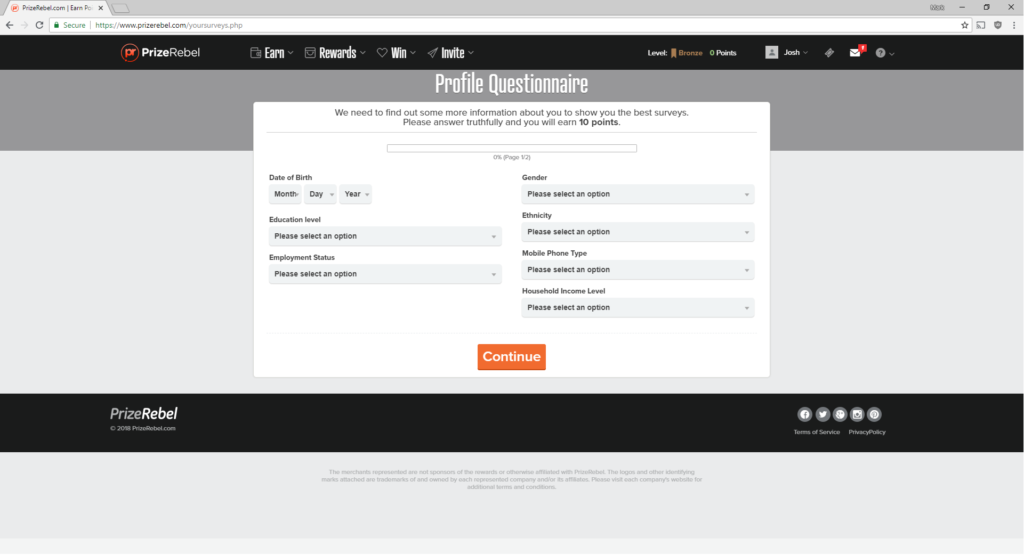 Here's a tip to help you earn more: Once you have signed up, make sure to fill out the PrizeRebel Questionnaire Profile with truthful answers. This helps narrow down your demographics to ensure that you received the surveys that best fit you so you can earn the most possible.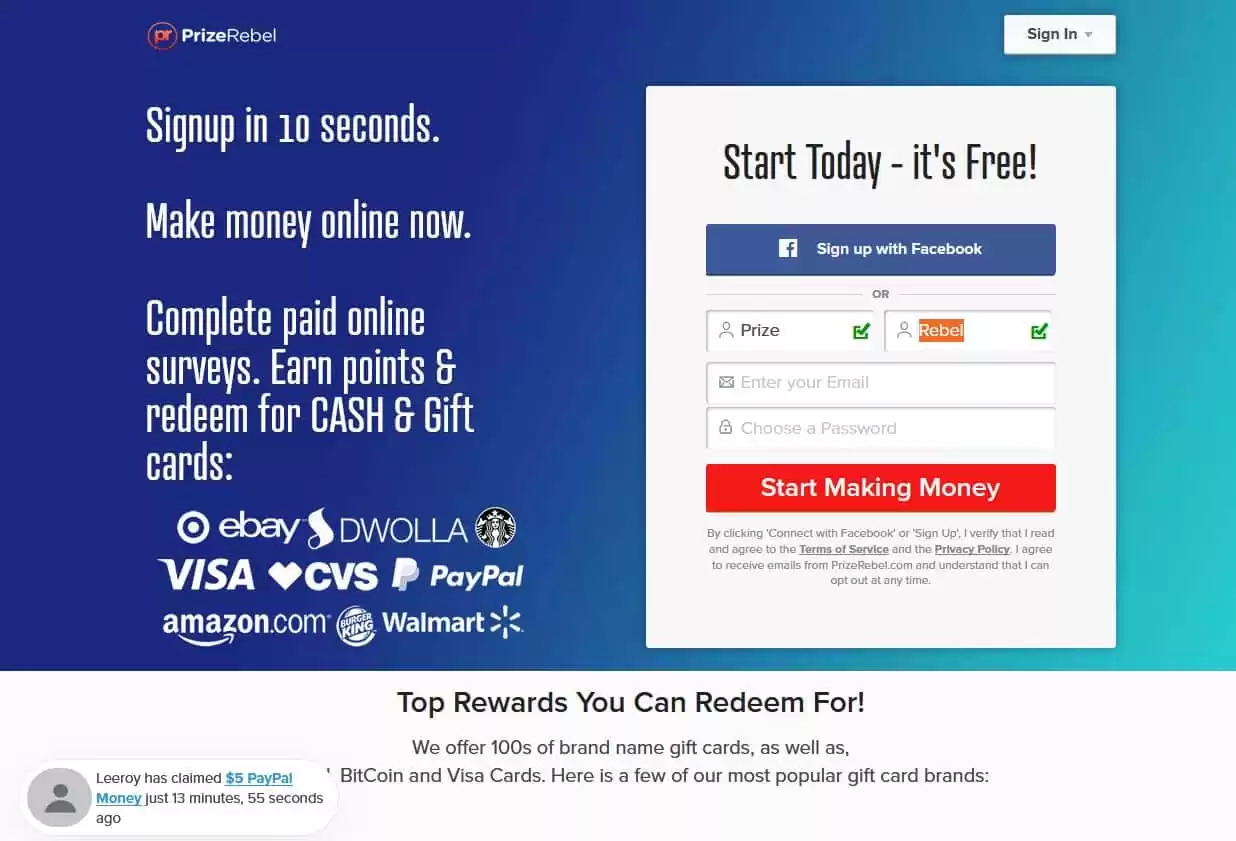 PrizeRebel
Complete paid online surveys. Earn points & redeem for CASH & gift cards from eBay, iTunes, Starbucks, Visa, PayPal and more.
Start Making Money →
We earn a commission if you make a purchase or sign up through our links, at no additional cost to you.
Earn up to $100 today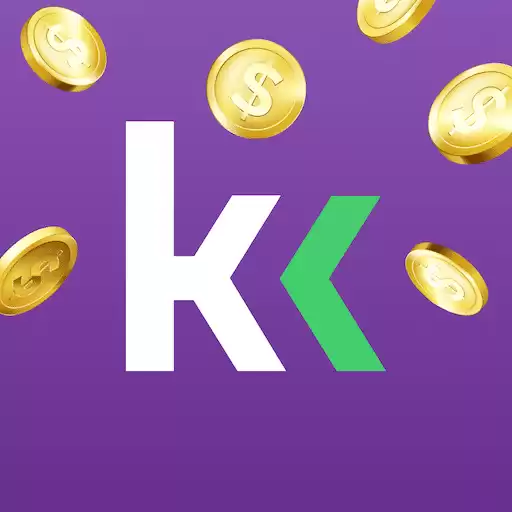 KashKick
Trusted by 2M+ users like you
This site pays you cash to play mobile games, save money, take surveys, and see offers — make $100 today. Over 2 million users agree that KashKick is a fresh and lucrative way to earn money and get paid directly to your PayPal!
SIGN UP & START EARNING NOW