Welcome to a new era of seamless financial transactions with Apple Pay ATMs. In this article, we explore the world of Apple Pay and its integration with ATMs to provide you with unparalleled convenience when accessing cash.
As technology continues to shape our lives, the banking and payment landscape has undergone a remarkable transformation, and Apple Pay ATMs are at the forefront of this revolution.
Find Apple Pay ATMs Near You
Utilize the map below to pinpoint ATMs that support Apple Pay near you. Input your address or permit your device to determine your current position, and the map will showcase the closest Apple Pay-enabled ATMs. Tap on any marker to view more details, such as the bank's name and location.
What is Apple Pay and How Does it Work?
Apple Pay is a mobile payment and digital wallet service introduced by Apple Inc. It allows users to make secure and contactless payments using their Apple devices, such as iPhones, iPads, Apple Watches, and Macs.
The service relies on near-field communication (NFC) technology, which enables quick and secure transactions by simply holding the device near a payment terminal.
When you add your credit or debit cards to the Apple Wallet app, Apple Pay encrypts and stores them securely on the device, eliminating the need to carry physical cards.
When making a payment, a unique device-specific number and dynamic security code are used, ensuring that your sensitive information remains protected.
For example, McDonald's is just one of the many stores that accept Apple Pay, and you can use Apple Pay at a lot of major stores and now ATMs and banks.
ATMs that Take Apple Pay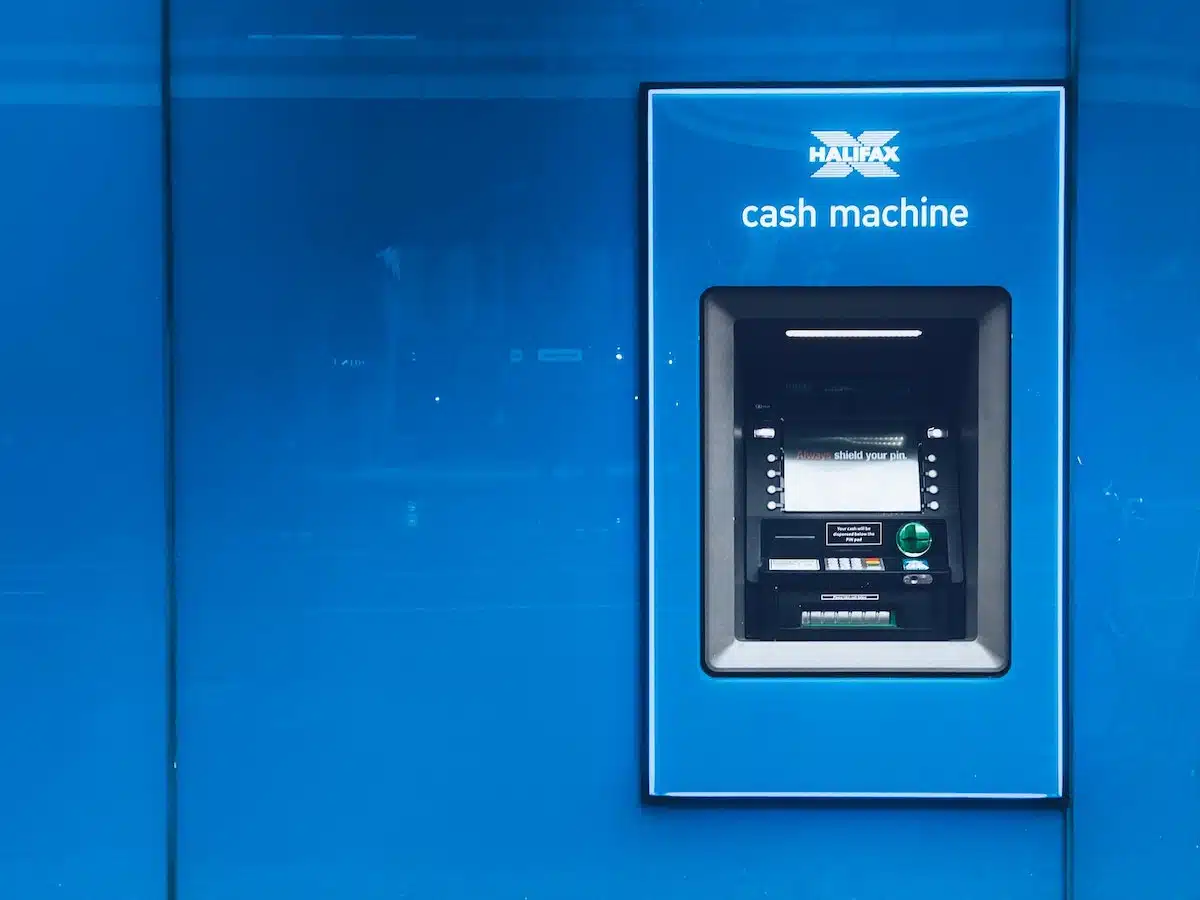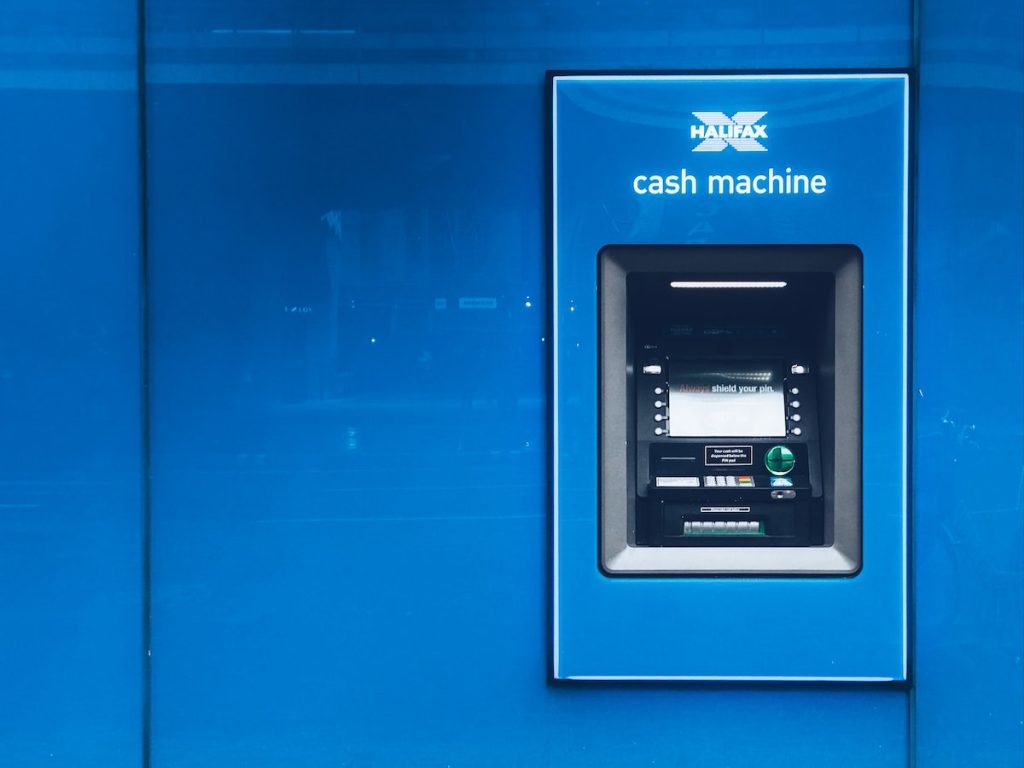 Apple Pay has revolutionized the way we make payments, enabling contactless and secure transactions with just a tap of our Apple devices.
When it comes to using Apple Pay at ATMs, there are specific considerations and supported banks that allow this convenient feature.
To use Apple Pay at cardless ATMs, ensure that the ATM supports Near Field Communication (NFC) and Apple Pay. Look for the NFC icon on designated Apple Pay ATMs, which are available at major banks such as Wells Fargo, Chase, Bank of America, Huntington Bank, and PNC Bank.
To perform a cash withdrawal, look for the contactless symbol on the ATM, indicating support for cardless withdrawals. Open Apple Pay on your iPhone, select the desired debit card, hold the device near the contactless symbol, enter your PIN, and follow the on-screen instructions to complete the transaction.
Apple Pay supports thousands of US banks and can be used worldwide at contactless-enabled stores and ATMs. Adding your bank card to Apple Pay is a straightforward process, but it's essential to note that Apple Pay is exclusive to Apple devices and not all cards may be compatible.
Apple Pay Locations Near Me
To find Apple Pay ATMs near you using Google Maps, follow these steps:
Open your web browser and go to Google Maps at https://maps.google.com/maps.
In the search bar, type "Apple Pay ATMs near me" and hit Enter. Google Maps will use your current location to display nearby ATMs that support Apple Pay.
The search results will show a map with pins indicating the locations of Apple Pay ATMs in your vicinity. You can zoom in or out on the map to explore more areas.
Click on the individual pins to view more details about each ATM, including the name of the bank or financial institution, the address, and any additional information provided by Google Maps users or businesses.
If you prefer a list view of the results, click on the "List" option on the left-hand side of the screen. This will display a list of Apple Pay ATMs near your location, along with their corresponding details.
You can also use the "Directions" feature on Google Maps to get directions to a specific Apple Pay ATM from your current location or any other location you choose.
Additionally, Google Maps may provide user reviews and ratings for some ATMs, giving you insights into the quality and user experience of using Apple Pay at those locations.
How to Use ATM with Apple Pay
To use Apple Pay at an ATM for cardless cash withdrawals, follow these step-by-step instructions:
Ensure Compatibility: Make sure your compatible debit card is added to the Apple Wallet on your iPhone. This can be done through your bank's mobile app or by manually adding the card details to the Wallet app.
Locate Apple Pay ATM: Look for an Apple Pay ATM that displays the contactless symbol. These ATMs are equipped with NFC (near-field communication) technology, allowing you to use Apple Pay for withdrawals.
Choose the Card: Open the Wallet app on your iPhone and select the appropriate debit card from the ones available in your Apple Pay wallet. Ensure that the card you choose is supported by your bank for ATM withdrawals through Apple Pay.
Initiate the Transaction: Hold your iPhone near the contactless symbol on the ATM while keeping your finger on the home button. This action will authenticate the transaction using either Face ID, Touch ID, or a passcode.
Enter PIN and Withdrawal Amount: Once the transaction is authenticated, follow the on-screen prompts on the ATM to enter your debit card PIN and specify the amount you wish to withdraw.
Complete the Transaction: After entering the required information, the ATM will process your request, and you will receive the cash you requested from your linked bank account.
Check for Availability: Keep in mind that while cardless ATMs are on the rise and supported by major banks such as Chase, Bank of America, Wells Fargo, and others, they may still be limited in availability. Some smaller banks or credit unions may not offer this feature yet.
Remember to be cautious and aware of your surroundings while using Apple Pay at an ATM to ensure the security of your transactions.
Withdrawal Limits for Apple Pay ATMs
When using Apple Pay at ATMs for cardless access and withdrawals, it's important to be aware that the withdrawal limits are the same as using a traditional physical debit card.
Your personal bank's rules and regulations regarding withdrawals apply whether you use a physical card or Apple Pay.
This includes any daily limits for the number of withdrawals and the amount of money you can withdraw.
Some banks may also have specific limits for business debit cards, so it's advisable to check with your bank for more information.
Apple Pay offers a convenient option for managing your finances with the added peace of mind of knowing your withdrawal limits.
Bank ATMs that Accept Apple Pay
Major US national banks, including Wells Fargo, Chase, and Bank of America, support this feature, enabling users to withdraw cash without their physical cards.
A list of banks that accept Apple Pay includes:
Ally Financial
American Express
Ameriprise
Ameris Bancorp
Bank of America
Bank of Hawaii
BMO Harris Bank
BNP Paribas / Bank of the West
Cathay Bank
CIT Group
City National Bank
Comerica
Commerce Bancshares
Credit Suisse
Discover Financial
East-West Bank
E.B. Acquisition Company II LLC
First-Citizens Bancshares
First Hawaiian Bank
First Horizon National Corporation
First Midwest Bank
First National of Nebraska
FNB Corporation
Fulton Financial Corporation
Glacier Bancorp, Inc
Goldman Sachs
Hancock Whitney
HSBC Bank USA
John Deere Capital Corporation
JPMorgan Chase
KeyCorp
M&T Bank
MUFG Union Bank
New York Community Bank
Northern Trust
Old National Bank
Pacific Premier Bancorp Inc.
PacWest Bancorp
PNC Financial Services
Popular, Inc.
Prosperity Bancshares
Raymond James Financial
RBC Bank
Regions Financial Corporation
Santander Bank
State Farm
State Street Corporation
Sterling Bancorp
Stifel
SVB Financial Group
Synovus
The Bank of New York Mellon
TIAA
Truist Financial
U.S. Bancorp
UBS
Valley National Bank
Washington Federal
To use Apple Pay for ATM withdrawals, users simply need to add their compatible debit card to the Apple Wallet on their iPhones. However, it's important to note that the availability of cardless ATMs may vary among different banks, and some smaller banks or credit unions might not yet support this feature.
Users can easily find nearby Apple Pay ATMs from supported banks by using Google Maps or other location-based services. A simple search for "Apple Pay ATMs near me" helps users locate ATMs in their vicinity that support cardless withdrawals through Apple Pay.
As the list of financial institutions and countries supporting Apple Pay continues to expand, users will have more options for using Apple Pay not only for in-store purchases but also for ATM withdrawals. This growing trend suggests that more banks are likely to adopt Apple Pay as a payment option for their ATMs in the future.
The Evolution of ATMs and Their Role in Modern Banking
Automated Teller Machines (ATMs) have been an integral part of the banking industry since their introduction in the 1960s. Initially, they were primarily used for dispensing cash and providing basic account information. However, with advancements in technology, ATMs have evolved significantly to offer a wide range of banking services.
Modern ATMs now enable users to deposit cash and checks, transfer funds between accounts, pay bills, purchase prepaid cards, and more. The integration of Apple Pay with ATMs takes this convenience to a whole new level, providing users with a seamless cash withdrawal experience using their Apple devices.
The Convenience of Apple Pay ATMs
Gone are the days of fumbling for your wallet or worrying about misplaced cards. With Apple Pay ATMs, all you need is your Apple device, and you're ready to access cash conveniently and securely. Whether you're out shopping, traveling, or simply need cash on the go, Apple Pay ATMs offer unmatched ease of use.
To withdraw cash using Apple Pay, simply approach a compatible ATM, select the desired amount on your device, authenticate the transaction using Touch ID or Face ID, and voila – cash in hand! The transaction is swift, secure, and eliminates the need to carry physical cards, reducing the risk of card loss or theft.
How to Locate Apple Pay ATMs Near You
Finding Apple Pay ATMs near you is now easier than ever. Apple has integrated a comprehensive map feature within the Apple Wallet app, allowing users to locate nearby ATMs that accept Apple Pay. By typing in the keyword "Apple Pay ATMs" or "Apple Pay ATMs near me," you can quickly access a list of compatible ATMs in your vicinity.
Moreover, Apple regularly updates its map database, ensuring accurate and up-to-date information on supported ATMs. This feature empowers users to travel with confidence, knowing they can access cash conveniently wherever they go.
Security and Privacy Aspects of Apple Pay ATMs
Security is a top priority for Apple, and Apple Pay ATMs are no exception. With multiple layers of security, your financial information remains safeguarded during transactions. The use of device-specific numbers and dynamic security codes prevents the exposure of your actual card details, making it virtually impossible for unauthorized parties to access your sensitive data.
Additionally, Apple Pay requires biometric authentication (Touch ID or Face ID) or passcode before a transaction is authorized, adding an extra layer of security. In the unlikely event of a lost device, Apple's Find My service allows you to remotely erase your device and disable Apple Pay, protecting your financial information from falling into the wrong hands.
Embracing the Future: Apple Pay ATMs and Beyond
The integration of Apple Pay with ATMs marks a significant step forward in the realm of financial technology. As society becomes increasingly cashless, Apple Pay ATMs cater to the demands of a digitally driven world, offering unparalleled convenience and security.
Looking ahead, we can expect even more innovations in the field of mobile payments and banking. With the continuous advancement of technology, Apple Pay and ATMs will likely become even more streamlined, offering a seamless and integrated banking experience for users worldwide.
FAQs
Can I use Apple Pay to withdraw money?
Yes, you can use Apple Pay to withdraw money at supported ATMs.
How do I find an Apple Pay ATM near me?
To find an Apple Pay ATM near you, use location-based services like Google Maps or search for "Apple Pay ATMs near me" to locate nearby ATMs that support cardless withdrawals through Apple Pay.
What ATMs let you use Apple Pay?
Many major US banks, such as Wells Fargo, Chase, Bank of America, Citibank, and US Bank, offer ATMs that allow you to use Apple Pay for cardless cash withdrawals.
Conclusion
In conclusion, Apple Pay ATMs have revolutionized the way we access cash, providing a secure, convenient, and futuristic payment experience. With the power of Apple's cutting-edge technology and the widespread availability of ATMs accepting Apple Pay, users can confidently embrace a cashless lifestyle.
As you navigate the modern landscape of banking and payments, remember that Apple Pay ATMs are here to simplify your financial transactions and elevate your overall banking experience. Embrace the convenience, security, and efficiency of Apple Pay ATMs as we step into a cashless future together.
Earn $200 bonus