Debt can be frightening.  Interest, long term payments, the sense that you will be paying forever.
However, it is possible to find ways to clear your obligations more quickly, such as your student loan debt.
Want free money?
Simply sign up for Aspiration, and the free banking app will give you cash for free, you just relax while it gives you $150 just for opening a new debit card. There's no catch. This bank account is legit and only takes two minutes to sign up for an account.


Unbury me is a loan calculator that helps you to organize payment of your debts.  By clearing the amount of money you owe early, savings can be made on interest charges – and these reductions in the overall amount owed can be surprisingly substantial.
How To Use Unbury Me
Unbury me is a clever tool, which is simple to use. You don't even need to login, or open an account to use the platform.
Step One
Log into the home page, and you will be faced with a simple page.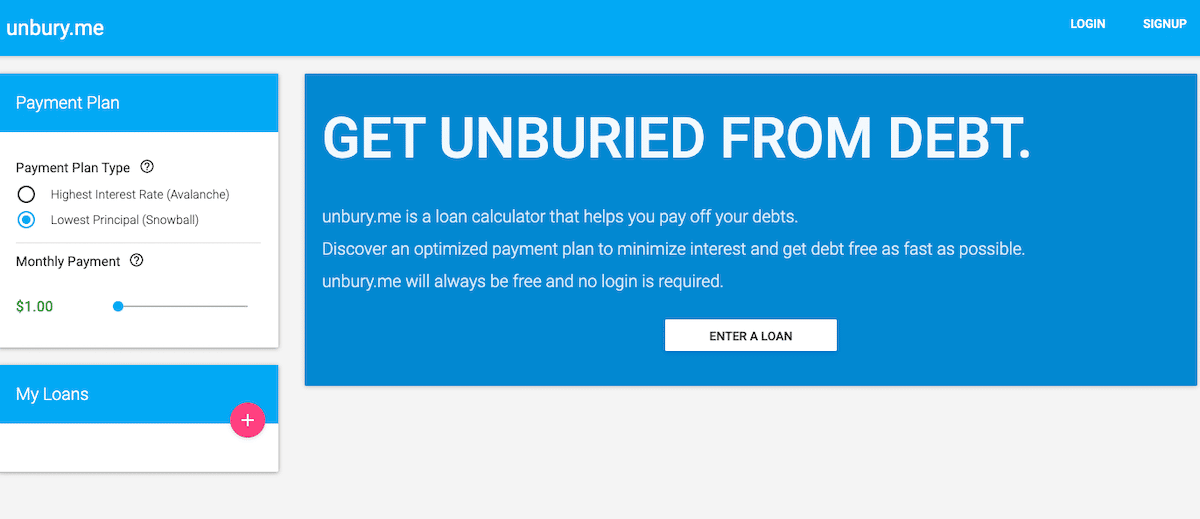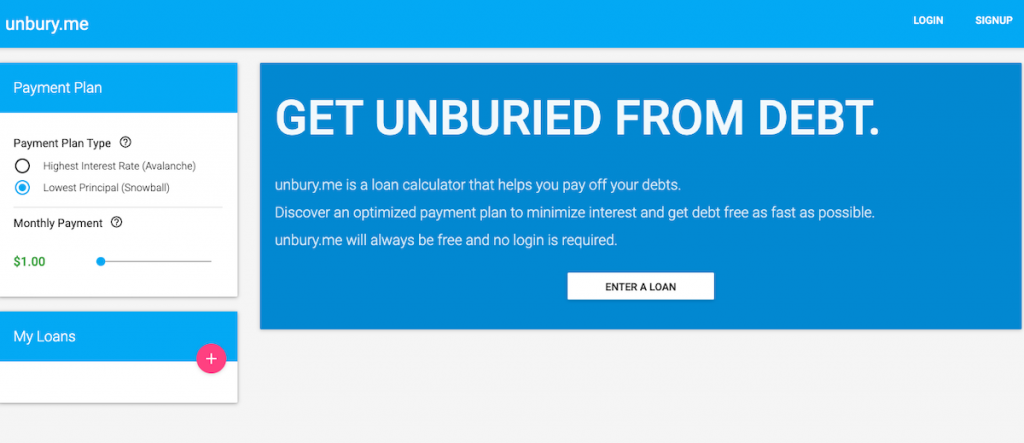 Step Two
Enter each loan you wish to consolidate separately, saving each as you complete the simple information required.  You will need to enter the name of the loan, amount outstanding, interest rate and minimum monthly payment.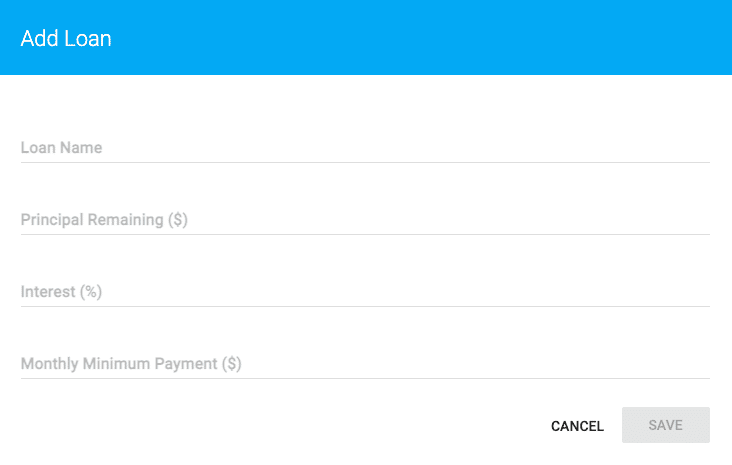 Step Three
You will see an aggregation of the information you have entered.  Total monthly payments, total balance, the total interest you will pay if you stick to minimum payments, the average interest you are paying and a graph that tracks the principal amount outstanding over time.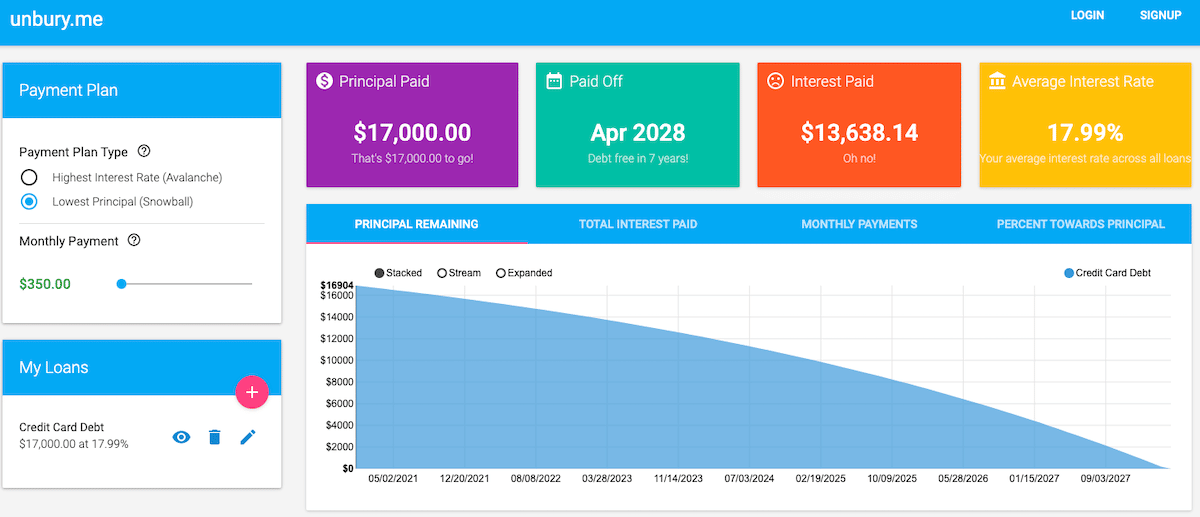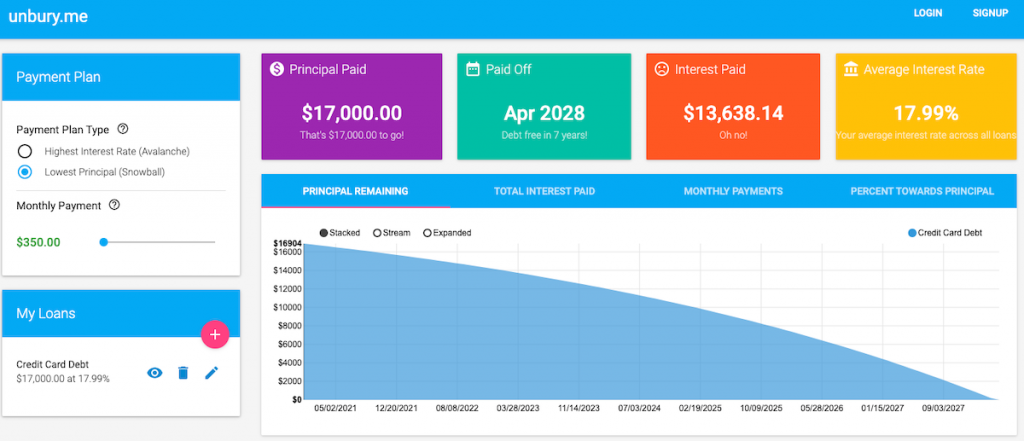 Step Four
Time to play around. By altering, for example, the monthly payment account you can see how much faster you can become debt-free.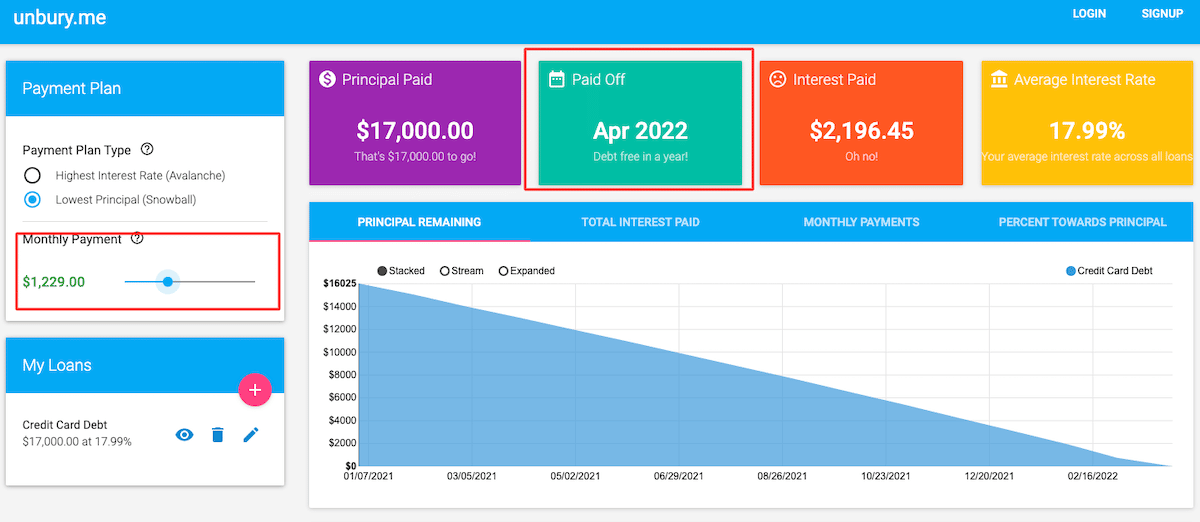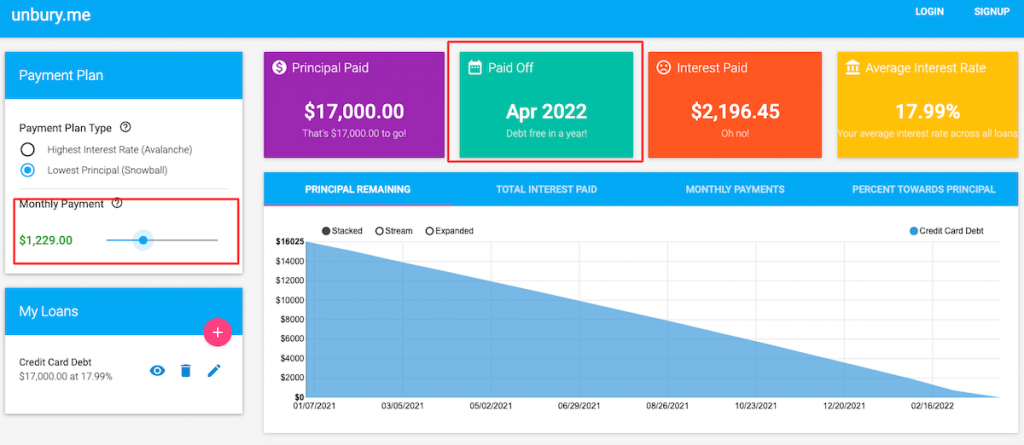 Avalanche Method or Snowball?
The website allows you to follow either the avalanche method of payment, or the snowball. With the first of these approaches, you clear the loan with the heaviest interest rate first, whilst with the snowball approach sees the loan with the lowest capital remaining as the first target.
Let us assume that you can meet the minimum payments of all your loans and can pay an extra $500 per month. Depending on whether you choose the avalanche or snowball method, your additional payment goes towards paying off your first target whilst you keep paying the minimum payments on your other loans.
Want free money?
Robinhood is a free investing app for your phone. I really mean free all around – free to join and they don't charge any fees to buy or sell the stock. You can get a share of stock like Apple, Ford, or Sprint for free when you join through this link (must complete application). The value of the free share may be anywhere between $2.50 and $200 and fluctuates based on market movements. You've got nothing to lose.
By playing with the inputs on unbury me it is easy to track the best savings you can make from your strategies to pay off your loans.
Unbury me is a very useful tool to help users make savings.  Although it does not need an account, it is possible to set one up to allow customers to track and change their strategies over time.
Extra loans can be added, and the platform not only lets you plan your payment approach but also will let you experiment and hypothesize to help with future planning.
Closing Thoughts
Unbury me is re-inventing itself. Already widely used over a number of years, the site is looking at providing new features and is open to suggestions from users.
A great, and free, tool to help you save money.
Those student loans and credit cards will be paid off sooner than you think!
The Best Apps to Save You Real Money
We are on our phone a lot, right? Wouldn't it make sense to save money with the best money saving apps?
App
At a glance
download
Aspiration
★★★★★


Get a $100 bonus at Aspiration when you open and fund an account with $10 or more. Then use your Aspiration debit card to make at least $1,000 worth of cumulative transactions within 60 days of account opening.

CLAIM $100 BONUS

Robinhood
★★★★★


Open a new account in the next 24 hours and you could get up to $200 in free stock.

CLAIM FREE STOCK

Truebill
★★★★★


This free app delivers on its promise to save you money effortlessly. You can use it to lower your bills, cancel unwanted subscriptions and bill negotiations.

SLASH YOUR BILLS

Bestow
★★★★★


Leave your family $1M. Who doesn't want to be a millionaire? While we don't all have trust funds waiting for us, there is still a way to provide protection for your loved ones with up to $1 million in term life insurance. You could do this for as little as $8 a month by getting a free quote from Bestow.

GET ESTIMATE