Debt can be frightening.  Interest, long term payments, the sense that you will be paying forever.
According to the 2022 Empower Wealth and Wellness Index, just 34% of Americans considered themselves extremely financially well in the fourth quarter of 2021.
Are you feeling the same way?
Just know that it is possible to find ways to clear your obligations more quickly, such as your student loan debt.
Unbury me is a loan calculator that helps you to organize payment of your debts. By clearing the amount of money you owe early, savings can be made on interest charges – and these reductions in the overall amount owed can be surprisingly substantial.
How To Use Unbury Me
Unbury me is a clever tool, which is simple to use. You don't even need to login, or open an account to use the platform.
Step One
Log into the home page, and you will be faced with a simple page.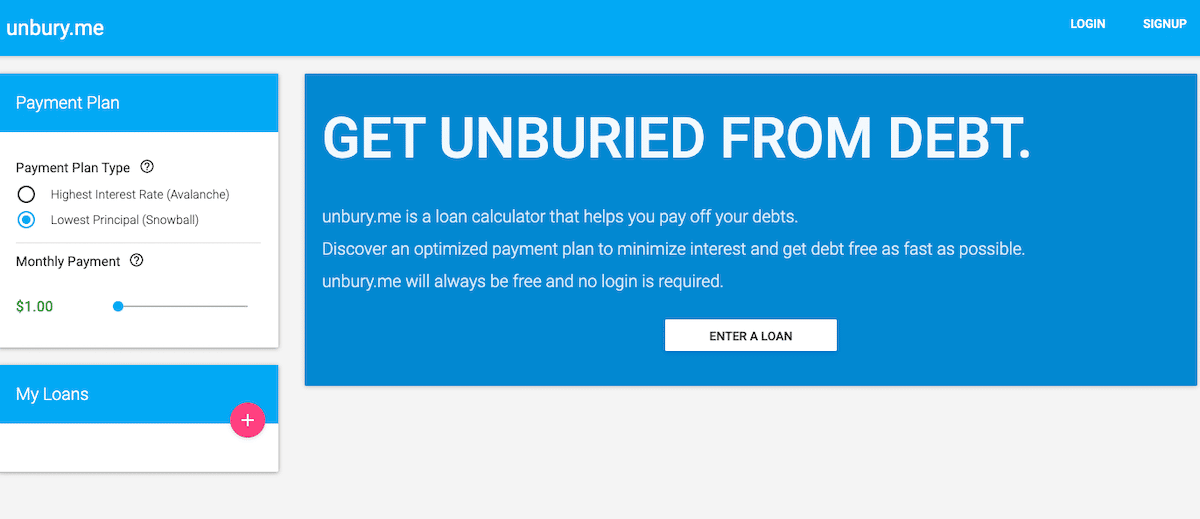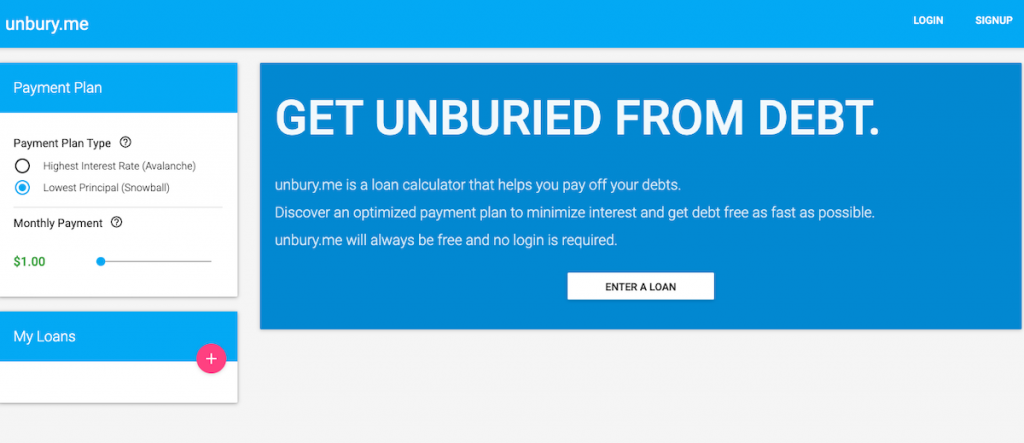 Step Two
Enter each loan you wish to consolidate separately, saving each as you complete the simple information required. You will need to enter the name of the loan, amount outstanding, interest rate and minimum monthly payment.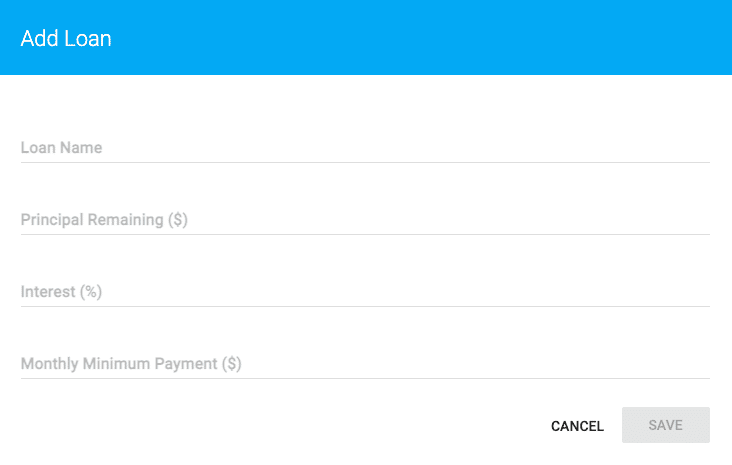 Step Three
You will see an aggregation of the information you have entered. Total monthly payments, total balance, the total interest you will pay if you stick to minimum payments, the average interest you are paying and a graph that tracks the principal amount outstanding over time.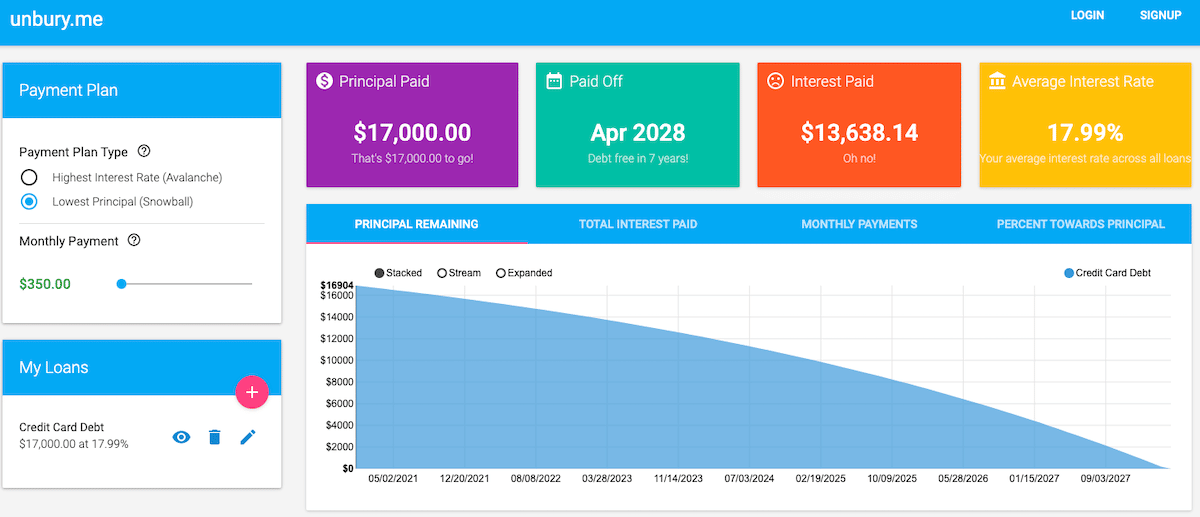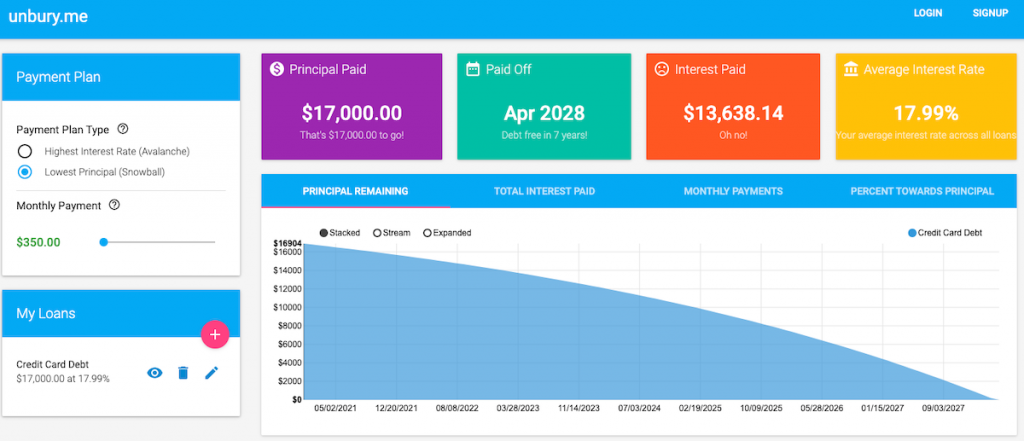 Step Four
Time to play around. By altering, for example, the monthly payment account you can see how much faster you can become debt-free.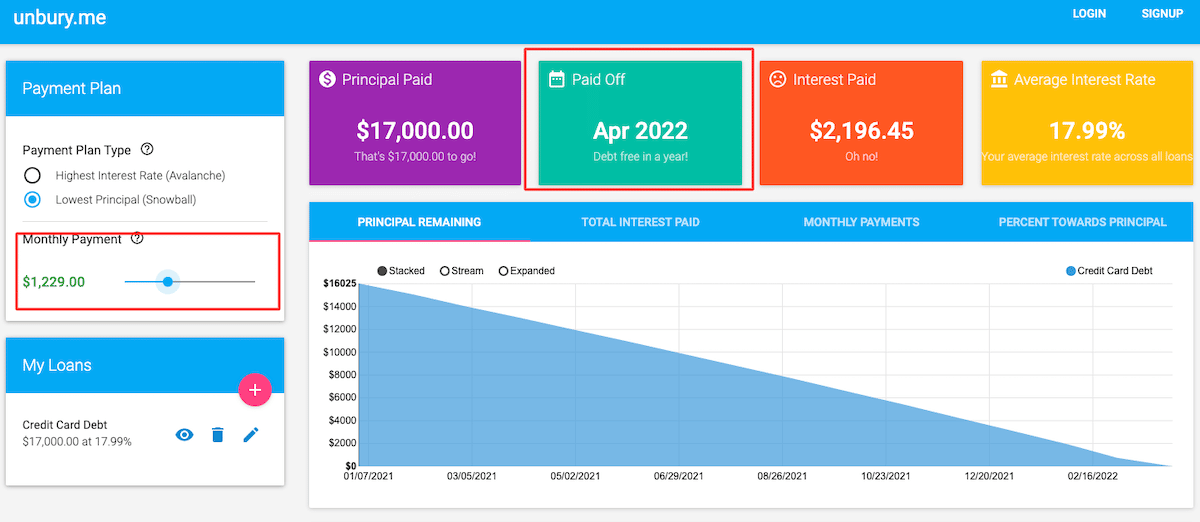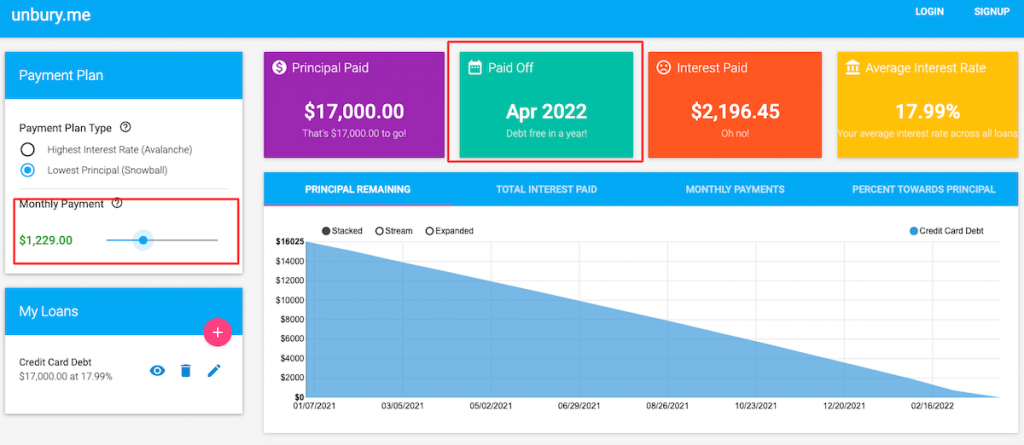 Avalanche Method or Snowball?
The website allows you to follow either the avalanche method of payment, or the snowball. With the first of these approaches, you clear the loan with the heaviest interest rate first, whilst with the snowball approach sees the loan with the lowest capital remaining as the first target.
Let us assume that you can meet the minimum payments of all your loans and can pay an extra $500 per month. Depending on whether you choose the avalanche or snowball method, your additional payment goes towards paying off your first target whilst you keep paying the minimum payments on your other loans.
By playing with the inputs on unbury me it is easy to track the best savings you can make from your strategies to pay off your loans.
Unbury me is a very useful tool to help users make savings. Although it does not need an account, it is possible to set one up to allow customers to track and change their strategies over time.
Extra loans can be added, and the platform not only lets you plan your payment approach but also will let you experiment and hypothesize to help with future planning.
Closing Thoughts
Unbury me is re-inventing itself. Already widely used over a number of years, the site is looking at providing new features and is open to suggestions from users.
A great, and free, tool to help you save money.
Those student loans and credit cards will be paid off sooner than you think!
The path to relief: conquer your debt
Credit card debt can feel like a relentless weight pressing down on your every thought, an invisible force that dictates the choices you make day in and day out. 
This burden is more than just financial; it has a profound emotional and even physical impact, leaving you exhausted and disheartened. 
Despite your commitment to making regular payments, it can feel like you're trapped in a never-ending struggle, with interest gnawing away at your hopes for a debt-free future. 
Unlock financial relief with National Debt Relief.
Their affordable plans are tailored to your needs. Share your situation, and discover your personalized debt relief options today. 
Ready to tackle your debt head-on with National Debt Relief? 
It all starts with a free debt assessment. 
Don't miss this crucial first step – sign up using the button below to get started!